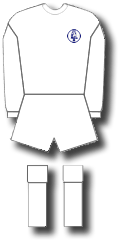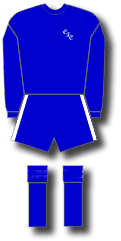 For the second time in three seasons, Leeds United had reached the last four of the FA Cup. To do so they had to endure an epic fifth round battle against Sunderland, taking three games to see off the Wearsiders. The quarter-finals brought a fortunate victory by a Jack Charlton goal at Elland Road against a Manchester City side that couldn't score the goals their ascendancy deserved.
In the Villa Park semi #-final, United faced Tommy Docherty's accomplished and steely Chelsea side. This offered the chance of retribution for fourth round defeat in 1966, when Leeds had undeservedly lost. Docherty was single minded in his development of a fine young team, as reported in The Times: 'It has been a triumph of mind over matter, of willpower over the perpetual inertia that once reigned at Stamford Bridge. Docherty does not court popularity. He is often a taciturn, impetuous manager, with a consuming desire for victory. His relentless determination and rigid discipline proved too much for some of Chelsea's most valuable players, hastening the departure of Bridges, Graham, McCalliog, Murray and Venables. Yet, since his appointment in September 1964, Chelsea have always been within sight of success. They have been promoted from the Second Division, third in the First, League Cup winners and semi-finalists in the Inter Cities Fairs Cup.'
Leeds manager Don Revie took a playing squad of 13 to prepare at a Midlands hotel in the week leading up to the game, recuperating after a spell of 13 matches in 43 days, as they chased an unlikely treble of championship, Cup and Fairs Cup. Pursuit of Manchester United in the title race was on its last legs, but Leeds had come back strongly from a string of poor results in the autumn.
Albert Johanneson was left behind in Leeds after suffering an injury in training and Jack Charlton was unavailable with a broken toe suffered on England duty, though he travelled with the squad; Paul Madeley filled the centre-half vacancy.
Chelsea could select from strength with £100,000 buy Tony Hateley, a target for Revie earlier in the campaign, leading the attack. Ranged round him, Charlie Cooke, Tommy Baldwin, Bobby Tambling and John Boyle promised goals, while keeper Peter Bonetti had established a reputation for being a thorn in the flesh of Leeds United. In 1966, the custodian had denied the Peacocks in the Cup game at Stamford Bridge with a breathtaking display, as reported in The Times: 'Why then did Leeds lose in a score line which suggests a battle of attrition? The answer was threefold - no luck; no deadly finisher inside the penalty area; and when they were near the mark there was Bonetti to produce three or four saves of world-class vintage. How, indeed, Bonetti, moving for all the world like a grasshopper in his green attire, dived to save from Madeley some five minutes from the end, then miraculously pounced to block from Charlton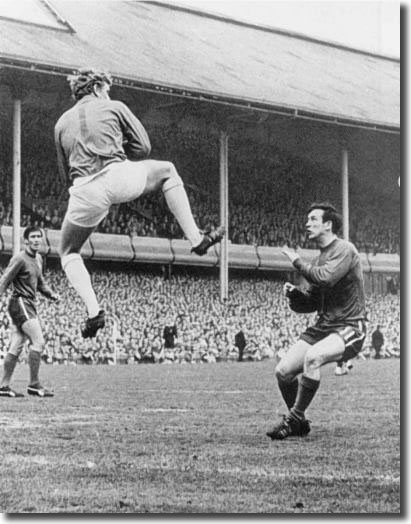 at point blank rage on the rebound, only he will know. And perhaps not even he.'
Despite all their post-Christmas exertions, and the inevitable toll it was taking on mind and body, United were made clear favourites to make it through to Wembley for a second time.
On a warm afternoon, 62,378 fans packed into Villa Park, providing receipts of £32,490, a record for the stadium outside of World Cup games. The two sets of fans cheerfully goaded each other across the packed terraces - the clubs did not get on and a bitter enmity had developed.
The Londoners got into their stride quickly and had the better of the first 30 minutes, with Charlie Cooke's movement and trickery giving United some uneasy moments. He was the most penetrative forward on a day of defensive dominance and midfield impasse.
Chelsea were unlucky not to be awarded a penalty after seven minutes when Gary Sprake's extended boot ended in Boyle's face as the two jumped for a ball. It was a nasty moment and symptomatic of the antipathy between the players.
The Pensioners continued to force the play but Sprake, Bell, Reaney, Madeley and Hunter withstood the pressure with some assurance. The game was played for the most part in the Leeds half and United's thrusts were few and far between. Gray, Cooper and Bremner had some decent efforts but could develop no momentum.
It was a brutal first half and looked set to end in deadlock, but with moments to go the Londoners took a merited lead.
Eric Stanger in the Yorkshire Post: 'It was a magnificent effort in the last minute of the first half made out of a trifle by Cooke, Chelsea's best forward, whose No 7 shirt was seldom indication of where he was to be found on the field. This time he slipped past Bremner and Belfitt on the left touchline, took a return pass from McCreadie and belted over a centre to Hateley as hard as he could. A more orthodox, floated centre and Hateley could never have got the power behind his header as he did to beat Sprake. Hateley paid a lot off his £100,000 fee with that effort.'
It was a decent goal, cleverly fashioned, with Hateley for once managing to evade the grim clutches of his marker. Paul Madeley had played well but was not as aerially dominating as Jack Charlton and Hateley was a real handful in the air. Having got the run on the centre-half, he converted the chance smartly.
After the break, United threw Bremner up front, as was their custom in time of need, with Gray dropping deeper. Though Cooke and Chelsea continued to carve out openings, Bremner's presence made Leeds more threatening and there were a number of chances, with Bonetti earning his corn.
The heat of the contest rose as crunching tackles flew in, and Greenhoff had to come off for attention on the hour. Ten minutes later, Belfitt was withdrawn after another clash left him injured; Peter Lorimer came on to offer fresh legs to United's cause. He had an immediate impact and Leeds started posing some difficult questions of the Londoners' back four with Chelsea giving the impression of being ready to settle for what they had, content to frustrate. Stanger: 'Chelsea ruled the midfield and were so busy and so mobile that often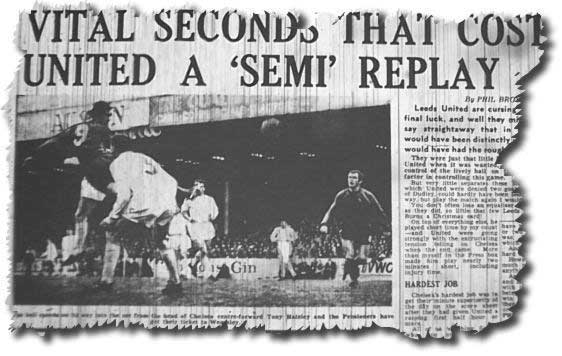 they had two men around at the tackle. They cheerfully incurred free kicks if it was to their temporary advantage. In all they gave away twice as many as Leeds and McCreadie was booked early in the second half for one violent foul on Hunter.'
A head of steam was being built up as United camped in the Chelsea half, though they struggled to manufacture a clear opening. With seven minutes to go, the pressure grew and it looked like Leeds would fashion an equaliser at last.
From a long Greenhoff punt to the edge of the area, Bremner nodded through Chelsea's square back line. Terry Cooper stride onto the ball down the inside-left channel and thrashed it past Bonetti. Just as Leeds began to celebrate, referee Ken Burns ruled Cooper offside and the goal void. Bremner was unconvinced, maintaining, 'Terry was definitely lying onside when I flicked the ball on to him.'
Cooper was equally adamant: 'I was onside when Billy played the ball on. I ran past one man wide of me for certain to get to it, and I thought it was two. Bonetti certainly tried to save, for I had come from an onside position.'
According to The Times, Cooper 'was undeniably offside'.
Eric Stanger noted with detachment for the Yorkshire Post, 'I thought it one of those difficult hairline decisions. From the angle of my seat I was in no position to judge but the linesman was almost dead level to the incident and he had his flag up as Cooper shot.'
United rallied, undeterred by the decision, and pressed Chelsea into some untidy defensive work. With seconds to go Paul Reaney broke forward to shoot, and a scramble in the Londoners area ended with a Leeds throw in on the left. After receiving the ball some 25 yards from goal, Norman Hunter was pulled back by Bobby Tambling and the referee awarded Leeds a free kick. He marched the Chelsea wall back the required ten yards. Johnny Giles took what he considered the signal from the official to proceed and rolled the ball sideways to the waiting Lorimer, who slammed the ball unerringly past Bonetti and into the Chelsea net.
The Leeds players leapt in the air with joy while the Londoners hung their heads in despair; but pandemonium broke out as Ken Burns signalled for the kick to be retaken. He ruled that the wall had encroached within the necessary ten yards, his fastidiousness denying the offended team an advantage and offering an unlooked for stay of execution to the wrongdoers. The decision sparked mass protests and violent argument, but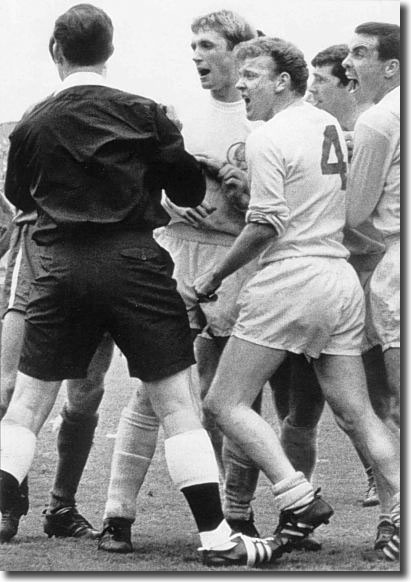 Burns would brook no debate. What was even more exasperating for United was that he seemed to wait until the ball had entered the net before signalling that there was a problem.
As the commentator declared, 'They'll have to look through the rule book backwards to find a reason.'
Johnny Giles: 'The referee came back to me from shifting the Chelsea players to the 10-yard mark and we looked at each other. Now I have taken dozens of free kicks just on an exchange of looks with the referee. It's accepted. I'll admit he made no signal or sound, but he could see I was wanting to take the kick, and he looked at me. So I took it. Chelsea were still encroaching, but the advantage was with us in taking the kick.
'It was so long that Peter had twice shouted to me to roll the ball to him. Each time I said: "Quiet, if Chelsea hear they'll pull a man out to block the shot," for they were obviously expecting me to chip the ball to the far post. Then the referee turned from the Chelsea players to face me. I thought it was in order to take the free kick and slipped the ball across to Peter. I was dumbfounded when he ordered the kick to be retaken.'
Tommy Docherty, with the magnanimity of a man who knew the decision couldn't be changed: 'It was a great shot and I thought a good goal. I would have had no complaints if it had counted. If it had happened to me I would have been very sick.'
Inevitably, the retaken kick came to nothing and Chelsea survived the onslaught. Seconds later, Burns whistled for full time and the distraught Leeds party collapsed in anguish. They had been cruelly denied by refereeing decisions, something that was to become a recurring theme of their years under Don Revie.
Still, who were United to argue? In the fifth round against Sunderland it was the same Ken Burns who had awarded them a dubious late penalty. But the Leeds United perspective, like that of most teams, has always been one eyed.
Jack Charlton: 'I wasn't playing due to injury, but naturally I saw the match and was bitterly disappointed with the way the game was handled. I couldn't understand the ref's attitude towards Leeds; he gave us nothing around the penalty area all afternoon.'
Gary Sprake: 'After all the controversies that surrounded our earlier ties I think maybe the referees had it in for us. I don't think they held meetings, but it could have been human nature; we gave them so much stick I sometimes wonder if they were looking for payback.'
Don Revie: 'I could have understood him not allowing the goal had Johnny taken the free kick immediately. But after studying films of the incident, it is noticeable that several seconds elapsed between Burns awarding the kick and Johnny taking it. He left plenty of time for the Chelsea lads to get back, and they must have felt the goal was fair because from where I was sitting, no one appealed. In fact, one or two of them clasped their heads in their hands in disappointment.
'We were sick - all football professionals should take these things in their stride I suppose, but let's face it, Wembley is their Mecca. It's terrible to lose your chance of playing there in such an unsatisfactory manner.
'For about half an hour after the final whistle, I felt completely numb. But the remorse really began to hit me when I met my son, Duncan, outside the ground. He was sobbing - and I felt like sitting down and crying with him.'
United's FA Cup campaign was over for another year.