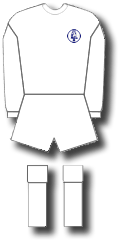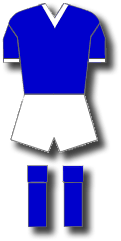 The 1967/68 season was scarcely under way before Leeds United were pitched into high profile battle for silverware. In the spring they had battled through to the Inter Cities Fairs Cup final, but fixture congestion had meant that the two-legged final against Yugoslavia's Dinamo Zagreb was deferred.
The first leg, in Zagreb on 30 August, was lost 2-0, leaving United with a steep hill to climb at Elland Road on Wednesday, 6 September.
It had been United's fourth game of the season, and they had scored just once, through Jimmy Greenhoff in the opening day draw with Sunderland. Leeds had suffered three straight defeats, though they managed to beat Fulham 2-0 three days after losing in Zagreb with goals from Rod Belfitt. The performance suggested that the Peacocks were at long last running into form.
As was the wont of a United board made up of sharp, self made businessmen, they announced a hike in ticket prices for the home leg of the final. Phil Brown covered the story in the Evening Post: 'While Leeds United directors did only a logical thing in raising their prices … they placed a big responsibility on their side for a good gate. For United have been unfortunate, their finance chairman, Mr Albert Morris, thinks, in having had to wait until now for the final to be played. Being played so early in September, the Elland Road leg of the final comes just at a time when a large number of Leeds and Yorkshire people are feeling the financial effects of holidays, Mr Morris remarked, adding that he would have been much happier if the final could have been played last May. However, top class football is no respecter of clubs.
'I have been repeatedly asked about United's sharp increases of prices, and have had a few letters on them from complaining supporters, but nothing else could be expected but that United would lift prices for their European final. Every final is played at higher prices - except the West Riding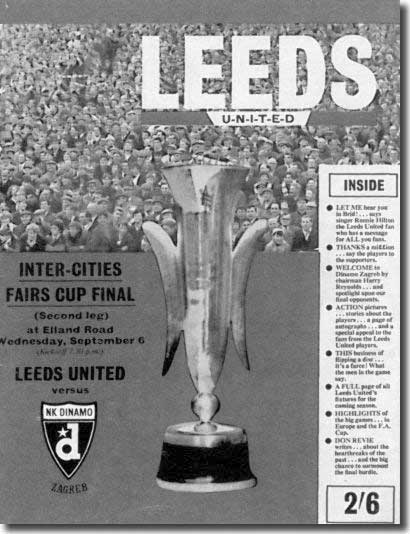 Senior Cup, bless it. One increased Elland Road price jarred me - the 10s for the paddock. Ten shillings to stand seems a bit grim even these days.'
Chairman Harry Reynolds: 'We trust the public will accept the normality of us putting up our prices this time, and will realise that any profit we make will go back into the club to help pay for not only its costly running as a leading side but for the very large scale ground improvements we have been and are undertaking.'
For the record, these were the prices:
West Stand (including the new paddock seats) - from 15/6 to 25s
Lowfields Road Stand - from 12s 6d to 20s
Paddock - from 6s 6d to 10s (children 3s 6d to 6s)
Terrace - from 5s 6d to 8s 6d (children from 3s to 5s)
Ground - from 5s to 7s 6d (children 2s 6d to 4s)
There was a crowd of 35,604 for the game, with the price hike boosting gate receipts to Ł20,177. It was a new Elland Road record, beating the previous best, Ł16,000, at the Sheffield United v Leicester City FA Cup semi final of March 1961.
The main speculation before the game was whether former England No 9, Alan Peacock would be recalled to the side for his heading ability. There was a notion that if the Slavs were to be undone it would come through aerial domination. Peacock's last game for Leeds had been as an emergency centre-half in the final league game of 1966/67; his last game up front had been on 8 April in the FA Cup quarter-final against Manchester City.
Instead, Don Revie opted for the two 21-year-olds, Greenhoff and Belfitt, operating in tandem. He did, however, spring one surprise by drafting Paul Reaney in at right wing to make up a midfield four with Bremner, Giles and O'Grady. It was a curious selection, overtly negative and smacking of caution. The move may have been prompted by the away goals counting double rule that had been introduced for European competitions; United knew that a single Dinamo goal would leave them needing four strikes themselves. Gary Sprake, Willie Bell, Jack Charlton, Norman Hunter and Terry Cooper formed a consistent and experienced United rearguard to avert such a setback, and Reaney was enlisted for some midfield insurance.
In later years, Mike O'Grady hinted at the frustration felt by many of his colleagues at the extreme prudence of the manager: 'Revie was really defensive although we had been beaten away. He filled our heads with the opposition … He was really cautious, despite the away result. For one thing, he had Paul Reaney on the right wing but also he filled our heads with the opposition. I was a winger yet he was warning me about the other winger ... expecting me to operate defensively as well as up front. It was hard work. You'd be sitting there thinking: "God, just let us play!"'
Gary Sprake: 'We felt extremely confident going into the game but we were better suited to defending a lead than overturning one. We still sometimes lacked that creative guile and someone who could put the ball away on a regular basis - Johnny Giles was our top goalscorer. We were still too rigid in our tactics.'
The Dinamo eleven was unchanged from the first leg. The Slavs were renowned for their defensive resilience, though they represented less formidable opposition on their travels, as noted by Revie: 'They were nowhere near as good against Eintracht Frankfurt at Frankfurt in the semi-final when I saw them lose 3-0 in the first leg even with their great centre-forward Lamza, now injured, as they were last night. Now that we have played them we know a lot more about them … Their crowd here last night was also very valuable to them with their enthusiasm.'
Billy Bremner was similarly upbeat: 'They are nothing marvellous. They are good, but not so good that we can't beat them and win the Cup at Elland Road. Our scoring blank has just got to end sometime, and the same attack that we had last night even without Johnny Giles is quite capable on form of getting the three goals.'
Ivica Horvat, who was now managing Dinamo jointly with Branko Zebec, said after the first leg: 'I am delighted my men are two up. It is very comforting. But the final is not over and Leeds is, I hear, a difficult place to win even narrowly or even draw. I would have been in sheer delight if we had got three, but two is at least a foundation. However, we do not regard the final as over by any manner of means. We have come here to win not to defend. Obviously, the best form of defence is to attack, and we shall attack. Besides, it would be difficult just to defend for the whole match.'
Despite United's defensive formation, they took the game to Dinamo early doors and made some decent chances. In the opening minutes Jimmy Greenhoff flicked on a left wing centre from Giles but his subtle header slipped past the far post with goalkeeper Škoric rooted to his line. The miss set the tone for the evening.
The return of Giles, in only his second appearance of the season, made a difference, bringing poise and incisiveness to the Leeds play. As Eric Stanger observed in the Yorkshire Post, 'They were faster, quicker to the ball and prepared to chase the flimsiest of chances.' Giles formed his usual telepathic partnership with Billy Bremner and dominated affairs, though United struggled to make headway. They never made the space out wide that might have been crucial, playing most of their game through the middle.
Dinamo focused doggedly on retaining possession and slowing the tempo, belying Horvat's promise of attacking football; their deliberate play prohibited any serious Yorkshire impetus. Brncic, Belin and Ramljak proved particularly adept at sustaining a suffocating defensive blanket and had no need for wild clearances.
With Cercek, Zambata and Gucmirtl constantly suggesting a Zagreb counter attack, Leeds could never wholly abandon their defensive obligations.
For all that, the game was played in and around the Dinamo penalty area. Stanger: 'One long range shot from Hunter whistled past the post. Greenhoff, slightly off balance, shot over after a dazzling run by Bremner, and Škoric once dived to clutch Giles' shot on the line with Belfitt and Greenhoff rushing in for the kill.'
The disappointing thing was not the number of United chances, for there were many, but rather the lack of imagination and refinement. There was a sad inclination to metronomically lump the ball high into the war zone of the Zagreb penalty area, and the tall Dinamo defenders made easy meat of such tactics. Had Peacock been present, the tactic might have been reasonable, but Belfitt and Greenhoff were never dominant in the air and Jack Charlton could not be wholly devoted to attack. When the Dinamo back four was breached, goalkeeper Škoric, 'an athletic, prehensile goalkeeper, as lithe as a black puma' (Geoffrey Green in The Times), was there to clutch the ball safely.
At times, Leeds did try a more thoughtful approach, but often fell into the trap of over elaborating, running onto the rocks of smart covering.
Green reflected sadly on United's efforts: 'Charlton spent more time in the Zagreb goal area than he did in his own, as he tried to connect with a stream of corners and free kicks. Once he had a goal disallowed in the second half amid a ruck of players, and twice the full-backs, in turn, stopped a header by Charlton and a shot by Bremner on the line. Škoric was momentarily missing from his trapeze.
'Leeds were thoughtless and unsubtle … They were like automatons crushing themselves against an iron defensive fortress, with no effective methods to break down the citadel. Sprake, at the other end, was virtually an addition to the national unemployment figure, except once when, in a quick break out of defence, Piric left his bar twanging like a guitar string with the first shot of the night.
'The Slavs gladly surrendered midfield and settled to argue things in one half of the pitch, and that mostly their own penalty area. Thus, wave after wave of white shirts beat like breakers against an impregnable rock. Giles, Bremner, Hunter, even Charlton, ran their hearts out. But heart is not enough in football. There must be a cool, cunning brain somewhere, and not even little Giles, the schemer, could provide that against these ruthless, uncompromising Slavs.'
In the closing minutes of the first half, Bremner looked to be getting somewhere with a neat dribble from the halfway line before unyielding defenders unfairly blocked his path. With depressing predictability, the free kick came to nothing, and it was evident that United were running short on ideas.
They were also lacking any fortune, as Eric Todd observed in The Guardian. 'It became increasingly obvious that Leeds would need luck as an ally, and the first few minutes of the second half suggested no less obviously that they were not going to get it. Belfitt, as he fell, unbelievably made contact with the ball when Bremner centred but it went over the crossbar. Then, after a corner, Leeds forced the ball past Škoric and were refused a goal, presumably because the goalkeeper had been impeded. After another corner Gracanin cleared off the line from Charlton.'
Try as they might, United could not make the vital incision and the blue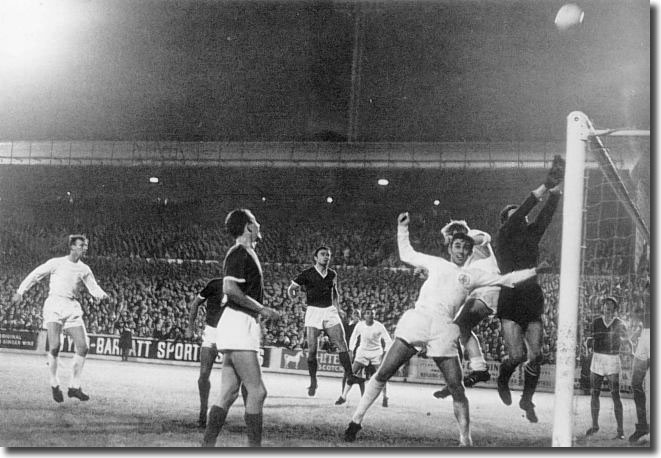 Yugoslavian wall simply shuffled across the pitch as circumstances dictated, always too knowing, too assured, simply too refined to break under the incessant waves of naďve and one dimensional attacking. There was not a single goal to show for all the effort. Leeds had gone close many times, but always there had been the niggling doubt that it was not to be their night, and the Slavs were impressive in securing the goalless draw that had been their mission from the start. Apart from Charlton's disallowed effort, the nearest United came was in the second half when Brncic headed a corner onto the top of his own bar.
Dinamo rocked on a couple of occasions when their area was packed with players and the physical power of Leeds men threatened to sweep them aside, but, through a combination of woodwork, rushed United play, cool defending and luck, they held out.
Eric Stanger in the Yorkshire Post: 'Dinamo, on the two ties, were worthy winners of the Cup … In Zagreb they were the better side in attack, last night Leeds could not break down their tough, hard tackling and wonderfully positioned defence. For all their efforts, Leeds had just not the class in attack to seize the half chances which were all this solid phalanx of blue permitted them. A Greaves, a Ball, a Hurst or a Ron Davies might have done the trick but unhappily for all their willingness, Leeds had not a marksman in that class.
'If anything, Leeds had too much of the game. Had Zagreb been drawn upfield more there might have been greater room for the counter raid. As it was, the constant weight of the Leeds pressure merely served to draw the Zagreb net tighter. It was always tough, relentless football. Zagreb did not stand on ceremony and conceded 23 kicks for fouls against nine by Leeds, but only once did real trouble threaten. That was 15 minutes from the end when Gucmirtl and Giles clashed.'
The Evening Post featured an anachronistic post-match review, which merits recording for posterity if only for its encapsulation of the Elland Road atmosphere:
'It was an odd sort of a Cup final really. The most sensational of the preliminaries was a loudspeaker announcement that Kenneth Crispin had come without money and would David Lister, already in the ground, please go to his aid. They appealed to David again at half time. Unhappy Kenneth!
back to top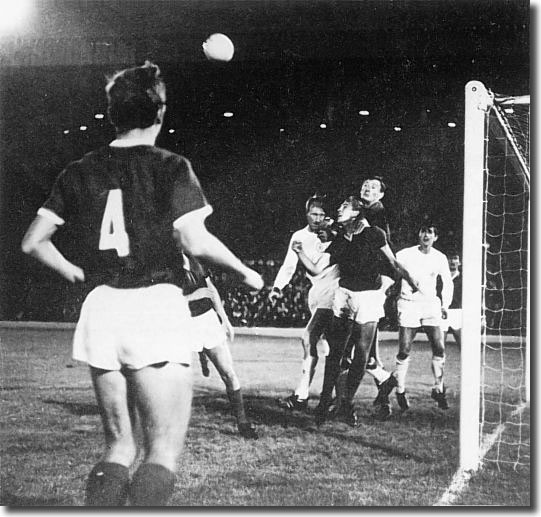 'We were at the Gelderd Road end, Elland Road's Kop of concrete terracing. It was possible to stand easy. There was no surging, no swaying. I kept my number nines firmly on the same piece of concrete right through the match. Two men behind drank coffee out of plastic cups without spilling a drop.
'"Thirty-five thou," said a 50-year supporter. He was only 604 out.
'There are things to learn about an Elland Road crowd. It's divided firmly into US and THEM. WE on the Kop were on the side of the angels. THEY were the fans packed into the echoing, corrugated iron-covered Scratching Shed at the opposite end of the ground. "The only way to deal with THEM," said a young man somebody called Cliff Michelmore, "is to make seats for all and charge 100 guineas a season."
'"You want to get in with THEM" a young man was told after delivering a lurid oath.
'But the US and the THEM became a communal WE during the game.
'In fact, the angels take their lead from the Scratching Shed. From the opposite end of the ground, this now notorious enclosure resembles an assembly of puppets. They act as one, raising their scarves in parallel lines, and they speak as one. There's nothing ragged about a Scratching Shed chant heard across the ground. It comes over as a kind of choral shouting. United's retired chairman came in for a salutary volley. 'Harry Reynolds! Harry Reynolds!' But in the main it was the plainsong of 'United! United!' and sadly plaintive it became as the match went on and the goals didn't come. We picked up their chants but our efforts were sadly ragged in comparison.
'There wasn't much that we could do with the names of the Zagreb team. The goalkeeper, Škoric, who came out of the dressing room pirouetting and kicking his heels above his head was viewed with admiration which turned to awe as the game went on. "Champion the wonder horse!" we shouted when he fielded the ball. I wonder what Škoric made of that.
'The tension and excitement of the first half ebbed like tepid bathwater after half time. It was United's disallowed goal - accepted on the terraces as a near inevitable blow of fate - that really pulled the plug out. After that you could hear fragments of conversation…
'"A bob for bus fares, 7s 6d to get in, 2s 6d for this Leeds United book that tells you that Ronnie Hilton will be waiting for the result, a bob for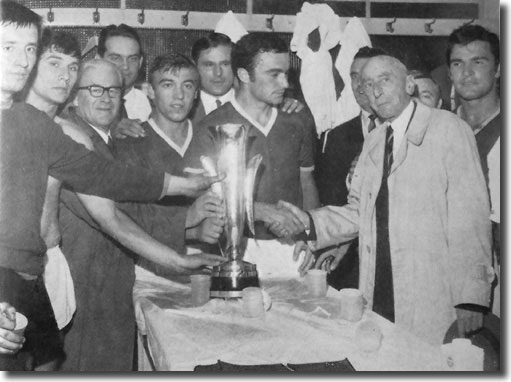 a programme - twelve bob before I've drowned me sorrows!"
'"… so I said to Joe, come on, it's the final. But he said, no, he'd see it on t'telly…"
'The result must have been a cruel disappointment to the fans. But in an odd sort of way they, the fans, won. They took Zagreb's medicine with good humour and not acrimony.
'"Krauts!" one youngster had been shouting in the mistaken idea that Zagreb is in Germany. "Krauts!" he still called at the end, but added almost sotto voce, "Good footballers, though!"
'They viewed the ineffective yet wholehearted efforts of the young men in white with tolerance and even affection.
'"Send for t'seventh cavalry," shouted one man. Another capped that with "Send for Donald Peers."
'And at the end, originating in the stand, came the low crackle of applause for Zagreb which suddenly swelled to a thunderous tribute from all quarters of the ground. Leeds United's fans, once again winning nowt, did not grudge the Yugoslavians their summat.'
After the final whistle, United director Albert Morris wished his visitors well and applauded sportingly as FIFA president Sir Stanley Rous presented them with the trophy. West Yorkshire could only look on enviously as its team missed out on the silverware once more and wish that one day it might be their turn to sample some glory …