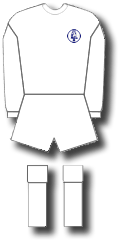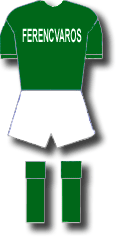 For Leeds United, 11 September 1968 brought a real moment of truth. They faced mighty Ferencvaros of Budapest in the second leg of the Inter Cities Fairs Cup final enjoying the advantage of a 1-0 victory in the home leg almost a month before. They were desperate to become the first British team to win the trophy and prove their many critics wrong.
The game had been in grave danger of being cancelled following the Soviet invasion of Czechoslovakia and the unrest this had caused in central Europe.
Cold War tensions were still rumbling between the United States and the Soviet Union. Earlier in the year, Antonin Novotny had lost control of the Communist Party of Czechoslovakia to Alexander Dubcek, who launched a programme of liberalisation in an attempt to revive the country's economic fortunes.
Leonid Brezhnev, the Soviet leader, was concerned that Dubcek's actions would weaken the Communist Bloc's position and decided on radical measures. On the night of 20 August, Eastern Bloc armies from five Warsaw Pact countries invaded Czechoslovakia. During the invasion, Soviet tanks occupied the streets. They were followed by hundreds of thousands of troops and 72 Czechs and Slovaks were killed and hundreds wounded during the troubles.
There was widespread anger throughout the western world, but the only response was written and vocal criticism - the reality of nuclear stand off meant they were in no position to challenge Soviet military force in central Europe.
In an attempt to 'forestall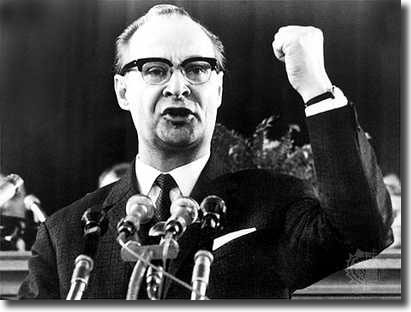 disruption by possible boycotts over the Czechoslovak crisis', UEFA took the decision to segregate eastern and western clubs in the European Cup and the European Cup Winners' Cup.
Despite dire warnings, there was no doubt about United's willingness to travel to Hungary. They had come too far to be denied at this stage. Don Revie used his weekly column in the Yorkshire Evening Post to lay out the club's position.
'We will be condemned by many people for not refusing to play the Hungarian champions in view of what has happened recently in Czechoslovakia. Much has been written and said about the ways in which the western world can show its disapproval. Sadly, soccer is being used as a weapon in the political arena.
'Celtic, who were due to meet Ferencvaros in the first round of the European Cup this season, threatened to boycott the match because of the Czech crisis. They asked UEFA not to force clubs to meet sides from Warsaw Pact countries, and as a result all Eastern and Western Europe countries, paired in the Champions Cup and Cup Winners' Cup, have been separated in the draw.
'Politics? I prefer to leave this to the politicians. This does not mean I do not feel strongly about what has happened in Czechoslovakia - but I feel that political opinion should not be allowed to interfere in any way with sport. Boycotting matches against Communist countries is the easy way out. Surely trying to beat them on the soccer field is a better way to show one's distaste.
'I believe we have the ability to win, although I would have liked to go to Budapest with a bigger lead than the 1-0 margin we established in the first leg. The Hungarians did not set Elland Road alight with their attacking play, but I know from past experience that on their own ground some continental sides have the ability to let all hell loose.
'The Hungarians are probably the finest passers of a ball in the game. They have always been adept at playing one two football … their forwards have the ability to create chances with bouts of first time passing in confined areas. When up against this type of football, it is essential to stick to the man and avoid the temptation of following the ball. It is someone else's responsibility to pick up the player for whom the pass is intended.
'A very difficult match is ahead of us. We know how formidable the Ferencvaros attackers are. We expect them to produce some fireworks. But Leeds has proved time and again that its defence can stand its ground in the hottest moments.
'In the past we have produced some of our most masterful football away from home - particularly in Valencia, Leipzig and in Budapest, too. That was against Ujpest Dozsa. Against Ferencvaros at Elland Road I was most impressed with their defence. But now for a change they must worry about us. The onus is on them to score. If we score one then they must score three to beat us. For in this competition if the teams are level on the goal aggregate, the away goals count double.'
With Johnny Giles (knee) and Eddie Gray (ankle) unavailable through injury, and Jimmy Greenhoff, who had played in the first leg, now at Birmingham, Revie drafted Mike O'Grady and Terry Hibbitt into his starting line-up.
Revie's counterpart, Dr Karoly Lakat, the coach of Ferencvaros, a history teacher and one time left-half with the Hungarians, said before the game, 'We are faced with a difficult match as we have to win by a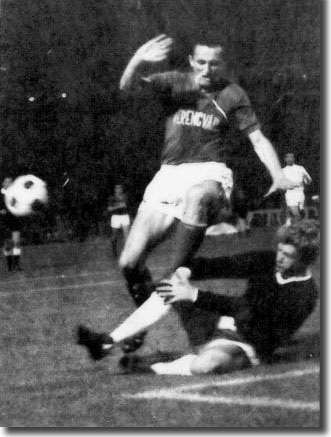 two-goal margin to take the Cup. We will apply our tactics accordingly, with an emphasis on attack. The best possible training Ferencvaros could have had for this tie against Leeds was on Saturday.' He referred to a clash against local rivals Honved, who had employed a nine-man defence. The game was won with a last-minute goal from Varga.
Lakat made only one change from the first leg. Fenyvesi, a 35-year-old veterinary surgeon, with 26 appearances for Hungary, stepped down to make way for Katona, regarded as 'a more thrusting outside-left'.
Those who were not fully converted to the Leeds cause were of the opinion that the world class Ferencvaros attack would be simply too strong for even United's powerful defence to withstand. There had been enough flashes in the first leg to leave little doubt as to the threat Florian Albert and his men represented.
But Don Revie was confident in his men and had attacking options - Mike O'Grady on the right and Terry Hibbitt on the other flank would be outlets, and Terry Cooper's attacking sorties were becoming legendary, while Peter Lorimer was always a threat from distance with his power shooting. Nevertheless, Revie's tactics were founded on a smothering defensive barrier across midfield, for the most part leaving Mick Jones alone up front to forage for scraps. It was a style that United had perfected over three hard years of Fairs Cup competition and had proven an effective option.
The Nep Stadium was a magnificent venue for a historic occasion, and the Leeds team strode out determined not to yield an inch.
Gary Sprake: 'Although my recollection of some games is beginning to fade somewhat, the game at the Nep Stadium remains etched in my memory to this day. I remember walking out of the tunnel to be greeted by a crescendo of noise and the atmosphere was unbelievably hostile. The political situation behind the Iron Curtain was very tense at that time and for the 76,000 Hungarian fans in Budapest it was one of the few chances they had to express and show their feelings in public. They certainly did that with their hostility focused directly towards us.'
Ferencvaros were straight onto the attack, and committed themselves to all out assaults on Sprake's goal. Whether by design or not, United dropped straight into a thoroughly defensive game, packing their box and funnelling back behind the ball whenever danger threatened, which was virtually a constant. For all that, the Hungarians struggled to pose any direct threat and it was 16 minutes before a real goal attempt was made, so tight was the United covering. Then Rakosi made his way into the United area through a host of white shirts and got in a shot.
Billy Bremner: 'He was wasting his time - Terry Cooper made it look easy, as he cleared the ball with a seemingly nonchalant overhead kick, though I breathed a bit more freely when I saw that Terry's move had come off, I can tell you. It was Terry to the rescue again a few minutes later, when Albert sent in a hard,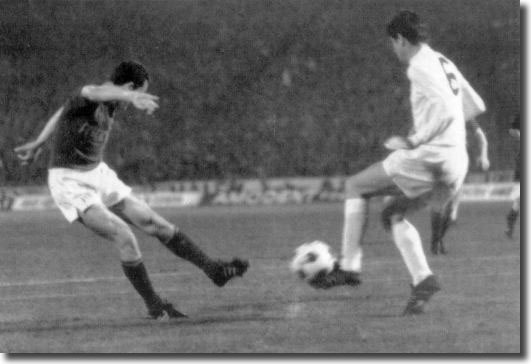 low shot. Our left-back deflected it out of danger, and the pressure on us was eased again for a brief while.'
During that opening 20 minutes, the Leeds defenders had been all calm confidence, coolly averting attacks and taking pains to retain what little possession they had. The green-shirted Hungarians were swarming all round them, penning them back into their area, but calm Yorkshire heads were everywhere. There were no panicky clearances, inviting Ferencvaros back onto the offence, and United grew in assurance. They broke out in the 35th minutes to earn a free kick wide on the right flank, giving Jack Charlton the opportunity to make one of his customary advances. The Hungarians had seen enough of the defender's aerial dominance in the first leg to know the threat he offered at dead ball situations. It was his challenge that led to the goal at Elland Road.
With the attention focused on Charlton, Jones was given the space to meet O'Grady's free kick and his high looping header dropped onto the bar before going behind. It was a clear demonstration that Ferencvaros dare not take Leeds lightly, especially as O'Grady was probing constructively down both wings. Two more shots followed in quick succession, though keeper Geczi parried them both.
These were rare moments of relief as United were forced to defend in depth, with the majority of the game played in their defensive third, and Albert and Varga conspicuous in attack. Nevertheless, the hard working Leeds defenders seemed to have found the measure of the Ferencvaros forwards, reading their every intention almost before they made their move. The front line were among the world's best, but had encountered nothing like this resolute defence. Even with Novak and Szoke controlling the right flank and Varga and Rakosi the other, giving defender Juhasz the opportunity to join in, Ferencvaros could find no way through or round a white wall.
Bremner: 'As soon as the whistle had gone to signal the start of the second half, we were thrown back once more, as right winger Szoke hared down the line and whipped in an angled shot to which Gary Sprake leaped for a brilliant save. Then we were caught out when one of the Ferencvaros forwards slipped into our penalty area, kept on running, but made a smart back pass for a team mate to collect. For a few seconds we really were all at sea, but the danger was soon over - the shot went harmlessly wide.'
Rakosi sent in a first time shot from a high Varga centre, but again the shot was wide. Sprake had to save with his feet from Szoke, making one of his final contributions. The Ferencvaros attacks were like a wave and on the hour they sought to give themselves fresh impetus, bringing on Karaba to replace him. Eight minutes later, Don Revie made a tactical switch, replacing the tiring Hibbitt with Mick Bates as the Hungarians continued to press.
There had been signs that Leeds had weathered the best that the Hungarians could throw at them, but now Ferencvaros found a second wind and intensified their efforts to snatch a precious equaliser, forcing a succession of corners and hemming United into their own box.
Most of the chances that had fallen to Ferencvaros had gone to Rakosi, but he was found wanting when they arose. As the game entered its final ten minutes, the Ferencvaros attacks grew more focused and intense with thrusts coming from everywhere.
In the 86th minute, the Nep rose as one as Varga cut in from the left to beat Sprake, but United were reprieved when West German referee Schulenberg ruled the goal offside. Then Bremner had to clear from Albert, Varga's overhead strike just beat the post and Sprake was forced to dive at Albert's feet to deny him a shot.
Geoffrey Green in The Times: 'In the second half Leeds were camped in their own half as the Hungarians threw all their efforts into trying to make the breakthrough. But Leeds held their lines superbly and twice were saved by dazzling saves by Sprake under his crossbar. First he kept out a close range effort from Szoke with his left foot, and then he dived with poetic grace to turn away a free kick from the edge of the penalty area to his top corner from Novak. How the goalkeeper ever saw the ball at that moment was miraculous, since there was a solid wall of ten white shirts in front of him.'
Phil Brown in the Yorkshire Evening Post: 'It was the save of the match … His shot was of such ferocious strength that it required of Sprake the riskiest save of all - a diving one-handed punch. If Sprake had tried to push that ball out with an open hand he would probably have had that hand in splints today. Instead, his lithe leap and powerful punch out sent the ball whirling away high round the post in what will be one of the saves of a lifetime, however long he plays.'
Gary Sprake: 'Our defence that night was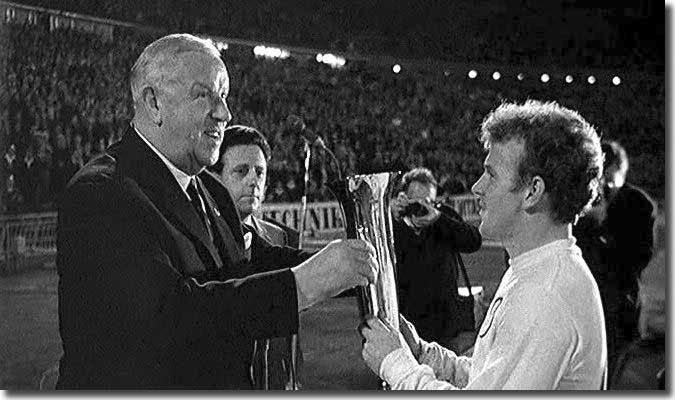 amazing and it was probably my greatest performance for Leeds. Near the end of the game I made what I regard as my best ever save. With minutes to go the Hungarians were awarded a free kick outside the box in a very central position, to be taken by their dead ball ace Novak. I lined up the wall to my right hand side and stood just behind it to cover my left hand post. He hit the ball as hard as he could and you could feel the crowd trying to suck the ball into the net behind me. After Novak hit the ball I had only a split second to see it as it dipped over the wall and I managed to dive full length to my left and slightly behind me. It was important that I got a full hand to it as it was hit so hard it rebounded off me and ended up halfway up the stand.
'I was still feeling the pain in my wrist when minutes later the referee blew for full time and we had won our first European trophy. Although I felt that I had more than helped us to win the cup it was a fantastic defensive effort from every player and Terry Cooper had a brilliant game. He was everywhere and even cleared one off the line. I think this game was the only really consistently good report I got off the national press who were especially complimentary of the Novak save. Looking back, these two games still give me great memories but if push comes to shove I do think that the away performance in Budapest was my best ever performance. It is certainly one that gives me immense pride.'
The save from Novak was the finest moment of Gary Sprake's footballing career and it signified almost symbolically that Ferencvaros' challenge was exhausted. They had thrown everything they could at United's stonewall defence for ninety enthralling minutes and had been defied resolutely. This Hungarian team was described by Sir Matt Busby, Bill Shankly and Jock Stein as the finest in Europe, and the forward line certainly was one of the most dangerous in world football.
They had given the United defence its sternest test yet, coming at them from all points, with inside-right Varga, wriggling like an eel in his slippery attempts to work his way through the eye of a needle. In reality, he never stood a chance against a team that was peerless in the defensive arts.
The final whistle went and the neon lit scoreboard said it all - Ferencvaros 0 Leeds United 0 - the Inter Cities Fairs Cup was won.
Billy Bremner went up at the end of ninety minutes' furious play to receive the trophy from Sir Stanley Rous, president of FIFA, and the United players gleefully embarked on a lap of honour to mark a historic victory, which was greeted with triumph in the British press, seemingly ready to welcome Leeds United at last as 'their' team.
R H Williams in the Daily Telegraph: 'If 0-0 suggests a boring was of attrition it could not be more misleading … Leeds were engaged in the battle of their lives against a fast, fluent and clever Hungarian side who would probably have humbled any other defence in the world.'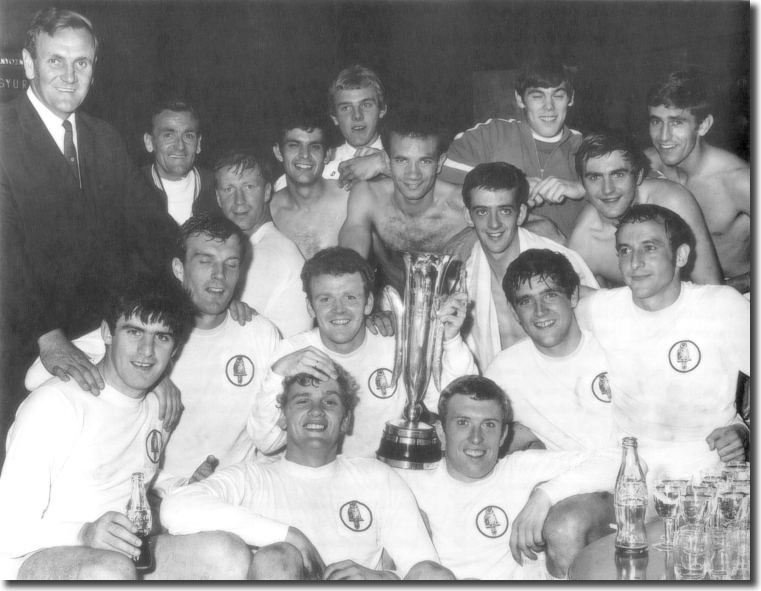 Alan Thompson in the Daily Express: 'Fingernails may need a manicure, all adrenaline has been drained and the heart has taken a hammering, but Leeds, those masters of deep and disciplined defence, held out against an onslaught of green-shirted Hungarians that lasted for almost the entirety of this game. How they did it is something of a miracle.'
Frank Clough (The Sun): 'Leeds United can now proudly display the Fairs Cup next time the critics label them the biggest also rans in British football.'
Colin McIntyre (Yorkshire Post): 'By any standards the achievements of Leeds United have been outstanding, record breaking in fact, for an English club … Leeds last night denied Ferencvaros with an unyielding defence … Leeds gave a superb but not exciting exhibition of defensive football. Leeds, the most consistent team in English league soccer for the past four years, showed their mastery of defensive tactics to achieve the greatest honour in their history.'
Desmond Hackett (Express): 'When tired limbs screamed rebellion over extra exertion, there was not one Leeds player who failed to drive himself in that further yard of effort.'
Don Revie was the proudest man in the Nep Stadium, as he offered his thoughts: 'After the disappointments over the past four years, when we got into those final few minutes, my heart nearly stopped beating. Every minute as the final whistle drew near seemed like an hour. It was a real team effort here tonight. Ferencvaros pressed very hard, particularly in the second half when they attacked all the time. The way the boys kept their heads and their cool play was really tremendous.
'We decided to keep it tight and play the game as it came. In the first half we had two chances to score in three minutes when a Mick Jones header struck the bar and a shot from Mike O'Grady hit the keeper.
'Everyone is in high spirits here, and we are proud to be the first British club to bring home the Fairs Cup.'
He didn't say so, but Revie knew that the victory would come as a real slap in the face for United's many critics, those who had written so spitefully following the dull-as-dishwater League Cup final victory over Arsenal and had not even tried to hide their pleasure when Everton beat Leeds in the FA Cup semi-final.
This was poetic justice, indeed, for Revie, but he knew well enough not to gloat. He had won two of the four trophies that United had chased, but it was still the league championship he craved, the true endorsement of Leeds United as a magnificent team.