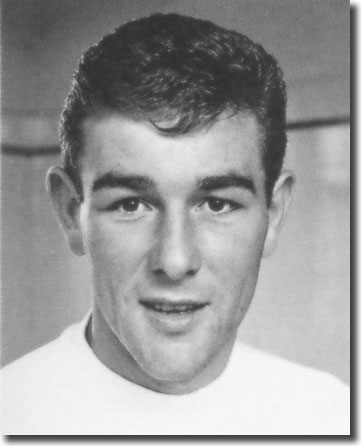 Born: Garforth, 20 June 1946
Nigel Davey was one of a host of loyal reserves who stuck with Don Revie's Leeds United through their rise to the top but failed to pin down a regular first-team spot. They had to content themselves with the odd appearance, normally when the manager chose to rest some of his international stars in meaningless games. The full-back managed 20 starts and 3 substitute appearances in a decade at Elland Road.
Davey was spotted by United scouts whilst playing for Great Preston Juniors in local football and joined the club as an apprentice in February 1964. He quickly graduated from the youth side into the reserves and was given a firs- team debut in the League Cup in October 1965 against West Bromwich Albion at Elland Road, a game lost 4-2 by a second string selection.
Davey had to wait until May 1968 for his next appearances, in two meaningless end of season First Division games, both of which were lost.
With his first-team players pushed to exhaustion as they chased an impossible treble in 1970, Don Revie turned to his reserves for a number of First Division games in March and Davey played in five of the final six League games. During that spell, Paul Reaney broke his leg against West Ham, but Revie turned to the versatile Paul Madeley to fill in at right-back for the European Cup semi-finals against Celtic and the FA Cup final clash with Chelsea.
Davey made his European debut in a Fairs Cup-tie against Dynamo Dresden at Elland Road on 21 October 1970 with the recovered Reaney missing with a stomach bug. He faded after starting well, but kept his place for six of the next seven games, before normal service was resumed as the consistent Reaney returned to form and became undisputed first choice once again.
Davey made another five appearances in the early part of 1971 and played against Barcelona in September 1971 in the game to determine the permanent home of the Fairs Cup trophy following its replacement by the UEFA Cup.
In a twist of fate, when Terry Cooper broke his left leg against Stoke on 8 April 1972, Davey suffered a double fracture of his right leg that same afternoon towards the end of a reserve game against West Brom at Elland Road, when he might have hoped Cooper's misfortune could have heralded a first team return for him.
Don Revie was Davey's first visitor in St James' Hospital in Leeds and the player recalled: 'I was chatting on the ward with various other injured footballers from local games when the Boss walked in to see how I was doing. He looked around and said, "I'll get you into a private ward, you'll be much more comfortable." I told him I was perfectly happy staying on that ward with the other lads and not to bother. The next time the Boss came to see me, he handed me an envelope with a good few hundred pounts in it and said, "Here you go, Nigel, this is what it would have cost for a private ward. As soon as you're right, you and the missus get yourselves off on a holiday," he was such a top man and cared deeply about everyone connected with the club from top to bottom.'
After his plaster was removed in July, Davey fought back to full fitness and was playing for the reserves by January 1973, though he never made it back into the United first-team.
He was one of a number of reserves released by United in April 1974. Initially, it looked like he would be off to South Africa with Cape Town side Hellenic, managed by former West Ham player, Johnny 'Budgie' Byrne, but in July he signed for Rotherham United. He was released without playing a game for the Millers and went on to become player-manager of Garforth United.