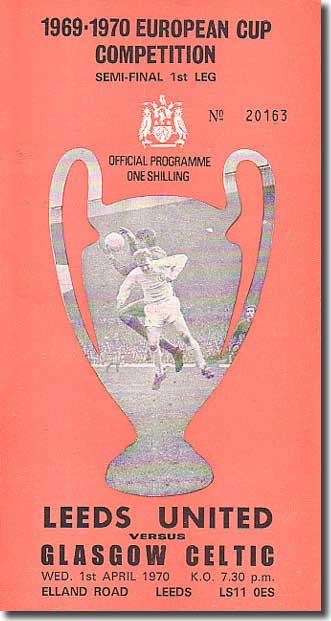 Geoffrey Green in The Times on 21 March 1970: 'When Leeds and Celtic were paired in the European Cup, groans of disappointment all over the Roman chamber greeted the announcement. Certainly it was the last thing wanted both north and south of the River Tweed as everybody had hoped that these two would fashion the first all-British climax. As it is, both clubs can now consider this as the real final, though that, of course, will be of small consolation to the loser.'
The eloquent and loquacious Green, so often accused of hyperbole, got it absolutely right on this occasion, for the contest between two clubs who were each battling for their own treble of League, Cup and European Cup quickly assumed the status of Britain's club championship, an objective means of settling the heated debate about national superiority. Of course, the presence of Bremner, Lorimer and Gray in the United side, bolstered by a Welshman and an Irishman devalued the currency of Leeds as representing England. Or is that quibbling?
The football poet, Seamus Murphy captured the simmering rage of football followers north of the border, when he penned the following poem in later years:
One day down in England in the year 69
The great Leeds United were on cloud number 9,
They'd just become champs and were over the moon,
Next season in Europe just can't come too soon.
'They're the best team in Europe' said the bold English press
'They'll take on all-comers from the east to the west,
There's no one can match them for speed and for skill,
And to watch them in action gives punters a thrill.'
Well Revie's brave heroes were quick off the mark
They thrashed the Norwegians and Slavs off the park
They beat off the Belgians from Standard Liege
And were drawn to meet Celtic at the semi-final stage.
Now the Fleet Street pen-pushers were having a ball
They were slagging the Celtic and Scottish football,
'A big fish with minnows in such a small pool
They can't match the league where the mighty Leeds rule'.
'It's the Battle of Britain', said the man from the Mail,
'And the Leeds will beat Celtic, for sure, without fail,
Our English League champs will fill our hearts with pride,
And we'll take those Jock chancers all the way for a ride'.
Murphy's piece was slanted and one-eyed for sure, but no more so than the English press in the weeks leading up to the game, who regularly trotted out the lazy epithet of 'the most professional club in Britain' when writing about United, always implying that there was no doubt that Leeds would be the victors.
The Daily Mirror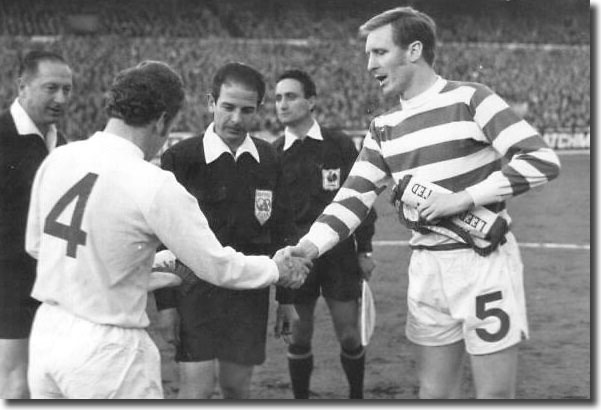 was typical of Fleet Street's finest: 'I should hate to be in Glasgow on the night when dreams are broken. Because for all of their support and belief, I do not regard Celtic as good enough to achieve what has proved beyond others in Britain.'
That came as a bit of a red rag to the bull of Scottish football, which had always defended its standing with jingoistic fervour against any claims of Sassenach superiority. Scotland's claims to be the new world champions after in 1967 becoming the first nation to beat Ramsey's World Cup winners was the starkest evidence of the trait.
The English writers really should have known better, for Celtic, though competing in a league where they were indeed mighty fish in the tiniest of pools, had proven their credentials on the high profile fields of European competition. They had been honed by manager Jock Stein into a formidable combination, becoming the first British side to win the European Cup in 1967. Their accomplishment in beating Manchester United to the honour by 12 months was another boost to national pride, as was the fact that the Lisbon Lions were all born within thirty miles of Parkhead. They were about to win the fifth of nine consecutive Scottish league titles under Stein's leadership.
After the draw, Stein commented, 'It would have been a wonderful final for British football if it had happened, but it hasn't and we have to carry on. It was because I was thinking that way, thinking about an all-British final that I hadn't looked at the semi final possibility. I honestly felt that we were destined to meet in Milan. But now I have adjusted to the fact that we are drawn together in the semi-final and I can assure you that I can scarcely wait for the games to begin. We know Leeds and we respect them too, but we are not frightened of them. I think these will be great, great games.'
His outside-left, Bobby Lennox, was rather more forthcoming in his 2007 autobiography: 'We had already comfortably won our fifth successive league title and were once again en route to the final of the European Cup, having eliminated Basle, Benfica and Fiorentina - the last two being top quality sides. That had taken us into a semi final with Leeds United and there, it was widely predicted in the English press, our little sortie in the 1969/70 European Cup was destined to end. The English press and television people, with supreme arrogance, claimed that Leeds United were unstoppable that season and were champions of Europe in all but name. Those media people failed to consider whether some other teams in the competition might rival the talents of the club they were championing.
'A lot was said about the Scottish League being inferior to the English League but at Celtic we were forced by Jock Stein to maintain a set of specific standards ... if Leeds had thought they were coming up against an amateurish mob from an unprofessional league, they were wrong.'
Don Revie was great friends with Stein and the two had together attended the 1969 Open golf championship at Royal Lytham and St Anne's, watching Tony Jacklin's triumph. Revie described Celtic as 'a fantastic club, and a fantastic side ... It's going to be a tough task in Scotland if we don't take a lead for on their own territory they are great ... We have not found any cracks in their side in the matches we have played against them or in the three we've seen them recently.'
Revie's assistant, Maurice Lindley, watched Celtic beat Ayr United 3-0 in the week of the game and commented, 'I saw enough to realise that this match with Celtic will be the toughest we have ever had to play in almost 10 years of European competition.'
Stein went to see Leeds play for the third time in 12 days when he watched them beat Manchester United in their FA Cup semi-final second replay at Bolton on 26 March. He said afterwards, 'Leeds are a fine team and played well, but I do not think they are as good as people make out down in England. There is talk about the fixture problem they face, but I don't think this is a factor in our forthcoming matches with Leeds. We played more games when winning the European Cup than Leeds will have done at the end of the season.'
Stein was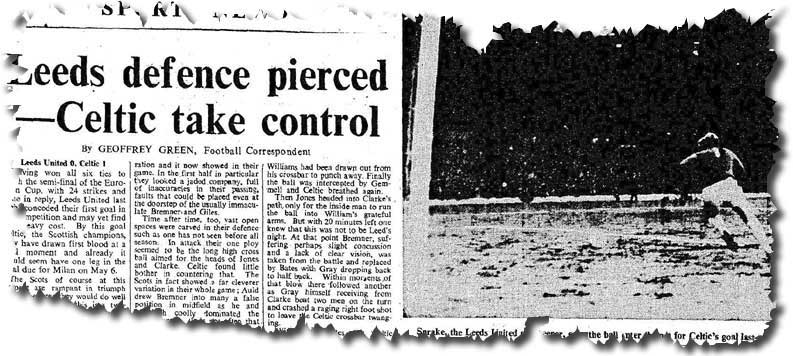 right, but what his words concealed was the sheer intensity of United's fixture congestion. The two replays that they required to see off Manchester in the FA Cup meant that in the 15 days from 21 March to 4 April they had to play eight times:

Saturday 21 March First Division Wolves away
Monday 23 March FA Cup semi-final replay Manchester United at Villa Park
Thursday 26 March FA Cup semi-inal second replay Manchester United at Burnden Park
Saturday 28 March First Division Southampton home
Monday 30 March First Division Derby County away
Wednesday 1 April European Cup semi-final first leg Celtic home
Thursday 2 April First Division West Ham away
Saturday 4 April First Division Burnley home
It was the most punishing of schedules and in the circumstances it was understandable that Don Revie had accepted that the chase for the championship was a step too far, even for Leeds. He started resting first teamers for League games, relying on youngsters and reserves to make up the numbers.
For the Southampton match, Reaney, Cooper, Bremner, Hunter, Jones and Giles were all missing, Eddie Gray wore the No 6 shirt and Revie called up Bates, Belfitt, Hibbitt, Yorath and Davey from his second string. After an unlucky 3-1 defeat, the manager took even more drastic action for the Derby clash, fielding an eleven consisting entirely of reserves, with three men making their first League start (Galvin, Peterson and Kennedy).
The Football League threatened an inquiry. Leeds claimed that they had asked Derby to postpone the match, only for County's directors to refuse. However, Alan Hardaker, secretary of the Football League, stated later that he had presented Leeds with a variety of convenient dates to rearrange the fixtures, but that Leeds had rejected them all. Hardaker and Revie were well known not to get on and became bitter enemies over the years.
The United manager was unrepentant, saying: 'The League have not yet asked us to provide medical certificates, but we shall do so if required; and if there is a League inquiry into the matter, then we shall provide all the evidence that they want. If similar circumstances arose again I should do exactly the same thing. And if we had been playing Chelsea at Wembley last Saturday instead of Southampton at Elland Road, I should have had to choose the same side as I did then. I think most people understand our predicament, and I imagine that quite a few clubs would have done the same thing in our position. There simply was nothing else we could have done in view of the advice from the club doctor.'
Stein was quick to capitalise on Revie's readiness to surrender the championship, telling his men: 'Leeds have shown us so much respect that it has cost them the league. But they must chase the game because supporters expect victory at home and they won't allow them too long to score.'
There was also a fierce dispute between the two clubs about ticketing arrangements. Celtic fans were ready to travel in force to the first leg in Yorkshire, even though United were charging double the prices that applied for their quarter final against Standard Liege.
Tom Brogan from stateofthegame.co.uk: 'Just hours after the draw was made Leeds secretary Keith Archer announced that Celtic would be allocated only 6,000 tickets for the first leg match. This was met with dismay from Celtic fans. Celtic Supporters' Association Secretary Hugh Delaney said, "I don't think the allocation is at all fair to our fans. Leeds will be able to get many more tickets for the match at Hampden." 20,000 fans were expected to want to travel down from Glasgow, so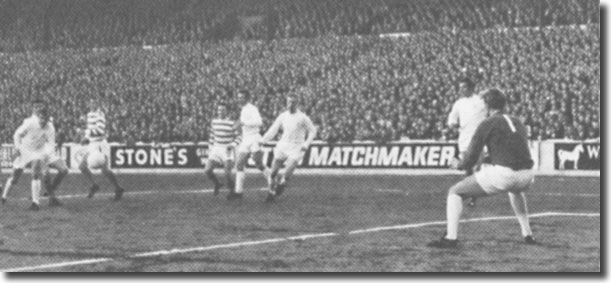 to be allocated less than a third of that number was a blow for the supporters. "We have to consider our own fans," said Archer. "For these big games we can attract 48,000 fans and they are OUR fans. They have to come first so we simply couldn't give away any more of our tickets to Celtic." He continued, "I know that Celtic could probably fill half the ground down here, but there's nothing else we can do."
'Eventually Leeds restricted ticket sales to season tickets and token holders only. On the Sunday 25,000 Celtic fans queued at Parkhead for the 6,000 tickets that were on sale, many of them sleeping outside the ground overnight. A coach load of Leeds United fans were among the first 500 to snap up tickets. That first group of 500 supporters could purchase up to 4 tickets each. From then on fans were restricted to two tickets each. Every ticket available for sale sold out, with thousands of stand tickets being held over for sale at an undisclosed home game.
'Despite being allocated only 6,000 tickets, 10,000 Celtic fans were travelling down to Leeds by any means available to them. British Rail ran a Football Special departing Glasgow at 12.31 on the afternoon of the match, arriving at Leeds 5 hours later. The price for a return ticket was 60/-. A local travel agent had chartered a plane for 100 fans, flying down in the afternoon and returning to Glasgow after the game. Of the Celtic fans' arrival the Yorkshire Post wrote, "Nothing had happened quite like it in Yorkshire since the Roman legions left York." The entire Celtic support arriving from all parts of Britain was estimated at 13,000.
'In preparation for the big game Celtic went down to Troon, running on the beach on Sunday and putting on a practice match in the grounds of their hotel, to the great delight of the crowds of holidaymakers. They would take the Leeds train from Kilmarnock on the Tuesday, staying in Harrogate before the game.'
Archie MacPherson in his biography of Stein: 'Celtic travelled by train to Leeds and reserved a special carriage for themselves. What they hadn't realised was that a famous Scottish comedian managed to get into their area. He happened to be Lex McLean, one of the most renowned Rangers supporters of that period, who wrote songs about the Ibrox club that echo to this day. However, from the moment the train left Glasgow until it got into Leeds, McLean, who was going to see the game himself, entered into the spirit of the occasion and entertained the squad with his ribald humour which left them in a buoyant, optimistic mood. Never before had a Rangers sympathiser done so much to prepare a Celtic team psychologically, to bolster morale, and probably never since. Stein later repaid this gesture by appearing on McLean's television show, playing straight man to a well-known "blue-nose" comic.
'Stein had great respect for Don Revie, the Leeds manager, as an original thinker in the game, but he did not think Celtic deserved the treatment they received both before and after the match. The English press annoyed him by writing off his team as no hopers. Revie did not help matters by being irritating. As both teams normally wore white stockings the visitors had to change, but as Celtic did not have an adequate replacement the Leeds manager offered them two alternatives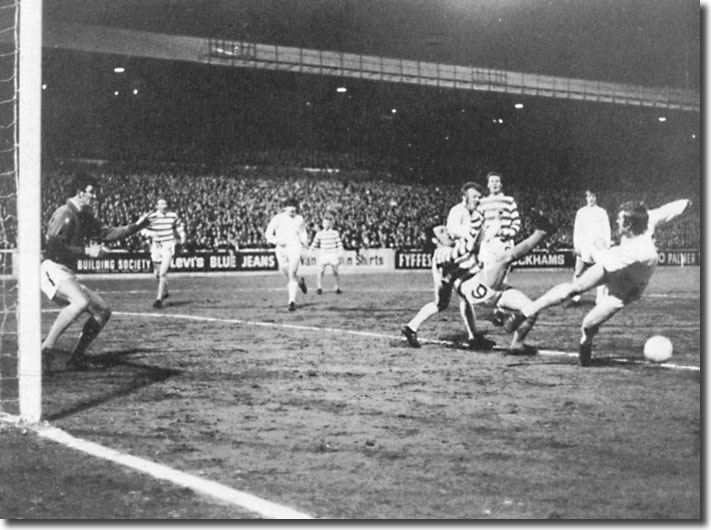 that were to hand. The colours were blue or red. "Aghast" was certainly not the word bandied about the Celtic dressing room at that choice. A Celtic team with red or blue would have tested the loyalty of their support to the limit. What to do? Stein's humour soothed the savage breasts. He kept any anger about that confined to the dressing room so that Leeds would not detect they had been upset. "We'll wear the red stockings," he said. "Under their floodlights they'll show up more orange than red and our supporters will think we're wearing the colours of the Irish tricolour. That'll please them." It did.'
Stein won all the pre-match psychological battles, as Bobby Lennox recalled. ;At Elland Road, the playing surface was in terrible condition, as we discovered when we arrived at the ground. Jock, who was always adept at mind games, told us that we were to pretend to the Leeds players that our pitch in Glasgow was even worse. An hour or so prior to the match we were standing in our suits inside the tunnel when Billy Bremner came up to us and said, "What about that pitch of ours? What do you make of it?" You could see the shock on his face when we said to him, "It's fantastic. We're looking forward to playing on that after what we've been used to back home. Compared to our place, this is like Wembley."'
Asked about his team selection, Revie said gloomily, 'I hope it will be our 100 per cent team, but I don't expect them to be 100 per cent physically or mentally right after the strain we have undergone this last fortnight.' Norman Hunter was the only absentee, with the knee injury that he sustained in the quarter-final against Standard Liege; Paul Madeley deputised.
In contrast, Stein was bigging up his men both in public and behind the scenes. His selection contained seven of their European Cup-winning eleven and the manager was convinced that wee Jimmy Johnstone on the right wing would be an ace in the hole.
Jim Black from Jinky - The Biography of Jimmy Johnstone: 'Sensing that Jinky was Celtic's potential match winner, Stein, as he had done so often in the past, threw himself into the role of psychologist and set about convincing the little winger that he had no equal among the opposition's players. Stein constantly interrupted his pre-match team talks to announce that Jinky was going to destroy Leeds. This had the effect of boosting Jinky's often fragile confidence to a level so high that he believed he was bound to prove what his manager predicted.'
Johnstone was pitched directly against United left-back Terry Cooper, widely touted at the time as one of the world's best, but Stein had no doubts, telling a friend, 'They say this Cooper is a great attacking full-back, but he's never had this tricky wee dwarf running at him for 90 minutes.'
The scene set, the two teams could put all the ballyhoo behind them and finally kick off on the evening of 1 April. United had yet to concede a goal in the tournament and Celtic had not scored away from home, but those records were about to be shredded as the visitors took a lead within 90 seconds of kick off.
From Gemmell's deep throw in on the left, Auld launched a huge up and under into the Leeds half. It came down with snow on it, near the corner of United's penalty area. The normally reliable Madeley was on hand to clear but was being harried by Celtic centre-forward Wallace. Madeley allowed the ball to bounce and then misjudged its trajectory, getting under it when he tried to head away. That unsettled the rearguard and Jack Charlton couldn't get in his attempted clearance. Wallace had the time and presence of mind to touch the ball back to Connelly, unmarked on the edge of the box, and the Under-23 international got in a shot. It took a deflection off Cooper's outstretched leg which saw it go bobbling out of the reach of Gary Sprake and rolling in at the back post.
Phil Brown in the Yorkshire Evening Post: 'On par form this season, against a situation United had dealt with hundreds of times, Madeley would have brought the ball clear, as mere routine. But the numbing grip of staleness had taken over. Reactions were slower, so limbs moved slower, too. When one thinks of how brilliantly Madeley - and the others for that matter - had played this season - oh!'
A goal to the good so early on, Celtic had a real foothold and Jinky Johnstone thereafter took it on himself to give Terry Cooper the chasing of his life. Cooper, without the reassuring defensive wall of Norman Hunter behind him, was badly exposed. He had the attack-minded Gray and Giles, never great defensive stalwarts, in front of him and little cover to speak of. With Johnstone in irresistible form, Cooper had one of the worst footballing nights of his life.
It also meant that, with his mind brimming over with fears of what Johnstone might do next, Cooper was reluctant to play his normal attacking game. At a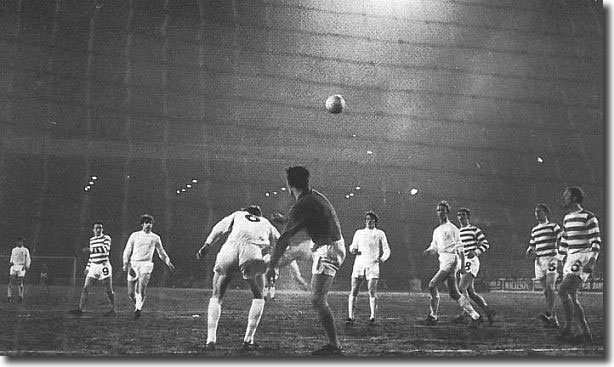 stroke, a key component of United's attacking game was neutered.
Jock Stein had ordered his men to beard United in their den and Celtic took him at his word, with the untamable Johnstone leading the charge. After six minutes he tricked his way past three men to make space for a shot from the edge of the area, only to be denied by Sprake's save.
Phil Brown: 'To rub salt in the wound, so to speak, Celtic then gave little right winger Johnstone lashings of the ball for 20 minutes, and he was just untackleable then and after. I doubt if Elland Road has ever seen such feinting, swerving and sidestepping inside a square yard. It must have been horrible to see such an individual genius on such form in control and so fleet into the open spaces.'
He was aided and abetted in his work by Bobby Murdoch, who constantly prompted from midfield. After the schemer finished off one smart move with a fearsome shot which was touched over the bar, Lennox went narrowly wide from the corner.
Albert Barham in The Guardian: 'The tactics seemed obvious but perhaps they were not. It looked as though Celtic were given orders to strike quickly at Leeds with all their considerable power, especially as Don Revie had admitted that after the gruelling succession of matches his team were neither physically nor mentally fully fit for their crucial match.
'And struggle they did for after the goal the speed and guile of Johnstone served Celtic well in this early period. Connelly also played well and Auld showed he still had a lot of good football still in him. Against this skilled Celtic attack, Leeds made heavy weather of the opening half hour and indeed it was not until the 34th minute that they were able to break the stranglehold.
'Giles and Bremner had worked unceasingly to get Leeds into a scoring position. They had tried to probe through the centre of the defence. They had tried to send Cooper and Reaney down the wings but all seemed to fail against the tall McNeill and Brogan, who nodded Celtic out of trouble. Then in the 34th minute, Giles lobbed a ball high into the goalmouth. Williams could not get to it, but Gemmell swept it away off the line as Jones challenged.'
Seven minutes later Lorimer crossed to the near post only for Jones and Bremner to both miss from close in. Then Bremner manufactured another opening with a run down the right flank but when he played Lorimer in, the Scot's shot beat the bar from 14 yards.
But if United ended the half on the offensive, it could not disguise the fact that the Scots had outclassed an off colour home eleven, as reported by Geoffrey Green in The Times: 'They looked a jaded company, full of inaccuracies in their passing, faults that could be placed even at the doorstep of the usually immaculate Bremner and Giles.
'Time after time, too, vast open spaces were carved in their defence such as one has not seen before all season. In attack, their one ploy seemed to be the long high cross ball aimed for the heads of Jones and Clarke. Celtic found little bother in countering that. The Scots in fact showed a far cleverer variation in their whole game; Auld drew Bremner into many a false position in midfield as he and Murdoch coolly dominated the central areas. It is not often that Bremner and Giles have to play second fiddle in this way.
'With McNeill an immovable lighthouse at the heart of defence, and Hay outdoing even Leeds in the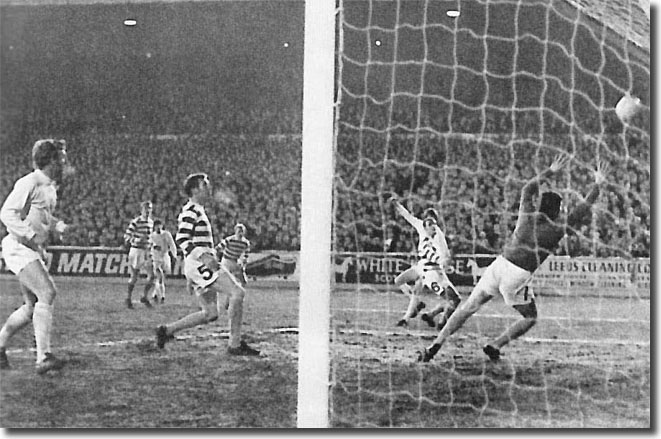 matter of overlapping from full-back, it was Celtic who held all the cards up to half-time. They held them in attack through the superb, dribbling of little Johnstone who, like a wasp, buzzed here and there with close footwork and acceleration round, and often through, an alarmed Leeds defence. Johnstone with his low centre of gravity was as elusive as a piece of wet soap in a shower bath.'
Don Revie must have hoped that Leeds could revive their hopes after the break, but they were nearly the victims of another early shock. Before the first minute had elapsed, Connelly had the ball in the net a second time. Auld fired a crossfield pass to Johnstone on the byline. He was harassed closely by Cooper, but managed to slide the ball across to Connelly who shot home. Fortunately for Leeds, French referee Kitabdjian disallowed the goal, presumably for offside against Johnstone, though he protested long and hard. It had looked clearly as if Cooper had played him on.
As if acknowledging their fortune, United finally drew themselves together and forged some kind of control on the game; they certainly created more chances in the second period, without finding the gilt edged one that they so badly required.
They sensed that an early equaliser was essential if they were to win the game and thought they'd got it on the hour when Lorimer found Clarke in space. Unfortunately, he hesitated, perhaps looking for a better placed team mate and his uncertain effort was saved by goalkeeper Evan Williams, who blocked with his knees. Shortly afterwards Lorimer, Clarke and Jones all seemed to be waiting for another to seize the opportunity in front of a yawning goal when Williams punched loosely. The chance was gone before any of them could react as Gemmell hoofed clear.
Then Clarke received from a Jones header, but lacked his normal control; Williams dived bravely at his feet to collect the ball.
On 58 minutes Bremner was injured. He had fallen to the ground and struck his head in Celtic's area after a series of Leeds attacks. He struggled on gamely for ten minutes but was badly dazed. He had to go off with concussion and double vision to be replaced by Bates. It was clear he knew little of what was going on as he was helped off the pitch.
Terry Lofthouse in the Yorkshire Evening Post: 'Bremner roamed about dazed and bewildered after being led from the contest in the 67th minute ... Les Cocker eventually managed to get him off the pitch, and for another half hour Bremner knew little about what was happening. He was ordered home and a taxi called. But suddenly he reappeared and went into the Celtic dressing rooms. Trainer Cocker and the club doctor rushed from the home dressing room and took the pale looking Bremner back there. It was quite a while before he regained his composure.'
With Bremner's withdrawal some of the fire seemed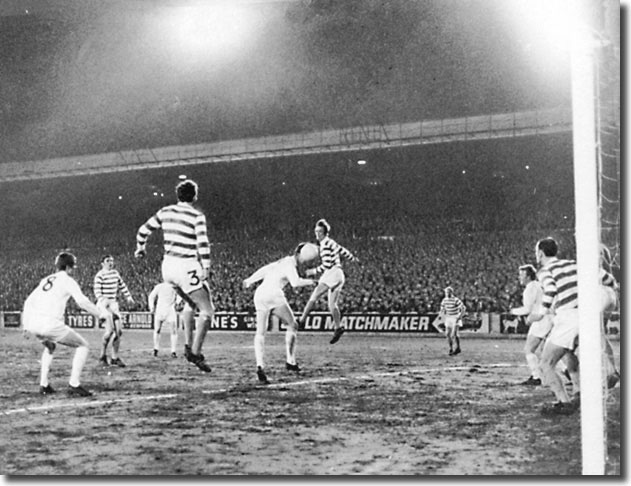 to go out of the United work, though Gray came close in the 72nd minute. He turned past two men, hiding his intentions until the last minute, superbly concealing a fearsome right-footed drive until he struck it from the ruck. It "made the crossbar twang like a bowstring" (Albert Barham).
Another couple of chances came but ended with anxious Leeds players ballooning them harmlessly over the crossbar.
And if Leeds had the volume of opportunities, it was Celtic who had the quality. Barry Foster in the Yorkshire Post: 'Celtic were always likely to hit back and Johnstone gave the Leeds defence a timely reminder of their power six minutes later when he waltzed around three defenders to set up a shooting chance for Wallace - and what a shot it was, Sprake bringing off a fine save on his knees.'
Geoffrey Green: 'With 10 minutes left Celtic, smoothing the ball around, changing the angles, slowing the pace, and altering the rhythm, brought on Hughes, the strong running express engine as a tactical substitute for the stylish Connelly, who had more than played his part in helping Murdoch and Auld in midfield to set up the play for the elusive little Johnstone. Leeds beat the breath out of themselves to the very end. But it was not to be on a day which had brought flurries of snow and a chilly but clear night with a yielding surface under foot.'
Celtic retained their slim advantage to the end of the game. It was a grim outcome for Don Revie's men, and he acknowledged as much afterwards. 'Celtic were the better side and deserved their victory. Every one of them was magnificent. It makes it very hard for us at Hampden, but we are still not out of it. Anything can happen when we play the return game.'
Jock Stein was triumphant: 'They have laughed at our football long enough down here. I'm not talking about Leeds United or Don Revie, they have respect for us. I'm talking about the critics and commentators who have rarely given credit to Scottish football. Maybe tonight's result will stop them laughing.' He added a final note of caution, 'This is only half-time, we have another 90 minutes to play at Hampden.'
The Glasgow Evening Times gloated, 'Make no mistake about it, Celtic showed Leeds the way home. They unhinged this "most professional" of teams in every phase of the game. They were so impressive in doing so that even the English journalists, who cannot see past England and anything English, were silenced by Celtic's treatment of the machine.'
Jimmy Johnstone got all the plaudits after the game of his life, and it was widely suggested that he had proven himself better than George Best. He ignored the claims, saying, 'They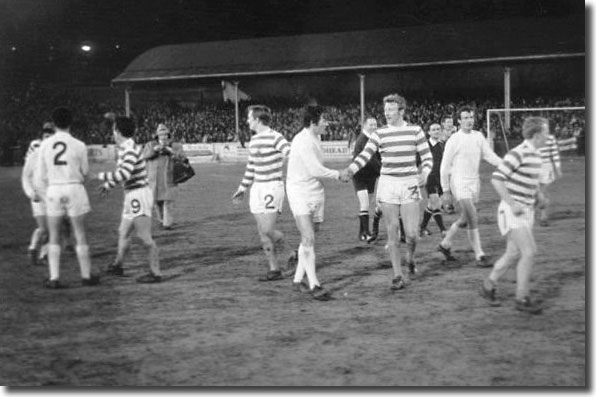 can put all the valuations they like on me, they can compare me with any player they like. I don't care! I know people are saying I must be worth a quarter of a million pounds, but as far as I am concerned I am a Celtic player and I always will be a Celtic player. It was my best game at European Cup or international standard. But the whole team played so well. We wanted to do it so much.'
Stein's assistant Sean Fallon spoke later of the winger's brilliant display: 'Leeds was just one of his great games. He really turned it on that night. They were so confident about the first leg down there. Not that Don and his people were shouting about what they would do. It was the English newspapers who were doing that. But still Don and the rest of them were quietly confident that they would get a result to bring with them to Hampden. We surprised them, and no one had more surprises for them that night than wee Jimmy.'
Phil Brown summed up United's despair and emptiness in the Yorkshire Evening Post the following day: 'Whoever it was in Leeds United jerseys that Celtic beat 1-0 at Elland Road in the European Cup semi-final, it was not Leeds United. With the exception of Sprake, the men who have dominated the English season for months were unrecognisable. Celtic were so dominant that United did well to keep hope alive and the score to only 1-0. Indomitable Don Revie held out, "There's only a goal lead after all. We have not given up hope of winning the return at Hampden." Allowing United's task will be toweringly difficult, they could do it, too.
'Last night his team found that the elastic had gone, its strength taken by the surely impossible rigours of this World Cup shortened season for a successful English club in the hardest League in the world. Incidentally, discussing this matter of strain with Dutch, West German and French sports editors last night, they all admitted frankly that they could not visualise even the best of their clubs tackling our league season in the time allowed this year, and winning cups as well.
'United were beaten for pace, starting and in flight, accuracy, reading of the game, intelligence and in skill on the ball last night. Celtic, fine side as they are, experienced as they are, ruthless as they are, did not miss a trick.'