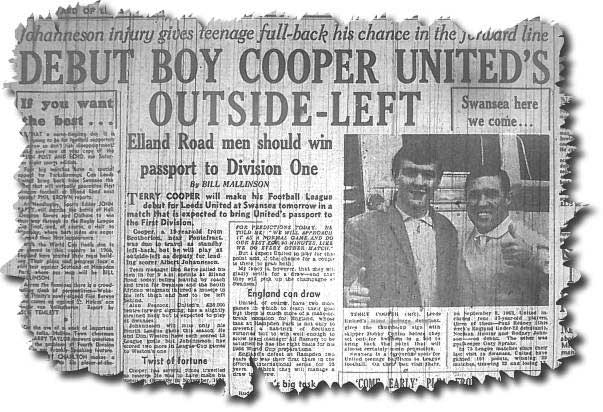 The Leeds United party that took the lengthy trip to the mining district of South Wales on the eve of a Second Division match with Swansea Town in April 1964 did so in high spirits. They knew that a point from the game would all but guarantee their return to Division One after four years out of the top flight. While a win was needed to make United mathematically certain of finishing in the top two, the Whites' goal average was so markedly superior to third placed Preston North End that to all intents and purposes the draw would be enough.
Leeds were top of the table, a point clear of rivals Sunderland, and winning their final three matches would ensure they won the Division Two title for the second time in their history. As the Yorkshire Post's Eric Stanger observed, however, "the Second Division championship … is merely the gilt on the gingerbread" and for the moment manager Don Revie's thoughts rested solely on the match in hand.
It was a deeply symbolic occasion for Revie, the supreme fatalist, with promotion up for grabs at Vetch Field: two years earlier, Bobby Collins, a £25,000 buy from Everton, had made his debut at the same ground before inspiring United's escape from an unprecedented drop into Division Three; Swansea was also the venue when the manager had gambled on youth in September 1962, giving debuts to teenagers Paul Reaney, Norman Hunter and Rod Johnson. Both of those Swansea contests brought memorable victories.
With almost a superstitious nod in honour of those fateful occasions, Revie now blooded 19-year-old Terry Cooper on the wing in place of Albert Johanneson. Cooper had started his career as an outside-left before being converted by Revie into a full-back and promised to make United a little more solid down the flank, hinting that the manager would be happy to settle for a point.
Originally, Pontefract-born Cooper had been due to travel as a standby left-back, but Johanneson injured a thigh muscle during training and was left behind when the coach left Yorkshire.
Cooper was the only change in the line up that had seen Leyton Orient off at home the previous weekend. That meant the first choice defence of Gary Sprake, Paul Reaney, Jack Charlton, Norman Hunter and Willie Bell was on duty again - Charlton had only recently returned from a lengthy spell out through injury but had restored much of the defence's early season impenetrability.
Arrayed in front of the back four were Johnny Giles, Billy Bremner and Bobby Collins, possibly the best midfield combination in the country and definitely the shortest, while Cooper took his place in the front line alongside Don Weston and Alan Peacock.
Giles and Peacock had arrived during the season in big money moves from Manchester United and Middlesbrough respectively and were proven international players. They had brought polish to a team that had previously resembled a collection of rather rough diamonds.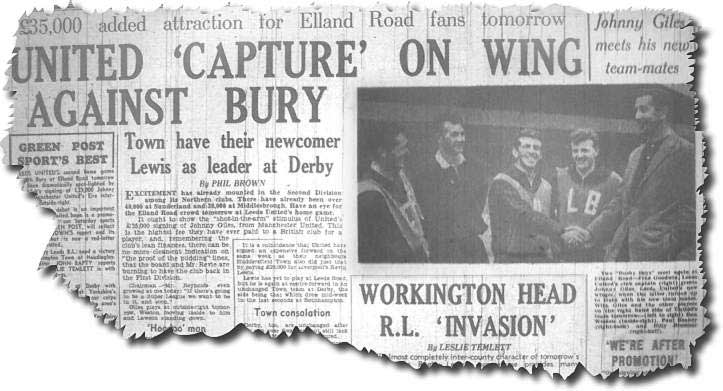 Don Revie offered no predictions of the result, saying only, "We will approach it as a normal game and do our best for 90 minutes, like we do every other match." He was confident of victory, if understandably nervous. Swansea were 18th in the table, just three points off the relegation places, but had come close to pulling off a shock before losing 2-1 at Elland Road in November.
They had also enjoyed a tremendous run in the FA Cup, beating First Division Sheffield United and Stoke City on the way to a shock 2-1 win at Liverpool's Anfield fortress in the quarter final - the Reds were about to become League champions. Swansea finally went out in a semi final showdown with Preston North End, who beat them 2-1 at Villa Park.
However, Leeds United were now a battle hardened team, having led the Second Division title race for most of the season, and they slipped quickly and smoothly into top gear on a fine spring day with little wind and the pitch in excellent condition. Eric Stanger: "They almost instantly began to show a superiority over the home side, cutting their defence open with swift attacking play out to the wings and back and very promptly crushing any countermoves."
United had no intention of leaving anything to chance on such a momentous day and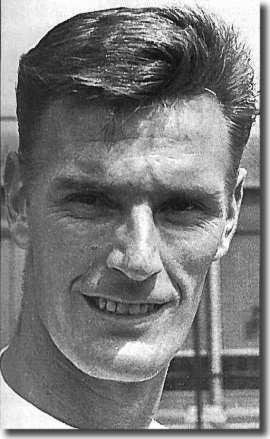 overpowered the home side, racing into a three goal lead in little over half an hour. It was Terry Cooper who set the wheels in motion, supplying the cross after 15 minutes that centre-forward Alan Peacock slammed home to open the scoring. Within four minutes, Peacock had repeated the dose, scoring his and United's second after a corner by Bobby Collins was flicked on by Johnny Giles.
There was no holding Leeds in this period, although it was another 15 minutes before they added to their lead. Cooper's corner from the left reached Giles on the right edge of the area, about 12 yards out. He caught the ball perfectly and, although his shot was partially blocked by defender Roy Evans, there was enough pace on the effort for it to find the net. The game was as good as over, with the Swans having no answer to Leeds' slick football. Phil Brown: "United looked almost home and dry and yet only 34 minutes had gone. What Elland Road would say to three goals in little over half an hour I can hardly imagine."
Even a top notch side would have struggled to pull such a lead back against a team renowned for its defensive excellence, but the improvement a 3-0 scoreline brought to United's goal average was too important to risk. Rather than going all out for more goals, as they could well have been excused for doing, United remembered the lectures of Don Revie and settled for a no frills performance from then on, doing only what was necessary to preserve their emphatic lead.
Bobby Collins played supremely in a holding role and, with Giles and Cooper tucking in well, gaps proved hard to find for Swansea. However, United's conservative approach allowed the Welsh side to come more into the game in the second half, when they found new fire. They carved out some decent chances, but found United keeper Sprake (a native of Swansea) the equal of everything they could throw at him.
Leeds were not wholly negative after the break and did have the chances to increase their lead, but Town keeper Dwyer had the luck with him on two occasions when foiling Weston.
While Collins was, as so often in this wonderful season, the man of the match, Terry Cooper enjoyed an impressive debut, prompting Phil Brown to write in the Yorkshire Evening Post: "I've seen a few good League debuts since Mr Revie's nursery began to work, but Cooper's was among the best. This Pontefract lad had just astonishing composure and moves, admirable determination and enterprise, good control and judgement. You would have thought he had been in the team for months. One match can deceive, but I doubt it in Cooper's case. If ever a poor debut could have been forgiven it was in this match. But he was clearly United's best forward."
In the end, there were no more goals and Leeds ran out comfortable 3-0 winners, confirming their promotion. With Preston and Sunderland both involved in scoreless draws the result also strengthened the club's title bid.
Phil Brown said that the win was "just about the best of their 11 away
successes in the League this season. I say 'just about the best' only because their autumnal 4-1 win at Southampton was a really brilliant performance against a better side than Swansea.
"United's play, both in their attacking first half and their contrasting second, was technically almost faultless. The fast, sudden and accurate striking of the first half, plus finishing of the kind Elland Road would have erupted had it seen it, had Swansea reeling."
Don Revie paid tribute to his men after the game: "We have a family spirit at Elland Road and everyone has been prepared to work that little bit harder and do that little bit extra. That has been shown on the field. The players have given 100 percent effort in every game, and no team, win, lose or draw, can do more than that. Their obedience to orders, tactical and otherwise, has been most gratifying and I know they have repeatedly lost the chance to make flattering headlines by making sure of victory or a point with unspectacular methods."
The Yorkshire Post's Eric Stanger used the occasion to laud the achievement of Revie in transforming a dying club:
"Leeds United's return to the First Division is all the more remarkable when one considers that two years ago only a desperate late effort prevented them from slipping into the Third. Yet that was not the nadir of their fortunes in recent years. That followed their relegation from the First Division for the fourth time in their history at the end of season 1959-60. Muttered discontent became open revolt against the board after a moderate start to the following season and resulted in the moving of a vote of no confidence in the directors in the December of that year.
"The motion was easily defeated on a shareholders' vote, but the acrimony at the time helped not only to clear the air but eventually led to almost complete reorganisation. The hint was taken, new directors, with wealth to put into a club faced with liabilities of more than £100,000, were elected and generally there was a transfusion of both money and energy.
"A most significant step was taken the following March, when Don Revie, still an active player, was appointed team manager. He had no experience of management, only a wealth of football knowledge and ideas gathered
from some 15 years as a player and he quickly showed himself a person of strong character. From the beginning he insisted on full control of the playing side. All he asked was five years in which to build up a really good side and that was not unreasonable considering the state of the club's playing register at the time.
"The gospel he preached in the boardroom and out of it was that no club could be successful in modern football unless it built from the bottom. By that he meant signing the best of schoolboy talent as junior professionals, coaching and teaching them so that as footballers they grew up with the club. That was long-term but it is a policy which has paid Revie and Leeds United much earlier dividends than they expected. How many miles Don Revie has travelled in search of young talent and how many hours he has put in only he knows. Few managers can have shown such an infinite capacity for hard work.
"One of the first things he did, and to my mind one of the most important, was to lay down with his coaches and training staff a club pattern and style of play. That was something which had been lacking in the 40 years or so I have known Leeds United.
"The benefit of an overall team plan is that players can step from the junior side to the reserves and to the first-team knowing exactly what is required of them. The club's style and general tactics are ingrained in them. But in United's case, before it could be fully operative, there had to be a lot of improvisation, and a lot of make and mend in the first team if relegation to the Third Division were to be avoided. Of the signings in March 1962, none turned out to be more important than that of Bobby Collins, a bargain, so it proved, at £25,000 from Everton.
"Collins, whose best days were thought to be over at 30, not only led them to safety that season but his shrewd generalship and leadership have been decisive factors in taking them back into the First Division. Few inside-forwards work harder than Collins and generally they are a hard-working race - they have to be in the modern game. Few players can strike such a response from their colleagues. His influence both in the dressing room and on the field has been incalculable. It may be an overstatement to say that he has made Billy Bremner into one of the best wing-halves in the country, but not so much so. Bremner, I know, has such respect and affection for his fellow Scot and his football has improved so much under his lead that United, who could not get £25,000 for him a couple of seasons back, would now not take double that fee for him.
"Bremner and Collins have formed the hub round which the team has revolved - the midfield dynamo, as current football phraseology has it. They are responsible for the quick transformation from defence to attack, which is so essential if the modern blanket defence system is not to be completely stultifying.
"But Leeds United's success this season has not been due to any one or even two men. It stems really from a happy boardroom, a happy executive and happy players. Man for man, position for position,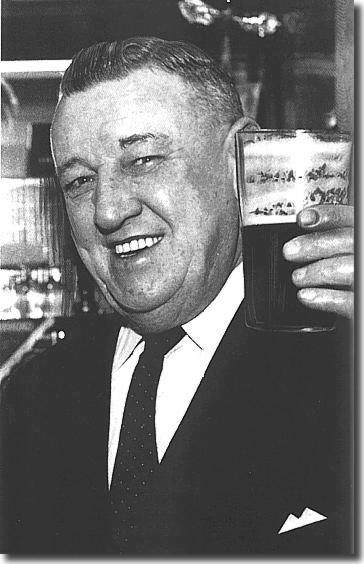 other Second Division clubs could point to a pull over United but none can boast a better team in the full sense of the word.
"Every man has been prepared to pull every ounce of his weight, to shoulder extra burdens to help out a colleague in trouble. Individual glory has been readily sacrificed for the good of the whole, which is true team spirit and has enabled many a game to be won when victory has seemed unlikely. United may not always have been an attractive side to watch, in the sense of providing glittering spectacle, but they have been a mightily efficient one."
Andrew Mourant recalled the aftermath of the match: "Revie, almost pathologically superstitious, did not buy the champagne they were to drink beforehand, fearing it might tempt some malign fate. Instead, he and several players made a tour of the Swansea pubs after the match in search of celebratory bottles. It did not take them too long to become inebriated on the train journey home."
Bagchi and Rogerson: "In a jubilant dressing room Harry Reynolds, openly weeping, uncorked the champagne he'd requisitioned from a nearby pub, composed a telegram to congratulate Sunderland on their promotion, lionised his manager - offering him an improved contract, the third in three years - and promised to buy the fish and chips on the trip home. The tortuous journey had begun in South Wales; fittingly, it also ended there."
Leeds United had toiled hard and with scant praise outside the confines of Elland Road all season. They fully merited the chance to let their hair down, even with games yet to play, and took it with gusto, ready for all that the giants of the First Division could throw at them.
Stage one of the Revie revolution was complete.