As Leeds United travelled to meet Swansea Town for a Second Division fixture in early September 1962, one could have been forgiven for dismissing the match as an unattractive pairing of two mediocre teams. Both sides had started the season indifferently, with the Welsh club in 10th place and the Yorkshiremen 13th. It would be many months before the significance of the contest was appreciated, but the match is now renowned as the start of a bright new chapter in the history of the Elland Road club.
Leeds had started the season with huge optimism, despite their struggle against relegation the previous spring. Then, they had finished fourth bottom, tied on 36 points with Swansea, but ahead of them on goal average as Bristol Rovers and Brighton took the drop into Division Three. Under young manager Don Revie, United had spent heavily in the summer, breaking their transfer record and becoming a fixture in the back page headlines thanks to the £53,000 transfer that brought former idol John Charles back to Britain, after five years in Serie A with Juventus. They also acquired Airdrie inside forward Jim Storrie for £15,650 and seemed set to be a major force.
However, their initial form was patchy, with only two wins and a draw from their first six matches, an exact replica of their opening run in the disastrous 1961-62 season. The much vaunted return of Charles had been thus far a distinct disappointment, with the Gentle Giant an overweight and ambling shadow of his former glory. The Yorkshire Evening Post's Phil Brown wrote of him after the draw at Huddersfield the previous Saturday: "That young man has not yet provided the fireworks that had been hoped for from him in the ideal, and I really would have liked him to have chanced his shooting far more than he has done. He has been well and truly marked, I know, but I have seen him pass from openings the old Charles would have used for shooting.
His colleagues, too, had been below par and hesitant, with only fiery Scottish inside forward Bobby Collins capturing his best form. Manager Revie had seen enough after the midweek defeat at home to Bury, and decided to make sweeping changes. This was even before he knew that both Storrie and Charles would be missing through injury, the Scot with a broken finger and King John with the strained back that had left him limping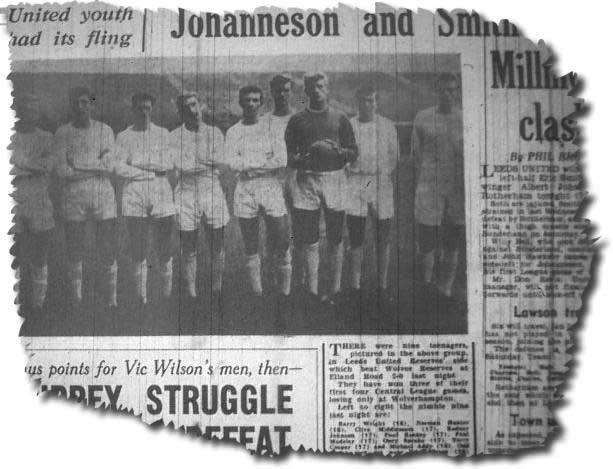 through the Bury game.
Club captain and wing half Freddie Goodwin was also injured, along with forward Ian Lawson and left half Wille Bell, so Revie was already down to the bare bones of his playing strength. However, he was so disenchanted with the performance against Bury that he chose to drop two of his most experienced charges, goalkeeper Tommy Younger and stand-in captain and right back Grenville Hair, commenting "Some of our senior players have not struck top form yet."
After assiduously attracting some of the country's best young talent to Elland Road in the preceding 18 months, Revie and coach Syd Owen had been nursing them through the lower ranks. The reserve side which had taken on Liverpool at Anfield earlier in the week had been one of the youngest - and most successful - ever, lining up thus: Gary Sprake (17), Paul Reaney (17), Barrie Wright (16), Mike Addy (19), Paul Madeley (17), Norman Hunter (18), Ronnie Blackburn (20), Rodney Johnson (17), Peter Lorimer (15), John Hawksby (20) and Terry Cooper (18).
The manager had been hoping to let his novices learn their trade in second string football, but he was now finally ready to give youth its head. On the Thursday before the game, he summoned together four of his reserves, Sprake, Reaney, Hunter and Johnson, to tell them they were being promoted to the first team.
Swansea-born goalkeeper Gary Sprake had already played for the first team, the previous March when he had been rushed to a match at Southampton by chartered plane after Tommy Younger was taken ill on the day of the game. He had been spotted by Jack Pickard, the same Welsh scout who had first hunted down John Charles.
Fulham-born Paul Reaney, who had been raised in Leeds, had been converted into a right back by Revie after signing as a centre half, while the Geordie Norman Hunter had been a slight inside forward when he became one of Revie's first signings after taking over as manager. He had earlier been taken on as an apprentice by Revie's predecessor Jack Taylor, but when he was about to sign on as a professional Taylor had hesitated, telling Hunter to hang on a few months. He was still raw and gangling, but had been relaunched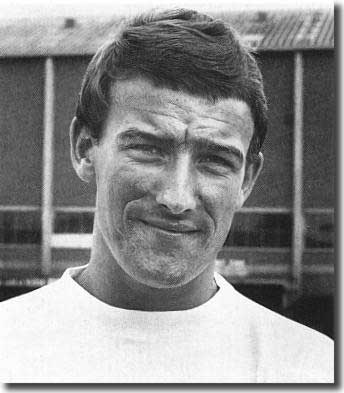 by Revie and Owen as a left half.
Rod Johnson was another local lad and had already won youth caps for England. He was "compactly built at 5ft 7in and 11st 1lb, a quick, slight forward" with great mobility and had the honour of deputising for John Charles.
The Yorkshire Evening Post's Phil Brown welcomed the changes: "After last night's setback by Bury I expected changes, as, I think, did most supporters. Mr Revie, I know, badly wanted a few more weeks at least for his crop of good 'young uns' to mature in men's football in the Central League, but events have overtaken him. He told me this afternoon: 'I didn't really want to play the lads yet - I wanted them to get a bit more experience - but I have to give them a chance now. We want to get cracking in the League.'"
Also coming into the side for his first game of the season was Eire international Noel Peyton, while left back Cliff Mason became United's third captain of the season after the demotion of Hair. But while Mason was the nominal leader on the field, Revie placed great faith in three other stalwarts.
Bobby Collins, the veteran Scottish international, had been recruited the previous March from Everton to inspire the fight against relegation. He was undoubtedly Revie's real leader on the field, urging, driving and coaxing the best from those around him, and was looked up to (at times warily) by even the senior professionals.
Jack Charlton, now the defensive kingpin after the demotion of Goodwin, had gone from being a disruptive dressing room stirrer to a committed Revie supporter: "There was a game against Swansea that marked a turning-point in my life. Don had left a lot of senior players out of the side. I said to Don, 'Well, I'm not going to play the way you've been playing with Fred, I don't want to play man-to-man marking, I want to play a zonal system where you pick up people in your area. I'll sort out the back four for you the way I want them to play' - and Don said OK. That, for me,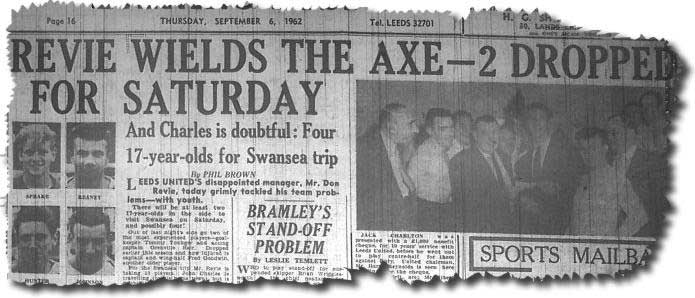 was the moment when I stopped being one of the awkward squad and came on board the Leeds United ship. It was a sign that I would be one of the key players in the new team Don was building. I was sort of the organiser at the back, I was the pusher, I was the one who told the young lads where to go, when to cover, and how to pick up positions."
Billy Bremner, now an old hand of the side at 20, still knew what it was like to be a boy in a man's world, and acted as the youngsters' minder, encouraging them on to greater heights.
The three key players took it upon themselves in this new revolution to shape and steer the way of things and grew for the experience. They did not permit their young colleagues to spend time thinking about their nerves and were constantly on hand when the going got really tough.
Although Swansea's general form had been as lukewarm as United's, they at least went into the game off the back of a home win in midweek against Cardiff City, and few believed that Leeds would get anything out of the game. Phil Brown: "The new look side is, of course, something of a gamble as far as winning at Swansea is concerned. It is more important, as I see the present playing strength at Elland Road, to look forward."
There was little wind on the day and Leeds took to a soft and muddy pitch wearing an all-blue strip, with Swansea's white kit forcing the change. A combination of the unfamiliar shirts and wholesale line up changes left United definitely second best in the early exchanges with right winger Jones and centre forward Webster calling Sprake into early action, although both saves were comfortable, helping him to settle.
Things could have been very difficult for Leeds if the 'goal' scored by Webster shortly afterwards had been allowed to stand. However, he was rightly adjudged offside when Thomas' pass found him close to Sprake's goal.
Jack Charlton and Eric Smith, though, now began to demonstrate their experience, building confidence in the youngsters around them, earning them the time to settle in. In fact, the pace and energy the newcomers injected into the play offered much which United had been missing in earlier matches, allowing them to adopt an aggressive, hard pressing game. It was the style that Don Revie had vainly sought all season, described later by Storrie: "We were a ball winning side and champing at the bit to go. We played a method game, high pressure football. Bobby Collins would get hold of the ball and spray passes all over the park for people to chase after. The forwards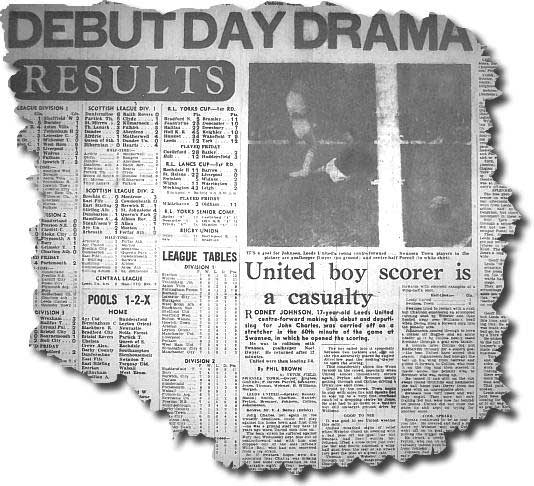 would hustle, cutting off the supply of back passes to the goalkeeper. I reckon we scored about 10-15 goals through forced errors that way."
Clearly, Johnson and Hunter were better equipped for this approach than Charles and Goodwin, and Reaney brought verve and pace to the right flank. Indeed, the full back was in the thick of things early on in ways which would become characteristic for him in the years to come for Leeds. Firstly, he linked well with Bremner on an overlap up the right and then he was found covering expertly at the back when Town winger Jones beat his full back partner Mason and centred into the area. His break forward had been one of the few opportunities that United had for offensive action in the first ten minutes, for Swansea continued to enjoy much of the early possession.
They failed to capitalise, however, and in the eleventh minute it was the Yorkshiremen who opened the scoring. Johanneson went on one of his characteristic mazy runs down the left and drew the Swansea defenders towards him. He moved the ball inside to Bremner who played Johnson in with a lovely through ball. The debutant still had much to do, but he carved his way through a couple of tackles before driving low from an acute angle past Noel Dwyer in the Swansea goal. It was a difficult chance that was taken cleanly and accurately, marking out Johnson as a talent to watch.
The goal gave both crowd and home team pause for thought, allowing Bremner and Collins to gain control and dominance of midfield. Along with Peyton, they each came close to adding a second shortly afterwards.
Swansea were by no means out of the game, however, and Sprake was in action several times, demonstrating his potential. Indeed, the goalkeeper was one of United's outstanding players throughout, prompting Phil Brown to comment: "
Sprake had a story book game. He was superb and as cool as you like. His leaps to high balls and his nearly unerring catching drew round after round of applause. While ready to leave his line he was not daft about it, and did one very fine 'stay at home' diving save."
Inspired by their talented young keeper, the Leeds defence coped superbly, with big Jack Charlton, according to Brown, "in tremendous form. The England selectors just must look at him … Charlton had another infallible game at centre half." But United were not confined to their own half and had much the better of the first 45 minutes after their goal. Johnson's drive across the goal only just beat the crossbar while Eric Smith fired a powerful shot narrowly wide. All the Leeds forwards had decent games, interchanging and combining cleverly, while Bremner and Collins, in particular, also made sure they were giving ample protection and cover to their less experienced team mates.
Bremner and Johnson combined well to make a chance for the youngster and then Collins played Johanneson in, although Swansea keeper Dwyer saved the day for his team by rushing out to dispossess the South African who had struggled to control the ball. He had come even closer minutes earlier when his snap shot after chesting the ball down came close to clipping the post.
Swansea were thrown completely out of their stride by the way that United seized the initiative and the half closed with Norman Hunter moving forward to fire in two spectacular long range drives, confirming the Leeds ascendancy.
The Welsh side used the interval to regroup, and came out with guns blazing. However, Charlton soaked up all they could offer, first blocking an attempt by Webster and then heading away under pressure when Davies threw the ball into the area.
However, Leeds gradually rediscovered their momentum, and were soon 2-0 ahead, following close run things for Johanneson and Bremner. Both men were integral when the goal came, and it was a real beauty, described by Phil Brown as "the best United have scored this season."
The South African began the move, forcing his way up his flank from the halfway line before feeding Collins. The Scot moved it on into the area for an onrushing Bremner to control, round left back Griffiths and hammer past the keeper from ten yards with a tremendous shot.
On the hour, young Johnson was carried off after a heavy head-on collision with goalkeeper Dwyer. He had already sustained a minor knock just minutes before, but when he chased in a shot from Hunter which had spun loose he was flattened by the much heavier keeper and a stretcher was required. He was able to return after 12 minutes, but was clearly still suffering the effects of the clash.
The ten men coped admirably in his absence and comfortably held the Welsh side at bay as the home supporters gave a dispirited team a relentless slow handclap for their inadequacies.
However, it was the tremendous performance by United, rather than the home team's poor display, which was the outstanding memory of the day. According to the Yorkshire Post "Bremner and Collins provided the best display of inside forward work that United have had for years. United moved faster and played more accurately than at any time this season, or last, the youngsters bringing a zip the side has badly needed." Phil Brown was equally positive in the Evening Post: "Swansea went from bad to worse against an unfaltering all-round display which left their forwards helpless and their defence floundering. In short, it was one of the most complete United away victories I remember, and I only wish it could have been played at Elland Road, for there was many a minute of just the sort of football so often lacking there."
It was noticeable that the absence of their big man up front led to a different approach by Leeds. Gone were the hopeful high punts to the spearhead,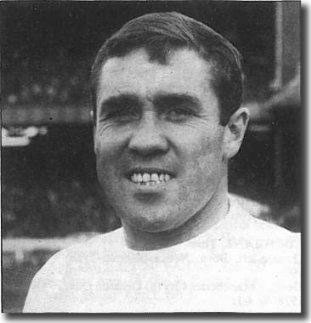 and instead they played the ball across the ground, retaining possession and pressing when Swansea had the ball. They looked far better for the change.
The four youngsters all had promising debuts. Sprake, in particular, had a superb game, but while he was popularly considered to have been the most impressive, Johnson was not far behind him in contribution. As impressive as his goal and his assurance when taking the chances served up for him, was his general display in leading the line, cleverly bringing the other forwards into action.
Hunter and Reaney had more workmanlike displays but let no one down and were embarking on marvellous, almost omnipresent careers with the Elland Road club. In fact it was April 1965 before Hunter was missing again from the team in the league, while Reaney played in every other game but one all season.
Don Revie had commented before the game: "Naturally I would have liked them to have had more Central League experience, but I am pressed by both injuries and form." He was delighted by the way they coped so comfortably with the big time, looking as assured as if they had been playing regularly for years.
It was an impressive new beginning for Leeds United and the accent on youth was something that transformed the club's standing in the game over the months that followed.