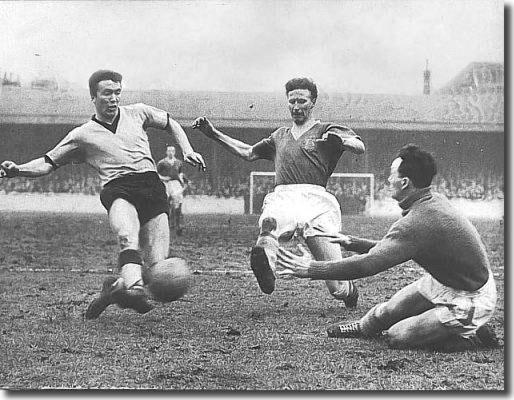 Part 2 - The Difference
For Leeds United, 1961 was a watershed year: they had been down among the dead men of the Second Division for twelve long and miserable months and memories of the legendary John Charles were dim. The playing staff was now populated by much more prosaic forces, with few precious gems to punctuate the gloom: Billy Bremner, at just 18, was an explosive talent on the right flank, while big Jack Charlton, though exhibiting the odd glimpse of latent ability at the rear, demonstrated complete disrespect for both off-field authority and on-field discipline.
John McCole was a reliable goalscorer, black South African Albert Johanneson an emerging force on the left and the ageing full-back, Grenville Hair, could still demonstrate many of the touches that took him to the verge of full England honours, but the side as a whole was limited in ability and application.
On the plus side, the club was managed by an intelligent and thoughtful force for the future, former England inside-forward Don Revie, Footballer of the Year in 1955 and focal point of the Revie Plan which had won Manchester City the FA Cup a year later.
Revie, appointed in March, was a managerial novice, but had an incisive knowledge of the game. Eager to learn the nuts and bolts of his trade, he was keen to break new ground. One of his earliest steps in the job was to cross the Pennines and seek the advice of Matt Busby, the charismatic guiding force behind Manchester United.
Busby was a ready, willing and able tutor, advising that a consistent pattern and approach should permeate the entire playing organisation, with youth players schooled in the same style that the first team practiced. He also counselled on the wisdom of growing your own.
For all his approachability and support, however, Busby remained fiercely partisan and professional. His stint as Revie's mentor did not deter him from attempting to entice Jack Charlton to Old Trafford that summer as Revie set about fashioning his own blueprint for the future.
It didn't take much to persuade Jack to consider a move - he had long been a disruptive and difficult influence in the dressing room, embittered by managerial incompetence and fear of wasted potential. He was a constant thorn in managerial flesh and had not impressed Revie: 'When I joined Leeds United as a player, I was amazed to find how undisciplined Jack was. He was one of the most awkward customers it had ever been my misfortune to meet. Whether it was because the club had never had much success or not I have no idea. But in all matches, Jack wanted to run about all over the place. He seemed to think that if he didn't do it, no-one else would.'
Charlton's disregard for both tactics and the needs of colleagues prompted Revie to snap, 'The best thing that could happen to you would be for the club to leave you out. You're ruining it for the rest of us with that chip on your shoulder. If I were manager, you'd never do for me.' Charlton shrugged off the comment with the disdain that characterised his entire approach to life, never guessing that Revie's offhand prediction would soon be realised.
However, Jack Charlton was not as laissez faire when it came to money, and he was enraged by one of Revie's early decisions. The manager had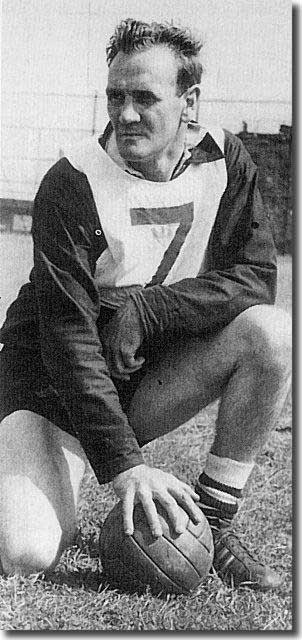 rightly identified the lack of team spirit as a deep rooted cancer. He decided to do away with pay differentials between first team players, opting instead to improve incentives.
Bagchi and Rogerson in The Unforgiven: 'For a club in Leeds' predicament the package of up to £43 10s per player per week was enormous, but the fine print, as so often, revealed that the Board retained the upper hand. The basic wage was increased to £20 per week, to be supplemented by a £5 appearance fee, a £4 win bonus and a complex sliding scale of incentives aligned to attendances above 20,000. To qualify for the full bonus of £14 10s, Leeds would have to draw a crowd of more than 31,000 - a gate of 18,000 above the previous year's average. It's hardly surprising that it was the ever obstreperous Charlton who saw through this scheme and asked to be transfer listed. Convinced that senior players naturally deserved a greater salary than the juniors, he was only persuaded to sign the new contract (which ensured him £14 in the close season) in early July on the proviso that Leeds would release him if an acceptable bid was received.'
Indeed, Charlton was so incensed by developments that he refused Revie's perverse offer of the club captaincy. Brother Bobby, a major star at Manchester United, mentioned Jack's dissatisfaction to his manager and Busby started making overtures to the player about a move to pastures new, suggestions that enthused the older brother.
A combination of Revie's stubbornness and the meanness of the Leeds board resulted in an asking price of £26,000, giving Busby pause for thought. The valuation was way above his own and he decided to shelve the move. Jack was not best pleased. He confronted the United manager, demanding to know what was going on. Busby tried to placate him, claiming he just wanted to give a chance to 21-year-old Frank Haydock, who had emerged from the youth team, and that the delay was temporary.
Charlton would have none of it: 'I can't believe what I'm hearing. I have caused ructions at Elland Road. I have refused to sign a contract. Nobody there is speaking to me. I have caused bloody havoc in the club. I have been offered a deal and turned it down, and now you are telling me that I have got to wait until the beginning of the new season, until you have had a look at someone else.'
In a fit of pique, Charlton stormed back to Elland Road, apologised to the club and signed his new contract without a second thought.
Accenting the positive, Revie boasted: 'Both Jack and I are very happy at his change of mind. He has been enjoying the training - indeed his team won my training competition. He thinks, like I do, that United are going places and he will be very happy with us.'
The 'training competition' was a motivational gimmick that Revie had dreamed up: 'My one aim is to make them Leeds United-minded. Get that, and much else falls into place.' There was a distinct improvement in the attitude of the squad, particularly when they heard some of the other proposals.
Director Harry Reynolds, who had been instrumental in Revie's appointment, was increasingly influential and intent on transforming a perennial Cinderella outfit. His daughter, Margaret Veitch, recalls, 'When he came on to the Board in the 1950s, he didn't devote all that much time to the club. But when he retired in 1959, then Leeds United became more or less his hobby ... and he wanted to make them a success. Even though money was short initially, he said, "We're going to go first class ... we're going to stay at good hotels." His attitude was that if we were going to be a top club, we would do the things expected of a top club.'
As positive as the players were at these developments, they were less convinced by the most memorable of the changes.
Bagchi and Rogerson: 'Revie's other noticeable pre-season innovation was the abandonment of the club's traditional blue and gold strip. Though the decision effectively jettisoned forty years of United's history, astonishingly little was made of it at the time. The replacement colours were to be all white, in quite deliberate imitation of the famous all-white of the finest team in the world, Real Madrid. To re-profile a club so efficiently on such a whim demonstrated the man's flair and vision, drawing a line under the failures of the past. That nobody remonstrated with him for it is an early sign of the Board's growing willingness to indulge him and of the interminable apathy of the majority of Leeds fans. Such a flagrant psychological gimmick was risky. If he pulled it off, it would be interpreted as a masterstroke. If "New Leeds" continued to founder, however, it could look like hubris and finish his career. To invite comparisons with Gento, Di Stefano and Puskas when all he had was McConnell, Peyton and Cameron ... one has to admire Revie's nerve.'
Such revolutionary change hinted at the board's faith, particularly as it entailed expense, with the club still hamstrung by financial constraints. Chairman Sam Bolton admitted that he and four other directors had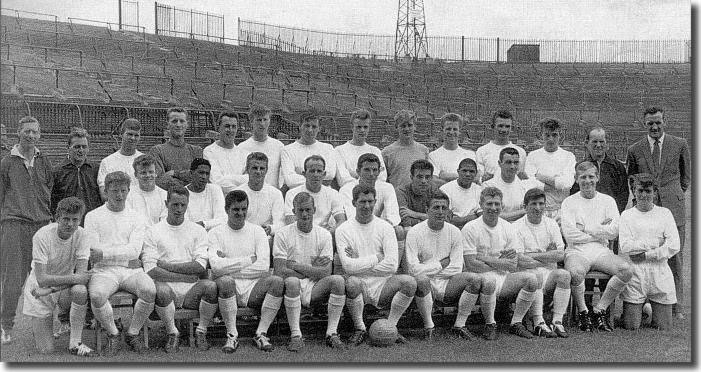 each made interest-free loans of £3,500 to keep things going, gambling on improved attendances. It was a suicidally over optimistic outlook: the club needed attendances of 30,000 to break even, and crowds the previous season had averaged less than 13,500. The final home game, a 2-2 draw with Scunthorpe, drew just 6,975, the lowest League gate at Elland Road since the war. Understandably, the Board would only sanction enough money in the close season to purchase Preston right winger Derek Mayers. Arsenal's bid for Billy Bremner in August could have eased matters, but Don Revie's insistence that the youngster should stay was patiently indulged by the directors.
The Leeds public were cynical about a new era - 12,916 fans braved the Purgatory of opening day at Elland Road to jeer the spotless new kits. Bremner scored the only goal of the game against Charlton Athletic. The Scot's effort was also decisive three days later, after an opener from Noel Peyton, as Leeds won 3-1 at Brighton, with Mayers completing the scoring.
These were heart warming victories, but old doubts resurfaced the following weekend, as Leeds were trounced 5-0 at Anfield. Bill Shankly was moulding a football revolution on Merseyside - Liverpool had finished third in Division Two in each of the preceding two seasons and were on their way to the title.
Scottish striker Ian St John was in sparkling form for the Reds, causing endless problems for a pedestrian defence with his intelligence and mobility, pulling the strings in a masterly demonstration. Liverpool were in no mood to let the soft centred Leeds team spoil their day and simply played them off the park.
It was a major setback for Revie and his men. Brittle confidence, which had been nurtured during the summer, crumbled as the team went into free fall, registering just two successes in the next 15 games. A 0-0 draw at Elland Road against Leyton Orient on November 11 left Leeds second from bottom with just 12 points from 17 matches.
John McCole had scored all four goals in the 4-1 win over Brentford in the League Cup on September 13, demonstrating that he could still terrorise defences. However, it was a swan song, and he was gone by the end of the month, returning to Fourth Division Bradford City. Whether it was McCole's choice, or a desperate attempt to supplement dwindling funds is not clear, but Revie missed the Brentford win as he scouted for a replacement. The transfer came as a shock, seemingly confirming that Leeds United had accepted their role as eternal strugglers and a selling club.
Revie's short term solution was to thrust Jack Charlton into the forward line, reasoning that his power in the air would be an asset. Charlton did score goals, returning 9 in the league and three in the cups, but he hated the experiment, bitching and moaning, with his reaction to an early home defeat being pretty typical.
Leo McKinstry: 'In a game against Rotherham, Leeds had conceded a goal in the first half from a header on the edge of the 18-yard box. Revie was angry about this error and said so in his half-time talk, blaming Jack for failing to pick up the centre forward. Jack, who thought the keeper should have saved the header easily, was so resentful at this accusation that he threw his teacup at Don Revie. It narrowly missed the manager, smashing into the wall behind him. A stunned silence fell on the Leeds dressing room, as Revie left the room without saying a word.'
However, the manager could at least console himself with the sustenance of boardroom support and the potential of youth.
Harry Reynolds was a powerful advocate for Revie. The two men had formed a strong attachment through hours of conversation and were shaping a vision for the future. Reynolds was soon to be in a stronger position to emphasise Revie's qualities.
With credit at the bank exhausted, Chairman Sam Bolton sought alternative means to bolster the coffers, appealing to local businessmen for their support. He managed to enlist the aid of Albert Morris, who ran Morris Wallpapers, and Manny Cussins, the man behind the John Peters Furnishing Group. Both men were supporters and happy to swell board membership, sinking £10,000 apiece in further interest free loans. Sidney Simon was another recruit onto the Board, as Stanley Blenkinsop stood down after 27 years as a director, joining John Bromley as vice president, while the Earl of Harewood was elected the first president of Leeds United.
Bolton sought without success for further recruits. Nevertheless, with Harry Reynolds making £50,000 available from his personal fortune, the club was guaranteed enough money to see it through the immediate future.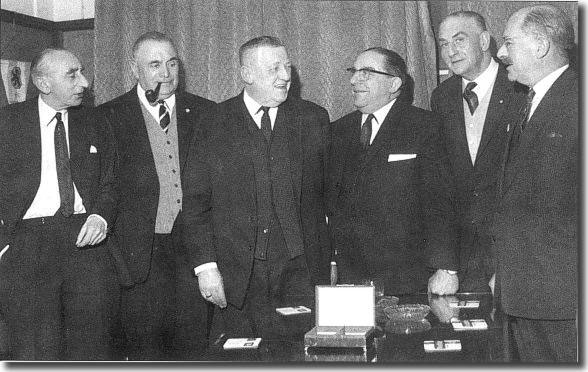 The task of establishing sound financial foundations achieved, Sam Bolton chose to step aside.
Bolton's energy had been sapped by years of penny pinching and struggle. He resigned as chairman at the Annual General Meeting on 8 December, hinting at his weariness: 'I have taken a lot of kicks, and I'm afraid I'm getting to the point where I can't stand up to kicks like I used to.' The period since the war had been 'one of anxiety, disappointment, hard work, financial problems, staffing problems and a succession of unexpected difficulties'. He implored supporters to give their backing to the board: 'Encourage them, they are shouldering a big responsibility.'
There could only be one successor, as Harry Reynolds assumed the mantle of leadership. He did so eagerly, encouraging Revie to outline his plans for the future at the same AGM, commenting that he had 'never heard such ideas better put. He will have all the backing the new Board and I can give him. Without going into details, I can now say Don Revie has more of the "sinews of war" - what we Yorkshiremen call brass - at his disposal than his predecessors had. How much more must remain our secret - the soccer market is as tricky a field of business to operate in as you will find. I have all possible confidence in Don Revie who has shown splendid balance and unsurpassable zeal in our recent weeks of adversity.'
Revie's vision was founded on attracting the best young players in the country. He had taken Matt Busby's advice to heart and placed his faith in the youth development policy introduced by his predecessors. Yorkshire Post sports editor Richard Ulyatt offered his support: 'For years, the club built the wrong way round. They constructed a team from the top instead of from juniors ... far too often United have recruited with a view to plugging gaps in the first team. The whole history of the Football League suggests that the teams who last longest as match-winners are home spun. I believe that Leeds United have reached the nadir of their fortunes and will shortly start on the way up.'
The message became Revie's mantra and a regular theme of his contributions to the club programme: 'The long-term outlook of this club must be based upon youth. No players, however well intentioned and conscientious, can possibly acquire the loyalty that all clubs need to the same degree as those players who start their life with one club and develop throughout the teams. We are basing our plans upon securing the best youngsters there are available, and to that end all schools, youth and junior representative matches are being watched and reported upon. Already we have a nucleus of talent. You have seen Billy Bremner, the 18-year-old forward whom I regard as the man most likely to succeed me as schemer of the forward line. It may be that I shall continue to play until Billy is ready to take over, but I regard his promise as so great that I do not consider that date far advanced.
'We are in the throes of a financial and playing depression ... only hard work, discipline, and clear thinking without prejudice can assist us at least to retain our present status. There is anxiety but not panic or despondency at Elland Road.'
He begged supporters to give him time and extolled the virtues of the youngsters who were shining in the Northern Intermediate League: "'heir average age is 16, but in this tough competition, our young team can more than hold its won. Here are some of our lads: Gareth Sprake, goalkeeper, 16, from Swansea Schoolboys, who is going to be good ... right half Jimmy Greenhoff,
15, star of the Barnsley Boys team which won the Yorkshire Cup and English Schools' Shield last year ... Paul Reaney, a 17-year-old upstanding centre-half and captain, a Leeds lad from the Leeds City Boys team ... Norman Hunter, an 18-year-old inside-forward from Newcastle district has great ability. Terry Cooper, a 17 year old outside left, is another apprentice of great promise.
'We think we have a young team well worth watching - take a look and judge for yourselves. But to get the best out of them, they must be brought along gradually. It is of course frustrating to a football supporter to be asked repeatedly to be patient but I am afraid that is what is required ... the history of football abounds with stories of clubs meeting with success when the days looked darkest. In every instance it was to be found that the people in charge were prepared to grasp success when the tide began to flow their way.'
However, Revie knew he might not be around long enough to see potential realised. In a vain bid to stem the tide of poor results, the manager pulled on a white shirt and reappeared in midfield. But age had eroded his ability and speed, and he could not compensate for the evident lack of talent around him.
A bad run of goals conceded spelt the end for young goalkeeper Alan Humphreys, whose confidence was rock bottom, but the replacement came as a shock for many.
Andrew Mourant: 'Revie gambled on a player whom many people thought had seen better days, goalkeeper Tommy Younger. Younger, who was past 30 and overweight, had been playing in Canada and was recommended to Revie by Stanley Matthews. He had also played previously for Liverpool and Stoke and won Scottish international caps. But Revie was uneasy, not least because Younger was reputed to be slack at training and a difficult temperament to handle. Moreover, two years earlier, Younger had slipped a disc at Stoke City and been advised to stop playing. Yet he vowed to do his best for Revie, and after signing from Toronto City in September 1961, rapidly shed two stone, forcing his way into the first team.'
Spirit was poor, but in December Revie signed his former Manchester City team mate, Billy McAdams from Bolton Wanderers, hinting at a possible remedy. The Belfast-born forward scored 20 goals in 31 matches for City in 1959-60, and followed up with 16 in 27 for Bolton. However, at Elland Road he struggled to find his form, returning just 3 goals from his 11 appearances. In common with the other forwards, McAdams was guilty of "missing so many chances it wasn't true", according to team mate Eric Smith, and the Irishman moved on to Brentford for £8,000 at the end of the season.
The absence of the fleet footed South African left winger Albert Johanneson forced Revie to persevere with former England youth player John Hawksby. Hawksby scored in his first two games for the club in August 1960, but had failed to find the net ever since. As Revie said, 'John has yet to make his position in the club secure. In Central League matches and in training, he is outstanding but on the field in the cut and thrust of the Football League, his skill is not as apparent.' With McCole gone and McAdams struggling, the forward line had little bite, and Billy Bremner was to finish leading scorer with just eleven goals.
However, if the strike force was unproductive, the defence had consolidated, with some encouraging displays. Leeds' problems over the last two years were at the back, with 175 goals conceded. The rearguard was by no means watertight, but had stabilised. In front of Younger, Grenville Hair retained the right-back slot, while Revie had converted former Queen's Park wing-half Willie Bell to left- back, with the robust Freddie Goodwin in the centre alongside Smith.
However, things looked particularly bad for Leeds United and there was a trap door to the Third Division beneath their feet ...