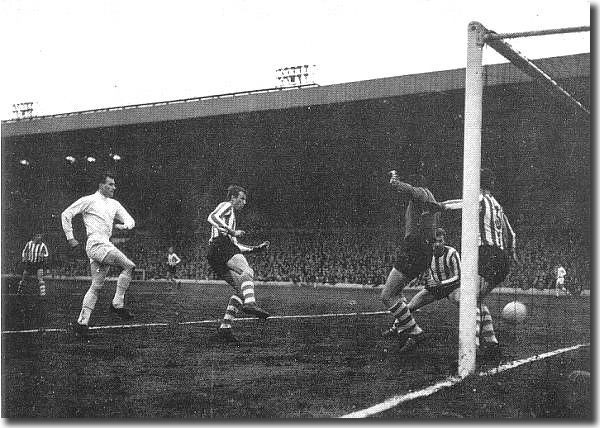 For Leeds United, 1964/65 had been a truly magnificent season. The players had exceeded the hopes of even their most optimistic supporters, coming closer to silverware in twelve short months than their predecessors had managed in the other forty-five years of the club's existence.
They were still chasing an improbable league and cup double, but as April drew to a close, their title challenge had stalled. Matters had come to a head at the business end of the season, and their totally unanticipated assault on the League championship was stumbling. A late blip of poor results had allowed long time favourites Manchester United to regain the advantage.
After an 18-match unbeaten run in the league, and only a single defeat in 27, Leeds had surrendered their lead at the top of the table following the Old Trafford club's 1-0 win at Elland Road on 17 April. When Leeds crashed 3-0 away to Sheffield Wednesday two days later, matters seemed cut and dried. Faint Yorkshire hopes were revived, however, by impressive victories over the following five days in derby clashes against the two Sheffield clubs.
It was a mighty big ask for Leeds to win the title. As they travelled to play Birmingham City in a Monday night fixture, their fifth match in 10 days, and their final league outing, the Yorkshiremen were a point clear at the top of the table, but the Mancunians enjoyed both a game in hand and a significantly superior goal average.
The equation was quite simple for Leeds - their only option was to go all out for victory. Even then they would have to rely on Matt Busby's side dropping points, either at home that same evening to Arsenal, or a couple of nights later at lowly Aston Villa. The chances of Villa doing Leeds a favour were remote - they had crashed 7-0 at Old Trafford earlier in the season.
It was a tenuous possibility (after the Saturday results, with Leeds winning 3-0 at Sheffield United and the Red Devils beating Liverpool by the same score, bookies quoted Manchester United as 5-1 on for the title, with Leeds 7-2 against), but stranger things have come to pass in football.
Birmingham City had enjoyed a disastrous campaign, with only seven wins to their credit as they went into their final fixture. They were already doomed to finish bottom of the table after Manchester United's 4-2 win at St Andrews a week earlier. It looked a relatively straightforward task for Leeds to complete their half of mission impossible, despite them being without both Willie Bell and Jim Storrie. Terry Cooper and Don Weston deputised as Don Revie kept one weather eye on his men's chances in the forthcoming FA Cup final against Liverpool.
Top of Division One prior to the game

Pos

P

W

D

L

F

A

Pts

1st

Leeds United

41

26

8

7

80

49

60

2nd

Manchester United

40

25

9

6

85

36

59

3rd

Chelsea

41

24

8

9

87

51

56

4th

Everton

42

17

15

10

69

60

49

5th

Nottingham Forest

41

17

12

12

70

66

46

6th

Tottenham Hotspur

42

19

7

16

87

71

45

7th

Sheffield Wed

41

16

11

14

57

52

43
Within seconds of the start, it became apparent that the Leeds pipedream was not going to be realised.
United started tentatively, and fell behind as early as the fourth minute - City outside-left Dennis Thwaites scored after being put clear by Welsh midfielder Terry Hennessey. Two minutes later Manchester United took the lead against Arsenal through a wonder goal from George Best.
Another minute gone, and Birmingham winger Alex Jackson went off with a suspected dislocated shoulder after a clash with Terry Cooper, who was vigorously booed thereafter by the home supporters every time he touched the ball.
Strangely, the loss was more of a fillip to City than Leeds, for the ten men (nine for a while when Malcolm Beard went off for attention) fought like tigers to hold their advantage, successfully disrupting United's supposedly classier style. While Leeds could well have been ahead before the interval, City had the chances to stretch their lead and did enough to keep United on tenterhooks.
Eric Stanger in the Yorkshire Post: 'Leeds, though their football was often fretful with anxiety, should have had the game in their keeping by half time. Peacock missed two good chances, the first from Giles and the second from Hunter's pass, while Weston hooked wide with the Birmingham defence waiting for the whistle to go for offside. The nearest Leeds got to a goal in that half was when Giles carved out a chance for himself only for Schofield to leave his goal in a desperate dash and parry the outside-right's shot.'
The break did nothing to disrupt Birmingham's momentum and they moved into an astonishing 3-0 lead six minutes after the restart.
They mounted two attacks, exploiting massive holes in the Leeds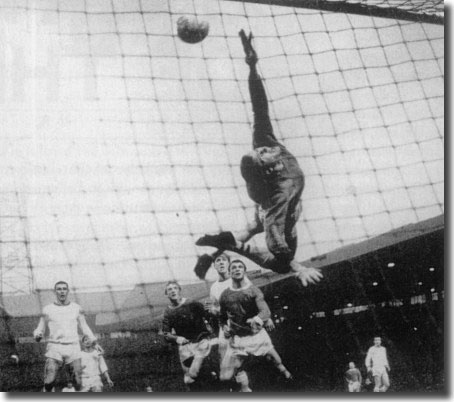 covering, and converted both opportunities. Beard got the first score after Geoff Vowden had cleverly flicked on a centre from Hennessey and Vowden added a third goal when he turned a long through pass from Malcolm Page past Sprake.
Nine minutes later Denis Law increased Manchester United's lead to two goals just as Arsenal were threatening a rally. With the scores as they stood, Leeds United's cause seemed irrevocably lost. Don Revie passed on a message to 'take it steady', urging his men to save their best for Wembley.
However, Leeds misunderstood the manager's signals and from somewhere the famous Yorkshire fighting spirit returned to breathe fire into their game.
Billy Bremner: 'The boss told us to take it easy because of the Cup final and we took him at his word. We went 3-0 down. Then I suddenly saw him on the touchline waving his arms about. You don't really hear what people are saying to you from off the pitch, but we got the message that he wanted us to get back into the game. We started to put the foot on the accelerator.'
As had happened several times over recent weeks, Bremner was thrust into the attack as an auxiliary centre-forward. After 65 minutes, City left-back Green brought the Scot down in the area, and Giles coolly converted the penalty to pull one goal back.
Minutes later, George Eastham did the same at Old Trafford to haul Arsenal back into the other contest.
Those incidents provided the explosive catalyst for the high drama that ensued over the last twenty minutes, as Leeds threw themselves into all out attack.
In the 73rd minute, an intensive bombardment of the Birmingham goal ended with Reaney hammering the ball past goalkeeper Schofield for the first League goal of his career. 3-2, and the momentum was now all with Leeds as the crowd in Manchester started to chew their nails. There was a hint that this could yet be an incredible evening for West Yorkshire.
Jack Charlton, now a full-time attacker with Bremner, thumped home an equaliser two minutes from the end, throwing Birmingham into a panic. With virtually everyone permanently camped in the City area, Norman Hunter smashed the ball against a post in injury time.
But there was to be no last second salvation, and the game ended in a breathless 3-3 draw. In the closing minutes at Old Trafford, Denis Law tapped in a third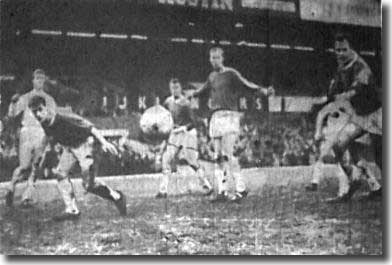 to confirm Manchester as 3-1 victors. There was still an improbably remote mathematical possibility that their positions could be reversed (Aston Villa would need to have scored 19 against the Reds in the final match to have given Leeds a superior goal average), but the game was up - Matt Busby's club was crowned League champions for the sixth time in their history.
In that final match, Villa beat Manchester United 2-1, leaving Leeds as runners up only by dint of goal average. Their points total of 61 was the highest ever achieved by a team failing to win the title, and enough to have won the championship on all but three occasions since the war. If truth be known, the Red Devils would probably have won the points at Villa if they had needed them, for their form through the spring had been irresistible, but Leeds had come desperately close to glory.
Jack Charlton: 'We couldn't get the win we needed. I don't know whether it was nerves or not. Having to go to a place and win your last match is a different thing entirely from going to a place needing to draw. Being such a high profile game probably helped them more than it did us - they had a chance for glory in an otherwise lacklustre season. If we'd played Birmingham earlier in the season we'd probably have beaten them. But the game at Birmingham started the notion that Leeds United choked under pressure.'
All the plaudits and congratulations of well wishers came as little consolation to a desperately disappointed set of players, for whom the closing stretch had been just too demanding. They had come within a whisker of footballing immortality, but for Leeds United the first case of 'so near and yet so far' provided only a bitter taste in the mouth. If anyone had offered them a chance of the runners up spot twelve months previously, the Whites would have bitten their hand off, but now it felt like a hollow achievement.