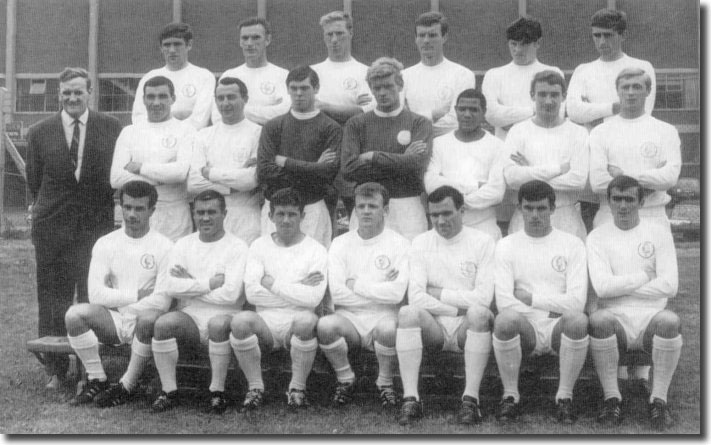 Part 2 - Bridesmaids once more - Results and table
Leeds United could bask in reflected World Cup glory in the summer of 1966. Centre-half Jack Charlton earned a winner's medal as England's defensive rock, while Elland Road teammate Norman Hunter had been non-playing reserve to skipper Bobby Moore.
Manager Don Revie sought to recruit another champion as he continued his covert pursuit of Blackpool's dynamic 21-year-old wide man, Alan Ball. Revie had chased Ball all through the summer of 1965 until Seasiders' boss Ron Suart put up the 'Not for sale' signs. Undeterred, the United supremo maintained a clandestine campaign to persuade the player that his future lay in Yorkshire.
Ball: 'I kept receiving anonymous phone calls saying that Don Revie would like to meet me. One day I drove to a bleak meeting place on the Saddleworth moors between Lancashire and Yorkshire and met him at a secret location. He told me he was desperate to sign me, that it was only a matter of time before I left Blackpool and that he wanted to look after me.
'About ten days after our meeting, there was a knock on the front door. Lesley answered it. It was a dark, rainy night and there was a man on the doorstep. He gave her an envelope and said, 'This is for Alan Ball.' Lesley took the envelope and we counted out £100 in notes.
'It happened almost every Friday and all the man would say was, 'No names, no pack-drill, here is an investment.' I kept it for a long time. It was silly of us to even contemplate taking the money.
'I didn't even tell my dad about the money because I am not sure how he would have reacted. Nor did I tell Ron Suart until he pulled me into the office one day. He told me there had been a board meeting that morning and that I had been sold. He said there were two clubs involved and it would be a British record fee of £110,000. They had both offered that amount and I could take my pick. I guessed one was Leeds. The other was Everton. He guessed right when he said that I might want to speak to my dad.
'Making a decision did not take long. Everton, we knew about. We used to go to Goodison Park to watch a lot of their midweek games if I was not involved with playing for Blackpool. I had told him about the envelopes from Leeds United. He was not impressed and quickly made up my mind for me when he said: "I would advise you to go to Everton. It's the type of club for you. It's almost on the doorstep and they don't suffer fools."
'Revie heard about the Everton interest and was on the phone again, almost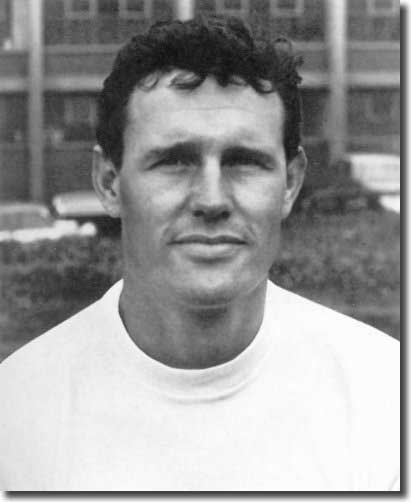 frantic in his efforts to persuade me to go to Elland Road, but the Balls were not for turning.'
Andrew Mourant: 'Revie had been monitoring Ball's progress since he was a teenager playing for Blackpool reserves. As the Merseyside club came in with a bid of £110,000 Revie was still struggling to persuade his directors to go above £100,000. 'Give me time, Alan,' Ball claims Revie said. Revie was to tell one journalist that he was moved to tears by the extent of his disappointment.'
Despite his disappointment at the confirmation of Ball's move to Everton on 15 August, Don Revie had feared the worst for several weeks. He had seen Ball as the missing piece in his playing jigsaw, but now had to amend his plans for the new season.
Revie's only dealing in that summer's transfer market thus came in June with Ian Lawson's £9,000 move to Crystal Palace. The 27-year-old forward had arrived at Elland Road in 1962, along with Bobby Collins and Cliff Mason, and played his part in the escape from relegation. Since then Lawson had slipped down the Elland Road hierarchy and managed just 44 league games, returning 17 goals. He had often articulated his irritation at being frozen out of the picture and had been on the transfer list for some time.
With Bobby Collins now fully recovered from a broken thigh, Revie restored him alongside Johnny Giles and Billy Bremner in a middle trio. It entailed a bit of juggling, as Giles had slotted smoothly into Collins' deep lying playmaker role and there was conjecture as to how the two could be accommodated without disturbing the overall rhythm.
There was an early opportunity to try things out in a showpiece curtain raiser against a Glasgow Select XI at Hampden Park on 10 August. Revie went with his standard selections for Numbers 1-6: Sprake, Reaney, Bell, Bremner, Charlton and Hunter; while Collins and Giles filled the inside-forward slots. The three-man attack comprised the Scots, Jim Storrie on the right flank, young Eddie Gray on the left and Peter Lorimer down the middle. There were few attacking options with Mike O'Grady, Alan Peacock and Albert Johanneson all out injured.
The blend was not a success, but Giles grabbed an equaliser with eight minutes remaining after the Scots took the lead in the 73rd minute through Celtic's Bobby Lennox. As Eric Stanger wrote in the Yorkshire Post, 'Collins and Giles are of a muchness in style, and at times they were liable to slow down operations in midfield. But, as last season, the chief trouble with the Leeds attack was that it lacked a cutting edge.'
Of more concern was a leg injury sustained by Jack Charlton after 20 minutes. The setback was just the first in an injury-ravaged campaign for United. The England defender strained a hamstring in a challenge with Celtic's Tommy Gemmell and had to limp off. Paul Madeley replaced him and slotted in smoothly but the in form Charlton would be sorely missed. Big Jack joined the ranks of those in the treatment room, missing the opening game, away to big spending Tottenham Hotspur on 20 August.
Spurs boasted a team costing half a million pounds to assemble. Midfielder Terry Venables and centre-half Mike England had arrived in the summer to augment a line up that included players like Dave Mackay, Pat Jennings, Alan Mullery, Jimmy Greaves, Alan Gilzean and Cliff Jones.
Tottenham were widely regarded as the wealthiest club in the country and hotly tipped for a championship challenge.
Don Revie would have settled for a point at White Hart Lane. He drafted youngsters Rod Belfitt and Jimmy Greenhoff in up front, with Madeley continuing to deputise for Charlton, as United took the field in their change kit of blue shirts and gold shorts.
It was a sweltering day with little respite from the blazing sun, and tempers were equally intense. In the opening exchanges, Mackay fouled Bremner, who retaliated fiercely; Mackay instantly took the law into his own hands. The moment was captured for posterity and became an iconic image of football in the 1960s.
Mackay explains, 'The 1963/64 campaign got off to a good start … Manchester United were our opponents in the first round of the European Cup Winners Cup … We were only eight minutes into the game when the ball was in their box and I went charging in for it. Their defender Noel Cantwell was approaching with equal gusto. I got to the ball and Cantwell got to my shin. I heard the crack, and so did half the crowd. I did not feel any immediate pain, but felt panic when I looked down and my foot had twisted 90 degrees.
'I was taken by stretcher into the dressing room and can remember Denis Law being in there. He sat with me until the ambulance came. The surgeon told me it was a bad break and it was possible I wouldn't play football again.
'In September 1964, it was time for me to play in senior games again. I had been all right in training and practice matches, so Bill (Nicholson) put me in a reserve team fixture. I cannot tell you the name of the player who broke my leg this time because I have erased it from my memory. I was holding up well when he came down on my left leg and broke it again. Utter bloody despair.
'I was determined to come back because most people didn't think I could … It took longer than the first break, but I was delighted when the doctors declared me fit in August 1965. Bill Nicholson boosted my confidence by making me captain.
'The photograph of myself and Billy Bremner has become one of the most familiar images of football from that era. I have been asked to sign it many more times than any other image from my entire career and I have grown to dislike it. There I am, like Desperate Dan on steroids manhandling a smaller and terrified-looking Bremner. It smacks of the bully. They say every picture tells a story and so does this image, but it is not a real one.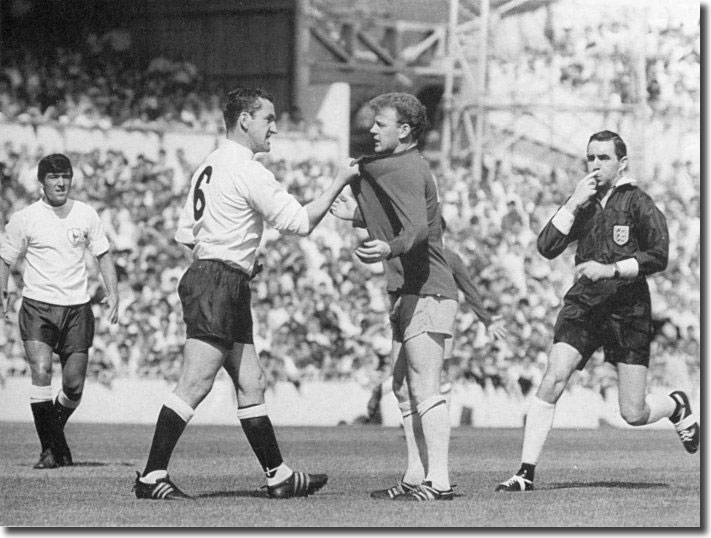 'Bremner was my pal, but when he pulled on his Leeds shirt on he seemed to become a different man and for some reason he kicked me on my newly healed bad leg. He could easily have broken my leg for a third time. I was enraged. For a couple of seconds I lost my rag and was temporarily capable of breaking his neck in return. I grabbed him by the front of his shirt and lifted him from the ground. Our faces almost touched as his legs dangled in the air. The moment passed, but not before photographer Monty Fresco had captured it.'
Referee Norman Burtenshaw lectured both players, but booked neither, merely awarding a free kick to United. Seconds later the two men clashed a second time as Mackay scythed Bremner down, threatening further confrontation, but the incident seemed to bring both teams to their senses and things cooled down a little thereafter.
Leeds took the lead after 13 minutes when Giles headed home a Collins centre. They just about merited the advantage, but were forced back onto the defensive by some concerted Tottenham raids.
Giles had suffered a thigh injury in the first minute and was a limping passenger for most of the first half, restricting United's options. Spurs equalised after 27 minutes when Leeds failed to clear properly. Mullery picked the ball up on the edge of the penalty area and fired home with Gary Sprake rooted to the spot.
The teams were level at the interval with Leeds just about shading the issue. Giles was replaced by Terry Cooper for the second period and while they were still sorting out their revised formation, Spurs took the lead. A minute had gone when Gilzean headed home a long centre from Mullery that Sprake really should have dealt with.
United retaliated manfully, with Collins' first time shot coming back off the bar. The restored skipper was in fine form, as reported by The Sun's Peter Lorenzo. 'By rights Bobby Collins should have been one of the spectators at Tottenham, but on a day when most came to applaud the £585,019 skills of Spurs, they were caught in mid cheer and left to marvel at the stamina, snappy aggression and superb skills of Collins. What an amazing man! What a courageous example for any footballer, at any level! In a game that should have been dominated by England, Venables and their high priced buddies, the man of the match accolade was won hands down by a pocket sized dynamo, a player small in everything but heart and ability.'
Phil Brown in the Yorkshire Evening Post: 'Never in any of the other games he has played since his injury have I been fully convinced of the strength of the test for him. There was no quarter for him this time from what should be a good side. He stood the lot, covered his ground as the busy deep lying inside-forward in 4-2-4, and was going as well as anybody (except for dynamo Bremner) and better than most at the end … I know one match does not make a season, but all of the old Collins was there again.'
Nevertheless, Tottenham assumed control and took a 3-1 lead after 61 minutes when Jimmy Greaves shot past Sprake while on the run. After that Greaves and Venables both struck the woodwork, but there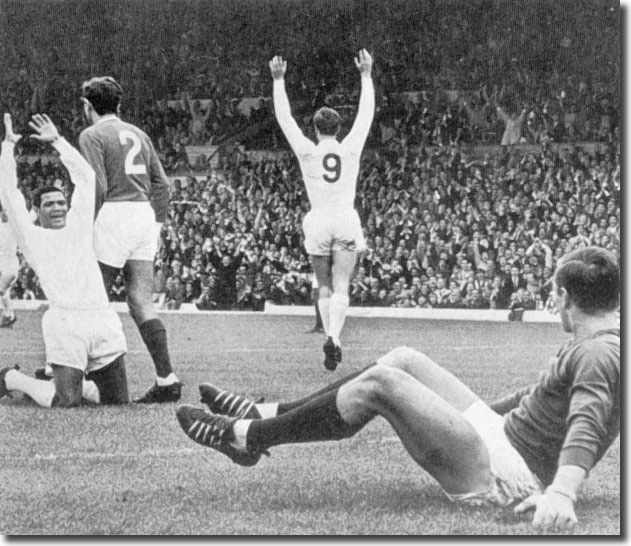 was no further score. It was United's first opening day defeat for six years, but they could comfort themselves with a respectable performance in energy sapping conditions.
Giles recovered sufficiently to take his place for the home game four days later with West Bromwich Albion, and Albert Johanneson was fit to return on the left wing, with Rod Belfitt making way. Jimmy Greenhoff switched to the right flank and Peter Lorimer took the No 9 shirt in a reshuffled forward line.
Giles and Collins dominated affairs in the first half after Leeds took the lead through Willie Bell inside two minutes with a speculative effort from the byline. Giles added a second after 27 minutes. Lack of precision and cool heads up front saw United waste countless opportunities before Jeff Astle pulled a goal back for the visitors after John Kaye's shot had struck the crossbar.
Collins was forced off at half-time with an ankle injury. With him went United's dominance and they paid for their dallying as they were left hanging on in the second period. Eric Stanger: 'Leeds lost their hold in midfield and were thrown back time and again by Albion's determined thrusts. There would have been no need for so much desperate work in their own penalty area had Leeds possessed one marksman of quality at the time they were on top, or even if they had had some incisive power on the wings. The return of Johanneson was scarcely a triumph; Greenhoff had not the directness or purpose required in a winger and Cooper, who came on in the second half, had neither the speed nor cleverness to beat his back on the run. Those problems do not look like being completely solved even when Leeds are able to field their full strength. Last night they had again to thank such tried performers as Giles, Bremner, Hunter, Bell, Reaney and Sprake that West Bromwich were kept at bay.'
Nonetheless, the two points were very welcome as Leeds got their season up and running. With Bobby Collins ruled out for several weeks, they added two more from a 3-1 victory against Manchester United at Elland Road. Willie Bell was at centre-half and Eddie Gray made his first appearance of the season at inside-right, while Paul Madeley was switched to centre-forward and headed the opening goal. Billy Bremner assumed the captaincy with both Collins and Charlton missing and had a decent game, but it was Giles, back in the deep lying scheming role, who was the star, as Eric Stanger noted:
'Giles, Mr Revie allowed to run free, and here was the man of a very fine match. Giles has seldom played better than he did against his one time club. He was back quickly to cover in defence, he probed unceasingly in midfield, varying his play with long and short passes, with the one keeping the uneasy Manchester defence at full stretch by suddenly changing the direction of the attack and with the other by subtle footwork and sway of the body making the play in midfield. Giles also had a major part in the first and the third goals. Gaskell, though, was terribly slow to get down to Madeley's header from the inside-left's swinging centre and again he was late diving to Reaney's header from Johanneson's cross which produced the second goal after 35 minutes.'
The result couldn't mask the fact that the dominance and steamroller momentum of previous campaigns was missing - Leeds won just once in the next eight League games and the 3-0 defeat at Aston Villa on 8 October left them sitting thirteenth. They had yet to field the same team in consecutive games and had already tried five different centre-forwards - Belfitt, Lorimer, Madeley, Peacock and Gray. The versatile Madeley was the only No 9 who had netted - Johnny Giles was top scorer and two of his four strikes had come from the penalty spot.
A burgeoning injury list and the lack of a proven goalscorer were causing great consternation and Don Revie was forced to rely on young reserves in nearly every game. When United drew 1-1 against Burnley on 3 September, the forward line included 21-year-old Paul Madeley, 19-year-old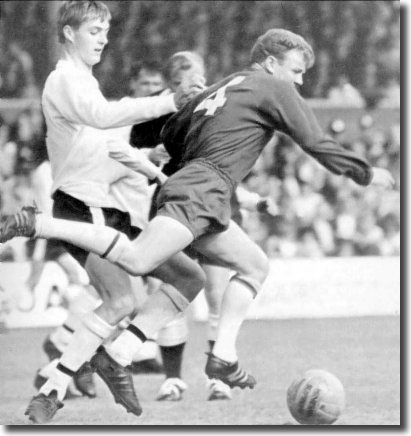 Peter Lorimer, two 18-year-olds in Mick Bates and Eddie Gray, with Albert Johanneson a positive veteran at 26. The youngsters had proven their worth with a string of decent performances, but Revie was resigned to going into the transfer market with Alan Peacock struggling to recover from the effects of a summer knee operation. He had played just two League games since January, though he did manage a goal in a League Cup victory against Newcastle.
Many had expected Revie to sign a forward in the summer, but he had wanted to give Peacock every chance to recover. The shortcomings in front of goal forced his hand, though, and he put out the feelers for a proven goalscorer. At various times, Leeds were linked with big money moves for Aston Villa's Tony Hateley, Bolton's Wyn Davies and Norwich's Ron Davies. United came close to signing Hateley, but Don Revie baulked at the size of the fee being demanded by Villa.
Rob Bagchi and Paul Rogerson: 'Revie's perfect centre-forward would have to meet some pretty exacting criteria. Perversely, the manager wasn't looking for a predatory goalscorer, someone from the Jimmy Greaves mould. He wanted someone who was prepared to sweat, to keep running, with the physique to shield the ball; someone who was dominant in the air, courageous, unselfish and, above all, persistent. He knew that the others in his team, mainly the midfielders but also Charlton, would continue to score, so he needed someone as much to help them score more as to grab 20 goals a season himself. In Greenhoff and Belfitt he had two players who together combined all the attributes but individually fell short of Revie's ideal.
'Belfitt was the workhorse personified: a strong runner with a neat first touch but who lacked pace, power and consistency. Greenhoff was a languid, graceful striker who seemed to glide through games. The fans loved him, as they always love those whose skills are unattainable. Some looked at Belfitt and thought, 'I could do that.' Everyone knew that what Greenhoff had was out of their reach. Nonetheless, their records were similar and though, of course, Greenhoff went on to have a good if not great career, it was Belfitt who came closest to fitting Revie's requirements. He was the prototype Mick Jones.'
Revie spoke at the time of his commitment to developing his home grown talent, adding, 'I am not, as the club stands at present, going into the transfer market to buy big … I have no regrets about not getting Hateley, not at £100,000. I should not have served United well by having them pay a fee like that. If people get hot under the collar about it, well, they will just have to. I have my own reasons for not joining in the hunt for various other players, too, but they must remain private.
'I am not attacking these new high transfer fees. They have their own value to football. But there is a right price and a wrong price for every player … I have to make my mind up on the right price, and I do. I can be wrong, like anybody else, but stand by my own opinion I must.
'If we went out buying established players, left, right and centre every time we showed a weakness, what would be the effect on the youngsters? … From being unknown boys or young men the staff here had brought Gary Sprake, Willie Bell, Norman Hunter and Billy Bremner on to full internationals, and Paul Reaney to near international.
'If we win something this season, well and good. If we don't it is not the end of the world. The club is in better shape than ever before. My aim is to keep it that way, and one of my methods is not to pay unrealistic transfer fees or buy unsuitable players.'
It was as much a case of post event rationalisation as a matter of principles, but in the end Revie settled for the promise of Greenhoff, the up and coming former wing-half, who had done enough to convince the manager that he was worth persevering with.
Richard Ulyatt wrote in the Yorkshire Post: 'Greenhoff has … suddenly proved that the talent he has fleetingly shown during the last five years was not illusory. Let us hope that he is not now restrained by too much advice or by instructions to play to a pattern. A good old stop-at-nothing centre-forward is what this over coached game needs more than anything else.'
Greenhoff wasn't an immediate success, though he topped off the scoring in an impressive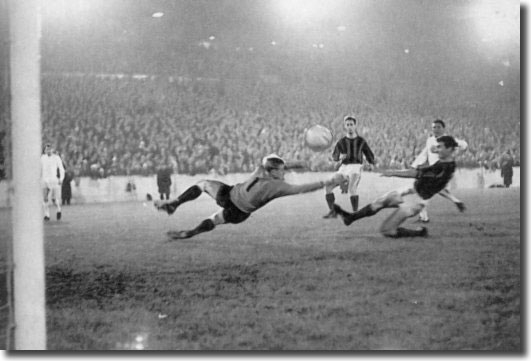 3-1 victory away to DWS Amsterdam when United kicked off their Fairs Cup campaign following a first round bye.
In the Elland Road return on 26 October, Albert Johanneson netted a smart hat trick in a 5-1 win. It was the highlight of an inconsistent season for the exciting South African, who missed almost half of the games through injury. His was a typical experience in a thoroughly frustrating campaign as player after player succumbed to knocks and bruises.
Jack Charlton's first goal of the season was enough to secure a good victory at Arsenal on Bonfire Night. United were starting to work their way up the table and had made it through to the fourth round of the League Cup where they faced a difficult looking trip to West Ham two days after the Highbury victory.
'Difficult' turned out to be the understatement of the decade as the Hammers simply blew United to the four corners of Upton Park with some breathtaking football. Two days earlier the Hammers had put six goals past Fulham and they carried on where they had left off.
The Times: 'West Ham United were irresistible … Leeds United, though cruelly weakened by injury, played with much of their customary competence, but found themselves outmatched by West Ham's skills, their wit and their explosive shooting on this mild, misty night. It was a performance that had the gloss of greatness on it.
'All this has come a matter of days after the West Ham manager, Mr Greenwood, had publicly announced that he was looking for more northern steel to stiffen his inconsistent team. Last night we saw northern steel - and Leeds never sold the game short on effort and pluck - put to flight by purist southern artistry. West Ham, for all the grace they have brought to the game in recent years, can never have played better; not since February 1929 have Leeds surrendered seven times. Then they were beaten 8-2 in a League match - by West Ham at Upton Park.
'No blame can be put on Leeds' young and comparatively inexperienced goalkeeper, Harvey. He played bravely and at times brilliantly on a night when his nerves must have been shattered by the sight of men like Charlton, Hunter, Bremner and Reaney being taunted mercilessly by the West Ham forwards.'
The Guardian: 'Any ideas Leeds may have had of reproducing their dour defensive policy of Saturday, when they won grimly 1-0 at Highbury, were soon dispelled. West Ham took just two minutes to accomplish what Arsenal had failed to achieve in 90. A protracted cross-field movement involving Hurst and Boyce ended with Charles in possession on the left. As the centre came across, Byrne, controlling the ball beautifully in the already muddy penalty area, had the Leeds defence hesitating, waiting for a shot. Byrne slipped the ball to Sissons and the outside-left scored with a shot which evaded Harvey and curled inside the far post.
'Moore immediately emphasised West Ham's mood with a 25-yard free kick that thudded into the wall just past the left hand post - and now Leeds found themselves hemmed in their own half through necessity rather than design. But sheer weight of numbers was not enough to stop West Ham on this night and just before the half hour they scored a second; again the scorer was Sissons, and again Byrne's was the brain behind the goal. With his back to the Leeds net, and challenged strongly from behind by Hunter, Byrne somehow switched the ball out to Brabrook, waiting on the left. Byrne's virtuosity had caught Leeds completely unaware and, as Brabrook's centre came across hard and low, there was no one to stop Sissons side footing the ball into the net.
'Four minutes later, Sissons completed his hat trick with the simplest of goals. Brabrook advanced down the line once more and squared the ball to Sissons, who scored a similar goal to his first. Again the Leeds marking was faulty, and again Harvey's positioning was awry. Now West Ham were opening up the Leeds defence almost at will and three minutes before half time, after the ball had bobbed teasingly in and out of the goalmouth, Byrne shot, the ball hit Hurst, waiting on the line, and he forced in a fourth.
'The second half brought no respite for Leeds. Byrne beat Charlton out on the right wing and sent Hurst through for a fifth goal on the hour. Eleven minutes later Peters made it 6-0, and two minutes after this, again after sterling work by Byrne on the right, Hurst became the second scorer of three in an eventful evening.'
Peter Lorimer: 'I was fortunate enough not to have played that night through injury, as was our goalkeeper Gary Sprake, whose absence gave David Harvey one of his first senior appearances. I was at Upton Park, however, and it was one of those games in which absolutely everything clicked for the home side.
'None of it was David's fault. It was just that West Ham were simply awesome. They tore us apart, and it was one of those nights when everybody heard the result and said: "You're joking. Leeds must have played all their reserves." Big Jack got a real chasing from Byrne and things were so bad that Mick Bates, just a kid, was sent on from the bench with the instruction from Don: 'Right, son, get your tracksuit off, go on and enjoy it.' Quite how you derive pleasure from something like that is beyond me and Mick's response of 'Oh, thanks, boss,' just about summed it up.'
Norman Hunter put the disaster down to flawed tactics: 'Two days before the West Ham tie we had beaten Arsenal 1-0 in a league game at Highbury with a fluke goal from Jack [Charlton]. The Gaffer had changed our system for that game - Willie Bell, who normally played left-back, picked up George Graham in midfield and I was pushed to left-back. The win wasn't convincing by any means. We stayed in London for the League Cup match. I was rooming with Johnny Giles and we both hoped the Gaffer would not play the same system for the Cup game. Unfortunately, he did. He put me to left-back and told Bell to do a man-marking job on Geoff Hurst.
'I was up against Peter Brabrook - a flying machine - and he just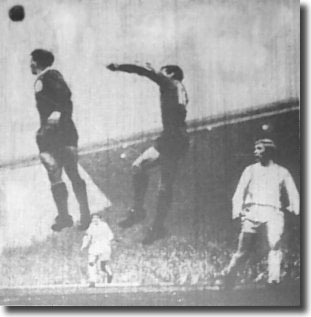 tormented the life out of me. He simply flew past me almost at will. Johnny Sissons scored in the first minute and completed his hat trick in thirty-five minutes - it was one of the finest hat tricks I have ever seen - and Budgie Byrne destroyed Jack. He kept getting round the back of him. Bobby Moore got possession and laid off the ball time and again, and we came off at half time four goals down. The daft thing was that although we had been battered, we actually felt that we still had a chance of winning the tie. The Gaffer swapped things around, putting me back in the middle and Willie Bell at left-back, but we were in disarray.'
Don Revie was not best pleased at the result, though it seemed a mere blip when two goals by Giles and a third from Greenhoff earned a 3-1 victory against Leicester five days later. United went to Anfield on 19 November in good spirits to face third placed Liverpool, confident they could gain at least a draw.
Unfortunately, disaster struck again and Leeds were blitzed 5-0 by the reigning champions. It was never as clear-cut as the scoreline suggested and United were unlucky to go in at the interval a goal behind after Chris Lawler got a fortunate goal in the 43rd minute. Peter Thompson added a second after 58 minutes and three further goals in the final 15 minutes brought an unrealistic look to the final score. As Willie Stevenson remarked to fellow Scot Billy Bremner at the finish, 'Santa Claus came early for us today.'
It was a devastating result, prompting genuine fears that United's rapid rise to prominence had been built on shallow foundations; there was intense speculation that the Elland Road edifice was about to crumble.
Eric Stanger: 'Was it a seven-goal wonder, or does that thrashing at Upton Park mean that after three extremely successful seasons Leeds United are once more about to sink into the mediocrity which all too often has been their lot in the Football League?
'I imagine many of their followers are asking that question. It was indeed a seven-goal wonder for I doubt if West Ham will hit such bewildering, shattering form for many a day, even many a season. They would have beaten handsomely any side in the Football League.
'At the same time the very brilliance of their football ruthlessly exposed Leeds United's current weaknesses. All season there has been a suspicion that the defence which has carried them so far is not as tight as it was though, in truth, it had been tight enough at Highbury two days previously. But against the best it is more vulnerable than it was, the marking and covering is not always as close. In midfield there have been several games in which I have seen them this season when the Leeds passing has been too slow; the build up altogether too laboured with an over emphasis on playing the ball back in order eventually to go forward. It enables opposing defences to mass.
'In modern football you have to do things sharply and decisively or you are lost against current defensive systems. West Ham showed how by fast running, quick, accurate passing and hard shooting they can be shattered. That was the biggest lesson Leeds can learn from Upton Park. If the defence has been a little below par this season it has been the inability to get goals that has been the chief failing. Injuries and loss of form have caused a constant reshuffling of the attack, so far without any one combination striking one as better than another.
'Five away goals in seven league games and only nine in all away matches including three against DWS in Amsterdam tells its own story. It might have been different had Leeds got Ball at the season's start. One day perhaps it will be possible to tell why they failed after being prepared to go to £110,000 for him. Over confidence that he would in the end sign for Leeds was certainly one reason.
'Since then there has been no really concrete move to sign a goalscoring forward. True, there was an attempt of sorts for Hateley but the club (rightly, I believe) considered him over valued at £100,000 and recently Mr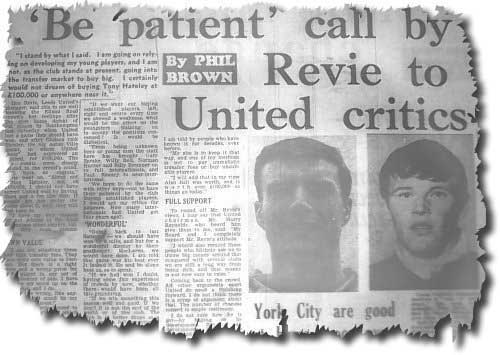 Don Revie went on record as saying he did not now propose to go into the market. That statement appears to have upset many of the club's older supporters who remember more than one pie crust promise by former managers and former boards of directors.
'The point is that at the moment there are so few proved marksmen that when one is on offer the price is grossly inflated. I can understand Mr Revie's reluctance but in the end Leeds United may be compelled to buy, however dearly. In the long run Mr Revie may be proved right in thinking that one or more of his young players like Gray, Lorimer, Greenhoff and Madeley will supply the answer but none is yet experienced enough. The stern competition of present day football does not allow time to bridge gaps - not if you are an ambitious club like Leeds, anxious to stay at the top. The alternative, it seems to me, is to settle for a transitional period, and be content with a safe but unexciting place in the table. I doubt if that would satisfy the Elland Road crowd who after many dull years have found the wine of recent seasons heady stuff.'
United gained retribution for their hammering at Upton Park when they beat West Ham on 26 November. It was a heartening victory, but there were still difficulties, as reported by Phil Brown: 'Welcome as was Leeds United's 2-1 home win over West Ham United, both as a revenge for the League Cup hiding and as a general steadier League wise, not over much comfort should be taken from it. United are not their old selves yet. They were too hard pressed altogether, and the lateness of Johnny Giles' winning goal - eight minutes from time - was emphasis on how little there was in hand. Only a never say die determination to get ahead brought them home against a first class and equally determined side who, because they were the cooler, often looked the better outfit. United are on the way back, I am sure, although only slowly.'
Veteran Scot Bobby Collins was recalled to the side for the visit to Sheffield Wednesday on 3 December to bring a much-needed boost, though the game finished goalless.
Even the visit of Blackpool, adrift at the foot of the table, to Elland Road the following weekend brought no solace. The Seasiders were down to ten men when Ian Moir was sent off, yet still came away with a 1-1 draw, leaving United in disarray, struggling in mid table.
There were questions to be answered at the club's annual general meeting, held at Elland Road on December 12, with most concerning the club's inactivity in the transfer market.
Harry Reynolds and Don Revie were both present and admitted their disappointment at the team's performances.
Reynolds: 'I think you will agree we are improving and we intend to carry on with the progress we have already made by the team winning a major honour. Don't assume that because we have not signed anyone we have not been trying, but the position is the same as if anyone came for our players. They would get the same answer as we have received - we don't want to sell.'
Revie cited injuries to experienced players and pointed out that the younger players in the first team needed old heads around them. 'When we introduced Paul Reaney, Gary Sprake and Norman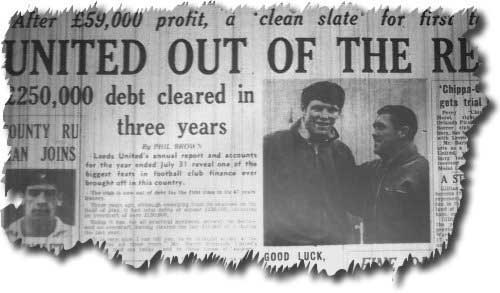 Hunter to the team a few years ago, there were such as Grenville Hair, Bobby Collins and Freddie Goodwin to provide that experience. But I still feel the youngsters will put United on the map. I may be wrong about that, but I don't think so. There are other youngsters to be found, too - and we shall go on looking for them.
'It's no use kidding ourselves - we have just not clicked so far. I don't make excuses because I don't believe in them. I have always promised 100 per cent effort and the players have always given that.'
At the same time chairman Harry Reynolds announced the financial results - there was a profit of £59,028, taking the club out of debt for the first time in its 47-year history. In 1963 Leeds United had owed a total of £250,000.
Over the previous twelve months gate receipts had risen from £277,519 to £312,398, though payroll costs had climbed substantially, up to a record £135,265, and there were net transfer outgoings of £13,550, mainly down to the £30,000 purchase of Mike O'Grady.
Harry Reynolds beamed as he told Phil Brown of the Yorkshire Evening Post, 'It is very nice to be straight across at the bank. People think we are rolling in money, and forget we had large debts from years back to shift. We are doing all right as football clubs go in these days of increased charges for almost everything, but by the same token at present we are only breaking even as we go along. We need a gate every fortnight of about 38,000 just to pay our way through the League programme alone.'
The rest of December brought better onfield results as United got their act together. They beat Tottenham 3-2 and then pulled off a League double against Newcastle, 2-1 at St James' Park on Christmas Eve and then 5-0 on Boxing Day to record their best win of the campaign.
Bobby Collins had been in fine form on Tyneside, but was missing through injury at Elland Road as United hammered opponents who were sorely threatened by the spectre of relegation. Billy Bremner led a rout, as reported by Terry Lofthouse in the Evening Post: 'On Boxing Day, when he was made skipper in the absence of Collins, Bremner commanded his army in a manner befitting his international ranking in the soccer world. He, Gray, O'Grady and Cooper tore the Newcastle defence to shreds.
'This was just the sort of performance to encourage United's oft critical crowd … and the 40,680 present left happy in the knowledge that United are still far from out of the title race.'
The year finished with United earning a point from a goalless draw at Old Trafford on New Year's Eve.
Top of First Division - 31 December 1966

Pos

P

W

D

L

F

A

Pts

1st

Manchester United

24

15

3

6

49

33

33

2nd

Liverpool

23

12

7

4

43

28

31

3rd

Nottingham Forest

24

12

6

6

36

29

30

4th

Stoke City

24

13

3

8

43

30

29

5th

Chelsea

24

9

10

5

46

37

28

6th

Leeds United

23

10

8

5

33

29

28

7th

Burnley

24

10

7

7

51

40

27

8th

Tottenham Hotspur

24

12

3

9

43

37

27

9th

Leicester City

23

11

4

8

49

40

26
Eric Todd in The Guardian: 'Leeds would not have been flattered if they had won. With the wind behind them, they dominated the first half; facing it they held their own. After Greenhoff retired hurt 20 minutes from time, they still fought hard for a goal. Manchester, on the other hand, did not make best use of the wind, and mostly they were inclined towards congestion and hesitancy. And they did not relish the forthright tackling and compact covering of a splendid Leeds defence.
'Over the years, Leeds have carried the tag 'dirty.' Not always have they observed the canons of good behaviour, but for the life of me I could see no sense nor fairness in Saturday's booing of Bremner before he had even touched the ball. Plenty is written about provocation and retaliation on the field, not enough about the crowd's deliberate incitement or victimisation.
'Bremner did more than anyone to contain Manchester's forwards. And Crerand performed just as effectively on the other side. He needed to because the Leeds attack - in which I was told O'Grady was in a more determined mood than he had been in weeks - was fast and resourceful.'
It was a sterling performance, confirming Leeds' return to something akin to their best form. Recent results had brought them steadily up the table and, as 1967 dawned, the team were in sixth, just four points behind the leaders. Not bad going for a side that had been 13th at the beginning of October, with their title chances written off by Don Revie.