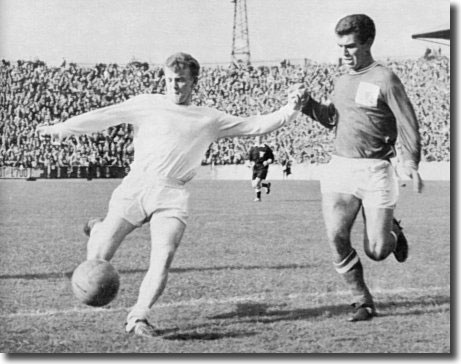 Part 1 - Injury ravaged but out of debt - Results and table
The start of the 1966/67 season had not been kind to Leeds United as they struggled to find form amidst a catalogue of injuries and ever changing team selections. They had recaptured a semblance of authority by December and their goalless draw on New Year's Eve at Old Trafford against table topping Manchester United took their undefeated run to 7; the last reverse had come by 5-0 at Liverpool on 19 November. Leeds were in a handy sixth spot, poised for a title push.
The most remarkable thing about the run was that it came regardless of the protracted absence of midfield general Johnny Giles, missing more or less throughout with a thigh injury. Earlier in the season the Irishman had established himself as one of the country's most effective and influential playmakers.
United's opening game of 1967 saw them entertain seventh placed Burnley. Matches between the two in recent years had been punctuated by controversy and conflict. In March 1965, referee Jack Taylor called the players together to issue a general warning about their behaviour; in May 1966, there was another 22-man lecture as the teams slugged it out for runners up spot in the League; the following September saw five players booked and the referee threatening to abandon the game if the crowd would not desist from throwing objects onto the playing area. Afterwards Don Revie engaged in a war of words with Burnley manager Harry Potts.
Behaviour was better this time around and three goals in the space of 13 minutes either side of the hour (two by Albert Johanneson sandwiching a powerful shot by Jimmy Greenhoff) effectively finished the match as a contest. Ralph Coates netted a consolation goal in the dying minutes.
The victory left United within three points of League leaders Manchester United, as close as they had been to the top since September.
The next game brought a sharp wake up call as Leeds went down by the only goal at third placed Nottingham Forest. It was a tetchy, fractious affair and Billy Bremner was dismissed 17 minutes from time. The Yorkshire Post: 'As Mr Joe Mercer, the manager of Manchester City, said the other day: 'There was much more tolerance between players and officials in my day. Now they are poles apart and they must be brought together again.' It is a fact that each tends to look on the other as a potential enemy. The ruling authorities must try to bring about more understanding of each other's problems.
'All this, I hasten to add, is not aimed at Mr J A Warburton of Manchester, Saturday's official. He needed eyes at the back of his head sometimes to see what was going on and while he might have been stricter no one could have foreseen that the game would flare up as it did in the second half. He gave Bremner fair warning, booking him for retaliation after being fouled by Lyons, called up the captains, Bremner and Hennessey, and read the riot act. What he did not see … was a Forest player fell Bremner with a kick. For Bremner, who had previously suffered some rough treatment, it was the last straw. He declared a one-man war of vengeance and, of course, paid the penalty when he took a reckless kick at Grummitt, the Forest goalkeeper, as he lay on the ball.'
The dismissal meant that the hot-tempered Bremner had to face an FA Disciplinary Committee for the fourth time in three years. In February 1964 he was suspended for 14 days; in April 1965 for seven days with a £100 fine; in March 1966, seven days and a £100 fine. When he came before the Committee in February he was banned for a fortnight, fined £100 and ordered to pay £20 towards the costs of the hearing. The flaw in the Scot's make up was becoming a chronic condition. Happily, his appointment as captain had signalled a massive improvement in discipline but the flash of temper at Forest demonstrated that he was not quite yet completely reformed.
Bremner was free to play on while he awaited judgement. He was back in action on 18 January 18 as the Fairs Cup resumed, with United facing Valencia at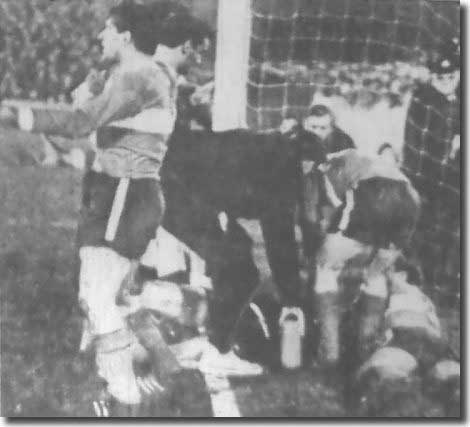 Elland Road. A year previously, the two clubs clashed violently at the same stage with Jack Charlton, Vidagany and Sanchez-Lage all getting their marching orders. Recalls for Bobby Collins and Johnny Giles seemed calculated to provoke a fiery confrontation.
Deprived of three regulars - Bell, O'Grady and Johanneson - Revie selected the versatile Paul Madeley at left-back, his sixth differently numbered shirt in a year when he would feature everywhere but goal and outside-left. Jimmy Greenhoff played up front, with Eddie Gray and Terry Cooper offering some support.
The match was contested strongly throughout, as reported by Albert Barham in the Evening Post: 'This was a slicker, faster and far more formidable side than Leeds had met a year ago. This was understandable, perhaps, for after all they are the leading scorers in the Spanish League and in Waldo have the individual leading marksman.
'It was the defence that may have shown a little apprehension under some fierce attacks. Yet, even with a full team, I doubt whether on last night's showing United could have pierced this formidable barrier. Greenhoff, however, did spot an opening and Leeds were a goal up in 10 minutes. Bremner, Madeley and the forwards led an assault which ended with two shots rebounding from Valencia's massed defence. The last went to Greenhoff, whose shot went unerringly through the only gap visible. But from then on Roberto Vidagany, the faithful Sol, until he was injured, and the wise head of Mestre provided perfect and competent cover.
'By the thirty-sixth minute, Valencia, in one beautifully designed and delightfully executed move, had equalised. The individual effort of Polinario was turned into a goal by Claramunt. Again battle was joined as Leeds strove to assert mastery. Up came Charlton to meet a lobbed ball and down went Pesudo, the goalkeeper, who was injured and was replaced by Abelardo. 'Ee aye addio, here we go again,' chanted the crowd, remembering the fracas at the last match between these teams at Elland Road, as the tackling became rougher. And so it seemed. In one assault, as the second half opened, Cooper hacked at the ball in Abelardo's arms and was surrounded by angry Spaniards. It is a lesson one would have thought had been learned by now that goalkeepers in European competitions are sacrosanct.'
Bremner, Collins and Giles played well in combination, stretching the Spaniards with long sweeping passes. Ultimately, however, Leeds were probably content to accept a 1-1 draw, with Valencia fashioning enough chances to have won. The introduction of the away goals counting double rule meant that United faced a major challenge in the second leg three weeks later in the massive Mestalla Stadium.
They would face their date with destiny on the back of a crippling injury list: Paul Reaney, Jimmy Greenhoff, Mike O'Grady, Albert Johanneson, Alan Peacock, Rodney Johnson and Terry Cooper. Don Revie called up 19-year-old Terry Hibbitt for his European debut; the left-sided midfielder had thus far enjoyed just 25 minutes' experience in the first team, appearing as a goalscoring substitute in a League match twelve months earlier.
Bobby Collins, discussing a possible transfer with Bury, and transfer listed Jim Storrie were both left at home as Revie persevered with his youth policy, selecting 21-year-old Rod Belfitt as a lone attacker and deploying Peter Lorimer and Eddie Gray in a formation that fluctuated between 4-3-3 and 4-5-1.
An early Giles goal, a determined defensive display and a decisive strike in the 87th minute by Lorimer earned a splendid 2-0 victory, which secured a last eight spot. The performance outdid even the fine continental successes of 1965/66 and earned Leeds headlines Europe-wide.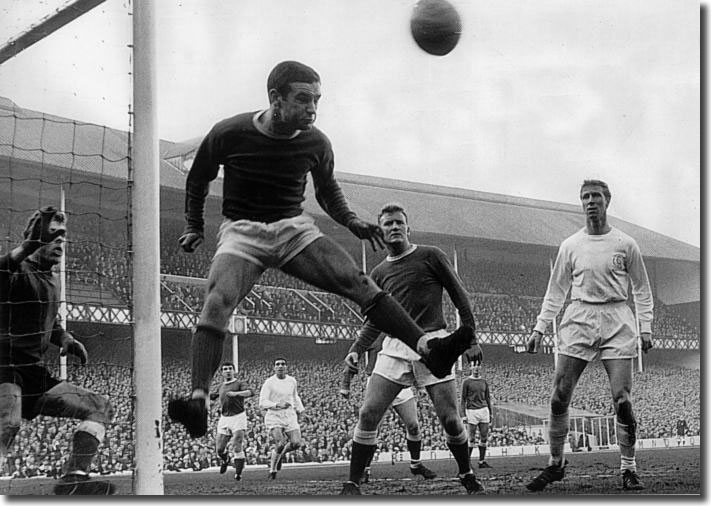 Between legs, United had set off on the FA Cup trail with an easy 3-0 victory over Crystal Palace, then battered West Bromwich Albion 5-0. Their league form continued to stutter: a 3-1 hammering of Fulham was soon forgotten as Leeds contrived to lose 2-0 at Everton. The exhilaration of their triumph in Spain inspired a comfortable 3-0 win at Elland Road against Stoke City on 11 February. The game acted as a happy curtain call for Bobby Collins; 11 days later he completed a free transfer to Second Division Bury to end a celebrated five-year association with United.
The Scottish veteran turned in a virtuoso performance, pulling the midfield strings in the manner that had won him renown. He fashioned the opening goal after 11 minutes when his lofted ball from 40 yards out on the right was met by Willie Bell at the far post, diving acrobatically to nod home as Rod Belfitt distracted the Stoke defenders. Before half time the game was done as a contest after Peter Lorimer's 30-yard drive scorched past keeper Farmer and into the top corner. With 17 minutes remaining, Belfitt crashed home a third after Giles' lofted centre brought panic in the box. It was a wonderful conclusion to Collins' First Division career.
Leaving the club almost simultaneously was 26-year-old Jim Storrie, off in search of first team football with a £13,500 transfer to Aberdeen. He had top scored with 25 goals in 1962/63 after arriving from Airdrie and managed another 16 in United's First Division return. Storrie had fallen out of favour with Don Revie, appearing just 8 times all season, three of them as substitute. He hadn't featured at all since scoring in the Boxing Day defeat of Newcastle.
Given the impact of injuries (there had been almost 100 positional changes in 37 matches by the time of Collins' farewell against Stoke), it was something of a perverse decision for Don Revie to dispense with the services of two of his more experienced campaigners. However, the manager was swayed by the promise of his youngsters. The resilience shown by Belfitt, Greenhoff, Gray, Lorimer, Bates, Cooper, Madeley and Hibbitt had warmed his heart and he was determined to stand by them.
For all his faith, they were found badly wanting during the visit of struggling Aston Villa to Elland Road on 25 February. With Billy Bremner completing two weeks' suspension, United couldn't find a way through and a goal in either half allowed Villa to complete an unlikely league double.
The return of Bremner, now formally confirmed as club captain after the departure of Collins, and goals from Giles and Charlton brought a comfortable 2-0 victory a week later at Southampton. It put United in positive mood for an FA Cup fifth round clash with old rivals Sunderland at Roker Park.
Relations between the two clubs had been fraught ever since a bitter promotion battle in 1964 and their Cup confrontation did little to cool the acrimony. The game finished 1-1 after first half goals from Neil Martin and Jack Charlton. Terry Lofthouse wrote in the Evening Post: 'Leeds United and Sunderland fought a hard, sometimes bitter, battle at Roker Park without being able to reach a verdict. One hopes the teams will settle down to a calmer approach. In the past there has been too much feuding between these rivals, and Saturday's encounter was no exception. In the last 20 minutes, during which both Sunderland wing-half Baxter and United inside-forward Giles were booked after two personal clashes, the bitterness had to be seen to be believed. Tempers became far too frayed to be excusable. The referee, Mr Ray Tinkler of Boston, must shoulder some of the responsibility for not taking a firmer grip earlier when the warning signs were hoisted. That said, we can only hope that another chapter of bitter conflict is not added in the second meeting.
'The first might well have gone either way but for some brilliant goalkeeping. Sprake, always happier when kept busy, brought off a great save from Martin's header from close range with the teams at 1-1, and immediately Montgomery performed a reverse jack-knife to prevent Greenhoff's powerful drive going in the net.'
The Elland Road replay four days later was not quite as stormy, but there was nearly a disaster, prompted by a lack of time to make the game all ticket. A record number of spectators - 57,892, some 5,000 above normal capacity - packed into Elland Road with thousands more locked outside and many atop the roofs of the stands. Chairman Harry Reynolds had made much over the last couple of years about plans for Elland Road to become a premier stadium, but his words rang emptily as steel and concrete crush barriers on the Lowfields Road terracing collapsed under the pressure.
Jim Brady wrote in the Evening Post: 'More people than ever before had crammed the ground to bursting point as crush barriers at the Elland Road corner of the popular side collapsed and about 1,000 men, women and children swept on to the green playing area in a human flood. A police officer dashed on to the pitch to ask the referee to stop the game and the blue shirts of Leeds United and the red of Sunderland were shepherded off the field. Police and ambulance men dashed in with stretchers.
'The stricken corner of the ground looked as though an avalanche had engulfed it. The crowd behind on the terraces swayed dangerously, the dazed fans forced over the wall were standing and lying in a ragged semi circle, a dark mass against the floodlit green baize of the turf.
'An appeal to people to keep calm and for those on the pitch to stay where they were was broadcast by United chairman Mr Harry Reynolds. The bowler hatted figure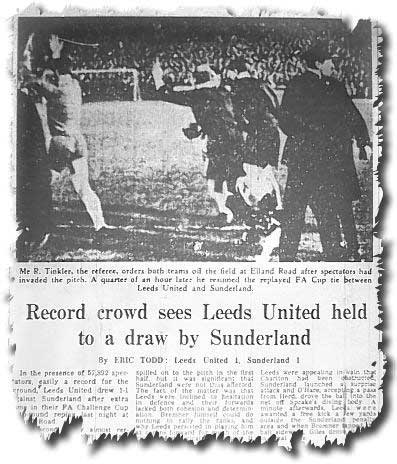 of the Leeds Chief Constable, Mr A J Paterson, appeared on the pitch, directing operations. The injured who had been involved in the crowd slip were shepherded, two and three deep, along the touchlines.'
Geoffrey Green in The Times: 'It looked like a battlefield. Girls were hysterical and ambulances could not get near the ground for some of the crowds and traffic held up outside. Children were allowed along the touchlines, but then moved back by the police. There were several appeals by the chairman of Leeds, Mr Reynolds, asking the crowd to keep calm and settle down.'
It could have been an absolute tragedy, but in the end only 32 people were taken to hospital and comparative order was restored after a 17-minute break.
When proceedings restarted, Leeds had the best of matters, though they struggled to find a way through a defence bolted expertly by George 'Foo' Kinnell and Colin Todd. When they did make a chance, they found goalkeeper Jim Montgomery in sharp form.
Against the run of play, John O'Hare gave the Wearsiders a 35th minute lead when his shot bounced off Gary Sprake's foot and into the net. Johnny Giles slammed the ball through a ruck of players to equalise almost immediately. United could not add to their score, though they were unlucky when Montgomery performed more heroics to deny Charlton and Hunter in extra time. The game ended 1-1.
With a Fairs Cup quarter-final against Italy's Bologna fast approaching, a second replay was unwelcome, and another stalemate against Sunderland would have meant United having to play the Black Cats and the Italians on the same day. Don Revie took a squad of 30 to Hull's Boothferry Park as insurance against such an eventuality, but Leeds settled the tie by means of a late and hotly disputed Giles penalty. Two Sunderland players were dismissed in the aftermath of the decision and the police had to protect referee Ken Stokes from angry fans at the end of the game.
The Fairs Cup quarter-final first leg in Bologna on 22 March was United's fifth match in the space of 11 frenetic days, with another three games to come over the next 6. The adrenaline rush of victory against Sunderland carried them through the pressure cooker atmosphere in Italy. They could be excused for tiring towards the end, but it was another wonderful example of Leeds' resolve when the odds were stacked against them.
True enough, their opponents, featuring West German World Cup finalist Helmut Haller and Danish international Harald Nielsen in attack, were dominant, taking the lead after 63 minutes. Jack Charlton headed a free kick from Fogli against Norman Hunter's back and in the ensuing scramble Nielsen crashed the ball home.
United refused to surrender, and resisted strongly thereafter to prevent another score. Eric Stanger: 'Leeds called on their last reserves of stamina in the final quarter of an hour and with Bremner, who looked truly a player of world class last night, and Giles linking up in the midfield, Leeds launched attack after attack in an effort to draw level. But this Bologna defence, built around Janich, a most determined centre-half, was fully professional in every sense of the word.'
Try as they might, the Yorkshiremen could not nick an equaliser. They returned to Yeadon Airport with heads held high, and Bologna team manager Luis Carniglia acknowledged, 'Leeds are a very good side, clever and mobile. We did not see the best of their front line tonight. We will in England.'
Top of First Division - 1 April 1967

Pos

P

W

D

L

F

A

Pts

1st

Manchester Utd

36

21

9

6

70

41

51

2nd

Nottingham Forest

36

20

9

7

54

35

49

3rd

Liverpool

36

17

12

7

58

40

46

4th

Leeds United

35

18

9

8

53

37

45

5th

Tottenham Hotspur

36

19

7

10

63

47

45

6th

Chelsea

36

14

13

9

61

49

41
Certainly, the defeat damaged neither morale nor form and United contrived to win the next four League games. A recalled Alan Peacock scored twice in the process as the Whites climbed to fourth. After a disastrous start, prompting Don Revie to write off any chances of silverware in October, United were moving resolutely towards a potential hat trick of major trophies. They had suffered a single defeat in ten of the most punishing games one could imagine, all in the space of four short weeks.
They beat Manchester City in an Elland Road FA Cup quarter-final on April 8, despite being thoroughly outplayed by the visitors, with winger Mike Summerbee in blistering form, leading the United defence a merry dance.
Alan Peacock was selected up front but limped off after 25 minutes with a recurrence of his knee trouble.
The only goal of the encounter came in the 50th minute when Jack Charlton nodded Eddie Gray's inswinging corner into the net. City claimed a foul on goalkeeper Harry Dowd, but referee Eric Jennings confirmed the score. The Times: 'The goal was not the result of a foul but of poor judgement by Dowd. Positioning himself too close to the near post for Gray's corner, Dowd was beaten by the inswing of the ball, came out too soon and jumped too late. By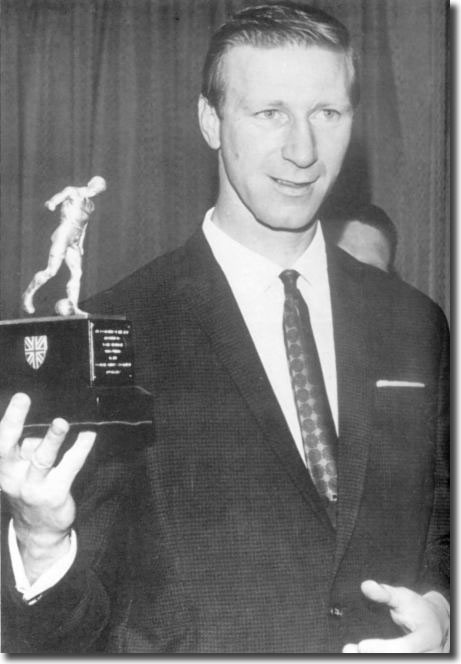 the time he pawed for the ball like a blind man in unknown territory, Charlton was already above him.
'Significantly, the corner forced by Lorimer was the result of Greenhoff beating Heslop in the air at the first attempt. For 45 minutes Greenhoff had watched as Heslop had frustrated Peacock. As the centre-forward's substitute, Greenhoff turned the game Leeds' way in the second half with his ability to shield the ball from his opponent and play it to a colleague moving forward.'
United had been fortunate to win, but as Don Revie said afterwards, 'We played just as well as City today at Chelsea last year and we were knocked out. That's how it goes in the Cup.'
A goalless draw at Leicester on 10 April kept Leeds fourth in the League, six points behind leaders Manchester United but with a game in hand.
Shortly afterwards, the Yorkshiremen lost Jack Charlton with a toe broken in England's defeat against Scotland at Wembley, their first since the World Cup triumph. The injury ended Charlton's season though he had already done enough to be voted the Footballer of the Year by the Football Writers Association in May. The centre-half had enjoyed a wonderful campaign, after struggling early on as injury and lack of rest took its toll. He had been in almost non-stop service since August 1965 because of World Cup commitments.
Willie Bell deputised at centre-half for Charlton in the second leg of the Fairs Cup quarter-final with Bologna on 19 April. United were also without Mike O'Grady and Albert Johanneson yet again. The two only played 36 League games between them all year due to a series of niggling injuries.
Facing a 1-0 deficit from the first leg in Italy, United feared they would spend a frustrating night struggling to pierce an iron clad defence, but were back on level terms after just nine minutes' play.
Eric Stanger in the Yorkshire Post: 'The penalty which squared the tie for Leeds came when Hunter's long cross to the far post was headed down by Belfitt and Greenhoff, going in for the kill, was flattened by the powerful Bologna centre-half Janich. That deadly shot from the spot, Giles, was neither deceived nor flurried by Vavassori's premature move and he put the ball into one corner as the goalkeeper dived to the other. Giles nearly got a second goal with a fierce cross drive, which Vavassori turned round the post.'
Eric Todd in The Guardian: 'Last night's game was a splendid one between two well-matched sides. Leeds, inspired by Madeley and Bell - who faltered only once and nearly put through his own goal - had all the play in the early stages, but their shooting was affected by over eagerness. Gray was the most determined forward and like the rest of his colleagues he deserved full marks for lasting the pace so well on a dry pitch which offered as big a test to stamina as it did to ball control.
'Bologna undoubtedly were surprised and grateful that they survived Leeds' early onslaught apart from the penalty. Once they settled down they played some extremely attractive football, and none created a greater impression than Perani, whose brilliant runs puzzled Leeds without confounding them entirely. Fogli and Bulgarelli also combined effectively, but Haller did not look as convincing as he had done when leading the West German attack. Janich and an agile Vavassori excelled in a defence whose power and understanding improved the longer the game lasted.
'Leeds, swept along by the wind and the dust, and inspired by Madeley and Gray, who were in masterly form, had a brief period on the attack early in the second half. Vavassori made two comfortable saves from Gray and Bremner was not far wide with a left foot shot. Bologna, nevertheless, were ominous in the breakaway, and Haller looked anything but a West German international in two feeble attempts to score from a few yards out. Even more horrible was an effort by Cooper, who accepted a pass from Belfitt and although unmarked drove the ball over the crossbar.'
It was nip and tuck the entire night; not even a gripping 30 minutes of extra time could bring another goal and the decision came down to the spin of a disc.
Barry Davies in The Times: 'Bulgarelli, the Bologna skipper, called red and as Bremner, looking down at the white side of the disc, threw his arms into the air Elland Road erupted. Perhaps Leeds' greater pressure gained its reward, but after such a magnificent match as these two teams had provided it was a travesty that this method should be used to produce a verdict.'
On 22 April a Peter Lorimer scorcher brought United a 1-0 win at West Ham, but Manchester United's 3-1 Old Trafford victory against Aston Villa on 29 April left Leeds nine points in their wake in the title race. The Whites had three games in hand, but it was a virtually impossible task for them with just five games to come.
That same day, Leeds' FA Cup campaign ended when they lost 1-0 to Chelsea in a Villa Park semi final. They had two goals disallowed by referee Ken Burns in the closing minutes and were defeated by Tony Hateley's first half header. It was desperately disappointing stuff.
A 2-1 victory over third placed Liverpool on 3 May kept United's slim hopes alive. The win came courtesy of a second half goal from Jimmy Greenhoff and a Johnny Giles penalty in the 81st minute. The result was overshadowed by crowd trouble, as reported by Phil Brown in the Yorkshire Evening Post. 'The match was horribly spoiled by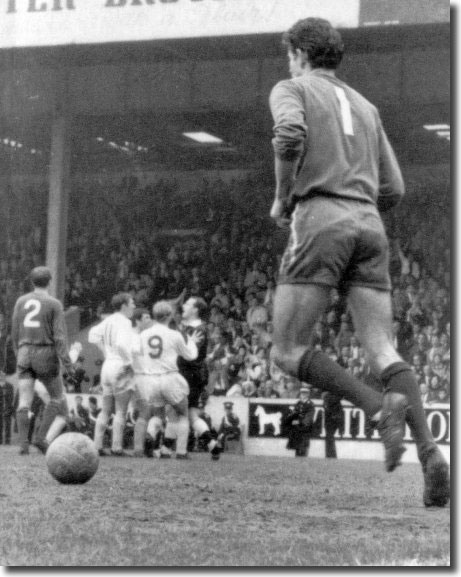 the behaviour of a small, unruly element. The referee, Mr Jack Taylor of Wolverhampton, was attacked during the match and will duly report to the FA. What action will follow remains to be seen. Elland Road has never seen worse conduct than last night's. The police did what they could, and Mr Harry Reynolds, United's chairman, went to the public broadcast mike during the early second half pause while the game was stopped to ask the crowd to behave. He could not be blunter than he was without swearing.'
Three days later, Manchester United wrapped up their second title in three seasons by slaughtering West Ham, 6-1 at Upton Park. The same evening Leeds drew 2-2 against Chelsea, and could yet finish anywhere between second and fifth positions.
Defeat at Manchester City on 8 May, the Peacocks' first in the league in twelve games, was followed by a 2-0 win at Sunderland thanks to goals by Lorimer and Gray. The victory confirmed a European spot, with Leeds now guaranteed fourth place.
United had one game to go, a meaningless local derby at Elland Road against Sheffield Wednesday. With nothing at stake, Don Revie rang the changes, retaining only three of the players who had won on Wearside. He gave a first-team debut to Dennis Hawkins and a first league start to Jimmy Lumsden, with Rod Johnson getting a rare outing and Alan Peacock appearing at centre-half.
Terry Hibbitt scored an 11th minute decider as an eleven whose average age was just 20 gleefully despatched the Owls. The win left Leeds only five points off top spot and desperately regretting a poor start to the campaign. It was obvious where the problem lay: Leeds had managed just 62 goals in 42 games. Only 8 teams in the top flight had scored fewer.
With European qualification in the bag, Don Revie's men could relax a little as they prepared for the two-legged Inter Cities Fairs Cup semi-final against Kilmarnock. The Scots had not enjoyed the best of domestic seasons, but had performed admirably in Europe.
The first leg at Elland Road marked a personal triumph for Rod Belfitt, indeed the peak of his entire footballing career. The 21-year-old, born in Doncaster, had joined Arsenal as an amateur before arriving at Elland Road in July 1963 and making his debut with a goal in the League Cup a year later.
The Scots were without their regular right wing pairing, Tommy McLean and Jackie McInally. Kilmarnock manager Malcolm Macdonald replaced them with half-backs Watson and O'Connor, implying a defensive approach.
All Killie's plans lay in shreds as Belfitt gave United a first minute lead, with Scottish internationals Bobby Ferguson (soon to be on his way to West Ham in a record £65,000 deal for a goalkeeper) and Jackie McGrory at fault. Both waited for the other to clear as Belfitt leaped to nod home.
Three minutes later Belfitt added a second, diving spectacularly to head in a Mike O'Grady centre.
Convinced that Kilmarnock had little to offer, United grew complacent and took their collective foot off the accelerator. The Scots needed little encouragement and Carl Bertelsen and Gerry Queen both went close before Brian McIlroy turned a centre past Gary Sprake after 21 minutes.
A poor back pass presented McIlroy with an opening that he could not convert and then Madeley almost allowed Bertelsen in. Belfitt settled mounting nerves by sliding home his third goal in the 31st minute, following a clever dribble from Johnny Giles and Eddie Gray's neat cross.
That should have been enough, but United were in casual mood, as recalled by Gary Sprake. 'For the first time in a long while we went into the match with carefree abandon. The domestic season had finished and we felt relaxed. The boss, though, was his usual methodical self; the night before the game we had the same old team meeting. Which opponent kicked with his left, who tried to beat a man on the inside, while all we wanted to do was go out and show the public that we could beat anyone on our day, or any other day come to that.'
United had all but abandoned defensive discipline, and Gray's back pass to Sprake after 35 minutes held up in the mud, allowing McIlroy to pull a second goal back.
Happily, Belfitt's endeavours were driving the Killie defenders to distraction. Within four minutes he earned Leeds a fourth when McGrory handled the ball in the area to keep it away from him and Giles calmly stroked home the penalty.
There the score stayed, despite United hitting the woodwork three times after the interval and Killie once.
It was a somewhat flattering scoreline, but Mike O'Grady had led the Scots a merry dance to complement Belfitt's efficiency in front of goal and United had clearly been the better side. Don Revie pronounced himself satisfied, though Gary Sprake later spoke of the manager's genuine feelings on matters. 'We had defended ineptly in the first leg and the boss was none too pleased, so we knew what to expect when he unveiled the team and tactics. It was no surprise that we were going to operate with a lone striker and throw a blanket defence around our two-goal advantage.'
For the second leg on 24 May, United were back to the sort of mean defensive display that had frustrated many a European attack over the preceding two years.
Eric Stanger: 'It was the power and disciplined drill of the Leeds defence which carried them through. It wound its coils round the Kilmarnock attack like a boa constrictor and finally crushed the life out of it. There were no slips … Every man played his part, with Bremner, though seldom crossing the halfway line, giving a captain's lead. Madeley and Hunter particularly barred the middle with authority, and Reaney and Bell kept a close watch on the speedy Kilmarnock wingers, McLean and McIlroy, though in truth Kilmarnock might have used them more instead of constantly trying to barge through the middle.
'It was not a pretty game. Fouls and gamesmanship were used without hesitation if it paid at the time. Tempers more than once came near to boiling over, as Kilmarnock grew more and more frustrated at the relentless Leeds tackling. The referee from Belgium, who was not the strongest of Continental officials, booked Murray, Kilmarnock half-back, for a foul on Cooper.
'What good football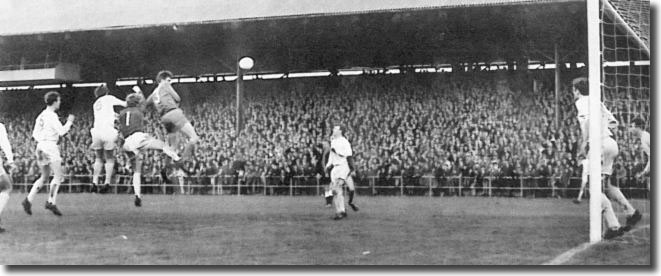 there was mostly came from Leeds, who worked the ball neatly and quickly from defence, and long before the end they had shown themselves much the superior tactically. Right from the start, at the first sign of danger Leeds never hesitated to pull back all but Belfitt, and their double white line of defenders presented a solid front. The longer the game went, the greater grew United's composure as they worked the ball away from tight situations coolly and calmly; they were a little unfortunate in the first half not to make their aggregate lead into three when Madeley headed against the bar from a corner and when Cooper's shot from Bremner's centre struck Ferguson on the foot as he desperately rushed out of goal.'
Job done, United took their summer holidays with the prospect of silverware when action restarted in August. Fixture congestion had delayed the other semi and UEFA deferred the final against Dinamo Zagreb until the start of the new season.
Leeds went into the first leg of the final, in Yugoslavia on 30 August, with precious little chance of playing themselves into form. They had played just three League games, and were yet to register a win, having drawn 1-1 at home to Sunderland, then lost away without scoring to Manchester United and promoted Wolves.
Bell, Madeley, Johanneson and Giles were on the injured list and manager Don Revie set his stall out for a defensive display in Zagreb, as so often in Europe, with Rod Belfitt a lone striker.
Dinamo were formidable opponents and represented a stiff challenge so early in the season. In reaching the final they had fought back from a three-goal deficit in Frankfurt to overpower Eintracht 4-0 in the home leg.
United might have got the goalless draw they sought but for a slack period either side of the break, with Cercek opening the scoring after 40 minutes and Rora adding a second on the hour.
It was a disappointing outcome but Revie and his men consoled themselves that Dinamo's away record was nowhere near as impressive as their form in the Maksimir Stadion. The only away victory on their way to the final came against Dinamo Pitesti by a single goal in the third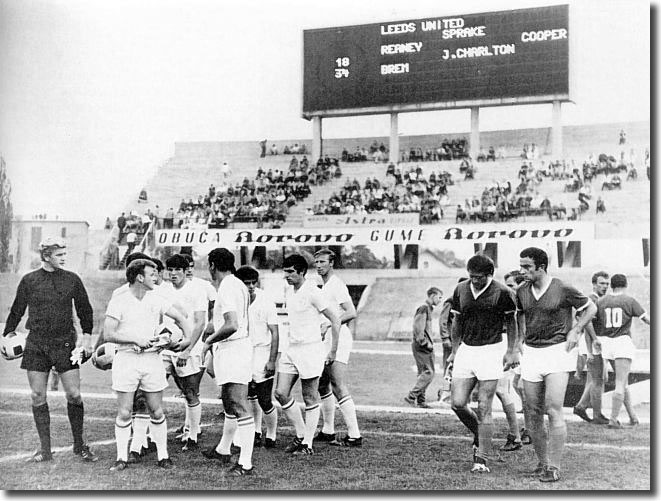 round. Spartak Brno, Dunfermline and Eintracht had each beaten them by two or more goals.
Somewhat perversely, Revie drafted Paul Reaney in at right wing for the second leg on 6 September. Despite going close on numerous occasions, United couldn't pierce an expertly deployed Dinamo defensive curtain. They had to give best on the night, disappointed with a goalless draw.
It is often said that Don Revie's refusal to allow his men their heads was the reason why they never won the trophies they deserved. The dossiers, defensive tactics and nagging had got Leeds out of the Second Division and among the powers of the game, but the same obsessions were now holding United back.
As Peter Lorimer observed, 'We used to play some teams at Elland Road that weren't even entitled to be on the same pitch as us. [Revie] was so thorough that at the end you were creating a bit of respect for a team you didn't have to. He wanted you to be totally aware of things other teams did. You would go through the same talk as you probably had the year before. We knew how we were going to play anyway.'
It was a sad conclusion to an exciting campaign. United had come a long way in the five and a half years that Don Revie had been at the helm but they were starting to earn an unwelcome reputation for choking when on the verge of success, of being the bridesmaid but never the blushing bride. Revie was obsessed with the idea that Fate was having its wicked way with him.
However, soon … very soon … Leeds United were to finally have something of substance to show for their efforts.
Part 1 - Injury ravaged but out of debt - Results and table
Other Football Highlights from 1966/67
Tiny Scottish Second Division side Berwick Rangers pulled off the most sensational result in Scottish club football history when they beat mighty Rangers 1-0 in the Scottish Cup first round
Manchester United wrapped up a magnificent title win, remaining unbeaten from 16 December until the end of the season. They played some breathtaking attacking football with Best, Law and Charlton outstanding. United wrapped up the title with a remarkable 6-1 win at West Ham's Upton Park in May
Everton bought Blackpool's young World Cup winner Alan Ball in August for £110,000, the first six-figure transfer between two English clubs
Alf Ramsey was knighted in the New Year's honours list
Scotland, the Auld Enemy, ended England's lengthy unbeaten run by winning 3-2 at Wembley, inspired by Jim Baxter at his mercurial best
Arsenal's physiotherapist Bertie Mee was appointed as their new manager and set about the job with a will, making wholesale changes to the squad
Jock Stein's Celtic side became the first British team to win the European Cup by beating mighty Inter Milan 2-1 in the Lisbon final
The League Cup final was moved to Wembley and Fairs Cup qualification was made the prize for winning the trophy. These changes prompted a number of First Division clubs to take the competition more seriously than in previous seasons, but it was Third Division Queens Park Rangers who won the first Wembley final, overturning First Division WBA 3-2. QPR were denied a place in Europe because only winners from Division One would qualify, but they were still able to celebrate winning the Third Division title by 12 points
Tottenham and Chelsea provided the first all London FA Cup final this century and it was Spurs who won, 2-1