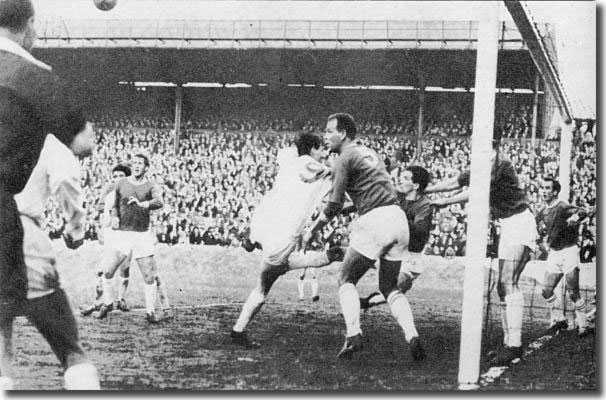 Part 1 - Kicker conspiracy - Results and table
As 1964 dawned, Don Revie's brash young Leeds United team were enjoying their status as Second Division leaders and harboured strong hopes of ending a four-year exile from the top flight.
However, Allan Brown's exciting Sunderland team were pushing them all the way and when they took three points off Leeds in the two games between the sides over Christmas 1963, it looked like the Wearsiders had established the upper hand and would soon overtake United. Preston North End were closely following in third place with Charlton Athletic in fourth.
The first weekend of January, though, brought Leeds temporary relief from the rigours of the race at the top with an FA Cup third round tie at Ninian Park against Cardiff City, whose ranks now included former Elland Road star John Charles. The Bluebirds were something of a bogey side in the Cup for Leeds, having won third round ties 2-1 at Elland Road in three successive years in the late Fifties.
Bobby Collins had joined Jim Storrie and Jack Charlton on United's injured list, and the match resulted in another blow when club captain Fred Goodwin broke his right leg in a collision with Charles in the 20th minute. Eight minutes earlier Cardiff had also been reduced to ten men when their outside-right, McIntosh, broke his left leg tumbling over Gary Sprake in a challenge.
For all that, however, there was none of the sustained menace of the Sunderland matches and Leeds laid the City hoodoo with a comfortable 1-0 victory. The Yorkshire Post: 'The man of the match was little Bremner. There was not a phase of wing-half play in which he did not excel. He deserved to be the winner of the game, with a blazing 30-yard drive that positively whirred into the Cardiff net just before three quarter time. He rallied United's straining defence magnificently in the struggle thereafter.'
With both Charlton and Goodwin out of action, there was some speculation that Don Revie would dip his toe in the transfer market, but instead he opted to blood 19-year-old Paul Madeley at centre-half. The contest against Manchester City at Elland Road thus saw United fielding one of the youngest defensive units ever seen in League competition: the average age of Sprake (18), Reaney (19), Bell (26), Bremner (21), Madeley (19) and Hunter (20) was a mere 20 years and 10 months.
Leeds were back on form, despite missing a hatful of chances. The only goal of the game, from Weston just into the second half, gave the Whites revenge for an early season defeat at Maine Road. It also meant that United kept pace with Sunderland (4-1 winners over Bury) and Preston (2-1 over Southampton), though Charlton lost ground by losing 2-1 at the Valley against Newcastle.
Madeley had let no one down and kept his place for a trip to Swindon, with goalkeeper Brian Williamson getting a rare start in place of the injured Sprake. Leeds were two goals down inside 14 minutes and required goals by Giles and Hunter to earn a point. The equaliser came in the final minute when Hunter forced a header home from a mass scramble in Swindon's goal area.
Sunderland won again, 3-0 at Manchester City, and looked ominously good, although United retained top spot, if now only by dint of goal average.
Don Revie was increasingly concerned at the number of points squandered and the lack of form, but again the Cup brought a brief respite, with Leeds drawn at Elland Road against Football League champions Everton, Bobby Collins' former club.
Either the challenge of playing one of the game's giants, or the magic of the Cup, or maybe a bit of both, brought out the best in United and they rose admirably to the occasion. Everton were undoubtedly the better side, proving their greater class, but Leeds emerged with credit and with greater luck might have pulled off a shock win.
Against the run of play, Lawson looked to have given the Yorkshiremen a first half lead, but the goal was disallowed for offside against Bell. Just before half time, however, it was the front man who did open the scoring, although he was fortunate.
Eric Stanger: 'It was a freak goal for, in trying to clear Giles' lob in the face of a twin challenge from Collins and Lawson, Harris kicked the ball hard against Lawson's body whence it rebounded into the net. A minute later Lawson should have won the game but, with West marooned far from goal after a misunderstanding with Labone, he placed the ball wide of the empty net.
'Lawson stands condemned for that bad miss, less so for one in the second half when his shot from Collins' pulled back centre hit the helpless West on the body and bounced clear. On the credit side Lawson, by his persistent chivvying, did much to unsettle the Everton defence.'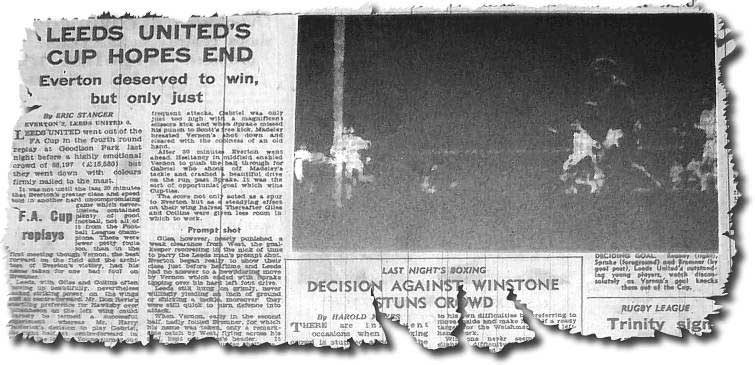 Despite Everton's ability they struggled to get back on terms, and were very fortunate when they did. With 11 minutes to go, the Merseysiders were awarded a dubious penalty when Billy Bremner tackled Alex Scott. As Don Revie said, 'If it was a penalty then we should have had one in the first half when Labone brought down Bremner.' In fact, that earlier incident had looked a cast iron case for a spot kick with the Scot left flat on his face by a clumsy challenge as he beat Everton's offside trap.
Sprake saved Scott's attempt from the spot, but was adjudged to have moved. Roy Vernon took the second kick and sent the keeper the wrong way to earn a replay at Goodison Park three days later.
Leeds again did themselves proud, but were always on the backfoot after Jimmy Gabriel (switched from right-half to centre-forward for the night) gave Everton the lead on the half hour mark. The decisive second goal was a long time coming, but Vernon took it smartly with a shot through a packed goalmouth12 minutes from time.
66,167 people were packed into the stadium, and had seen a gallant young team keep classy opponents at bay, even if their own chances were limited to the rare breakaway.
Leeds tried to carry their determined Cup form into the League the following week against Cardiff. Don Revie opted to switch Willie Bell to centre-half, calling up young Barrie Wright at the expense of Paul Madeley.
Unfortunately, John Charles decided to show Leeds what they were missing, following his second departure from the club. He gave a wonderful defensive display to deny an insipid United attack more than the one goal poked home by the rehabilitated Johanneson, his first for nearly two months. However, the goal was only an equaliser, for Charles' brother Mel had earlier given City the lead, and the game ended in the seventh draw out of 14 matches at Elland Road.
Coupled with Sunderland's startling 6-0 trouncing of Swindon, the dropped point was enough to end Leeds' nine-week occupation of top spot. It also emphasised to Don Revie his team's chronic lack of finishing power. As in so many games, United had totally dominated proceedings but squandered a hatful of chances. The manager took immediate remedial action.
The two John Charles transfer deals in 1962 had generated a net gain, bolstering improved takings at the gate. A profit of almost £13,000 was recorded for the year to July 1963, and despite the earlier purchase of Johnny Giles and debts of around £80,000, chairman Harry Reynolds persuaded his fellow directors to open their wallets once more to boost the promotion drive.
Revie took a transfer kitty and scurried over to Ayresome Park to sign Middlesbrough's former England centre-forward Alan 'Peachy' Peacock, commenting, 'I have always been impressed by Peacock, whose goal record speaks for itself. Naturally we hope that he will do for United what he has done for Middlesbrough. He is a perfect type and undoubtedly will settle down well at Elland Road.'
An initial payment of £50,000 would rise by £5,000 if United could secure promotion. It was a massive fee for Leeds, but still small beer for a player of Peacock's stature in the game.
At 27, he had won four caps for England, two of them coming in the 1962 World Cup finals in Chile. He was originally a foil to the remarkable goal scoring talents of Brian Clough, but took over Clough's No 9 shirt when the latter moved to Sunderland in July 1961. Peacock had scored 126 goals for Boro in 218 Second Division games and was renowned as one of the finest headers of the ball in the English game.
Bagchi and Rogerson: 'His heading ability alone was of the highest class, and in normal circumstances he would have been far beyond Revie's resources. Memorably described by Brian Glanville as "a tall, straight guardsman-like figure even to the short haircut", he was just over 6ft tall, yet his timing and vertical leap placed him up with Tommy Taylor, John Charles and Nat Lofthouse as the finest exponents of the aerial arts since the maestro Tommy Lawton.'
However, a cartilage operation in November had raised question marks over his fitness and the move was seen as a major gamble. Peacock had managed just five goals in the League, although two had come in his last two games. Revie, though, knew that his team needed a regular goalscorer if they were going to secure First Division football and was prepared to take a risk.
The new man came straight into the United forward line for the game at Norwich on 8 February, replacing Ian Lawson. Leeds had to settle for another draw, but Peacock was an instant success, flicking home a beautifully judged header, and bringing a vast improvement to United's all round forward play with his intelligent link work and use of the ball. It should have been a victory, for the Whites let a two goal lead slip in the final 25 minutes. Sunderland won once more, to edge further clear at the top, but it had been United's best performance in the League for some weeks, boosting their confidence as they moved into the vital run in.
They won the next game, at home to Scunthorpe, and welcomed back the long absent Jack Charlton to bolster their challenge in the next match, but a home draw with Huddersfield Town showed that they still had much to do if they were to secure promotion. Sunderland were now two points clear of Leeds at the top with Preston only a couple of points further back, so the showdown on 3 February between United and North End assumed massive importance for both sides. Leeds had the burden of going into the game without Billy Bremner, starting a fortnight's suspension. Willie Bell deputised at right-half, with the veteran Grenville Hair continuing at left-back.
Preston, on the way to a FA Cup final at Wembley against West Ham, were a strong side in desperate need of points to close the gap on United. They roared into Leeds from the start, as if their very lives depended upon it. Bobby Collins tried manfully to turn the tide, while Johnny Giles and Jim Storrie had some useful moments, but Alan Peacock was not firing on all cylinders, and Preston continually swept forward with long, incisive passing to pin United back into desperate defence.
Eric Stanger in the Yorkshire Post: 'But for Sprake, who made two thrilling saves from Dawson and another from Ashworth, Preston would have had more than Ashworth's goal in the 20th minute to show for their first half labours. The goal was typical of the close understanding between Ashworth, playing his first game for a couple of months, and Dawson. When Dawson broke through the middle Sprake could do no more than push out his shot at full length and Ashworth, following up hard, had the ball in the net from an acute angle before the Leeds defence could recover.
'For every attack Leeds mounted, Preston, through Lawton, Davidson and Spavin in midfield, staged a dozen. Apart from Collins the Leeds forwards wanted far too much time to make and collect their passes. Yet from one move by Collins, Storrie got the ball into the net. The referee, Mr J Finney of Hereford, ruled that Storrie had used his hands to bring the ball under control - a decision against which both Storrie and Collins protested so strongly that Collins was spoken to by the referee.
'A crashing volley from Giles and a header from Charlton, both of which just cleared the bar, promised better things for Leeds at the start of the second half. But their goose was cooked in the 57th minute when Sprake made no move to a deliberate 25-yard drive by Wilson. Either he was unsighted or he was under the impression that the ball would pass wide.
'Preston inevitably slackened a little - no side could maintain such a cracking pace as they had set for a full 90 minutes. Giles hit the top of the bar with a fierce shot from 30 yards but Leeds never looked like being able to turn the tables.'
Preston were well worth the 2-0 win, and Leeds' chances of gaining promotion seemed slimmer by the day. They still retained second spot from North End, but only on goal average, and were now two points behind Sunderland, with all three teams having played 32 games.
The next game, at home to Southampton, saw Storrie and Giles relegated to the reserves as Don Revie rang the changes to find a winning combination up front. He called up 17-year-old Jimmy Greenhoff at right-half with Willie Bell moving to left-back after Grenville Hair injured an ankle. Ian Lawson had asked for a transfer after the arrival of Peacock, but had rejected a £15,000 move to Scunthorpe, and was now reinstated up front, along with Don Weston, fit after an ankle operation. If he had agreed terms with Scunthorpe, Lawson would have been reunited with Cliff Mason, who moved from Elland Road on 26 February in a £6,000 deal.
Revie had bought the Sheffield United full-back in 1962 as the club fought relegation and offered his thanks to the veteran as the move was confirmed: 'He nobly did his stint towards getting us clear. He was a very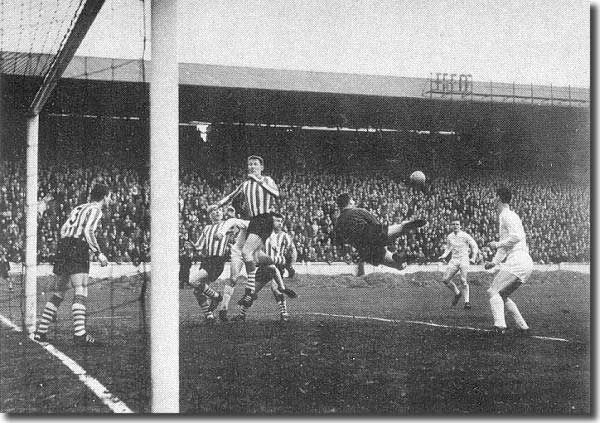 valuable player then. He came to see me before he went, and thanked me for the treatment he had had at Elland Road. Indeed, he said he would also write a letter of thanks to our directors. He was very sorry indeed to go.'
Lawson repaid Revie's faith with a goal in the first minute against Southampton, but for the most part the four-man United attack struggled to make a mark. They relied mainly on long lobs forward from Bobby Collins, but were constantly stymied by deep lying Southampton defence. When Gary Sprake missed a centre, allowing McGuigan to equalise, it looked like the usual story for Leeds, but persistence eventually paid off, and in the last 15 minutes Collins and Johanneson scored to ensure a 3-1 win that looked better on paper than it had on the pitch. The game marked the first occasion that Leeds had managed more than two goals in any game since beating the Saints 4-1 on their own pitch in October. Furthermore, with Preston inexplicably losing by the only goal at Scunthorpe and Sunderland being held to a goalless draw at home by Middlesbrough, valuable ground was gained and some confidence restored.
Leeds themselves now had to visit Middlesbrough, and Don Revie brought back Johnny Giles in place of Weston after the Irishman's telling game for his country against Spain at Seville in midweek. The manager bolstered his midfield to restore some control and composure. Jimmy Greenhoff deservedly retained his place with Bremner missing the final game of his suspension.
The match marked a distinct return to form for the Whites as Ian Guild reported in the Yorkshire Post:
'This was Leeds United at their best. On a rain soaked, greasy pitch they regained the leadership of the Second Division with a display of fast, attacking football that delighted their followers - all 30 busloads of them … Leeds held the whip hand throughout. For this they had to thank a 100 percent effort by the whole team, plus a magnificent exhibition by the half-backs, Hunter, Charlton and Greenhoff, whose strength was such that they always seemed to have the ball.
'Greenhoff, in particular, gave a polished exhibition of football. Aged 17, he worked tirelessly in attack and defence and one thrilling dribble in which he beat six men only to be foiled at the last moment deserved what would have been the goal of the match.
'Middlesbrough's defence, under almost constant pressure, held out until the last four minutes when Leeds scored twice. Young Gates excelled himself at centre-half, and it was no fault of his that Middlesbrough failed to get a point. Lawson got the first goal for Leeds and Horsfield, Middlesbrough's promising young centre-forward, equalised almost immediately with a well-placed header.
'In the second half with the wind and rain in their backs Leeds, inspired by Collins, launched attack after attack. Knowles, the Middlesbrough right back, kicked off the line; Charlton thumped the crossbar from 25 yards and for some time it appeared that Leeds were to be deprived of their just desserts. As the game wore on, however, Middlesbrough began to falter. So keen was the Leeds tackling and so quickly did they turn from defence to attack that Middlesbrough were often reduced to moving the ball without gaining ground. Four minutes from the end Peacock celebrated his return to Ayresome Park by emerging from a ruck of players to head Leeds into the lead for the second time. Three minutes later Giles, who had a splendid game at outside-right, scored a magnificent third with a powerful shot from a difficult angle.'
Don Revie commented afterwards: 'The players did very well indeed at Middlesbrough, especially in such spoiling conditions. Once again they gave the lot, and you cannot ask more. But I am not sure whether our supporters at Middlesbrough didn't do even better for us. I thought the weight and enthusiasm of our followers on such a terrible day were fantastic. Our supporters were wonderful from the cheer we got as we came out right up to coming off.'
Preston were playing Swansea in the FA Cup semi finals and Sunderland went down 1-0 at Newcastle, leaving Leeds a point clear at the top of the table and back in pole promotion position.
Billy Bremner celebrated his return from suspension a week later with the second goal in a 3-1 win at home to struggling Grimsby, with Ian Lawson once more getting the first and Peacock the third, after Town had taken a shock lead early on.
Johnny Giles received rave reviews, with Phil Brown of the Yorkshire Evening Post opining: 'Since he added more directness and starting pace to his play, Giles has started to play really brilliantly. He had a fine game a week ago at Middlesbrough, also on a very difficult pitch, and on Saturday he had a blinder. The wingers were operating on the best strips of turf, of course, and Giles made positively brilliant use of his. He gave his full-back, Taylor, a terrible beating, going either side of him or veering away into the middle with splendid control and balance. If he goes on, and there is every sign of that in this thoughtful young winger, he will become as popular as was that other little Irish right winger of United's, David Cochrane.'
The man-management of Don Revie in his handling of Giles was notable - when Matt Busby had dropped him it was taken as a slight and a reason to leave; when Revie repeated the move, it revitalised the Irishman's form, prompting him to greater heights.
Giles scored again in the next match, a vital Good Friday match at Newcastle, although his first half effort was extremely fortunate. Giles described the goal as 'the luckiest goal of my career. I'll never forget that goal, Leeds were awarded a free kick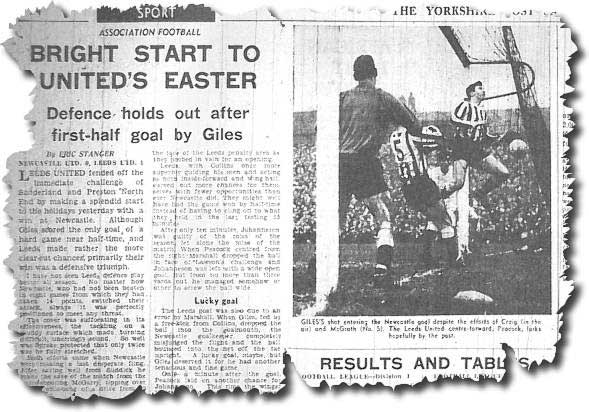 and Bobby Collins played the ball out to me on the right flank. It was such a windy day that the ball ran away from me to the byline. This forced me to centre the ball hurriedly, and I was staggered when it curved into the roof of the net.'
The match, however, was more a triumph of concerted defence than one-man supremacy.
The Yorkshire Post's Eric Stanger claimed he had 'not seen Leeds' defence play better all season. No matter how Newcastle, who had not been beaten in eight games from which they had taken 14 points, switched their attack, always it was perfectly positioned to meet any threat. The cover was suffocating in its effectiveness, the tackling on a muddy surface, which made turning difficult, unerringly sound. So well was Sprake protected, that only twice was he fully stretched. Both efforts came when Newcastle were making a last desperate fling. After saving well from Suddick, he made the save of the match from the fierce shooting McGarry, tipping over a real whizz bang of a drive from 20 yards out. Leeds deliberately planned their defence in-depth. Bremner seldom was seen beyond the half way line and helped Hunter firmly to bolt the middle. Bremner, Charlton and Bell were outstanding for their coolness in a tight corner, and Bell, particularly, earned great praise since he had to deal with Newcastle's most dangerous wing of Hilley and McGarry.'
Leeds made the better chances, however, from their limited possession, and after ten minutes Johanneson missed an open goal from three yards. The chance came when Marshall dropped Peacock's centre under pressure from Lawson, who later came close to adding a second. Charlton's presence made Leeds much tighter at the back and United now represented a tough nut to crack.
The run of four straight wins at such a crucial time of the season represented the most impeccable of timing, leaving Leeds top and four points clear of third placed Preston with just six games remaining. However, the gap narrowed by a point over the remaining two Easter games as North End reaped maximum points from home games with Manchester City and Grimsby Town. They even moved temporarily into second place, for their match with Grimsby was a morning kick off. Sunderland dropped another point in a 2-2 draw at Rotherham to leave them still second, three points behind United but with a game in hand.
Leeds dropped a point in a 1-1 draw at Derby when Cullen scored from a speculative overhead kick with 90 seconds remaining to equalise Peacock's 81st minute headed effort, but their win in the return game at home to Newcastle was rather more noteworthy.
Newcastle finished with one man in hospital and another limping, but Leeds just about deserved to win their third hard match in four days. For once, however, there was no malice attached to the game and left-back Dalton confirmed he had broken his right tibia after himself kicking the sole of Giles' boot.
A crowd of 40,105 packed in to Elland Road to rally the Whites although there were many Geordies in the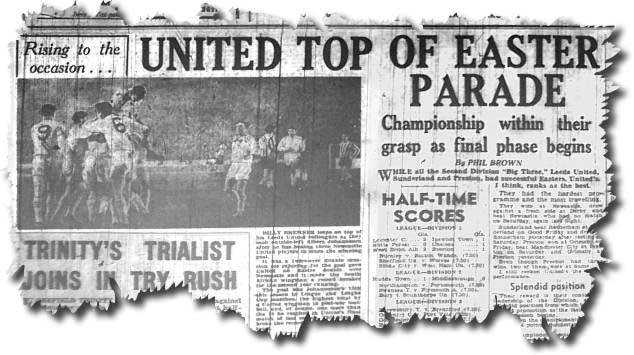 ground to watch a breathtaking contest.
Leeds took a second minute lead after Charlton's long free kick into the Newcastle goal area. Geordie defenders charged down shots from both Giles and Collins before Weston was able to force the ball home.
The goal calmed Leeds' nerves for a while and they began moving smoothly from midfield with Reaney and Bell supplementing Giles and Johanneson on the flanks. But the jitters soon re-emerged when Newcastle equalised in the 38th minute with a soft effort. Wing-half Jim Iley lobbed a long range free kick into the goalmouth and, with Sprake and his defenders leaving matters to each other, the ball slowly crossed the line, with the Leeds ranks in disarray.
They continued to press but did so raggedly and looked like they were going to miss out at a crucial stage of the season. However, with the match entering the last 15 minutes, Albert Johanneson scored a memorable goal to turn one point into two and cement Leeds' hold on top spot.
Johnny Giles: 'Our second goal was scored by Johanneson and ranks as one of the most dazzling individual efforts I have ever seen. Albert was surrounded by three Newcastle defenders as he brought down a long pass through the middle and it looked certain that he would be forced away from goal. Yet in the space of five yards, he side stepped them all, one after the other, and nonchalantly slipped the ball past the goalkeeper as he came off his line. Albert was always such a nervous type of person off the field that it was unbelievable that he was capable of expressing himself like that on the field. That was his fifteenth goal of the season, the highest total by a Leeds winger since the war.'
Top of Second Division - 30 March 1964

Pos

P

W

D

L

F

A

Pts

1st

Leeds United

38

21

14

3

63

32

56

2nd

Sunderland

37

22

9

6

71

32

53

3rd

Preston North End

38

22

9

7

74

47

53

4th

Charlton Athletic

37

18

9

10

70

62

45

5th

Newcastle United

37

18

5

14

66

58

41

6th

Manchester City

38

15

9

14

74

62

39

7th

Rotherham United

36

16

6

14

79

65

38

8th

Portsmouth

35

15

8

12

70

58

38
It was a tremendous performance in a marvellous match and with four games left to play, United needed five more points to clinch promotion because of their far superior goal average.
A routine win at Elland Road against Leyton Orient followed, although the Londoners' 77th minute consolation goal gave the crowd some nervous minutes after headed goals by Giles (32 minutes) and Weston (47) had seemed to signal an easy win.
Eric Stanger covered the salient points in the Yorkshire Post: 'Leeds, in Bremner and Collins, have two of the best link men in the business and although Collins was a full half hour finding his stride, when he did Leeds were always much quicker to turn defence into attack. It was from Collins' long centre to the far post that Giles was able to dart in and head the first goal, and it was Giles who provided the centre for Weston to head the second off the underside of the bar.
'Bremner gave an outstanding display for Leeds with his fellow wing-half, Hunter, not so very far behind him for the certainty of his tackling and for the help he gave Charlton, who laboured for a long while under a knock on the thigh which finally caused his removal to outside right in the closing minutes.
'Just before that Gregory had scored for Leyton when Sprake failed to cut out McDonald's corner. Sprake may not have been entirely to blame, but for a young goalkeeper of such high promise he has been dreadfully prone to simple error of late. Possibly in this instance it was due to lack of concentration through being underemployed for most of the game.'
Preston went down 4-2 at Rotherham and their challenge was fading fast, but Sunderland, beating Swansea and then winning at Leyton 5-2 on the Monday night, still represented a danger to title ambitions. While a single point from the final three matches would almost definitely confirm Leeds' promotion, they required maximum points to make certain of the Second Division championship.
Top of Second Division - 10 April 1964

Pos

P

W

D

L

F

A

Pts

1st

Leeds United

39

22

14

3

65

33

58

2nd

Sunderland

39

24

9

6

77

34

57

3rd

Preston North End

39

22

9

8

76

51

53

4th

Charlton Athletic

39

18

10

11

72

65

46

5th

Newcastle United

39

19

5

15

72

63

43

6th

Manchester City

39

16

9

14

77

63

41

7th

Rotherham United

37

17

6

15

85

72

40
As preparation for the first of those three vital matches, United welcomed Juventus to Elland Road for a midweek friendly and emerged creditably with a 1-1 draw, although the Italians rested some of their key men, including the Argentinian inside-forward Omar Sivori, and took things relatively easy. The match was one of a number organised against Italian clubs as part of the series of transfer deals involving John Charles. It was interesting to see Leeds face such high-class continental opposition and they coped admirably with the occasion.
However, the friendly was very much an hors d'oeuvre, serving only to whet the appetite for the main course - the weekend's trip to Swansea and a potential promotion party.
In a classic case of anti-climax, Leeds, giving 19-year-old Terry Cooper his debut in place of the injured Albert Johanneson, dispelled any nerves with a three goal burst inside 30 minutes and then simply squeezed out the game to finish 3-0 winners, thus confirming promotion back to Division One after a four year gap, with Preston and Sunderland both locked in 0-0 draws.
United, however, were hungry for a trophy to mark their triumph, as Phil Brown reported in the Yorkshire Evening Post: 'Leeds United players are now determined to win the championship of the Second Division as well as promotion. Team manager Don Revie told me: "We have the two matches left and so have Sunderland. We are two points ahead of them, 60 to 58, so we'll never have a better chance. It would ground the season for the club, and for me personally, if we can beat Sunderland to the title."
'Chairman Mr Harry Reynolds has been urging that United go for the title for months past, of course. He told me: "United have won so little that ranks in football. Ideally I want them to win this season's title and we have a great chance but in all the years since the club entered the League in 1920 we have won but one honour - the Second Division championship in 1923/24, which is 40 long years back."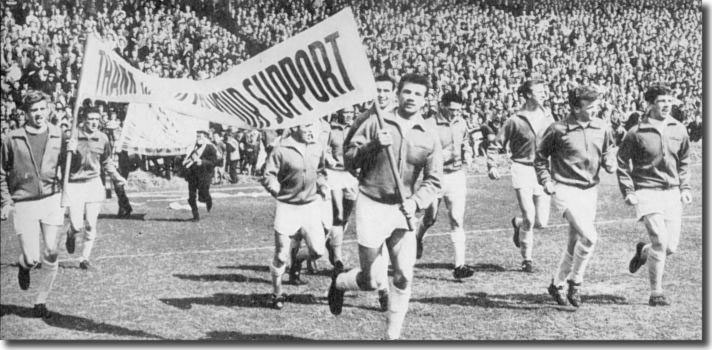 'Bobby Collins, United's iron man captain, told me: "Not to worry, I've passed the word among the lads myself. We'll beat Plymouth at Elland Road on Saturday and Charlton at Charlton the Saturday after for the bosses as well as ourselves."
'Behind Collins' voice I heard Jack Charlton saying less printably(!) that United would dispose of both Plymouth and Charlton lethally.'
Before the kick off against Plymouth, the Leeds players took to the field carrying a huge banner thanking the crowd for their support all season and took a lap of honour, but then contrived to stumble haplessly to a 1-1 draw against a side who were battling to avoid relegation. Maybe it was a delayed reaction after the nerves of a torrid season, or the result of too much celebrating after the Swansea triumph. Whatever the reason, United looked anything but championship contenders.
Bell drove home from 30 yards after 18 minutes but Leeds struggled to rise from their torpor with Bremner and Collins rendered ineffective by tight marking and Giles and Johanneson strangely out of touch on the wings. All four had enjoyed tremendous seasons, but were suddenly shadows of their normal selves.
Sprake gifted Argyle an equaliser on the hour with one of the mistakes that were becoming all too regular - he let left-winger Jennings' gentle shot slip through his grasp and into the net, and United never looked likely to recover the lead.
Elsewhere Sunderland were duly beating Charlton 2-1 at home to make their own promotion mathematically certain and set up a last day battle for the Second Division title. The equation was simple: if Leeds won at Charlton or matched Sunderland's result at Grimsby, they would win the title. If Sunderland could outpoint Leeds, the championship would go to Roker.
Revie recalled Terry Cooper for the game, choosing to leave out Albert Johanneson, but otherwise Leeds were unchanged. Indeed, their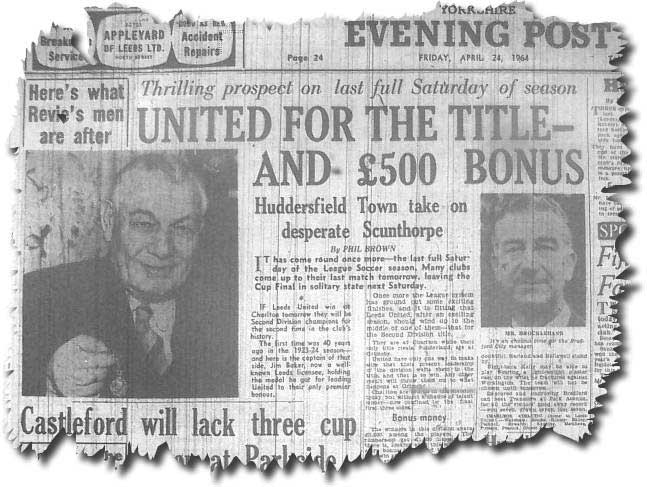 line up over the last five games of the season had been remarkably stable, with only Johanneson and Cooper not ever-present, leading to consistency, confidence and just the single dropped point.
With calm assurance, United soon took control of the game on a soft, holding pitch. They were able to pierce the Athletic defence seemingly at will, yet were able to keep the Londoners' own assaults firmly at arm's length. Their dominance never faltered.
They moved sharply and incisively and had Charlton at sixes and sevens. Alan Peacock again showed his value after 36 minutes by finishing off a splendid passing movement involving Collins and Weston to open the scoring.
It was the 69th minute before United scored again, and once more it was Peacock, heading Cooper's cross from the right neatly home to bag his fourth goal in three matches, his seventh in eight and eighth in all since his big money move from Middlesbrough.
But if Peacock had provided the cutting edge, it was the irrepressible Bobby Collins who took the honours. As he had throughout virtually every game in a taxing year, the veteran Scot covered almost every blade of grass as he drove his troops on. It was he who saw to it that Charlton found no way back into the contest, even after they got a late penalty when Jack Charlton slid in illegally on Matthews. Edwards drove his spot kick wide, but one had the impression that Athletic had long since been resigned to defeat.
Sunderland's 2-2 draw at Grimsby Town was rendered irrelevant - Leeds had found the most immense form at just the right time, capturing 18 out of the final 20 points on offer. All season long, despite the odd stumble, they had demonstrated they were worthy title winners, losing just three games, all away from home to sides in the top six, and conceded only 34 goals. Their points total of 63 was the highest in the Second Division since Spurs' 70 in 1920, and a club record for Leeds, as was the number of defeats, both home and away.
They had won the Second Division championship exactly forty years after their only other success in that same competition, and just two years after they nearly plummeted into Division Three for the first time. This was heady stuff indeed, and Leeds United Football Club had their foot firmly on the first step of a truly remarkable period in their history, under the leadership of 36-year-old Don Revie, simply the best young manager around, all set to pit his wits against the country's best.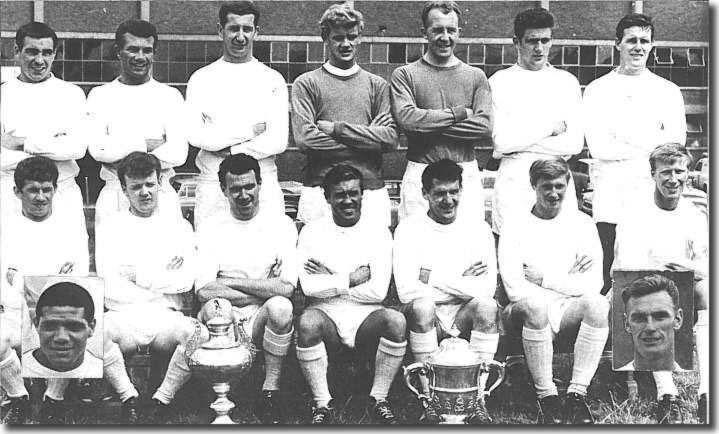 The playing style that Leeds United had mastered and exploited to the optimum was neither attractive nor exciting, but it was certainly effective and pioneered the way for much of the football that would hold sway in England over the next decade. The Second Division had seen nothing of its like before, and Division One was about to get a dose of the same unpleasant medicine.
Part 1 - Kicker conspiracy - Results and table
Other Football Highlights from 1963/64
Jimmy Dickinson finally retired at the age of 39, having made a record 764 league appearances for Portsmouth, his only club. He made 48 appearances at left half for England, with only the emergence of Duncan Edwards displacing him. In a career spanning almost 20 years he was never spoken to by a referee, let alone booked
Football was rocked to its foundations on the morning of Sunday 12 April when The People newspaper revealed that three Sheffield Wednesday players, Peter Swan, Tony Kay and David Layne, had made sure Wednesday lost 2-0 to Ipswich in December 1962. Each of them won £100 by betting on the result. It was later revealed that a number of other players were also involved and they were nearly all suspended for life, with 10 of them convicted at Nottingham Assizes on 26 January 1965
Tottenham's defence of the European Cup Winners' Cup lasted as long as their first match, against Manchester United. Spurs won 2-0 at home, but in the second leg they lost Dave Mackay for the rest of the season with a broken leg and finished 4-1 losers on the night. United lost in the next round to Sporting Club of Portugal, who went on to win the trophy
As well as the loss of Mackay, Spurs had other problems to contend with as their Double team started to fall apart. Terry Medwin was injured on a summer tour and missed the whole season, 37-year-old Danny Blanchflower announced his retirement, Bobby Smith was transferred to Brighton in May and 27-year-old John White was killed by lightning on a golf course
66 goals were scored in 10 First Division matches on Boxing Day. Fulham beat Ipswich 10-1 and Blackburn beat West Ham 8-2
First Division West Ham struggled to a 3-2 victory over Second Division Preston North End in the FA Cup final. Preston played the far better football in the first half and Howard Kendall, the youngest player to appear in a Cup final this century (aged 17 years and 345 days), dominated midfield for the Lancashire club, who twice took the lead
Since the inauguration of the Scottish League Cup in 1946-47, the Scottish treble had only been achieved once, by Rangers in 1949. They repeated the feat this year and finished the league season six points clear of Kilmarnock
England had an extremely good season, although they had a number of set backs. They won 4-0 in Wales, beat a Rest of the World XI 2-1 (including Alfredo di Stefano, Ferenc Puskas, Eusebio, Denis Law and Jim Baxter) at Wembley and thrashed Northern Ireland 8-3 (in the first international at Wembley to be played entirely under floodlights) thanks to four goals by Jimmy Greaves and a hat trick from Terry Paine. They lost 1-0 to Scotland, but then hit form again by beating Uruguay (2-1), Portugal (4-3), the Republic of Ireland (3-1) and the USA (10-0). They finished on a low note, however, by losing 5-1 to Brazil and 1-0 to Argentina. The struggle against the two powerful South American teams boded badly for the 1966 World Cup finals
Denis Law was elected European Footballer of the Year
After winning promotion to the First Division in 1962, Liverpool, under their charismatic manager Bill Shankly, won the League title, finishing four points clear of runners-up Manchester United. Three straight wins over the Easter period virtually wrapped the championship up
Jim Fryatt scored the fastest goal ever in first class football on 25 April, opening the scoring for Bradford Park Avenue against Tranmere after just four seconds
Spain became the second winners of the European Nations Cup, beating holders the USSR 2-1 in the final