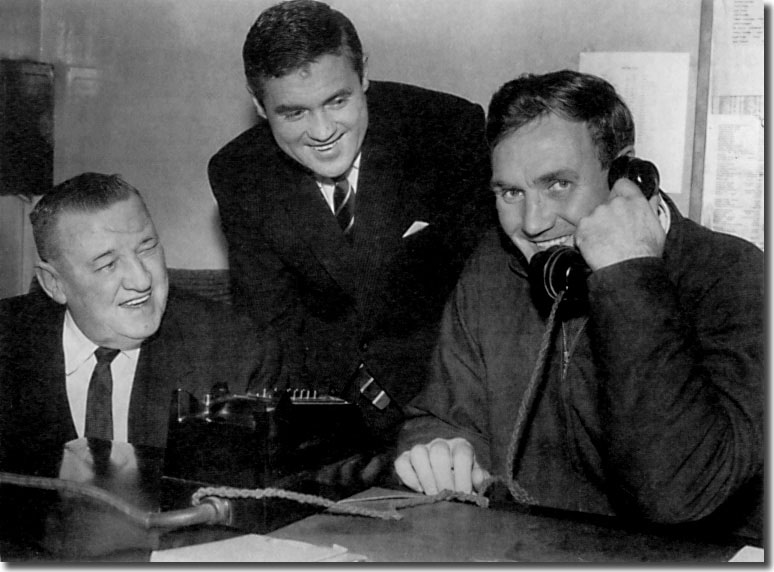 Part 1 - White riot - Results and table
The first half of the 1964/65 season had been phenomenally successful for Leeds United. After seeing off Sunderland and Preston North End in the spring to finish worthy Second Division champions and regain their First Division place after a gap of four years, most critics had forecast that the Whites would face a relegation struggle.
They soon consigned that prophecy to the bin, and a 2-1 win over Sunderland on 2 January left Leeds looking down on England's finest from the lofty heights of the First Division leadership.
Their teamwork, never-say-die spirit and aggressive approach took the top flight by storm. United's supposed betters had to take note of the challenge of the men in white and even the London-based critics, who loathed their prosaic football and baser instincts, acknowledged that Leeds United would be a team to watch as FA Cup time came round.
The prediction was not based on any historic precedent, for United had no Cup pedigree, having only once reached the sixth round. That was in 1950, when a side featuring John Charles at centre-half took eventual Cup winners Arsenal to a replay before capitulating. On ten straight occasions between 1953 and 1962, Leeds bowed out in the third round, with three of those defeats coming consecutively against the same team by the same score, 2-1 at home to Cardiff in 1956, 1957 and 1958, a remarkable coincidence.
However, the third round draw in 1965 was kind, and an in form United side could look forward to the game with some optimism.
Jack Charlton recalls: 'When the names of our opponents came out of the little black bag we gave a whoop of joy, for we were due to meet Fourth Division team Southport at Elland Road. Thirty one thousand people paid £8,905 for the privilege of seeing Leeds waltz into the next round of the FA Cup by notching a cricket score victoryover our gallant little rivals who had no chance - or so everybody thought. But, in fact, our Cup conquest turned out to be rather an inauspicious affair … indeed, not until the last ten minutes could we safely say that we were in the draw for the next round.'
Heavy overnight rain made the Elland Road pitch a quagmire, and Leeds were forced to field Greenhoff, Cooper and Johnson as deputies for Giles, Bell and Peacock, all out injured.
Leeds had much the better of the first half, although they had only Greenhoff's 26th minute goal,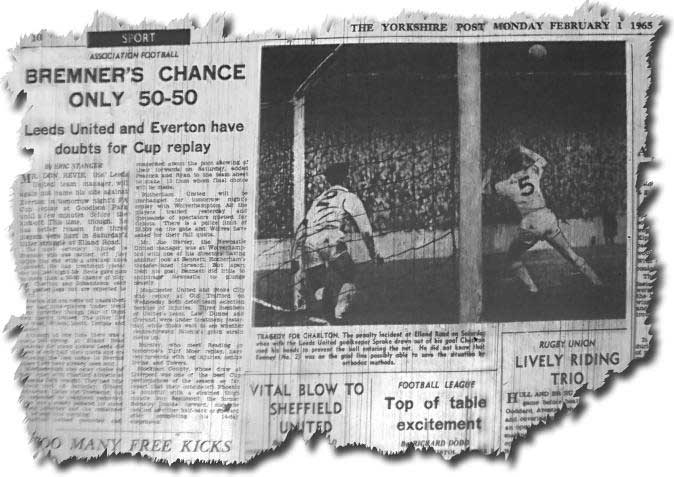 a glorious left-footed drive from the right hand corner of the penalty area, to show for their dominance. They could not find a second until near the end, as Southport battled manfully. Albert Johanneson netted a simple effort in the 81st minute after good work on the right by Greenhoff and Reaney, and Johnson knocked home Cooper's centre at the death to give the score a flattering look.
Billy Bremner (twice) and Bobby Collins had struck the woodwork, and a couple of goals had been chalked out for offside, but United had made heavy weather of the game, trying to be too clever and precise on the difficult surface. But the victory had never been in question and 3-0 was a comfortable result in the end.
Charlton: 'One writer said later: "There was not much sign of the big crowds to come, nor of the unforgettable thrills in store." He was dead right there. True, we had had enough chances to sew up the game earlier than we did. But it was Southport, plucky, near-bottom-of-the-Fourth Division Southport, who got the sympathetic cheers at the end.
'And he would have been a bold man indeed who would have forecast that Leeds United, top of the table as they were, would get to Wembley itself … judged on the evidence of that display. What's more, when we were drawn - at home again - against Everton in the next round we could manage only a 1-1 draw … which, thought, many folk, spelled the exit for Leeds in the replay.
'In the first tie we scored first, through Jim Storrie, but there were still thirty-two minutes left for Everton to catch us … and catch us they did, only six minutes later, when centre-forward Fred Pickering scored from the penalty spot. We had not been beaten in ten games, and we could include a League victory at Goodison in that. But, frankly, it didn't do my heart any good when I realised that I had given away the penalty which led to Everton's equaliser from the spot … and I feared that we would wilt and lose the day.
'My only excuse - and it was a valid one - was that had I not pushed the ball over the bar with my hand Jimmy Gabriel's header would have entered the net, anyway. So I had saved a certain goal in exchange for a probable one … to my chagrin, Pickering didn't miss with the penalty. Fifty thousand fans rolled up for that tie, and Leeds collected £13,000 in gate money … and a replay the following Tuesday.
'Up went the gate to nearly 66,000; up went the receipts to almost £15,000; and up went the temperature as I scored a goal for Leeds after seventy-three minutes. It came from a corner by Johnny Giles. I had gone up, as usual, to do a stint in our opponents' penalty area, and as the ball came across, I rose and nodded it safely out of the reach of Gordon West. Seven minutes later the couple of thousand Leeds fans began to make 'Ilkla Moor Bah T'at' heard when Don Weston put us two goals ahead. Three minutes later and that man Pickering had pulled one back for Everton … but with time ticking away it was still "Ilkla Moor" that was rolling round on the night air, and we sensed that Everton were a spent force. Somehow, this time, I never feared that they would come back again. In the dressing room afterwards, someone remarked: 'You know, we can win the Cup.' That was the first time I had heard anyone speak my own, private thoughts out loud. For during this replay, as we forged two goals ahead, I had begun to think in the same strain myself.'
It was Charlton's seventh goal of the campaign, and his regular lolloping forays into the penalty area were proving very productive. The centre-half was in the form of his life in defence, knitting together a stout rearguard and fully repaying Don Revie's faith in him. He was now generally acknowledged as one of the country's best defenders. But it was his contributions at the other end of the field that were really getting him noticed. Only Storrie, with 16 in all competitions, and Johanneson (8) had scored more goals.
Top of First Division - 20 February 1965

Pos

P

W

D

L

F

A

Pts

1st

Chelsea

29

19

6

4

65

30

44

2nd

Leeds United

30

19

6

5

57

38

44

3rd

Manchester United

29

16

9

4

58

31

41

4th

Tottenham Hotspur

30

14

6

10

58

49

34

5th

Everton

29

11

11

7

50

43

33

6th

Nottingham Forest

30

12

9

9

57

55

33

7th

Liverpool

28

12

8

8

47

42

32
The centre-half continued: 'In one way I was relieved when I knew whom we had drawn in the fifth round - Third Division Shrewsbury … and we were at home, too. But in another way a niggling doubt began to arise in my mind; so often there had been a giant killing side which had toppled much more fancied teams on the way to a semi final appearance. Would Shrewsbury prove giant killers at Elland Road? I wondered. Well, as against Southport, we left it mighty close to time before sealing the game. Johnny Giles slotted home a penalty, just under the half hour. But there were only ten minutes to go when Albert Johanneson made it safe. Shrewsbury were no pushover, and Leeds at times looked anything but United. Whether Leeds folk thought this was one game they needn't bother to support us, I don't know, but although 50,000 tickets had been sold, fewer than 48,000 people found their way to Elland Road … and the spivs caught a real cold, for they ended up giving tickets away.'
Whatever the struggle, Leeds United were through to the last eight of the world's most famous knockout competition. Joining them were their two biggest rivals for the League title, Chelsea and Manchester United. By now (20 February), the three clubs had pulled away from the rest of the pack, and had seven points in hand on fourth placed Tottenham.
Manchester United, sporting their exciting Best-Law-Herd-Charlton-Connelly front line, had the breathtaking style and glamour. They had rebuilt impressively since Munich 1958 and were the people's choice. Chelsea, the fashionable Londoners managed by the mercurial Tommy Docherty, had a host of young stars in their line up, like Terry Venables, Eddie McCreadie, Peter Bonetti, Ron Harris and Barry Bridges, and promised much for the future.
Leeds United, however, were proving durable challengers and had extended their unbeaten run in the League to 11 with a fiercely fought 2-1 win at Arsenal.
The Times: 'Never were victory and defeat more closely related than in the gale of Highbury on Saturday. Leeds United may have won the day, but in the process they lost many a friend. Here were revealed all the naked reins of power and ill temper. They were laid bare 10 minutes before half time when Eastham, one of the gentlest and most philosophical of footballers, was cut down unashamedly by a flagrant unprovoked tackle on the part of Bremner and from that moment left to moulder helplessly on the wing. Arsenal, with their guiding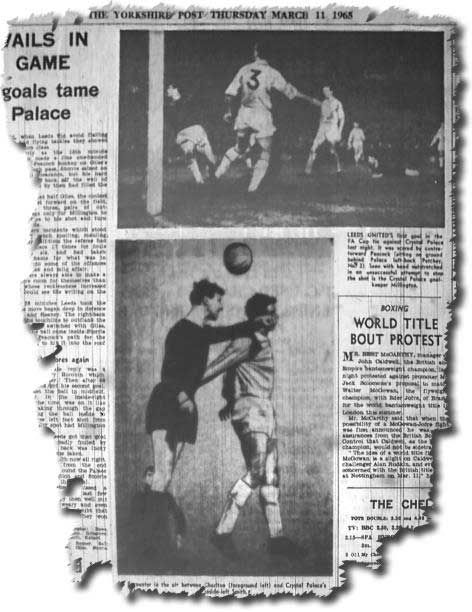 hand amputated, thus found themselves drawn into a struggle where physical strength took over from intellect and where revenge and retaliation seemed uppermost in the minds of some. In the end it was ugly and ill mannered and the game itself was shabbily ill-treated.
'Leeds, as a team, are certainly gluttons in the expense of energy. Their work rate - marshalled by the astute Collins - is enormous, yet there are one or two of them who are inclined to overstep the bounds of fair play. Whether it is by cold calculation or in the heat of the moment it is hard to say. But when the main object at times seems to be to play the man and not the ball - as happened from the moment Eastham was winged - then what remains is contempt, not only for the provokers but for those, too, drawn ill advisedly into trying to settle a sore score.'
Jim Storrie: 'For years, Billy Bremner was given a role as a man to man marker, but he didn't always get away with it. He had the reputation of being a great tackler, but when we played Arsenal at Highbury, he was exposed by George Eastham. Eastham wouldn't stay still - he'd just slip past Billy and play little balls off. We were 1-0 down, but Norman Hunter was put on Eastham in the second half. Norman was much better at timing his tackles and after that Billy had a freer role.'
Don Revie: 'I'm sorry the game wasn't a showpiece, but clearly we have enemies in the Press box as well as on the field. Our faults have been exaggerated. We are not a dirty team; I have to say that yet again. But we are a very hard playing team and we make occasional mistakes of judgement. Who doesn't? It's an easy story, reviving our completely undeserved tag of last season, for the London newspapers. I wonder what would have been written if Arsenal had crippled Collins or Bremner, and once or twice it wasn't for the lack of trying.
'While I am on this subject could I quietly point out that in 12 of our last 14 games there have been more free kicks for fouls by our opponents than by us, and that in 12 of the 14 games there were, in total, fewer free kicks for fouls than the present League average of about 24.
'Finally, one thing I have noticed about nearly all our opponents in the last three months. They come out against us determined to prove themselves the stronger side physically. This is very probably because of last season's tag and the exaggerating newspaper reports they have read about us. But we can cope.'
Alan Peacock returned to first team action at Tottenham on February 27, but the game finished a tame goalless draw. It wasn't long, however, before the tall striker did get among the goals again, hitting a brace in the Cup against Crystal Palace.
It was the first time that United had been drawn away from home, and they had to wait until the Wednesday for action, as Selhurst Park was unplayable due to frost at the weekend.
Palace manager Dick Graham, who had guided the club to promotion from Division Three in 1964, was determined to spring a Cup shock and had devised a game plan - he blithely instructed his men to kick Leeds out of the competition.
He also attempted to confuse by mixing up shirt numbers - the experienced George Petchey, more usually now coach to the junior side, was called up at No 3, although he played right-half; Whitehouse, No 7, was left-back and Burnside, No 6, shared centre-forward duties with Holton.
The gimmick didn't work as Leeds players simply picked up whoever was nearest to them at any time. Palace's robust physical approach, however, was rather more effective. The Londoners committed six fouls in less than 20 minutes, 13 in 30 minutes and 17 by half time. United showed strong resolve in not rising to the provocation and played the better football, although there was no score at the break.
Jack Charlton: 'The second forty-five minutes saw Crystal Palace, having thrown everything at us and having failed to pierce our defence, running out of steam. Two of their players - Smith and Howe - were booked; so was Billy Bremner. Physically, this was a hard encounter between two teams, each determined to concede nothing. But Don Revie had briefed us well on our tactics, and we were superbly drilled in defence, and swift to swoop in attack. Yet almost sixty minutes had flown by before we managed to crack home a goal. Alan Peacock, playing his first Cup-tie for us, ended the deadlock when he finished off a great run by Paul Reaney by snapping up a defence-splitting pass and slamming the ball into the Palace net. Time: fifty-eight minutes.
'Ten minutes later it was Peacock again, latching on to a tremendously accurate pass from Terry Cooper. And it was Cooper who set up the third goal for Jim Storrie after seventy-three minutes. A forward chip, and Jim flicked the ball into the Palace net. It was all over, and we had reached the semi finals. Now we were but one step from Wembley.'
Top of First Division - 20 March 1965

Pos

P

W

D

L

F

A

Pts

1st

Leeds United

34

21

8

5

68

42

50

2nd

Chelsea

33

21

6

6

70

36

48

3rd

Manchester United

34

19

9

6

69

34

47

4th

Nottingham Forest

35

15

9

11

64

62

39

5th

Sheffield Wednesday

34

14

10

10

52

43

38

6th

Everton

33

13

12

8

56

48

38

7th

Tottenham Hotspur

35

15

7

13

65

58

37
Jim Storrie: 'Teams felt they had to adopt a more ruthless approach than usual when they came up against Leeds, which created a bad atmosphere even before a ball had been kicked. I remember one of Crystal Palace's players telling me … their manager Dick Graham showed them a film of one of Leeds' previous fixtures, and said: 'That there is the hardest team in Britain ... but not tonight. Tonight YOU'RE going to be the hardest team in Britain. If any of you pull out of a tackle, you'll never play for this club again.'
'In the first half, Palace kicked everything that moved, and it got to the stage where some of our lads were telling some of their lads: "Well, if you draw you've got to come to Elland Road, haven't you?" They fell to bits after we scored our first goal, so a potentially nasty situation was averted.'
Peacock scored again a few days later as Leeds struggled to a 2-2 draw with Fulham at Craven Cottage. Their form was much better, however, when they recovered from conceding early on at home to Burnley to win 5-1. It was probably United's best performance of the season, and certainly their most convincing result, although they remained in second position to Chelsea, by virtue of an inferior goal difference.
Another convincing Elland Road victory, 4-1 against Everton on March 20, took Leeds back to the top as Chelsea enjoyed a well-deserved day off. The Londoners were in the midst of a two-legged League Cup final with Leicester and also had an FA Cup semi-final clash with Liverpool to look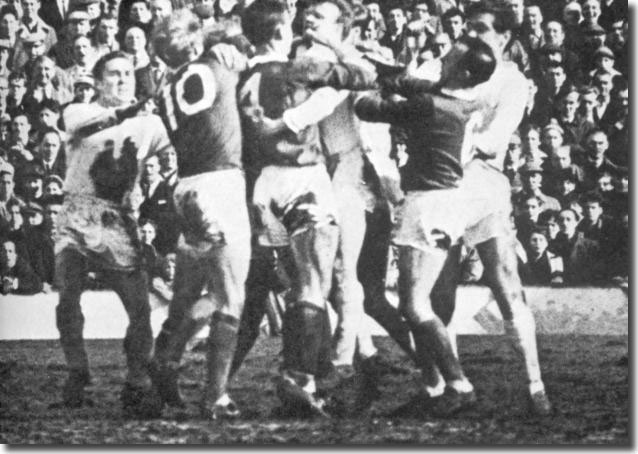 forward to, and they were suffering significant fixture congestion.
Two days later, though, they beat Sheffield United 3-0 to take over again at the top on goal average, with Manchester United's 2-0 win against Blackpool bringing them a point behind in third.
Unusually, the top three had all made it to the last four of the FA Cup and each harboured hopes of the elusive Double, with Chelsea even daring to dream of an unprecedented domestic treble. March 27 was semi final day, with Leeds facing Manchester United at Hillsborough, and Chelsea pitched against Liverpool at Villa Park.
The Londoners were sadly leg weary and lost 2-0 to a revitalised Liverpool. The Reds were in high spirits having just secured a European Cup semi final spot after a play off win in Rotterdam against Cologne. It was an hour into the game before Peter Thompson broke the deadlock, and 79 minutes before Willie Stevenson made it 2-0 from the spot, but there was never any doubt who would make it through to Wembley.
The clash between Manchester United and Leeds was much harder to call - the football suffered badly on a gluepot of a pitch as the two clubs went at each other hammer and tongs. There was a disgraceful outbreak of fisticuffs in the second half and no goals to show for a bruising encounter, requiring the two sides to battle it out again four days later at Nottingham Forest's City Ground.
This time there was far less rancour and the players contrived to deliver a thrill packed clash. Manchester United looked like they would overrun the Whites at the start of the second half, but Leeds weathered the storm and dominated the closing stages. Billy Bremner headed home in the closing seconds from a Johnny Giles free kick as the game seemed certain to require the lottery of extra time.
Leeds had booked a first ever trip to Wembley, and had kept their Double hopes alive, hopes that became even stronger as they returned to league action with three straight wins against West Ham, Stoke and West Brom. United moved clear at the top of the table, taking their unbeaten run in all competitions to an impressive 25 games.
Alan Peacock's return had boosted United's goal threat, and he had managed seven goals in ten appearances. The omens were incredibly promising as the decisive Easter holiday beckoned, with Leeds three points clear of both of their rivals and just five games left for each club.
Top of First Division - 12 April 1965

Pos

P

W

D

L

F

A

Pts

1st

Leeds United

37

24

8

5

75

45

56

2nd

Manchester United

37

22

9

6

77

34

53

3rd

Chelsea

37

23

7

7

79

41

53

4th

Nottingham Forest

38

16

11

11

68

64

43

5th

Everton

38

14

14

10

61

57

42

6th

Tottenham Hotspur

38

17

7

14

75

63

41
Chelsea were the only ones of the three in action on Good Friday, 16 April, hammering Liverpool 4-0 at Stamford Bridge to get their revenge for the FA Cup defeat. They had lifted the League Cup a week earlier and still fancied their chances of the title.
Most eyes, however, were on the mouth-watering match the next day at Elland Road as Leeds faced Manchester United for the fourth time in four months. A win for Don Revie's men and they would be five points clear of the Red Devils. They had every reason to anticipate the victory - they had two wins and a draw to their credit in their three head to heads, and had yet to concede a goal to Manchester's much vaunted forward line.
Don Revie tried desperately to play down the importance of the occasion, but he knew that this was crunch time - it was the most important game that Leeds United had ever played.
They were unchanged from the 2-1 win at West Brom, with young Jimmy Greenhoff continuing to deputise at right-half for the suspended Billy Bremner. It was a bitter blow for the Scot, but Greenhoff had not disgraced himself against Albion, although he had been guilty of trying too hard.
Bremner was often in disciplinary hot water in those days, and it wasn't always down to him.
Jim Storrie: 'He was being pilloried by opposing players off the ball, elbowed, that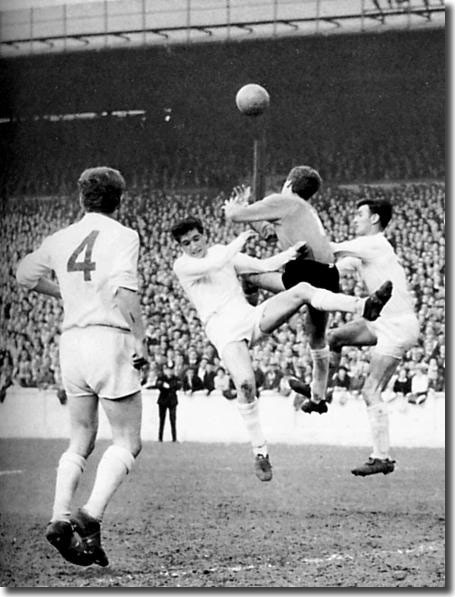 sort of thing. Then when he reacted, everybody saw it. He was spending more time sitting in the stand, serving out suspensions, than on the pitch.'
Andrew Mourant: 'Revie … responded by calling a council of war. He gathered together his players and told them that everyone in the team should look after each other, that no one should get isolated. Should Bremner be picked on, he was to walk away and the rest of the players would draw the matter to the referee's attention … left to highly motivated young men who could barely wait to get inside a Leeds United shirt, it was clear Revie's dictum meant they were to take nothing lying down, and referees who failed to spot transgressions against Leeds players could always rely on their unofficial assistance.'
Lord Harewood, president of the club: 'I remember I was sitting next to Sir Alf Ramsey … he was not at all sympathetic towards Leeds. I was marking down the fouls against us and the players by whom they were committed. After about 20 minutes, Billy Bremner's name was taken. But there had been six fouls on Bremner. Alf Ramsey looked down at my list and said: "That's the kind of thing that gets a referee a bad name."'
Bremner feared the worst as he awaited news of his disciplinary sanction: 'I shall never forget when we went to Wembley in the FA Cup final. I had landed in trouble with the soccer powers that be, and I really was afraid that I would be sentenced to a spell of suspension which would put me out of the Wembley showgame. I worried about it, as I travelled on the train to London for the England-Scotland international; I couldn't sleep properly because of my nagging fears. I'd had four cautions, and I'd got it firmly fixed in my head that I would get a three week suspension, which would put paid to my hopes of playing at Wembley in the final.
'I was with Bobby Collins, who had been recalled by Scotland for that international against England … and Jackie Charlton, who was going to be one of our opponents in that game. Bobby tried to ease my mind by saying that he thought I would finish up getting just one week and a fine, but that seemed too good to believe. But Bobby turned out to be a good forecaster, that was exactly what did happen.'
Bremner missed just two games in the end, but the big showdown with Manchester United was one of them.
The Red Devils won the toss, choosing to play with the strong wind. They were intent on making a good start and taking revenge for their previous setbacks, enjoying much of the early play. They pressed Leeds hard and took a well-deserved lead after 14 minutes.
George Best made himself some room out on the left flank, cut back onto his right and centred, only for Jack Charlton to head clear. Tony Dunne came up from full-back to feed Denis Law on the edge of the box. He flicked it first time inside to right winger John Connelly, who slammed the ball left footed past Gary Sprake.
Norman Hunter: 'Conditions were far from ideal. It was windy, the pitch was rock hard and bumpy and, as I recall, it had been covered by tons of straw in a bid to keep it from freezing … I ran out to challenge him (Connelly) and attempted to block the ball but it dropped between him and Denis Law and Connelly turned and hit it. It wasn't really a good shot but because it went through my legs and there were a few other people about, Gary Sprake didn't have a good view of it. In fact, he didn't have a chance.'
It was a bitter blow for Leeds, and they never recovered. This time Manchester were clearly the better side, defending sweetly and making the most of their greater experience. Bobby Collins could not get his long passing game going, and Leeds never looked like getting back on terms.
A massive opportunity to cement their title charge had passed Leeds by, and worse was to follow.
On Easter Monday, the news came that skipper Collins had been elected Footballer of the Year, receiving almost 50 per cent of the votes of the Football Writers' Association, but he would have exchanged the award and his recall to the full Scotland team for a win later that day at Sheffield Wednesday.
However, with Peacock and Collins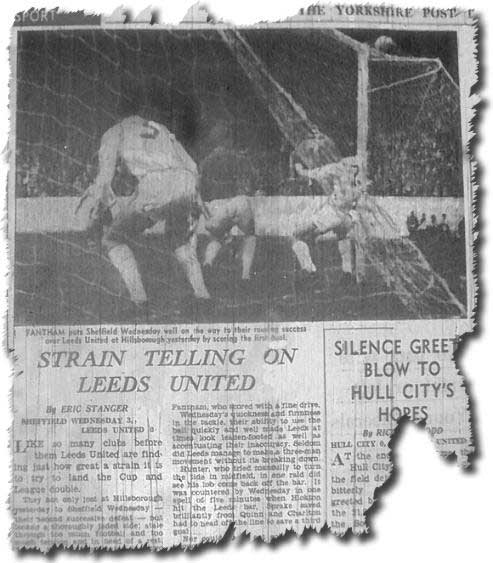 unavailable through injury, United slumped to another defeat, and this time a heavy one. The 3-0 reverse was the worst since the 4-0 hammering at Blackpool in September, and Leeds were never at the races. Billy Bremner partnered Jim Storrie up front, with Greenhoff at No 7 and Paul Madeley featuring in midfield. They looked completely out of sorts. Eric Stanger wrote in the Yorkshire Post that they 'looked a thoroughly jaded side; stale through too much football and too much tension and in need of a rest.' Wednesday were two up in 26 minutes and running riot.
Norman Hunter: 'The season was taking its toll on us. It certainly was on me. I'm not blaming it entirely on fatigue but in that game I suffered the embarrassment of scoring an own goal - my first in senior football. Johnny Fantham scored their first two goals and mine was their third - a result of not being careful enough when passing the ball back.'
Leeds were still only a single point behind Manchester United, but their spirit had gone. They seemed on the verge of collapse, and had slipped back to third place, even though Chelsea lost 2-0 at Anfield. Perhaps the pressure of having to win every game had finally come to tell on inexperienced heads. Whatever the reason for the reversal of fortunes, Leeds were in desperate need of a tonic to revive their flagging morale.
Just as it seemed that United had shot their bolt, they bounced back to form, beating Wednesday 2-0 the next day in the return at Elland Road and then emerging 3-0 winners from a difficult trip to Sheffield United.
By now, Chelsea's challenge had evaporated in a bout of player indiscipline and the end for them was marked with a rout at Burnley.
Terry Venables: 'The reports that we had been indulging in some late-night boozing the evening before a game were completely untrue. The night out was on a Tuesday, and our next game was not until the Saturday. (Manager Tommy) Docherty had previously said that we could all have an evening out, which most of us had made arrangements to do, but when we returned from our game at Liverpool that day, he changed his mind. We were third in the League at the time and, had we won there, would still have been in with an outside chance of the Championship, although it was a tough run-in - away to Liverpool, Burnley and Blackpool. We did not play badly at Anfield by any means, but we lost by the odd goal, and as a result Docherty cancelled our night out. That incident alone would not have been enough to provoke a mutiny, but it was the culmination of a number of disagreements between Tom and the players, the straw that broke the camel's back. As a result, we decided to ignore him and go on our night out anyway, making a confrontation inevitable.
'Docherty was eager to believe that I must have been the ring-leader of the 'late-night boozing' in Blackpool, after which eight of us - Barry Bridges, George Graham, Eddie McCreadie, John Hollins, Joe Fascione, Bert Murray, Marvin Hinton and me - were all sent home in disgrace, giving the tabloids a field day.
'I heard nothing more from Docherty until the following Friday night. I had already gone to bed, getting an early night as usual before the Saturday game, when the phone rang. My Dad, who was staying with us that evening, took the call. "This is Tommy Docherty. Tell Terry he's not playing tomorrow and he's not captain any more." There was a click as Docherty hung up. His principled stand proved rather expensive, for without the eight of us Chelsea were thrashed 6-2 by Burnley.'
Just as Chelsea crumbled, Manchester United grew stronger. As Leeds were beating Sheffield United, the Old Trafford club hammered Liverpool 3-0 to register their sixth win on the trot in the League. In a run of 11 First Division games, the Reds had dropped just two points, enjoying the highly impressive goal record of 32 for and 7 against - they were in splendid form.
Top of Second Division - 24 April 1965

Pos

P

W

D

L

F

A

Pts

1st

Leeds United

41

26

8

7

80

49

60

2nd

Manchester United

40

25

9

6

85

36

59

3rd

Chelsea

41

24

8

9

87

51

56

4th

Everton

42

17

15

10

69

60

49

5th

Nottingham Forest

41

17

12

12

70

66

46
Leeds had somehow managed to retain top spot, but now had only one game left, away to relegated Birmingham. Matt Busby's team were a point adrift, but had two games to go, and a vastly superior goal average.
Don Revie knew that the title was slipping away. There was still the FA Cup final to look forward to, and the manager was torn between keeping his best for Wembley, and really going for it in the League. In the end, he rested Storrie and Bell that Monday night, April 26, but otherwise sent out a full strength side.
There were no ifs, buts or maybes now - Leeds needed to win and hope that the Red Devils could manage no more than a couple of points from their remaining games, at Old Trafford that night against Arsenal, and then a couple of days later at Aston Villa.
Birmingham caught Leeds in a tentative mood and took the lead within four minutes. Despite going down to ten men shortly afterwards, they assumed a remarkable 3-0 lead six minutes after half time. Nine minutes later, Manchester United secured a 2-0 advantage against Arsenal and it looked like the game was up.
Amazingly, Leeds dragged themselves up by their bootstraps and snatched a 3-3 draw in the closing stages, going near to an injury time winner. But two Denis Law goals earned a 3-1 win at Old Trafford and as near as damn it the title was Manchester-bound. The two teams were level on points, but even a defeat at Villa a couple of days later wasn't enough to dent Manchester's goal average superiority.
Leeds United had come a long way in one season, but with just the Cup final to come, they were in grave danger of ending up with nothing to show for all their efforts.
Again, nerves set in just when it mattered most, and Leeds simply did not turn up at Wembley. They reached 90 minutes level with Liverpool, but in every other respect they had come a distant second. Liverpool picked them off with their sophisticated possession football, and only an inspired Gary Sprake display kept United in the game.
When Roger Hunt stooped to head home the first goal early in extra time, it seemed that the Reds were home and dry, but somehow Leeds dragged themselves back off the floor. Billy Bremner volleyed home a sharp equaliser from what was virtually United's only chance of the game.
They couldn't do it again, however, and when Ian St John nodded home a second goal, Leeds' challenge was finally over, and they were double runners up.
It had been a magnificent season for the club: they had stormed their way into football's big time and come closer in one year to winning a major trophy than they had in the preceding 45. Bobby Collins thoroughly merited his Footballer of the Year award and a recall to the Scotland side after six years out in the cold. No other player in the country had a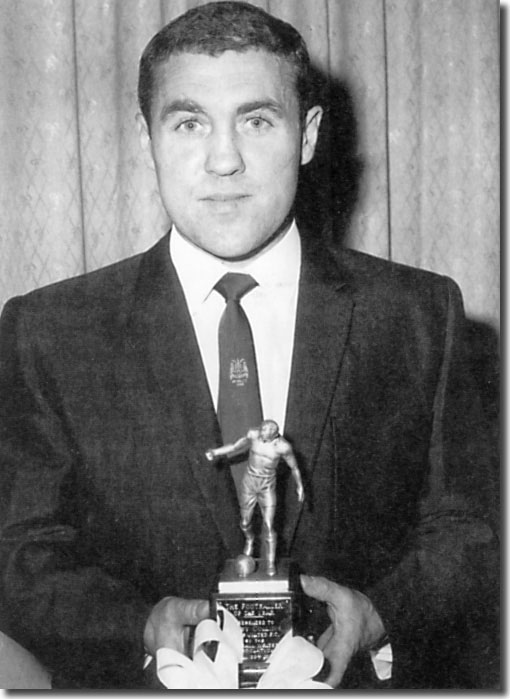 bigger influence on his team than Collins and he almost single-handedly brought Leeds to the verge of silverware.
The Observer's Hugh McIlvanney: 'Even those who feel that his conduct is often less than exemplary admit that he is a footballer of great skill and dedication and that his accomplishments in the last two or three years were so remarkable as to make him an obvious candidate for this award.'
But everywhere you looked, Leeds had men who had outdone themselves in a remarkable season: Jack Charlton and Billy Bremner won their first full caps, Johnny Giles and Gary Sprake continued to be mainstays of their national elevens, while Paul Reaney and Norman Hunter figured in the England Under-23 side.
The team's efforts were rewarded by qualification for the new challenge of European competition and entry into the Inter Cities Fairs Cup for the following season. Chairman Harry Reynolds commented: 'I should think our players are very pleased because it has been their ambition, as well as ours, to have European football in Leeds - and now we have got our nose in. All of us at Elland Road are very pleased that United have been nominated for the competition, which gives us a starting off point.'
It was difficult to set aside the disappointment of failing, having come so close, but the young men of Leeds United left for their summer holidays in the knowledge that they were now finally members of the country's footballing elite. 1965/66 would see them going all out to consolidate that status. As Jack Charlton said, 'There would be plenty of chances in the years to come.'
Part 1 - White riot - Results and table
Other Football Highlights from 1964/65
Stanley Matthews finally retired at the end of the season after becoming the oldest player ever to appear in the First Division at 50 years and 5 days when he created one of Stoke's goals in a 3-1 win against Fulham on February 6
At the other end of the scale, Sunderland goalkeeper Derek Forster became the youngest player ever in the First Division when he faced Leicester in August at 15 years 185 days
Dave Mackay returned to the Tottenham line-up after he broke his leg the previous season, but broke the same left leg again in his first match, for the reserves against Shrewsbury
After being overshadowed by neighbours Rangers for several years, Celtic appointed former club captain Jock Stein as new manager in February. The move paid off almost immediately with Celtic winning the Scottish Cup for the first time since 1954
England went through the entire season without losing, although they were not particularly impressive and most of the games were scrappy. Highlight of their year was a 1-0 win away to West Germany, considered one of the stronger sides in Europe
West Ham returned to Wembley for the second year running, this time for the European Cup Winners' Cup final. They beat German side Munich 1860 2-0 in the final on May 19, with both goals coming from untested young winger Alan Sealey
Liverpool reached the European Cup semi-finals, where they faced Italian giants Inter Milan. They won the first leg at Anfield 3-1 days after winning the FA Cup, but crashed 3-0 in the second leg before a partisan and raucous Italian crowd thanks to some dubious refereeing decisions
The Football League decided that, starting next season, they would allow one substitute to be used to replace an injured player
Wolves sacked their manager Stan Cullis on 24 August and were relegated to the Second Division for the first time since 1932
Manchester United beat Everton on the way to the Fairs Cup semi-finals, where they lost to eventual winners, Ferencvaros of Hungary