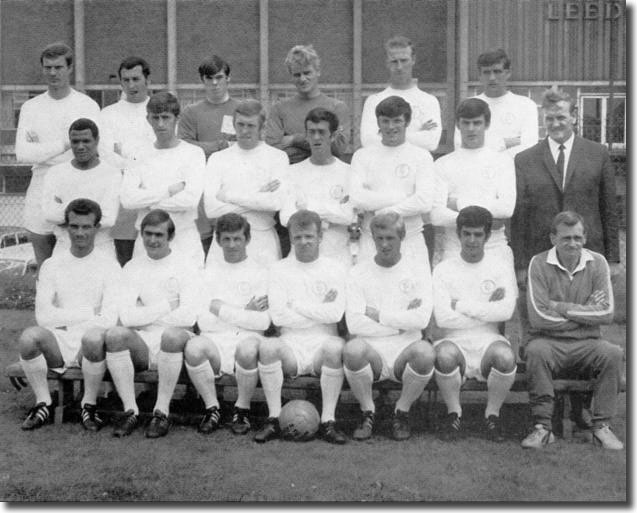 Part 2 - Champions - Results and table
1968 is best remembered for the atmosphere of social upheaval and unrest that enveloped the globe. A student protest in May led to a general strike of nearly ten million workers in France. Major demonstrations of solidarity followed in Mexico City, Berlin, Tokyo, Buenos Aires and Belgrade. As John Lennon sang, 'You say you want a revolution', the 'Year of the Barricades' brought the Tet offensive in Vietnam, the Prague Spring, the assassinations of Martin Luther King and Bobby Kennedy and Black Power demonstrations at the Olympics.
For English football the revolution was less seismic, but undoubtedly significant in the history of Leeds United. 1968 finally brought silverware after four years of heartbreaking near misses. The Football League Cup was secured in March and within six months Leeds added the Fairs Cup.
Their trophy duck well and truly broken, United prepared for the 1968/69 season with some confidence. In 1967, Don Revie had sent his men out in scattergun pursuit of four trophies - this time the focus was on the big one, the league title. Johnny Giles: 'Revie called us all together after a pre-season training session and proclaimed: 'You are going to win the championship this time, lads, and what's more you are going to do so without losing a single League match !' We knew the Boss was serious, and honestly believed we were quite capable of achieving such a feat.'
A marathon 66 game season had left the Whites 'almost like automata', according to Eric Todd of The Guardian. There was to be no repeat this time as the domestic cup competitions provided only brief, if welcome, distractions from the main business of securing a first championship.
Revie's resources had been stretched thinly, but the manager stayed out of the transfer market during the summer, despite an excellent financial year, with the club returning a profit of £57,635. He was convinced of the strength of his squad, though the lack of a really consistent goalscorer was a cause of disquiet among supporters.
Revie hinted at a more attacking style this time out, 'a policy of free expression by the players', according to the Yorkshire Post's Richard Ulyatt. Johnny Giles: 'We switched to a more attractive, open style of play in away matches. We took this latter step, not only to try to shrug off our "unattractive" image, but to bring us more away victories. We felt we were well equipped to win the championship the previous season, but threw the title away through being over-cautious away from home. We were too easily satisfied with a draw in situations in which we should have aimed for victory. Consequently, United won only five away matches. The lesson we learned was simple enough. While defence must be the first priority in soccer, success goes only to those sides willing and talented enough to use it as a springboard for attacks.'
A curtain-raising friendly against Celtic before a 75,000 Hampden Park crowd in early August promised much. United were impressive against the 1967 European Cup winners. Their formation was an embryonic 4-5-1, with Gary Sprake in goal behind a rearguard of Paul Reaney, Jack Charlton, Norman Hunter and Terry Cooper, which was shielded by Paul Madeley as a holding midfield anchor. Peter Lorimer, Billy Bremner, Johnny Giles and Eddie Gray ranged across the pitch in support of lone front runner Mick Jones. The approach was fluid, with overlapping full-backs and goals likely to come from anywhere. Mike O'Grady, when fully restored from early season incapacity, was the one other player to feature with any regularity in a season founded on stability and obdurate consistency.
Jimmy Greenhoff played the first three league games, Terry Hibbitt nine of the first ten, Rod Belfitt 6 and Mick Bates 3, while Albert Johanneson managed just one substitute appearance in the league to go with two starts in the cups. Apart from Terry Yorath, with a brief appearance off the bench in Europe, that was it, with the twelve main names monopolising matters. Astonishing!
United beat the Scottish champions 2-1 with a polished performance. Celtic took a first half lead but the Whites came out fighting after the break. Giles smacked one goal home from 35 yards and then Lorimer got the winner with a sublime chip.
John Begg in the Yorkshire Post: 'Leeds United could well be in for their best season since they returned to top class football. They were a superbly drilled side … When Celtic won the league championship last season, they scored 100 goals in 34 games, but their attack only found a loophole in the Elland Road iron curtain and it came with a penalty kick.'
The victory was a confidence booster for the first competitive outing, the first leg of the Inter Cities Fairs Cup final. The manager retained the eleven that bested Celtic.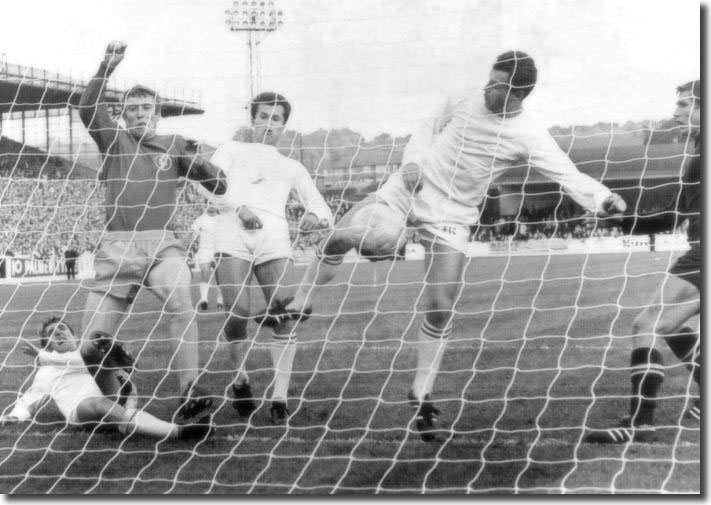 United were not convincing against Ferencvaros, one of the finest teams in Europe, but secured a 1-0 win thanks to a scrappy goal by Jones. It was understandably tense and tight, with some uncompromising challenges as the Hungarians denied Leeds the clear lead they sought to take to Budapest.
Despite being flattened in the second half by keeper Geczi, Jones was fit to lead the attack as United commenced their League campaign, on 10 August against Southampton at the Dell. The only change was Greenhoff partnering Jones up front with Madeley at left-back in place of Cooper.
Leeds conceded a soft goal from Southampton's opening attack after 90 seconds. Saints full-back Kirkup fired in a centre that skidded off Charlton's head, leaving Sprake immobile as it flew low into the far corner of the net.
The success prompted some ill-conceived confidence in the Saints ranks and as they poured forward in search of a second goal, United struck swiftly on the counter attack. Bremner stepped over Jones' low cross from the left, leaving Lorimer to hammer the equaliser from 20 yards. The Scot left the field soon afterwards with a torn muscle to be replaced by Terry Hibbitt, 'spindly legged and more enthusiastic in his running than anyone on the field' (Richard Dodd in the Yorkshire Post).
Jones gave United the lead five minutes before the break, beating two defenders to a long clearance by Sprake, and after 63 minutes Hibbitt made it 3-1 with a brilliantly executed left-foot volley that dipped under the bar at the last minute.
David Lacey in The Guardian: 'Many of the crowd must have wondered how Leeds had earned their reputation for mean mindedness and spoiling tactics; certainly Don Revie's promise of a more positive approach this season held good as Leeds prised open Southampton's shaky defence with neat approach work and incisive finishing.'
A thumping 4-1 victory followed against promoted Queens Park Rangers, though a spirited West London side made United struggle for some time to make class tell.
Richard Ulyatt in the Yorkshire Post: 'When Hibbitt headed Leeds into the lead after eight minutes, it really seemed all over bar the shouting ... That goal was a model of accuracy, first by the hard working Jones with a pass to Lorimer, then a studied pass lobbed over the heads of Watson and Hazell and wide of Springett and finally Hibbitt's well controlled header into goal. A 40-yard dipping dive by Hunter almost sealed the issue ... but Leeds by then seemed to be so sure of their superiority that they became too casual.'
Rangers settled into the game and after 37 minutes Wilks steered the ball into the net when Sprake could not gather a shot from Allen.
Leeds recovered the lead in the 57th minute just as the game seemed to be drifting away from them. Hibbitt was again at the centre of the action and his cross was perfectly placed for Giles to head home.
Jones after 67 minutes and Reaney two minutes from the end gave the scoreline a flattering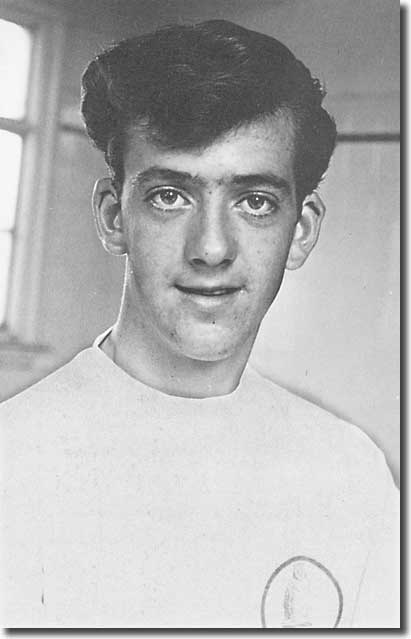 touch.
Leeds ended the week against Stoke City at Elland Road. Deprived of Giles, Madeley and Lorimer, United's 2-0 victory left them the only side with a 100% record.
United's dependence on Johnny Giles was becoming evident. When he was playing and on form, Giles brought something special to their game. In his absence the Leeds attack lacked conviction, cohesion and creativity. The Irishman was subdued through injury against QPR and missing completely against Stoke. United struggled on both occasions. He was to remain on the sidelines until the beginning of October.
Next came another promoted side, Ipswich Town. The Suffolk outfit had made a promising start, though they were without regular keeper Ken Hancock, injured in the opening game. 19-year-old Alec Bugg took over between the sticks and was found wanting as Leeds won 3-2.
Rod Belfitt opened the scoring before Ipswich could draw breath. Albert Barham in The Guardian: 'I have seen teams caught when they are cold and I have seen quick goals, but not one combining both elements as cleverly as Leeds did last night ... Bremner intercepted the ball from the kick off and sent a pass swiftly through to O'Grady. An even faster pass was slid to the feet of the galloping Belfitt and Leeds were a goal up certainly inside 20 seconds.'
O'Grady, in his first appearance of the season, made it 2-0 after 23 minutes, though Town clawed back two goals to draw level by the first minute of the second half. It looked like United might surrender their first point, but Hibbitt scored the winner in the 78th minute with his third goal of the campaign. His long-range effort deceived the luckless Bugg, bouncing into the net off his body following a mistimed dive.
The win maintained United's leadership of the division but their seemingly imperious march was frustrated on 24 August. The match at Nottingham Forest was abandoned at half time with the score 1-1 after a fire in the main stand.
The blaze started in the dressing rooms, possibly from an electrical fault, and it spread rapidly, the whole stand going up in flames. Some of the Forest players said that after reaching their dressing room they had to batter a door down to get out. There was no panic, despite a crowd of 31,126, and neither were there any casualties.
Although most of the steelwork was left standing, the stand was clearly unsafe and Forest had to play their next six matches at Notts County's nearby Meadow Lane.
The wags had a field day - wry Forest followers joked that when the stand was rebuilt, it was constructed the wrong way round, fans being forced to watch the action; it was reported that Jack Charlton lost his wallet in the fire, amazing teammates who didn't know he had one!
Johnny Giles: 'Billy Bremner told me afterwards that the Leeds players were listening so intently to Revie's tactical instructions for the second half that for a time they were completely oblivious to the fact that smoke was billowing through the dressing room door. Gary Sprake tried to tell Billy he smelt burning, only to be told in no uncertain terms: "Wrap up, the Boss is talking!"
'Another amusing incident to emerge from this unusual episode concerns young reserve forward Terry Hibbitt, who went back into the dressing room when everyone had left to get the money out of his trouser pockets-and clean forgot to take his trousers as well! Terry was ribbed unmercifully about this for weeks afterwards.'
The goals were coming readily for Leeds, but Don Revie was not complacent. Knowing that everything was riding on the over worked Mick Jones, Revie tabled an £80,000 bid for Burnley's Scottish winger, Willie Morgan.
Morgan had been negotiating a new contract but the Turf Moor club's autocratic chairman, Bob Lord, refused his wages demand. It seemed to be a foregone conclusion that Morgan was on his way to Elland Road, but Lord blocked the sale and the winger moved to Manchester United in a £117,000 deal.
Revie also had to cope with the loss of one of his bright young stars when 22-year-old Jimmy Greenhoff departed for Birmingham City in a £70,000 transfer. Greenhoff had played in most of United's games in 1967/68, but was not guaranteed a start when everyone was fit. He was desperate for first team football, accepting a move into the Second Division as a price worth paying.
Leeds dropped their first point of the season on 28 August in a disappointing home draw with Sunderland while the last day of the month brought a vital battle against title rivals Liverpool, also at Elland Road. United were still dogged by injury, with Giles, Madeley and Gray all sidelined and Belfitt and Hibbitt continuing to deputise.
The contest was dominated by defences, and there were few serious chances. United took one that came their way after 27 minutes to register the only goal of the night. Billy Bremner sent a speculative ball down the middle and Liverpool skipper Ron Yeats slipped as he tried to clear. Mick Jones outpaced Yeats to pick up the loose ball, rounded onrushing keeper Tommy Lawrence and slid the ball home.
Leeds built on the result with a 2-1 victory against Wolves the following Saturday. They were in great heart as they travelled for the second leg of their Fairs Cup final against Ferencvaros in the Nep Stadium. With goalkeeper Gary Sprake in heroic form, United held out for the goalless draw they required. It was one of the most glorious nights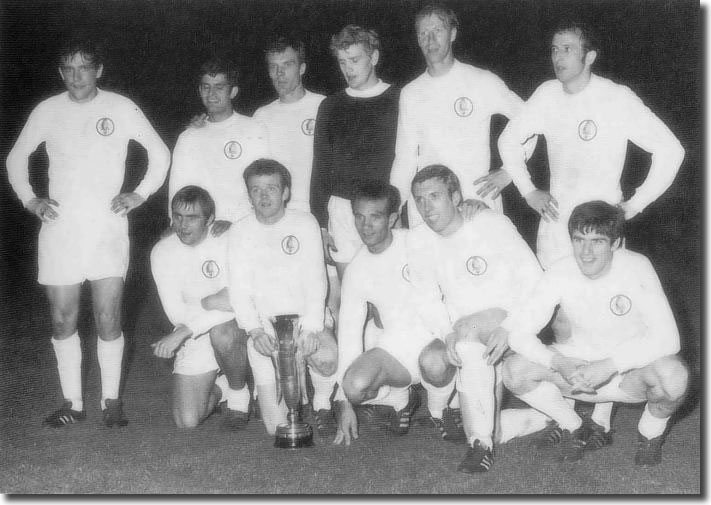 in the club's chequered history.
The team were soon defending their title, returning to action a week later against Standard Liege, formidable opponents indeed in the Stade Maurice Dufrasne.
Perhaps Standard's reputation prompted the cautious approach, or maybe the lack of a cutting edge to the Leeds attack, but it was clear from the start that United would settle for a clean sheet.
Phil Brown in the Evening Post: 'United fell back on their old recipe of stone walling and few sides can use that recipe better.' Don Revie said of his defenders, 'They were magnificent in the second half.'
The goalless draw made United favourites to progress and gave them a boost before the visit of table topping Arsenal on 21 September. The Gunners were in fine form, having dropped just two points from their nine games, and intent on revenge for the League Cup final, a battle that had left a sour taste in the mouth.
Almost as if to rub the memory in, Don Revie sent two junior players out before the game to parade the League Cup and Fairs trophies before the United fans. 'We want the crowd to see what we have been working for these past few years,' he said.
United opened the scoring in the 42nd minute. O'Grady got on the end of a long centre from Cooper, heading home off the underside of the bar. They were two up soon after the break when Jack Charlton headed home a corner from his customary goal line position. From then on there was only one side in it.
James Holland in The Guardian: 'I have never been an admirer of United's stubborn adherence to the policy of 'what we have, we hold,' ... Against Arsenal they cast aside all thoughts of negative play and a more imaginative, progressive approach to the game forced Arsenal on defence for practically the whole of the 90 minutes.'
Geoffrey Green offered this in The Times: 'Leeds may lack attacking refinement in the absence of Giles. But their capacity for honest work, and the basic essentials of selfless teamwork, remain prodigious. They have almost made a cult of collective anonymity.
'The Yorkshiremen could have doubled their score, but doubtless they were content. And why not, with their royal umbrella of a defence that has conceded only two goals in their last seven matches? They may suffer no hallucinations of poetic grandeur but, 'ee bah gum', as they say up North, they're going to be hard to shift from the top.'
The 2-0 win left United ahead of the Gunners on goal average and Don Revie beside himself with glee, though his quote was a typically cautious, 'There's a long way to go yet.' He offered more positive thoughts in his weekly column in the Evening Post.
'After our 2-0 victory ... a number of critics described us as England's No 1 team ... It would be foolish for us to treat this compliment seriously at this stage ... Our Inter Cities Fairs Cup triumph over Ferencvaros shows that we are just beginning to reap the benefits of the experience which has been built up in the side over the last four years.
'In our Ferencvaros match in Budapest and more recently our tie with Standard Liege in Brussels, there were times when there was so much pressure on us that we should have concentrated on retaining possession of the ball rather than trying to launch attacking movements. You can afford to do this when the pressure is off, but not when the opposing team is in a position to make you pay for any gaps in defence.
'Another aspect of our play which could be criticised is the fact that when we have taken the lead we don't keep up the pressure ...
Only a ruthless approach succeeds in football. Once a team get on top, they must go out and put victory beyond doubt.
'I was very pleased with the way we did this against Arsenal. After that goal by Mike O'Grady just before the interval we kept hammering non stop at the Arsenal defence. Although we only scored one more goal our attacks kept the opposition tied down in their own half.'
Johnny Giles returned to the side for the midweek League Cup-tie against Bristol City and Leeds won more convincingly than the 2-1 scoreline suggested. The Irishman made an immediate difference, casually imposing authority in midfield, but Revie chose to omit him for the away game to champions Manchester City, saying, 'I don't want to risk Johnny in this game, which is certain to be a tough one, so I'm giving him a run in the reserves to give his knee lighter match practice.'
City were struggling badly in the League, though a 4-0 win at Sunderland improved morale. As the saying goes, form is temporary, class is permanent, and United caught City oozing both.
Leeds were on an unbeaten 16-match run, but had not won at Maine Road for 32 years. They would go on waiting for they were convincingly beaten by three goals to one, with Colin Bell's two goals crowning a marvellous personal display.
Eric Stanger in the Yorkshire Post: 'A goal down in three minutes, they might have been three down in 10 instead of 50 as was the case. They had, in short, a thoroughly bad day ... The Leeds defence was unaccountably jittery ... The whole side was short of decision and authority in what it did.
'Sprake could be faulted when Bell scored the first two goals, failing to cut out a corner in the first instance and dropping a long free kick from Oakes in the second. Hunter, who is going through a bad patch for the first time in his career, might have cleared the first and Charlton bore some responsibility in the case of the second for he and Sprake left it to each other to clear before Bell, who missed at least two other chances, popped the ball over the line.
'It was typical of the confusion of thought and of execution throughout the Leeds side. The harder they tried the less successful they were. That was certainly true of Bremner, who was shaking his head in sad self reproach long before the end.'
Don Revie said it all as he sadly muttered, 'Too many players off form.'
Any disappointment that Revie felt was tempered to some extent when United directors offered him a new contract. His existing seven-year deal, said to be worth £7,000 a year, had four years to run, but the board were desperate to keep him and offered a contract that would last until 1975. Chairman Percy Woodward said, 'We have the best manager in the Football League and we want to keep him.'
The contract went unsigned for two months, indicating the manager's desire to get a decent financial settlement, though he claimed in the Yorkshire Evening Post, 'No amount of money or prestige would take me away from Leeds United. I have had some generous offers from other clubs in the last seven years. Two months ago, I was approached by another First Division club to become their manager at double my current salary. They also included fringe benefits like a house and car. As long as I am reasonably secure, wealth is immaterial to me.'
Single goal victories at Newcastle and Sunderland at the beginning of October took United back to the top of the table as Liverpool dropped a point in the Merseyside derby and Arsenal drew at Manchester City. Goals from Lorimer and Giles secured a 2-0 win against West Ham in a bad tempered clash on 12 October.
Richard Ulyatt in the Yorkshire Post: 'This was not good enough. Here at Elland Road, the club's largest crowd of the season - 40,786 - went to watch the Football League leaders challenged by the fastest and most attractive side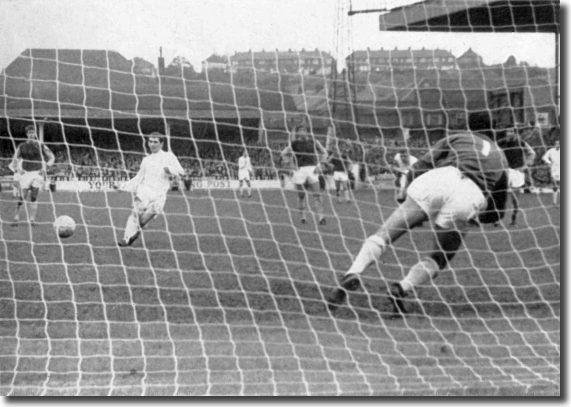 in the division ... Spectators had a right to expect something to remember in the way of continuous, intelligent entertainment ... Instead, it was just another match and probably did more harm than good to the cause. One player (Redknapp) was sent off for a retaliatory foul, one goal was scored as a direct result of a free kick and the other from a penalty kick. Fouls, imagined and actual, were so frequent that I stopped counting them.'
Much worse was to come: four days later United surprisingly lost 2-1 at Crystal Palace in the League Cup, meekly surrendering the trophy they had been so proud to win the previous March. That was as nothing, though, to the hiding that they took on 19 October at Burnley. A young Turf Moor outfit won 5-1, United's worst defeat since they lost 5-0 at Anfield two years previously. Leeds weren't actually that bad, it was just that Harry Potts' side had an inspired afternoon.
They had to rely on a Billy Bremner goal two minutes from time to see off Standard Liege in the second leg of the Fairs Cup first round after the Belgians had taken a two-goal lead at Elland Road.
Such shaky performances led many critics to question whether the rot had set in, but United stabilised matters with a return to defensive basics, resulting in three successive goalless draws.
Eric Stanger wrote after the third of those, a frustrating home game against Tottenham on 9 November, 'Once upon a time - 337 minutes of playing time ago to be exact - Leeds United scored a goal in a First Division game. Sooner or later there will be a happy ending to this lean spell ... but the signs say not yet ... This present Leeds attack is overloaded with players who are happier in midfield.
'It is this lack of marksmen up front that makes Leeds United so dependent on their ploys from free kicks and corners and on the ability of Reaney and Cooper making the overlap by their strong running from full-back. Only a few weeks back, Mr Joe Mercer of Manchester City, was saying to me: "Stop Leeds from making the overlap and I reckon you have got a chance."
'Spurs came for a point and, by devoting all their resources to defence, went away with one. Leeds could not complain. They have done it so many times themselves.'
United had a tasty looking Fairs Cup pairing with Napoli, a club that had figured in some tempestuous ties over the years. In 1967 they met Burnley, and the local press warned the Lancastrians they would be in a city 'where visiting players are put through a mincing machine at the end of a game and their remains roasted on a spit'. The Burnley party had to be escorted out of the ground by armed troops and mounted police at the end of the game.
United played magnificently to win the home leg 2-0. As Eric Todd reported, 'Leeds ought to have won by a much more convincing margin. They did as they pleased in midfield ... but once again their forwards were reluctant to press home the considerable advantage won for them by their half-backs.'
The goals were headed by Jack Charlton from dead ball situations within three minutes of each other midway through the first half. United had three goals disallowed and a penalty appeal turned down. The presence of Rod Belfitt alongside Mick Jones pepped up the attack, but Italian international Dino Zoff had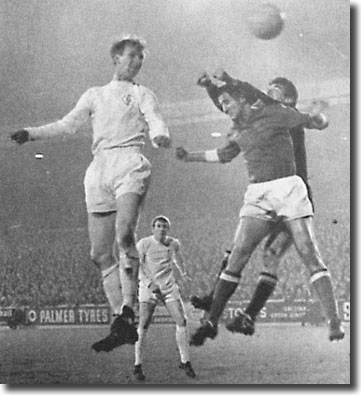 an inspired match in goal, denying Leeds a much more convincing victory.
Don Revie said afterwards, 'While Naples played a lot of good, clean football, some of their men also resorted to moves which upset me. Certain of our players ... had fingers poked in their eyes ... then there was the punch Mick Jones got while on the grass.'
Revie feared what might happen in the second leg: 'We have asked for special observers to be at the game in view of the fact that Naples have been fined twice for crowd disturbances in the last two seasons and the trouble when Burnley played in Naples.' He wrote in warning to M Peter Joiris, the Fairs Cup secretary. His fears proved well founded.
Joiris was one of two neutral observers at the game and there were troops and armed police guarding the gates. Most of the locals had decided to stay at home and only 15,000 were in the 100,000 capacity Stadium San Paolo, but the night air was rent by the sounds of firecrackers as the teams kicked off.
Napoli had five regulars out, including strikers Altafini and Nielsen, but they played much more impressively than at Elland Road. Both sides had chances in the opening ten minutes, with Mick Jones missing from close in and Charlton blocking an effort by Barison at the other end.
After 14 minutes, Napoli took the lead through Sala, sparking off another bout of fireworks both on and off the pitch. United were forced onto the defensive and Bremner once had to clear while on his knees.
Leeds gradually settled down and took control. Charlton ignored the attentions of three defenders to go close from ten yards and then Gray's drive just cleared the bar. Madeley went on one decent run, beating three men, only to see Nardin cut out his cross. But Napoli were just as dangerous and Barison was a constant thorn in the flesh, testing Sprake time and again. Half way through the second period the keeper cleared a dangerous cross from the forward and then blocked a Sala header from point blank range. Seconds later Bianchi missed narrowly.
Napoli achieved aggregate equality after 84 minutes when Juliano converted the penalty awarded for Charlton's foul on Sala. United spent the final five minutes pushing hard for a decisive goal but could not find a way through. Extra time made no difference.
The 2-0 defeat left the teams level on aggregate and the decision came down to the flip of a disc. Billy Bremner called correctly to put United through, repeating his success of two years earlier when the toss was all that separated Leeds from Bologna.
Don Revie refused to say anything afterwards to the Italian press 'because I just did not trust myself to speak ... You just cannot have matches like that. The three away legs we have played in the Fairs Cup this season have been the toughest we have experienced so far in Europe. There were times on Wednesday night when I was thinking of bringing them off. We have a young side and it's not fair to them. If that is the way they treat their guests, I hope we never have to play Naples here again.'
Chairman Percy Woodward echoed those views: 'We cannot go on, we dare not go on, risking games like that against Naples. The danger to our valuable players is too great. Football is a man's game, and may it stay that way, but the Naples game was beyond anything that can be tolerated. We have had a very great deal of money from our Fairs Cup games ... but with players costing £100,000 nowadays the risk of having one or more crippled has to be considered.'
In between the games with Napoli, United got their league campaign back on track with victories against Coventry and Everton. Geoffrey Green described their 1-0 victory at Coventry as 'technically faultless'. He went on, 'Leeds United need only half an inch and half a chance for a sight at goal. Sometimes they capitalise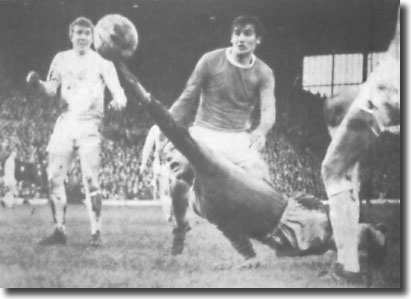 upon it, sometimes not. But when they do it is usually all up with their opponents.
'Having plucked a fine goal from virtually nothing after 20 minutes at Highfield Road on Saturday, they proceeded to absorb everything that Coventry City could throw at them. And the more Coventry stormed at them over the closing stages, the more dangerous did the Yorkshiremen become in their quick counter attacks.
'The Leeds goal was typical of their economical method. Bremner and Giles, their two miniature midfield emperors, worked a dextrous move down the right flank; over came a chipped cross from Bremner; O'Grady in the middle plucked the ball out of the air with the side of his foot and before a Coventry man could move Madeley had hit a fine swerving shot, first time, from the edge of the penalty area to the roof of the net. That was the winner, as precise and clinical as the surgeon's knife.'
After a draw at Chelsea on 30 November Leeds beat Sheffield Wednesday 2-0 at Elland Road, with Peter Lorimer scoring both goals.
The Scot had been left out of the side for several weeks with Don Revie preferring to employ Paul Madeley in a deep lying midfield role. He was now reinstated with Madeley moving to left-back for the injured Cooper. Lorimer had been unsettled by Revie's decision to omit him, and asked to go on the transfer list. There were hints that he would be used as a makeweight in a transfer deal, with Joe Baker (Nottingham Forest), Peter Cormack (Hibernian) and Colin Suggett (Sunderland) all mentioned as transfer targets. He remained on the list for most of the season but no deals were done.
Lorimer was quickly on the scoresheet again, netting another brace in the Fairs Cup against Hanover the week before Christmas. United had been profligate in front of goal for longer than they cared to remember. All that changed when they faced the lacklustre West Germans.
Eric Todd wrote of their 'admirable all round work' in The Guardian: 'They moved the ball surprisingly well and took their strategic positions with a speed and intelligence which Hanover simply could not counter.'
United opened the scoring after four minutes when Hunter combined with Giles and Gray before centring to O'Grady, who hammered the ball home at the far post. The Germans didn't panic, and it seemed that they would regard a 1-0 defeat as satisfactory enough. After 34 minutes, though, they fell further behind when Hunter fired home spectacularly from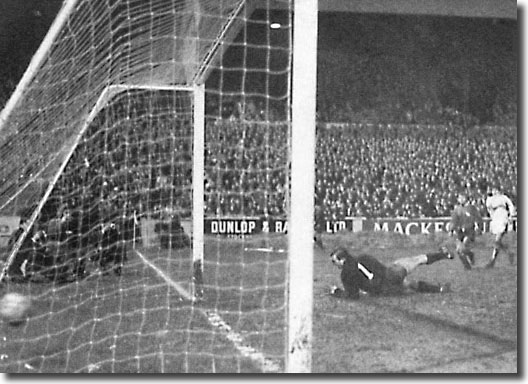 25 yards with his supposedly weaker right foot.
Hanover were untried against opposition of such class, and Leeds revelled in the space they were given. Lorimer made it 3-0 from close range after 52 minutes, Charlton headed home a Bremner free kick on the hour to make it 4-0 and a couple of minutes later Lorimer added his second goal. The Germans managed a late consolation effort.
Jacob Ecclestone in The Times: 'Hanover cannot be regarded as the most difficult opposition they will meet, but the manner of Leeds' victory last night bodes well for the future. For once the Leeds attack really moved fluently. This was no case of scrambling a goal lead and hanging on, but concerted and sustained attack from start to finish.'
Three days later, United did even better, hammering Burnley 6-1.
A 2-1 Boxing Day win over Newcastle was witnessed by an Elland Road crowd of 42,000, who saw United perform strongly. The Guardian: 'O'Grady strove hard and successfully to make up for the loss of Giles, who left the field after only five minutes with a pulled muscle ... The departure of Giles, who is Leeds' most creative forward, was a blow to Leeds and they did well to have so much of the game without the inspiration he normally provides.'
United should have been playing at West Bromwich two days later, but the game was off due to the weather. Indeed, most of Saturday's football programme fell foul of the frost and snow with only two games surviving in the First Division. Nevertheless, the victory over Newcastle, coupled with Liverpool dropping a point at home to Burnley the same day, took United within two points of Bill Shankly's men with two games in hand, set fair for a real championship push in the New Year.