Seven painfully short days after winning the Inter Cities Fairs Cup in September 1968 with a 0-0 draw in the Nep Stadium, Leeds United were off on their defence of the trophy. The two-legged final against Ferencvaros had been held over to the start of the 1968/69 season because of fixture congestion the previous campaign and a week after their triumph in Budapest, Leeds were back in action, pitted against Belgium's Standard Liege.
Standard coach, Roger Petit, spoke almost humbly before the teams met. 'I suppose this game has come too early for us. It would be much better to have met Leeds in the semi final or the quarter final, but seeing the cup holders will be a treat for our supporters.'
Though the standard of Belgian football was much lower than in England, and United's dominance of the Fairs Cup since 1965 had been a wonder to behold, Petit's words smacked of a psychological attempt to lull United into complacency.
Standard had adapted well to the loss of Roger Claessen, who had been Belgium's top scorer in 1968 and left in the close season to join Alemania Aachen in West Germany. Even without Claessen, Liege were on their way to recapturing the Belgian title at the time.
They were undoubtedly a strong outfit, boasting a wonderful attack. 22-year-old striker Erwin Kostedde (who became the first black West German international in 1974) was Claessen's replacement, joining the club from Duisburg. He was Belgium's top scorer with 26 goals in 1971. Antal Nagy played in the World Cup finals for Hungary in 1966 and went on to be top scorer in Belgium that season; Nagy played in the first leg, but was replaced for the Elland Road game by the Yugoslav international Milan Galic, who came to fame with Partizan Belgrade and won a gold medal at the Olympic Games in 1960.
In midfield they had the Belgian internationals Leon Semmeling (the skipper) and Wilfried Van Moer (92 caps between them), along with Louis Pilot, generally rated Luxembourg's best ever player, winning 49 caps between 1959 and 1971. Van Moer was the pick of the bunch. He won the Belgian Golden Shoe three times and was a mainstay of the Belgium team from 1966 to 1982. He had been signed by Standard at the start of the season after quitting relegated Royal Antwerp.
The rearguard, too, was redoubtable: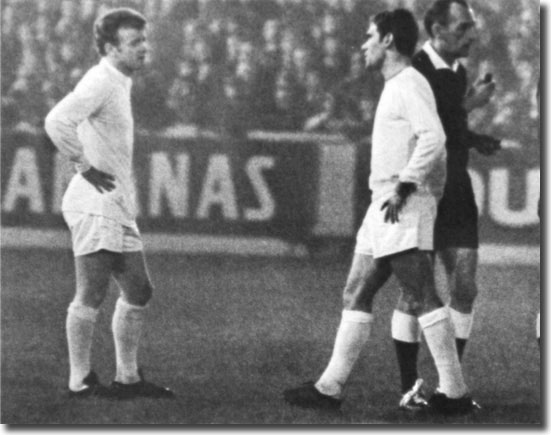 goalkeeper Jean Nicolay won 39 Belgian caps, while Leon Jeck, Nico Dewalque and Jean Thissen were all regulars in the national side.
Don Revie had promised to attack in the first leg in Belgium, but United had to be content with a goalless draw in the Sclessin Stadium. Leeds were forced to rely on a classic stone walling defensive display as Standard continually pushed them back. A sterling performance by Gary Sprake was crucial.
Phil Brown in the Yorkshire Evening Post: 'Sprake had a positively inspired 20 minutes in the first half and was perfectly competent in the other 70 minutes. His rainbow 20 minutes got him round after round of applause although he was frustrating the strong and clever home forwards after they had interpassed or dribbled their way into United's box. They finished off with cracking shots too, but Sprake was just unbeatable. He had to face a barrage of shots from close range, but his responses were electrifying. High and low he soared or dived in panther-like style, and three times he kept the ball out of the angle only by acrobatics. But his best save, for it involved leaving the play and anticipating together with other virtues, was a racing run out and dive on to Nagy's shooting foot as he cracked in a perfect centre from Semmeling. Once Reaney's head saved for Sprake, once the home centre-forward Kostedde blasted the bar with a cannonball drive, but Sprake deserved the help and the luck he got in those moments.
'The game would have been a better spectacle - the capacity 35,000 crowd was quiet for long periods - if United had opened up or rather if they could have risked opening up. Open up they must and will at Leeds, but their forwards, lion-hearted Jones apart, carried little thrust after the first 10 minutes, during which they briskly won three corners. The big home defence lay too heavily - sometime literally - on them after that, although Jones, shooting out of a tackle, had a 15-yard drive deflected on to the bar.'
Don Revie said after the game: 'I thought Standard played some good football until 15 minutes before half time. In the second half our defence was magnificent. I am very pleased with the result and I think we have got a good chance at Leeds. I feel confident.'
Roger Petit: 'I thought it was a hard game, perhaps too hard. We had hoped to go to Leeds with one or two goals. Naturally this is a very good result for Leeds.'
United had started the season well and were confident that they would have enough in the Elland Road locker to clinch the second leg and the tie. They did have the worry of going into the match on the back of two defeats, against Second Division Crystal Palace in the League Cup and then by 5-1 away to Burnley, but argued that lightning could not possibly strike THREE times!
The match kicked off late after a controversial prelude. United had already been awaiting the entrance of Standard Liege for five minutes and were shocked when they then trotted out in pristine white, sparking fifteen minutes of heated argument.
Standard's normal strip was red shirts and white shorts, which they had worn in Belgium. For some strange reason they chose to come to Leeds with only an all-white kit, even though they knew there would be a colour clash. Billy Bremner pointed out the problem to referee Gunnar Michaelson, who asked Standard to change strip. With Don Revie and Roger Petit arguing bitterly in the tunnel about who should change, matters became farcical.
The Belgian party argued that they only had the white strip with them and that the rules made it clear that the onus was on the home team to change. United accepted the point, but asserted that Standard had caused the problem by their strange choice of kit. United's change strip of all blue was offered to the Belgians, but they claimed angrily that it did not fit and blatantly ignored the officials' decree that they should change.
In an irritable acceptance that something would be needed to break the deadlock, Leeds eventually accepted that someone would need to compromise and they agreed to play in blue.
Finally released from the trivia of the argument, United showed their relief by getting instantly into gear and forcing Standard back onto defence. The home crowd hooted them with derision, both for their pre-match pettiness and for some rough play.
Eric Stanger in the Yorkshire Post: 'They were loudly booed, not only before a ball was kicked, but for a succession of fouls in their efforts to stem United's all out bid for an early goal. The nearest Leeds came to one was when Cooper burst through the middle, beat off four tackles only for Nicolay to bring off a fine save. That apart, Liege, through the sterling covering of their back four - Blaise, Thissen, Dewalque and Jeck - kept them either at long range or effectively crowded them out when Charlton and Jones took to the air from corners and free kicks.'
Leeds were without Johnny Giles, who had failed to recover from a knock on the thigh at Burnley, and they missed his subtlety and eye for the opportunity. Standard were in fine form,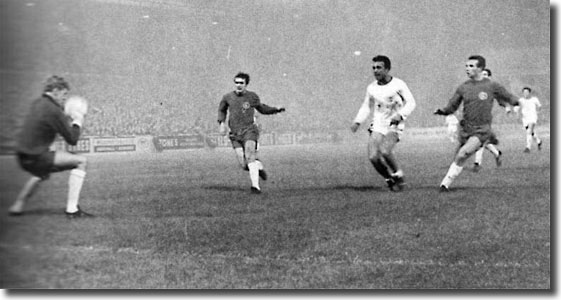 'balanced, well organised in defence and quick to counter attack' (Stanger). They appeared to have the measure of United, though Mike O'Grady looked like he might force a breakthrough with his tireless probing and neat ball control. He came in for some heavy attention from left-back Thissen, who went into the referee's book after 27 minutes.
O'Grady saw his snap shot well held by goalkeeper Nicolay, who then saved from Mick Jones' smart header.
United were tending to rush their work in an eagerness to attack and displayed none of their customary coolness. They were a side better equipped to sit on a lead than chase a game. The gung ho approach was always likely to leave openings at the back and Leeds were found badly wanting at the end of the half.
A minute before the interval the worst happened. Standard had shown impressive speed on the break on several occasions, with Erwin Kostedde a constant threat. Jack Charlton, displaying a lack of concentration, was guilty of a loose pass which was picked up by Van Moer, then fed on to Galic. With the United rearguard out of position, a fine though ball exploited the gap, sending Kostedde clear down the middle. He hurdled two strong tackles to get in a shot, which Gary Sprake blocked. Kostedde reacted more quickly than the chasing Cooper and Reaney to fire home at the second time of asking.
Cooper had been nursing an ankle injured at Burnley and did not come out for the second half. He was replaced by Mick Bates, with Paul Madeley moving to left-back. The switch did nothing to calm their defensive anxiety and Leeds were suddenly facing an uphill struggle.
Six minutes had gone in the second half when the visitors launched another swift break. The Leeds defence was guilty of more slack marking and slow challenges, when a through ball down the left channel put Galic in the clear. He added the second goal with clinical efficiency, leaving Sprake clutching at air.
It was a devastating blow. With the Burnley debacle fresh in their minds, United could have been excused for buckling at that stage and accepting defeat gracefully. With away goals counting double, they needed three goals to stay in the competition and it was a mighty big ask.
Whether they would have been able to recover anything other than pride if they had been given pause to reflect on the size of the challenge is anybody's guess.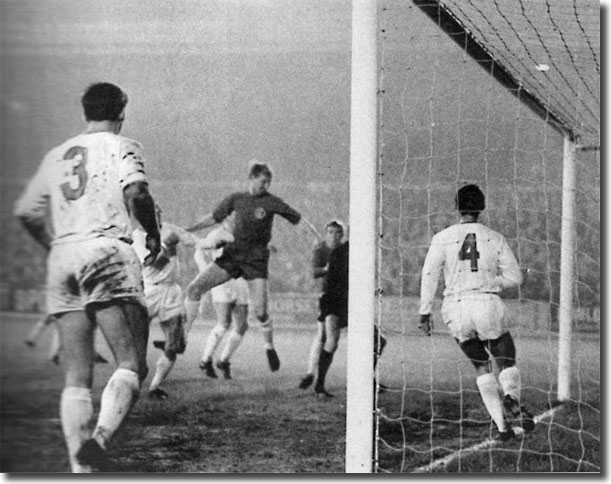 As it was, they did not have the time to start feeling sorry for themselves and were back in the game almost immediately, Charlton making partial amends for his earlier lapse by outjumping everyone to head home a Lorimer centre.
Suitably revived, Leeds attempted to build on their precarious foothold, committing everything to attack. They continued to take wild risks, leaving themselves open to the distinct possibility of conceding a third. The speedy Standard raiders exploited the space - Depireux struck an upright and then Reaney was forced to head another effort off the line.
The wave of United attacks seemed to be running out of steam when Eddie Gray was called from the bench after 70 minutes. He replaced the disappointing Terry Hibbitt who had been kicked on the thigh. Gray added fresh legs to the onslaught and ran meaningfully at the Belgian defence. His skill brought anxiety where there had previously been calm assurance and promised new hope. Gray was fouled within minutes of entering the fray to earn a free kick in a position that was perfect for a man of Peter Lorimer's shooting prowess. He needed no second bidding and hammered the dead ball low and true from 25 yards. It pierced a disintegrating wall and beat Nicolay's dive to bring the scores level on the night.
Their two away goals left Standard with the advantage, but the strike brought fresh impetus to the Leeds revival.
They kept plugging away, seemingly convinced that victory was written in the stars. Nevertheless, as the clock ran down, it looked like Liege would have enough, either nous or luck, to secure an impressive victory. United had not managed more than two goals in a game since they had beaten Ipswich 3-2 in August and were distinctly lacking a Jimmy Greaves or Geoff Hurst type to apply the rapier finish to their grinding attacks. A disappointing inability to turn possession and territorial advantage into goals looked to be a critical weakness.
But three testing years of competition against the very best the Fairs Cup had to offer had honed United's play. They had triumphed against the odds before and had a blinding conviction that things were never over until the final whistle. They battled on manfully, pinning Liege back into their final third, seeking to roll them over on the strength of guts alone.
There were barely two minutes remaining when continuing Leeds pressure forced a corner on the left. Lorimer took the kick and floated it to the heart of the Standard area. Jack Charlton, in his customary position on the goal line, got to the ball and flicked it down. Billy Bremner had always had the knack of scoring goals in big games and was not found wanting on this occasion. He had been thrust forward for most of the second half as support to Mick Jones and was now in the perfect spot to stab the ball home for an unlikely winner. Elland Road went wild with excitement and relief. It was the most dramatic of goals, crowning one of United's most spectacular European nights.
Phil Brown in the Yorkshire Evening Post: 'After a cliff hanger with a drop as deep as the Eiffel Tower is high, Leeds United beat Standard Liege 3-2 at Elland Road in United's most exciting Fairs Cup-tie yet. It seems incredible that they can have a harder match in their defence of the trophy, and no congratulations can be too warm.
'Even Don Revie, whose determination and optimism matches his side's, had inwardly given up hope, he told me. But on the field, with skipper Bremner doing an heroic job of leadership by example, the side battled on.
'I have often written these last few years of their bottomless grit and courage against high odds, but this was their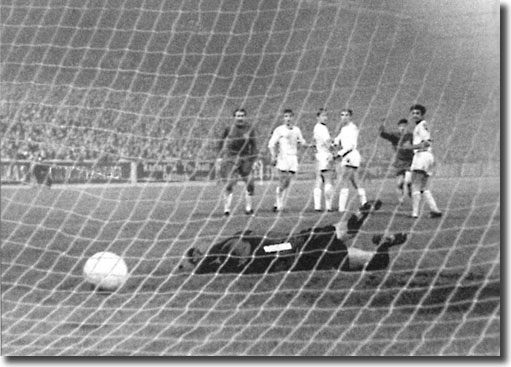 best bulldog effort yet.'
Eric Stanger wrote a cautionary piece for the Yorkshire Post in the days after the game, reflecting on the brittle nature of success:
'When Bremner scored his dramatic goal two minutes from the end of time against Standard Liege at Elland Road, I was just about to begin my report by saying that in the space of eight days Leeds United's cosy little world had tumbled about their ears. Such is the narrow margin between success and failure. To be put out of the Inter Cities Fairs Cup on top of the Football League Cup, after holding both trophies, would not only have been a serious setback to a side still struggling to find normal form but could well have meant a total loss of revenue from the two competitions of £50,000 or more.
'While Leeds United's finances have taken a startling turn for the better since the days when they were in debt to the tune of £135,000, they are still not a rich club, not in terms of such as Manchester United, Liverpool, Tottenham Hotspur and Everton. And there is a new £200,000 stand to pay for.
'One of the things which must worry the board is how stout is their present support. The Leeds crowd was always more fickle than most and while the average attendance has doubled since they began their successful run five seasons ago, would it stand up to a period of failure after being fed on so much success?
'I pose the question rather than attempt to answer it but there may have been a clue in the comparatively meagre 24,178 attendance against Standard Liege. There was no price increase quarrel between supporters and club this time as there was against Ferencvaros. Mr Keith Archer, the general manager, yesterday was inclined to blame the threat of fog for keeping the crowd down. But I have an idea that the defeat at Crystal Palace plus the trouncing at Burnley kept quite a lot at home.
'Of course, the public are quite entitled to stay away if they do not think they are getting value for money and being a supporter today is an expensive business even if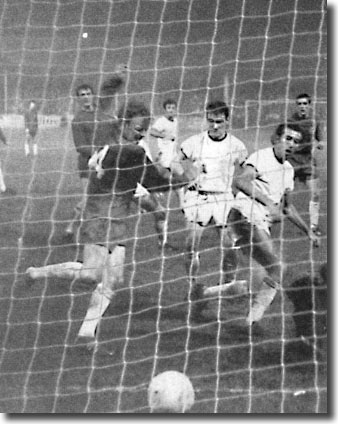 admission charges in Great Britain are still below continental level except in the subsidised Communist cities. Football is a business and if the public do not like the goods they will not buy. Old time "support your local team" loyalties do not apply as they used to do.
'That is why increasingly football followers demand success. If they cannot find it in their own town, in these days of quick easy transport they will go elsewhere.
'It is also the reason why such clubs as luckless Bradford, so deep in debt, cannot get out of the red because they have not the money to spend on building a better team, while it makes clubs like Leeds United prisoners of their own success. They just cannot afford many failures.
'Not that I think there will be a real slump at Elland Road. After all they still lead the First Division and any side off form which can fight as they did against Standard Liege cannot take a lot of harm. They have too many talented players not to do well over a full season and premature critics might remember that the best of teams have bad patches.
'Yet before they achieve the necessary balance of a prospective championship side Leeds United may be driven to adding to their financial commitments by signing one if not two forwards of proven ability. Where to get them and get them at a fair price is less easy than finding the money as every club manager and director knows.
'At present not even Mr Don Revie would claim that his attack is flowing with any sort of smoothness. Sheer effort such as was shown against Standard Liege cannot always succeed and, in my opinion, too many Leeds goals are either coming from players nominally defenders or from the set pieces of free kicks and corners.'
The drama of the victory went a long way in helping to erase the painful memories of the defeats at Palace and Burnley. To have gone out of the Fairs Cup in that same week might have done United's championship challenge irreparable damage. As it was, the high octane thriller had replenished their belief in themselves, setting the team up for the challenges to come over the winter months.
The startling fightback against Standard was to prove a turning point in one of United's finest campaigns.