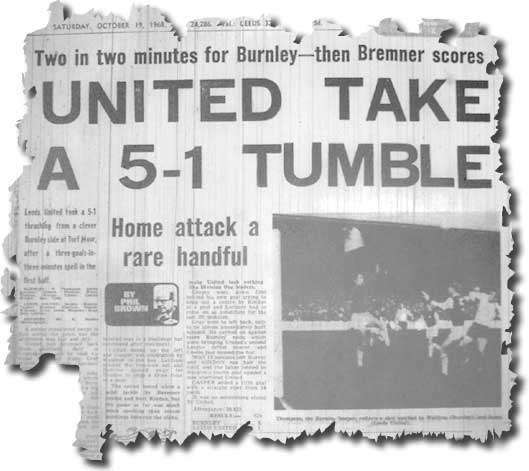 In a season when Leeds United finally realised the rich potential they had hinted at for five years, one particular game stood out like a sore thumb, a very, very sore thumb, indeed. Their campaign was founded on ruthless efficiency and leaving the minimum to chance, but it was punctuated by the most extraordinary of calamities one Saturday afternoon towards the end of October.
United were sitting atop the Division One table as they travelled to Turf Moor to face a promising young Burnley team. They had dropped just four points in 13 games and came into the game on the back of three successive clean sheets in the league. Their only Division One reverse had come the month before, away to reigning champions Manchester City, though during the week they had bowed out of the League Cup after losing 2-1 at Second Division Crystal Palace. It was clear, though, that United had treated the defence of the trophy they had won in March less than seriously.
Terry Lofthouse in the Yorkshire Evening Post: 'When the final reckoning is made at the end of the season, Leeds United's 2-1 defeat by Crystal Palace in the fourth round of the League Cup may have been a blessing in disguise. Their primary aim now that they have tasted success in the League Cup and the Inter Cities Fairs Cup, both trophies being currently held by the club, is the supreme title - the league championship. So with no further interest in the League Cup they can concentrate on achieving their main objective.'
Manager Don Revie had recognised that sustaining a four pronged assault on the honours, as Leeds had done in 1967/68, was simply too taxing. The priority this year was solely the securing of the championship.
United had 'enjoyed' a difficult relationship with Burnley since they returned to Division One in 1964.
In March 1965, referee Jack Taylor had called the two teams together on the pitch and dished out a general warning for their rough behaviour. A year later, Eric Jennings was forced to repeat the dose and in September 1966 there was a very public falling out between Revie and Burnley manager Harry Potts after another stormy confrontation.
Revie said: 'After what he has said in a Sunday newspaper, I must speak, if only to defend the lads. Mr Potts should put his own house in order before he attacks Leeds United players and supporters. I was shocked by what I read. Our young players were dismayed after the match at the way they had been tackled.'
Potts retorted, 'It is always Burnley's intention to go out and play constructive and attractive football. That is our approach - but it takes two teams to make a good football match. You can draw your own conclusion from that.'
Referee Ken Stokes booked five players and warned the police in the second half about the Turf Moor crowd hurling objects at Gary Sprake. He was reported to have threatened to abandon the match, though he later strenuously denied it.
Relations between the clubs were further strained by notorious Burnley chairman Bob Lord, who would fall out badly with the United board five years later, banning his own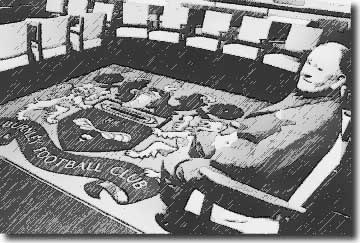 directors from attending games at Elland Road.
Kenneth Wolstenholme: 'Bob Lord is a strange man. For his name is known by football fans all over Britain - and by people who don't care a fig for football. For Bob Lord is one of the few real characters in football. He has made more enemies and more friends than anyone else in the game. To his friends he is a brilliant chairman and a fair man. To his enemies he is just a loud-mouthed tub-thumper. To himself? "I'm the chairman of Burnley Football Club, the best club in th' world" is how he would put it.
'Bob Lord is Lancashire through and through. He is a typical Lancashireman in so far as he will say exactly what he thinks. So many people - and many of them are in football - are happy enough to speak their minds in private, but once they get into public session they keep quiet, accept what is given to them even though they may be unhappy about it. That is not the way of Bob Lord. He says what he believes about an issue. And what he has to say doesn't always make him popular.
'Not long after the Munich disaster in 1958, Bob Lord described the new Manchester United as "a bunch of teddy boys". That was at the time when the doings of Manchester United were saturated in public sympathy. When Burnley were facing a congested fixture list due to their success in the FA Cup and the European Cup, Bob Lord supported manager Harry Potts's decision to select 10 reserves for the league game against Chelsea. Even after Burnley had been fined £1,000 by the Football League, Bob Lord still came out and said, in effect: "We were right and the Football League is wrong to punish us." After one of Burnley's European Cup matches, Bob Lord scorned the usual clichés and attacked the referee.'
Uptheclarets.com: 'Certainly Lord never went out of his way to be popular. His comments were frequently ill-thought out and rebounded on him and Burnley FC. He got publicity for the club, but the old adage that all publicity is good publicity certainly does not always hold true. Among a wealth of faux pas perpetrated by Lord included a claim that Jews who ran television were trying to obtain soccer on the cheap. And most players he knew couldn't run a chip shop, let alone a football club, and no more than ten percent of them knew the laws of the game. When the criticism became too fierce, he would try to distance himself from the remarks, but never with too much success.
'One way he responded to criticism was to blame the messenger. Journalists often incurred his wrath and he was quick to ban individuals and the titles they represented. Jack Cochrane got to know Lord through his involvement with Lowerhouse Cricket Club, where he was at one stage chairman. He remembers a Lancashire League knockout competition and Lord was approached by a young reporter asking for a comment on the game. "Piss off," was the reply from the Burnley FC chairman. Cochrane chided him for being discourteous when the reporter was only doing his job. He replied: "I'm sick and tired of reporters always on my neck." The journalist working for a local newspaper was David Davies, now the Football Association's executive director and one of the most powerful figures in English football.'
At the start of the season, Don Revie, seeking an answer to United's lack of goals, had offered £80,000 for Burnley's Scottish forward Willie Morgan.
Morgan had been due to sign a new contract but Lord's intervention put a stop to that and the two fell out badly. Morgan: 'When negotiations started, Bob Lord made things very difficult. He wasn't used to players talking back to him and banned me from the training ground. He had wanted to bury the hatchet although I hadn't realised that
he wanted to bury it in my head! I decided to move on.'
A transfer to Elland Road looked a done deal, but, for some reason known only to himself, Lord refused to sell to Revie and Morgan moved instead to Manchester United.
Burnley had started the season poorly, but were starting to recover. Tony Scholes on the ClaretsMAD website: 'I suppose the story starts at the beginning of October and a depressing Saturday afternoon which left us on the wrong end of a 4-0 scoreline at home against Liverpool. Three days later we were due to meet West Ham with no fewer than eight first team players unavailable for one reason or another.
'In came some of the younger players, including two who had only just a few months earlier been in the side that had lifted the FA Youth Cup. With another home defeat expected, the new look team won 3-1, and with only Ralph Coates ready to return from injury we then went to Stoke and won by the same score.
'In the following midweek we went one better and beat Leicester City 4-0 in the League Cup, but now was a different sort of test, a Leeds United team who were top of the League and had been beaten only once that season.
'It was the day surely to bring back some of the more experienced players for a game as tough as this. John Angus, Arthur Bellamy and Dave Merrington were back in light training but not close to a recall whilst one of the two recent signings, Doug Collins, was suspended. That left Andy Lochhead, Brian O'Neil and Jim Thomson, but none of them won their places back and all had to be content with playing a reserve game at Maine Road as the youngsters were given a vote of confidence.
'Let's get this really into perspective. The team, with an average age of 22, albeit with three future England internationals and an Irish international on the bench, was about to take on the league leaders, the champions elect … There was a nervousness about Turf Moor, the fans didn't want to see their young team suffer an embarrassing defeat, but there was no need to worry.'
Leeds' midweek defeat at Crystal Palace had seen them in diffident form, with few of the players living up to expectations. Skipper Billy Bremner was on Scotland duty in Copenhagen but returned to the side at Turf Moor, with Peter Lorimer dropping to the bench.
The young Burnley eleven were clearly up for the contest and determined not to allow their illustrious opponents to establish any sort of rhythm. They opened brightly: Ralph Coates made a sharp, weaving run down the middle spreading panic through the Leeds defence; winger Dave Thomas earned a corner after a run down the right; two minutes later Thomas forced another and then drew a foul from Terry Cooper. United cleared all three dead ball situations, but it was clear that Burnley meant business.
United responded with some pressure of their own as Cooper,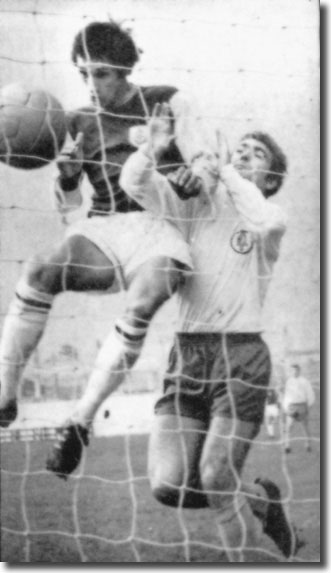 O'Grady and Jones went on the offensive, but Gary Sprake had to catch a Steve Kindon centre as the Lancastrians refused to slacken off. They got the breakthrough that their early pressure merited with two goals in a two minute spell.
Dave Thomas set up the first, scored after 18 minutes, with a 60-yard pass from his own penalty area to Frank Casper down the other end. Casper laid the ball back to Coates who let fly first time from 20 yards to beat Sprake.
Almost immediately, United went two down. Sprake seemed to be at fault when he allowed a long dropping centre from Coates to float over his head, leaving Casper to old off Cooper's challenge and nod the easiest of heading opportunities into an open net.
A third goal came three minutes later as Leeds roused themselves from their torpor. Burnley skipper Colin Waldron's clearance scraped his own post as he conceded a corner. O'Grady's flag kick dropped to Billy Bremner, who lashed the ball home emphatically, but the goal provided little respite.
True enough, United stoked up a head of steam and came close to an equaliser; Mick Jones shot over from inside the six-yard box and then Eddie Gray struck the upright before Giles put a rising drive just wide from close in, but Leeds could sustain no permanent dominance.
Eric Stanger in the Yorkshire Post: 'They were outthought, outpaced by these youngsters who ran, chased and never gave in in the manner that Leeds used to do before they reached maturity. They never allowed Leeds to settle, particularly Bremner and Giles, who were prevented from controlling the middle by close marking and even quicker tackling. Seldom can those two have spent a less profitable afternoon.'
Sprake had to pull off a smart save from a piledriver by Martin Dobson after Coates fashioned the opening and Waldron's header went close from a Thomas free kick as Burnley finished the half well on top, receiving an enthusiastic ovation from the home crowd as they went in 2-1 ahead.
The game was all but over seconds after the restart. Burnley inside-forward John Murray had been in blistering form for the Lancastrians in recent weeks. He earned the epithet the Goal Machine with eight successful strikes in as many games, securing an England Under-23 spot as reward. Eddie Gray tried to clear a long through ball from Waldron, but only set a chance up for Murray, who collected, barged past Madeley and Gray, swivelled and left Sprake rooted to the spot with a superb shot.
All of Don Revie's half-time words of wisdom were now irrelevant as Leeds fell into disarray before Burnley's inspired assault.
James Holland wrote in The Guardian of the youngsters 'impudently toying with the opposition. Time and again United's defenders were drawn out of position by the bewildering mobility of the Burnley forwards all of who responded sharply to the inspiration and subtle guidance of Coates, who at inside-left looks a different player again compared with when he used to operate on the wing and he was never a failure in that position. The way in which Burnley find unknown young players and fashion them for stardom is their own enviable and particular brand of magic. Thomas, Murray and Kindon are rich in promise and if their heads are not turned by fulsome adulation they should all make their mark in the game. Once Kindon realises he must make ground down the wing or come inside in anticipation of the pass that invariably is bound to be made, opposing defences will be in an even greater state of alarm.'
By the middle stages of the second half, Burnley had settled for controlling the play, content to play on the break. Coates led some gentle mickey taking as Burnley taunted Leeds, always having the ability to shift into sharp and incisive movement as the mood took them. The Whites had no answer to their tormentors.
Terry Cooper was the one United player who played to his reputation. Phil Brown in the Yorkshire Evening Post: 'Cooper was easily United's best player, in attack and defence, but it was in keeping with a grey day for the club that 20 minutes from the end he had to come off. He helped to save a goal at the foot of a post, was bumped right over the byline, and there turned an ankle through tripping on a cable which was on the ground in front of the new end stand being built.'
Peter Lorimer came on for the left-back, and Eddie Gray was withdrawn to cover the gap in defence, though he 'was no sort of a left-back in his place, and wants to put more steel and effort into his play altogether' (Brown).
Burnley were enjoying great success down the wings with Kindon giving Reaney a torrid afternoon and Thomas now tormenting Gray. Kindon was a real powerhouse, standing 6ft 2in and broadly built with genuine pace. When the ball was placed accurately inside a full-back it provided Kindon with a real chance to use that speed.
The ClaretsMAD website: 'Reaney was quick, very quick, but he'd no answer to Steve who beat him time and time again down the left wing. Kindon's was a brilliant showing of pace and strength and with just thirteen minutes to go he put the result way beyond Leeds with Burnley's fourth, and it all came from a Leeds free kick on the edge of our box. The kick was played in by Johnny Giles, but Colin Blant headed it out to Murray who in turn found Kindon. He once more left Reaney helpless and then rode a bad tackle (take your pick, Bremner, Hunter, and Giles were all playing) before blasting an unstoppable shot into the net.'
Three minutes later Burnley completed the rout with a fifth goal. The ball seemed to be drifting out of play near United's byline, but Coates refused to give it up. He prevented it from going out and crossed it first time. Casper came in from the right to secure the ball on the edge of the area.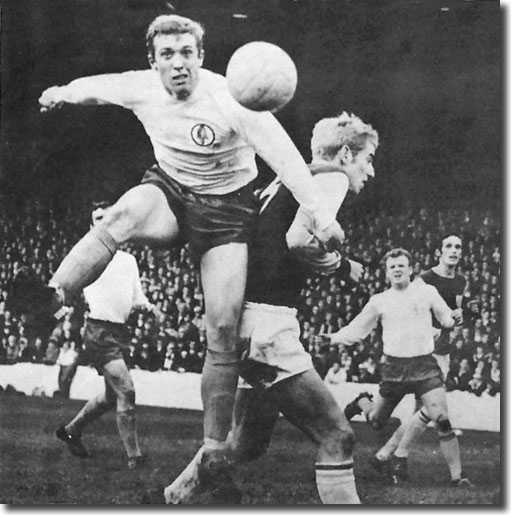 He assessed the situation instantaneously and calmly lobbed the ball back over everyone's heads, including the stranded Sprake, and into the net. It was a breathtaking score and set the perfect seal on a brilliant win for the men from East Lancashire.
The League leaders had been left in shreds and the press quite rightly gushed about Burnley's performance. The Daily Telegraph: 'Burnley's capacity for producing the goods just when they seem about to join the other Lancashire teams in the Second Division is enough to send rich clubs flocking to see what the Turf Moor boffins do in their mysterious laboratories.' The Daily Mirror: 'The best defence in England was thrown into confusion by players who have not yet achieved the status of household names in Burnley, never mind the country.'
Eric Stanger in the Yorkshire Post: 'Youthful Burnley certainly won a man sized victory. They buzzed round Leeds United at Turf Moor like a swarm of angry bees, got into their hair and stung them well and truly five times. Their enthusiasm was extraordinary, their speed and stamina remarkable and their individual talent considerable.
'While all five Burnley goals were excellently conceived Sprake ought to have prevented three of them. But it would be unfair to lay the blame for defeat entirely at his door. Charlton was often left stranded by Casper, Reaney found the lithe Kindon setting him more problems than most outside-lefts and had it not been for Cooper, nearly United's best attacker as well as defender, Hunter and Madeley, Leeds might have fared even worse.'
Phil Brown in the Yorkshire Evening Post: 'They'll talk about the Leeds United match at Burnley for many a long day, and good luck to them. Burnley's 5-1 win was a magnificent effort, so good that some of their supporters were thinking in terms of Burnley for the championship before tea on Saturday!
'Burnley's youngsters, as gallant as home spun, took United, the league leaders after the match despite their 5-1 drubbing, to pieces. Faster, brighter, harder working - and how often is the Leeds work rate beaten? - They cut and carved at United's defence and baffled the forwards in front of it with shrewd and hard marking and tackling.
'The only consolation for United was that they were too bad to be true. There was so much wrong with them that only Cooper got good marks, and Charlton, Hunter and Madeley just scraped a pass. Sprake was right off form, and was completely unrecognisable as the hero of Budapest and Liege. He really must try to be more consistent. It is the curse of the goalkeeper's job that his mistakes are generally costly.
'The stocky and gritty Durham man, Coates, converted from a winger to No 10, was Burnley's chief executioner. He had a magnificent match - Raich Carter class - running through or around all United's international half-backs. He made more attacks than United made in total, and his boy wingers, Thomas and Kindon, responded in their contrasting ways. Thomas is as tricky as a footballing cat would be, and Kindon runs like a horse.'
There was never any love lost between the two clubs; Harry Potts and Don Revie had more than once aired their differences publicly, but this time Revie was all praise for the young guns at Turf Moor. 'Burnley have a great young team here,' he said. 'They played well, deserved the win, and all I can say is that they were a revelation.' This was the game that began Revie's fascination for the talents of Dave Thomas, whom he would later select for full England honours. He said that 'Thomas was the finest talent in Britain and possibly in the whole of Europe.' The manager tried unsuccessfully on a number of occasions to secure the winger's signature. Revie later claimed that the night before the match Gary Sprake 'had suffered a close family and paid a sad mental price next day. Everything Burnley tried came off - they would have beaten any side that day.'
The 5-1 result was hard to take for United fans and there were a number of confrontations round the stadium afterwards and several arrests as they sought to vent their frustration, provoking ugly scenes of mindless violence.
It was a sad day in the history of Leeds United and they were given the most extraordinary of warnings that there would be no procession to the title. It may have been just a bad day at the office, a temporary blip, but United's serene self assurance was badly pricked. Only time would tell whether the wound would prove mortal.