Part 2 - The Jack Charlton affair - Part 3 - Colchester, Tinkler and Fairs success - Results and table
Leeds United had experienced many setbacks and disappointments since returning to the First Division in 1964; the hand that Fate dealt them in 1970 was something else entirely.
Until the season's closing weeks, the Whites were strong favourites for three major trophies. Their battle for the championship was the first to run into the sand as manager Don Revie decided that enough was enough. With fixture congestion and player exhaustion threatening meltdown, Revie reasoned that success in the cups would be less demanding; he threw in the towel and began sending out teams drawn largely from his inexperienced pool of reserves.
Indeed, when United lost 4-1 at Derby on 30 March, there was not a regular on show. The team sheet that evening contained one of Revie's most infamous selections; Harvey, Davey, Peterson, Lumsden, Kennedy, Yorath, Galvin, Bates, Belfitt, Hibbitt, Johanneson.
The Football League punished the club harshly for the misdemeanour, a breach of regulation 23, which specified that 'each club shall play its full strength in all League matches unless some satisfactory reason is given.' They levied a fine of £5,000, the highest yet imposed for the offence. The previous highest figure was £2,000 paid by Everton in 1967 for fielding a reserve side against Leeds. In 1962, Burnley were fined £1,000 after selecting 10 reserves for a match with Chelsea.
Leeds also included six reserves against Southampton on Easter Saturday, but the League based their verdict solely on the Derby match. They claimed to have taken full account of the shortened season and the evidence of United's medical officer, but the inquiry committee decided that three or four players who were omitted against Derby could have played.
The outcome was thought to have been influenced by League secretary Alan Hardaker. Andrew Mourant in Don Revie: Portrait of a Footballing Enigma: 'Hardaker had tired of Revie's requests for fixture rearrangements and postponements that might put Leeds at an advantage. In football matters Revie was, in Hardaker's opinion, devious, selfish and ruthless, and would cut corners to get his own way. Revie had offended Hardaker the previous season by an oblique approach to the League secretary's subordinates, with the aim of bringing forward by 24 hours a League Cup-tie against Bristol City. It was the impropriety of Revie seeking to involve his juniors that had made Hardaker especially indignant. On another occasion, Hardaker gave Revie short shrift when the Leeds manager asked for a postponement because three of his key players were badly injured. Hardaker noted drily that not only did all three make sufficiently miraculous recoveries to play, but one scored twice and another was, by general consent, the man of the match.'
Their surrender in the league did not help United's cause; they crashed out of the European Cup at the semi final stage against Celtic and lost the FA Cup final to Chelsea after a replay at Old Trafford.
As if all this were not enough, there was a clutch of newspaper stories in May declaring that Revie was about to accept the manager's job at Birmingham City. Revie was apparently sorely tempted by an attractive contract, but speculation was quickly dispelled when the manager declared, 'I had a meeting with the chairman this afternoon. It only lasted about five minutes. I told him I wanted to see through the work I have started at Leeds and that I would be abiding by my contract.' There were five years remaining on a seven-year deal.
Nevertheless, the rumours only intensified the feeling of emptiness that haunted Elland Road that summer. To lose three major trophies in the space of a month was almost too much to bear. Indeed, many predicted United might tumble off their pedestal.
In fact, nothing could have been further from the truth. Perhaps the disappointment served as a sharp incentive to do better next time, perhaps it was the glorious style with which Brazil regained the World Cup that invigorated the watching players; whatever the reason, Leeds were, if anything, even better than they had been before when action resumed.
When the players reported back for training in July, one man who was missing was South African winger Albert Johanneson, now 30, who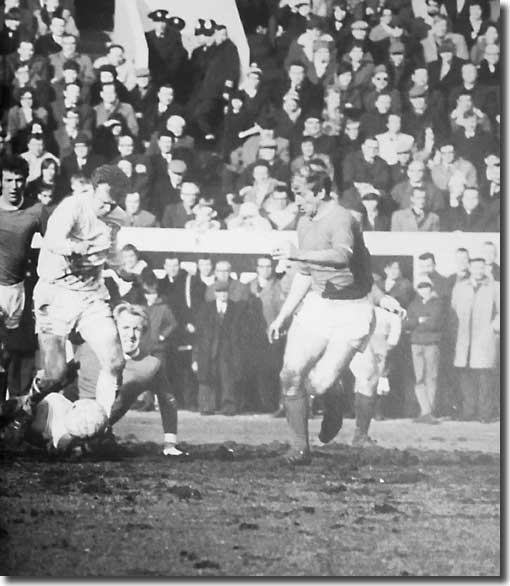 ended a nine year association with Elland Road by moving to York City during the summer. Johanneson had been one of Revie's earliest signings and was a star of the United team that won promotion in 1964. He had faded from prominence after a disappointing display in the 1965 FA Cup final.
Also absent, though only temporarily, were the four England men (Jack Charlton, Terry Cooper, Allan Clarke and Norman Hunter), Paul Reaney and John Faulkner (both recovering from fractures), but the rest of the party were in good spirits. Revie remarked, 'So long as everybody will go on learning and working, and forget all about past successes or near successes, we should do well again, and go at least very near to one trophy or another. We have a set of wonderful players here ... We are eager to start.'
United warmed up for the 1970/71 campaign with a convincing 3-1 victory in Ireland against Shelbourne, before winning 2-1 against a spirited Doncaster side, captained on the night by former Elland Road man Rod Johnson.
The official action kicked off with a tasty visit to Old Trafford. Manchester United were not the force that had won the European Cup in 1968, but, in front of their own supporters and spearheaded by George Best and Bobby Charlton, they were nobody's fools.
On the day, 'Leeds United looked cool and confident,' according to Barry Foster in the Yorkshire Post, as the 100th league goal of Mick Jones' career was enough to split the sides. It came from a thundering header in the 22nd minute off a lofted Peter Lorimer cross to the far corner of the area. Jones came running in to stoop into a header which soared past the keeper. Foster described it as 'a header of such power that Stepney could have been forgiven for thinking he had booted the ball in'.
Paul Wilcox reported on the game for The Guardian: 'The effectiveness of Leeds United stems from an ingrained knowledge of each other's skills, plus an almost total insistence on collective effort ... Leeds were ahead on points throughout ... The paradox was that, but for the exceptional form of Sprake, Leeds might have gone home without so much as a draw. In a late assault on the Leeds goal, Sprake twice thwarted Kidd by saving shots seemingly destined for reward.
'Leeds won all the laurels in midfield, where Giles and Bremner sprayed passes with a precise nimbleness that epitomised most of their play. Giles stole the show ... He flicked, stabbed, sent the ball searchingly into the defence, and still found time to test Stepney occasionally.'
The Yorkshiremen followed up with a 2-0 victory at White Hart Lane against Spurs, giving clear evidence there was no hangover or self pity.
Geoffrey Green in The Times: 'Leeds have raised their pennant to give notice to the rest of the field of what may lie ahead ... The past is dead and their eyes are on the far horizon for more success.
'At half-time Spurs, having had most of the play, must have felt that they needed only a small gesture or a small chink in the Yorkshire armour to let them in. Yet a moment after Sprake had made a good save from Gilzean under his crossbar at one end, there were Leeds off like hares to the other in counter attack. Bremner slipped the ball square to Gray and from some 20 yards Gray hit the bullseye through a crowd with a low left foot shot which went in off the far post beyond Jennings' late dive.
'In many ways it was perhaps right that if anybody was to settle this stern, unrelenting contest of speed and all out challenge it should have been Gray. From the first he had been the one to bring frowns to the Tottenham defence with his speed and sinuous footwork. Yet Gray, as always, remained no more than one cog in this tightly knit, marvellously balanced Leeds team. And once in the lead we knew in our heart of hearts what the answer was likely to be. They do not easily concede such a position.
'Held together in midfield by little Bremner and Giles once more, the whole side seemed to be connected by these two like some secret power. And at the back there was always the looming presence of either Hunter, Madeley or Cooper - all of them strong and insistent to plug any developing gap.
'To rub it in, Leeds finally punished a Tottenham defensive error. Near the end, as England tried to find one of his colleagues with a diagonal crossfield pass around the edges of his own penalty area, Giles read the signs as clearly as any farmer Giles might do in terms of impending weather. With a sharp acceleration he covered 10 yards to intercept that pass, glide into the open and settle the affair once and for all with a left-foot shot.'
In their first home game, United beat reigning champions Everton 3-2 in a see saw contest. Twice they came from behind, before scoring a late winner. It was a narrow squeak, with Leeds not at their best against outstanding opponents, but they displayed great resolution. They were so assured of their own capabilities that they dispensed with their customary tactic of man marking Alan Ball. They nearly paid the price as the midfielder had an outstanding game. However, United no longer felt a need to give individual opponents special treatment.
Phil Brown in the Yorkshire Evening Post: 'Truth to tell, Everton were so formidable as to make one thankful that United won at all, never mind how. For a United defeat which had looked impossible was not all that far away, and the loss of one point was even nearer. Bremner scored the winner only 10 minutes from time, and the frenzied mass whistling of the crowd in the last five minutes - to urge that admirable and imperturbable referee, Jim Finney, to blow time - showed how they feared Everton.
'The tension over, the crowd cheered both teams off after a grand game full of drama, and with more football than you often get when top sides meet. Altogether it was a splendid initiation for United's new pitch, which stood up splendidly, not only to the soaking of the week but the rapid fire of the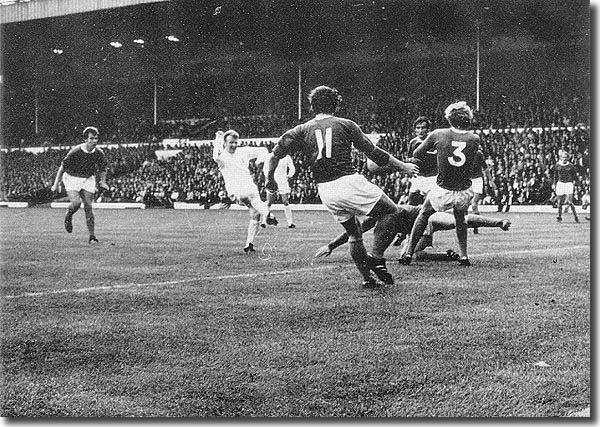 match.
'Everton were out of luck in that their only two serious errors in defence cost them goals. Giles got one when Jones nipped on to a bad back pass by Labone, and Bremner got the first of his invaluable brace off a poor header by Newton. Bremner's second (I doubt if another player could have taken such a sharp chance) was off a hard but sliced shot by Lorimer which found him 10 straight yards out. Brown scored for Everton after 30 minutes and Husband, a nimble winger, answered Giles' goal by outjumping all United's tall defensive timber to head in to give them the half time score which must have startled the country.'
The ground improvements referred to by Brown had been significant - a few weeks later the Yorkshire Post revealed the extent of the financial investment. Almost £500,000 had been spent since 1968, including the following:
New floodlights and pylons in the Gelderd Road stand £250,000
Extending the West Stand £140,000
New generator system to allow the introduction of undersoil heating £20,000
Playing area improvements including new drainage and turf £18,000
Additional staircases in the Kop stand £17,000
Modernisation of offices and facilities for players £15,000
As if recharged by beating the champions, United won their next two games 3-0, against West Ham and Burnley, and looked superb in doing so.
Tom German in The Times: 'All that old, confident Leeds mastery was on parade at Elland Road last night, demonstrably untarnished by the disappointments of last season. Even without the dextrous promptings of Bremner, there was more than enough skill and power in reserve to dispose of West Ham, unbeaten themselves until now. Three goals could well have been half a dozen and more, but there was no slackening off. Like a man who has once suffered the discomfort of seeing the soap squirt from his grasp, out of the bath and beyond reach, Leeds are clearly intent on allowing nothing to escape them this season.'
After the Burnley game, manager Jimmy Adamson described United as 'without a doubt the best outfit in the country', a view echoed nationwide as Leeds enjoyed their best ever start to a campaign. The unblemished opening burst left them two points clear of the pack.
The winning run was ended two days later, at Highbury against Arsenal, with a niggling goalless draw in which the Gunners' Eddie Kelly was dismissed after 20 minutes for kicking Billy Bremner violently under the very nose of the referee.
Geoffrey Green in The Times: 'There were no goals and no broken legs at Highbury last night and there might well have been one or two of both ... Mr Jones, the referee, needed the escort of seven sturdy London policemen as he left the field. Behind him lay the debris of the Kelly affair; the constant booing of Bremner - whose violent tackle had spawned Kelly's retaliatory kick in the ribs as both players fell; the booking of Cooper; and the unedifying sight of Mr Jones once being chased angrily by a bevy of Leeds players for one of his many strange decisions. Far from taking tight control of this taut, physical battle, at times he resembled a rabbit caught in the headlights of a car. There were moments when football itself sadly became secondary to the stern business of winning.'
A 67th minute goal by Allan Clarke was enough to ensure maximum points at home to Chelsea on 5 September, but a few days later Leeds went out of the League Cup. Second Division Sheffield United beat them at Bramall Lane with Blades midfielder Tony Currie capping a great display with a fine goal. Jack Charlton went off with an ankle injury and was missing for the weekend's League game at Stoke City, along with Johnny Giles, who had been out since suffering a similar problem in the victory against West Ham on 26 August.
The versatile Terry Yorath took Charlton's place at No 5 for his first game of the campaign, while Mick Bates continued to deputise for Giles. Yorath actually played at right-back, with Madeley in the centre, but had a poor game. He fluffed a back pass to Sprake after twenty minutes, allowing John Ritchie to put Stoke ahead. Yorath hurt a knee shortly before half time and spent most of the game lamely chasing Harry Burrows on City's left wing. Burrows had a wonderful game and added the second goal at the start of the second half. Sprake had to go off for eight minutes following a clash with former Leeds man Jimmy Greenhoff. Lorimer covered in goal while he was getting treatment, but it was after the Welshman's return that Stoke snatched a third goal near the end.
It was a stunning display by the Midlanders. United were strangely off colour, never troubling Gordon Banks. Don Revie: 'What team wouldn't miss Charlton, Reaney and Giles? I am not worried about the two defeats - you can't win every game and we have won plenty for a few seasons now. There is nothing basically wrong with the team.'
United had the chance to put the result behind them as they flew out to Norway to commence their Fairs Cup campaign against Sarpsborg. Don Revie took the opportunity to rest several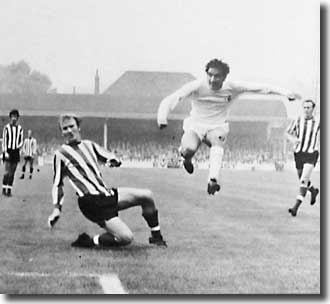 players: Hunter and Clarke got minor knocks at Stoke, while Giles, Charlton and Reaney were still unavailable. Rod Belfitt, Jack Kennedy and Terry Hibbitt were given starts, while youngsters John Shaw, Keith Edwards and Bob Rutherford travelled with the party. Revie: 'Had Yorath been fit, I would probably have left Terry Cooper at home, too.'
Even with those changes, United should have had little problem with the part timers. A year earlier they had put sixteen goals past their compatriots Lyn Oslo. On this occasion, however, they struggled, frustrated by a nine-man defence. 75 minutes had elapsed before Lorimer settled the match with a powerful 25-yard drive.
Barry Foster described the display as 'wretched' in the Yorkshire Post, complaining that 'too many players tried to do too much with the ball and too many final passes went astray.'
They found matters just as tough at home to Southampton on 19 September, needing a 38th minute penalty from Johnny Giles to secure the points. Had Ron Davies been successful with a spot kick for the Saints minutes earlier, it might have been a different conclusion.
The game ended controversially after Allan Clarke clashed ferociously with Jimmy Gabriel, both men ending sprawled out on the turf. Gabriel was stretchered off and when referee Ray Tinkler refused to allow the Southampton substitution, it was clear that the half-back had been sent off. It was later reported that he had deliberately butted Clarke in the face.
Gabriel claimed, 'Leeds exaggerate incidents. I have no respect for them except Bremner. It's my first sending off and, of course, it had to be against Leeds. I had been hit in the jaw and kicked in the back just before the sending off.'
United came out of the clash with a lengthy list of injuries: Gray, foot gash; Clarke, shin injury and loose teeth; Hunter, Achilles injury; Cooper, calf muscle; and Giles, a recurrence of the ankle problem which had kept him out of the previous six matches. 'He did well to play with it,' said Don Revie, who went on to express some forthright opinions on events. 'I know we are top of the league and that everybody wants to beat us ... but that is no reason why we should have to put up with the spoiling and pressurising tactics we are having to face this season. And this suggestion that because we have had 12 men sent off against us in our last six years in the First Division we conned them into offences is just too comic to stand scrutiny. We have played it hard in our time ... but now, when we are trying hard to play good attacking football, we are stopped at all costs, by fair means or foul.'
Barry Foster, in his report for the Yorkshire Post, acknowledged that United had struggled, but indicated that he felt they were coming back to form: 'The signs became increasingly clearer that they were regaining the fluency which helped them make such a flying start to the season. Leeds did not allow Southampton ... a clear chance in the second spell and once they had got back into the habit of accepting the promptings of Giles again from midfield they looked much better.'
They remained off the pace a week later when they drew 0-0 at Nottingham Forest. United lost Giles with a fractured cheekbone in the first half, an injury which would keep him out for a further six games.
Happily, as one international bowed out, Don Revie was able to recall another. Paul Reaney came on as substitute at half time in the second leg of the Fairs Cup-tie against Sarpsborg. Reaney had been out since breaking a leg against West Ham in April. United won 5-0 with two goals apiece from Charlton and Bremner and a fifth from Lorimer.
Leeds continued with a 2-0 victory against promoted Huddersfield on 3 October, thanks to a Lorimer brace. They lost another forward when Gray limped off after 15 minutes with a pulled thigh. Revie revealed that captain Billy Bremner had been playing through the injury barrier to help compensate for United's problems: 'He missed the West Ham game with a knee injury, had a fitness test the following Saturday morning at Burnley and played. With Giles out he has carried on for me and I am very grateful for what he has done. He has had treatment every day before training and has played although only 50 per cent fit. The trouble is strained ligaments in the knee. He would battle on and play with a broken leg if he could.'
There were other non-playing concerns for Revie with calls for disciplinary action against Jack Charlton. Comments made by the centre-half in a Tyne Tees television interview led to fierce criticism of what was rather portentously christened The Jack Charlton Affair. The storm in a teacup lasted for a few weeks, effectively ending whatever remained of Charlton's international career. He was admonished for making what were found to be ill considered remarks.
On the field, United played out 2-2 draws at West Bromwich and then at home to Manchester United. They continued to lead the table, with Manchester City and four London clubs, Arsenal, Tottenham, Chelsea and surprise package Crystal Palace on their heels.
It was announced that Leeds had signed young Morton forward Joe Jordan in a £15,000 deal. Revie had been tipped off to Jordan's promise by former skipper Bobby Collins, now plying his trade at the Scottish club. Revie: 'We have watched Jordan several times and were impressed with his performances. He is a tall, striking inside-left and we consider that he can be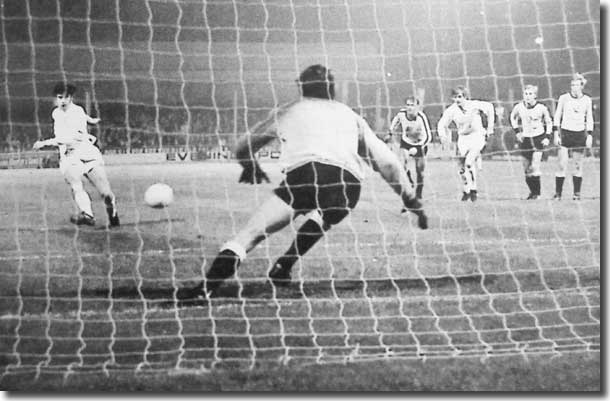 developed into a very useful addition to our playing strength.'
The signing came just before United faced the East German side, Dynamo Dresden, in the second round of the Fairs Cup, with the first leg at Elland Road on 21 October.
The club was hit by a stomach bug; Revie was ill, along with Mick Jones and Paul Reaney and several reserve players. Johnny Giles and Eddie Gray were still injured, while Mick Bates had hurt a groin and Gary Sprake had a bruised hand. David Harvey took over in goal, with Rod Belfitt leading the attack and 22-year-old full-back Nigel Davey playing his first European game.
The Germans cast a nine-man blanket across their half of the pitch to smother United's attacks. It was a frustrating evening for the home side, who only had a 50th-minute penalty from Peter Lorimer to show for their work. Belfitt's header had beaten the keeper but defender Dorner punched the ball over the bar.
The Germans twice came close to an equaliser in the final five minutes when they showed some attacking flair, hinting that United might be hard pressed in the second leg.
United were back to form at the weekend, winning 2-0 at Derby with goals from Lorimer and Clarke. Barry Foster in the Yorkshire Post: 'Leeds United have seldom produced a better team effort ... Their play did not have the sweet, easy on the eye, flowing football of their initial unbeaten run but there was unmistakable quality in the planning and precision of their gaining two more points towards winning the First Division title. The display had its outstanding performers but the overriding factor was the way the side as a whole rode out Derby's early attacking storm, countered to let them know they could not press without risk and then landed two vital blows in the form of goals as typical of the two scorers as it is possible to imagine. Hunter, playing at the heart of a defence which for the 10th time in 14 League games was unbroken, had an inspired game and Sprake, always in command of his area, strengthened my view that both of them are playing better than ever.'
Charlton and Giles were the scorers when United won by the same score against Coventry on 31 October. The return of the Irishman, in his first game for a month, improved Leeds' creative thrust. His goal was a splendid effort, flying past Bill Glazier from 25 yards.
After the game the players set off for East Germany for the return with Dresden. It was a lengthy journey and there was a scare in its final stages when the coach came to a halt on the way to the stadium after two of its tyres burst.
Undeterred, Don Revie promised, 'We shall go at them. We hope to get one goal at least and then they have got to get three.' He warned the players that it could be a rough game, saying, 'I have told them to keep out of trouble in a match where there could be a brawl.' The game was played out in what was described as 'an electrifying atmosphere'.
Hemp brought the Germans level on aggregate after 14 minutes before Mick Jones scored in the 31st minute. Lorimer half hit a cross from the edge of the area and Charlton chested the ball on. Jones was on it in an instant to sweep the ball home. It was a soft shot but the German defenders were frozen and the ball found the net.
Dynamo were denied a penalty in the 55th minute when Charlton and Richter tangled in the area and fell to the turf. Bottles were thrown by the crowd at the Leeds end.
After 63 minutes, Dynamo captain Kreische, a midfield schemer, nodded home Dresden's second after a pinpoint cross from Riedel.
The Germans pushed Leeds all the way, but they stood firm with Hunter having an outstanding game at the heart of the defence.
With tempers fraying, there was a brawl on the edge of the Leeds area when Clarke brought down Heidler with eight minutes to go. Any number of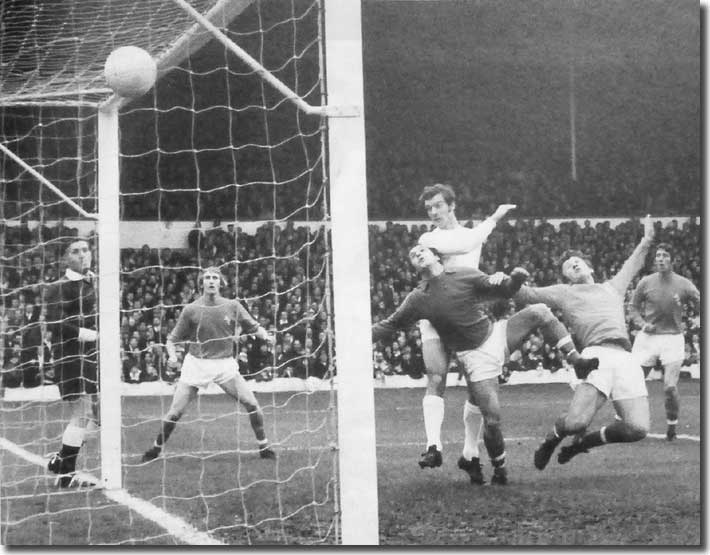 players could have been given their marching orders, but it was Mick Bates and Dynamo's Geyer who took the long walk to the dressing rooms.
The aggregate score was level at 2-2, but United were through on the away goals ruling.
Don Warters in the Yorkshire Evening Post: 'Leeds United have encountered some tough assignments on their European travels, but none has been more ferocious, more bitter or distasteful ... Taking the two legs as a whole, United deserved their victory, for once again they had shown that they possessed the ability and temperament to triumph in the most difficult circumstances.'
United faced a trip to London to meet Crystal Palace when they returned to England. They did enough to win the game, taking the lead after 52 minutes with a header from Peter Lorimer and controlling matters thereafter, but they had to be content with a point.
With three minutes remaining and the game fading to a predictable conclusion, Palace pushed forward. The ball reached their captain, full-back John Sewell, on the edge of the box and he sent a harmless looking lob high towards goal. As it dropped towards him, Gary Sprake was guilty of a misjudgement. He took his eyes off the ball and fluffed his lines, allowing it to drop over the line for the equaliser.
The Welshman was distraught. Up until that fateful moment he had given a faultless display, and afterwards Don Revie offered public support, claiming, 'Gary Sprake is still the best goalkeeper in Europe for me.' He went on, 'I think he was thinking who he was going to pass the ball to when it went through his hands and into the net.'
During the week, Billy Bremner heard that an FA Disciplinary Committee had given him a four weeks suspended sentence and a £150 fine for receiving three booking in the previous 12 months. He was relieved that he would not miss any games; his improving disciplinary record had stood him in good stead. He had injured his knee against Dynamo Dresden and was unable to play, missing Scotland's European Championship game with Denmark at Hampden, but the outcome of the hearing was a happy one for the Scot.
In his absence, Mick Bates continued to show what a fine player he was, performing well in the 3-1 defeat of Blackpool, the goals coming from Madeley, Charlton and Giles. Madeley and Giles were on the mark again, with others from Clarke and Lorimer as United earned revenge for their earlier defeat at Stoke. They beat the Potters 4-1 on 18 November after the visitors had taken a shock lead.
There was a tremendous struggle with Wolves at Molineux on 21 November before the points were secured. Paul Madeley was on the mark for the third successive game, nodding home the third goal just before half time to make it 3-1. Mick Jones was replaced by Rod Belfitt at half time after the striker had suffered a broken nose and Hugh Curran pulled one back just after the restart. The loss of Jones stifled United's impetus but they had enough in the locker to maintain their narrow lead to the end.
Barry Foster in the Yorkshire Post: 'As winter draws in, Leeds United are really turning the heat on. Ten goals in their last three games and 11 out of the last 12 League points played for leaves them well clear of the field this morning. On Saturday, they stayed cool on the pitch while their supporters on the terraces in Molineux's biggest crowd of the season bit their fingernails as Wolverhampton Wanderers mounted tremendous second half pressure in search of a point that looked out of sight at the end of the first half. It was Leeds' knack of taking command when the situation presented itself in the first period and their composed play under pressure in the second ... which won them two more valuable points against the side that had led the rest of the pack behind Leeds and the London challenge.'
The chasing teams were now trailing in the wake of Leeds and Arsenal and on 28 November, United had the chance to increase their gap over fifth placed Manchester City when the two sides met at Elland Road.
Don Revie gave Jones the afternoon off to allow his broken nose to heal, giving the No 9 shirt to Bates, though Clarke played lone striker. The change of personnel blunted United's scoring touch, but they should have taken the lead on the half hour when Tony Book's foul on Terry Cooper resulted in a penalty. Unfortunately, Giles drove his spot kick wide.
Nine minutes after the restart Lorimer caught the ball as it was running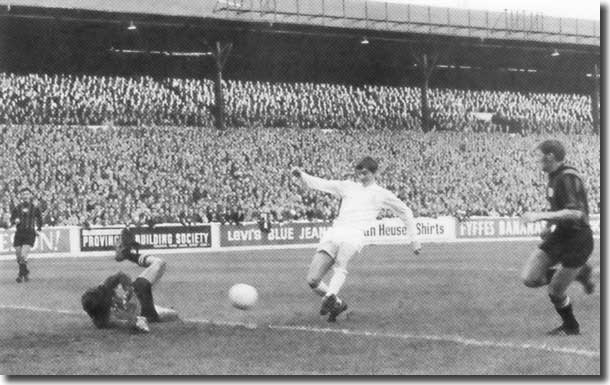 out of play and found the unmarked Clarke, who beat Corrigan with some assurance. It was the only goal of the contest and Sprake's late saves from Lee and Bell secured the points for Leeds, though shots from Madeley and Charlton were blocked on the line with Corrigan on the ground and helpless. Lorimer had earlier struck an upright.
Tom German: 'Leeds United seem to grow more formidable each time they step out. If they are conscious of Arsenal's breath on their collar as they joust at the head of the First Division, Leeds, in the best tradition of Yorkshiremen, do not betray it by any obvious quickening of their stride, any nervous glance over their shoulder. This often leads only to error and, as Manchester City rediscovered at Elland Road on Saturday, Leeds make few of those ... It was their total composure and thoroughness which was impressive. Even in their collective balance there is much to admire in recurring individual themes which splash colour on the whole. Madeley's powerful yet graceful running, Cooper's smooth acceleration, swooping to tackle or darting up the left flank; Clarke's somehow brittle stride on those stalk like legs, which take him with deceptive speed to threatening spots ... The constant, indestructible rib of this sound Leeds side, however, ... has been Hunter. Those headlong dashes into the tackle seem rarer. He is still a hard man, but, again, on Saturday, he was superbly disciplined at the back, positioning intelligently to gobble up everything loose and using the ball with immaculate measure and discretion. If he put a foot wrong, it went unnoticed.'
The same day Arsenal beat Liverpool, who were sixth, by a couple of goals and with Tottenham (third) and Chelsea (fourth) both drawing, the top two inched further clear.
United were in European action during the week, facing Sparta Prague at Elland Road, and Don Revie brought in Rod Belfitt to cover the still absent Jones. Mick Bates was serving a suspension for being dismissed in Dresden.
The United boss was concerned, saying, 'I am afraid of this side's tremendous skill ... They remind me very much of the Ujpest Dozsa side which gave us such a hard game in Hungary four years ago.' Despite his apprehension, United breezed to a sparkling 6-0 victory.
They started steadily, but never looked back after Clarke opened the scoring in the 19th minute. It was Leeds' 50th goal of the season and the striker hammered home from close range after Migas and Urban failed to clear. Belfitt was injured after heading on to Clarke. He had to go off to be replaced by Reaney and required three stitches in a cut eyebrow.
The substitution allowed Madeley to push forward into midfield with Bremner moving into attack. United reaped instant rewards, snatching four goals in the next 17 minutes.
Reaney's first touch was a low cross from the right, and Czech defender Chovanec, in attempting to clear, headed through his own goal. Within two minutes United were three up after Bremner shot home smartly from an accurate pass by Giles. Madeley, Lorimer, Bremner and Gray were all involved in good work in the visitors' penalty area before Gray's sidefoot rolled over the line to make it four, with the goalkeeper unable to reach the soft shot. Nine minutes before the interval it was 5-0 when Gray headed in a Lorimer cross. In the 54th minute Charlton headed home from another Lorimer centre to complete a 6-0 rout.
Sparta keeper Kramerius was in constant action, making a number of splendid saves.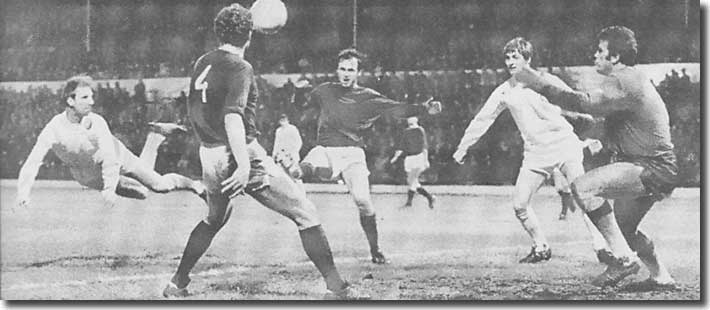 Opposite number Sprake had little to do; his evening's work comprised only a close range save from Vesely on the stroke of half time and then saving a fierce drive from Vrana in the closing minutes. Charlton was denied by the upright, Lorimer found the angle of post and bar and Bremner had a goal disallowed for offside in a one sided romp.
Don Revie: 'It was my privilege to watch Leeds in this match. Our last performance to compare with this was last season when we beat West Brom at Elland Road 5-1. I can't really recall a night when we showed such understanding and such team work. Some of the football was sheer poetry.'
It was a wonderful display and put United in great heart for the 5 December match against Liverpool. It promised to be a stern test: the Reds were undefeated at home all season and United had not managed a goal at Anfield since Christmas 1965.
With Mick Jones still unavailable, Allan Clarke wore the No 9 shirt with Paul Madeley at 8 and Paul Reaney getting his first start since 17 October.
Without Jones, Leeds were reticent about throwing themselves wholly into attack, content to play for the draw. According to Eric Todd in The Guardian, 'Without touching mediocrity, they will not be brilliant every week ... They were content to deny possession to Liverpool, who made only formal attempts to wrest it from them. A draw thus was predictable.
'In an interesting rather than captivating first half, Lawler's right leg denied Giles a goal, Clemence saved from Gray, Lorimer and Madeley and in rapid succession Hall, Heighway and Toshack all had good shots blocked. After 58 minutes, Madeley headed a splendid goal from Cooper's centre, but within two minutes Smith took a free kick and Toshack equalised with a header of comparable quality. Leeds appeared to be fortunate not to concede a penalty when Reaney brought down Hughes, who shortly afterwards failed narrowly to connect with a fine pass from Heighway. Thereafter Leeds decided that they had done enough for one day.'
Don Revie declared it 'a great point to win', adding, 'The pitch was so gluey it was impossible to keep going forward all the time. To keep possession of the ball like that proved to me the maturity of the side once and for all.'
In midweek Leeds completed the job they had started against Sparta, edging home 3-2 on the night, easing off after establishing a 3-0 advantage in 34 minutes.
Maybe as the result of all the travelling, Leeds struggled three days later against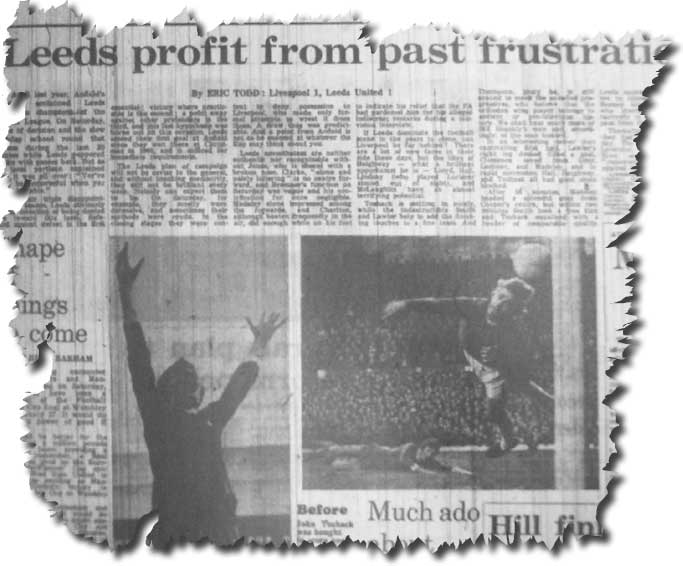 struggling Ipswich when finishing goalless at Elland Road. To add to the gloom they lost Eddie Gray with a broken ankle. Leeds were frustrated by the visitors' defensive tactics and might have lost when Jimmy Robertson hit the bar in the final minute with Sprake beaten.
Leeds snapped back to form the following week when a 10th minute header from Charlton was enough to secure victory at Goodison Park against Everton.
It was not a poetic performance, as acknowledged by Geoffrey Green in The Times: 'Goodison Park has always been a handsome, fashionable stage for football, a living thing full of atmospherics - like a theatre ... A cathedral of a place indeed, fit for the gods of the game. Yet when Leeds United ... beat Everton there on Saturday ... we had anything but the spectacle we deserved and rather too many shadows of another sort for comfort. In that opening - after a mere 10 minutes - Leeds snatched the goal they needed and then, slowly but surely, throttled the life out of the game, with one of their typical ruthlessly efficient defensive displays. These allow the opposition ... not a loophole anywhere.
'Within the context Leeds cannot be blamed. This is the modern idiom ... Certainly Bremner and his men have no superiors in this specialist art of defensive disengagement. They were after the points and they got them. Shoot first and ask questions later is the way they see things and it pays them dividends.
'By the end of that half hour the frustration had begun to rise visibly. Brawn took over from brain and the final tally gave us the figure of 43 infringements of one sort or another. Twenty-two of these were against Everton as they beat their heads frantically against the wall of Hunter, Cooper, Bremner, Reaney and company with Giles, Lorimer and Madeley also withdrawn tactically to reinforce the concrete.
'Hunter and Giles, were masterly for Leeds. Neither put a foot wrong, apart from Hunter's stupid tackle of Whittle near the close which brought down the law on him. Giles indeed directed the flow of the battle like a little Napoleon and quite outmatched Ball for all the latter's frenzied efforts to effect a breach over the second half. It was then that Leeds stood back and allowed Everton to knock the breath out of themselves. It was shadow boxing of a high order which not even the nimble Harvey, after a brilliant start, could fathom.'
Gary Sprake was found to have broken a bone in his right hand in the game and David Harvey deputised in the Boxing Day fixture with Newcastle. Aside from that United were unchanged with Paul Reaney at right-back and Paul Madeley wearing No 11.
The game started slowly, but after 40 minutes Frank Clark brought Terry Cooper down in the Newcastle area to concede a penalty. Johnny Giles made no mistake from the spot.
It was the 70th minute before there was another score. Allan Clarke made no mistake, finding space in the area before pulling down a ball from Lorimer and slotting it home as defenders moved in. Newcastle appealed vainly for offside, but the linesman kept his flag down.
With five minutes remaining, Frank Clark conceded a second penalty, blocking Madeley's wonderful header with his hands. Again Giles was calmness personified as he scored his ninth goal of the campaign.
With Arsenal held to a goalless draw at Highbury by Southampton, United ended the year three points clear, in the best of health and looking set fair for the title.
Not everything in the garden was perfect, however, and Don Revie was forced to strenuously deny reports that he would be joining Manchester United. The Old Trafford club had sacked Wilf McGuinness on 29 December, with Sir Matt Busby taking temporary charge, but speculation was rife that Revie would be the long term replacement.
Revie used his column in the Evening Post to confirm his commitment to Leeds, writing, 'I expect loyalty from the Leeds United playing and administrative staff - and they expect loyalty from me in return. That is why I am not interested in becoming manager of Manchester United, or any other club for that matter.
'My name was linked with Manchester United when Sir Matt Busby relinquished the team managership last year, and again following the recent sacking of Wilf McGuinness. I find it flattering that some people rate me good enough to take over at the helm of such a famous and successful club, but it is my ambition to remain at Elland Road for the rest of my career in soccer.'
Calm restored, everyone at Elland Road could look forward with anticipation to great things to come in 1971.
Part 2 - The Jack Charlton affair - Part 3 - Colchester, Tinkler and Fairs success - Results and table