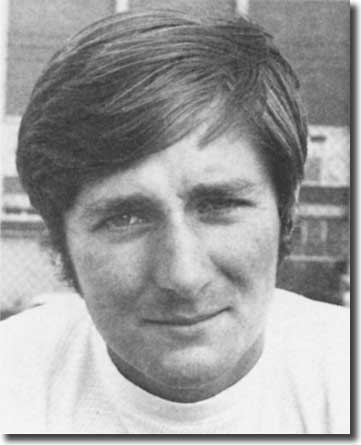 Born: Briton Ferry, Near Neath, 26 September 1952
M Keith Edwards (the M stands for Malcolm and is used to distinguish him from striker Keith who played for United in the 1980s) enjoyed the shortest first team career in the history of either Leeds City or United.
He came on as substitute for Paul Reaney with 19 minutes of the game remaining when United played Huddersfield Town at Leeds Road on 25 September 1971.
A promising young defender, Edwards won schoolboy and youth caps for his native Wales and signed professional terms for the Elland Road club in 1969 when he left school.
Edwards' first sniff of first-team action came in September 1970 when Don Revie included him in a squad of 16 to travel to Norway for the Fairs Cup-tie against Sarpsborg. The manager rested a number of players following a 3-0 defeat at Stoke the weekend before, but the Welshman sat out the ninety minutes; Peter Lorimer scored the only goal of the game.
When Leeds faced an injury crisis a year later, Edwards was named substitute for the First Division game against Huddersfield. United's resources had been stretched to the limit for the midweek game against Barcelona to decide which club would retain the Fairs Cup trophy. Though they could welcome back Paul Madeley and Terry Cooper at Leeds Road, Allan Clarke, Mick Jones and Eddie Gray were all still unavailable.
Edwards came off the bench in the 71st minute when Reaney limped out of the action. Huddersfield led 2-1 at the time after future United centre-half Roy Ellam headed them into the lead after 58 minutes. The Terriers survived a scare in the 80th minute when Terry Cooper's drive from distance hit the crossbar, but they held out to win the game.
Edwards never came near the first-team again at Elland Road and departed the club in July 1972. Swansea manager Roy Bentley signed him for a club that was to be relegated from the Third Division at the end of the campaign. Edwards failed to make an appearance and had departed the Vetch Field before Christmas. He later played for Cork Hibernians in Ireland.