Part 1 - Off like a train - Part 2 - The Jack Charlton affair - Results and table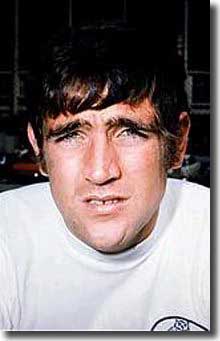 The 1969/70 season had not ended happily for Leeds United, but the side had gone from strength to strength in the new campaign, racing off to monopolise the League leadership in the autumn.
With just one defeat from their 24 games played, they held a three point lead over second placed Arsenal at the turn of the year, with Chelsea a distant ten points behind in third spot. United also had high hopes in the FA Cup and Europe.
Life could hardly have been sweeter at the start of 1971.
The Whites had been drawn to meet Rotherham United of Division Three in the Cup third round on 2 January, but, along with nine other ties, the match was postponed because of frost and snow. It should have been replayed during the week, but the pitch was still considered too dangerous and was put off for a second time. The fixture at home to Tottenham on 9 January, therefore, was United's first action of the New Year.
Tom German in The Times: 'Leeds United have human weaknesses after all. One begins to think of them as invulnerable when, week after week, someone always seems to be around to cement over a colleague's error; when someone from their array of talent invariably emerges to stamp his name on the match. Tottenham Hotspur, taking their chances skillfully to win 2-1 at Elland Road on Saturday, left the image a little blurred.
'In bare outline, two moments of wandering concentration in their own half, coupled with neglect of their own scoring chances, led to Leeds' first setback at home this season ... But there was much more to it than that: Spurs scored while jerseys were still free of mud stains, were a yard the faster for the first ten minutes and thereafter, though often under pressure, had skill and determination enough to prevent Leeds drawing themselves to full height.
'Spurs found openings, too, with the Leeds defence welding less effectively than usual. Hunter, normally impregnable, made more mistakes in the first few minutes than he has probably done all season. His feet became confusedly entangled with the ball right at the start. Gilzean pounced to send Mullery away down the right and, with Charlton having to move from the middle to cover him, Chivers had a clear path for the opening goal. It was an error by Giles, a misdirected pass meant for Bremner, which provided Tottenham's winner 18 minutes from the end; Gilzean was there again to send Chivers through.
'Each time it was Chivers' immaculate control and accurate aim which made the most of the opportunity. Leeds were more fallible in similar situations. Jones, sent galloping clear of the field, managed only to run the ball straight at Jennings. The Yorkshiremen found several chances going astray as they heaped on the pressure with Giles dropping a stream of lobs into the goalmouth, hoping perhaps to exploit a difficult wind and the absence of England's long reach.
'They had equalised, deservedly, in the 18th minute after shots from Lorimer and Madeley recoiled from the barricade of Tottenham shirts. Bremner lifted the final rebound gently on to the bar and Clarke, the most searching Leeds forward, darted in to head over the line. The big assault was reserved for the closing minutes.
'Bremner, only a couple of strides out, might have scored but Jennings advanced to block him; Hunter found the ball coming at him awkwardly and it bounced just wide of a post off his thigh; finally Bremner glanced in a fine header to which Jennings reacted with a lightning leap to clutch it against a post.'
Their unbeaten home record ended, two days later United finally faced Rotherham in their restaged Cup-tie at Millmoor.
It should have been no contest, but the Millers had as much of the play as their illustrious opponents and were well worth the goalless draw they earned. As Terry Brindle wrote in the Yorkshire Post, "Leeds' reputation cut no ice with confident Rotherham, who defended stoutly and attacked with verve and élan throughout the match. Class will tell, we thought, but Rotherham flatly refused to accept their supposed limitations. Willed on by a wall of frantic support, Rotherham launched themselves headlong at the Leeds defence and almost into the fourth round.
'Desperation or resilience lifted Leeds to a last magnificent onslaught and Charlton had a header kicked off the line by the hard working Houghton. But Rotherham were equally magnificent in their refusal to accept the possibility of defeat. They held on superbly to earn a replay tomorrow - and nobody would deny them their right to it.'
The match should have been replayed two nights later, but there was yet another postponement, this time due to fog.
United returned to winning form at West Ham at the weekend, emerging with a 3-2 win, though they required a late rally. After cruising into a 2-0 lead with goals from Hunter and Giles and dominating the game, United conceded goals in the 80th and 83rd minutes to find themselves caught. Two minutes later, Belfitt, a substitute for Jones, got the winner that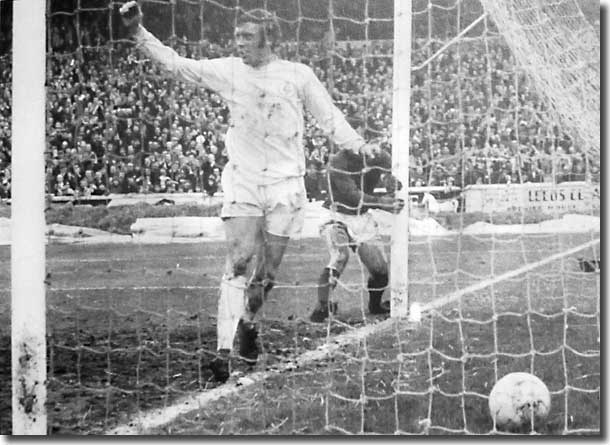 Leeds fully deserved.
It was then back to their marathon with Rotherham, on a bitterly cold evening with heavy rain making for an uncomfortable night at Elland Road.
Eric Todd in The Guardian: 'The absence of Jones with a thigh injury and the departure of Cooper after seventeen minutes with a similar complaint embarrassed Leeds, who in the first half already had enough on their plate with the wind and a very determined Rotherham side. Leeds made more mistakes than they are expected to make in a whole month and if it had not been for the magnificent work of Madeley, Hunter and Reaney they certainly would have been in serious trouble. Their attacks were almost non existent and although Leeds did take the lead, they were behind at half time and looking thoroughly depressed and embarrassed.'
United took the lead after 27 minutes through Lorimer. The chance was manufactured by some smart play by Clarke and a neat pass under pressure. Rotherham equalised five minutes later. Goalkeeper Ray Tunks' long clearance was caught by the strong wind and carried over Hunter's head. Trevor Womble got possession, evaded Hunter and fired convincingly past Sprake. The United keeper surrendered a second goal three minutes later when he spilled Fantham's cross with Womble and Charlton crowding him, and Bentley scored easily.
United managed to exert a degree of control in the second half. After 56 minutes, Clarke flicked on Reaney's cross for Lorimer to make it 2-2. Six minutes later, Giles earned the lead with a low shot that took a deflection off a defender.
It was a fractious affair with referee Jim Finney calling the captains together in the second half to demand restraint after Charlton had been tackled hard by Womble and got his revenge, violently charging the forward to the ground.
Relieved to have escaped unscathed, United had little problem overturning Swindon in the fourth round five days later. Mick Jones snaffled a hat trick, his first goals since November, and Clarke another as Town were trounced 4-0.
John Arlott in The Guardian: 'A clearly planned and coolly executed operation produced the predictable result in a match of diverting skills but no surprises ... Leeds United simply confirmed their power; this is what it is like to be the team the bookmakers expect to win the Cup. Swindon went through all the motions of earning their money; they hurried like mad, but Leeds, who did not, were always faster.'
They followed up with an impressive 2-0 victory at Manchester City, previously third in the table though ten points behind United. The goals came from Clarke and Charlton, while Manchester City manager Joe Mercer complained, 'Gary Sprake dropped more balls than Colin Cowdrey and got away with it.'
During the week that followed, it was revealed that reserve goalkeeper David Harvey had been placed on the transfer list at his own request. Don Revie: 'I have done everything in my power to keep David here but he has obviously reached the stage when he wants regular first-team football.' Harvey had been at Elland Road since 1965 but had always been second choice to Gary Sprake, making less than 50 first-team appearances in that time. Revie promised that Harvey would not leave until a replacement had been signed.
Leeds hosted Liverpool on 6 February and gave young Chris Galvin a first start of the season at No 11, with Paul Madeley deputising at centre-half for Jack Charlton. During the win at City, the defender had sustained further damage to a nose broken during the Rotherham games. Bremner was still missing with an injured ankle.
Liverpool were in the midst of rebuilding with manager Bill Shankly bringing through youth at the expense of the old stagers who had served him so well in the Sixties. By their standards they were having an average season, sitting in eighth position and already beaten on five occasions. But they could usually be relied on to raise their game for the big matches.
The Reds enjoyed early fortune when referee Clive Thomas missed Phil Boersma handling the ball as he began the move which led to Liverpool's second minute goal. Sprake fumbled Boersma's shot, though he argued he was hindered by Paul Reaney. Liverpool's £110,000 signing from Cardiff, John Toshack, accepted the gift and shot in off Hunter.
The visitors then set up the sort of defence in depth that had always been United's trademark and, coupled with some refereeing that had the home fans complaining of favouritism, they denied Leeds all but the faintest chinks of light.
Madeley did get the ball past goalkeeper Ray Clemence after 48 minutes, but the effort was disallowed for a petulant foul by Clarke on Tommy Smith. Liverpool were always dangerous on the break: Steve Heighway hit the woodwork with one shot and then saw another beat Sprake only to be cleared off the line by Terry Yorath, a second half substitute for Galvin.
Barry Foster of the I blamed the defeat on the absence of Madeley in midfield: '"You cannot expect to recover after a quick goal against a side like that, especially without Big Jack and Bremner,£ said the disappointed Leeds United supporter as the 48,000 crowd left Elland Road in Saturday. There may be something in that. Leeds could have done with both their injured half-backs ... Without Charlton, Leeds had Madeley at centre-half and so lost the strength and calmness of this versatile player in midfield. Just how important he has been in the three pronged partnership with Giles and Bates in the past few weeks was laid bare for all to see when he was no longer there.'
For the fans, the focus lay on Sprake's error, as reported by Don Warters for the Yorkshire Evening Post: 'Don Revie - although disappointed as anyone at the latest setback in the League title race - is more concerned with the actions of some of United's so-called fans for the treatment they gave Gary Sprake during Saturday's match. Sprake, blamed over the weekend for United's 1-0 defeat by Liverpool after losing the ball when Reaney ran into him ... is still tops for Mr Revie.'
Whatever the level of support he offered publicly, Revie had private doubts about his goalkeeper, who had cost United a point when spilling an easy catch at Crystal Palace in November. However, the manager opted for a very public show of faith, naming him again for what looked to be a straightforward FA Cup fifth round tie at Fourth Division Colchester.
It turned out to be one of the blackest days in United's history, as they tumbled out in one of the tournament's greatest ever upsets.
Veteran former England striker Ray Crawford scored twice and Dave Simmons added a third before United got their game together sufficiently to threaten a comeback with goals from Hunter and Giles, but they could not conjure up an equaliser.
Revie said after the game, "Our job, starting with normal training today,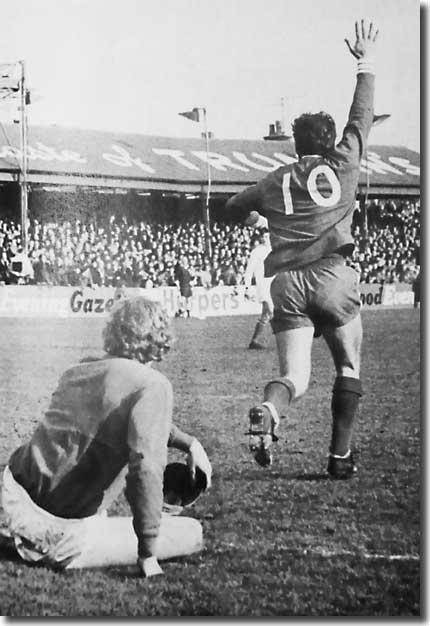 is to pick ourselves up and win the League and the Fairs Cup. I am not holding an inquest today. That will come later in the week, when we are analysing Wolves before we play them here on Saturday ... I am trying to restore normality and I am quite sure my players are able to achieve it."
Inside, Revie was absolutely fuming. His team still had a three point lead over Arsenal in the League, but they had thrown away a great chance in the Cup and the home defeats to Tottenham and Liverpool rankled sorely. The manager was insistent that the players should put matters right a week later when they hosted Wolves. Gary Sprake was a notable absentee, with rumours that he had been dropped, though it was later revealed that he had badly gashed his hand during some competitive training sessions during the week.
The injury allowed Revie to give David Harvey an opportunity, hoping that the move might lead to the keeper changing his mind about leaving Elland Road.
Geoffrey Green reported the Wolves match for The Times: 'In the end it was easy enough; a 3-0 victory in the bag. But for over an hour on Saturday there was an edgy, uncomfortable look about Leeds United as they strained to rehabilitate themselves in their own eyes and in those of a 37,000 crowd at Elland Road, which braved grey squalls of rain hurrying over the Pennines. At that point on the clock there was only the slender difference of a neatly headed early goal by Clarke between themselves and Wolverhampton Wanderers, who had pushed themselves up the League into fourth position. News from afar, too, had it that Arsenal, breathing down their necks in the race for the championship, were already three up at Highbury.
'Perhaps it was just imagination. But what with this and other things, Leeds, for a long time, seemed to be cocking an apprehensive ear as if still catching the painful echoes of some distant drumbeat from Colchester's garrison.
'But, as I say, finally it was all right. With 25 minutes to go Cooper at last put Madeley through for a fine second goal and almost at once Giles wrapped it up from the penalty spot with a third, after Shaw had hooked up the aggressive Cooper and got his name taken into the bargain. Leeds took a comforting deep breath and in the dying moments almost doubled their score with an obvious relish. Remarkable to say these were Leeds' first points at home since the New Year.
'Yet I doubt if they will recover their eminent peak until the return of the injured Bremner in midfield and Gray to the left flank of attack. This is no disparagement of their understudies and of Bates in particular, who with Madeley, that efficient all rounder, was now always at little Giles' shoulder helping to carry the battle to an uncompromising foe. Bremner, however, possesses the special quality necessary to Leeds in general and to Giles in particular - a certain empathy that has grown with the seasons. Without him Giles - for all his astute switching of the point of approach and the long crossfield pass to Cooper, which now brought width to attack - at present resembles a man who has lost an arm.
'Gray, too, his broken ankle just out of plaster and crutches at last put aside, is needed once more for his ability to penetrate the opposition with close dribbling.
'The Arsenal chairman, Mr Denis Hill-Wood, has recently said that Leeds "are creaking like a rusty gate", but for seven years now the Yorkshire club have been in at the finish of one competition or another and they will be so again this spring. Leeds have now started their run in over the last third of the League fixtures and at a pinch could surpass their own record total of 67 points achieved in 1969. It will take some doing, but with Arsenal yet to visit Elland Road ... Leeds, as front-runners, should still be able to dictate the pace over the final stages.'
Bremner was back for Tuesday evening's match at struggling Ipswich, but only lasted 25 minutes of his first game in six. He suffered a calf injury in a second minute tangle with Allan Clarke's older brother Frank. By the time the Scot had been withdrawn to be replaced by Rod Belfitt, Ipswich were already 2-0 ahead and troubling Leeds. According to David Lacey in The Guardian, United 'appeared to have no answer to the forward dashes of Woods, the purpose of Viljoen, and the continuous probing of their flanks by Mills and Robertson, whose corners led to each of Ipswich's goals'.
The first came in the fourth minute when Jack Charlton couldn't control a bouncing ball and mistimed his clearance. Mick Hill rose above Charlton to nod home the corner. After 25 minutes, Harvey failed to gather Robertson's flag kick and Viljoen fired it low through a forest of legs and into the net. Clarke pulled back a goal just before the half hour, slipping the ball past keeper Sivell. Even this early, it seemed mere consolation and Leeds went in at the break still behind.
After the resumption they were a changed team: with just two minutes gone Lorimer equalised after a Jones ball across the face of goal; another four minutes and Clarke ghosted past the defence down the left to beat Sivell's despairing attempt at a save; and then in the 64th minute Leeds were two goals clear when Giles converted a penalty awarded when Hammond pulled back Belfitt. It was a breathtaking revival.
Again, there was speculation that the early problems had been down to Madeley's absence from midfield, this time covering for Reaney, missing with a bruised toe, but United proved in the second period they could cope without him at their heart.
A Lorimer goal was enough to secure victory at Coventry on Friday, 26 February, and take United seven points clear of Arsenal, though the Gunners now had three games in hand. They squandered one of those opportunities the next day, losing 2-0 at Derby. Don Revie would only say, tight lipped, 'No forecasts. I'll believe we've won the championship only when I see Billy Bremner get his hands on the trophy ... We shall continue to take each game as it comes and try to forget all about Arsenal.'
United's squad was struck by a flu outbreak during the following week with seven players (Madeley, Lorimer, Bates, Hunter, Hibbitt, Davey and Galvin) suffering and three others, Bremner, Gray and Cooper, injured. The club attempted to get their match with Derby County postponed. The League rejected the application and United were forced to play, with Davey, Bates, Madeley, Lorimer and Hunter in the side, though Clarke was missing.
It was a tight game, with no score until the final 15 minutes, when Jones set Lorimer up in the box. The Scot evaded a crashing tackle from Dave Mackay to beat goalkeeper Colin Boulton and settle the contest.
European action resumed on 10 March with Portugal's Vitoria Setubal visiting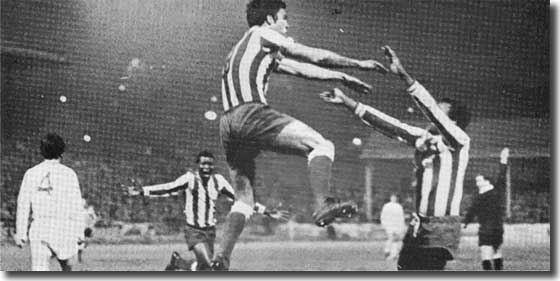 Elland Road. David Harvey kept the goalkeeper's jersey, despite the availability of Gary Sprake, who was named among the substitutes, along with young Scottish striker Joe Jordan. Cooper, Bremner, Clarke and Gray were all unavailable.
The game started with a shock, as Baptista scored for Setubal within 90 seconds, diving horizontally to head home powerfully from a low cross by Guerriro.
United recovered to take control of the game, though it was a tight and competitive affair with 19 free kicks awarded in the first half hour. Leeds did most of the attacking but found the agile and spectacular Torres in Setubal's goal a formidable barrier to their intentions.
They did manage two goals, both coming from dead balls. After 19 minutes, they were awarded a free kick for a foul on Jones. Lorimer equalised with his fourth goal in as many games, firing in a power drive from 20 yards that Torres had no chance of stopping.
The free kick had been hotly disputed, but the protests were as nothing to those which followed the award of a penalty with 15 minutes remaining.
East German referee Gunter Mannig decided that Cardono had handled the ball, but he was swiftly set upon by a mob of furious Setubal players, berating him and waving their arms about excitedly. He raced away with the horde at his heels and the Portuguese management fiercely protesting from the sidelines. Mannig disappeared from view under the masses for about three minutes. Phil Brown in the Evening Post: 'The referee was so surrounded and so badgered he forcibly broke to the edge of the box. He was besieged there, too, so he broke for the penalty spot, again hunted in what resembled a conga-style chase, and took his stance there till Giles got ready for the kick, all amid uproar round the ground.'
Order was restored when police moved in to restrain the anger in the trainers' box, but that didn't prevent the home supporters bombarding the Portuguese with missiles.
When play was restarted, Giles shot home calmly from the spot, though Torres got his hand to the ball.
Phil Brown in the Evening Post: 'United were up against one of Europe's best goalkeepers in Torres, who was in simply superb form behind his well-drilled defence. He was a one man wall in himself - with the hallmark of a class player he made difficult saves look easy. As Don Revie said: 'He was as good as Sprake in Budapest and at Liege.' I think only Giles of all the penalty kings in Europe could have beaten him from the spot, and even he only just got the ball home for Torres had read his run up and just missed saving with an electrically fast dive for a six footer to the foot of his right hand post.'
As if exhausted by the excitement, United dropped a point on 13 March after allowing relegation-haunted Blackpool to take a first half lead at Bloomfield Road. Lorimer equalised in the first minute of the second period though the Seasiders protested that he had been offside. Referee Jim Finney decided a defender had played the Scot onside. The decision went the other way when Clarke's goal in injury time was chalked off for offside against him.
Arsenal had narrowed the gap at the top to six points by winning 2-0 at Crystal Palace and on the journey back to Leeds, Don Revie sought to lift spirits by giving the players a glass of champagne each to celebrate his ten years in charge at Elland Road. There was more bad news, however, with the revelation that Billy Bremner's injury, which had been thought to be a calf muscle, was actually a hairline fracture of the left leg.
Revie: 'It will mean Billy being out of action a little longer than we originally thought, but I'm certain he will be back to lead the side in the final run in. I admit it has been worrying having to do without a player of his class for so long this year. I want to emphasise that it is a very, very slight hairline fracture. It is not a broken leg and all being well Billy will be able to play again a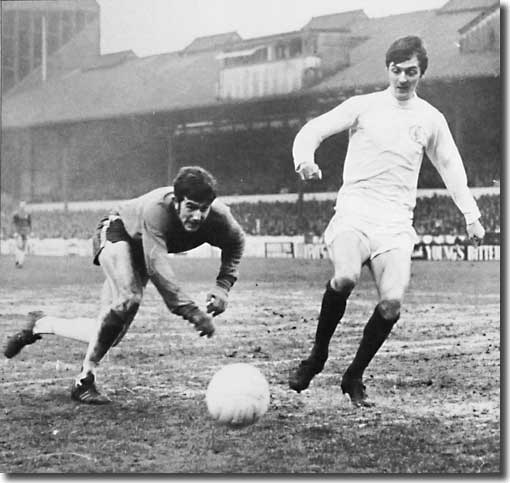 week on Saturday.'
That was over-optimistic and Bremner and Eddie Gray would both be missing for another four weeks.
The top two's fixtures were reversed the following weekend, with Leeds hosting Palace and Arsenal at home to Blackpool. United once more had to come from behind to win 2-1 with efforts from Giles and Lorimer (his sixth straight scoring game), while the Gunners beat Blackpool by a single goal.
Midweek brought a trip to the sun with the decisive second leg against Setubal. United gave a satisfactory performance in what was expected to be a difficult match after the passion of the first leg.
They weathered an early storm when Paul Reaney headed a cross against his own woodwork, but came back impressively. Jones shot against an upright in the sixth minute and Leeds settled into some composed football before deservedly taking the lead after 17 minutes when Lorimer was on the mark again, putting the ball between the keeper's legs with a soft effort. It was the seventh successive match in which he had scored. Clarke struck the crossbar and Charlton had a shot cleared off the line before Jones had a goal disallowed for offside as United played a classic counter attacking game.
The second half began with pressure on the United goal. Harvey was bundled over his line with the ball by two opponents. The referee rightly disallowed the goal and took the name of Baptista.
In the closing minutes Hunter cleared off the line and then Harvey was carried off with damaged knee ligaments. Sprake's first task after coming on to replace the keeper was to pick the ball out of the net from Baptista's header. Later he was to make an excellent save from the same player to secure the draw Leeds needed to progress into the last four.
Their return to the UK brought only a disappointing 3-1 defeat at Chelsea on 27 March. The Whites remained six points clear of Arsenal, who drew with Stoke City in the FA Cup semi final, but the Gunners had three matches in hand.
United came back with a strong performance in the next game and Allan Clarke grabbed all four goals in a 4-0 defeat of Burnley. Arsenal beat Chelsea 2-0 the same day and the following Tuesday saw off Coventry by a single goal.
A week later Leeds came back from a goal down at Newcastle to earn a 1-1 draw with a Lorimer goal direct from a corner. Arsenal's 2-1 victory at Southampton brought the lead down to a mere three points and the Gunners still had two games in hand.
Two days later, on Easter Monday, Leeds dropped another point when drawing 0-0 at Huddersfield. The Times: 'Leeds United failed to find their best football touches in their own back yard last night ... Only fitfully did the maestro Giles weave his patterns. To United's credit, however, they did not panic when they lost their incisive right winger Lorimer within eight minutes of the start. The Scot went down after a strong challenge from Hutt, the Huddersfield left-back, with a finality that ensured the early committal of Belfitt, the Leeds substitute, to the fray. Lorimer may miss the remainder of his club's games this season. He was withdrawn early in the first half with a pulled hamstring. The injury is considered serious.'
Arsenal duly narrowed the gap to two points the following day by winning 3-0 at Nottingham Forest.
The momentum was clearly with the Gunners. Geoffrey Green in The Times: 'Easter, invariably, has a sting in its tail. So it proved again as Arsenal, completing their second successive away victory of the holiday, moved remorselessly close the heels of Leeds United in their bid for the League and Cup double. Two goals in the opening half by the 19-year-old Kennedy and another later by George clinched another efficient performance with a 3-0 win on the Nottingham Forest ground. Arsenal are only two points behind Leeds with two games in hand and a superior goal average. Everything, it might seem, hangs on the meeting of these two sides at Elland Road on 26 April. Arsenal, perhaps rightly, can say that they are in a position to lose that and take the title providing they keep pace with Leeds in all the remaining matches.'
When United visited Anfield to meet Liverpool in the first leg of their Fairs Cup semi final pairing on 14 April, Don Revie was able to recall his talisman, skipper Billy Bremner. The Scot did the trick with a second half header to settle a tense affair and give Leeds a massive advantage.
The Yorkshiremen's game with West Bromwich Albion at Elland Road on 17 April seemed a formality, but a perverse refereeing decision by Ray Tinkler contributed to Albion's controversial 2-1 victory. He waved play on with Colin Suggett miles offside and Tony Brown took the ball on to set up a goal for Jeff Astle. With Arsenal beating Newcastle at Highbury by a single goal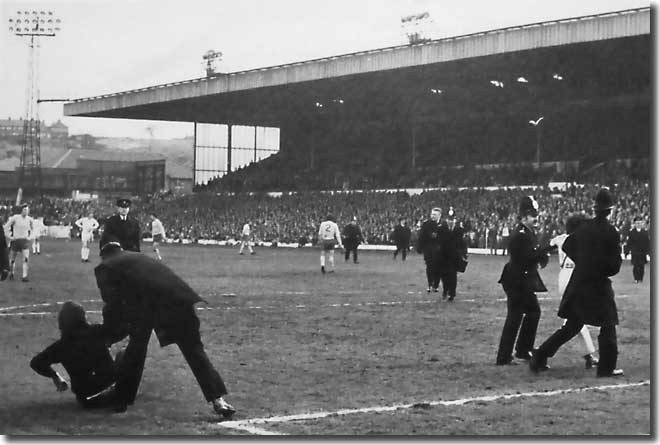 from Charlie George, the Gunners now topped the table on goal average and had played two games less than Leeds.
Don Revie was furious with Tinkler's performance, saying, 'I have never felt so sick in all my life in football,' but promised that, 'We shall keep fighting to the last gasp.'
Arsenal continued to prosper with a single goal victory at home to Burnley on 20 April, but they could only draw 2-2 at Albion the following Saturday, giving United the chance to close the gap to a single point by winning 3-0 at Southampton.
Geoffrey Green in The Times: 'Here was a rounded, thoroughly polished performance by Leeds, more impressive and inventive than when Arsenal beat Southampton 2-1 on the same tight little ground a fortnight ago. With Bremner and Gray back in the Yorkshire ranks the feeling grew that Leeds ... may still find a final freshening breeze to get them to port while Arsenal, sensing the various thorny pressures, may begin to lose some of their powerful impetus.
'The final arbiter may be those damned dots of goal average. Which made it all the more puzzling that Leeds did not press more hungrily for goals over the last stages on Saturday. With Southampton dangling from a rope Bremner, Giles and company seemed content to play possession football in their own waltz time while what they needed was to put the ball firmly in the net. Only a couple of minutes remained when Jones completed the scoring with his own second and his side's third goal - a shot that may prove of considerable value.
'Those were the first ;eague goals scored by Jones since October and they could scarcely have come at a better moment; on his 26th birthday. Had Clarke's finishing been sharper before he retired with a strain ten minutes from the end Leeds would have smiled even more broadly than when luck opened the gates for them on the stroke of half-time.
'As Clarke mishit a soft shot past Martin, after a move between Cooper and Gray down the left, there was Hollywood, with instinctive covering, to save inside the far post. But in trying to flick the ball to his surprised goalkeeper he turned it gently and tragically over his own line. He resembled the guardsman who dropped his rifle on parade.
'Until then a fine fluid battle had stood delicately poised. In a trice it was over. Within three minutes the elusive Gray destroyed Kirkup with footwork and body swerve, pushed the ball into the left byline, and Jones hit the target from close range. Within seconds came the interval and the news that Arsenal were 1-1.
'Here for a blessed change was a game of wingers : 4-2-4 matching 4-2-4 as the flanks were used freely. Gray left his indelible mark by opening up the wing again like a corkscrew to present Jones with a final goal and make it clear how much Leeds have been missing him since December.'
Now, United had the perfect opportunity to halt the Gunners' seemingly irresistible charge to the title. They hosted their rivals the following Monday in a vital clash: if Leeds lost, Arsenal would be home and dry, three points clear and uncatchable. A draw would take them almost there so victory was essential for United.
It was every bit as tight and tense an occasion as the circumstances suggested and the two gallant sides were locked in stalemate for almost the entire evening.
In the closing minutes, though, Charlton forced home the ball. The Arsenal players protested long and hard that he had been offside, but to no avail. For once, United had the luck and referee Burtenshaw was every bit as unequivocal as Tinkler had been the week before.
United had beaten their fierce rivals to move a point clear. They would still need to rely on Arsenal dropping points, as they had a game in hand, but they had at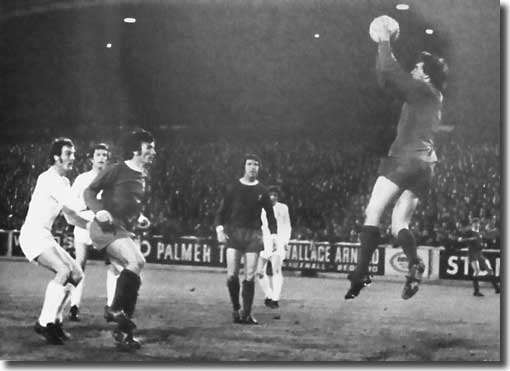 least given themselves a decent shout of success when all seemed lost.
But that would have to wait a few days, for first Leeds had the challenge of finishing off the job they had started against Liverpool in the Fairs Cup.
The second leg of the semi-final came at Elland Road just two days after the Arsenal match, but Don Revie nominated the same starting eleven, confident they could protect the single goal advantage given them by Bremner.
There were to be no heroics this time as the Whites opted for safety first tactics. Don Warters in the Yorkshire Evening Post: 'A crowd of 40,462 gave United a tremendous reception when they took the field only 48 hours after that outstanding effort against Arsenal ... and the players responded with another of their great team efforts, every man playing his part to the full. Against Liverpool's freshness ... it was understandable that United wanted to avoid a hammer and tongs battle and they paced the game, particularly in the first 45 minutes, to their liking.
'United's vast experience ... again served them well, although I found Liverpool's first half tactics surprising. They operated basically a 4-4-2 formation, with Heighway and Toshack their trump cards up front, when they might have been expected to concentrate on attack. But to be fair to Liverpool, United played exceptionally well, and their defence was as solid looking as it has been all season. Gary Sprake illustrated once again that the difficult days of not so long ago are behind him, performing admirably in United's goal. He dealt competently with Liverpool's three efforts of note in the first half. Two were from Heighway, and one of them Sprake fingertipped behind to make the best save of the night, although Glasgow referee Tiny Tom Wharton robbed him of some of the glory by giving a goal kick.
'At the other end, Mick Jones almost increased United's lead in the 26th minute with a powerful and well-placed header. Clemence pushed the ball up on to the crossbar and was thankful to see it hooked away by Hughes.
'With Allan Clarke and Mick Jones, who both got leg injuries, absent in the second half, Clarke for the whole of it and Jones for all but eight minutes of it, Paul Reaney and Joe Jordan came on as Liverpool began to pile on the pressure. But Leeds fell back and soaked up what Liverpool threw at them. With Charlton a commanding figure and Hunter, Cooper, Madeley and Bates supporting him to the full, Leeds were on their way to the final long before the end.'
Leeds closed their League campaign with a 2-0 victory at home to Nottingham Forest thanks to goals from Bremner and Lorimer. They should have had a bagful and that would have considerably helped their goal average, but as it was their fourth game in eight working days, few could wonder that they did not push on too forcefully.
Arsenal matched them point for point with a single goal victory at home to Stoke City and the die was now cast - the Gunners were a point behind, but had one game remaining, two days later away to North London rivals Tottenham. A win or a goalless draw would be enough for them to secure the title. A Spurs victory or a draw by any other scoreline would see the championship in Yorkshire hands.
It was a tense affair at White Hart Lane with Tottenham keen to block their neighbours' progress. For most of the night, despite all of Arsenal's fierce attacking passion, it seemed that the match would end in a barren stalemate, but with two minutes left Ray Kennedy rose to head the ball past goalkeeper Pat Jennings and settle the affair - Arsenal were champions.
United received the news in Hull where they were playing a testimonial match for the Tigers' Chris Chilton and could only bemoan what might have been. Don Revie graciously despatched telegrams of congratulation, saying with sad resignation, 'We are naturally disappointed having scored 64 points. We have not lost the title, they have won it. They are true champions and that is what I have said in the telegram. It would be all too easy to sit down and weep, but that would not alter anything at all. We have simply got to start again. We still have the European Fairs Cup final and after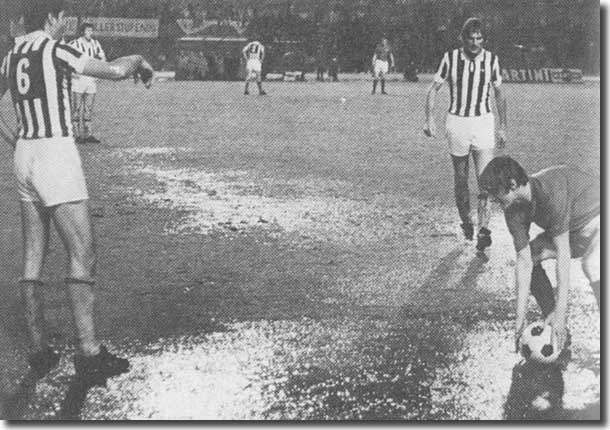 that it won't be long before we are preparing for another season. Any team that wins nine out of its last eleven matches at a time when the FA Cup final was on their minds are true champions.'
It was to be almost a month before United were back in action, in their attempt to beat Juventus and win the Fairs Cup; a number of players kept their hands in with duty for their countries in the Home Internationals. Madeley (making a long-awaited England debut), Cooper, Clarke, Bremner, Gray, Lorimer, Sprake and Yorath were the men in question.
The United party flew out to Turin for the first leg of the Fairs final in the last week of May knowing that whoever won the trophy in its final staging before it was replaced by the UEFA Cup, would get the opportunity to play the first winners, Barcelona, in a match to decide permanent ownership.
The first attempt to play the match, on Wednesday 26 May, was ruined by heavy rain rendering the pitch unplayable, though they got to half time before the match was abandoned.
It looked as if the terrible weather might lead to both legs being played in Leeds, but eventually the skies cleared and the match was restaged at the Stadio Communale on the Friday evening.
Juventus twice took the lead before being pegged back, first by a goal from Paul Madeley and then by one from the unsung Mick Bates, who had enjoyed a memorable campaign, his best yet in the colours of United.
The 2-2 draw gave Leeds a clear advantage for the second leg at Elland Road a week later, though the Italians had shown themselves to be an outstanding team.
Allan Clarke gave Leeds an early lead with a sharp piece of finishing, but Pietro Anastasi soon brought Juve level.
United were cagey thereafter, comfortable in the knowledge that if the score remained as it was they would secure the trophy on the away goals rule. The Italians were also cautious and there were no more goals.
One could feel sympathy for Juventus, who went through the entire competition undefeated, but few people would begrudge United their moment of glory after years of near misses and two seasons without a major trophy. They fully deserved their success, sustaining their remarkable record of consistency in the competition.
They had played 54 Fairs Cup matches over six years and five attempts on the trophy; they had won it twice, been beaten finalists once and lost in the semi final on another occasion.
Rob Bagchi and Paul Rogerson in The Unforgiven: 'This second Fairs Cup was Leeds' fourth trophy in four seasons. They became the first and only British team to win the trophy twice. It was a commendable record, but still the air of disappointment lingered. While the victory was celebrated, expectations had grown considerably and it seemed scant reward for everyone's efforts over the last two seasons. Now almost all the players agree that they should have won more. They always worked diligently to ensure that the club was unfailingly in pole position each spring, but more often than not they fell short of the target Revie set them at the start of each campaign. The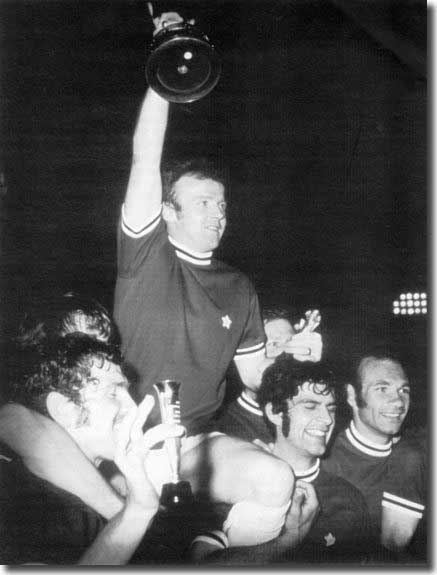 European Cup was Revie's ultimate goal, and to win it they had first to qualify, which meant securing a second League title. Anything else would be gratefully received but it would still be second best. Of course, after two unsuccessful final appearances, the FA Cup still tantalised the whole club, but coming second again in the championship race remained the bigger blow to Revie's ambitions. He knew his team's appetite had not diminished and was convinced that their dreadful luck with Tinkler's perverse performance was the main reason why his dream had imploded. Next season, he resolved, would be different. Next season they would not allow themselves to become hostages to the arbitrary rulings of a willful referee. If Arsenal could win the double, he calculated, then so could Leeds.'
Part 1 - Off like a train - Part 2 - The Jack Charlton affair - Results and table
Other Football Highlights from 1970/71
The times were a-changing for many of the players who had graced football for the last decade. Sir Alf Ramsey left out the Charlton brothers and Gordon Banks from his England squad when beating East Germany 3-1 in November. Banks returned later, but it was the end for the Charltons. Two other England stars decided to retire, the former captain, Blackpool full-ack Jimmy Armfield and Jimmy Greaves, who became only the fourth person to score more than 350 goals in the league
Ted Macdougall scored 49 goals in the season for Bournemouth, with six coming in an FA Cup first round replay against Oxford City
Trevor Francis was a new star. The 16-year-old was in his first season at Birmingham and hit 12 goals in 8 league matches
Arsenal became the second club this century to win the league and Cup Double
Bobby Moore's thunderous clearance for West Ham on 14 November scored a direct hit on the referee and knocked him out. Moore promptly took the referee's' whistle and blew it to stop the game
Chelsea became the third London side and England's fourth to win the Cup Winners' Cup when they beat Real Madrid 2-1 in Athens on 19 May
The worst sporting disaster in Britain cast a pall over the New Year's celebrations in Scotland. 80,000 were at Ibrox to witness the traditional Old Firm match between Celtic and Rangers. Celtic were winning 1-0 with a few minutes remaining and spectators were starting to leave. Colin Stein scored a late equaliser and the departing fans rushed back to watch, leading to a barrier collapse and 66 deaths
Goalkeeper Peter Bonetti made his 500th appearance for Chelsea on 23 January
Derek Dougan, the Wolves striker, was elected chairman of the PFA
For a sixth successive season Celtic won the Scottish league. They also won the Scottish Cup, but lost 1-0 against Rangers in the League Cup final
Johnny Haynes joined the South African club Durban City after spending almost 20 years with Fulham