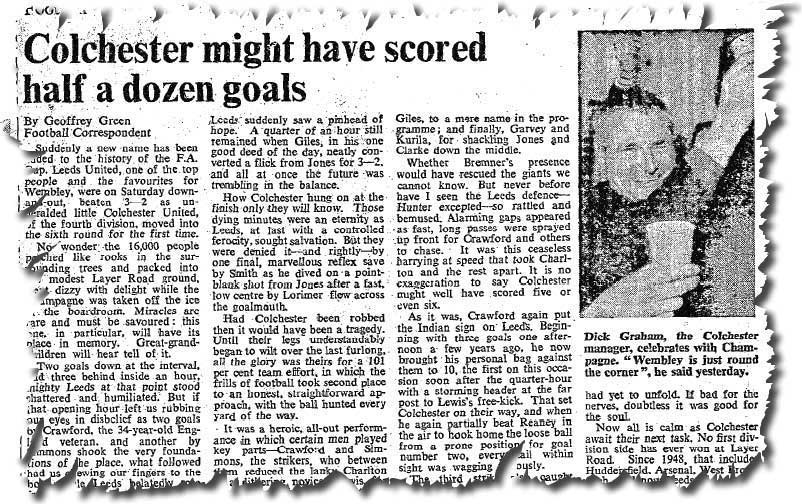 Ray Crawford earned his status as one of the Football League's greatest ever goalscorers with his deadly penalty area poaching in the early 1960s. However, his page in the annals of the game owes more to a display in a single FA Cup-tie one bleak Saturday afternoon in the evening of his career, when he sparked one of the greatest upsets in the history of the competition.
Born 13 July 1936 in Portsmouth, the son of a professional boxer, Crawford joined his hometown club as a trainee in 1954. His first team breakthrough was delayed by a spell of National Service in Malaya, whence he earned his nickname of 'The Jungle Boy'. It was the start of the 1957/58 season before Crawford finally earned hislLeague debut, but he made up for lost time by scoring nine goals in 19 games that campaign. His contribution helped Portsmouth avoid relegation from the First Division by virtue only of a superior goal average to that of Sunderland.
For Crawford, though, the immediate future lay in the lower division.
Former Spurs and England full-back Alf Ramsey was appointed manager of struggling Ipswich Town in 1955 following their relegation to the Third Division (South) and he arrested their slide, leading them to the divisional championship in 1957.
Ramsey earmarked Crawford as the man to help Town cement their Second Division status and he obliged with 25 goals in 1958/59. Fellow striker Ted Phillips missed most of that season through injury, but when the duo came together as a regular pairing in 1959/60 they netted 42 goals between them. Town went on to secure the Second Division championship in 1961 - Crawford's 40 goals and 30 from Phillips represented the lion's share of the exact century of League goals notched by the Tractor Boys.
Most critics confidently predicted that Ipswich would struggle in the top flight but they took the division by storm. They ended the season as surprise champions, with Crawford netting 33 times and Phillips chipping in with 28. That level of productivity earned Crawford two full England caps. He scored once, but was never given the chance to add to his meagre collection, though he did win Football League representative honours.
He contributed another 33 league goals in 1962/63, topping that off with five in Town's European Cup debut, a 10-0 victory over Floriana of Malta. However, by the beginning of the following campaign, both Ramsey and Crawford had departed Suffolk, the manager to coach the national team and the forward signing for Wolves. He had scored 143 goals in 197 games for Town.
Crawford made 61 appearances for Wanderers over the next couple of years, amassing 41 goals in the process, before moving on to Black Country rivals West Bromwich Albion in January 1965. He was at the Hawthorns for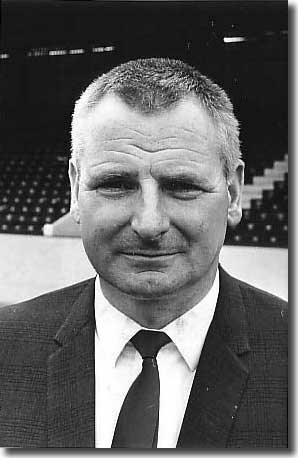 just over a season and then returned to Ipswich.
He remained at Portman Road for three more years, lifting his overall goal tally for the club to a record 259. In March 1969 he joined Second Division Charlton Athletic and then dropped into the Southern League for a period at Kettering Town.
Crawford was now 34, and it was widely anticipated that he would eke out his playing days in obscurity, but Dick Graham, manager of Fourth Division Colchester United, had other ideas. He gave the veteran striker the chance for a final hurrah, snapping him up in a £3,000 deal in June 1970.
Graham was a football man through and through. His playing days as a goalkeeper were spent in relative obscurity with Northampton Town, Leicester City and Crystal Palace, though he went on to serve as a trainer at West Bromwich Albion throughout the 1950s. He cut his managerial teeth at Crystal Palace in the early 60s, before brief spells at Leyton Orient and Walsall and a sojourn in Greek football. He took over at Colchester in 1968 when Neil Franklin was sacked following the club's relegation from Division Three. Colchester finished sixth at the end of the new man's first season at the helm.
Graham had a predilection for experienced players and it was not for nothing that Colchester were dubbed 'Grandad's Army'. Crawford was 35, but three of his new colleagues were even older, while more than half of the side would never see 30 again. Graham knew what he was doing, however, and his collection of veterans spent the season pushing hard in the upper reaches of the table. However, thoughts of promotion were temporarily shelved as Colchester unexpectedly reached the fifth round of the FA Cup. Their run had started with a 5-0 victory against non-League Ringmer in the first round, which owed much to a hat trick by Crawford. In the fourth round against Rochdale, Colchester were 3-1 down with five minutes to go before securing the draw and going through after a replay. That earned them a plum tie, at home to mighty Leeds United, then top of the league and hot favourites to win the Cup.
The Times: 'Graham has never had a free hand and a deep purse. His greatest value lies in his ability to make a little available talent go a long way. The most he ever paid for a player was £20,000 and most of them cost less than £7,000 or were on free transfer. His policy has always been to obtain players he knows, which is why so many have rejoined him whenever he has moved. He has rarely had petty cash to speculate on players and the hard facts of football life in the lower divisions have convinced him that the right player for the right task is the realistic approach.
'There are other familiar names at the small Layer Road ground. Bobby Cram was with Graham when he was assisting Vic Buckingham at West Bromwich Albion. Cram was brought back from Vancouver after playing in the American League and now lives next door to the Colchester ground. John Gilchrist served Millwall well; Brian Garvey was with Watford. But Colchester's forward line was ripped open earlier this season when Massey and Owen were injured. Graham spent £10,000 on urgent repairs, buying Brian Lewis from Oxford United, and Dave Simmons of Aston Villa, both of whom played important roles in the 5-0 win over Rochdale in the fourth round. Lewis was with Graham at Crystal Palace.'
Graham had been a team mate of Leeds manager Don Revie's when the two were players at Leicester City in the post war years. They had lined up against each other as opposing managers in the Cup once before, back in 1965, when it was Palace who sought to spring a shock. Then, Graham had tried a number of psychological tricks: in those days, the number on a player's shirt was a fair indication of where he was going to play, but on this occasion Graham mixed up the numbers in the hope of gaining a temporary advantage by leaving Leeds uncertain as to who was playing in which position. Graham also directed his men to rough up United, a team then renowned themselves for mastery of such tactics. The move backfired badly and Palace were soundly beaten.
At the time of the Colchester contest, Leeds were carrying all before them in the race for the championship, and few people doubted that Colchester would be easily disposed of. 'Indeed,' according to Jason Tomas, 'they were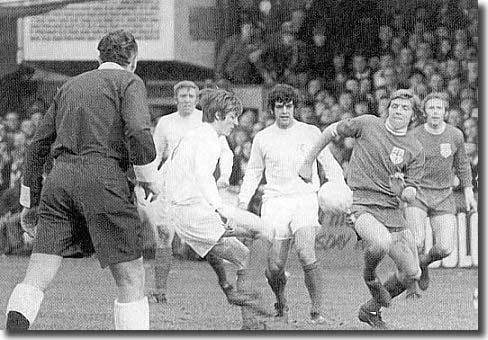 given so little chance of victory that there was talk of switching the tie to Elland Road, where the Essex club would, at least, be guaranteed a reasonable financial reward.'
Privately, though, as Andrew Mourant wrote, 'Revie had professed some unease, and his disquiet had a habit of being transmitted to players. Whereas Leeds United's expedition to Sutton the previous season had had the air of a state visit, Fourth Division Colchester turned out to be startlingly disrespectful.'
The minnows were brimming over with confidence: Ray Crawford boasted that he always played well against Jack Charlton. In a newspaper article during the week he described the big centre-half as his 'Rabbit's Foot'.
The striker remarked in later years: 'We were fit and well prepared, and on our tight pitch, we had a chance. I don't think the Leeds players were mentally up for it ... Dick Graham was really clever. He knew Leeds liked to play on wide open spaces and he made our tight pitch feel smaller by placing chairs and benches round the edges! ... Graham reckoned Gary Sprake was vulnerable coming for crosses and basically that's what we tried to exploit.'
Sprake was pilloried after United's defeat at home to Liverpool the previous weekend, with fans and reporters widely blaming him for the goal that won the game for the Reds. He spilled Phil Boersma's shot as he collided with Paul Reaney, allowing John Toshack to score.
Don Revie defended Sprake stoutly in public after the game, saying, 'He's still the best for me in spite of what our crowd may feel ... The sort of treatment Gary came in for from some of our spectators on Saturday was sickening.'
According to Terry Yorath in his autobiography, however, away from the public's gaze, Revie was critical: 'He looked at Sprakey, who wasn't in the best of form, and said, "Gary, this is your last chance!" Now I don't know if this was meant to gee up Sprakey, but if it was, it didn't work.'
Leeds had to face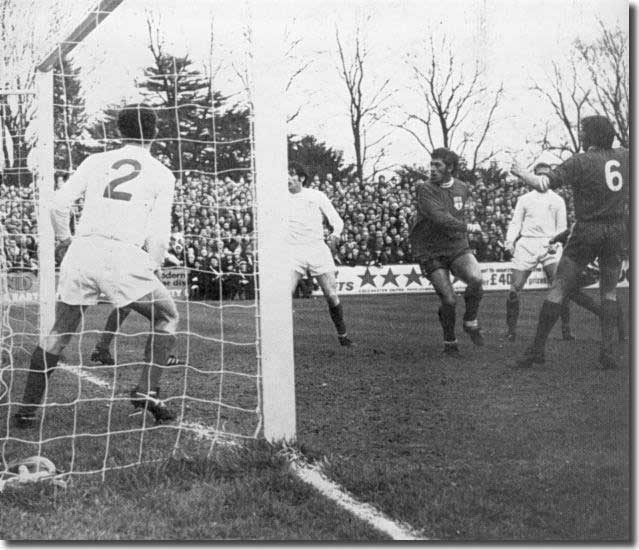 Colchester without skipper Billy Bremner and Eddie Gray, both injured; Mick Bates and the versatile Paul Madeley continued at No's 4 and 11, while centre-half Jack Charlton returned after a fortnight out with a broken nose.
Striker Allan Clarke was also passed fit to play, despite having a temperature of 106 overnight. Reserve striker Rod Belfitt was rushed down by taxi from Leeds on the morning of the game as a precaution, though it was Yorath who was named as substitute.
Clarke: 'I shouldn't have travelled. At the hotel I went straight to bed; I had no strength at all. The gaffer sent for a doctor and I was given an injection, which knocked me out until Saturday morning. When I woke up I did feel better but my ribs were really painful whenever I breathed in ... I wasn't right but when the gaffer wanted you to play, you did, and we all played through the pain barrier many times. How I got through the match I'm not sure ... On the way back I still wasn't feeling too good before the gaffer told me I'd done really well because I had pleurisy. I was stunned, but I still played the following week.'
The game started in scrappy fashion, with neither team taking any risks, though Leeds tried to adopt their normal cultured game. Colchester refused to allow them to settle and there were a number of physical clashes in the opening minutes: in the fourth minute, Bates needed attention from trainer Les Cocker after getting a knock on the head; two minutes later Norman Hunter tangled angrily with Dave Simmons after the pair went for an aerial ball; then Sprake was taken out in the box as he caught a lofted free kick from Colchester skipper Bobby Cram.
Amidst all the chaos, Clarke should have given the visitors the lead. For a man under the weather, he was showing some decent early touches, but he uncharacteristically missed a chance from the heart of the penalty area.
Colchester refused to be overawed and fashioned some openings of their own. After eleven minutes, Brian Lewis and Mick Mahon combined in a neat passing move to cut through the Leeds rearguard. Mahon was left with a clean run at Sprake, but the keeper dashed out to end the danger at the expense of a corner.
That was only the start of the problems as Colchester mercilessly harried the Whites' defence. Albert Barham in The Guardian: 'Leeds, on a day when capricious wind made control on this small, compact pitch difficult, were unbelievably bad. There were disastrous mistakes by Charlton - "Go on, Ray, you can beat that old big head" - and Crawford, urged on by the crowd, did just that - often. Sprake was unsure, and the two England backs, Reaney and Cooper, were, as they say in soccer dressing rooms, "taken to the cleaners".
'That having been recorded, nothing must detract from Colchester's merit ... They harassed Leeds.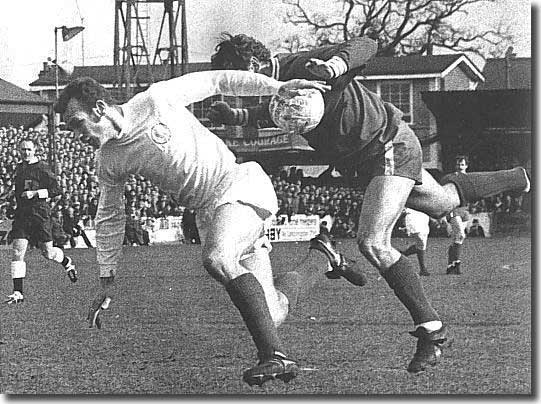 Cram, who later had his name taken for a foul on Clarke, Gilchrist, Garvey and especially Kurilla gave them no time to settle. They struck the ball firmly forward where the raiding Hall, Lewis, fleeing down the wing, the burly Simmons, and Mahon snapped like terriers at the heels of Leeds as they made the passes to Crawford.
'There was no pretence to finesse or ball holding. It was full steam ahead. It was the right tactics on the day; any other and they faced crucifixion. What matter there were no elegant flowing moves when Leeds were undone by the simple high pass into the goalmouth?'
After 18 minutes, the impossible happened: the home men took the lead to prompt fervent celebrations among the supporters. From a free kick out wide on the left by Lewis, Leeds defenders were caught napping. Sprake misjudged the swirling ball in the strong wind and it sailed beyond him to the back post. No United man tracked Crawford as he ran into space to rise and flick the ball home with his head.
If that was an eye opener, the second goal in the 25th minute shook Leeds to the core. Colchester midfielder Brian Gibbs lobbed the ball to the heart of the area from the right. Crawford rose to meet it with Reaney, but both men fell to the surface as the ball ran free. Sprake came out to clear things up, but it was Crawford who reacted more quickly than anyone, instinctively flicking out at the ball from his prone position to send it trickling in off the past, "watched by a forlorn and statuesque Charlton".
2-0, and few would dispute that Colchester were worthy of their advantage. They were still a couple ahead at the break, having nullified any threat from United, and they continued to spread panic among the Leeds rearguard.
It was generally expected that Don Revie would shake his men out of their torpor during the break, but Colchester were unperturbed. With ten minutes of the second period gone, they were three ahead.
The ball was launched from the halfway line, out on the right touchline. It flew towards the edge of the United area for Reaney and Simmons to chase. Sprake rashly came racing out in an attempt to clear his lines. Reaney hesitated momentarily as he saw his keeper advancing and the two Leeds men ended up running into each other. Simmons capitalised on the confusion to outjump both of them and nod the bouncing ball into the unguarded net.
That sparked excited scenes of joy on all sides of the tiny Layer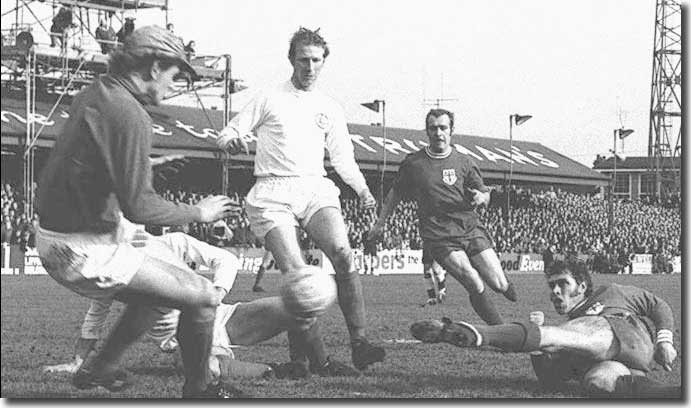 Road ground as Simmons basked in the adulation of the cheering supporters.
But now, when all seemed lost, United rallied fiercely. Throwing Charlton forward as an auxiliary attacker, they penned the home men deep into their own half. Hunter ('the one man with a vestige of northern defiance still flickering', according to Geoffrey Green in The Times) was also on constant attack and launched himself at a Lorimer corner to loop a header into the net. 3-1, with half an hour yet to play.
There were still 17 minutes remaining when Jones showed neat footwork in the D to push the ball through a forest of legs and find Giles in space on the edge of the box. The little Irishman flashed home the second goal to leave Colchester tottering on the precipice of surrendering their hard won advantage.
Leeds now had the scent of redemption in their nostrils. They flew headlong at their opponents in a last ditch attempt to rescue the game. They had finally found their form and were playing the ball around with their normal nonchalance and finding space and time. It was evident, though, that desperation permeated every movement.
Geoffrey Green in The Times: 'What followed had us chewing our fingers to the bone while Leeds belatedly rose from their bed of nails ... all at once the future was trembling in the balance. How Colchester hung on at the finish only they will know. Those dying minutes were an eternity as Leeds, at last with a controlled ferocity, sought salvation. But they were denied it - and rightly - by one final, marvellous reflex save by Smith as he dived on a point blank shot from Jones after a fast, low centre by Lorimer flew across the goalmouth.
'Had Colchester been robbed then it would have been a tragedy. Until their legs understandably began to wilt over the last furlong, all the glory was theirs for a 101 per cent team effort, in which the frills of football took second place to an honest, straightforward approach, with the ball hunted every yard of the way.
'Whether Bremner's presence would have rescued the giants we cannot know. But never before have I seen the Leeds defence - Hunter excepted - so rattled and bemused. Alarming gaps appeared as fast, long passes were sprayed up front for Crawford and others to chase. It was this ceaseless harrying at speed that took Charlton and the rest apart. It is no exaggeration to say Colchester might well have scored five or even six. As it was, Crawford again put the Indian sign on Leeds. Beginning with three goals one afternoon, a few years ago, he now brought his personal bag against them to 10.'
Many people cited the tightness and bumpiness of the playing surface and the vicious wind as reasons for Leeds' inadequacies, but Norman Hunter told Phil Brown of the Yorkshire Evening Post later, 'I never noticed it once and I'm sure the other lads didn't. It wasn't because of that.' In later years,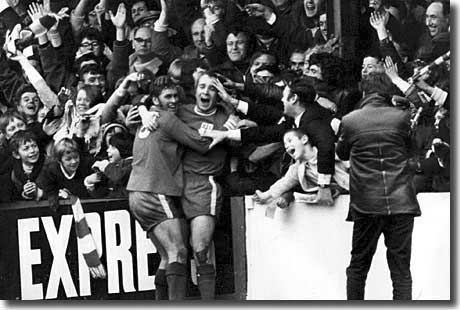 however, he admitted that he had looked with apprehension at the surroundings when he came out and whispered to Jack Charlton that this would not be easy.
Brown wrote after the game: 'Colchester won because they had the sharper attack and the sturdier defence ... United seemed completely bewildered. They had never played so poorly as a team, remembering the calibre of the opposition, nor, excepting Cooper, Hunter and Giles, as poorly as individuals. Personally I feel United's defence in their box needs overhauling. It was at sea each time Colchester scored, and only a bad bounce stopped veteran Crawford from a hat trick. Yet he is 35 in July, and a stone and a half heavier than when he last played against United.'
Don Revie was beside himself with anger at the paucity of United's display, but publicly he acknowledged the home side's display, saying: 'Colchester won because they deserved to and we salute them on a great performance, but Leeds were beaten mainly because we gave away three goals through elementary errors in defence, and adopted the wrong attitude towards the tie.
'Although Colchester don't possess Leeds' individual skill, they made up for this by 100 per cent physical endeavour, making it hard for our players to settle on the ball and express themselves ... We should have got down to Colchester's level in the first half, concentrated on wearing them down physically before producing our skill. Had Leeds done this, I doubt whether Colchester would have posed a serious threat. Instead, the Leeds players tried to play it around from the start, and were bustled out of their stride.
'Frankly, I don't know why we slumped. I don't think anybody does. Our players are all complete professionals and I don't think such matters as the strangeness and the smallness of the ground at Colchester or the closeness of the crowd had anything to do with their defeat. I have not had a single complaint about either.'
Rob Bagchi and Paul Rogerson: 'Leeds' downfall prompted an outburst of national rejoicing … "The rest of English soccer could join Colchester in celebrating the new-found truth that the last dregs of romance have not been drained from this competition," opined a breathless Daily Telegraph. "Leeds had used familiar tactics: tackles had been ruthless, fouls stealthy and sophisticated. In these drab days when a footballer's action seems always to be prompted by cold, commercial instinct, it was the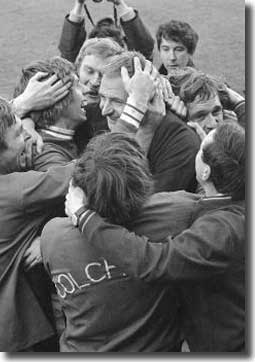 first breath of spring to watch the Colchester players galloping over to their manager and lift him high at the final whistle." For the Leeds supporter it was a game to be spoken of only in whispers.'
Goalkeeper Gary Sprake was to receive the brunt of the post match criticism. He later defended himself thus: 'In the memoirs of my colleagues it seems that I was the only one that played badly but I remember it differently ... When I made a mistake and it was costly I have held my hands up but against Colchester it was collectively a poor defensive performance. I should have done better on the first goal but it was certainly not a clear mistake that cost a goal and the other goals were down to poor defending by Jack Charlton and Paul Reaney.
'It has been said that after this game Revie blamed me and I was dropped but again this is not the truth. We were all bollocked by Revie and in training the following week it was really competitive and in one practice match I was caught on the hand and had to have several stitches, which put me out of the game for over a fortnight.'
Wherever the fault for the result lay, the game was widely acknowledged as the biggest upset in the FA Cup since Third Division Walsall beat mighty Arsenal in 1933, when the Gunners were on the way to the championship. This match retains its place as one of the darkest days in the history of Leeds United and that status is unlikely ever to change.
In the sharpest of contrasts, for Ray Crawford, it will remain the game of his life, a glorious event that catapulted him back into the national headlines. He said many years later, when remembering the day for The Times, 'I've had so many good invitations and mileage from that game, it's unbelievable. Even now, people regularly come up to me and say, "Are you the Ray Crawford?"'