printer friendly version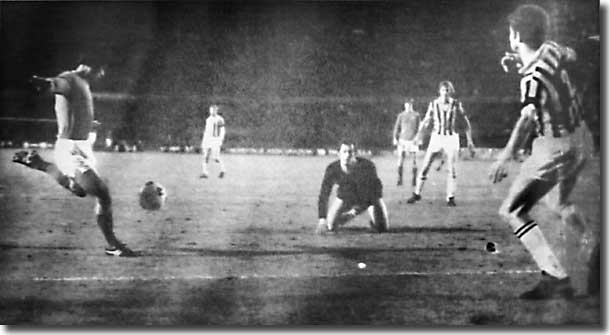 By the beginning of June 1971, most British footballers had their feet up on a beach somewhere in the sun, their toil over for another season; for the players of Leeds United, though, there was no such peace and tranquillity. On the third day of the month they faced a showdown with Juventus of Turin in the decisive second leg of the European Fairs Cup final, with the opportunity to secure some silverware after two long seasons that had so far yielded nothing but hard luck stories and disappointing memories.
United could prepare for the game with the comforting memory of a 2-2 draw from the first leg in Italy; should the return at Elland Road also end with the honours even, the two away goals would be gold in the bank.
United's goals in Turin had come from highly unusual sources, Paul Madeley and Mick Bates, neither man renowned for his exploits in front of goal.
Don Revie was able to select the same starting eleven, which meant that Bates was again on the bench. For Juve, the only change was Roberto Tancredi in goal for Massimo Piloni, faulted for at least one of the goals in the first game. His absence, though, was down to a broken bone in his hand rather than any tactical selection.
Revie had seen enough of the exciting young Italian side to know that this would be no cakewalk to glory. They had some outstanding ball players with sufficient artistry and invention to rip opposing defences to shreds if they were given the opportunity. Nevertheless, United's experienced rearguard were past masters at denying any such openings, and Revie was convinced they would emerge triumphant.
Leeds had applied for permission to have the match televised by the BBC after the two parties agreed a £10,000 deal. The Football Association rejected that request out of hand, arguing that there was enough televised football already in the shape of the European Cup final between Ajax and Panathinaikos at Wembley. It seems an archaic attitude these days, but the FA were steadfast, a spokesman saying, "As far as we are concerned there is no live showing of the Fairs Cup final. A second application will not alter that decision. We have told Leeds of our decision and that is final. Also, there will be no highlights of the match televised on Thursday evening ... one live football match on television a week is enough."
Despite the disappointing news, United had already profited considerably from reaching the final, as reported by Geoffrey Green in the Times: "There is gold in these European hills of football for those who do well. Tonight Elland Road will have 50,000 spectators. Last week the two attendances in Turin amassed a total of some £250,000 for a match and a half, with the cheapest standing place on the terraces costing £1 and seats in the open at £6 apiece. At Wembley, too, last night for the European Cup final, the takings reached £183,000."
Green felt United were equipped for success: "If allowed to get their tails up, Juventus could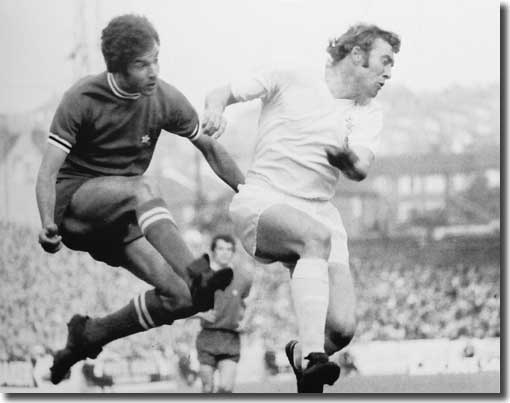 cause a lot of trouble. But temperamentally and physically they look suspect. Each time Leeds caught them with a goal they wilted for a spell and over the last quarter of an hour it was the Yorkshire side who were fitter, stronger and dominant. It was the Juventus frills in a setting of close passing down the middle against the Leeds open, economical style based on experience, solidity, team spirit and a tactical wider use of the length and breadth of the field that offered such an interesting contrast."
The United team that took the Elland Road pitch boasted a sharp new look; their shirts were missing the customary owl badge, now replaced by a scripted LUFC symbol, and there were uniformly short sleeves to mitigate the summer temperatures. Schemer Johnny Giles also sported a change of image with a Mexican-style drooping moustache, a real rarity for a player under Revie's tutelage. The whiskers would be gone by the start of the following campaign.
Juventus won the toss and Gary Sprake had to shield his eyes from fierce evening sunlight in the first half. The wind was also in the Italians' favour at the start, but it was Leeds who made the early running, knowing that an early goal would consolidate their advantage.
As in the first leg, they were committed to extensive use of the high cross. Revie calculated that the Italians would struggle to cope with Leeds' aerial ability and it certainly gave them something to think about. They were caught standing almost wide eyed in awe of their hosts' physical threat whenever the ball was airborne.
Terry Cooper was soon onto the offensive with the first of a host of sparkling runs down the flank. The left-back was prominent throughout the contest, as was Giles, who showcased his entire range of creative passing.
With twelve minutes gone, United got the breakthrough they craved. The referee awarded them a free kick out on the left about five yards from the corner of the area and Jack Charlton went forward to take his customary place in the area. When Bremner floated it towards the far post, Charlton rose with his markers to challenge for it, but it dropped loose. Lorimer moved in for the strike but a Juve defender blocked him and the ball bobbled free. Clarke was on it in a split second, swivelling at pace to turn and fire first time into the bottom left hand corner of the net with Tancredi powerless to prevent the goal. It was a masterpiece of finishing.
When Leeds then twice went close in a matter of minutes to increasing their lead it seemed they would overpower the visitors. Clarke's curled effort and Madeley's drive each threatened a goal, but Juve proved they were no easy touch by drawing level in the twentieth minute.
Causio intercepted Madeley's crossfield pass to Cooper and sprang off swift interplay with Furino that brought them within touching distance of the United box. Anastasi ghosted away from his marker to glide free on the right and take the ball, sliding it past Sprake. It was another breathtaking finish and the Italians' incisive penetration was a wonder to behold. This clearly would be a severe test for Revie's men.
United shaded the first half, although Anastasi came close to giving Juve the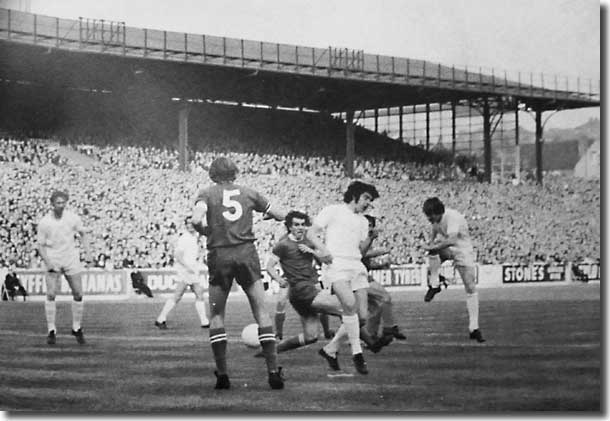 lead. He had already given clear evidence of his ability to hold off tackles while waiting for support from his team mates, and this tactic was troubling Leeds' defenders. In their apprehension, the rearguard back pedalled away from him, allowing him the opportunity to work his way into a shooting position. He rode another tackle but then shot wide with only Sprake to beat.
Just before the interval Tancredi produced the save of the night to fingertip a header from Jones over the bar.
Upon the resumption Madeley clashed heads accidentally with Marchetti. He had to be withdrawn on a stretcher and needed three stitches in a cut eye. Bates came on to replace him.
The Italians exerted some dominance over the following quarter of an hour as they enjoyed a period of pressure. Leeds withstood the challenge, however, and began to display the calm assurance that was their trademark. However, their readiness even this early in the contest to settle for the draw which would secure the trophy was a little surprising and ill advised. They opted for possession football and the economical, crablike shuffle sideways that had been a feature of their play in the Sixties.
Juventus had enough about them to sustain a forward threat and Sprake needed to be at his best to save a magnificent drive from Furino after a fine turn. However, the Italians also seemed reluctant to commit themselves fully to attack and were content to wait for Leeds to come out, seeking to catch them on the counter attack.
With fifteen minutes of the contest remaining, Salvadore was booked for scything down Cooper while he was on another of his many forward sorties.
A couple of minutes later there was even more trouble. Cooper put a centre into the box and as Tancredi fell to the floor with the ball, Bates struck out as it ran loose. He accidentally kicked Tancredi and was promptly set upon by a posse of protesting Italians, one of whom appeared to punch him. That was the signal for a mass fracas, but referee Rudi Glockner quickly and calmly restored order.
For the most part, however, there was merely a game of cat and mouse as United sought to keep their extravagant opponents at safe arm's length.
With both sides opting for caution, there were few openings of any real merit, suiting the Yorkshiremen down to the ground.
In the end, Leeds simply had too much experience of Fairs Cup football, were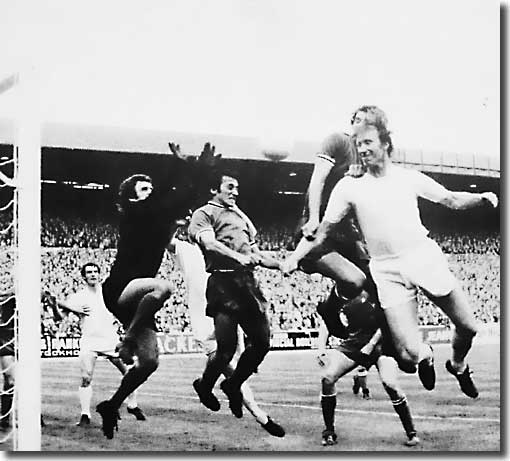 too adept at the black arts of containing football, to be caught out by all Juve's quick thoughts and movement. The Italians were superb in midfield but that was not enough against the strength and resilience of the United rearguard.
Juventus could not fashion another opening. The 1-1 draw at 90 minutes left the aggregate score at three apiece, with Leeds the victors by virtue of the greater number of away goals.
It was hard luck on the Italians, who had gone through the entire competition without a defeat. Nevertheless, the rules had been clear from the start of the competition, and United had experienced enough heartache and near things over the years to afford too much sympathy for their opponents.
Billy Bremner and his men got a standing ovation from the crowd as they went up to collect the trophy. But there was applause, too, for Juve, who had helped to make it such an exciting and impressive series of matches. Causio, Haller, Anastasi, Furino and Capello had been outstanding and pushed United hard. But it was generally acknowledged that it was the home men, Cooper and Giles, who were the stars of the night.
Geoffrey Green in the Times: "With a traditional swapping of shirts, Leeds stood back to applaud Juventus off the field. When they came to make their own lap of honour wearing the blue attire of their foe there was Bremner to hand the trophy first to Cooper as the team trotted round at Elland Road, which was now a waving sea of white scarves and banners. Cooper indeed was the Leeds man of the match.
"My Italian colleagues were loud in their praise of the England full-back as time after time he pressurised the Italians with overlapping runs and dribbles down the left flank. Where he got the energy from at the end of such a long season was remarkable. Yet Leeds won with no real swagger and without their usual snap of earlier months. And who should wonder at it after such a long drag of a season. They were tired and none more than Bremner and Giles on whom they rely so much for their midfield domination and scheming.
"This was a match two degrees better, at least in class, from the previous night's European Cup final. Ajax, the winners of that trophy, would not have won this one. Only Cruyff would have lived with some of the silky football displayed here by men like Haller, a restless midfield piston; or Anastasi, a player of beautiful balance and swift as a goldfish on the turn, a centre-forward who kept Charlton to the full extent of his long stretch from beginning to end. There was Causio also, Italy's Footballer of the Year, and at the heels of the attack the restless, aggressive little Furino. He was a veritable fury.
"The occasion may have lacked all the colour and the noise of Wembley 24 hours earlier, but the football was of a higher, sophisticated standard and greatly enjoyed by the crowd who cheered the Italians off the field."
Phil Brown in the Yorkshire Evening Post: "It took a tremendous effort for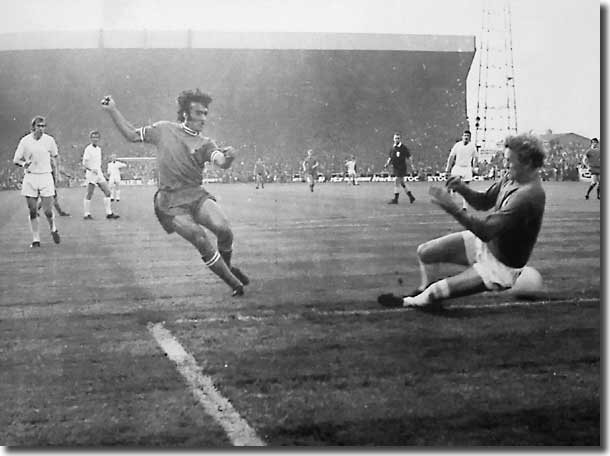 United to maintain this double effort. Even Norman Hunter was looking weary and that above all else shows the amount of strain United have been through because if there is an iron man in British football today it is Norman Hunter.
"It was good to see the two men who have been United's stars of the season be the stars of the last match. Terry Cooper and Johnny Giles were astonishingly good, as good as they have ever been in their careers. Both would be in any world side had I call to pick one today.
"Juventus had nothing like United's near faultless team play in either attack or defence but they certainly had a quality in midfield which carried real threat. United did well to hold them to one goal, and midfielder Madeley got very high marks for his stamina, positioning and reading of play. He was badly hurt in the second half. He has been such a tower of strength all season that it is footballing injustice that he was not in the United side when it made its lap of honour."
Cestmír Vycpálek, the Juventus coach: "Leeds played very well and deserved to win. But we have played well here and I was pleased with our performance. Cooper is a very good player and in my opinion the best No 3 in the world today. My players cannot get over how good he is."
Don Revie: "Juventus are an exceptionally good side and in the next few years they will be the team everyone has to beat. We knew it wouldn't be easy for us, but we won and I am proud of the lads. I am thrilled to bits for all the players and staff and particularly for our supporters who have shared all our disappointments in recent times.
"Although Juventus are a world class side I thought my lads showed their character to win through ... Haller was tremendous. He has been a world class player for some time and he showed it against us. Anastasi played much better here than he did in Turin, but I thought Jackie Charlton played him well.
"I have always said that the Fairs Cup is almost as difficult to win as the European Cup, and I saw no reason to change my mind this season. When you play sides of the calibre of Dynamo Dresden, Liverpool and Juventus, how can it be easy?"
Billy Bremner: "After all our disappointments of the past couple of seasons it was a great feeling showing off the Fairs Cup at the end of Thursday night's game with Juventus. When I got that trophy in my hands, everything suddenly became worthwhile again. Gone was the feeling of frustration and despair we at Elland Road have felt so often. In its place was a sense of pride.
"I know we didn't wipe the floor with Juventus to win by a big margin and had in the end to rely on our away goals to give us the trophy, but this was the final of a European competition and any side that gets so far is bound to have talent and ability.
"Juventus are a very skilful side, hard and fast and as they are basically a young one they are going to get even better. In a couple of years if they maintain their progress, they will be a side to be feared. They gave us a gruelling match, and because of this and their undoubted skill, it made winning the trophy all the more satisfying.
"I know it has been said that we could have attacked more than we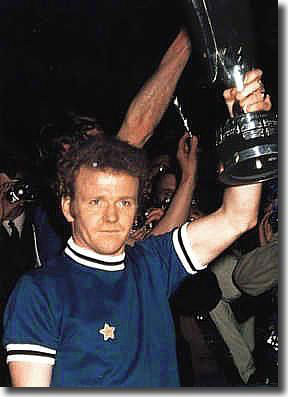 did in the second half but we decided to play it a little safer in the second period. Italians are masters of breaking out of defence with devastating speed and accuracy and they had the forwards to cash in on such tactics. That is the way they play the game in Italy and that is the way they wanted to play it at Elland Road. They were dying for us to come at them. They stood back in defence waiting for us to surge forward and it was tempting. But had we done so we would have been suckers for the counter punch. So we declined the invitation to Fairs Cup suicide and sat back ourselves waiting for them to come. After all they needed a goal at that stage far more than we did. Six seasons in Europe have taught us plenty. We are not chumps and we proved this to the Italians by becoming Fairs Cup champs.
"Our plan worked and to anyone who may have doubted our policy I can only say that the Cup is in our headquarters and not in Turin."
The shiny silver trophy that Bremner lifted at the end of the game marked a tremendous reward for all their efforts and disappointments since they had won the League championship in 1969. To have gone through a second successive campaign without any material reward would simply have been too much to bear. As it was, they could bask in the glory of another European triumph and enjoy the champagne that flowed in the dressing rooms after the game was over. It was something of a low key triumph in the shade of Arsenal's League and Cup double, but due consolation for their hard work.