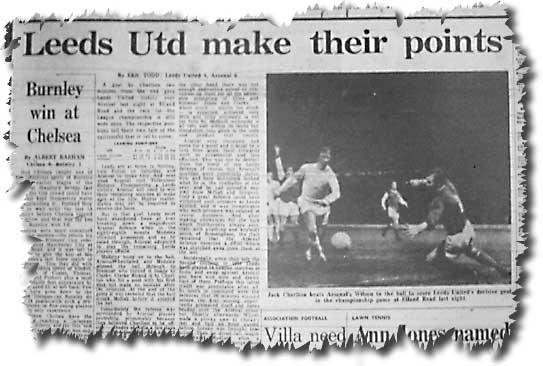 Throughout the 1970/71 campaign, Leeds United and Arsenal were nip and tuck at each other in the race for the League championship. Since 21 November the two sides had enjoyed a monopoly of the top placings. For the vast majority of the period, United held the upper hand, but had seen their dominance whittled away in the New Year.
By the time the two sides met in a crucial clash at Elland Road on 26 April, it was the Gunners who had gained the ascendancy, first hauling in and then ultimately overturning a United advantage that at one stage stood at seven clear points. By the time the two clubs met in their crucial end of season fixture, Arsenal had managed to work their way a point clear, with a game in hand, and had established a marginally superior goal average by virtue of their defensive fortitude.
Leeds' challenge had faltered on the back of two damaging defeats, 3-1 at Chelsea at the end of March and a controversial 2-1 reverse against West Bromwich Albion at Elland Road on 17 April. In contrast, as the tension mounted, Arsenal were proving the toughest of nuts to crack, stringing together a startling run of narrow wins secured by late goals.
United had closed the gap the previous weekend by winning 3-0 at Southampton while the Gunners could only draw 2-2 at West Bromwich, but prior to then the Londoners' consistency was quite remarkable. Since their 2-0 defeat at Derby on 27 February, they had played nine League games and won the lot, conceding a single goal. During this period they also won their way through to the FA Cup final.
A win for Arsenal at Elland Road would guarantee them the title, and even a draw would leave the Gunners red hot favourites; it was win or bust for Don Revie's men.
United's victory against Southampton owed much to a brace of goals by Mick Jones, scored on his 26th birthday. The performance evidenced their resilience and positivity of mood. Barry Foster reported in the Yorkshire Post: 'Leeds United are back in top gear ... They pulled off one of their great victories on Saturday. It was well paced, laced with a little luck at the right time but best of all it was Leeds playing in champion style - the type of crisp, inventive stuff they opened the season with. One of the main reasons for this was the full return to power of Gray. Whenever he had the ball something was happening. Leeds did not have to hope that high passes into the penalty area would find their high-priced spearhead - they had the men to take the ball around the defence. Gray showed he could take on two men with ease, Cooper looked better in attack with the winger's support and Leeds, with this attacking advantage, could always afford an extra man in defence whenever the situation called for it and so smother Southampton's often admirable scoring efforts. With Madeley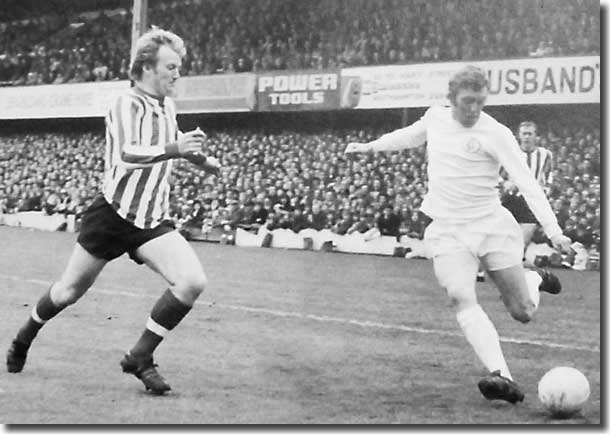 joining Hunter and Charlton at the back, the Leeds defence looked as solid as it has done for a long time.'
Both United and Arsenal were able to select from strength for the showdown, although Leeds were without Peter Lorimer, suffering with a hamstring injury. Sprake, Cooper, Giles, Clarke and Gray all sustained knocks against Southampton but were adjudged fit to play, while Reaney had recovered from an injury picked up while on England duty.
With so much riding on the outcome of the match it was inevitable that there would be a nervy opening. The tension was palpable and in the circumstances one could understand the reluctance of both teams to commit themselves wholly to attack. They struggled to find their football and there were misplaced passes aplenty as a packed crowd looked on.
Barry Foster: 'With supporters climbing on stands for vantage points and some on the roof of a public house and poster hoardings outside the ground there was plenty of atmosphere.'
The FA Cup final referee, Great Yarmouth's Norman Burtenshaw, took over at the last minute when it was announced that the original appointee, Jim Finney, was unavailable after being involved in a car crash. Burtenshaw demonstrated from the first that he would allow the players little latitude. His approach ensured that while the match was hard fought and competitive it never spilled over into confrontation. However, by the break he had awarded 25 free kicks for fouls, with 14 of them going to United.
It was 20 minutes before the first shot. That came when Arsenal schemer George Graham tried his luck from 25 yards and was wide with his effort. Mick Jones was similarly wayward for Leeds a minute later with a header.
The best attempt of the half came from John Radford. He caught a clever long through pass from Charlie George, beat Norman Hunter and Terry Cooper skilfully by flicking the ball over his own head, turned smartly and fired in a low cross shot which Gary Sprake did well to save, coming off his line to save at full stretch.
It was a rare opportunity in a game that seemed fated to end in stalemate; there was such tension in the air that you could slice it with a knife. Players were too intent on avoiding the mistake that could ruin their side's chances to take the risks required to reap the desired reward.
It was clear even quite early in proceedings that Arsenal would be content to return south with a point and their front men were for most of the evening cast in the role of innocent bystanders. According to Eric Todd in The Guardian, 'It must be a long time since their forwards were so ornamental and less effective. This was not to detract from the merit of the Leeds defence, of course, but Arsenal's qualities were essentially defensive, and here McLintock looked what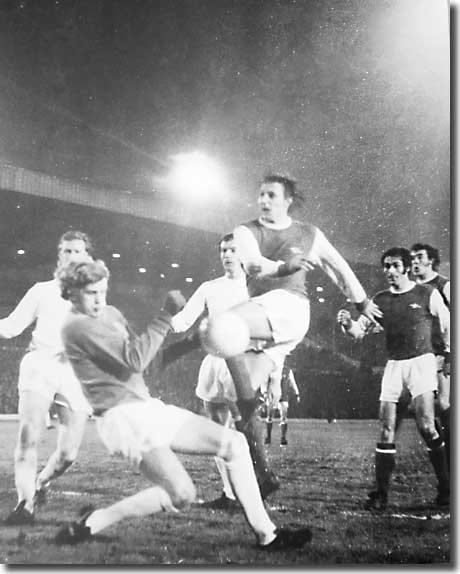 he is, the Footballer of the Year, and he had splendid support from McNab and Simpson. Only a great defence could have withstood such pressure as Leeds applied, and it was inexplicable why such pressure was relaxed at crucial moments.
'Leeds ... had nearly all the play ... There was not enough destructive power or contribution up front for all the admirable prompting of Giles and Bremner ... Midfield monopoly is all very well within its limits but translation into goals is the only end product that counts.'
No one was really surprised when the game reached the break without a goal being scored. For Arsenal, the Holy Grail of a draw was within reach and they must have felt that they could hold out for a vital point. Nevertheless, they were forced back onto deep defence for most of the second half as United wound themselves up for the final charge that might yet rescue their season.
Geoffrey Green in The Times: 'Radford again forced Sprake to a couple of point blank saves following a free kick by Rice. By then, however, Leeds, with a growing frenzy, had raised the power of their game a notch or two. Those last 20 minutes reached great heights, with McLintock, from first to last a magnificent centre-half, now firmly supported by his left hand man, Simpson, as he and the rest held down wave after wave of white shirts bearing down on them from left to right.
'In a flood of corners, 21 men were to be seen in the Arsenal penalty area as Leeds tried so desperately to squeeze the goal that would keep their hopes alive. But all the time time was stalking them as Arsenal held on, not by their fingertips, but by a defence guarding Wilson like some tall range of mountains.
'Once, with ten minutes left, Hunter glided a header from Giles' corner past Wilson, but there was McNab to clear off the line inside the post; a 30-yard flash by Cooper was headed out for a corner by Radford, Arsenal's centre-forward. That in itself showed how the north Londoners were guarding their stockade. Next, a diving header by Gray was kicked out by Simpson, and when the ninetieth minute had come there still remained more, the injury-time of a hard, driving match; the extra grains of sand from which a decision was finally squeezed - a decision that will be argued for a long time to come.'
Don Revie and his men always prided themselves on fighting to the bitter end and never accepting defeat, but even they must have feared that the task was beyond them.
As the end neared, Arsenal obstinately refused to retreat the required ten yards as Leeds prepared to take a free kick just outside the Gunners' box. Their protests soaked up minutes and meant there would be a significant element of injury time; United made the breakthrough at the start of that period.
Geoffrey Green: 'As Leeds piled on their last furious barrage for a breakthrough to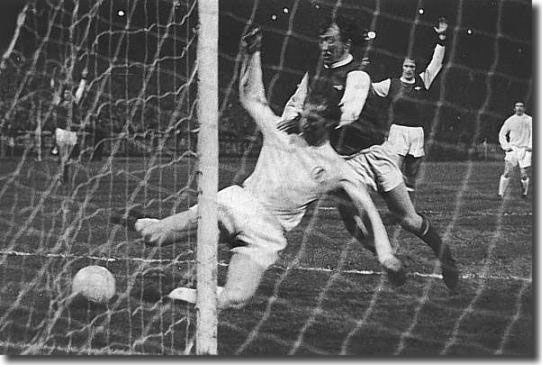 keep themselves in the race for the championship title, and as Arsenal, with time strongly on their side, continued to defend magnificently as the last seconds of a taut battle unwound, the Yorkshiremen threw themselves into what seemed to be their last assault.
'Striking with a quick central attack, the ball sped from Clarke to Giles then Bremner and on to the tall, long-legged Charlton, adding his weight to the final attack. At that moment the Leeds centre-half looked a clear two or three yards offside as Wilson came at him. His shot hit the foot of the post, came back at him and rebounded into the Arsenal net for victory.
'The official version - the Leeds official version, that is - was that the ball had touched McNab before it crossed the line, which made it a good goal. Yet Charlton himself surely was offside before McNab made his last ditch effort to recover the situation. There it was, another neurotic, excitable and tense finish to a relentless battle. At that moment, with the referee pointing to the centre of the field, the Arsenal players jostled and bustled both the referee and the relevant linesman.
'One could only feel sadness for Arsenal. For this to have happened to them in injury time was hard enough to bear. For it to happen with a goal which none of them will ever believe was legitimate will doubtless make it unbearable and enter their dreams for a long time to come.'
The Arsenal players harried referee Burtenshaw all the way back to the centre circle, protesting vigorously as they went. George hoofed the ball into the stand in his frustration and was booked for his trouble. It was to no avail. Just as Ray Tinkler had steadfastly refused to disallow a goal for West Bromwich on the same ground nine days previously, Burtenshaw was equally resolute on this occasion and no one in a white shirt was arguing this time.
The game finally resumed when the furore died down and United eked out those remaining minutes in comparative safety to secure the victory they so badly desired.
Arsenal manager Bertie Mee was relatively restrained in his post-match comments, saying, 'I have a responsibility to my players on these occasions. A very harsh decision was given against them by the referee and I am convinced, as my players are, that Charlton was in an offside position. But we must accept that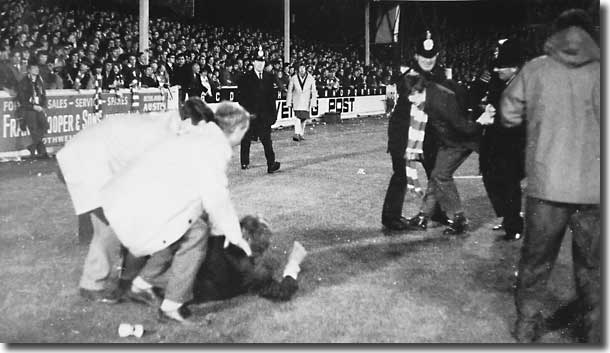 referees are human and last night's decision was the result of a human error ... A decision was made and we have to accept it ... Mr Burtenshaw had a good game. It was a very difficult match to take charge of, and I believe he did well.'
His captain, Frank McLintock, was more forthright: 'It's terribly disappointing to play as well as that and lose to a goal like that. Jack was five yards offside - even the Leeds players knew it.'
It was a fantastic result for Leeds on a night of high emotions, leaving them still in with a chance of the championship they coveted so much, now a point clear. In the final reckoning it would not be enough to see them regain their title, but certainly they had shown that when the odds were against them they were still able to pull one final cat out of the bag.