Part 2 - The Asa Hartford affair - Part 3 - Super Leeds - Results and table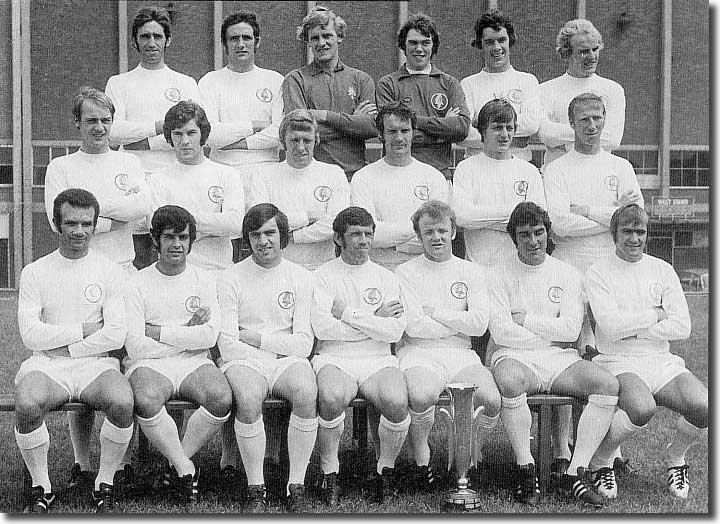 The 1970/71 season ended on 2 June with Leeds United securing the Fairs Cup and at least some consolation for missing out on the League title but the rosy glow was soon gone. A fortnight later, a Football Association disciplinary committee reached its verdict on events at Elland Road on 17 April, when referee Ray Tinkler had allowed a controversial West Bromwich Albion goal. The decision provoked a pitch invasion and incensed the club's management.
Reporting the FA's conclusions, Geoffrey Green commented in The Times, 'I suspect that this verdict is aimed primarily at the Leeds chairman, Mr Percy Woodward, and the manager, Mr Don Revie, for their unwise, bitter public statements on television and otherwise, made thoughtlessly at the time, before allowing the dust to settle. Their subsequent explanations and apologies have since been accepted, but both are now severely reprimanded for bringing the game into disrepute.'
In their wisdom, the FA decreed that Elland Road should be closed from 14 August to 4 September, leaving the first four home fixtures in doubt.
United pleaded with opposing clubs to reschedule, but it soon became apparent that the games would proceed as planned, but staged on neutral grounds at least 12 miles away from Elland Road. If attendances fell below the previous season's average, United would have to recompense visiting clubs. The loss was estimated at £15,000-£30,000, though the Yorkshire Evening Post's Phil Brown claimed it would be nearer £50,000 with the 12,000 season ticket holders being granted free admission to four Cup-ties to mitigate their shortfall.
Don Revie: 'We are starting the season under a severe handicap ... I can't think of any side which has won the championship after playing four more away games than their rivals.'
Revie made no major squad changes during the summer, though the search for a replacement for veteran centre-half Jack Charlton continued. Blackburn's Northern Irish international, Allan Hunter, was earmarked, but negotiations stalled following the appointment of Ken Furphy as manager at Ewood Park and Leeds turned elsewhere, paying £10,000 for 20-year-old Newport County defender John Saunders. However, the favourite to succeed Charlton remained former Luton centre-back John Faulkner, now fully recovered from a broken knee cap.
United allowed reserves Paul Peterson and Jack Kennedy to leave Elland Road, and there was one high profile departure: gifted left winger Terry Hibbitt, dissatisfied with sporadic first team opportunities, joined Newcastle United at the beginning of August. After early promise, Hibbitt had failed to fulfil his undoubted potential at Elland Road.
Leeds warmed up for the new season with straightforward victories against Morton and an Irish Select XI. The match against the Scots was arranged as part of the deal which took Joe Jordan to Elland Road in 1970; it served as a farewell appearance for former United great Bobby Collins, quitting the Scottish club for a coaching role in Australia.
Mick Jones injured a groin against Morton and was missing when United visited Manchester City for the opening League game on August 14. He was replaced by Rod Belfitt, but otherwise the selection was the stuff of legend: Sprake, Reaney, Cooper, Bremner, Charlton, Hunter, Lorimer, Clarke, Belfitt, Giles, Madeley.
Away to one of the favourites for the title, United began wonderfully well. Neither side looked particularly dangerous going forward, but Leeds had the best of a determined midfield contest with Bremner, Giles and Madeley figuring strongly. The Whites won by virtue of a 72nd minute goal from Peter Lorimer, firing in an angled rising drive after Allan Clarke had crafted the opening with a flicked header.
Jack Charlton and Norman Hunter were booked, along with City's Mike Doyle and Francis Lee, as Welsh referee Clive Thomas gave evidence of the Football League's mandate to crack down firmly in an effort to improve the game's poor disciplinary image.
By the beginning of September, 292 players had been cautioned in the League, prompting Crystal Palace chairman Arthur Wait to call for the mass resignation of the Management Committee and the removal of secretary Alan Hardaker. The clubs were furious about the lack of consultation.
Encouraged by their start, Leeds faced promoted Sheffield United in midweek at Bramall Lane, but came away with their tails between their legs after a 3-0 defeat.
It was far from a drubbing with two of the goals coming in the final three minutes.
Don Revie complained bitterly afterwards that United were denied three blatant penalties and he lambasted Dudley referee Bill Castle: Lorimer's feet were taken from under him by Blades keeper John Hope; then a Charlton shot was handled by Eddie Colquhoun, who later admitted the offence; finally, full-back Ted Hemsley floored Lorimer from behind.
United could not even enjoy the comforts of home; their following two fixtures were staged away from Elland Road and both ended in disappointing draws, 0-0 against Wolves at Leeds Road, Huddersfield, and 1-1 with Tottenham at Boothferry Park, Hull.
Alan Dunn in The Guardian: 'These are early days, of course, but not too early to begin to wonder if Leeds United have begun the natural degenerative stage that besets all humans. In a word, are they growing old? The condition is not yet serious, but the weakness of Charlton and Giles ... suggests that in at least two critical positions Leeds are in need of an elixir or a blood transfusion ... Charlton became a static victim of the cunning headed flicks and studied positioning of Dougan ... The growth of defensive uncertainty wasn't helped either by the anonymity of Giles, so often the managing director of Leeds' enterprises.'
Happily, they bounced back with three comprehensive victories, 2-0 at Ipswich, 5-1 against Newcastle at Hillsborough and 2-0 over Crystal Palace at Leeds Road. That left them second behind Sheffield United, who had continued to flourish.
With Sprake, Cooper, Jones, Bates and Gray on the injured list, the Whites were understandably cautious when facing Derby County at the Baseball Ground in a League Cup second round tie on 8 September; they achieved the goalless draw they had targeted.
United were less content after facing reigning champions Arsenal at Highbury three days later. They looked composed as they absorbed early pressure, but fell behind to a George Graham goal. Terry Brindle in the Yorkshire Post: 'Leeds' reply was unequivocal. They lined up after half time with seven forwards strung menacingly across the field ... Arsenal's glorious trumpet peal died fitfully away. Their supporters shuffled uneasily, so perturbed at Leeds' refusal to lie down that they even forgot to barrack Charlton. Then a gasp of horror became a roar of triumph when Giles, through on his own, raked his shot against the legs of a spread eagled Wilson.' United's pressure came to nothing and the Gunners added a second when Peter Storey stroked home a penalty after Paul Reaney sent Ray Kennedy crashing in the area.
The 2-0 defeat was a disappointment, but Don Revie was confident that his men could put it behind them when they opened their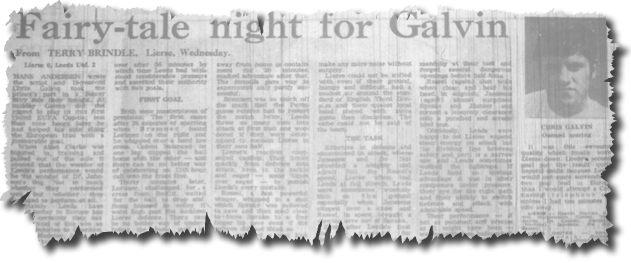 European campaign away to Lierse. The Belgian side had been thrashed 8-0 on aggregate by Manchester City in the Cup Winners' Cup in 1969 and were considered minnows.
Revie was typically cautious. 'Lierse are a fit and well organised side with two capable front runners and they have obviously improved in the past couple of seasons. It will be difficult, especially in view of our injury problems.' United were without Cooper, Jones, Gray, Charlton, Clarke and Madeley, meaning that John Faulkner and 19-year-old Chris Galvin came in for their first games of the season. Galvin was only called up when Clarke was injured in the afternoon's training session.
After 26 minutes Bremner fed Lorimer on the right and his low cross was clipped home by Galvin. Half an hour later, Lorimer acrobatically volleyed home the second.
It was not plain sailing, as reported by Terry Brindle: 'Lierse's reaction counselled caution. They broke quickly from defence into attack, keen in the tackle and eager - sometimes over eager - to punish Leeds' every mistake. Ressel, a fast, powerful winger, whipped in a shot which Sprake was relieved to save and then sped clear to force Sprake to a fine fingertip save even if the referee did not think so.
'Lierse could not be trifled with even if their ground, bumpy and difficult, had a modest air around the standard of English Third Division and their quaint local band played with more gusto than discipline. The same could not be said of the team. Effective in defence and determined on attack, where Janssens and Denul provided a weighty and adroit foil for Ressel's speed, Lierse often had Leeds at full stretch.
'Lierse stuck manfully at their task and forged several dangerous openings ... Ressel (again) shot wide when clear and held his head in anguish; Janssens (again) almost surprised Sprake and Hunter and turned a leisurely clearance into a punched and scrambled one.
'Leeds were happy to let Lierse expend their energy on attack but the dividing line between safety and peril is a narrow one and Leeds sometimes walked the tightrope. If Leeds held an obvious advantage it was in their composure under pressure, their eye for the right path and their ability to switch defence and attack with admirable speed. Their performance - if not as polished and precise as it might have been - was nevertheless hallmarked with the stamp of experience and deep fundamental quality.
'It was this awesome quality which finally wore Lierse down. Leeds' second goal put the result quite beyond doubt because Leeds would no more surrender a two-goal lead in Europe than I would attempt a continental telephone call unless I had ten minutes to idle away.'
Job done, United were able to ply their trade once more at Elland Road, the month-long closure finally at an end. Old rivals Liverpool represented a stern test for the first game at the ground on 18 September. It was watched by a crowd of 41,000 plus, with the stadium's capacity now reduced to 46,000 by alterations to the Lowfields Road terracing.
United lived up to expectations, though they had to settle for a single goal from Lorimer, scored on the hour after a smart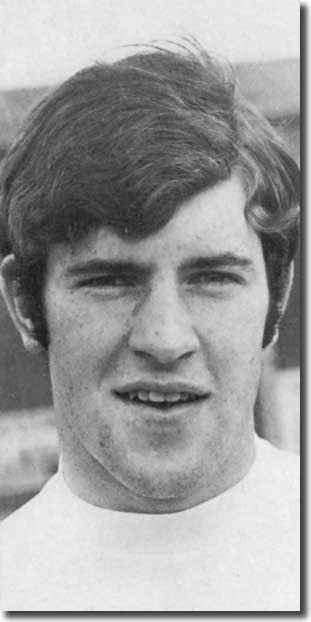 move involving Giles, Belfitt and Galvin.
Young Galvin continued to impress, hitting a post and narrowly missing another opportunity. Richard Ulyatt in the Yorkshire Post: 'Galvin, sturdy and anxious for the ball, looked to have the makings of a strong inside-forward. A more experienced man might have had two goals but no one was more eager to be at the heart of the game and no one showed better ideas.'
Fortified by a victory that left them fourth, United faced a midweek showpiece game with Barcelona at the Nou Camp to determine the final resting place of the Fairs Cup trophy.
Leeds had to call on their reserves with Cooper, Clarke, Jones, Madeley and Gray unavailable. Jordan snatched a swift equaliser on his first United start after Duenas had opened the scoring in the 50th minute. Barca's winner came ten minutes from time.
League action resumed on September 25 with a local derby at Huddersfield. The early pressure was United's, but it was Town who took the lead after 17 minutes, Jimmy Lawson firing home with a spectacular scissor kick.
The Terriers pressed strongly for a while, but then Leeds took control. They went close several times before equalising in first half stoppage time. Lorimer's cross led to a goalmouth scramble and when Belfitt nodded the ball on, Charlton was on hand to force it home.
United were expected to press home their advantage, but it was Huddersfield who came out the stronger and took the lead after 58 minutes. Les Chapman's shot forced Gary Sprake into a flying save but centre-half Roy Ellam fired home the rebound.
Terry Cooper smashed a long range effort against the bar with ten minutes remaining but Huddersfield held out for a celebrated 2-1victory.
19-year-old defender Keith Edwards came on as substitute in the 71st minute for Paul Reaney. It was his only outing for the club and thus possibly the shortest ever first team career.
The following Monday, two goals from Lorimer saw United through in a League Cup replay against Derby County, in the process inflicting a first defeat of the season on the Rams. Leeds had to play three quarters of the match without Billy Bremner, retired with a badly gashed shin, allowing 19-year-old sub Jimmy Mann to get his first taste of senior football.
Two days later United faced Lierse in the second leg of their UEFA Cup-tie. Taking a calculated risk, Don Revie omitted Charlton and left Sprake and Hunter on the bench. The gamble backfired in epic proportions and the Belgians scored three times in six first half minutes. They added a fourth goal ten minutes from the end to complete one of the most extraordinary upsets in European football history.
After two goalless draws with West Ham in the League and the League Cup, a 3-1 defeat at Coventry completed a dismal spell of 3 wins in 11 outings. United had slipped to eighth.
Revie was defiant: 'We are not panicking. Those who want to circulate rumours can do. All I am interested in is getting the team right. I am confident we will prove everyone wrong.' The manager pointed to an appalling injury list; the prolonged absence of Clarke, Jones and Gray had left the front line toothless.
Gray was recovering from a shoulder operation, Clarke's thigh injury had kept him out since 11 September and Jones had played just twice. Willing as Rod Belfitt was, he was no Jones and there was no one with Clarke's goal instinct. Four games without a United player scoring - the goal at Coventry was courtesy of Sky Blues defender Parker - told its own story.
Clarke and Jones returned against Manchester City on 16 October, and inspired a revival.
Paul Wilcox in The Guardian: 'From the evidence of Saturday's match, Leeds profit from their presence so much that if the two strikers have to be sent out in bandages, splints or on pogo sticks, West Ham will still be on the receiving end.
'Clarke steered the ball home in the twelfth minute after a panicky moment by Doyle, and Jones' irritation at being denied a penalty … was eased when, in an offside position, he was allowed to volley past Corrigan. Fortune has a way of evening things out.
'Yet it was not simply that Clarke and Jones scored so that they need only 13 more goals to bring their partnership to the century mark. It was more the spirit which they engendered among their colleagues which crushed and demoralised City. Their selfless devotion to restoring Leeds' reputation inspired not only Giles, the immaculate Bremner and the ever industrious Lorimer, but every member of the side … This was the true Leeds.
'Of course, there was the element of a gamble, but how that gamble paid. Jones had not trained for eight weeks, Clarke for four, but their displays must make several managers wish that some of their players were but half as half fit.
'City missed Bell more than they possibly could have foreseen. Their youthful midfield players were outclassed by Bremner, Madeley and Giles and Summerbee's hard working threat to the Leeds rearguard was eased aside as Cooper showed that he possesses true defensive as well as attacking qualities. When Lee limped off, City were thoroughly demoralised, but could hardly be blamed for not preventing Lorimer's spectacularly explosive dipping volley which completed the destruction seconds from the end of injury-time.'
United were set up nicely for their League Cup replay with West Ham, but, despite having all the play, Leeds struggled to crack the visitors. As Don Warters reported in the Evening Post, 'West Ham are no longer the happy go lucky cavaliers of the First Division.'
United's cause was not helped when Jones hobbled off with a recurrence of his groin strain after 20 minutes, giving Gray his first appearance of the season as sub.
For the third time in three weeks, the two sides reached 90 minutes without a goal between them. Seven minutes into extra time, the visitors broke the deadlock when the powerful Bermudan, Clyde Best, nodded home from a Harry Redknapp cross. It was the only goal and United had been eliminated from a second Cup competition in the space of three weeks.
A resigned Don Revie reported on Jones' injury: 'I took a bit of a risk in playing both Mick and Allan Clarke against Manchester City … The day after the match neither felt anything and in training before the West Ham match they both felt okay. Mick's groin went again in the first few minutes of last night's match when he turned and stretched for a ball.'
The following game was an Elland Road cracker against Everton. The Merseysiders took the lead in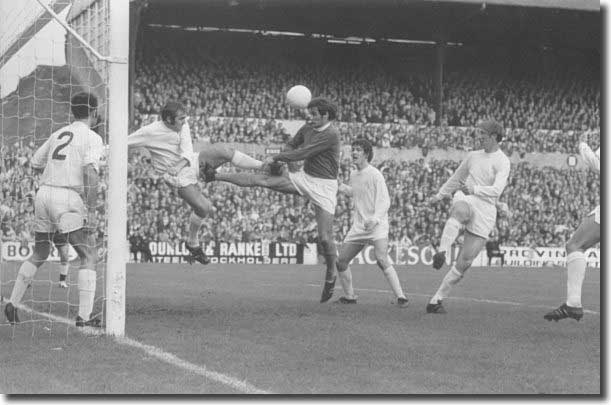 the first few minutes when Joe Royle beat Gary Sprake. United had earlier enjoyed good fortune when Jimmy Husband's shot found only the woodwork.
Leeds were nothing if not resilient and, despite being 'slapdash, hesitant and often downright bad', according to The Guardian's Paul Wilcox, they got up a head of steam. The foul count at the half hour of Everton 10 Leeds 2 was symptomatic of the growing pressure.
Toffees keeper West dived full length to deny a 25-yard effort from Giles, full-back McLoughlin cleared a Jordan header off the line and Lorimer fired a free kick inches wide. The visitors remained dangerous on the break, however, and would have increased their lead eight minutes before the break had it not been for Sprake's anticipation. A through ball sent Husband racing clear but his shot was brilliantly saved by the advancing keeper.
The Leeds drive paid off a minute before half time. There were claims that Cooper had handled as he dispossessed Ball, but the referee ignored the appeals, allowing the left-back to surge forward and crash home a drive from 25 yards.
United continued to dominate after the resumption and took the lead after 72 minutes. Charlton came in on the blind side to meet Madeley's cross from the left and beat West with a fine header. Within six minutes Ball equalised from close range, but in the 83rd minute the home fans were on their feet. Giles put Bremner away on the right and the skipper drew the defence before finding Lorimer, who swept his shot past West to settle matters, 3-2 to the Whites.
On 30 October Leeds won 1-0 at Old Trafford against runaway leaders Manchester United with Jordan playing a lone striker role. Top scorer Lorimer continued his hot streak, firing home from 30 yards; the effort was enough to end Manchester's unbeaten home record.
Paul Wilcox in The Guardian: 'Leeds United at their best are a team of organisation, skill and inspiration to such a degree that their opponents are to be pitied. They have more than just the professionalism which has become synonymous with their name. They have the extra ability to tailor their brilliance to their needs at any given time - the exuberant flamboyance of attack in an instant giving way to restrained power and discipline in defence.
'In individual talent, maybe Leeds were only slightly better than Manchester United. But that slightness in advantage over the League leaders was the inch with which they were faster over any given distance, the inch by which their passing was more accurate, the second sooner that thoughts were put into practice. In this level of football, such fractions are everything.
'The players themselves recognised the need to reshape the game by calming down after the interval, although Jack Charlton and Gray will need some treatment this week. Charlton has a badly bruised nose, and Gray a bruised shin, but brighter is the prospect of the return of Jones and Clarke for next Saturday.
'(Manchester's) lead at the top was reduced by Lorimer's fortunate goal, the ball skittering under the lackadaisical Stepney from the speculative long range drive. But it was the earliness of the score, the fourth minute, which really mattered to Leeds. They were able to harness their power so effectively that Manchester's poor record in meetings between these clubs at Old Trafford never seemed likely to be improved … Best might have changed the course of the game if his header which hit the crossbar had been an inch or so lower, but Sprake otherwise was not over employed.'
Clarke had suffered another injury against Everton, and it was plain that United were not as fluent without their regular strike force. United's chronic problems prompted press speculation that Revie would enter the transfer market. The favourite story concerned Blackpool schemer Tony Green, with speculation rife that he had been watched in the Seasiders' demolition of Aston Villa on 26 October.
It soon became clear, however, that it was not Green whom Revie was after. At the beginning of November, United announced that they had signed another Scottish midfielder, West Bromwich Albion's Asa Hartford, in a £177,000 deal.
The news was premature; Hartford trained with his new team mates, but a rigorous medical identified a heart defect. On the day that the Scot was due to make his Leeds debut, United secretary Keith Archer announced that the deal had collapsed.
One move did go through: Ipswich's purchase of Rod Belfitt for £55,000 on 4 November.
The striker made his final appearance in a United shirt as sub for Jordan at Old Trafford. He had enjoyed a decent run during Jones' absence, but was clearly frustrated with lack of regular first-team football.
'I am prepared to go anywhere within reason if the terms are right and I can get regular first team football," he said. "You don't play for a club for seven or eight years as I have done and fail to become attached to it … I have been on the fringe of it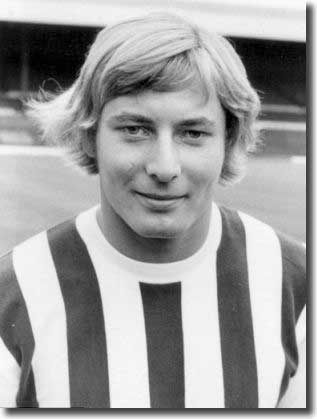 for so long now, and I have become a little tired of not knowing whether I would be in the first team or in the reserves.'
The news that the Hartford deal had collapsed came three hours before kick off against Leicester on 6 November. The shocked players struggled to make a fist of things in the first half, and an enthusiastic Leicester took the lead through Alistair Brown after 26 minutes.
Don Revie had to deliver some well chosen words at the interval to snap his men out of their torpor. Eddie Gray, in his second start of the campaign, got hold of the game and set up the goals for Bremner and Lorimer that brought home the points.
The following week, their three-game winning run ended at Southampton when a last minute goal from Ron Davies saw the Saints through to a 2-1 victory.
Leeds bounced back to beat Stoke City 1-0 a week later, with only England keeper Gordon Banks preventing a landslide victory. James Holland in The Guardian: 'I have never seen such an exhilarating display from United as that in the first half. Gone was the old stereotyped pushing the ball square across the field or turning it back to a colleague.
'Lorimer and Gray made deep inroads into the City territory and with Cooper sallying forth in support in his customary manner, City's defenders were swept off their feet. But the hour produced the man, and Banks rose nobly to the occasion. Repeatedly he was in action, and all his saves bore an England hallmark. His deeds were too numerous to itemise fully but the superb way in which he dealt with two shots from Lorimer and another two from Clarke won the unstinted admiration of the United supporters. Not all of United's shots were on the target, and one from Clarke must rank as almost the miss of the season. Ideally placed, he miscued his drive so much that the ball went out of play on the far side of the pitch.
'United's goal was something of an anti climax. In the fifth minute there was agonising indecision between Pejic and Jump as to which of them should go for the ball. Finally Jump went for it, made a horrible pass back to Banks, advancing rapidly from goal. The ball went well wide of Banks. Lorimer was on it in a flash, and the ball was in the net in much shorter time than it takes to record the fact on paper.'
Jones and Clarke, playing in harness up front for the first time since 20 October, and for only the fifth time all season, restored a real sharpness to Leeds' play.
United won 2-0 at Nottingham Forest the following week with goals from Lorimer and Clarke. The score could have been much more emphatic, for there were several near misses, three goal line clearances and two goals disallowed for offside. United enjoyed a man advantage for the entire second half, following the dismissal of Sammy Chapman.
United began December with a third successive win, again with a clean sheet, hammering West Bromwich Albion 3-0. Terry Brindle in the Yorkshire Post: 'Such is the strong flowing form of Leeds United at present that Don Revie, their manager, had promised annihilation to some luckless visitor to Elland Road in the not so distant future. Annihilation arrived on Saturday but West Bromwich Albion escaped the promised overkill. Three goals scarcely flattered Leeds, who might have scored seven or eight and would certainly have had two more but for the anticipation of Smith, Albion's newly-signed goalkeeper from Colchester United. Leeds have met that particular problem before.
'Fear of Jones and Clarke pulled Albion's defence into the middle and left Lorimer with yards of time and space. He gradually reduced Wilson to a nervous wreck and finally gave the scoreline a hint of authenticity with Leeds' third goal, following an immaculate through pass from Cooper. Giles scored Leeds' other goals, the first a half volley at speed after Jones' back header confused the leaden Albion defence, the second a gift after Charlton's loping miskick was deflected by Jones.'
By way of some light relief from the pressure cooker of league action, United took on an all star selection in Cardiff during the week in a testimonial game for John Charles. The All Stars included Johnny Haynes, Jimmy Greaves and John Toshack. In a light hearted match, the All Stars won 8-5; Gary Sprake netted a second half penalty for Leeds.
It was a more serious affair on 11 December when United faced old rivals Chelsea at Stamford Bridge in a bitterly-contested match.
Geoffrey Green in The Times: 'When Leeds United took the field against a freshly revived Chelsea at Stamford Bridge on Saturday, unusually attired in crimson from head to toe, it seemed a clear indication of Yorkshire intent. They had come to avoid defeat and the red corpuscles of their garb were there to help.
'In the event Leeds probably achieved what they wanted. But an irritable, irritating, abrasive goalless draw did neither themselves nor Chelsea, nor - most important - the game itself much credit. At moments, indeed, the opening half more resembled some Mafia vendetta than football.
'It was Chelsea who finally produced the only two vintage moves of the game - a silky one-two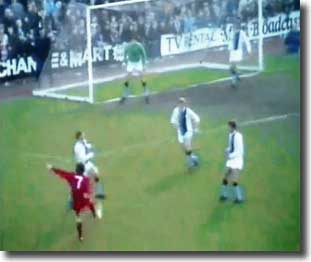 between Hudson and Osgood, which split the Leeds defence and forced a great diving save from Sprake to Hudson's rising shot; and another brave smothering block by Sprake at Hollins' feet following a flowing move between Hudson, Cooke and Osgood.
'The rest was an uncomfortable, arid stalemate between defences who knew every trick in the book and one or two others in the unabridged version. Still, when the screw was tightened by Chelsea over the last stages we did at least see all Leeds' professional, organised covering under pressure, their subtle freewheeling as a time consumer and the sudden counter attacks from depth prompted by Giles or Bremner. Leeds will be in at the last furlong for the title.'
The following week saw another point gained (or dropped) after a draw in London, this time against Crystal Palace. United took the lead in the 40th minute: from the edge of the area Lorimer drove a powerful yet precise lob over the keeper's head. Palace drew level through John Craven in the 68th minute. There were no further goals and United were in the end content with the draw.
1971 was signed off with a spectacular 3-0 victory over title rivals Derby County, allowing United to move past the Rams into third place.
Richard Ulyatt in the Yorkshire Post: 'Derby played as well as they were allowed to by a team who saw in them potential championship challengers and who were not prepared to stand any nonsense. There was not a weakness in the Leeds team. Tactically they exploited Derby's poor strategy in having only two men to block the midfield and individually they were spectacularly successful. Madeley, with two exceptional passes, one of which brought a goal; Charlton, who made one of his successors as England's centre-half, McFarland, look a novice; Gray, Giles, Bremner, Cooper … it would not overstate the efficiency of the Leeds team to go through it man by man and pick out notable examples of football skill displayed by every member.
'It was evident in the first minute, when Lorimer had his first, or sighting, shot, that Leeds were on the warpath. They had three goes at beating Boulton before Gray, helped by Clarke and an impish backheel by Bremner, scored the first goal in the sixth minute. That rocked Derby … and in the 20th minute Lorimer headed the first of his two goals.
'It was the product of a four-man move started when Madeley killed a Derby clearance on his thigh and swept the ball across the field to Gray, instead of, as expected, to Cooper. Gray, galloping like a shire horse as the ball was pushed on to him, then swung, with accuracy of a draughtsman, a pass to Lorimer, who completed a memorable move with a header which Boulton, with an extra arm, would have saved.
'Half-time of 2-0 might have been twice that margin and Derby … must have noted the writing on the wall. If not, it was plainly marked 13 minutes later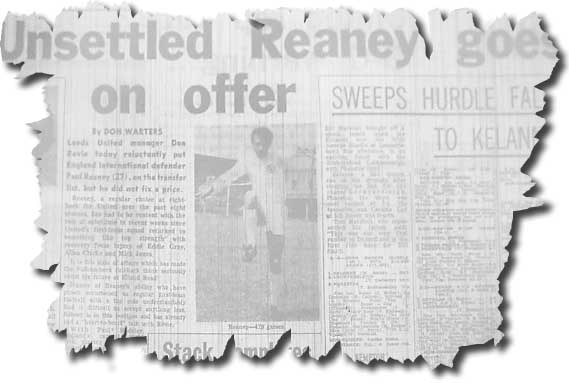 when Lorimer, having taken a pass from Cooper in his stride and been frustrated by Boulton's do or die save, tried again from 20 yards and scored his second and his side's third goal.
'Perhaps the Leeds veterans tired in the heavy going and fast exchanges, perhaps they were holding something in reserve for use at Liverpool on Saturday. Whatever the reason, Derby looked a better side in the last 15 minutes than earlier and Hinton, eluding his marking opponent, four times stole into the Leeds goalmouth and might - maybe ought - to have scored once or twice.
'Overall they could not complain as the more ebullient and optimistic Leeds fans chanted for the last half hour, 'Champions, champions.' Well, there are not many better teams.'
Despite the growing momentum, not everything in United's garden was sweetness and light.
In November Don Revie had confirmed that deputy keeper David Harvey was available on a £40,000 fee. The unsettled custodian had been on the transfer list since February. On 28 December, full-back Paul Reaney was added to the list. He had been displaced by Paul Madeley at left-back, and spent the last seven weeks warming the bench.
Within two days, Reaney had a change of heart: 'I was upset at being dropped after playing in the first 17 games this season. Just before the axe fell I thought I had been playing well. We had beaten both Manchester clubs away and I felt I had had a raw deal … Now I realise I didn't think long and hard enough about the matter before asking to see the boss.
'Last night I discussed the position with my wife Sandra and we decided that our future was in Leeds where our families and most of our friends live. After all, I have been with United since I was 15 and been a first teamer since I was 18. When I sat down to think seriously about the problem I knew there was no other club for me but United.'
Revie was only too happy to agree to Reaney's request, saying, 'It was a late Christmas present. Now I am hoping for a New Year's present from David Harvey. Paul is a very valuable member of the Elland Road set up … He is determined to get his head down and fight to regain his place in the side. And knowing what determination can do for a player of Paul's class, I see no reason why he shouldn't achieve his ambition.'
Part 2 - The Asa Hartford affair - Part 3 - Super Leeds - Results and table