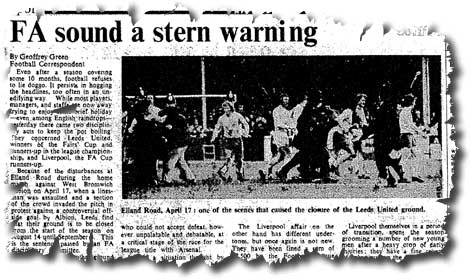 The relationship between the football establishment and Don Revie's Leeds United was always a fractious one. After the club won promotion to the First Division in 1964, they were branded 'Dirty Leeds' when the Football Association singled them out as 'the club in the Football League with the worst record last season for players cautioned, censured, fined or suspended'.
The figures took into account all the various teams operated by a club - from first-team to youth side, as Revie was at pains to point out. 'We did not have a single first team player sent off last season and we had only one suspended, Billy Bremner, after a series of cautions, which is a lot more than many clubs can say. The majority of our offences were committed by junior second team players or boys.'
The FA were presented with another opportunity to make an example of United in 1971 following the club's controversial game against West Bromwich Albion on 17 April.
At the time, United were locked in a race for the title with Arsenal and badly needed the points to bolster their challenge. After falling a goal behind, they were pressing furiously for a second half equaliser when disaster struck. With a linesman frenetically flagging for offside, referee Ray Tinkler waved play on as Albion broke away. The official awarded a goal when Jeff Astle slid the ball home. The decision sparked a furore; irate supporters poured onto the playing surface to protest at the injustice and matters threatened to get seriously out of hand.
Revie and United chairman Percy Woodward spoke in emotive terms after the game, apparently endorsing the crowd's misbehaviour. Woodward had claimed there was 'every justification' for the anger, while Revie said, 'I regret the crowd scenes like anybody else, but I can understand why they cut loose.'
Leeds city councillor Bernard Atha, a former deputy chairman of the local Watch Committee, said of Woodward: 'I think it is a disgrace that any member of the Watch Committee or anyone concerned with law and order should make a comment that there was every justification for an act of hooliganism and almost barbarism.' The Leeds police joint branch board had commented: 'The problem of keeping soccer violence in check is difficult enough without the impression being given that crowds have a right in protesting violently against an unpopular decision.'
A disciplinary commission was appointed to conduct an inquiry into the events and they reached their verdict on 10 June, as reported in The Times: 'The Football Association announced yesterday that Elland Road, home of Leeds United, the Fairs Cup-holders, will be closed from 14 August to 4 September. Leeds United, who must now find another venue for their first four home league games, were also fined £500 by the FA disciplinary commission and their manager, Don Revie, and chairman, Alderman Percy Woodward, were severely censured regarding press statements following the game.'
Geoffrey Green took up the story: 'This means that another ground must be found by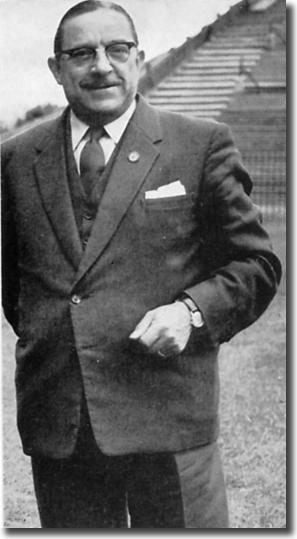 Leeds for that period - not less than a distance of 12 miles' radius under FA Rule 38 - to accommodate the opening four games on their fixture card against Wolverhampton Wanderers, Tottenham Hotspur, Newcastle United and Crystal Palace. Should the gate receipts at any of those matches fall below the Elland Road average, the opposing club must be paid the equivalent compensation.
'None of this is new. Leeds, in fact, have now become the fourth club to be punished in this way since the war. Yet in this case it is not so much the inconvenience, the possible revenue involved, or the loss of home advantage in a playing sense that will bite deep, but the stigma attached.
'Since pushing their way to the forefront over the past seven seasons, they have fought hard in recent years to improve their public image on and off the field and have largely succeeded in their aims, particularly priding themselves on one of the better behaved band of supporters. Now a spanner has been thrown in their works. The trouble has been caused by no more than some 50 or so firebrands from the terraces who could not accept defeat, howeyer unpalatable and debatable, at a critical stage of the race for the League title with Arsenal.
'It was a situation thought by the FA committee to have been further aggravated by the attitude of the Leeds players themselves towards the referee, Mr Tinkler, and one of his linesmen when feelings were running high.
'However, I suspect that this verdict is aimed primarily at the Leeds chairman, Mr Percy Woodward, and the manager, Mr Don Revie, for their unwise, bitter public statements on television and otherwise, made thoughtlessly at the time, before allowing the dust to settle. Their subsequent explanations and apologies have since been accepted, but both are now severely reprimanded for bringing the game into disrepute.
'It is all intended as a stern warning to football as a whole and underlines the desire of the FA to support and protect referees in a thankless task, which only tends to become more difficult.'
At first, the club tried to come to an understanding with their opponents and rearrange the relevant fixtures for later in the season, thus getting round the sanction; though it seemed their manoeuvring might bear fruit, it quickly became clear that United would have to toe the line. They were eventually forced to concede defeat and seek support from Yorkshire neighbours to stage the four matches.
Their first two games ended in drab draws, 0-0 against Wolves at Leeds Road, Huddersfield, on 21 August and 1-1 with Tottenham at Boothferry Park, Hull, four days later. With those results following on a shock 3-0 defeat at Sheffield United, fault lines were showing in United's title challenge.
On Wednesday, 1 September, Leeds faced the third of their 'home' fixtures, against Newcastle United at Sheffield Wednesday's Hillsborough stadium. A 2-0 victory away to Ipswich Town on 28 August had brought some relief, but Leeds badly needed another win to get their season back on track.
If they were to succeed against the Geordies, they would have to do so without the injured Mick Jones and Eddie Gray. They were otherwise at full strength; Rod Belfitt continued to cover for Jones and the versatile Paul Madeley was deployed in midfield.
Newcastle came to Sheffield in poor form, with a single victory from their five games. They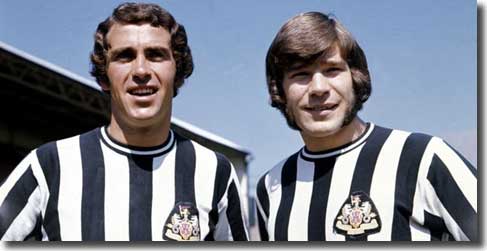 were hopeful, though, of adding to Leeds' problems with former United midfielder Terry Hibbitt and £180,000 centre-forward Malcolm Macdonald eager to impress in the colours of their new club.
Macdonald had been a prolific goalscorer with Second Division Luton Town and had marked his St James' Park debut on 21 August by crashing home a hat trick against Liverpool in a memorable 3-2 victory. While going for a fourth, Supermac had collided in mid air with keeper Ray Clemence, losing his front teeth in the process. He was stretchered out of the action to rapturous applause from the Geordie fans. From that moment on, he was the idol of the Toon Army.
Hibbitt had moved to Newcastle in a £30,000 deal on 9 August in pursuit of regular first team football after years of bit part appearances with Leeds. Ivan Ponting in The Independent: 'Hibbitt made his Magpies debut on the same day as Macdonald and immediately the two men struck up a rapport. The schemer's sweeping, perceptive passing offered ready ammunition for the explosive Supermac to fire and the upshot was half a decade of memorably exhilarating entertainment.'
The crowd of 18,623 at Hillsborough was lost in a stadium that in those days could accommodate around 50,000 spectators (meaning that Leeds would need to compensate Newcastle to the tune of around £2,000). As Barry Foster reported in the Yorkshire Post, 'There was a practice match atmosphere as Newcastle kicked off. The ground was less than half full and one wondered if the players would be able to raise their game with so little encouragement.' Foster had no need to worry, for Leeds demonstrated with some alacrity that rumours of their demise had been greatly exaggerated.
According to Foster, they 'immediately slipped into a brand of cultured attacking play which quickly had McFaul under heavy pressure. It was good, clean stuff, with the eager way in which everyone found and used space a telling factor in Leeds' dominance.'
United forced a corner within 90 seconds and a minute later they opened the scoring. They had won a second flag kick, and Johnny Giles played it short to Paul Reaney on the edge of the area. With a smart piece of opportunism, Jack Charlton diverted the full-back's shot past goalkeeper Iam McFaul and into the net.
After such a bright start, the Leeds supporters expected their favourites to overwhelm Newcastle,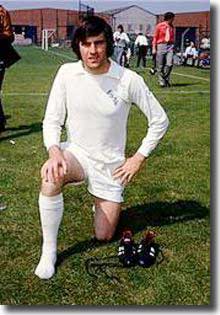 but they had a while to wait for a second goal. The Geordies, in fact, came close to an equaliser; Macdonald was unlucky not to score after a strong run down the left, but his powerful drive struck Gary Sprake's right hand post.
Seconds before the break, Leeds made it 2-0. Newcastle midfielder Tommy Cassidy sought to feed a team mate in midfield, but had something of a brainstorm. He was woefully inaccurate with his pass and only succeeded in serving the ball up to Peter Lorimer, who drove home from fully 25 yards.
The half time advantage gave the Whites the foundation for a second half charge.
After 59 minutes Newcastle skipper Bobby Moncur fouled Billy Bremner in the area, though there were accusations that the Leeds captain made the most of the contact with a theatrical dive. Giles sent McFaul the wrong way from the penalty spot and Leeds were three ahead.
Before long Paul Madeley had increased the advantage, scoring after Newcastle struggled to clear a Lorimer corner.
Around the 75th minute, Newcastle pulled one goal back when a shot from Tommy Gibb struck Norman Hunter. Sprake looked to have the original effort well covered but he was helpless as it was diverted into the net.
There was to be no Newcastle comeback and Terry Yorath added a fifth for Leeds after coming on as substitute for Rod Belfitt. According to Barry Foster, it was 'one of the best moves of the night. Yorath started the move near his own penalty area. The ball was transferred from Madeley to Giles, who centred it at the right moment for the young wing-half to blast the ball into Newcastle's net from close range.'
The 5-1 victory saw United climb to second in the table behind pace setters Sheffield United and represented their best score since routing Sparta Prague 6-0 in the Fairs Cup in December 1970. They had not managed five in the League since February 1970 when they had given West Bromwich Albion a drubbing.
It was a masterful and dominant display, as described by Paul Fitzpatrick in The Guardian: 'Last night they achieved emphatic victory. They gave Newcastle a pounding: and they also gave warning that any talk of their being in decline is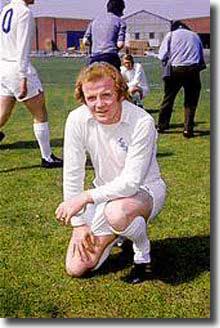 ludicrously misplaced.
'Leeds were not, perhaps, at their very best, but they were not far short of it. Bremner, who in thought and action was light years ahead of most others on the pitch, and Giles, who seems to have fully recovered his assurance and appetite for the game, controlled the middle of the field with a subtlety and brilliance that was nothing short of inspiring. Repeatedly, the Newcastle defence was stretched by the length and accuracy of their passes, and repeatedly were bewildered by the changes of pace and direction of the midfield pair.
'Bremner uses the length and breadth of the field to air his talent, and last night those talents looked to be equal to anyone's in the game. If Newcastle had been playing Bremner on his own, they would have had their hands full, but Leeds carried far too much power all round for a Newcastle team of spirit, but nothing like enough imagination or forward strength to upset Charlton and company.
'The second half was embarrassingly one-sided. Driven forward by the ubiquitous Bremner, Leeds tormented Newcastle mercilessly ... Mr Kirkpatrick, the referee ... was moved to join in the standing ovation for Leeds at the end.'
After such a lamentable start to the season, this was a real fillip for United. Three days later they won their final game in exile, beating Crystal Palace 2-0 at Huddersfield Town's Leeds Road, to maintain their momentum.
The Whites struggled to sustain the excellence of their display against Newcastle with any consistency, but the game provided ample evidence that they still had what it takes to mount a serious challenge for the league title.