Part 1 - Exiles - Part 2 - The Asa Hartford affair - Results and table
New Year's Day, 1972, saw Leeds United third in the First Division table, four points behind leaders Manchester United, and facing a clash with old rivals Liverpool at Anfield. The Reds were defending an unbeaten home record that stretched back 34 League games to March 1970.
Leeds secured an admirable 2-0 victory with a sterling display. Jack Charlton's absence with a neck injury created few issues, only providing Paul Madeley with the opportunity to offer further evidence of his outstanding versatility, while Johnny Giles and Billy Bremner brought direction and purpose to United's midfield play.
Eric Todd in The Guardian: 'During the past six years every adjective - not all of them complimentary - has been bestowed on Leeds United. I still believe that dedicated and imperturbable are the most apposite. Against Liverpool they played to a predetermined plan, and the manner in which they withstood Liverpool's first half assaults was so much a hallmark of their coolness and method as it was a warning of the wrath to come.'
Liverpool failed to seize the day, passing up the opportunity to exploit United's defensive mindset in the first period. Leeds threatened just once, when Lorimer hammered the ball against Clemence's upright from 25 yards. There was more action at the other end, with Sprake saving well from Hughes and Keegan, the latter also striking a post. When Whitham had an open goal yawning, Reaney was perfectly placed to preserve the clean sheet.
Nevertheless, it was United who opened the scoring after 58 minutes. Giles played a free kick out wide to Madeley on the right and when he nodded across goal, Clarke flicked the ball home cleverly with his head. The Whites wrapped up the points with ten minutes remaining. Lorimer crashed into a tackle deep on the Leeds right and, with the Reds pleading for a free kick, Clarke broke away to pierce the Liverpool defence with a killer pass for Jones to steer into the bottom corner.
Leeds' gathering momentum was stayed a week later as they stuttered to a 2-2 draw at home to Ipswich. The visitors took a shock two-goal lead on the hour when Allan Clarke's older brother Frank nodded home from a corner.
United responded sharply and pulled one goal back two minutes later from a Bremner header. A controversial score with six minutes to go brought them level. Terry Brindle in the Yorkshire Post: 'With Leeds piling irresistible pressure on the Ipswich goal, Allan Clarke stabbed in an angled shot which hit Best, rebounded and was booted away by Morris. The referee, Mr Jack Taylor, signalled a goal, was mobbed by protesting Ipswich players, and stuck to his guns after brief consultation with a linesman.
'Was it a goal? "Of course," said Mr Taylor. "I was standing only about three yards away, and the ball was a foot over the line when it hit the goalkeeper. No doubt whatsoever." "Of course," said the Leeds players and manager Don Revie, who was six inches surer than Mr Taylor. "It was 18 inches over the line," he said.
;When Ipswich had taken a two-goal lead through Allan Hunter and Frank Clarke - totally against the run of play and probability - it seemed Leeds were destined for unheard of defeat. But their profound character won through. The pressure was redoubled to unbearable intensity, the resolve never wavered and Ipswich finally capitulated.
'Leeds wasted more chances than they should; they conceded two soft goals and turned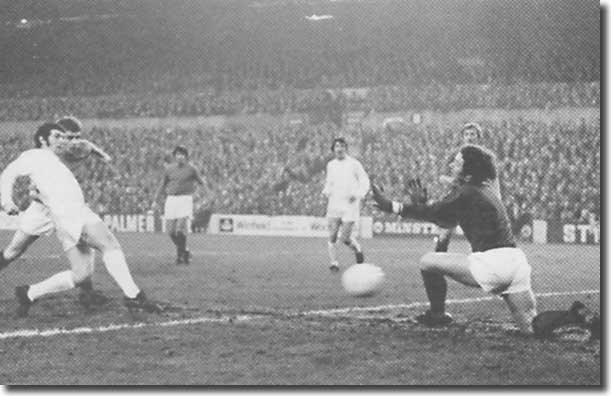 a virtual formality into an uphill slog. But they fought through brilliantly to a point and that is still championship form.'
At the club's annual general meeting during the week that followed, Don Revie warned that United might have to reconcile themselves to a lean spell during a period of rebuilding. He suggested they needed to replace three or four world class players in the next few years. Praising the directors for having 'backed me to the hilt', Revie said that if he wanted a player tomorrow, the directors would put their hands into their pockets. 'But if you are going to pay big fees, I feel you must try and be certain that you are going to receive good service over a ten-year period. That means buying players of about 21 or 22.'
The FA Cup third round brought Bristol Rovers to Elland Road on 15 January. United were without strikers Clarke and Jones, along with Charlton, but they won 4-1 with two goals apiece from Giles and Lorimer. They took the lead after 17 minutes and were 3-0 up at the break in their first FA Cup-tie since losing at Colchester in February 1971.
Third Division Rovers showed plenty of courage and spirit, but were badly outclassed on the day. Giles gave United the lead after 17 minutes, slotting home the rebound after goalkeeper Jack Sheppard failed to hold a Lorimer shot. The Scot added a second goal six minutes later, taking the ball wide of the keeper and avoiding two tackles before scoring off a post. Giles made it 3-0 from the spot in the 34th minute after Sheppard brought Lorimer down. Sandy Allan got Rovers on the score sheet thanks to a defensive lapse after 74 minutes, but the Whites remained in complete control, adding a fourth and final goal eight minutes from time when Lorimer notched his second.
A couple of days later, reserve keeper David Harvey revealed his desire to come off the transfer list after 11 months.
It was reported that, when his current contract ended in the summer, Harvey would sign a new three-year contract with a three-year option. 'I suppose people will think it is money which has caused me to change my mind, but that is not so. I have said all along that I would accept a drop in wages if I went to an ambitious club. Money is not everything … I want to be involved the whole time, and lately I have enjoyed going to report on other teams for the boss. In fact, one of the things which has helped me greatly in reaching this decision was a promise that I can continue with this sort of work when I am not playing.
'I have worked hard at my game at Leeds and now that I shall be spending the rest of my playing career with United I intend to settle down and try to work even harder.'
'It is great news for myself and the club,' said Don Revie. 'I never wanted David to leave Elland Road and we only put him on the list in the first place because he wanted to try to break through at another club. I must say that I was surprised he was not snapped up by some club or other but all that is in the past now as far as I am concerned.'
Harvey's place on the list was taken by one of his colleagues: John Faulkner.
Eight weeks later the defender was sold to Luton Town for £6,000, ending a disappointing stay at Elland Road. He conceded an own goal on his debut against Burnley in April 1970, and fractured a kneecap in his second appearance a fortnight later. Faulkner made his comeback at the end of September 1971 in the Fairs Cup against Lierse, playing in both legs. Those four games were the sum total of his two years at Leeds. His time at Luton was more impressive, with over 200 first team appearances and a place in their promotion-winning side in 1974.
Jones and Clarke were restored to the line up against Sheffield United on 22 January, and the latter headed the only goal after 16 minutes. With table toppers Manchester United losing at home to Chelsea, the win took Leeds top for the first time.
It was not, however, a high quality contest, as reported by Richard Ulyatt in the Yorkshire Post: 'It was hard, unyielding and sluggish; a test of players' strength and referee's patience. Get on with the game, never mind the ball, might well have been the day's order. The gem of a shot Gray made for Leeds and Hope saved for Sheffield; the astute move by Scullion which nearly provided an equalising goal; even the winning goal, scored by Clarke in the 16th minute with a header from Jones' splendid cross after he and Madeley had shrugged off a succession of challenges, were minor, almost incidental, excitements.
'What dominated the day was the crunch of boot on bone, expected or felt, fair or illegal, and the determination of the admirable referee, Mr Keith Walker, to stand no nonsense. He said as much in the first minute when booking Bremner for a foul on Salmons. He said so again a few minutes later when booking Salmons for fouling Lorimer. He said so when booking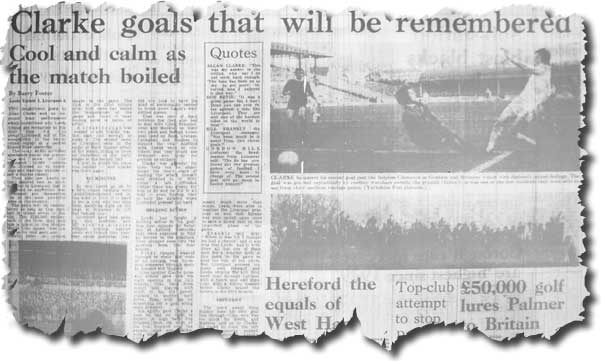 Hockey for fouling Bremner and was even more emphatic when sending off Salmons and then, before the player had started walking, having second thoughts. "I told the player," Mr Walker said afterwards, "that next time he would go and I was influenced in my decision not to send him off by Bremner appealing to me on his behalf." Bremner, be it said, was the man fouled.
'I reckon Mr Walker was the hero of the piece. He ought to have given a penalty against Sheffield when Jones was pushed by Colquhoun, but from an angle different from mine it might have looked more obstruction. He might have sent Salmons off, but full marks to him for having second thoughts.'
Again, as United looked to build on their advantage, they experienced a setback, losing at Tottenham on 29 January. It was their first defeat since Southampton on 13 November.
The only goal at White Hart Lane came when Peter Lorimer sold Gary Sprake short with a loose back pass after 71 minutes. The keeper seemed to have saved the day, but let the ball slip away off his legs as he came out and Martin Chivers seized on the opportunity to score.
Leeds could have done with an easy game to allow them to regain momentum, but the following week they faced Liverpool at Anfield in the FA Cup fourth round. They secured a goalless draw to take the Reds back to Elland Road for a midweek replay.
A miners' strike had caused coal shortages, so the match was scheduled for a 2.30 kick off to avoid the need for floodlights. Nevertheless, 45,821 fans were on hand to watch United win by virtue of two brilliant goals from Allan Clarke.
The Whites had to be content with a goalless draw at Everton on 12 February, but with Derby and Manchester United both losing and Manchester City held to a 3-3 draw at Sheffield United, their progress was not overly hampered.
Fears that their challenge might stall were emphatically dispelled over the next few weeks as Leeds enjoyed one of the most impressive periods in the club's entire history.
On 19 February Manchester United visited Elland Road, and were battered 5-1; a week later Leeds won at Cardiff in the FA Cup far more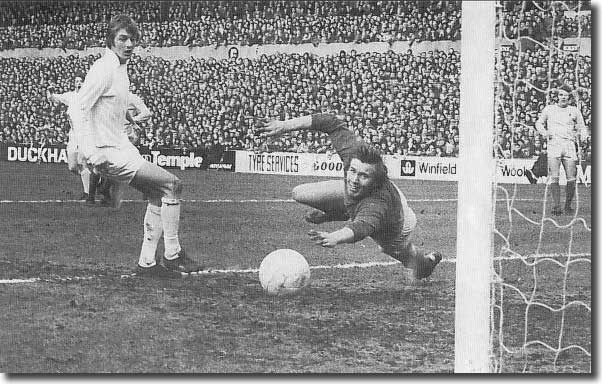 decisively than the 2-0 scoreline suggests; next came the legendary 7-0 humiliation of Southampton. This was the stuff of dreams for Revie.
The Daily Telegraph: 'Leeds, with their breathtaking efficiency, left no doubt about the sheer quality of their football ... Leeds, as manager Don Revie has claimed, had more than a passing resemblance to Real Madrid in their prime.' Rob Bagchi and Paul Rogerson in The Unforgiven: 'It was a supreme moment. Eleven years after he'd made the decision to switch the club strip to all white in homage to Real Madrid, Revie had finally received the one compliment he had always desired.'
Coventry City attempted to spoil the party on 11 March, setting up a defensive wall to hold back the tide at Elland Road. They escaped with a 1-0 defeat, undone by a goal from a defender celebrating a magnificent milestone.
Paul Fitzpatrick in The Guardian: 'Before the game Jack Charlton, who has laboured with distinction for Leeds for 20 years, was presented with a wall clock, a six-piece set of furniture and any amount of silverware to mark his six hundredth League game for the club. Soon, at the club's expense, his house will be decorated throughout. Fortunately for Leeds, he was still not satisfied. After 10 minutes Charlton, who until then had been largely idle, went on an almost inquisitive visit into the Coventry penalty area, and scored with a well-timed, well-placed header from Madeley's accurate centre. Charlton, in spite of the room he was given, has not scored many better goals. It could yet prove to be one of the most important in this season's League race.
'If Charlton saved the game for Leeds, a high wind ruined it for the spectators … It could not be blamed, however, for an undercurrent of sourness which ran through the game after the goal, which itself had its origins in crime - an unpleasant foul by St John on Clarke. Thereafter, an indecisive referee failed to maintain strict discipline. And when Mr Challis did dish out a caution, most people felt that the booking had arrived at least half an hour too late.
'Coventry were the chief sinners, with Cattlin, Smith, Blockley and Barry earning the wrath of the home crowd. Leeds were largely but not entirely blameless,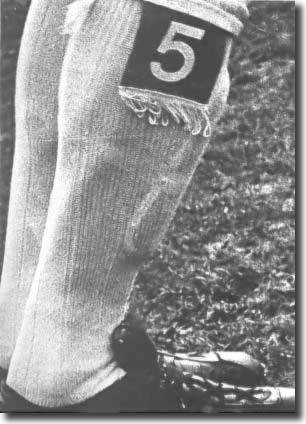 and Reaney was guilty of the worst foul of the afternoon. Lucky for him that at the time the referee's attention was elsewhere.
'The compensations for missing collective brilliance were some excellent individual performances. In the Leeds defence … Charlton and especially Hunter were outstanding. Hunter never has been, probably never will be, an endearing character, but he is playing wonderful football at present, and his reading of this game was so perceptive as to be almost clairvoyant. Giles was magnificent, an unrivalled master of midfield and unrivalled as the game's outstanding player.'
United's transformation that spring was evident in many more features than merely their onfield performance. Bagchi and Rogerson: 'Revie had become commercially involved with Paul Trevillion, a football illustrator and budding inventor. Persuaded that the best team in the country were not getting the plaudits they deserved, he accepted Trevillion's suggestion that, by adopting a few gimmicks to bypass the press and whip up the hysteria of the public, United could quickly reverse the years of negative publicity.
'In short, the project was the full scale marketing of the team ... It involved madcap but funny schemes like the pre-match salute, the sock tags, group warm up callisthenics, culminating in the choreographed kicking of plastic footballs into the crowd. Strangely, it worked. The most memorable part was the salute. The team would run out of the tunnel two minutes before their opponents, giving the crowd ample opportunity to barrack the visitors when they appeared shortly afterwards. The players would then form a line either side of the centre spot and salute each part of the ground in turn, milking the applause. Trevillion had special tracksuits made, with each player's surname embroidered on the back. After the match the players would throw their number-bearing, autographed sock tags ... into the crowd.'
The pre-match routine was given its first airing before the FA Cup quarter-final with Tottenham on 18 March. There was some snide carping about the gimmickry, but no one could dispute the breathtaking quality of United's football. In another peerless display they destroyed Tottenham, though the 2-1 scoreline masked the one sidedness of the game.
The disappointing return from away games continued with another goalless draw at Leicester. A poor performance owed something to 'a bone hard, bare, uneven pitch which made my lawn look like a bowling green' (according to Mike Casey in the Evening Post).
Back in the familiar surroundings of Elland Road, against reigning champions Arsenal on 25 March, United were back to their best. They tore the Gunners apart, goals from Clarke, Jones and Lorimer delivering a 3-0 lead at the break, which they were content to preserve. Two days later, United destroyed relegation-haunted Nottingham Forest by six goals to one.
The victory brought Leeds within two points of Manchester City, with a game still in hand.
Narrow victories the following day for Derby and an increasingly-consistent Liverpool tightened the most widely and hotly contested title race for years, as the top four enjoyed clear water on the rest of the field.
Top of Division One - 27 March, 1972

Pos

P

W

D

L

F

A

Pts

1st

Manchester City

35

20

10

5

66

36

50

2nd

Leeds United

34

20

8

6

61

23

48

3rd

Derby County

34

19

9

6

58

30

47

4th

Liverpool

34

18

8

8

50

27

44

5th

Wolverhampton W

34

15

11

8

57

47

41
Leeds dropped a point at West Ham on Good Friday, 31 March, coming back from 2-0 down to snatch a draw with two second half goals from Eddie Gray.
Geoffrey Green in The Times: 'Leeds United, without Giles and Jones and with Lorimer on one leg for most of the second half, not so much lost a point at Upton Park yesterday as rescued one. Yet the hard fact remains that they can scarcely afford anything but victory now. Be that as it may, however, the Yorkshiremen at the interval were two down to goals by Bond and Hurst and looking bereft. But in a spirited second half they rallied with terrier spirit to save their ship.
'The absence of Giles yesterday seemed all important. He is the pocket Napoleon of the Leeds side and without him Bremner looked like someone mourning the loss of an arm. Gray, fit again and switched inside from the wing to take Giles' place, more than did his part by scoring both the Leeds goals in the second half. But somehow one had the feeling that here was a committee lacking a dominating chairman.
'A swift shot by Bonds after only four minutes and a left foot arrow by Hurst from Robson's precise cross put West Ham in the ascendancy. But a couple of fine double barrelled replies by Gray, right and left foot, in the second half brought things to an even keel.'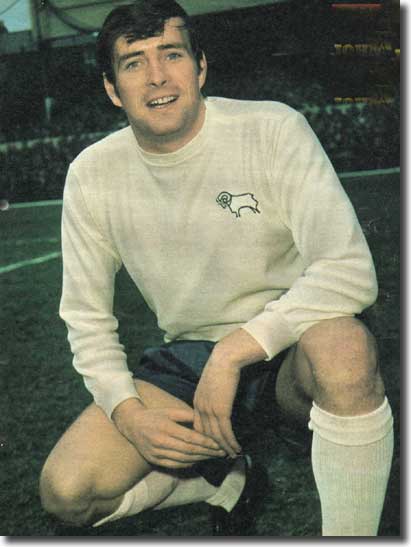 While Giles was fit to return, Jones was still unavailable to play the following day at third placed Derby County. Don Revie reported the following list of casualties: Charlton (bruised thigh), Reaney (ankle), Lorimer (bruised knee), Clarke (bruised shin), Bates (bruised hip), Bremner (double vision), Gray (blisters), Madeley (blisters). In the end all eight were fit to play, with Bates substitute. The others in the eleven were Sprake, Cooper and Hunter.
A crowd of almost 40,000 witnessed a memorable contest, though United had one of their poorer afternoons, understandably so, given the crippling demands of having to play two vital games within the space of twenty-four hours.
Barry Foster in the Yorkshire Post: '(Derby's) whirlwind football was much too much for Leeds United on Saturday in the big match of the day. After their energy-sapping uphill fight for a point the previous day at West Ham, Leeds were no match for a fresh and fine Derby outfit who, in the end, beat them as convincingly as they themselves had beaten Derby at Elland Road on Boxing Day.
'Derby never allowed Leeds to settle on the ball and play the game at their pace. It is a formula that has beaten Leeds before but one should quickly add Derby backed up their pressure with a great depth of skill and ideas. It was easy to see why Don Revie ... was full of praise for the Derby performance, adding that if his team did not take the title Derby would.
'There was a goal in each half, the first from O'Hare's head after 16 minutes and the second as a result of his hard shooting in the 70th minute. The Scottish international, making his 200th League appearance for Derby, hit Sprake's leg with his shot for the second and in the best tradition of Leeds Driffield, the ball cannoned from the goalkeeper to Norman Hunter and then into the net.
'But when you add that Reaney twice managed to clear fierce shots off the goal line and Hunter, a gallant competitor and one of the few who did not deserve to be on the losing side, also made a goal line clearance, the difference between the two sides is even clearer.
'It should not be forgotten, however, that Leeds did get the ball in the net first. Giles, back in the side after injury, though never looking near his true form, found the net after 10 minutes but was marginally offside. To their credit the Leeds players took the decision without complaint but thereafter managed only one shot - again from Giles - to trouble Boulton.
'Right from the first kick the match was played at a fast and furious rate. Within five minutes McGovern had been booked after Giles had been brought down on the slippy pitch. In the next five minutes Giles had put the ball in the net at one end and Reaney had been stunned by heading a drive from Gemmill off the line at the other.
'The first goal came after Bremner had been pressured into a poor clearance, the ball going straight to Durban whose cross was too accurate for either Sprake or Cooper to stop O'Hare. With Todd looking better in the back four than Moore had done the previous day, and Leeds missing the power of the injured Jones, there was no reply from Leeds.'
Top of Division One - 1 April, 1972

Pos

P

W

D

L

F

A

Pts

1st

Derby County

36

21

9

6

61

30

51

2nd

Manchester City

36

20

10

6

67

38

50

3rd

Leeds United

36

20

9

7

63

27

49

4th

Liverpool

36

20

8

8

54

24

49

5th

Tottenham H

36

16

11

9

52

36

43
The victory took Derby top; with Manchester City losing at home to Stoke and Liverpool beating West Bromwich, the clubs remained tightly bunched.
Easter Monday saw Derby slump to a surprise defeat at home to Newcastle while Liverpool won 3-0 at Old Trafford, easing Leeds down to fourth.
Liverpool manager Bill Shankly: 'The side to lift the title will be the one that gets consistent results over the remaining five-six matches. We have never said that we would win the League - only that it was not all over, by a long way.'
Manchester City's 2-0 reverse at Southampton the following day dented their diminishing hopes and on Wednesday, 5 April, Leeds and Derby had an opportunity to strengthen their claims, with United at home to Huddersfield and Derby at West Bromwich.
The Rams had to be content with a goalless draw, but a hesitant United beat Huddersfield 3-1. Leeds, playing before 46,148 supporters, took the lead after twenty minutes when Jones headed home a Lorimer cross after the Scot had dummied his way past left-back Hutt.
The Terriers looked the more assured in midfield, despite having to contend with their own anxieties regarding relegation. They equalised ten minutes after the break when Smith's header went into the net off Hunter.
However, it was Leeds who won, with two goals in the final 13 minutes. Lorimer took Giles' pass to drive a powerful shot into the corner of the net from the sharpest of angles; five minutes later Jones put Gray free at midway and he glided through to score the third after beating Clarke and slipping the ball wide of goalkeeper Pierce.
A 3-0 victory at Stoke on 8 April was just what the doctor ordered, with two goals from Jones and a third from Lorimer, his 28th of the campaign. But Leeds paid a terrible price for the points, with Terry Cooper fracturing his left leg five minutes from the end. The same afternoon, Nigel Davey suffered a double fracture of his right leg while playing for the reserves.
Don Revie: 'Neither of them will play again this season ... It is not a time to drop our heads, we have a job of work to do.'
The injury at least solved a headache for the manager: how to keep Paul Reaney happy. The England international had been in and out of the side since Eddie Gray was recalled in November, with Paul Madeley generally preferred at right-back. Cooper's unavailability left Madeley the obvious choice at No 3, allowing Reaney to resume his long-running monopoly of the right side of the defence.
Gary Sprake was also out of contention after injuring a knee at Huddersfield, which allowed another player recently taken off the transfer list, David Harvey, to stake a claim. Reaney and Harvey were both in the eleven which faced Second Division Birmingham City in the FA Cup semi final at Hillsborough on 15 April. Both men, in fact, played unchanged to the very end of the campaign.
United were heavily fancied to beat the Blues and did so with assurance. Jones opened the scoring after 16 minutes, Lorimer added a second eight minutes later and Jones wrapped up a 3-0 victory with his second in the 64th minute. It was as straightforward as the score suggested. United were through to their third Cup final in eight seasons.
During the week, Leeds wasted one of their games in hand, going down to an 81st-minute goal from Malcolm Macdonald at Newcastle. It was desperately disappointing. Don Revie: 'This defeat really throws the championship wide open. We must win our three remaining games to keep the pressure on. I thought there was a blatant penalty for us when Moncur pulled Jones' shirt to hold him back in the box.'
Four days later, United repaired some of the damage when a Giles penalty earned two points at West Bromwich.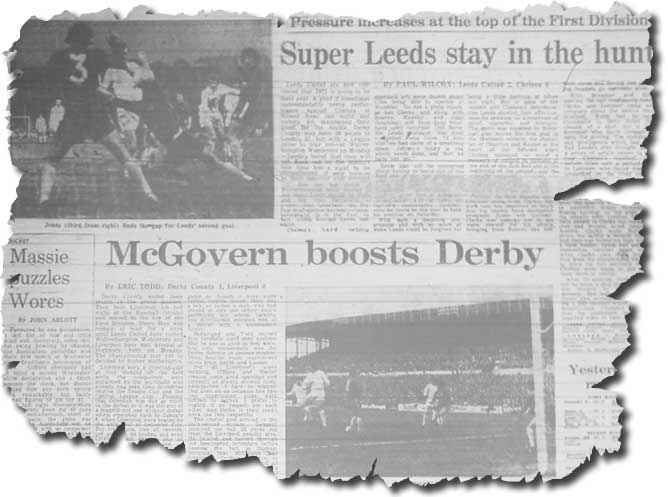 Liverpool beat Ipswich 2-0 at Anfield, while the top two clashed, with Manchester City defeating Derby 2-0. It was City's final game and left them top, but the other three contenders had games to play and superior goal averages. The destiny of the championship was still anyone's guess.
None of the four contenders were in action on 29 April, when England faced West Germany at Wembley in the European Championship. Norman Hunter and Paul Madeley were in a side beaten 3-1 thanks to the performance of a lifetime from midfielder Gunter Netzer.
Monday, 1 May, brought two vital clashes, with Derby entertaining Liverpool and Leeds at home to Chelsea. It was a night which seemed certain to be decisive.
The first meaningful event of the night came after 20 minutes at Elland Road, where Billy Bremner gave his side the lead. Norman Fox in The Times: 'Clarke had almost scored at least twice before he contributed the crucial pass in the move that gave Leeds their first goal. This was no ordinary move, it was a sequence of attacks that pummelled the Chelsea goalmouth until the right gap appeared. Nearly a dozen passes had flicked from man to man in front of Bonetti as he looked from one side of the penalty area to the other like an umpire at tennis. Then came Giles to simplify things with a ball struck through the area to Clarke to the right of goal. Clarke's instantly judged and executed pass across the crowded goal area was met on the run by Bremner, who hammered his shot past the bemused Bonetti.
'There were times last night when Leeds deserved every trophy, medal and accolade that they have been begrudged so often by Fate. Their superiority over this good Chelsea team was so remarkable that they could play possession football after only 20 minutes. Passes clicked into place like jigsaw parts.'
At the midway point United were in control and cruising to a win, despite their slender one-goal advantage. Over in the East Midlands, the contest remained scoreless.
20 minutes after the resumption, Derby skipper John McGovern followed the United captain's example, putting his team ahead. Geoffrey Green, also in The Times: 'Gemmill turned back and forth two or three times like a rabbit trying to escape the headlights of a car. Suddenly he cut back for the third time, squared a pass across the face of the penalty area and there was McGovern suddenly free and able to pick his spot at the top corner past Clemence's desperate dive.'
Minutes later, Leeds settled the destination of the points. Norman Fox: 'A corner from Giles went low to Lorimer who drove a shot into the blue wall. Inevitably, the ball rebounded and Jones moved sideways to find room, turned and found a tiny target to Bonetti's left. As Leeds ran back, congratulating each other on this important goal, they heard that Derby were winning. The whole ground seemed to boil over with excitement. The Double was in sight.'
Top of Division One - 1 May, 1972

Pos

P

W

D

L

F

A

Pts

1st

Derby County

42

24

10

8

69

33

58

2nd

Leeds United

41

24

9

8

72

29

57

3rd

Manchester City

42

23

11

8

77

45

57

4th

Liverpool

41

24

8

9

64

30

56
There were no further goals and Leeds and Derby confirmed their victories, with Liverpool dropping their first points since 11 March. Don Revie was finally forced to admit, 'I think we have a chance of the Double now.'
Liverpool and United each had one game left, on the Monday following Leeds' Cup final date with Arsenal on 6 May. But that would have to wait for the time being ...
The Cup final was punctuated by incidents that remain vivid in the memory of the United fan: Jones committing McNab, hurdling his challenge and sending over an inviting centre; Clarke plunging headlong to send the ball looping past goalkeeper Barnett into the bottom corner; Bremner receiving the trophy from the Queen; and Hunter helping the injured Jones up the stairs to the Royal Box to collect his medal.
They had precious little opportunity to relish their moment of triumph, however, for they were off to Wolverhampton on the second stage of their pursuit of the Cup and league Double.
The equation was simple; United required only a draw at Molineux to win the title. An 11-0 victory for Liverpool at Highbury against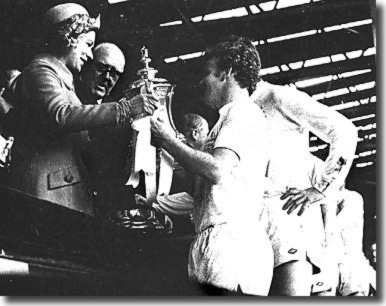 Arsenal would then be required to deny them. Should Leeds lose and Liverpool win, then Bill Shankly's men would scoop the championship.
There was a third option, but it was just too remote, too convoluted, a notion to be given serious credence in pre-match discussions: if Leeds lost and Liverpool failed to win, Derby would be champions. It was so slim a possibility that even County had dismissed it and departed on their holidays, the players to Majorca and manager Brian Clough to the Scilly Isles.
Astonishingly, it was exactly that permutation of events that transpired: Wolves rose dramatically to the challenge on a passionate evening in the West Midlands and won 2-1 with Don Revie bemoaning the penalties his men were denied; in London, Liverpool could not pierce the Arsenal defence and were held to a 0-0 draw.
DERBY HAD WON THE TITLE!
A third successive runners-up finish was almost too much to bear for Revie. Jack Charlton, 'celebrating' his 37th birthday, summed it up succinctly: 'I am sick as a pig.'
Richard Ulyatt had followed United for the Yorkshire Post for two decades. Under the headline of 'An unforgettable season for Leeds', he summed up a remarkable campaign.
'One might have thought that Leeds United had, like Huddersfield Town, been relegated, or like Sheffield Wednesday, were floundering in the middle of the Second Division. Or indeed, one might have thought that they were like any one of the other Yorkshire clubs who have not exactly set the Humber alight. One certainly would not imagine that Leeds United had won the Cup, had finished second in the First Division table, had gained more friends in the world of soccer than in any year of the last decade and had done more in one season than most clubs do in a lifetime.
'Not since Manchester United's first match after the Munich air disaster in 1958 had I seen or heard so much emotional euphoria directed to the team as that which greeted Leeds United's appearance on the pitch at Molineux. One might have thought they were the home team and Wolverhampton Wanderers the visitors.
'Leeds United, despite what some of their supporters expected on Monday, have had an outstanding season, one of the most exceptional in the history of professional football. They have taken criticism, injury, adverse publicity, and occupational hazards such as strange refereeing decisions in their stride. They have been, once or twice, on the point of being down and out, but they have bounced back and now they have, by winning the Cup, finally arrived at the point when they must be acknowledged as among the leading clubs in the history of professional football.
'But if Leeds United had not won a sausage ... this would have been a memorable season for the quality of the football they played. There were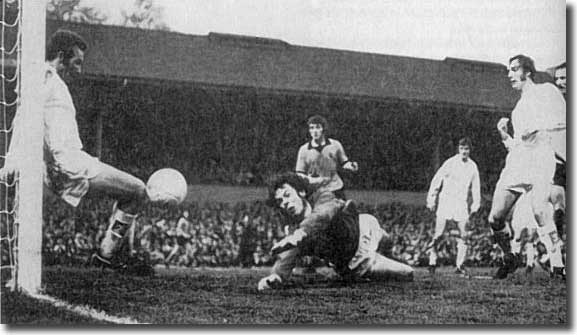 times when I saw them play better than any other team in the long years I have been watching soccer.
'Leeds United ... have become one of the outstanding groups in the history of football. There are times when I wish they did not protest as much, there are times when they are not prepared to take the rough with the smooth, there are times when they ought to count ten and consider that what they do schoolboys all over the country are likely to copy.
'I am sure that lesson is sinking in. The punishment the club received when the ground was closed for a month at the start of the season may, in the final assessment, be considered to have cost them the championship, but the way they set about establishing themselves as leader in their field of sport was wholly admirable.
'Leeds as a city has every reason to be proud of Leeds United and there is no doubt that in these times when elsewhere in the county there are more kicks than ha'pence for professional footballers, the rest of Yorkshire looks at with some envy and not a little admiration. Congratulations, Leeds United, drink deep from your Cup.'
Ulyatt was right, of course, for it is clear that Leeds United in the spring of 1972 were at the zenith of their powers, the COMPLETE team, coming perilously close to perfection.
For the moment, though, they needed to wallow in self pity, to dream of what might have been. That was only natural. But the summer months would dull the pain and allow them to reflect objectively on how much they had achieved.
Truly, this was SUPER LEEDS, a team to be remembered and revered in the years to come.
Part 1 - Exiles - Part 2 - The Asa Hartford affair - Results and table
Other Football Highlights from 1971/72
Celtic had a mixed season in Scotland. They surprisingly crashed 4-1 to tiny Partick Thistle in the Scottish League Cup final and lost on penalties to Inter Milan in the European Cup semi finals, but they won the league and Cup Double for the second successive year. It was their seventh successive league title
Non-league Hereford United had a memorable Cup triumph at home against First Division Newcastle United in a third round replay with Radford and George (not the Arsenal pair) scoring the goals. Hereford went on to draw with West Ham in the next round before going out in a replay and were then elected to the Football League, taking the place of Barrow
Tommy Docherty was appointed Scotland manager on 12 September
Rangers won the Cup Winners' Cup by beating Moscow Dynamo in Barcelona but had their victory celebrations spoilt by their supporters' after match behaviour. UEFA banned the club from European competition for two years (subsequently reduced to one year). After their triumph, manager Willie Waddell was moved to a general management role and his assistant Jock Wallace took over team affairs. He immediately sold Colin Stein and Willie Johnston to Coventry City and WBA for £225,000, declaring: 'We have sold two stars and found a team.'
At the start of the season, the FA instructed referees to take a hard line on players tackling from behind, but the move caused chaos - in the first week of the season four players were sent off and 120 booked. On September 4 alone 50 players were booked, taking the total to 292 after four weeks. The PFA protested and there were season long disputes about the problem
Chelsea beat Jeunesse Hautcharage by a record 21-0 on aggregate in the Cup Winners Cup, including a 13-0 win at Stamford Bridge. Peter Osgood broke another record by scoring eight goals in the tie
England reached the European Championship quarter finals comfortably enough but were thrashed 3-1 by West Germany in the first leg at Wembley by West Germany, with midfielder Gunter Netzer and sweeper Franz Beckenbauer in scintillating form. A 0-0 second leg draw in Berlin saw England's exit. The Germans went on to beat the USSR 3-0 in the final to win their first title
Tottenham won the UEFA Cup to put alongside the Cup Winners' Cup they won in 1963, thus becoming the first British team to win two different European trophies. They beat Wolves 3-2 over the two legs
Stoke City were one of the oldest teams in the league but in their lengthy history they had never been to Wembley. But they won the League Cup by beating Chelsea 2-1 in the final. 34-year-old Gordon Banks and 35-year-old George Eastham, who scored the Wembley winner, were two of the veterans who pulled off a very popular triumph
Ted Macdougall scored a record nine goals as Bournemouth beat Southern League Margate 11-0 in the FA Cup first round. He also finished the season as joint leading scorer in the league with 35 goals