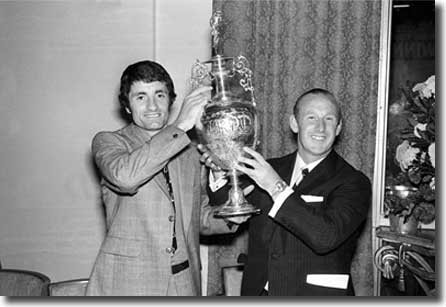 When Arsenal won the league and Cup Double in 1971, it came as a serious kick in the guts for Leeds United and manager Don Revie: not only had the Gunners denied the Whites the title they had been favourites to win for so many months, but in one attempt they had achieved what Leeds had come so close to securing on at least three occasions in the previous six years.
The Gunners' visit to Elland Road at the end of March 1972 provided Revie and his men with a perfect opportunity for payback. A win would almost certainly bring to an end the Gunners' dwindling hopes of retaining their championship and at the same time boost their own chances. Certainly form favoured Leeds: on 26 February the Gunners had been fourth, but had since slipped to ninth, while United were currently third, five points short of leaders Manchester City with two games in hand. The Yorkshiremen had hit a rich vein of form at Elland Road, winning 13 games in a row and conceding only five goals in eleven matches.
Nevertheless, Leeds acted as perfect hosts. After completing their now customary pre-match warm up by throwing plastic footballs to the crowd, they provided a guard of honour to applaud Arsenal onto the field as a tribute to the Gunners' Double triumph. Skipper Billy Bremner presented Arsenal counterpart Frank McLintock with a commemorative silver tankard to mark the achievement.
Don Revie was deprived for the day of the services of Eddie Gray, suffering a stomach complaint, but he simply moved Paul Madeley into midfield and restored Paul Reaney at right-back. It was hardly a diminution of United's considerable powers.
Arsenal were without striker John Radford, but had Alan Ball making his first appearance at Elland Road since his record £220,000 move from Everton in December and most of their other Double-winning players were on show.
There was a let off for the Gunners as early as the second minute; after the first Arsenal foray, United came swiftly out of defence for Peter Lorimer to send Mick Jones away up the middle. He beat McLintock but could only shoot narrowly wide. They were off again immediately with Lorimer sending a 25-yard shot wide, and then Jones was brought down unfairly as he powered through the defence.
It was only a matter of time before the pressure told and United opened the scoring in the 11th minute. Lorimer broke away down the right and took the ball to the byline before cutting the ball low across goal for Allan Clarke to steer past goalkeeper Bob Wilson. It was an incisive move that cut the Gunners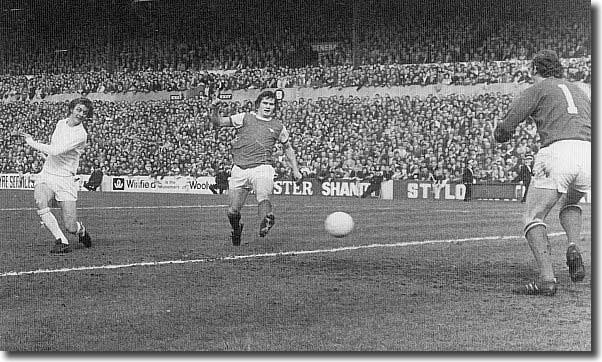 open like the precise slice of the surgeon.
Jones twice came close to increasing the lead, heading fractionally over and then coming inches short of touching home from a low Lorimer cross.
The Scot had established his clear superiority over his marker, Northern Irish international Sammy Nelson, and rounded him again to send over another telling centre, but Allan Clarke could only clear the bar with his header. He slammed a fist into the turf in annoyance at his lack of accuracy.
Surprisingly, despite an almost complete lack of opportunities, the visitors came close to an equaliser on the half hour when Charlie George headed against United's bar.
It was only a temporary stemming of the tide, however, and Leeds doubled their advantage after 35 minutes.
Peter Simpson tried to play his way out of defence but when he passed out to the right, he missed his target and Terry Cooper picked the ball up and set off on another searching run before looping a cross into the area. Nelson, Wilson and John Roberts all hesitated, unsure of who should take responsibility, and Jones capitalised on their hesitation, throwing himself at the bouncing ball to flick it over Wilson and into the net.
Arsenal attempted to hit back; Ball struck an upright and Jack Charlton had to concede a corner as the Gunners pressed, but the third goal came from the home team.
Bremner was fouled out on the left touchline. Cooper fed the free kick short to Giles, who found Lorimer loose in the middle. He had been the scourge of the Arsenal defence and got his due desserts, unleashing a swerving power drive from 30 yards. It flew into the net, with Wilson only able to touch it thence off the post. 3-0 and no more than Leeds deserved for their dominant first half showing.
Arsenal reshuffled at the interval, replacing John Roberts, who had been found wanting in their defence, with Peter Marinello and opting for an attack-minded 4-2-4 formation. Roberts had earlier been left unconscious by an impact with team mate Peter Storey as Arsenal frantically sought to avoid conceding; Sammy Nelson doubtlessly wished that he had been the man withdrawn after the chasing he had been given by Lorimer in the first period. Marinello's penetration made the Gunners more of a threat, but United came out in the second half with as much confidence as they had ended the first, though they seemed content to sit on their lead.
Redditch referee John Yates had to speak to Ball and Norman Hunter for a clash on the touchline which ended with the awarding of a free kick to Leeds and he then booked both Ball and Pat Rice for infringements against the threatening Cooper.
Bremner and Giles were troubling Arsenal whenever they chose to try their hands and there was almost another goal for United in the 64th minute when Clarke tuned a low cross from Bremner goalwards only to see Wilson save it at the second attempt. At the other end, Reaney blocked a hard shot from George before Ball prodded the rebound wide of an open goal.
Arsenal came more into the contest as the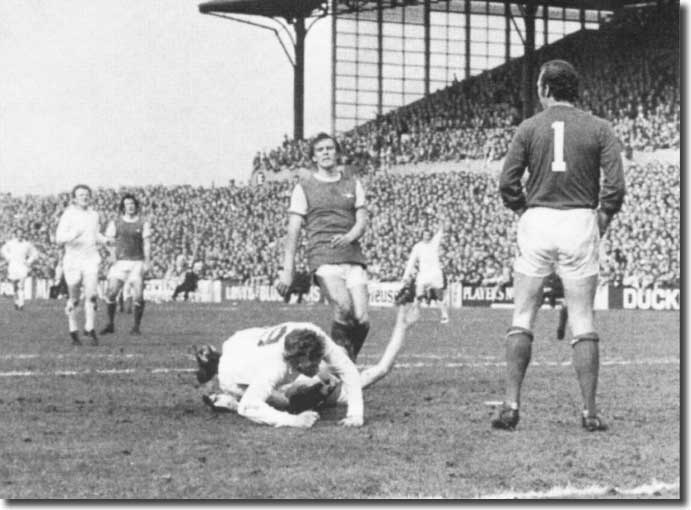 game moved towards its conclusion as United eased off slightly. Mick Jones explained, 'Perhaps we may have been thinking about the Forest match, but the first half was very fast and you cannot keep that sort of pace up indefinitely.'
While one felt that United were playing within themselves and could have gone up through the gears if the need had been there, Leeds opted for containment in the second period and declined to push on for another goal. Nevertheless, the damage had already been done and the 3-0 final scoreline accurately reflected their dominance.
Geoffrey Green in The Times: 'Leeds United in their present state are as entertaining as any team in Europe. Without further useless comparisons with Real Madrid of old, let us at least be grateful for this alone, a fact which they amply emphasised at Elland Road on Saturday.
'First, they generously applauded Arsenal on to the field. Next, they presented McLintock with a silver tankard to commemorate the double of last season. and then filled the Londoners' cup to overflowing with a masterly first half display that swept them to a 3-0 victory which might well have read 7-3 at the finish had every chance to both sides been faithfully slotted. It was that sort of match.
'There are two reservations, however, to be made on Leeds. Once regarded as suffocatingly defensive, they now seem so totally committed to fancy attacking patterns that every now and then they tend to lower their guard at the back. Certainly, it was a healthy and welcome attitude, yet in two brief counter strokes before the interval, Arsenal almost made them pay for their intoxication as George and Ball struck the woodwork with scarcely a defender in sight. True, Leeds could have been four or five up by then, but there is a latent danger in all their euphoria.
'The second point at issue is the new image being painfully nailed to them by a public relations man. Some of this showbiz razamataz is harmless enough. But the limbering up antics Leeds perform in unison before the kick off is somehow embarrassing and lowers their dignity. They are not trained animals under some Barnum & Bailey big top. If they want to be loved, let their exciting football work the oracle.
'Already home and dry by the interval through goals by Clarke, Jones and Lorimer, and doubtless with thoughts of matches against Nottingham Forest, West Ham and Derby this week, Leeds went off the boil in the second half. They coasted comfortably with passages of possession football, one of which saw a succession of some 14 passes taunt Arsenal. Each touch brought an arrogant roar from the 45,000 crowd like the Ole's of a bull ring.
'By then Arsenal had learned a bitter lesson and rectified faulty team structure... To face Ajax and Leeds within four days would be a test for anyone. Arsenal, knocked out of Europe last Wednesday, now said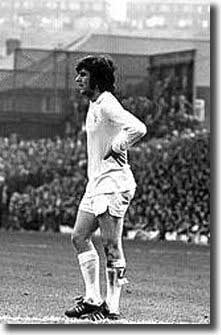 farewell to their League title. Into the bargain, they saw the limitations of Nelson at left-back cruelly exposed by Lorimer. At the same time, they came to realise that the tragic own goal against Ajax has for the moment disturbed Wilson's confidence as the last line of defence.
'The goalkeeper certainly had no chance when Clarke skilfully turned in Lorimer's cross after only 12 minutes and would not have been blamed had Leeds led by five goals at the half. The Yorkshiremen, spreading the ball beautifully, short and long, failed only in their own finishing. Yet goals No 2 and 3 could have been prevented. When Jones prodded home Cooper's chip 10 minutes from the interval, Nelson and Wilson between them opened the door. Nor should Lorimer's epic shot have found its mark from a full 35 yards. Wilson's dive was late.'
Eric Todd in The Guardian: 'Every adjective, not every one complimentary of course, has been allocated to Leeds these past few years, Most of them were relevant and justified, but few of us ever expected 'merciful' to be applicable. For all their superb football - Clarke particularly looks like a world class player nowadays - Leeds still have less to show for it than they should have. They scored seven against Southampton, and they should have had seven apiece, if not more, against Tottenham and Arsenal, even allowing for the magnificent work of Jennings and Wilson, on whom Leeds themselves must have cast covetous eyes. Sprake's moments of inspiration are outnumbered by those of indecision.
'Arsenal were shattered completely in that first half, and their defence was in ruins from the first minute when Jones shot horribly wide... Yet in the midst of all this chaos, Leeds satisfied themselves with only three goals.
'In the second half, Leeds remembered that they had a game against Nottingham Forest this evening, and they strolled through the rest of the afternoon in response to popular demand and sarcastic urgings.'
Richard Ulyatt in the Yorkshire Post: 'After Saturday's match at Elland Road I ran over in my mind's eye all the great soccer teams I had watched during the last 45 years or more. Were any of them, I wondered, better than the Leeds United side whose forward line of Lorimer, Clarke, Jones, Giles and Gray slugged Southampton 7-0 early this month or the line, with Madeley in place of Gray (down with a stomach complaint) which carved Arsenal to pieces in the first half on Saturday?
'Was the great Huddersfield line of Jackson, Kelly, Brown, Stephenson and Billy Smith in the late 20s any better, or Arsenal's famous attack of Hulme, Jack, Lambert, James, Bastin of about the same time? Did Manchester City's wizard forwards, Toseland, Marshall, Tilson, Herd and Brook, or for that matter the Derby line of about that time in the early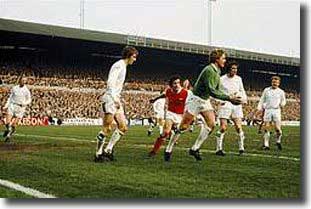 30s with Dally Duncan and Sammy Crookes on the wings play more exciting football than the present Leeds United line?
'I doubt it, the football was different, but quality in whatever context, cannot be totally hidden and there has been high quality about many of the Leeds displays recently, not, perhaps, maintained at Leicester last Wednesday or in the second half on Saturday.
'The point of similarity about all those great teams I have mentioned is that the forwards were sustained by equally skilful players behind them. Madeley would stand comparison with all but a handful of players either as a forward or as a back, Bremner, Cooper, Reaney, as he played against Arsenal, would not be out of their company whatever the age or style of football currently popular.
'This Leeds United team seldom fails now to provide pleasure and excitement. Most of it on Saturday was confined to the first half, when from the kick off they were strictly down to the business of winning.
'After presenting Arsenal with a tankard to mark last season's double, the Leeds players gave them nothing for 45 minutes, not even the ball at the first throw in, and by half-time Clarke, Jones and Lorimer had completed the scoring.
'They had demolished Arsenal's slight remaining hope of the championship and thereafter ceased to be as brilliantly ebullient, partly because several of them did not want to aggravate injuries sustained in the first half and partly, possibly, because they were pacing themselves for the busy days ahead this week and next.
'In the second half Arsenal came almost into the match as an attacking force. They might have scored several goals through George and Ball, who hit the woodwork of the goal, shot just over, caused Reaney to kick off the line and Sprake to make the game's best save.
'On the other hand, Leeds could, had they been on target, have turned round with six or seven goals behind them.
'Arsenal, in that fascinating first half, were impotent to check wave after wave of attack. Giles and Bremner took the ball it seemed at will, varying the obvious pass with the improbable. Madeley bored through the defence with the inevitability of a tank. Lorimer shrugged and dummied past Nelson almost whenever he wanted to. Arsenal's defence has seldom, since before Herbert Chapman's days, been seen to look so ineffective.
'They tended, as beaten teams do, to blame European football from which they had recently been dismissed by Ajax of Amsterdam. "It drained us completely," McLintock said. "But while we were weary after such a hard season Leeds played like a great side - the best in England." Whatever Leeds United's rating in the long history of football they are perfectionists at interpreting the modern methods and Arsenal's faults of covering only stressed the point.'