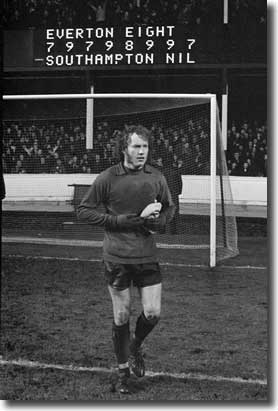 Once in a while, a match comes along that achieves legendary status, either for an emphatic win, or as an example of a famous team at the peak of its powers or for some other reason representing a key occasion.
One such game took place at the beginning of March 1972, when Don Revie's Leeds United side gave a performance that would be cited forever as their coup de grace. It provided the cornerstone of possibly the most memorable edition of BBC's long-running Match of the Day programme.
The fixture was also categorically the lowest point in the career of Southampton's Scottish goalkeeper, Eric Martin; the television coverage made it even more disastrous for him than the 8-0 defeat the Saints suffered the previous November at Everton's Goodison Park.
When the Beeb decided to cover Southampton's visit to Elland Road on 4 March, they were taking no significant risk. Two weeks earlier, the cameras had been present at the same ground when Leeds annihilated Manchester United 5-1. The Yorkshiremen's form that day had been phenomenal, easily enough to sweep the Reds aside; the Whites' style and finesse delighted the watching television audience.
Ted Bates' Saints team were struggling badly at the time of their visit to the West Riding and were generally considered to be little more than cannon fodder for Revie's Leeds, who had been beaten only once since losing 2-1 to the same Southampton side at the Dell on 13 November. The Saints had managed a mere seven points from their twelve games since then. In the same period, United had dropped six points, scoring 20 goals and conceding five.
That afternoon the Yorkshiremen were even better than those statistics suggested.
With Terry Cooper unavailable because of an injury to his knee, Don Revie gave Paul Reaney his first start in three weeks. In fact, it was only the sixth time Reaney had been in Leeds' starting eleven in seventeen games. Otherwise, United were at full strength, with every member of the team a full international.
Southampton, desperate for points to ease their relegation worries, welcomed back midfield man Brian O'Neil after fourteen weeks' absence through suspension and injury; also recalled was £60,000 winger Tom Jenkins, who had missed the previous three games. They had their favoured strike pairing of Ron Davies and Mike Channon on show, together with veteran winger Terry Paine, a member of England's 1966 World Cup squad.
It was Channon who got in the first shot of the game, a speculative effort from 20 yards that was easily fielded by Gary Sprake, and from that moment on Leeds dominated the proceedings.
Allan Clarke and Paul Madeley combined to put Eddie Gray free on the left flank and the Scottish winger showed Southampton full-back Bob McCarthy a clean pair of heels. Having found space, Gray floated the ball across the area, but Mick Jones' header soared over the bar. Shortly afterwards, centre-back Jim Steele was called on to head away a dangerous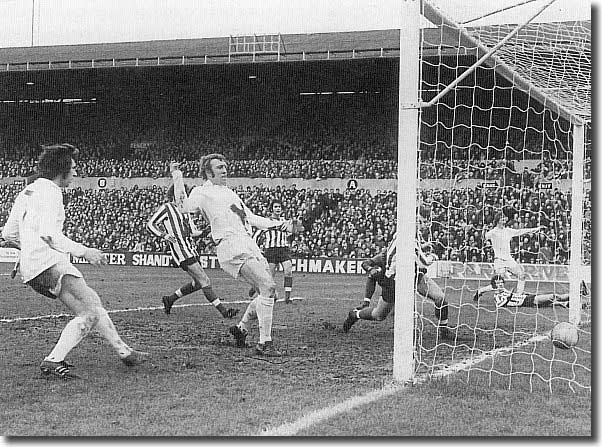 centre from Peter Lorimer and then Jones was close with another good header after smart build up play by Billy Bremner.
Former Dundee defender Steele had been the subject of interest from Don Revie before Christmas with strong rumours of a forthcoming bid, but nothing ever came of the speculation. Steele had been thought of as a potential successor to the veteran Jack Charlton.
It was the same Charlton, playing his 599th League game for Leeds, who ended a promising run by Channon; he then delighted the Elland Road fans by embarking on a forward run before being felled by a tough challenge from O'Neil, who received a lecture from referee Dennis Corbett for the foul.
With 17 minutes gone, Leeds came close to an opening goal. Bremner took a free kick and fed midfield partner Johnny Giles; the Irishman hammered a shot narrowly wide from the edge of the box with Saints goalkeeper Martin hopelessly beaten.
The two diminutive schemers took firm control of the middle of the park, keeping Southampton penned in their own half. Their statement of intent was underlined by Sprake having only one shot to save in the first half hour, and a harmless one at that. The only element missing from United's performance was goals and they were not much longer in arriving.
With eight minutes of the first period remaining, United achieved the breakthrough their dominance merited. Skipper Bremner had the ball in the centre circle and, with Eddie Gray haring past him at pace down the centre, Bremner laid it perfectly into his path. Gray prodded it forward to Mick Jones, stood on the edge of the area with his back to goal. Jones laid the return pass back to Gray, who hurdled a despairing tackle before finding Allan Clarke on the left hand corner of the area with a slide rule pass. The England striker flew into the space created by the killer ball, took it on one step into an acute angle and slammed his shot left-footed into the opposite corner.
A slickly fashioned and brilliantly finished move gave Leeds a merited lead and their advantage was doubled within five minutes.
Coming forward again in yards of space down the middle, Gray fed Lorimer as the Scot was breaking through the right channel. He was already clear inside defender Roger Fry and took the ball in his stride to hammer a low shot past goalkeeper Martin and into the far corner.
Don Revie's half time team talk could easily have been limited to 'Steady as you go, and the goals will come,' so absolute was United's dominance. Southampton were starting to look dispirited and desperate for the final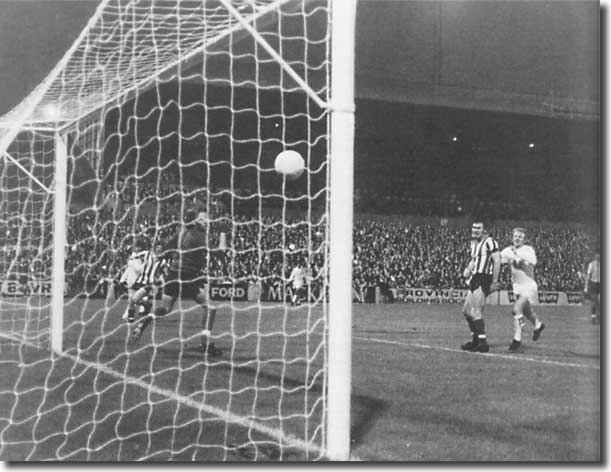 whistle.
There was no respite for them after the resumption with Leeds instantly onto the offensive. Both Gray and Bremner tested Martin in the first few minutes, and then the keeper just beat Jones to Madeley's through ball.
Gray, Lorimer and Clarke were constant thorns in Southampton flesh, refusing to give them a moment's peace. Lorimer headed wide from a Giles cross and then Gray cleared the bar from inside the six-yard box with the goalkeeper helpless.
It could hardly be termed the calm before the storm, but certainly a tempest blew Southampton away in the eighteen minutes following the hour mark.
In the 60th minute, Giles had possession inside the centre circle and passed short to Bremner to his right. The Scot held it up long enough for Giles to make his break beyond him into space and then fed him with pinpoint accuracy. The Irishman took it on a couple of strides and then coolly slipped the ball through the Southampton defence for Clarke's cleverly timed run. The striker picked the ball up, cut across a defender, shifted the ball out from under his feet and passed it home left-footed for 3-0.
Reaney's 25-yard shot brought Martin to his knees before Leeds increased their lead to four goals after 64 minutes.
United were awarded a free kick out wide on the right, but instead of lofting it across the box, Bremner slipped it short to Lorimer, who powered in a shot from the corner of the penalty area. The ball was blocked by a Saints defender deep inside the goal area and then cleared out to the left by O'Neil. As Jenkins sought to come away with it, Bremner was too quick and determined for him, and from behind lunged across the winger to win the ball for Giles. The playmaker was fouled by Stokes as he looked to make ground. Advantage was given and the ball ran on for Lorimer to pick up, dance past his marker and fire home from 20 yards. It flew into the net despite McCarthy's efforts to clear it.
Four minutes later it was the Scot again with a carbon copy strike. Fry tried to clear the ball, but Lorimer intercepted and burst through the defence to complete his hat trick.
The sixth goal, after 73 minutes, was the most remarkable score of the afternoon. United's centre-backs had grown bored with confinement in their own half and both men moved forward. Norman Hunter danced out wide to the left byline and, like a natural winger, stood an inviting lobbed cross up to the back post. Hunter's partner, Jack Charlton, had drifted up into the area and rose above everyone to nod the ball home. The goal got a special cheer from the Elland Road faithful as Big Jack loped back into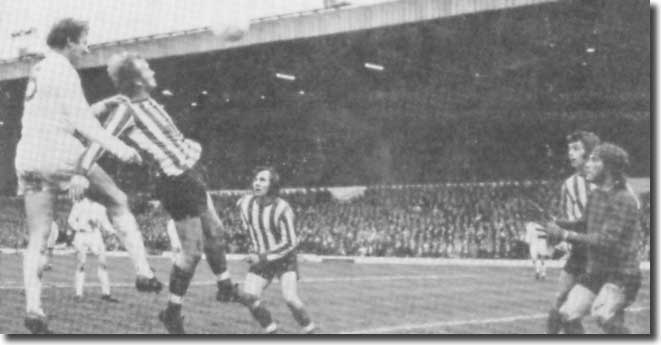 his defensive position sporting a grin as wide as the Yorkshire moors.
12 minutes from time and it was 7-0. Gray hurdled a tackle on the left and sent over a cross, Lorimer nodded it back into the goal area and Jones pounced to sweep the ball over the line.
In truth, the goals were only a prelude to further humiliation for Southampton. United, seemingly bored with the multitude of scores, set about playing keep ball with an astonishing succession of flicks, twists and tricks: a back heel from Bremner here, a crossfield lob from Giles there, deft touches and turns everywhere, as the outclassed visitors were picked apart and made to look like Sunday League amateurs.
It was later claimed that the antics were designed not to humiliate Southampton but simply to keep United's players clear of injury. It did not look that way at the time, however, as Leeds took on the role of adroit matadors, teasing and tormenting a wounded bull; delighted home supporters joined in with massed Ole's as each perfect pass unerringly found its intended target. The players seemed to be intent on outdoing each other with every successive move.
Allan Clarke: 'We thrashed Southampton! Any boy who plays or watches football should see a video of that match, because that is how football should be played. From a manager's point of view, you always wanted your team to perform well, but you knew you would never get perfection. I believe our performance that afternoon was as near perfection from eleven players as you could get. Everything that is good about football you saw that day. There were great goals, tremendous saves, wonderful pieces of individual skill; you name it, it was in that ninety minutes of football.
'What summed up our performance was our sixth goal by Jack, because it was made by brilliant left wing play from Norman Hunter, whose cross Jack headed in at the far post. Our two centre halves combining to score, that tells anyone how much on top we were.
'When we were keeping possession in the last five minutes we were 7 0 up at the time - commentators said we were taking the mick ... we weren't. Our instructions were to keep out of trouble because we had an important game
coming up, and it would have been ridiculous to get a late injury. Of course we played well that day, ask the Leeds players whether the game flew; they'll tell you it did. Ask a Southampton player and they'll tell you it was like an eternity and they wanted the game to end. What a performance though.'
Even when a pass seemed to have gone astray, a United man moved through the gears to recover the ball and feed it onto a colleague. Rarely has there been such a one-sided, arrogant display of possession football. This was ruthless, pitiless artistry as the rapier was plunged in and in again as hapless Southampton players tried in vain to get even the slightest touch over that final, astonishing five minutes of football.
Barry Davies' commentary for Match of the Day is classic stuff: 'To say that Leeds are playing with Southampton is the understatement of the season. Poor old Southampton just don't know what day it is. Every man jack of this Leeds side is now turning it on - oh, look at that! (as Giles flicks the ball onto Clarke's chest, his left foot arced behind his right ankle). It's almost cruel. The Elland Road crowd are lapping this up. For the second home match running, Leeds United are turning on a brilliant show and the other team are just not on the park. One has to feel sympathy for Southampton, but the gap between their position and Leeds is an almighty chasm.'
'We were flying at the time, and in our pomp,' said Peter Lorimer in later years. 'They were charging around trying to get a kick. When we'd put about twelve passes together the crowd started chanting "Ole", so the lads thought they'd give them a bit of entertainment. They'd seen us putting the ball into the net, so we thought we'd keep it for a change. Don Revie loved that. He felt it was a great way of answering the public who in the past had accused us of being negative.'
Of the slaying of the Saints, Michael Worth of the Sunday Express wrote 'Leeds United unveiled a treasure trove of memorable football riches... if it all seemed too easy, it was only because superb Leeds made it look that way... Southampton belonged to another league. Leeds to another world.'
The Yorkshire Post's Richard Ulyatt had watched United for twenty-five years, but he was sufficiently impressed to conclude, 'Never in their 50 years' history have Leeds United won a Football League match more easily than this one on Saturday... Sprake, predictably the coldest man on the field, had time had he wished to compose a poem for the Eisteddfod and provide an English translation.'
Southampton's experienced Scottish international Jimmy Gabriel said after the game, 'Leeds have just about reached perfection … They are the nearest thing to footballing utopia. They used to be hard, niggling and unpopular, but they've come through all the phases and developed into a truly wonderful side. They're telepathic. You don't hear their players shout, they seem to know just where their mates are… Leeds have now reached the stage where they could destroy any side.'