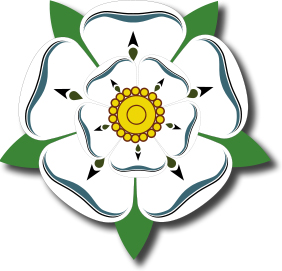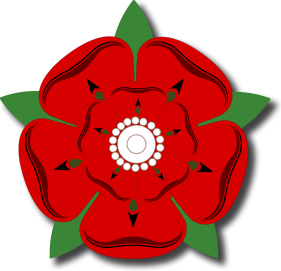 The rivalry between supporters of the two Uniteds of Leeds and Manchester is one of the most bitter, passionate and deep rooted in English football. It links followers of the two clubs in a bizarre hate-hate relationship that goes far beyond the customary light hearted banter and chivvying that regularly surfaces between followers of football clubs. Most such examples are generally based on the desire for bragging rights between neighbouring clubs, in Liverpool, Glasgow, London, Edinburgh, Birmingham and Manchester itself.
But the Leeds-Manchester case is an entirely different ball game, with 40 miles and the entire Pennines dividing the two northern cities and a desperate mutual loathing linking them.
Some claim that the enmity dates from the War of the Roses, the 15th Century civil war between the houses of Lancaster and York, commemorated in the red of the Old Trafford club's shirts and the white of Leeds.
Others cite later reasons; the community.manutd.com community forum: 'If anything, the Manchester-Leeds rivalry is more likely the result of the Industrial Revolution that saw Britain become the 'workshop of the world' in the 18th and 19th centuries. Cotton became king in Manchester when cheap coal transported down the Bridgewater canal, fuelled the factories and created an empire that covered a quarter of the world. The success of cotton ruined England's traditional woollen cloth industry, based in Yorkshire, East Anglia and the South West, because wool was far more costly and not as suitable for the new machines.
'The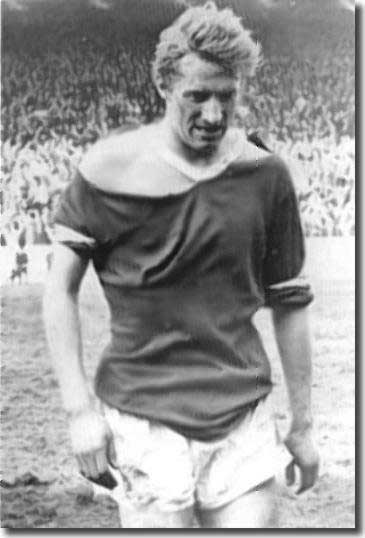 Yorkshire weavers loathed the new wealth pouring into industrial Manchester. In a century where civic pride was all, the magnificence of Manchester Town Hall and other civic buildings were symbolic of the wealth cotton had brought. Leeds did its best to compete with its own grand buildings. Rivalry had begun, but it took many years before football became an outlet to vent it.'
Leeds supporter and writer Rob Bagchi highlights a modern factor: 'A more accurate assessment would locate the origins of this relatively modern football feud to onfield events in the spring of 1965. With both sides going for the Double, they played an FA Cup semi final at Hillsborough that turned into a ragged, violent draw. Nobby Stiles' early dreadful tackle on Leeds' left winger Albert Johanneson set the tone for a game which quickly degenerated into a series of skirmishes on and off the ball between Jack Charlton and Denis Law, and Billy Bremner and Pat Crerand.
'The ill-feeling spread to the terraces and scuffles, fights and assaults were reported by the city constabularies of Sheffield and Nottingham after that game and the replay four days later at the City Ground, which Leeds won with Billy Bremner's 89th-minute goal. Manchester United, though, had the last laugh, pipping Leeds to the title on goal average while Revie's team, in their first season after promotion, were runners up in League and Cup.
'Some of it is fairly anodyne - they accuse us of enjoying intimate relationships with sheep, we counter by alleging that they come from Godalming. The term 'scum' is applied to each other by both and indeed, six years after we were relegated and effectively become irrelevant, a match at Old Trafford rarely goes by without the mass singing of "we all hate Leeds scum."'
Peter Lorimer claims the bitterness came later: 'The rivalry between Leeds United and Manchester United is clearly no pantomime but it is not the age old conflict that many people suppose it to be. In the days of Don Revie, the rivalry scarcely existed. Needless to say, our games against them were very big occasions but only in the way that major top flight matches are. I never saw them as a big threat, despite the Bests, the Laws and the Charltons.
'That title belonged to Liverpool who, for me, were the danger - the club and squad who we compared ourselves to and considered the benchmark, alongside ourselves. The early 1970s were dominated by the battle between Revie and Bill Shankly, the first time the two clubs were at the top of the tree. Manchester United had been successful for many years.
'The bitterness between Elland Road and Old Trafford seemed to develop in the early '80s, a period when I was no longer on the books at Leeds. I went to Canada for a few years and was amazed to return home and find that this hatred had developed to such an extent. If you'd asked me then, I'd never have described Manchester United as our biggest foes because, in my eyes, they weren't.
'I can't say for certain how or why the antipathy grew but in many parts of the country it has been fashionable to hate Manchester United. That's what happens when you're successful as a club, and I remember feeling the same when we were knocking aside all comers 30-odd years ago.
'It was always evident that we were widely disliked, especially by the London press ... I think they just resented that fact that two northern clubs - Leeds and Liverpool - were picking up the trophies season after season.
'As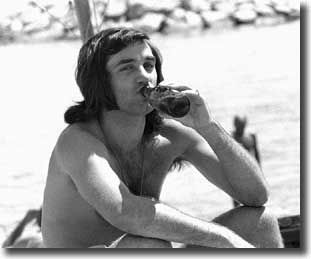 far as the rivalry between us and Manchester United goes, it's clearly more deep-rooted than simply a result of the fact that they've had a sustained period of success. Geography must play a part I suppose. But I'll always find it difficult to understand how we came to this point.'
Whites manager Don Revie had a deep and abiding respect for Matt Busby, the long-serving Old Trafford manager, seeking out his advice and guidance when he was first appointed boss at Elland Road.
That didn't prevent Revie feeling a deep and abiding satisfaction when he snatched Johnny Giles away from Manchester in 1963 and converted him into one of the supreme midfield generals of the Sixties and Seventies.
Nine years on from the Giles transfer, Leeds United enjoyed one of their greatest triumphs ever over the Old Trafford club, all the more satisfying because it marked the symbolic ending of the Reds' pursuit of the League title, something that had earlier looked within their capabilities.
Manchester United, under the management of former Leicester City boss Frank O'Farrell, had been early pace setters in the title chase. They topped the table from 9 October until the first week of January and at one stage enjoyed a five-point advantage over second place.
By 19 February, when they faced Leeds at Elland Road, however, their season had gone off the boil. They had not won in the League since 4 December; their last five matches had been lost with only two goals scored. They were fifth at kick off, two points behind second placed Leeds.
Don Revie's men had ended the unbeaten record of the Reds at Old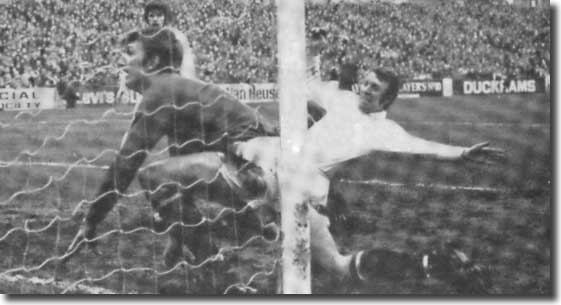 Trafford with a 1-0 win at the end of October; the Whites could also boast good recent form. They had drawn at Everton the previous week, but had suffered just one defeat since 13 November, when they lost 2-1 at Southampton. They had won eight of their 14 games since, conceding just five goals.
Logic pointed to only one conclusion, but few anticipated what would happen on a day that will always be remembered with glee by Elland Road supporters.
Don Revie was coolly confident, so assured in fact, according to Don Warters, that 'he took the unusual step of naming his team the day before the game rather than keeping everything under wraps.' Mick Jones was recalled after a bout of flu, with Paul Madeley dropping back to right-back in place of Paul Reaney, but otherwise Leeds were unchanged, with Joe Jordan continuing as sub.
The visitors were at full strength with Morgan, Kidd, Charlton, Gowling and Best comprising a star studded forward line.
Despite his blistering start to the season, for George Best, 1971/72 was an 'interesting' campaign, and the rebellious Irishman provided a stern test for countryman Frank O'Farrell's management skills. O'Farrell later revealed: 'The first thing I did when I went to Manchester United was make George Best the best paid player. I thought that was only right because he was the most skilful footballer. He could win games on his own and he did - George was that good.
'But on the

flip side I inherited the problems of George's hectic lifestyle. Some days he'd never show up for training - nobody knew where he was. He didn't turn in one morning and somebody said, "Oh. George has gone to Spain on holiday" - it was the middle of the season, but he had just packed his bags and gone.
'Every week you were protecting him, explaining why he wasn't there or whatever. You tried to keep it quiet, but when it did get out, George would be on the front and back pages. A manager's job is hard enough, and lot of my time was taken up by George, who was a big distraction.
'It is a great tragedy. Inside the club he is perfect. He trains well. He is likeable. All the trouble happens outside. Who is to blame? I suppose everybody. We build superstars and then knock them down. Perhaps it's society. I don't know.'
The attendance of 45,399 on 19 February meant that for a second successive game Elland Road was bordering on its capacity.
The crowd saw Leeds make the first moves with Alex Stepney saving a low shot from Mick Jones and then, when Eddie Gray's run offered Peter Lorimer a chance to play in a telling centre, United's top scorer allowed the ball to run over the byline before he got it across.
The Whites could and should have been well clear by half time, if, according to Eric Todd in The Guardian, 'Stepney had not made two unpremeditated saves from Jack Charlton and Jones, and if Dunne had not cleared off the line from Jones'. Leeds had pounded away at the Reds' defence, but the visitors somehow managed to reach the break without conceding; it looked just a matter of time before the floodgates opened.
And so it proved ...
Within two minutes of the resumption, the home crowd were roaring their glee after Mick Jones opened the scoring.
Johnny Giles got the ball just outside the left corner of the penalty box and rolled it to Allan Clarke on the byline. He shaped to cross first time, throwing defenders Steve James and Tommy O'Neil off balance, and then cut inside onto his right foot and slipped the ball to Eddie Gray. The Scot turned smartly and his instant strike was touched onto the post by Alex Stepney. The ball seemed to have crossed the goal line, but Jones was on it in a flash to make sure.
Seven minutes later, Leeds were two ahead. Tony Dunne's short ball forward sold Bobby Charlton short and Giles won the ball in the tackle. He turned back inside and passed long to the unmarked Lorimer coming in on the left. The Scot dropped his shoulder and rounded O'Neil on the outside to clip over a cross left footed. It beat both Jack Charlton and Clarke in the middle and reached Jones who swept it goalwards. The shot left Stepney flat footed, though the goal was awarded to Clarke for his barely perceptible flick.
In the 57th minute, the Reds hinted that they might be able to spring an undeserved comeback when Francis Burns knocked the ball in off a post following a free kick from Bobby Charlton.
But Leeds were not to be denied and within a minute had restored their two goal advantage. Bremner earned himself space wide of Dunne on Leeds' right to loop over a high cross to the far post. Jones rose to head the ball down and into the net with Stepney and his defenders starting the post mortem.
The 62nd minute brought a fourth. Gray rounded Dunne to find the byline on the right and flicked the ball back for Lorimer to fire across goal. Jones was there to touch the bobbling ball past Stepney to complete his hat trick.
Still they were not satisfied and Lorimer grabbed a fifth goal after 74 minutes. Giles deftly curled a killer ball through the Manchester defence on the left edge of the area to find the tireless Jones running into space. The centre-forward took it wide of his man and thumped it to the back post. The cross struck the thigh of the onrushing Lorimer and bounced back across goal. The Scot was first to the dropping ball and crashed it left footed into the roof of the net.
In that first 30 minutes of the second half, Leeds had swept Manchester United away like insipid amateurs and one had to feel some sympathy for the shell shocked Alex Stepney. But the ecstatic Elland Road crowd revelled unashamedly in the destruction of the visitors. The football of their favourites was breathtaking in its incisiveness.
As if sated by the flood of goals, Don Revie's men were content thereafter to play possession football, effortlessly denying the visitors any chance of even a consolation. It was a stunning performance.
For man of the match Jones, it was a phenomenal return. After the game, strike partner Clarke said: 'I was absolutely delighted when Mick hit his third goal, although I didn't know until after the game that it was his first league hat trick. He's been playing well but things hadn't gone all that well for him, what with injuries, illness and bad luck with his shooting but the hat trick should do him the world of good.
'He's come in for a lot of criticism by the fans and critics during his lean spell. Now I hope he's silenced them. He a wonderful professional - hard working, cheerful, uncomplaining and I can't count the number of goals I owe to his willingness to fight for what looked like a lost cause.'
Mick Jones:
'I can't recall when we've played better, everything went right and chances just seemed to drop at my feet. Although I've missed a lot of matches this season because of injury, my job is to score, but my role involves more than that. I'm expected to stir things up, score if the chances come, but firstly create things for other players. Supporters sometimes lose sight of this, but players, especially Allan Clarke, never do, and the boss appreciates what I do and that's what matters most.'
For Manchester United it was the grimmest of afternoons, as reported by Eric Todd in The Guardian under the headline, 'The Leeds locusts eat their fill': 'Yorkshiremen are not noted for their modesty or compassion, at least in the world of sport, but on Saturday there were few who did not feel a little sad as they watched the tattered and dispirited remnants of a side which not so long ago was as proficient, eager and remorseless as Leeds are these days. Sir Matt Busby sat there thinking of the past, Frank O'Farrell of the future. If they had been attending a hanging at Tyburn tree, they could not have looked more solemn.
'But Old Trafford, which for years and years has known and earned unparalleled success and prosperity, should have realised that the locusts of misfortune are no respecters of persons and that sooner or later - later in their own case - they would descend on Manchester United. If such a contingency had been accepted and even prepared for, then a recent loss of form might have been more tolerable among all concerned. The strong belief, "It can never happen to us," has been exploded as many of us expected that it would be.
'Manchester United now will be expected to plunge into the transfer market and the picture is conjured up of O'Farrell careering up and down the country from Thurso to Penzance waving a cheque book and begging for volunteers or conscripts to help shore up the collapsing establishment. At the same time, however, he would do well to remember the ancient warning about putting new wine into old bottles. In other words, he first must consider what he can do with the resources he has before he brings in reinforcements. Obviously, he needs at least two more defenders … but more important he must find out why Charlton and Best particularly are out of touch and out of humour. And forget all about sentiment.
'Manchester United, for all that I forecast that they might achieve one of the day's most unexpected results - well, maybe they did - showed fight for only half of Saturday's game. After the interval, they surrendered unconditionally and if this had been at Ascot or Newmarket Heath, the stewards would have called for an inquiry. No more needs to be said about them.
'Nor is there anything new to say about Leeds ... The return to form of Gray was a further blow to Manchester, and after scoring five, Leeds were merely bored, and Manchester chased and chased with the hopelessness of a 5-year-old in pursuit of a butterfly.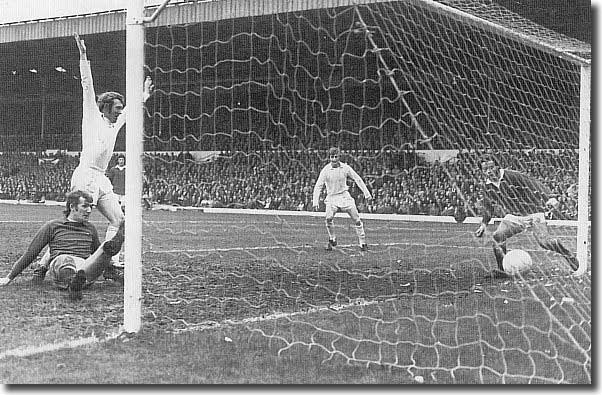 Sheer cruelty, no less.'
After the game, Frank O'Farrell offered a grudging, 'The goals killed us and made them, there was no indication that was going to happen at half time. It was just one of those days.'
Don Warters in the Yorkshire Evening Post: 'Don Revie's boast that Leeds United are as good as that great Spanish side, Real Madrid, were when they took Europe by storm, was brought well within the bounds of reality with their 5-1 humiliation of Manchester United at Elland Road. Leeds' second half performance against a team who only a short time ago were riding high with a five-point lead at the top of the First Division reduced their opponents to mediocrity.
'I cannot recall having seen a Manchester United team quite as outclassed and outplayed as Frank O'Farrell's side was on this occasion, yet in fairness to them it should be said that few sides would have had much chance of surviving against Leeds in this lethal mood. Leeds, attacking with skill and flair, were confident and devastating.
'Often they have outplayed visiting sides this season and had to settle for an inadequate scoreline. But this time the floodgates opened and there can be no doubt that Revie's men deserved this emphatic victory.
'Every Leeds man played his part, although Eddie Gray, Terry Cooper and Johnny Giles were particularly prominent.'
Tom German in The Times: 'It will be meagre comfort to Manchester United ... to know that they were laid low by what - by Don Revie's yardstick - was Leeds United's most accomplished performance of the season. Leeds, in such a mood, could perforate armour plating. Yet that should not fill Manchester heads with false notions.
'Manchester's defence, bolstered by withdrawals from up front, did well enough to keep Leeds out in the first half, although several times it was only by courtesy of Stepney's outstretched legs. The mounting pressure was obviously tugging at the seams, though, and once the Yorkshiremen had scored three minutes into the second half Manchester were never able, adequately, to reassemble themselves.
'Leeds used the full width of the field with imagination and skill. Bremner and Giles switched the ball around with immaculate precision and perfection; Jones and Clarke were mobile, eager prongs, darting at the heart of the defence; Cooper and Madeley swept up the flanks with an assurance which underlined their unconcern at any counter strokes which Manchester might mount.
'If one had to select one man for special mention it would have to be Gray, loping out of his own territory with the ball seemingly attached to his toes, teasing one opponent after another and then leaving them rooted as he flitted away.
'With so many Yorkshiremen in harmony, the avalanche had to come ... Leeds toyed with them. Clearly it needs more than one new strut to strengthen this Manchester structure; the problem, perhaps, is not where to start but where to end.'
Brian Glanville in the Sunday Times: 'The spectacle was almost that of the matador toying with a weary bull, the delighted roars of the crowd at each new piece of virtuosity, the equivalent of the "Ole"s of the bullring.'
Ronald Crowther in the Daily Mail: 'Leeds, as we saw in this superb display of selfless, non stop running, are essentially a team without any exhibitionist or would be virtuoso. They had eleven stars all clinically efficient in this demolition of their arch rivals from Manchester.'