For Leeds United Football Club, the 1950's was a bizarre, almost schizophrenic, period. They had begun the decade as a Second Division team and ended it in the top flight, but in every respect it was as a lower league unit that they enjoyed the most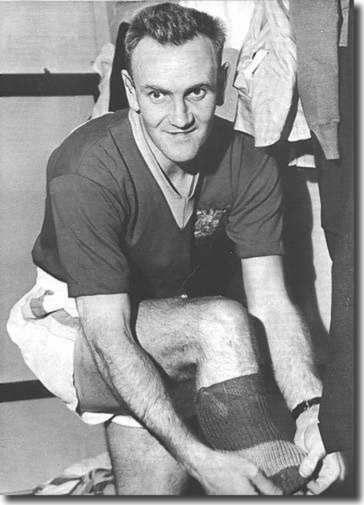 exciting times.
In 1950 they could boast a charismatic, big time manager in Major Frank Buckley, employed one of the biggest talents in British football in John Charles and enjoyed a remarkable run in the FA Cup that was only ended by mighty Arsenal. The decade held great promise for the humble West Yorkshire club.
By 1959, however, the rot had set in. A once vibrant youth development programme had fallen into disrepair during Raich Carter's time in office. Bill Lambton resurrected the scheme during his brief spell as manager, but that was his only achievement.
The Sixties saw unimaginable progress from those terrible times, and rarely has a decade seen such remarkable advances in the fortunes of any club. The story of Leeds United over that time is an extraordinary one, possibly never to be matched.
The decade began with the club in a desperate situation - manager Lambton's services had been dispensed with after a players' revolt and the Leeds board faced an uphill battle to find a successor. The fans were deserting the club in droves, money problems were as bad as ever they had been and Leeds United had few stars - a rebellious centre half called Jack Charlton and a former England inside forward called Don Revie were rare personalities in a rag bag of has beens and never wases, with the youth scheme holding much promise for the future, but little solace for the present.
The situation was so dire that Arthur Turner, manager at non League Headington United, preferred the promise of his existing team and turned down the Elland Road job when it was offered, as did former captain Tommy Burden. Eventually, Queen's Park Rangers manager Jack Taylor was persuaded to return to his Yorkshire roots and take on the challenge.
He must have wondered whether he had made the right choice when 1959/60 brought a desperate battle to avoid the drop which was ultimately unsuccessful. The Leeds defence leaked like a sieve, conceding a wretched 92 goals in the League. One bright spot came in the spring when 17 year old Scot Billy Bremner was blooded on the right wing, an enthusiastic replacement for 20 year old Chris Crowe who moved to Blackburn, where he won full England caps to go with the Under 23 honours he earned while at Elland Road.
During the close season, Taylor looked to turn things round and first team regulars Wilbur Cush, Archie Gibson, George Meek and Jack Overfield followed Crowe out of the club. He used the money to reinforce his ranks - drafting in tough tackling Scottish wing halves Eric Smith from Celtic and Queens Park's Willie Bell. He forked out £15,000 apiece for St Mirren defender John McGugan and Sunderland left winger Colin Grainger, with forwards Peter Fitzgerald and Tommy Murray completing his haul. Goalkeeper Alan Humphreys and Manchester United centre back Freddie Goodwin had arrived during the battle against the drop, and the side for the new season was much altered.
The replacements made little difference as Taylor sought in vain for a winning combination in 1960/61, using 27 players in all. Don Revie's appearances became spasmodic as he surrendered the captaincy to Goodwin with his thoughts turning to management and retirement. The defence was little improved and 83 goals were conceded. In the end, Leeds rallied to finish 14th after a decent final month, including a 7-0 win over Lincoln, but they were a mere five points clear of relegation.
Amidst the chaos, however, matters were about to take a dramatic new turn. Director Harry Reynolds was becoming increasingly influential on the board. He took it upon himself to tip Taylor the wink that the board no longer supported him, prompting the manager to resign in March, with 12 months still to go on his three year contract. On 17 March 1961, Don Revie accepted Reynolds' offer to take up the position of player manager, and a brave new era began.
There was little progress in the short term, however, and for many weeks in 1961/62 Leeds United seemed destined for an unprecedented dive into the Third Division.
The youth scheme was starting to throw up some excellent young talent, but they needed time to mature and Revie had to draft in some experienced professionals to buy the club time. Former Liverpool and Stoke keeper Tommy Younger, who had won caps for Scotland, arrived in September 1961, and, towards the end of the season, with Leeds in deep trouble, Revie gambled £25,000 of the club's slender resources to bring former Scottish international Bobby Collins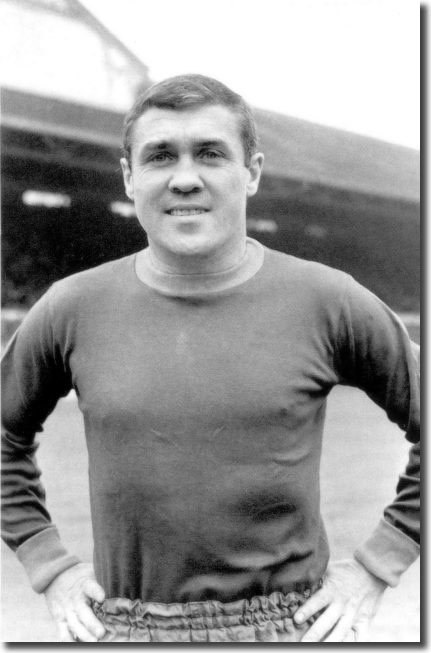 from Everton.
Collins assumed both the captaincy and Revie's number eight shirt. He was a tiny man, but he brought a huge desire to win, one which had been missing from the Leeds side since Charles departed, and one which would sustain the club through the next five exciting years. Burnley reserve forward Ian Lawson and Cliff Mason, an experienced left back from Sheffield United, also arrived at Elland Road just prior to the transfer deadline and all three newcomers were in the side for the home game against Swansea. Collins opened the scoring in a vital 2-0 victory. It was a crucial result and, although Leeds lost 4-1 the following week at Southampton, set the team up for a phenomenal run in, during which they remained unbeaten.
They battled manfully through their remaining fixtures, building on a stout defence. Just four goals were conceded in eight matches following the Southampton reverse. For all that fortitude, however, Leeds still had much to do. As the season entered its final day Leeds took a testing trip to Newcastle with a point still required to make them safe.
An extraordinary performance saw Leeds triumph 3-0 to preserve their Second Division status. Skilful South African left winger Albert Johanneson gave an outstanding performance, opening the scoring and laying on the second goal.
The successful battle for survival brought Reynolds, now chairman, and Revie new heart and they spent a record £53,000 to bring old favourite John Charles back from Juventus. The move was not a successful one and Charles played just 11 matches before returning to Italy. Revie's blushes were spared by the £65,000 that he received from Roma for Charles' signature. It was just as well that Jim Storrie, a bargain £15,650 buy from Airdrie, was more successful in front of goal, because the side struggled, losing three of the first six games of 1962/63.
Revie lost all patience, and uncharacteristically threw caution to the wind, drafting in a bunch of his youngsters. The move came sooner than he had wished, but proved a great success. On 8 September 1962, Paul Reaney, Rod Johnson (both 17) and Norman Hunter (18) all made their first appearance, while goalkeeper Gary Sprake (17), a veteran of one game, also came in. Johnson scored one and Billy Bremner (19) the other in a 2-0 win. Four games later, Scottish winger Peter Lorimer became the youngest player in the club's history at 15 years, 289 days old. Lorimer played only one more match that season and Johnson quickly faded, but Sprake, Reaney, Hunter and Bremner were there to stay, mainstays of the team for the next decade.
Revie feared for his callow young men, but was reassured by their progress and lack of fear. Albert Johanneson (22), Jimmy Greenhoff, Barrie Wright (both 16), Barry Williamson (23), Tommy Henderson, Mike Addy (both 19), John Hawksby (20) and Ian Lawson (23) all appeared that season - it was a truly amazing development.
The pressure on the youngsters intensified when the big freeze that winter left Leeds without a game from 22 December until 2 March, leading to a run of 22 games in just 78 days. The youngsters never flinched and Leeds stormed through the spring, with only a run of three defeats in May preventing a startling promotion. Leeds missed out by just four points, astonishing their manager and confirming that Elland Road was now a very exciting place to be. The following season, an amazing march to the top began in real earnest.
Don Revie kicked off 1963/64 by completing a transfer deal to rival the Bobby Collins purchase - he managed to tempt 23 year old Irish right winger Johnny Giles away from Cup winners Manchester United for a miserly £35,000. It was an astonishing signing, and many well known judges questioned Giles' sanity. He was leaving one of the biggest clubs in the country, now back winning honours after the disaster of the Munich air crash, for a move to a down at heel Second Division side. But Giles saw something in the urgency of Revie and the ambitions of Leeds United which excited him. Whatever the exact reason, Revie and Leeds never looked back from the moment that the Irishman arrived at the club.
Leeds had already commenced their campaign with a 1-0 win over Rotherham by the time Giles signed, but he settled in quickly and missed only one other game that season. All round, it was a very settled side - Norman Hunter was the only ever present, but Gary Sprake, Paul Reaney, Billy Bremner, Bobby Collins and Giles missed only eight matches between them, while Willie Bell, Don Weston and Albert Johanneson all played more than 35 times. Such stability brought consistency and the defence was now almost flawless, conceding just 34 goals in the League.
The Leeds United formula was founded on being hard to beat and unpleasant to play against, relying on points ground out rather than won in style. The club were making enemies for their fearsome approach, but the tactics were undoubtedly successful - Leeds were unbeaten at home and lost just three times away from Elland Road.
The battle went down to the wire as Leeds, Preston and Sunderland pulled away from the pack, but in the end a run of eight wins and two draws at the end was crucial. Just as significant was the contribution over the last three months of England centre forward Alan Peacock, a £55,000 buy from Middlesbrough.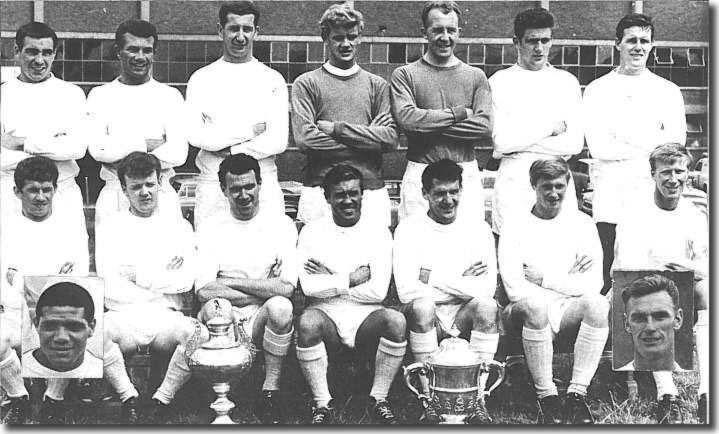 Peacock came in to solve a goal famine, and weighed in with 8 crucial strikes in the last 14 matches.
When Leeds beat Southampton 3-0 at home on 7 March, it was the first time they had scored more than two goals in any game since they had beat the same side 4-1 the previous October. The win eased the pressure which had built up and promotion back to Division One was secured on 11 April with a 3-0 win at Swansea.
It took until the last game, however, when Peacock scored both goals in a 2-0 win at Charlton, for Leeds to secure the championship they wanted so badly to prove their worth. The critics derided them as journeymen and cloggers, but the title was sweet reward for Revie and his young team. Leeds United were on the march.
Leeds had never come within a country mile of winning the League Championship or the FA Cup, but they nearly won both in a single season as they took the English game by storm in 1964/65. They won their opening three matches, including an astonishing victory against reigning champions Liverpool, and were in the running for the title all year.
The hatred they inspired outside the club only served to drive the team closer together. They enjoyed a run of 13 wins in 15 matches at one point and it was only a stumble in the run in, with two defeats and a draw in the last five games, that let eventual champions Manchester United in. The 1-0 loss at Elland Road on 17 April against their main rivals was crucial, but even then victory in the final match away to Birmingham would have given Leeds an unlikely title. They fell three goals behind before fighting their way back to level. It was not enough, however, and Manchester United took the title on goal average after winning their last game that same night.
The form also sustained a marvellous FA Cup run, with a late goal from Billy Bremner seeing off Manchester United after a replay in the semi finals. However, the youthful upstarts froze on their big day against Liverpool in the final at Wembley. Nevertheless, Leeds managed to take the match into extra time, and the indomitable Bremner equalised against the run of play before Ian St John's diving header won the Cup for the Anfield club.
It had been an extraordinary season and Charlton, Hunter, Sprake, Bremner and Giles were honoured by international calls. However, the star of the season had been Bobby Collins - the captain won a recall to the Scotland team after years out in the cold and was voted Footballer of the Year. It had been a startling turn of events for a club which only three seasons previously had been one match away from the Third Division.
Their achievements guaranteed a new experience in 1965/66 - European football via qualification for the Inter Cities Fairs Cup. Revie left his squad unchanged for the new challenge, but a purchase was prompted when Collins broke a thigh in the second leg of their first European tie against Torino. It cost £30,000 to bring Huddersfield right winger Mike O'Grady in as a replacement, and the player brought fresh options up front, although the unique fire and determination of the skipper was sorely missed. However, Johnny Giles slotted into Collins' central midfield slot alongside Bremner as if born to it and an awesome new partnership was formed.
Leeds finished runners up in the League again, although they always lagged behind pace setters Liverpool, finishing six points away.
Their first foray into Europe brought both controversy and glory, with some violent clashes and a run which took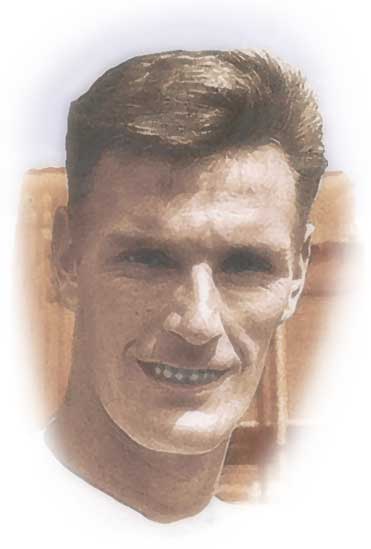 them to the last four. Eventually, a far more experienced Real Zaragoza side beat them 3-1 in a semi final play off.
1966/67 saw Leeds once more in contention on a number of fronts, and going through a number of changes. Collins had manfully fought his way back from injury, but the combination of Giles and Bremner was too irresistible for Revie to disrupt. Collins played only a handful of matches after his return and was away on a free transfer to Bury during the spring.
The defensive unit of Sprake, Reaney, Charlton, Hunter and Bell was normally on duty, but the versatile Paul Madeley had become a useful addition to the squad, featuring in eight different shirts as injuries disrupted things. Peter Lorimer now regularly featured on the right flank with any one of Albert Johanneson, Terry Cooper or the gifted Eddie Gray on the left. This brought a more creative approach, but the lack of a regular goalscorer was noticeable. Giles was the leading marksman with just 12, and there was never a consistent combination up front. Rod Johnson, Mike O'Grady, Alan Peacock, Jim Storrie, Jimmy Greenhoff and Rod Belfitt all got their chances, but only Greenhoff managed more than 14 games.
For all their lack of fire, however, Leeds had a useful season. They never challenged seriously for the title, finishing fourth, but it was in Cup football, where success was more dependent on being difficult to beat, that Leeds really made their mark, for they were nothing if not durable opponents. Charlton became the second Leeds player in three seasons to win the Footballer of the Year award for his performances at the heart of the defence.
They battled their way through to the FA Cup semi finals, although they needed three attempts to overcome Sunderland in the fifth round. Their clash in the last four with Chelsea was a torrid affair and Leeds lost out to the only goal of the game, having a late equaliser controversially disallowed.
They went even further in the Fairs Cup, reaching the two legged final against Dinamo Zagreb, although they had to wait until the start of the following season to settle matters because the tie was postponed due to a fixture congestion. Leeds lost the first leg in Yugoslavia 2-0 and then Don Revie's over cautious approach in the second leg condemned the side to a goalless draw and another runners up spot.
It was an awful start to the new season, and talk started of Leeds United always being the bridesmaid but never the bride. In three seasons they had been runners up twice in the League, achieved the same status in both the FA Cup and the Fairs Cup and reached the last four in both competitions on another occasion. In terms of consistency, they were difficult to match, but they were also consistently left with nothing to show for their efforts. In fact, it was that very consistency which was the problem - Leeds' competitive will to win kept them so involved that they simply had too much on their plates. Even so, one could not deny that this led to exciting times, and Leeds were again battling on four fronts in 1967/68.
Revie reacted to the shortcomings in attack in October and laid out a club record £100,000 to buy Sheffield United's hard working young centre forward Mick Jones. The player made a difference alright, but still only managed 8 goals in the League. However, it was his brave and unselfish running, together with an ability to hold the ball up long enough to bring others into play, which really counted. Terry Cooper and Eddie Gray were now regulars, working in tandem on the left, and their attacking skills added enormously to the side's creative dimension.
Leeds lost too many games away from Elland Road to mount a serious challenge in the League, but still repeated their fourth place finish, ending just five points behind champions Manchester City.
Disappointment also followed in the FA Cup, when United again went down 1-0 in the semi final, this time to Everton.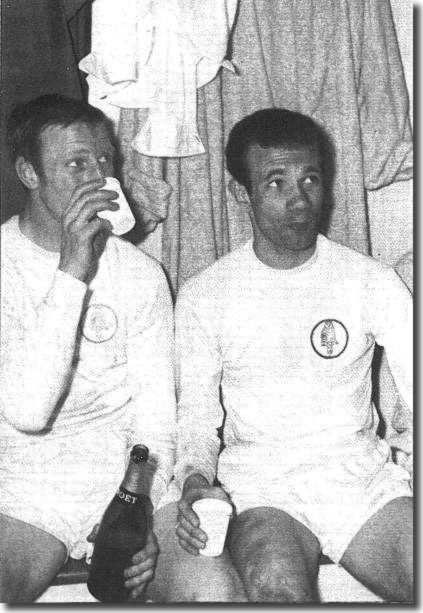 However, Leeds did not finish empty handed and enjoyed success in two Cup competitions.
Their first trophy came courtesy of the still fledgling Football League Cup competition. Leeds conceded just a single goal on their League Cup run and defences were on top again in a drab battle for the trophy against Arsenal. Leeds were understandably interested more in victory than contributing to a showpiece, and once Cooper had hammered home a long range goal after 20 minutes, United simply shut up shop - it wasn't pretty, but it was successful and Leeds finally had something to show for their efforts.
Six months later, they won more silverware. The Inter Cities Fairs Cup final was once again held over until the start of the following season, with Leeds facing Ferencvaros. United looked to have missed their chance when they could only manage a solitary goal in the first match at Elland Road, but another masterly rearguard performance secured a goalless draw in the away leg and an aggregate 1-0 win, leaving Leeds United as the first British winners of the trophy.
They won an even greater prize, however, in 1968/69. Revie had told his players at the start of the season that they were going to win the League Championship and do so without losing a single match. They did in fact go nine games undefeated before reigning champions Manchester City ended their run at Maine Road with a 3-1 win. Four games later Leeds were humbled 5-1 away to Burnley, but that was the end of that, as the side strode through the next 28 matches undefeated. They conceded just 26 goals all season, and won the championship with a record haul of 67 points.
It was unbelievable. The club which had started the decade making the numbers and so nearly dropped into the Third Division when Don Revie took over as manager had become the biggest club in the country, feared and respected throughout the land. Their dominance in 1968/69 was frightening and when Leeds United were on their game there were few clubs who could live with them.
Revie didn't rest on his laurels, however, and during the close season he set about preparing his charges for their first assault on the European Cup by breaking the British transfer record, spending a cool £165,000 on Leicester City's England Under 23 striker, Allan Clarke. It was a bold and astute move and with it Revie delivered the classic Leeds United line up, one which could be recited by fans the length and breadth of the land: Sprake, Reaney, Cooper, Bremner, Charlton, Hunter, Lorimer, Clarke, Jones, Giles, Gray, sub. Madeley - it was the stuff of legend …
The triumph of 1969 was light years away from Lambton and Taylor, and the knife edge escape from the Third Division. The club was no longer a one man team, or a music hall joke - Leeds United had every right to claim for themselves the title of team of the Sixties, and looked forward to continuing their domination as the Seventies dawned.