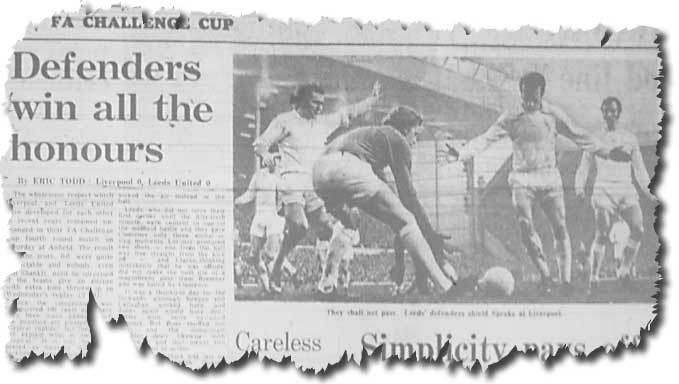 printer friendly version
Matches between fierce rivals Liverpool and Leeds United were among the highlights of every season in the early 1970s. The fixture carried with it a guarantee of high quality, ultra competitive football. Even when manager Bill Shankly was taking the Reds through a phase of extensive team rebuilding between 1970 and 1972, Liverpool could be relied upon to provide the sternest of tests for any team.
The two clubs were drawn to face each other at Anfield in the fourth round of the FA Cup in February 1972; United had hammered Third Division side Bristol Rovers 4-1 in the third round and the Reds had won 3-0 at Oxford United. The pairing did not really suit either side, both of whom were fancied for a good run in the Cup, but they were always ready to renew hostilities and linked by a bond of healthy mutual respect.
The week before the Anfield meeting, Leeds lost 1-0 at Tottenham Hotspur, their first defeat since 13 November. They were eager to bounce quickly back, and there were reasons to suggest that they could do so on Merseyside. They could point to victory in both of their previous two trips to the home of Shankly's men. A Billy Bremner goal had been enough to earn them victory in the Fairs Cup-tie there in April 1971 and efforts from Allan Clarke and Mick Jones had brought a 2-0 League success on New Year's Day. In fact, United were undefeated in front of the Kop since December 1967, when goalkeeper Gary Sprake infamously threw the ball into his own net. Their four year undefeated sequence included the draw in April 1969 which secured the club's first League title.
United were forced into some team changes: winger Eddie Gray had turned an ankle in the opening minutes at Tottenham, while Jack Charlton was laid low with flu. Paul Madeley moved to centre-back to deputise for Charlton, allowing Paul Reaney to return at right-back, while Mick Bates wore the No 11 shirt in midfield. Otherwise Leeds were at full strength. It was the same eleven which ended the game at Anfield on 1 January, when Bates had come off the bench to replace Gray.
Allan Clarke and Mick Jones continued to operate in tandem up front; they had both been beset by injury in the opening weeks of the campaign, but had been back in action for three months. Their presence coincided with the best form of the season for the Whites, who had lost just once with the two in harness. Terry Yorath was named as substitute for the day.
For Liverpool, the selection was the one that hammered Crystal Palace 4-1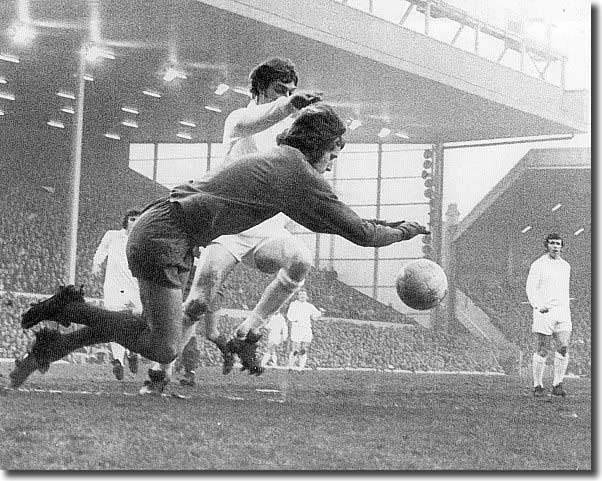 the week before: Kevin Keegan and John Toshack were building a promising relationship up front, while the defensively-minded Ian Ross was deployed to stiffen midfield, with the brief of negating Johnny Giles' creative abilities on this occasion.
The gates were closed 50 minutes before kick off with a capacity crowd of 56,598 locked inside, having paid receipts of £23,923. It was the biggest attendance at Anfield for nine years, with thousands more unable to gain admittance, and the match was captured by the BBC cameras for Match of the Day.
United attacked the Kop end in the first half and tried to provide an early shock for their hosts when Peter Lorimer hammered the ball towards Ray Clemence's goal from the kick off, but the keeper caught the effort easily and launched his clearance downfield.
Liverpool were the dominant force during the game's all action opening. Their early pressure resulted in a booking for Paul Reaney after he threw himself into a tackle from behind on Steve Heighway just outside the area.
Liverpool's best chance, a glorious one, came after 16 minutes, when a Mick Bates clearance was headed down by Chris Lawler towards Toshack, poised to create mayhem in the heart of the United area. Gary Sprake raced out to confront his Welsh international colleague, but Toshack showed great presence of mind and control to pull the ball wide of the keeper and find Steve Heighway eight yards from goal in a prime location. With only Reaney between the Irishman and the gaping net, Heighway made a frightful mess of his effort. His miskicked effort fell to Keegan, but the best chance had gone and United were able to clear their lines.
Leeds had their own opportunities: Tommy Smith stopped Lorimer when United's leading goalscorer broke away, Clemence saved a spectacular lob from the same player and then desperately scrambled the ball away from Clarke after the striker broke through the Reds' defence following an unsuccessful offside appeal from the home men.
Defences were dominant in the first half, with Madeley and Norman Hunter superb for Leeds and Smith in commanding form at the heart of the Liverpool rearguard, but United did have one decent chance, five minutes before the break. Giles and Bremner exchanged passes in midfield before the Scot flicked the ball past Smith, ran on to collect it himself and found Lorimer racing through unmarked on the right. The wide man's angled shot was smothered by the advancing Clemence as Bremner waited for any error.
The game reached the interval without a goal and a stalemate looking very much on the cards.
United were forced to play a containing game in the second half as Ross maintained a watching brief on Giles, preventing any real creative play from the visitors.
Terry Cooper had to be alert to clear in timely fashion as Keegan ran dangerously from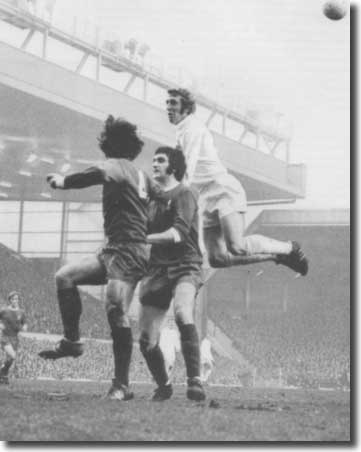 the right and the left-back later had to block a goalbound effort from Heighway.
Jones was laid low for a few minutes after falling over a small wall circling one corner of the pitch, but was fit to resume after treatment.
Don Warters in the Yorkshire Evening Post: "Rain began falling as Liverpool forced Leeds back with concerted attacks in a 10-minute period which brought several corners and some competent handling under pressure by Sprake. With Callaghan and Keegan prominent, Liverpool kept driving forward and determined work by Callaghan, which got him the better of Cooper and Bates, put him in a position from where he fired over a perfectly judged cross to Lloyd, who tested Sprake with a downward header."
United, with Sprake, Reaney, Madeley, Hunter and Cooper in imperious form at the back, weathered all that Liverpool could throw at them. Don Revie's men had set out to secure a goalless draw and achieved exactly that objective; their experience and calculating tactics fully merited their reward. It allowed them to take the Reds back to Elland Road for what they hoped would be a decisive replay.
Eric Todd in the Guardian: "The wholesome respect which Liverpool and Leeds United have developed for each other in recent years remained unchanged in their FA Challenge Cup fourth round match on Saturday at Anfield. The result and the score, 0-0, were quite predictable and nobody, even Bill Shankly, need be surprised if the teams give an encore with extra time thrown in in Wednesday's replay.
"Since the competition was inaugurated 100 years ago there have been many games which the populace are pleased to call 'typical Cup-ties', but they do not explain what it means by 'typical'. If it may be interpreted as meaning skill, hard tackling, near misses, over eagerness, carelessness and refusal to surrender, then Anfield witnessed such a game this day.
"Most people believed that Leeds had come for a draw and there was some corroborative evidence. The fact that they had to make minor adjustments consequent on the absence of the injured Gray and Charlton, visited by influenza the previous day, may have restricted their original intentions to win.
"On the other hand, the same Leeds side won a League game at Anfield a few weeks ago … so it might have been expected that they would go all out for victory at the first attempt in the Cup."
The fact that the match was refereed by the highly-regarded Gordon Hill was one reason why it was such an enthralling afternoon; Hill officiated with a calm authority but always allowed the play to flow. He was one of the better officials in the British game, enjoying an affinity with the players and refereeing with good sense, understanding and pragmatism.
According to Wikipedia, "He became a regular face in top division football and was renowned for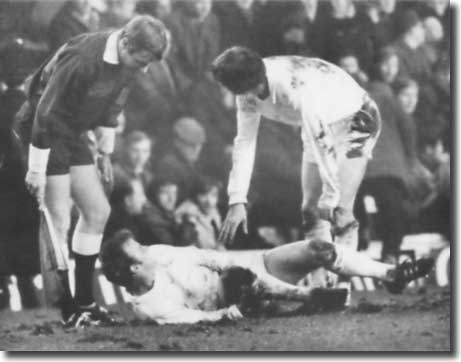 his 'player-centred' approach. Hill aimed to build closer relationships with players, and wanted to distance himself from the traditional image of the referee as an aloof disciplinarian. This approach appears to be have been well regarded by players, managers and fans but did not always find favour with the authorities. Particular tensions arose early in the 1972/72 season, when the League was instigating a disciplinary crackdown, and this made the lenient and individualistic Hill uneasy.
"Hill was generally unhappy with the expectation that referees be low profile, conformist figures. This even extended to him challenging the dress code of the time which stipulated that referees should have four inches of white turnover on their black socks. He did so by having a small extra band of black over the white turnover. More controversially, he admitted swearing on the pitch. Although players were known to swear, many figures, including other officials such as Pat Partridge, considered this unwise for a referee, but Hill felt it was natural behaviour for him and helped him communicate more effectively on the pitch.
"In his nine years in the middle in the Football League he never sent off a player in that competition or the two main Cups, a remarkable record even for those more lenient times. When he had his autobiography published - at that time, one of the few referees to do so - it reflected his high profile. In the book, he expressed support for various ideas now adopted, such as a select group of officials handling all the top games, use of filmed match footage to train referees, greater liaison between referees and assessors, extensions beyond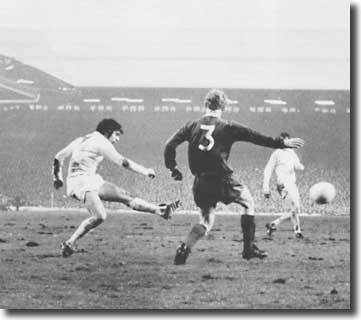 retirement age for exceptional referees, and an end to League referees being employed as linesmen in Cup Finals."
Former England manager Graham Taylor: "In my first year as a young pro I was playing for Grimsby Town reserves and the official was Gordon Hill. He became England's top referee but he was not loved by the football establishment, simply refereeing as he saw it. He gave a foul against me and instinctively I said: 'You must be joking!' He stopped play and beckoned me over. There were no cards in those days so it was a talking to, a booking or a sending off.
"He said: 'Graham, (I was impressed he knew my first name) if you could bloody well play as well as you can talk you would be a bloody international. Now p*** off and let me referee the game and you try to improve yourself, which I think is doubtful.' I just collapsed laughing and from that day on we got on tremendously well. It would not and could not happen now. And football is poorer for that."
Eric Todd: "A good game, too, for the referee, who booked Reaney for a foul on Heighway in the eighth minute. He might have taken one or two other names as well, although it never was a vicious game and Mr Hill, while firm, made sympathetic concessions. I do not know where the flies go to in the winter time but they would not have a hope of landing on or near Mr Hill, whose waving arms can repel anything from argument to doubt. A great character and a competent one." Hill said afterwards, "A wonderful match. I really enjoyed it and I can't wait for the replay."
It was a view echoed by many.