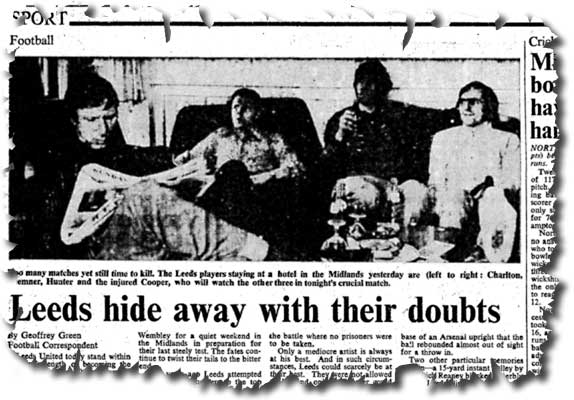 On the evening of Monday, 8 May, 1972, Leeds United faced a date with destiny: their season climaxed with an outstanding opportunity of becoming League champions for the second time in three years. The title would be theirs should they avoid defeat at Molineux against Wolves. Mathematically, a draw might allow Liverpool to finish above them by virtue of goal average, but the Merseysiders would require an 11-0 victory against Arsenal at Highbury, and such results were the stuff of fantasy.
If Leeds lost, a Liverpool victory would see them win the title. Table-topping Derby County would be champions if the Reds failed to win.
United's mood had been boosted by their victory in the FA Cup final against Arsenal two days earlier; on the other hand they had been denied the chance of rest and recuperation, travelling by coach to the Mount Hotel in Wolverhampton immediately following the final, without even attending the post-match banquet.
There were some who would have preferred to celebrate, Norman Hunter for one: 'What the Gaffer should have done is let us go out and get absolutely smashed. We'd have gone in the stream room on Sunday and been fine by Monday.'
Describing the match as 'the most important we have faced since our return to the First Division', Don Revie promised that United would not go into the game with a defensive mindset. 'Leeds United must go all out for victory ... This might appear illogical since we need only a draw to finish ahead of Derby County and Liverpool, but I reckon it would be soccer suicide to adopt a defensive style of play. Attack really is the best form of defence against Bill McGarry's team, because they possess the ability to swamp opponents like a tidal wave.
'It is vital to stop Wolves defenders and midfield players from supporting the likes of Derek Dougan, John Richards and David Wagstaffe up front. The best way to do that is to keep them under pressure. Wolves prefer opponents to play defensively, because it means that their own flaws at the back are not exposed.
'Although Wolves have only an academic interest in the championship, and are in the middle of a two leg UEFA Cup final with Tottenham, this will not make our task any easier. Teams can always be relied upon to raise their game against us and this should be particularly true in Wolves' case, considering the tremendous atmosphere that can be expected at Molineux on Monday.
'I can't recall a team being forced to play a championship decider so soon after appearing in a
Wembley Cup final. But I am convinced that there is sufficient character in this Leeds team to accept the challenge and emerge triumphant.'
Revie had tried everything he knew to get the game delayed, but had fallen foul, as he had on so many other occasions, of irascible Football League secretary Alan Hardaker.
After United's place in the FA Cup final was secured, the League determined that they would have to play Chelsea on 1 May, the Monday before the final, and their game at Wolves would be a week later, two days after Wembley. In addition, with England facing West Germany in the European Championship on 29 April and 13 May, United's England players would bear additional burdens.
The club appealed for the fixtures to be delayed until the middle of May, but there were a number of issues with this, not the least of which was the circumstances of the clubs they faced. Chelsea were unwilling to co-operate because they had arranged to leave on a tour of the Caribbean on May 13, while Wolves were scheduled to play Spurs in the UEFA Cup final on 3 and 17 May.
Hardaker obstinately dismissed all requests for deferral, opining, 'I have not seen one suggestion of a better solution to the problem. If Leeds United wish to play Wolves on 9 May they are quite free to do so as far as the League are concerned, but they will have to play without their England players unless the FA agreed to release them.
'Similarly, if Wolves will agree to play Leeds on 19 May, two days after the UEFA Cup final and the FA would release their international players, the League would not object. Nor would the League object if Leeds suggested dates in order to play without their England players.
'It seems to me that for years the press have been saying that country must come before club, and yet when it comes to criticising the League for a decision that had to be made, the England v West Germany matches have been very carefully overlooked.'
Eric Todd commented on the situation in The Guardian, 'For the second time in two years the Fates, with whom may be associated the Football League, are making it very hard for Leeds United to win anything. Only in Yorkshire, perhaps, would this be classified as victimisation; outside it, even those people who hate Leeds as they used to hate Arsenal, Tottenham Hotspur and Manchester United - envy is too modest a word - must feel that little effort has been made either to sympathise with Leeds or to try to accommodate them on their final run-in for the Double.
'Sympathy can find little room in football these days but sooner or later the League and the Football Association must realise that the football season is far too long and far too congested with a multitude of competitions. There is no space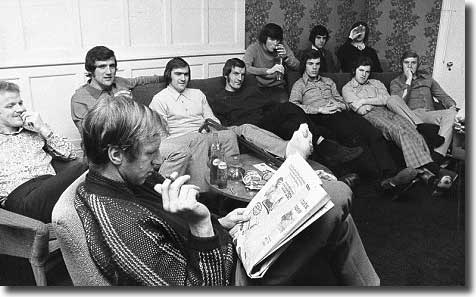 to manoeuvre and none to provide for contingencies, such as bad weather, replays and international demands.
'It is as monstrous as it is unfair that Leeds or any other club placed similarly should have to play a game a few days before the FA Challenge Cup final and another one two days after it.
'If Leeds fail to win either the Cup or the league title they need not blame loss of form. They must blame the system. And if Leeds cannot field a full strength side against Arsenal at Wembley, the crowd and the FA can blame the Football League and Chelsea who have decided that their jaunt to the West Indies, or wherever it is, is more important than trying to help Leeds prepare properly for their crucial matches. Fair enough. Why should they anyway?
'Not that I am concerned over much with Chelsea or with the European Championship. I am more concerned only that any side, Leeds, Chelsea, Hartlepool or Watford, who have a chance of winning one or both of the major competitions this country has to offer is given a reasonable chance of winning them. In this instance Leeds have not been given that chance.
'But Leeds in recent years have been nobody's friends. The authorities closed Elland Road last year after a few yobbos had run on to the pitch regardless of the fact that this sort of thing happens every week on most grounds. Two years ago between the first of their three semi finals against Manchester United and the final, Leeds had to play ten games in three weeks and were beaten by Chelsea in a final replay and they finished as runners-up in the league.
'I believe that Leeds have been treated scandalously and are having to pay the penalty for lack of foresight by the League and the FA.'
In the eventuality, United beat Chelsea 2-0 and did so quite convincingly, following up with an impressive if narrow defeat of Arsenal at Wembley, but those games left their resources badly depleted.
Already without Terry Cooper, missing with a broken leg, United were also missing hard working centre-forward Mick Jones, who had dislocated his elbow in the closing seconds of the final, while several other players were carrying injuries. Allan Clarke and Johnny Giles had painkilling injections before the Molineux game, and Eddie Gray and Clarke both played with heavy strapping. All three had treatment in nearby West Bromwich Albion on Sunday. Jones' place was taken by Wembley substitute Mick Bates, playing in midfield with Billy Bremner operating up front, and Terry Yorath was on the bench.
It was a night of the highest tension, excitement and passion with a crowd of more than 50,000 packed behind gates that were closed long before kick off time. During the match, more than 70 people suffered injuries when crush barriers gave way.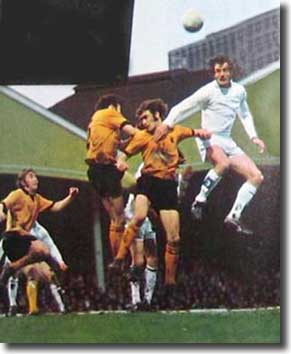 One man sustained a broken leg and nine others required medical attention.
United began as if they were determined there would be no slip up, proving true to Revie's promise of all out attack. Geoffrey Green in The Times: 'Almost from the start it seemed that Leeds had decided that to slacken the pace was to lag behind and those who lag behind are beaten.'
Nevertheless, they had a moment of anxiety after five minutes when goalkeeper David Harvey came out to collect a Wolves free kick. Wanderers' veteran striker, Derek Dougan, got to the ball first and headed down to John Richards, who shot powerfully from eight yards out. Paul Madeley blocked it and then cleared the danger.
But then Bremner had the first opening for United when Frank Munro slipped as he tried to clear; the Leeds captain also fell victim to the greasy surface as he attempted a spectacular overhead kick.
Soon afterwards Wolves keeper Phil Parkes collided with Allan Clarke in the area and the visitors' appeals for a penalty seemed fully merited. They were even more emphatic in the 25th minute as Leeds continued to press. After Bremner's shot was blocked, the ball ran to Clarke on the edge of the area; the England striker lobbed it back in and home defender Bernard Shaw seemed to get both hands to the ball to prevent the goal. Referee Bill Gow was unsighted with Shaw facing away from him, but linesman J C Collins of Macclesfield gave him no assistance regarding the decision. 'It was one of his first games and he froze,' said Norman Hunter.
The referee commented after the game: 'I did not see anything, and the linesman did not signal for anything. I could not award a penalty for something I just did not see. It is as simple as that ... It is the easiest thing in the world to give a penalty if you listen to the crowd and the players. But you cannot give a decision on something you do not see.'
While Gow was returning to his home in Swansea, his wife Gladys was watching the highlights of the game on television and when he arrived at his house at 2am she greeted him with the words, 'It looked a penalty on the box,' much to his delight!
In the few minutes following the penalty appeal, Gray put Giles in possession of the ball and the Irishman gave Lorimer the opportunity to get in a powerful left-footed drive, only for Parkes to save via a full length dive.
United continued to press Wolves back into their own half, but they were in despair in the 43rd minute. Madeley was forced to concede a corner, Wolves' second of the night, while Leeds had managed seven. Winger Dave Wagstaffe took it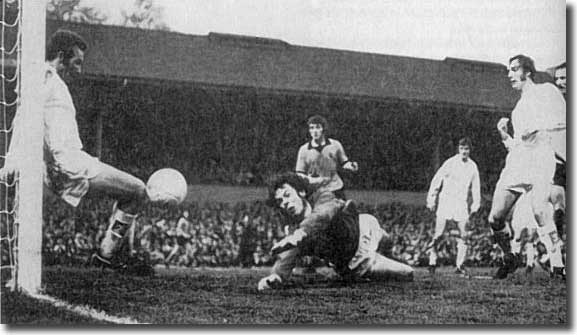 short and Shaw's low diagonal cross was only sliced into greater danger by Giles' attempted clearance. Munro's shot through a crowded area found the net via a post despite Reaney's attempt to block. You could sense the collective shudder in the Leeds ranks.
Nevertheless, Don Revie worked his restorative magic during his half time team talk and his men were immediately back on the offensive once the second period commenced. The pressure led to Jim McCalliog conceding a free kick and the Scottish midfielder was booked when he felled the heavily limping Allan Clarke as he sought to insinuate his way into Wolves' defensive wall.
When Lorimer was finally able to take the free kick, he hammered it from 30 yards, threatening to pierce the packed defence. Wolves somehow managed to scramble the ball away, though there was suspicion of another handball by Shaw. The defender was cautioned soon afterwards.
United were now on perpetual attack, and goalkeeper Harvey had to make two excellent saves as they left gaps at their rear. But Leeds several times came close to an equaliser with strikes in quick succession from Giles, Clarke and Clarke again all being saved by a diving Parkes. Clarke was booked for dissent during this period of pressure.
After 67 minutes, just as United's momentum approached its zenith, Wolves doubled their lead. Hegan and Richards led a quick break out and the latter's cross from the right was smartly despatched by Dougan, skilfully flicking it past the advancing Harvey.
The die was cast, and Don Revie was forced into a last desperate move. He withdrew the struggling Clarke, summoned Yorath from the bench and pushed Bremner and Charlton forward. He must have regretted not making the call earlier in the evening as the decision paid instant dividends. Giles swung an immaculate pass out to the left, Madeley played it into the very heart of the Wolves area to give Bremner an opportunity. He needed no second bidding, smashing it emphatically into the roof of the net, screaming in triumph as he did so.
Gerry Taylor and Hegan were booked for Wolves and then Madeley had to clear a Wagstaffe shot off the goal line as United abandoned any pretence of defence. Then Richards lobbed the ball onto Harvey's bar from 15 yards. Undeterred, United pressed anxiously for the equaliser that could yet give them the championship.
They nearly got it at the death: Charlton lobbed the ball into the centre. Yorath nodded it over the head of goalkeeper Parkes from six yards, but couldn't get a meaningful touch on the ball. He claimed later that if he had managed to actually head the ball he would have buried it but it only flicked his hair. Up popped Taylor to head the ball off the line as time seemed to stand still. The Leeds challenge was over.
Geoffrey Green in The Times: 'The excitement reached fever pitch as one side and then the next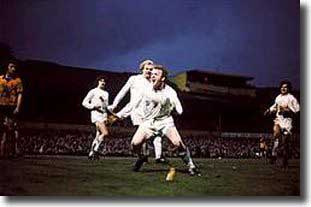 swept great passing moves at each other. At one end a shot by Wagstaffe was headed off the line by Madeley; at the other Bremner ended a long Hunter-Charlton move with a beautiful slanting run from the right and a left foot shot over the angle of the Wolves goal. In the dying minutes Taylor headed out from under the bar... There it ended with Leeds again kept from the prize they desire most of all. There have been few more tense matches all season, played on a skidding, treacherous surface.
'It was all rather chaotic for Wolverhampton: Dougan, Wagstaffe and in the last analysis Parkes made the absolute decisions. But Giles, in spite of being below full fitness, and Bremner kept popping up everywhere. Bremner, whether up front or in midfield, as always was the surreptitious master. But Leeds could not quite do it though they almost with the last breath yanked themselves out of darkness into history.'
Jack Charlton, celebrating his 37th birthday, summed matters up perfectly when he said afterwards, 'I am sick as a pig - it's as simple as that.'
When the players boarded their coach for a forlorn journey home to Leeds, Don Revie told them: 'You have had a great season. The FA Cup is ours and we are second in the league. Come on, enjoy yourselves ... I am proud of you. You will not go far wrong if you work like you did tonight. Where you found the stamina for that second half, I will never know.'
In his next weekend column for the Yorkshire Evening Post, Revie passed on his congratulations to Derby, but went on, 'Deep down, I cannot accept they deserved to snatch the title from Leeds United's grasp.
'I wrote months ago that Derby were a good bet for a major honour this season. They are one of the most exciting young sides to emerge in the English soccer game in years and I have no doubt they will prove worthy English representatives in next season's European Cup. But it would be hypocritical for me to say that Derby won the gripping championship race because they were the best side. It was more a case of Leeds failing to get the breaks needed when chasing the elusive Double.
'We have done remarkably well to finish second in the table in view of the setbacks experienced during the last eight months. The worst blow, of course, was the League's decision to force us to play our last league fixture against Wolves just two days after appearing in the FA Cup final.
'Although we needed only a point at Molineux to clinch the title, my players had precious little time to recover from any knocks and more important get the tension of Wembley out of their systems. I was proud of the way they raised their game against Wolves.'
Eric Todd in The Guardian: 'This surely will go down as one of the bravest failures of all time. Indeed, I hesitate to call it a failure at all.
'To what extent Leeds were affected by the mental and physical strain and euphoria of Saturday's FA Cup final may not be calculated. Nor shall we ever know whether Leeds would have earned the crucial point if Jones had been available. But in spite of all Fortune's mocking ... Leeds simply would not give in. As if to cock a snook at authority, which demanded that they should play a League game during Cup final week and another game two days after Wembley, Leeds were at their considerable best. And if Bremner has played a more inspired or inspiring game I wish I had seen it. He led the forward line as though he had been there all his playing life, and young Bates, who took over from Jones, could not be faulted in anything he did. But of course he is not a Jones on the ground or in the air.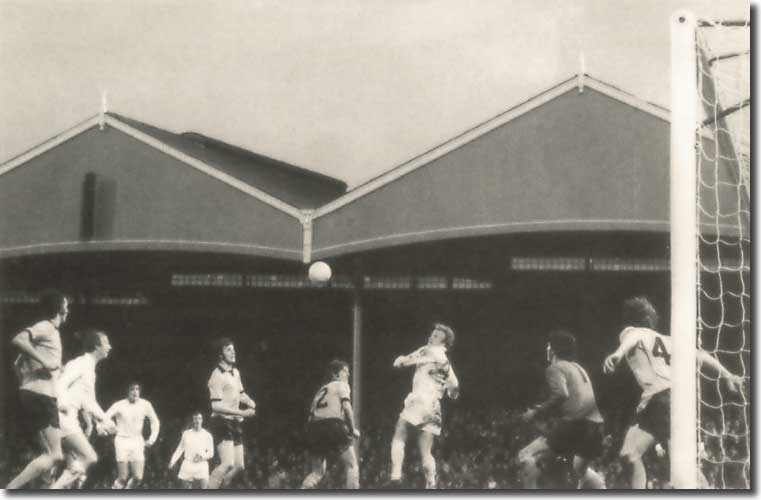 back to top
'With Jones absent and Clarke not fully fit, even when the game started, Leeds could have been forgiven for aiming only for a draw. A draw, with Bremner directing operations? It was not to be contemplated. He drove his men as they never have been driven before and every single one of them responded magnificently.
'To the last, Leeds strove and suffered, and with nearly everyone except Harvey in the Wolverhampton goalmouth it seemed that the equaliser must come. But also to the last the gods refused to have a change of heart and Leeds were left alone with their glory and the Cup. Nevertheless, I am convinced that they will achieve the Double one day. They are far too good a side to be frustrated forever.
'There was no reason at all for Wolverhampton to be co-operative or compassionate and certainly they were neither. It was not up to them to contribute to another notable chapter in football history. Their chief concern was to placate their supporters, who have had little enough over which to enthuse in recent times. So it was that they rose to the occasion splendidly. Although, like Leeds, they found the conditions against really good football, they swung the ball about and Hibbitt, above all, brought the best out of Charlton and his colleagues.'
It was not only the United players who had cause to bemoan the vagaries of refereeing decisions that night. Liverpool had to settle for a goalless draw at Highbury against Arsenal and Bill Shankly was enraged when Roger Kirkpatrick ruled out an 88th minute goal by John Toshack for offside. 'That man has denied us the First Division championship,' Shankly said. 'When Keegan mishit his shot, Toshack was nowhere to be seen, he only arrived on the scene at the last moment. It was a diabolical decision. This same referee denies us a goal in the League against Leeds. On that occasion he didn't take notice of a linesman, yet this time he did.'
The two results left Brian Clough's Derby County as shock champions, and their players learned the news while on a summer break with assistant manager Peter Taylor in Majorca. Clough was with his family in the Scilly Isles and revealed that 'Taylor convinced them the title was ours, but I can't honestly say I shared his confidence. I expected Leeds to get the result because Revie was the most thorough of men who, wherever possible, left nothing to chance.'
Clough went on, 'It is incredible. I do not believe in miracles, but one has occurred tonight. I believe they played four and a half minutes of injury-time at Molineux - if seemed like four and a half years to me. There is nothing I can say to sum up my feelings adequately.'
Derby County finished with 58 points, Leeds (second), Liverpool (third) and Manchester City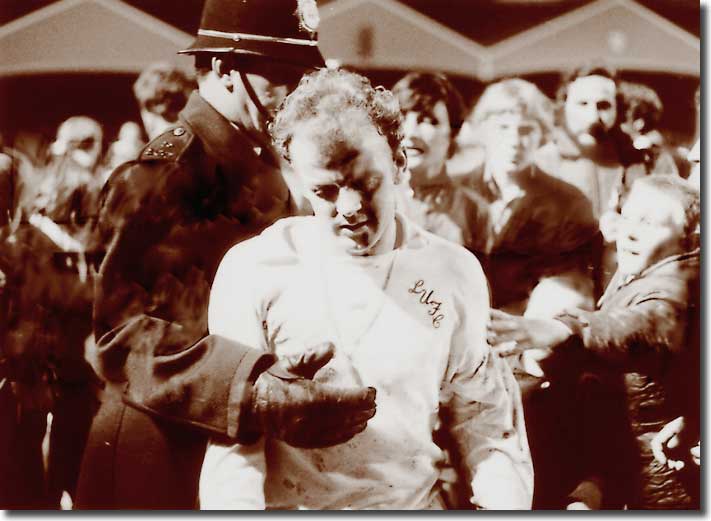 (fourth) were all on 57 in one of the most wide open championship races for years.
The Wolves-Leeds game would in later years assume enormous significance in the history of the club and Don Revie, and for reasons other than the result and the performance.
Stuart Sprake and Tim Johnson in Careless Hands: The Forgotten Truth of Gary Sprake: 'The day before the match ... the Sunday People revealed that an attempt had been made to fix the game, with offers made to Wolves' players to throw the match. An inquiry was held but was to prove inconclusive as no evidence was found after a shroud of secrecy descended and no-one could identify Revie's agent or middle man.
'Five years later, during Richard Stott's investigation, the identity of the middle man was revealed. It was Mike O'Grady, the former Leeds winger, who was on Wolves' books at the time ... The investigating team confronted O'Grady, who admitted to being the go between. When questioned about the incident he replied: "It was me. No one else was involved, just Revie and me. It was a one-to-one situation and I just did as I was asked and made an approach. I never received any money so I am not implicated, I never received a penny. It was suggested I go and see what the reaction would be, which I did but the Wolves player I spoke to said it was a no go."
'According to the Mirror the player approached was Bernard Shaw, who promptly informed his manager, Bill McGarry. He in turn gathered the players together to warn them of the money that was perceived to be flying around and to be careful. The Mirror further alleges that during the match many appeals were made by Leeds' players to their opposite numbers to take it easy and to give away penalties. The winger Dave Wagstaffe was having an inspired game and cries from the touchline urged him to "Take it easy, we'll see you right." At the heart of the Wolves defence centre-half Frank Munro was urged to concede a deliberate penalty. Four months after the game both Wagstaffe and Munro admitted to the Sunday People that attempts had been made to fix the game, although they both declined. Munro confirmed that he had two offers of large sums of money, one before and one during the game if he would give away a penalty. "I am not saying how much was offered but it was a lot."
'This is an accusation Munro repeats in more forthcoming terms in the more recent book Running With Wolves, alleging that Billy Bremner, acting upon Revie's behalf, had twice offered him £5,000 to give away a penalty. He claims it was not just a spur of the moment decision on the pitch but a premeditated act before the game as well. 'I got a call on the Sunday from the Mount Hotel. That was when he first made the offer. He said I am to give away a penalty and I get five grand. I was tempted; five grand in 1972 would just about buy you a house. From what I understand I believe it had gone on for years. Don Readies they used to call him. I'm sure that's why he finished up so unpopular in the game."
'Gary [Sprake] states: "Revie's alleged attempts at fixing matches were doomed to fail. Nearly every team that was approached was in mid-table security and had nothing to play for. Once the approaches were made and the teams became aware they raised their game and had a burning desire to put one over us. The boss should have believed more in our ability, we could have won most games we played without any outside influence... Perhaps somebody at Derby, with or without Clough's knowledge, offered more than Revie, or perhaps the Wolves players were motivated to disprove the rumours they had been tapped up? What is certain is that the controversy did Leeds no favours as Wolves were really up for the game and especially Munro, who scored one of the crucial goals for Wolves."
'Many of those who had knowledge of what went on were players still involved in the game, who were loath to sacrifice their careers by admitting the truth to the investigators. For Stott and his team the star witness was going to be Gary Sprake, who had first hand experience of what went on behind the Elland Road scenes. Having gotten wind of the impending revelations Revie summoned his most trusted lieutenant, the Leeds captain Billy Bremner, to contact Gary. He was somewhat taken aback by Bremner's offer of a testimonial, which was conditional on him not co-operating with the tabloid press. Gary was particularly surprised to hear from Bremner as he had had little contact with any of his former team mates since he left for Birmingham City two years earlier. As Gary says: "What really surprised me was the fact that, with the exception of Paul Reaney, not one of my ex-team mates visited me when I was recovering from life threatening surgery after my back operation."
'Despite several further telephone calls made in an attempt to buy Gary's silence he rejected their advances. Revie himself made one last attempt to gag him, arranging to meet Gary in what was then the stereotypical cloak-and-dagger meeting place synonymous with football, the motorway hotel. If a manager was summoned to be sacked, his successor courted or an under-the-table offer made to a player, it was always in such an environment. It is totally unlike today, where brazen would be suitors court players, managers and directors of football in five star hotels and restaurants in the full gaze of the paparazzi's prying lenses.
'Despite Revie's desperate final efforts, it was too late.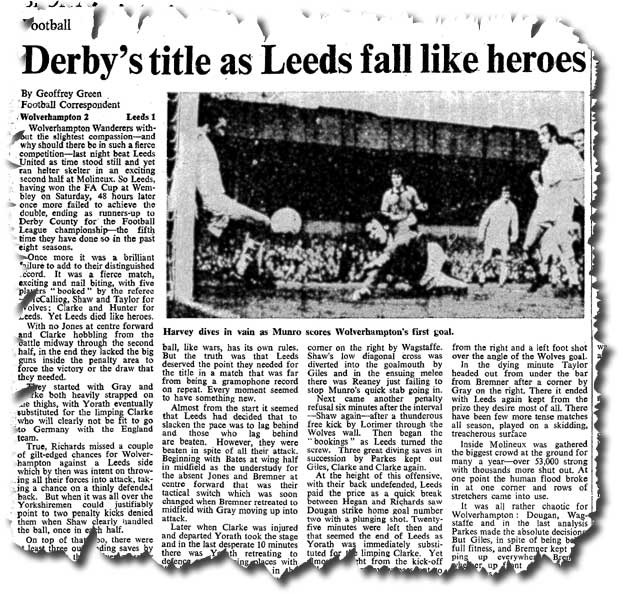 He was met by Gary's solicitor, Bob Evans, who informed him that Gary had already signed for the Daily Mirror. The Mirror, with information gleaned from Gary and others within the game, alleged that Revie had tried to fix important games on five separate occasions during his managerial reign at Leeds. It was alleged that the games involved were earlier in his Leeds reign while trying to avoid relegation and later when Leeds were pursuing championship success. The revelations were earth shattering in the world of football and the fallout was felt most severely in Leeds. Most of the undeniably highly talented side took the side of their former manager, repaying, perhaps blindly, the faith and loyalty he had shown them over many years. Many of the players were infuriated by what they read, and some to this day have never again read the Daily Mirror, believing the revelations to be no more than a character assassination.
'Even though Gary was deemed to be a star witness he actually played a very small role in the investigation, claiming he saw Revie and his agent trying to influence the one game against Forest and also revealing that Revie had paid him not to play for Wales. He did not, as Peter Lorimer claims in his memoirs, write an article for the paper or comment on any allegations surrounding the controversial Wolves game in 1972. For Gary Sprake, however, these admissions cost him thirty years of hostility from some former team mates and some supporters who have been inculcated with stories of betrayal.'
Gary Sprake: 'After Revie got wind of my part in the Mirror investigation he and Billy phoned on numerous occasions to offer me both a testimonial and a job with the Admiral Sports Company. They automatically assumed that I was doing it for the money. If that had been the case I would have taken them up on their offer. At the time of the investigation ridiculous claims were made about how much I had been paid. Someone said that I had received £30,000; others said it was £15,000. They were all a pack of lies. I actually received £7,500 for it before tax.
'After I left for Birmingham in 1973, he promised me a testimonial in 1975 and we shook hands on it, although there was nothing in writing. I phoned Revie on many occasions after I left but he never once returned my calls. He would leave it to others to tell me that it would happen soon. After the service I had given Leeds I was hurt and thought it terrible that he went back on his word. if I had taken Revie up on his belated offer of a testimonial when the Mirror controversy broke out, I would have got well over £20,000, far more than I received from the Mirror, so I can state categorically that money was never the issue.
'When the paper later repeated the allegations against Revie and Billy Bremner, Billy sued the People for what they and Danny Hegan said about the Wolves game, and I was called to the Old Bailey as a witness. I think the People had claimed Billy had asked ... Hegan to give away a penalty and Billy would "see him right". When I turned up at the court at nine in the morning Danny was already there, but he was unfit to give evidence. When Billy's lawyer asked if I was aware of the offer I just said I couldn't remember, so Billy won his case and received about £100,000.
'Billy was a wonderful player, one of the best in the world in his position and a Leeds legend. After he won the court case he should have forgotten about the whole thing. However, I am aware that after that he would criticise me a lot during after dinner speeches and also in front of Leeds fans, sullying me both as a player and a person. Both Billy and I knew what went on, the real truth. The fact that he continued to say these negative things and tried to influence others' opinions of me reflects worse on him than it does me. At the end of the day I played a very small part in the Mirror investigation and if I had not given evidence they would have run with it anyway. They had more than enough to go on with all the other witnesses.'
As always with such affairs, there are two sides to this particular story; in the interests of objectivity, these are the facts and findings of the libel case brought by Billy Bremner against the Sunday People and Danny Hegan at the High Court in London.
The case concluded on 3 February 1982 with Bremner awarded damages of £100,000 after the jury decided that the People was not justified in making accusations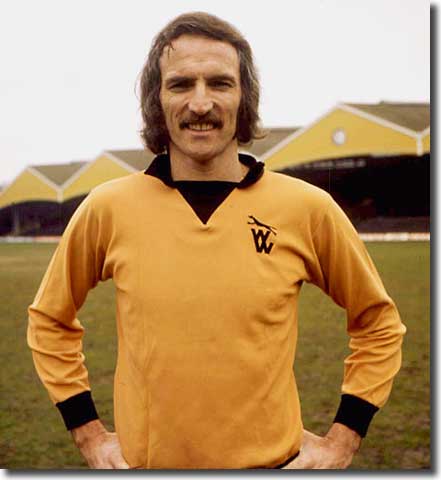 that he had offered bribes to fix a number of matches. Hegan told a reporter and repeated in evidence that Bremner offered him £1,000 to give away a penalty in the Wolves-Leeds game. Bremner denied that he had ever offered a bribe to a player or attempted to fix a match.
Bremner told the jury that he gave up his playing career because of terrace jibes at away matches that he had fixed games. He said his children had been taunted at school that their father was a fixer, and similar accusations were made to his wife when she was shopping.
Supporting evidence for Bremner's case was given by Johnny Giles, Jack Charlton, Allan Clarke and Derek Dougan. As a Wolves player and therefore ostensibly objective, Dougan's evidence was particularly important; he said he never heard any Leeds player, or anyone else connected with them, offer bribes. Giles said the allegations were 'ludicrous', while Charlton branded them 'total nonsense'.
Evidence was given on behalf of the defence by Hegan, Frank Munro, Gary Sprake, another Leeds player, Bill McAdams, and two journalists.
Hegan told the jury that during the game Bremner had said to him: 'Give us a penalty, wee man, and I will give you a grand.'
Munro said Bremner offered him £5,000 to concede a penalty, after agreeing that the People had paid £4,000 in air fares to bring him and his family to Britain on a visit from Australia where he was living.
McAdams, who had been a team mate of Don Revie's at Manchester City, was signed by him for Leeds in December 1961, but sold on a few months later. He told the jury that Don Revie told the United players before a match against Southampton in 1962 that he had fixed one of the opposition players to get a result, and Bremner had been involved.
Sprake said that Revie sent Bremner to fix a Nottingham Forest player in May 1971.
Mr Justice Bristow told the jury that the Sunday People was, in effect, accusing Bremner of three offences of corruption for each of which he could, at a criminal trial, be liable to two years' imprisonment. 'You will no doubt think long and hard before you find Billy Bremner guilty of corruption,' the judge advised.
Bremner's counsel asked for large damages to compensate the Scot for injury to his reputation and distress caused to him and his family.
The jury of seven men and five women retired for two hours before finding in favour of Billy Bremner. The award of £100,000 was at the time one of the highest made in the High Court. The publishers, Odhams Newspapers, and Hegan were ordered to pay the damages plus the costs of the seven-day hearing, estimated to be more than £60,000.
Peter Lorimer: 'If the boss tried to fix anything, we never saw it … I've never really seen it in the game. There used to be the odd joke if we were playing a team last game of the season and we needed the points and they were in mid-table. If you had some of your Scottish pals playing, you'd say: "Hope you're not going to have a real go today." You'd say that in general. You'd say: "Hope you're going to take it easy on us." But if you're talking about us going up to one of them with a couple of hundred quid to say, "You're not going to have a go today …" then I've never seen that. But we all used to do it jokingly. I remember saying to big Franny Munro, who was a pal of mine, that night: "I hope you're not going to kick us around." That was just a bit of banter. But if you were trying to put a story together, people could say they were trying to say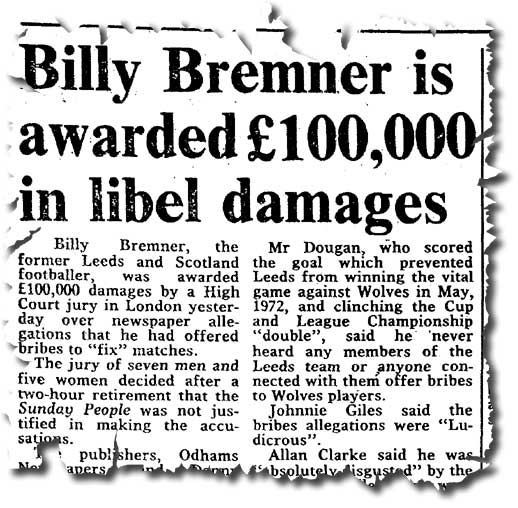 something. I was a pal of Franny … I said it as a joke. Wolves played out of their skins that night … perhaps because of a bit of hatred of Leeds. They wouldn't have played like that normally. But I don't know if an approach was made that night, I'll be a hundred per cent honest.'
Rob Bagchi and Paul Rogerson in The Unforgiven: The Story of Don Revie's Leeds United: 'As if the loss of the Double that night at Molineux wasn't enough to leave a sour taste in every Leeds fan's mouth, the whole sorry episode was exhumed five years later by the Daily Mirror as the third plank of evidence in their attempt to prove that Don Revie was corrupt. Adding to the claims of Stokoe and those conveniently anonymous Newcastle players about the two games at the end of the 1961/62 season, Mirror reporters Richard Stott and Frank Palmer alleged that Revie had enlisted Mike O'Grady ... as a "fixer", paid to offer his new colleagues £1,000 per man to gift the title-decider to United. The article was based on interviews undertaken with O'Grady and Gary Sprake ... which appeared to corroborate the allegations. However, when the case was investigated by the police and the FA, both parties found that Revie had no case to answer. When the People, the Mirror's sister paper, repeated the claims, egging the pudding by alleging that Bremner kept trying to find takers for the "bribe" in the course of the game, Bremner sued for libel. At the trial Sprake was forced to retract his version and Bremner was duly awarded £100,000 damages by the court. As for O'Grady, in 1990 he told Revie's biographer, Andrew Mourant, that he felt pressurised by the journalists into talking to the Mirror but now refused to substantiate the paper's story. It's a strange tale, full of claims and counter claims, but given the court's verdict and the findings of the police and the FA, it's difficult to see how we're supposed to believe in Revie's guilt. It just doesn't add up.
'While Bremner emerged as the victor from this tawdry saga, Revie is still the loser. Mud has continued to stick to him, allowing those who feuded with him in the 1960s and 70s to exploit the immunity provided by his death to trot out all manner of wild accusations without needing a scrap of proof to back them up. Malcolm Allison, for example, interviewed by Rob Steen in The Mavericks, is allowed to say that Revie "used to leave £300 or £400 in an envelope in the referees' room and they could take it or leave it. I'm just talking about a little thing called bribery."
'Over the thirteen years Revie was manager of Leeds and nearly 500 games in all competitions, wouldn't at least one referee, one might think, have corroborated Allison's claim? Yet the allegation is left unchallenged. Revie's death has meant his reputation is fair game for anyone. The lessons to be learned from all this are simple. Don't walk out on the England job and sell exclusive rights to your story like Revie did, thereby making enemies of all the other newspapers, and, above all, don't die early.'