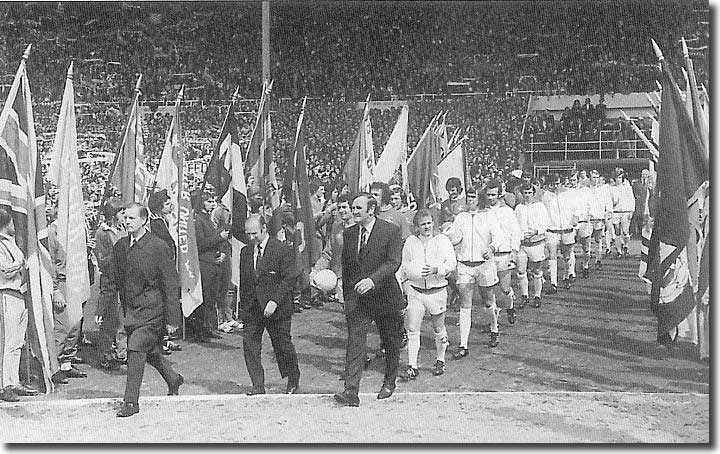 6 May 1972 ... in every way a momentous day for Leeds United, when so many major disappointments could be forgotten as everything finally came together and the club could celebrate a wonderful triumph.
But, let's not get ahead of ourselves ...
1972 marked 100 years since the first FA Cup final, when Wanderers beat Royal Engineers 1-0 at the Oval on 16 March 1872. Leeds United were only too pleased to be one of the combatants in the Centenary final. To commemorate the FA marked the occasion with a special pre-match parade of all 37 previous winners. Club flags were carried, followed by kitted out players, the number of whom signified how many times each club had been successful. Aston Villa, seven-time winners, led the way, followed by Blackburn Rovers and Newcastle (6 each); Leeds, without a win, were absent, but opponents Arsenal had four representatives.
The preamble complete, the two Cup final teams came out, led by their respective managers, to tremendous cheers; the Leeds players hurled commemorative footballs into the crowd as they came.
Half an hour earlier, United manager Don Revie had announced his team, revealing that David Harvey would retain the goalkeeper's jersey in place of Gary Sprake. Three others, Johnny Giles, Allan Clarke and Eddie Gray, were carrying injuries into the game, while Paul Madeley and Paul Reaney had sustained knocks earlier in the week against Chelsea.
The Gunners also had a reserve goalkeeper, with Geoff Barnett playing in place of Bob Wilson, injured in the semi final victory over Stoke City.
There were concerns that Leeds and Arsenal, both strong in midfield, knew each other's games so well, that the contest would become a stalemate. The first five minutes of action confirmed that it would be highly competitive; there was a series of bitter clashes as players sought to make a point, and a few vendettas began flashing into angry life.
Leeds won the toss and Billy Bremner decided to remain as they were, allowing Charlie George and Alan Ball to kick off for Arsenal. Ball sought to carry through the Leeds ranks right from the start, but was blocked off by Clarke as he left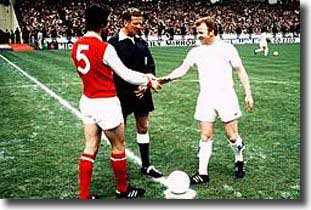 the centre circle, the first free kick awarded within two seconds of the whistle.
Peter Simpson took it short to George Graham who got Arsenal moving down the left flank with some neat short passing; when Graham stroked a pass out towards Peter Storey on the right it was intercepted by Madeley. His cushioned header down for Giles brought a loud cheer of relief and anticipation from the United fans. The Irishman found Clarke moving into the Arsenal half and the striker nodded down to Peter Lorimer on the right touch.
As the Scot got into his stride, Bob McNab launched himself at the ball, but caught the man. 48 seconds had passed since the kick off and referee David Smith decided he had to lay down a marker. In close view of the Royal Box, Smith took the name of McNab to set a record for the earliest booking at Wembley. The Arsenal fans bayed their protests that Lorimer had bought the caution, and McNab claimed he went for the ball, but the Scot certainly seemed to be in pain, clutching his foot in anguish as Les Cocker provided succour.
McNab later joked: 'Lorimer laid it on a bit thick. I only mistimed my tackle ... when I went up for my medal the Duke of Edinburgh said he would appear for me at a personal hearing!'
Jack Charlton took the kick and skewed it to Bremner thirty yards from goal. Perhaps with the intention of testing the goalkeeper's nerve, he lobbed it high into the area but Barnett punched clear confidently enough. He was awarded a soft free kick for a collision of bodies as he launched himself above the challenge of McLintock and Jones.
The keeper set the Gunners on the way again with a little short ball and Arsenal were off pressing down the left once more, their movement and control penning United back. The pressure was relieved when Graham, eager to put Harvey under pressure, fired wildly over the bar from 30 yards.
Despite Graham's rush of blood, Arsenal had settled the better and Leeds players were betraying a touch of tension.
Armstrong and Reaney threw themselves in to a 50:50 challenge with their studs showing, but play continued as the Leeds man won the ball. Radford clashed with Hunter and then Storey hammered Giles as he tried to play the ball; Charlton threw himself into a huge lunge to prevent Graham's throw in reaching Radford. It was clear that neither defence would leave many holes and that midfield would be a fiercely contested area, with Storey doggedly hounding Giles, and Bremner and Ball never far from each other's side.
When Storey tried to settle on a throw midway in the Leeds half, Lorimer crashed in hard on him, surprisingly emerging with the ball. He raced away to set Gray loose on the left. When the winger cut inside Ball, he found the vengeful Storey throwing his considerable presence into a challenge which sent him tumbling to the ground. Referee Smith awarded United the kick and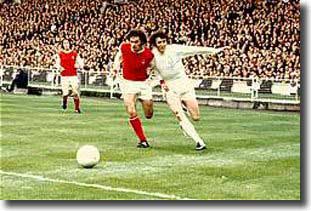 Madeley slipped the ball short to Giles, who fed Gray again on the left. Gray jinked inside Ball's desperate challenge but could do nothing when George clattered through him from behind. Leeds were awarded another free kick, ten yards outside the area. Gray looked resigned to his fate while George just smirked with satisfaction after his foul ended a promising move. It was little more than four minutes into the contest and there had already been five free kicks with as many robust challenges going unchecked.
Giles clipped the ball high towards goal but Barnett was safe under it and the referee played advantage as the keeper launched downfield. Hunter beat Armstrong to the knock down and cleared powerfully, but his safety first ball allowed McNab to set the Gunners moving again. Charlton ended the opportunity with a clumsy challenge on Radford as the striker attempted to turn, 40 yards from goal.
Simpson took the free kick and tossed it towards Harvey's goal area, inviting an aerial challenge. Harvey confidently rose to gather the ball and set Madeley and Gray away on a combined move down the left. Giles' final ball was too heavy and beat everybody.
Giles made amends by cleverly intercepting Ball's throw to the advancing McLintock. The Irishman took United back onto the attack, holding off Ball before back heeling the ball to Jones, who passed to the left byline for Gray. The Scot just caught it but Rice and Barnett mopped up the cross and again the keeper launched his kick deep into United's half.
Reaney's loose header allowed George to start another move. A promising combination was ended, however, when the referee adjudged that Radford, with his back to goal, had obstructed Hunter behind him. The decision provoked a volley of insults from Radford towards Hunter, with the centre-forward protesting vigorously that the defender had kicked through him. For a minute Hunter's eyes flashed angrily before he regained his normal amiable composure; it was clear that his duel with Radford had a bitter edge to it, and the pair continued to niggle at each other.
Ball fed Radford who laid the ball off for the onrushing Storey, but Madeley blocked it away. He was penalised for a challenge adjudged dangerous though Storey's charge was reckless.
Ball took the free kick but his clipped pass was nodded away by Jones in United's wall. It fell to George who was wild and wayward with his shot, a sad waste of decent build-up play.
Jones won the ball from the long kick upfield to feed Clarke, but he lost it in the tackle. Giles recovered possession and found Lorimer on the right, who showed some neat control and clever footwork.
He took the ball on his chest under pressure from McNab and Armstrong and turned sweetly to find space, coming inside to beat Graham and play a one-two with Bremner. Lorimer beat two more men and fed Giles. The Irishman took it wide but was tracked by Ball and had to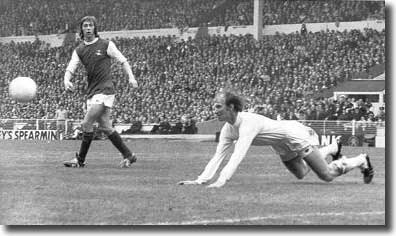 pass back to Madeley. Gray then stroked the ball forward for Clarke to turn wide of Simpson and hit the byline on the left. He hammered an inviting low ball clean across the goalmouth but Jones was short and McNab brought it away. It was the first clear chance.
Hunter passed out of defence to Bremner, who turned cleverly to elude Graham. He sprinted forward with the ball and then moved it to Lorimer on his right, who found Clarke. The striker cut back infield and returned to Lorimer who took it wide, hurdled Graham's challenge on the corner of the area and crossed. McLintock nodded it away and Gray's follow up shot was well wide.
At the other end, Radford and Hunter continued to bitterly spar and when they jumped for a high ball after 15 minutes Radford took exception to Hunter's swinging arm. The two men clashed again as they challenged for Barnett's long ball; the referee gave a free kick to Hunter, which sparked some wry smiles from the pair.
After 17 minutes Hunter was given a lecture for snapping at George's heels thirty yards from goal. He came away smiling, but the offence nearly brought the first goal. The ball was teed up for McLintock to run onto at pace and he fired in a tremendous low strike which changed direction off the turf. It was heading in until Harvey dived to claim a little untidily, the ball sticking between his chin and his shoulder.
Armstrong sought to outpace Reaney, but the full-back passed back to Charlton, and then Bremner skipped away from a George challenge to bring United away on the counter. He found Giles on the right and though the Irishman could not beat Armstrong he combined well with Reaney to send him overlapping and Simpson had to head over the bar.
Hunter came calmly out of defence to send a nice pass forward for Jones at halfway. Under close pressure from McLintock, Storey and Graham, however, he lost control. Giles collected the ball and looped it out to Gray on the left wing. His cushioned header looked to have sold Madeley short, but the England international went through the gears to beat George. He made good ground and evaded a lunge from Storey, though the free kick was awarded.
The ball was worked out to Gray on the left; Ball and Rice doubled up to force him out, though Leeds were given the free kick. From a headed clearance, Giles lobbed back into the area. Graham coolly controlled the ball for his keeper though Barnett almost lost it in his haste.
The pattern of the game had changed, and United were enjoying much the greater share of possession, confidently building attacks with measured passing. Arsenal's advances were growing rarer and more rushed.
When Gray's long ball forward found Jones, and the striker took it well to break clear down the outside, McLintock slid him illegally over the touchline to concede another free kick, though Hunter's lofted ball was gathered by Barnett.
Gray threw a long ball downfield for Clarke to chase but McLintock coolly reached it and fed Storey. Ball and Rice combined well to make progress down the right, but when the ball was sent inside for George, Hunter recovered possession with a fearsome tackle.
Armstrong had come over to the right and was getting some joy. He combined well with McLintock to give his skipper clear ground to the right of the penalty area, but Leeds gobbled up the cross.
Ball tricked Clarke on the halfway and was going past him before the striker's momentum took him through with the challenge. He was ticked off by the referee, denying Arsenal the quick free kick they wanted and they conceded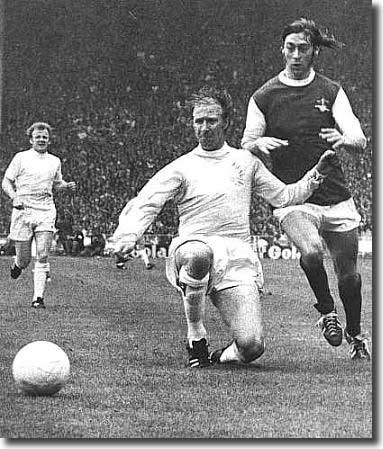 possession to Bremner when they restarted.
Some neat work by Graham and Ball deep in Arsenal's half gave the opportunity for a fast break by Armstrong down the right but Harvey confidently claimed the high cross to rapturous applause from Leeds fans.
A back flick by Bremner fooled George and allowed Madeley to come forward on the left though his pulled back cross was behind Jones and Clarke. Arsenal cleared it, but Gray regained possession and threatened before Storey smartly shepherded him out for a goal kick. However, a Leeds free kick on the byline was the decision.
The Gunners defended Giles' cross well and Ball and Armstrong brought Arsenal away on the right as the game threatened to begin to flow. Madeley, though, reached out a foot to calmly claim a cross from Armstrong and recover possession.
Bremner fed Lorimer on the right and a forward pass was chased down by Jones, who cleverly avoided McLintock's challenge on the byline to find Clarke. He pulled the ball back for Gray, but Ball was ready to challenge and Gray dummied, allowing it to run on to Giles. The ball went to Bremner and then Lorimer on the right touch. His measured cross to the far post was headed over by Jones.
For all the United dominance, Arsenal almost scored after Charlton was forced to concede a corner after 31 minutes when Ball looked to play George in.
Armstrong took it from Arsenal's left and his floated ball dropped invitingly for Ball, lurking on the edge of the area. His drive was timed perfectly, the ball struck with the outside of his foot for the bottom corner. It is doubtful whether the little England international ever caught a ball more cleanly. As it curled unerringly towards its target, the ever reliable Reaney, stationed on Harvey's right hand post, showed tremendous reflexes to block it away.
Over the years, the full-back made a habit of goal line clearances, but this was one of his very, very best; it was also probably the most valuable. Terry Cooper, commenting for the BBC, offered an understated, 'That is what you get paid for.'
After 33 minutes, Leeds were awarded a free kick for a foul by Storey on Giles. The Irishman took it himself and looped the ball up for Charlton running across the area; from the challenge the ball ran loose to Radford in Arsenal's left-back spot. His attempted clearance was intercepted by Lorimer who faced up to him before cutting back inside and crossing left footed. An Arsenal defender stooped to head away and McNab took the game into the Leeds half before Bremner dispossessed him.
The United captain advanced, drawing a tackle before feeding Clarke at halfway. He strode through the acres of space that opened up in front of him as the Gunners' rearguard retreated. The striker cut inside as he approached the penalty area, four defenders converging on him to stem the threat. As they closed in, he turned the ball back to Jones, following up, to shoot left footed, six inches wide of Barnett's left hand upright. United were getting closer.
After 35 minutes, Charlton's long free kick deep into the Arsenal area was cleared easily enough, though Hunter prevented any Gunners' attack by taking Ball down in the middle of the Londoners' half, receiving a booking for his trouble. Ball was hobbling as play resumed.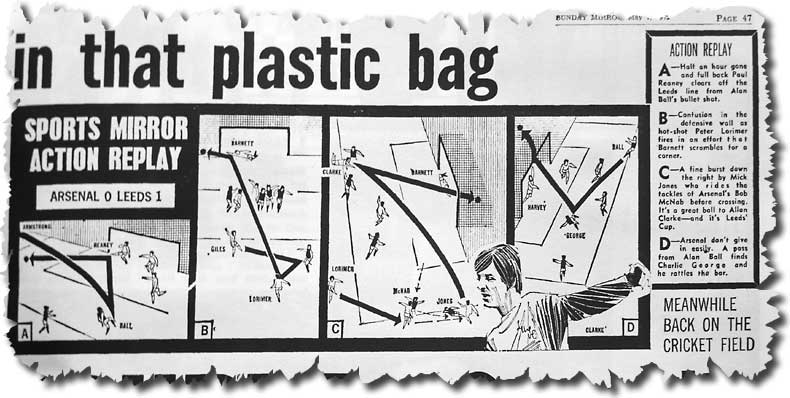 Giles picked up possession deep in United's half and sent Reaney on the overlap. The full-back advanced almost to the Arsenal penalty area before slipping the ball to Bremner. Ball was on hand to dispossess the Scot and set the Gunners moving again, though he was stopped in his tracks by a vicious two-footed lunge by Giles, which provoked strong retaliation from Graham. Referee Smith waved play on and Reaney's cross reached Jones who fed Clarke, but he was brought down unfairly by Storey before being able to get his shot away.
The free kick was 25 yards from goal and there was a lengthy delay before it was taken with Jones and Clarke being jostled as they sought to push their way into the Gunners' wall. Eventually Giles rolled the ball to Lorimer. It looked like George would intercept but he misjudged the bounce and Lorimer was able to crash a shot in. It was fumbled low down by Barnett and to his enormous relief trickled inches past his right hand post.
The keeper dropped Giles' corner under pressure from Charlton but managed to get it at the second attempt as his nerves showed. Then a hopeful ball forward by Gray brought the keeper to the edge of his area; he almost slipped as he collected and he had to take a shoulder charge from Lorimer for his trouble as he grew edgy.
The game became scrappy as it drifted towards half-ime, though United had by far the greater share of the possession.
Gray took off on a threatening 40-yard run through the middle before losing the ball. Charlton's telescopic legs allowed him to rob the breaking Ball as he neared halfway and Big Jack then recovered quickly enough to deny George and send the ball to the safety of touch.
In the final minute of the normal forty-five, United almost scored the goal the game needed.
The move started deep in the Leeds half; Harvey collected a hopeful centre from the left by George and set United on the move with a quick throw to Clarke. His crossfield ball found Lorimer deep on the right. The Scot left George flat on his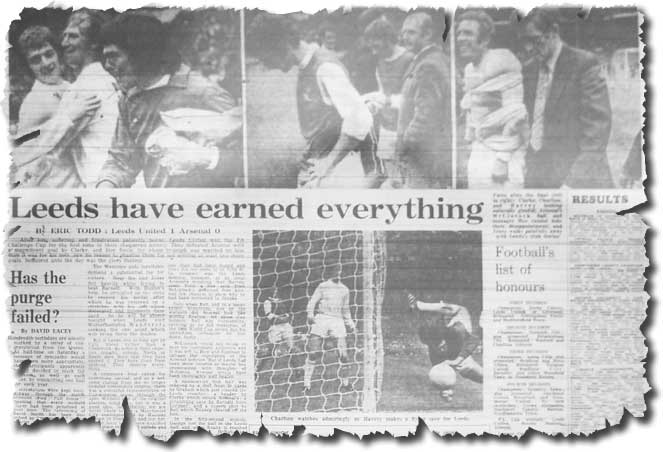 back and fired a long ball to Jones near the Arsenal area. As he advanced, Barnett thought better of it, slipping as he retreated while Simpson shepherded Jones towards touch and conceded the throw.
Gray and Lorimer combined from the thrown to send the ball back to Madeley in the centre. Giles floated the ball over McNab to Gray on the right and his cushion header to Lorimer was perfect. Lorimer sought the quick one two with Bremner. A return chip forward was meant for him but McNab misjudged his clearance as he fell, sending the ball up into the air. Lorimer adjusted his feet beautifully as he waited for it to drop and sliced an acrobatic power dive beyond the back post. The ever alert Clarke stooped into a brilliant header from the corner of the goal area that dropped gently off the face of Barnett's crossbar and ran clear. As David Coleman said in his BBC commentary, 'Only the paint kept it out ... and the goalkeeper didn't smell it." It was a major escape for Arsenal.
As the game neared half-time Bremner was the third name to go in the book as he argued with the referee about the award of a goal kick to Arsenal.
Leeds finished the half on top with Clarke chasing back to dispossess Ball as he tried to get Arsenal moving. United had grown into the game while Arsenal were starting to run out of ideas; Ball was becoming exasperated as he struggled to keep his side going. The referee allowed two and a half minutes of injury time but the game reached the break without a goal. Revie's hasty exit to the dressing room hinted that he was not overly confident.
George became the fourth man booked after throwing himself in frustration at Bremner after losing possession less than a minute after the resumption. A confrontation looked likely until Bremner saw the sense of compromise. Strangely, the caution was for a throwaway comment rather than the challenge itself.
The first few minutes of the second half were scrappy with Hunter and then Simpson showing coolness in defence, but a cross by Armstrong caused an anxious moment for Leeds. It was innocuous enough, with no Arsenal men anywhere near the ball as Harvey came out to gather one handed, but he was overreaching and dropped it. He eagerly fell on the loose ball to regain possession.
Clever combination work by Leeds down the right saw Clarke work with Reaney to feed Gray. He feinted to come inside, throwing the pursuing Ball off balance, and turned back to race to the byline before sending over a low cross. The ball was deflected by Simpson over Barnett's head against his right hand post and into the net. The whistle had already gone, however, for Gray being unable to catch the ball before it ran out.
Leeds were growing increasingly assured and were much quicker to the ball, though McNab got his head to a cross from Rice after 51 minutes. He nodded into Harvey's side netting at the far post, reminding everyone that Arsenal were still in the game.
It was a rare break and halfway through the 54th minute it was Leeds who opened the scoring with a well crafted goal that was worthy of winning any contest.
A wayward Giles ball invited a Gunners counter, but the schemer did enough to stay George while his team mates came streaming back. When Arsenal came again, Charlton coolly dispossessed George and Madeley went striding purposefully forward, feeding Lorimer who sent it on to Jones down the right channel. The centre-forward stood McNab up before dropping his shoulder and moving at pace outside the full-back. The ball ran loose from McNab's attempted tackle, and Jones was quickly onto it. He sent an inviting centre beyond the penalty spot where Clarke was lurking. Sniffer threw himself forward, nodding the ball past Barnett and into the bottom corner as the United fans exploded into life. A truly memorable goal!
As Frank McGhee wrote in the Sunday Mirror, 'There was Clarke, dropping into a crouch to meet his centre-forward's cross and using that stance to add weight and impetus to the header which flashed into a corner of the net.'
Allan Clarke: 'It's a moment I'll never forget. A ball was played towards me near the halfway line. McLintock was marking me. As I attempted to get away he pushed me. I tried to stay on my feet but actually fell over, then Frank trod on my fingers it didn't half hurt. Alan Ball got the ball and played it forward; Jack intercepted it. We were now on the attack again. Jack gave the ball to Paul Madeley who played a simple pass forward to Peter Lorimer. I then remember Bill passing me to join the attack. Peter played it to Jonah down the right flank, and I thought, "I've got to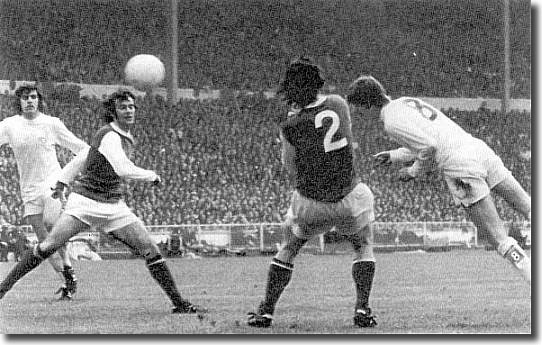 get into the box." As Jonah took on Bob McNab, I was on the edge of the box. He worked marvels and crossed the ball. As it was coming towards me, I thought, "Volley, right foot volley" and I fancied it. Then, all of a sudden, the ball started to dip, and I realised it wasn't going to reach me, so I thought, "Dive." You only have a second to make your mind up, so I just took off and headed it. I knew it was going in, and obviously it fitted in the corner just nicely.
"Over the years I've lost count of how many people have asked me about the goal and introduced me to their children who weren't even born in 1972. It means so much to so many Leeds United supporters, and it's a very special memory in my football career. Even now when we play Arsenal at Elland Road, supporters sing "Who put the ball in the Arsenal net, Allan Allan, Who put the ball in the Arsenal net, Allan Allan Clarke" and that's a wonderful feeling.'
Terry Brindle in the Yorkshire Post: 'All the tensions of an FA Cup final exploded in a massive exhibition of delight and relief from the Leeds players and supporters alike. And as the players turned towards the trainers' bench for approval, Don Revie rose and made a signal which said quite clearly: "Keep it calm lads: for heaven's sake, keep it calm." Even in his moment of victory, Revie - the master planner, the arch strategist - could not shed the tension which has become the habit of a lifetime. Despite himself, he was expressing the killing anxiety born of previous near misses.'
The goal added to Leeds' burgeoning confidence and they took on a dominant air as their supporters began chanting 'Super Leeds'.
Bremner barred Barnett's path, trying to force him to use his left foot as he sought to punt the ball clear. The Scot got a touch to the ball, flicking it over the keeper's head, but the referee awarded a free kick to Bremner's mock indignation.
Lorimer took on the Arsenal defence as they dallied in their attempt to play their way out of defence as the game reached the hour mark. He managed to wriggle into an opening despite being manhandled as McLintock sought to recover his error. Lorimer got in a shot which cleared the bar but the free kick had already been awarded. It was touched back to him by Giles but again his effort soared over.
There was a testy incident after 63 minutes between Ball and Bremner. Charlton's hefty free kick forward deep into the Arsenal box came back to the United skipper. He sought to keep possession on the touchline, holding the ball cleverly with his back to goal and Ball snapping at his heels. The Arsenal man struck three times at the Leeds captain from behind before finally losing his patience and hacking his legs from under him in a red mist of frustration. He then angrily tried to tug him to his feet. The referee gave Ball a lengthy talking to for his irritable assault but Bremner's sporting intervention probably saved the Arsenal man from being booked.
Leeds were awarded a free kick in the 66th minute when Simpson barged Jones
clumsily to the ground on the edge of the Arsenal area as he sought to get on the end of a flicked header from Clarke. It was played by Giles to Lorimer but his power drive smashed into Jones and Ball tried to spark an Arsenal breakaway; he had little support and Leeds used the move as a springboard to show off their considerable passing abilities and teamwork. Hunter fed Madeley, on to Reaney and then Charlton turned away skilfully from Graham's rush. The 'Ole's were starting to pour down from the United fans now as they showed the peerless possession play that had been their trademark throughout the months of spring.
But in the 69th minute Arsenal almost snatched an equaliser. Simpson dispossessed Gray and Ball brought the Gunners forward, combining well with Graham before sending a shot in from 30 yards. It deflected off Giles's heels and fell nicely for George to reach across Reaney and crash the ball powerfully against the United bar as he fell. Simpson, following up, could only smash the ball high and wide. George had done precious little in the game, but it was a brilliant strike that almost brought his side an undeserved equaliser.
The shock jolted United out of any complacency that might have been emerging. Seemingly unperturbed, they responded by creating three excellent chances in as many minutes.
Clarke picked up Reaney's long ball to run at the heart of the defence. With Lorimer pointing frantically for the ball to be played into the space behind, Clarke used the Scot as a dummy and ran on to his left before hammering the ball wildly into the crowd. After 71 minutes, Gray danced skilfully past Arsenal men down the left touchline before coming inside and crashing a shot goalwards which Barnett tipped over the bar. Then Reaney found Clarke down the middle and clear; with Arsenal defenders converging on him, he chose to turn back and feed Lorimer to his right, but the Scot blazed recklessly wide.
In the 73rd minute Bertie Mee attempted to change the course of events by bringing Ray Kennedy on. He replaced Radford who had run himself into the ground without coming near a goal.
Within a minute, Hunter ended one Arsenal foray with a towering header out of defence and it looked like Lorimer might get onto McLintock's gentle pass back towards Barnett, but the free kick was given, presumably for offside.
Lorimer came away from Simpson's challenge on the right byline to fire over a high cross; as it ran across to the left all Jones could do was keep it in play, only for McLintock to bring the ball forward. Hunter showed all his experience and cool skill to regain and retain possession under fierce pressure, turn into space and feed safely back to his keeper with ten minutes of the game remaining.
Hunter began another move with a splendid ball curled with the outside of his left foot to Bremner. The Scot worked patiently to develop the move but when he found Charlton with an accurate long pass, the defender surrendered possession with a poor ball. The Gunners looked to fashion another move but Hunter, playing the game of his life, beat George to it and then turned away from the onrushing Ball to get his men moving again.
Giles swept the ball out to Reaney, who combined well with Bremner before the captain fed Lorimer. Simpson, McLintock and McNab were all drawn towards the wide man, who had spotted an acre of open space between the Gunners rearguard and their penalty area; he arced the ball through for Gray to have a clear run on goal with only Rice barring his way. Gray dallied in possession as he sought to turn the full-back and McLintock had enough time to get back and ruin the shot when it finally came. It was a sad waste and the unmarked Clarke protested furiously at Gray's profligacy as the game ticked into its 83rd minute.
Hunter again showed his determination in the tackle as he came forward with the ball and he sparked a period of good possession that saw Lorimer earn a corner on the right.
In the 85th minute Gray set off on a pacy run down the middle and fed Clarke on the left. The striker found Lorimer on the opposite touch and a free kick was awarded when the Scot's shirt was pulled as he sought to come away from McNab and Ball on the corner of the penalty area. With McNab sleeping, Giles took a quick restart, touching it past the full-back into space for Lorimer to fire powerfully against the foot of Barnett's left hand post.
After 87 minutes, Bremner won a ball he had no right to and gained possession for Giles, Clarke, Madeley and Gray to work all the way to the opposite wing and into the box for Jones, but Storey did enough to edge the ball back to Barnett.
An Arsenal corner seconds later was headed away by Charlton, and then Leeds recovered the ball to begin winding down the game with clever possession football.
With literally seconds remaining, Hunter broke up an attack for the umpteenth time, worked a one-two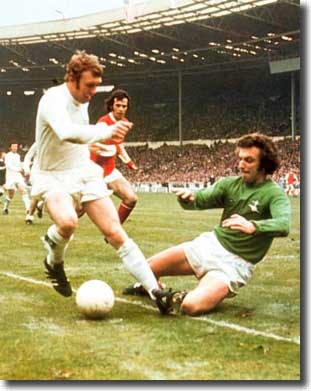 with Giles and sent Jones clear down the right channel. He made for goal, floored McLintock with neat footwork and bore down on Barnett. The keeper dived at his feet and Jones tumbled over, his left arm collapsed under him. He stayed down, obviously in great pain, the elbow dislocated.
That was the final meaningful action of the half; after Jack Charlton stooped low to head away a through ball, referee Smith blew his whistle to confirm that United had won the FA Cup. They had proven themselves the superior side and thoroughly deserved the victory.
It was one of the most iconic moments in the club's history as Billy Bremner took the grand old trophy from the Queen and hoisted it to the United fans, inspiring rousing cheers of triumph; this was it, they'd done it!
While they were up there, taking the acclaim, Mick Jones was still receiving treatment from Les Cocker. But the hard working target man was determined to play his part.
Jones recalled the events in later years, 'We had a signal from the bench that there was little time remaining when suddenly a ball was played through to me in a dangerous position. I went past Frank McLintock and saw Geoff Barnett come out to narrow the angle; I had a half chance to score. I tried to nick the ball past him, but tumbled over the top of him and automatically put my left arm down to break my fall.
'The pain was unbearable. Unbeknown to me I'd dislocated my elbow. On any other pitch this injury would not have occurred. Throughout my career I had similar falls without any problems, but the soft Wembley pitch caused the damage. I could hear Barnett saying, 'Get up you soft so and so,' but he soon realised I wasn't joking because I was screaming in pain.
'Les Cocker and Doc Adams came over. Les had a quick look and told me I'd have to be carried off. Doc Adams confirmed I had to go straight to the dressing room. I told them no way. I realised we'd won the Cup, and I wanted to receive my medal from the Queen.
'As we got to the bottom of the steps Mick Bates came over and told me he had my medal, but I still wanted to meet the Queen ... Norman came over and helped me up the steps ... At the top of the stairs, I nearly collapsed again... When I approached the Queen, I heard her say that she had nothing to give me. She shook my hand and asked me how I was. I felt awful, but fortunately, I was still in enough control to give her a polite reply!
'We walked to the end of the Royal Box and had to stand for the National Anthem. Once again, I thought I was going to collapse. Somehow, I got to the bottom of the stairs where Doc Adams and the ambulance men were waiting with a stretcher. When we approached the tunnel end where the Leeds fans were situated, the reception was unbelievable. The supporters were
chanting my name: "M-I ... M-I-C ... M-I-C-K ... Mick Jones!" These are moments I'll never forget.'
It was a day that Leeds United would remember forever, and it was difficult to identify a man who had not performed superbly, with a collective demonstration of excellent football. Allan Clarke was voted Man of the Match for a hard working performance, as well as his goal, but Norman Hunter was in many people's opinion the outstanding player; he had rarely played better and never put a foot wrong all afternoon, using his cool experience to the full.
'I have waited and sweated a lot of years for today but it has all been worth it,' said a delighted Don Revie afterwards. 'This is the second happiest day of my life; the first was when we beat Liverpool to win the championship.
'The most difficult task I had before the final was telling one of my goalkeepers he would not be playing, after all, Gary has been our regular goalkeeper for eight or nine years and it must have been a big disappointment when I told him David would keep his place. But Gary was tremendous. He accepted the decision, another example of how close knit is our family at Elland Road really.
'Considering it was the first time David had played at Wembley, he was magnificent ... He has played well since coming into the side when Gary was injured a few weeks ago, so I decided I could not leave him out.'
Frank McGhee in the Sunday Mirror: 'Arsenal could have tried for another hundred years and still would not have had a serious chance of beating Leeds in this centenary FA Cup final at Wembley. Not on the form, the mood and the manpower seen in this match, which never looked like keeping any pre-match promise of developing into one of the truly memorable occasions. But the vast majority of what was best about it came from and belonged to Leeds.'
Terry Brindle of the Yorkshire Post: 'It was the day on which Leeds United proved beyond question that they are a great side. A day on which the most coveted trophy in soccer was added to their impressive pedigree, and no side which has not won the Cup can claim to true greatness.
'It was physically tough, but not as violent as statistics suggest. No doubt the referee hoped to make a point unequivocally by booking McNab before most players had touched the ball, but he was mistaken. He used his deterrent too soon and left himself little choice but to use it again ... and again ... and again. And it is a major irony that Bremner and George were booked for remarks which offended nobody but the referee while McLintock escaped censure after yanking back Lorimer by his shirt.
'Arsenal's policy was rooted in caution and blessed with about as much success as is deserved. They pulled most of their resources into midfield and relied on Radford, George and Armstrong to snatch a goal. Which was a reasonable enough plan except that the three front runners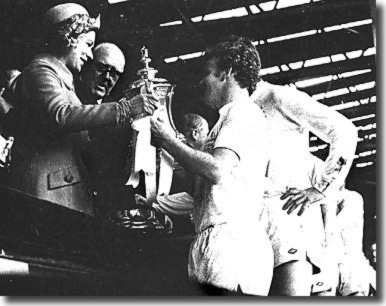 were not given enough of the ball and without it they could scarcely be expected to perform great deeds.
'Over population in midfield meant that Giles was obliged to play deeper than usual, but even so he and Bremner were a much more potent force than Ball and Storey. McLintock was superb, Simpson worked hard and intelligently to get Arsenal on the move but most of their fellows were too busy checking Leeds to offer much on their own account. After a bright start, Ball and Graham spent most of the time trying to win the ball. They were at their best in the first half and at half time it seemed that Arsenal were playing to a peak, Leeds would get better. So it proved.
'[Arsenal] huffed and puffed to little avail against the magnificence of Leeds' defence and of Charlton and Hunter in particular. Charlton was inspired, the Charlton of the Wembley World Cup, the man whose legs seem to cover half the pitch in a tackle and whose neck stretches high enough to brush the floodlights. He hardly put a foot wrong. Hunter was brilliant, a man at the peak of form and thirsting for action. Hunter has always tackled with tigerish determination; he is now covering the distributing with unfailing accuracy. He never put a foot wrong.'
David Lacey in The Guardian: 'Hundredth birthdays are usually marked by a letter of congratulation from the Queen. At half time on Saturday a message of sympathy would have been more appropriate, the participants apparently having decided to mark the occasion as well as each other, by committing one foul for each year. The statisticians were kept busy. Midway through the match, someone cried "Full house!" meaning that every outfield player had been penalised at least once. The refereeing of David Smith has been described as impeccable in one quarter while another claimed yesterday that he set an early note of 'high authority', no doubt remembering that his job with the Midland Electricity Board involved the scaling of poles.'
The strangling midfield battle was a lasting memory of the game, which has become unfairly painted as a dirty final, but as Arsenal's midfield destroyer Peter Storey said: 'Who was badly hurt other than Mick Jones, who fell on his own elbow? Our teams respect each other. And if the game seemed hard, well that was down to finding out the truth of each other's qualities. Where's the satisfaction in playing well just because you've been allowed to?'