The spring of 1972 saw Leeds United scale new heights with a series of fantastic displays which earned them the nickname 'Super Leeds'; most football followers are able to recall the heavy defeats inflicted on Manchester United and Southampton, but the FA Cup quarter-final with Tottenham Hotspur at Elland Road was, in some ways, just as momentous an occasion.
The other games had been one-sided affairs with United blitzing hapless opponents: Spurs promised to be more of a threat and there was the prize of a semi-final awaiting the victors. Nevertheless, Leeds were imperious and in truth they battered Tottenham despite the narrowness of the final margin.
Another memorable feature of the day was the introduction of United's pre-match routine, the gimmickery of which was as much a hallmark of 'Super Leeds' in 1972 as their spectacular football.
Spectators were streaming into the ground for nearly two hours prior to kick off and United were given a terrific reception when they came out twenty minutes before the start to limber up under the watchful eye of trainer Les Cocker. They were wearing new tracksuits, each bearing the individual name of its wearer, and numbered and autographed stocking tags which they would hand out to supporters after the final whistle.
Cocker took the players through a display of calisthenics and ball skills, as reported by Don Warters in the Yorkshire Evening Post: 'Billy Bremner, Johnny Giles and Eddie Gray demonstrating ball control; Peter Lorimer trying out his cannon ball shooting power from the halfway line; Gary Sprake testing his reflexes by throwing the ball against a post and saving the rebounds.
'These are some of the ideas Leeds United have for extending the scope of their highly popular pre-match warm up, which provided such an exciting curtain raiser to the Spurs Cup-tie. United have had little hesitation in giving the all clear for the continuation of these continental style displays.'
Don Revie told Warters, 'Obviously we shall change our routine and it is our intention to let the fans see what individual skills we possess in all departments of the game ... In addition, we shall continue to give away the autographed stocking tabs after each game ... In other words, we hope to make the fans feel as important to us as we hope the team are to them. We have a great team here and we have some fine supporters, too, so anything we can do to forge closer links between the two we shall attempt ... Supporters are very much a part of any club, and it is important that they feel this. After all, they are the people who pay us our wages, and I think it is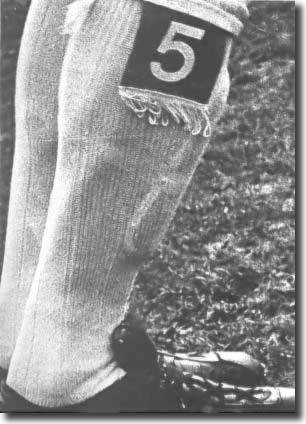 important that they associate themselves with the players.
'It would be great to see us average between 43,000 and 45,000 each home match, for the more support we get the better chance we have of making Elland Road the finest club stadium in the North and perhaps the country.'
Terry Brindle in the Yorkshire Post: 'On the eve of his 11th year at Elland Road, Don Revie feels the time has come to bury, once and for all, Leeds United's lingering reputation as a 'method' side, a reputation which undervalues the extraordinary depth of individual talent at the club.
'At the same time, Revie had set himself the task of expanding and deepening United's relations with their fans. "They have been absolutely tremendous this season and everybody at the club is delighted with our support. We want to show them just how much we value the packed attendances of recent weeks and the fact that they are right behind us," said Revie last night.
'First steps in the creation of United's new image were taken on Saturday when Leeds met Spurs in the FA Cup sixth round. United took the field 20 minutes early, acknowledged the support of the fans and then gave a demonstration of loosening exercises led by their trainer, Les Cocker.
'The second part of Revie's blueprint for the future - a new spotlight on the individuality of his players - was indicated at the end of the tie when United's players threw into the crowd autographed number tabs from their stockings. During the pre-match warm up players wore individually named tracksuit tops.
'"For a long time, Leeds United have been described as a team that works hard, that is well disciplined, that has a machine like quality. What has been grossly underplayed is the tremendous individual ability in the side," said Revie. "We have the Welsh international goalkeeper, the Scottish captain, one of the greatest characters in the game at centre-half. We have individuals of the highest ability and flair - and they have not been getting the credit they deserve. Every one of our players is really talented and I want to see that talent recognised. I feel that the crowd want to identify with the players and we want everyone to feel they are part of the club and of its greatness."
'"United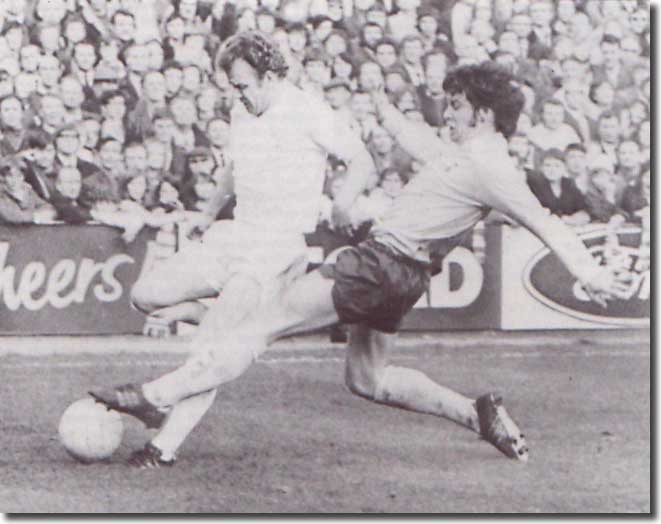 now plan more pre-match entertainment for their supporters and are taking advice from a Public Relations expert (Paul Trevillion). We have not hired a PR firm to advise us in the proper sense, this is an individual who gives us some guidance," said Revie.
'After 11 years during which United have done most of their talking on the field, the trend towards showbiz did not come easily for everyone. Jack Charlton played the first few minutes of the match in an undervest until his shirt was brought from the dressing room. In putting on his named tracksuit top, he had forgotten to put on his shirt.'
The showmanship brought other benefits: the ticket prices had been increased by 50% for the game, but there was still a crowd of virtually 44,000 in the stadium at kick off time.
Don Revie had a full squad to choose from for the game, and reverted to his customary selection of the time, with Paul Madeley at right-back and Paul Reaney sitting on the bench.
Spurs manager Bill Nicholson opted for the determination and defensive steel of John Pratt in midfield in preference to the attacking qualities of former Burnley star Ralph Coates who he named as sub. Tottenham fielded their star-studded forward line of Gilzean, Perryman, Chivers, Peters and Morgan, though it was Northern Ireland goalkeeper Pat Jennings who took the honours for the visitors on the day.
United began the contest on the offensive with Peter Lorimer and Madeley taking the ball on, but Mike England was nicely placed to clear the Scot's centre before it could reach Mick Jones. Billy Bremner created another opening when he sent over a centre from the right. Allan Clarke was waiting but it was Eddie Gray who got his head to it, nodding the ball against the crossbar. Leeds continued to press and Clarke was only just wide with a shot from 10 yards before England headed away from Jones.
With eleven minutes gone, Spurs finally got out of their own half, Cyril Knowles feeding Tottenham skipper Martin Peters, whose shot from six yards was turned behind by Gary Sprake.
That was a rare excursion into the United half by the visitors and Leeds were soon back to test Jennings, who dived to turn away a great shot on the turn from Jones, fingertipping the ball over the bar. Seconds later the keeper went full length again to touch a low shot from Terry Cooper away for another flag kick. Clarke came close with a shot from a narrow angle which went across goal and then Gray chipped over from a similarly challenging position.
Spurs were creaking under the United pressure and the game threatened to boil over with a succession of irritable incidents. Knowles felled Lorimer and then Bremner lunged in on Phil Beal. When Bremner was sent crashing as he went through, felled by a challenge from Knowles, he gave a display of amateur dramatics to ensure he was awarded the free kick. Centre-half England took great exception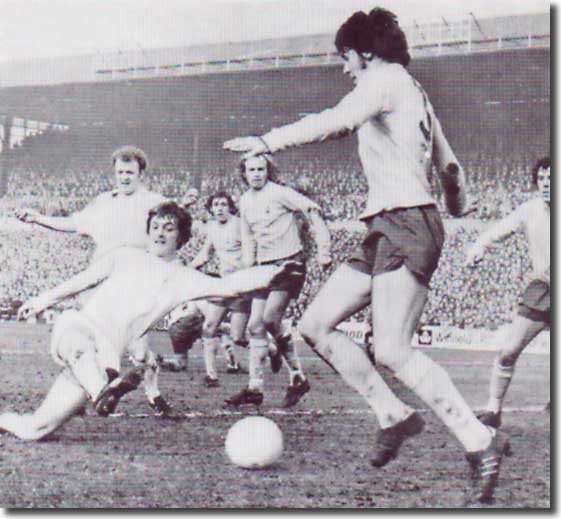 to the histrionics and attempted to drag the Scot to his feet by his shirt. Other players rushed to join in as Bremner sought retribution. Referee Jack Taylor looked to calm things down with bookings for both England and Bremner, though the home supporters howled their displeasure at the caution for the home captain.
Leeds continued to press with Jones shooting wide when nicely placed, but five minutes before the break it was the visitors who opened the scoring, much to United's surprise.
Steve Perryman fed John Pratt out wide on the left. As Knowles overlapped, the midfielder cut inside and curled in a hopeful long ball from 30 yards, in search of Martin Chivers and Alan Gilzean. Sprake saw it coming, but hesitated fatefully, assuming that either the strikers would get to it or Charlton or Hunter would clear it away. The ball beat everyone and flew on untouched into the far corner of the net with the flat footed keeper making a late, desperate attempt to save. It was a poor goal to concede.
A Tottenham lead at the break would have been an injustice, and United drew level a minute before the whistle. They swept into massed attack and shots rained in on a packed area. Lorimer sent the ball in, Gray touched it to the onrushing Bremner, but the Scot's shot was saved by Jennings. Cooper tried again but the ball was partially blocked and bobbled on across goal. Allan Clarke, the opportunist supreme, was able to reach the loose ball two yards out and force it over the line as he twisted into a shot. It was no more than the home side deserved.
The second half began with some end to end football: Jones was caught offside just a yard into the Spurs half and the long free kick put United's defence in trouble. With Sprake out of position, Hunter had to be cool to bring the ball clear of danger. United came away again and Lorimer headed over from Cooper's centre. Then Hunter was forced to clear an awkward bouncing ball in the middle of United's goal as Peters prepared to pounce.
In the 48th minute, United were awarded a free kick when a decent run by Cooper was brought to an abrupt halt ten yards outside the Spurs box by Peters' illegal challenge. Charlton rose splendidly to meet Bremner's free kick and nodded powerfully past Jennings. It was the simplest of goals, but totally unstoppable.
Clarke continued to show sharpness and it was his skill and speed which opened the Spurs rearguard when he raced into position to square the ball across goal. Fortunately for the visitors there was no Leeds man in attendance to take advantage.
As United pressed
strongly, Jones was thwarted by the brilliance of Jennings once more as the keeper rose to tip his effort over the bar.
Some of the referee's decisions had mystified the crowd and United wasted a good opportunity when Gray wriggled through only to be pulled back. He stopped, anticipating a free kick, but referee Taylor waved play on.
A Charlton header zipped inches over the bar as United pounded away and after 71 minutes Spurs brought Coates on for Peters in search of an equaliser.
It made no difference, with Leeds continuing to do all the running and Bremner and Jones forced further saves out of Jennings. They had already done enough and merely had to see time out to secure the victory and a place in the last four.
With eleven minutes remaining, Don Revie brought on Paul Reaney for Cooper, who was feeling a knock. Lorimer was stretchered off in the closing seconds with a leg injury. These were rare issues for Leeds on a day when they touched perfection.
Eric Todd in The Guardian: 'In the second half, Jennings made great saves from Jones, Giles and Bremner, but Sprake's uncertainty when Tottenham rallied near the end embarrassed his colleagues and the partisans. Still all was well and Leeds were through by a nonsensical margin.
'On this form, Leeds are irresistible. They have some outstanding individuals - Madeley alone is worth £300,000 of anybody's money - and when those individuals put the team before self aggrandisement and pool their assets, the result is awesome. As a Leodiensian, I shall again be accused of bias. That being so, I quote the opinion of one London journalist: "I've never seen Tottenham so outclassed."
'England and Beal tried harder than most to stem the relentless tide, but Jennings took most of the honours for Tottenham. Some talk of Alex Stepney and others of Gordon Banks, yet of all the goalkeepers Leeds have met over the years, Jennings must head the list of those whom they respect the most. If Jennings had been available on that memorable occasion when the Romans met the Etruscans, Horatius surely would have had to be satisfied with a seat on the substitutes' bench.'
Don Warters in the Evening Post: 'Had it not been for the amazing agility of Jennings, who confessed afterwards that he enjoys the challenge of playing in the North and particularly at Elland Road, Billy Bremner's pre-match comment that United would win by three goals would have come true. Spurs lost fairly and squarely. They played well, doing most of the things that should be done, but on this showing they could not match the splendid form which United showed.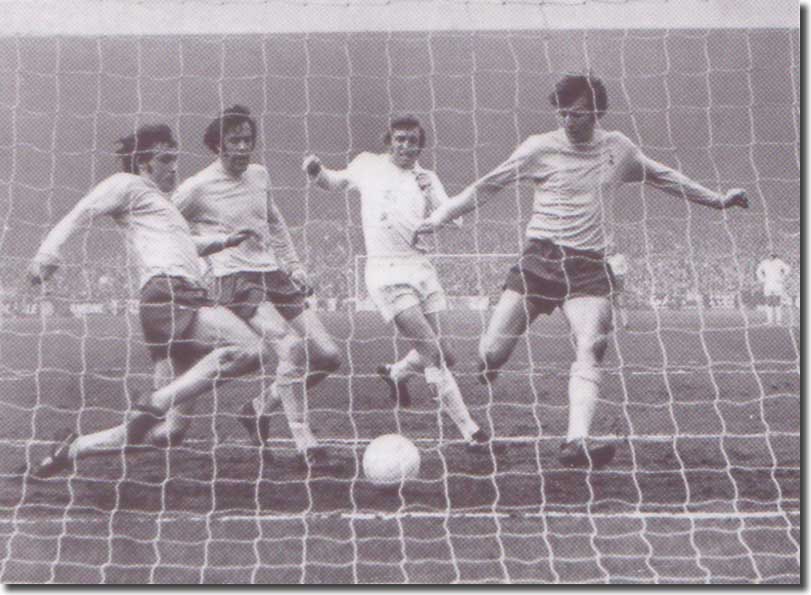 'Jennings, to his credit, was quick to lavish praise on United afterwards. Leeds, he said, are the best team he has played against. 'Not only is it going to take a very good team to stop them winning the Cup, it is going to take a lucky one, too,' he added.
'Jennings was in the best position to judge United's power, but it was obvious for all to see that in this mood United really are going to take some stopping. United began with the huge sense of purpose which has been a feature of their play this year, and although chances which fell to Eddie Gray and Mick Jones were not taken, United would have been several goals up inside the first 30 minutes had it not been for some superb goalkeeping from Jennings. He thwarted several of United's forwards, and in particular Mick Jones, who had three fine efforts saved.
'Although United's victory could once again be attributed to team effort there were outstanding performances from Allan Clarke, looking extremely sharp, and Mick Jones, who grafted away in great style from start to finish. These two were a frequent source of concern to the Spurs defence, in which Mike England was prominent.
'Tottenham made a tremendous effort to force a replay, but had they done so, it would have been a travesty of justice.'
Terry Brindle in the Yorkshire Post: 'Mr Sam Bolton, who later today will make the draw for the FA Cup semi finals, was asked a little irreverently on Saturday who he had pencilled in to meet his own club, Leeds United. Mr Bolton smiled confidently and replied: "It doesn't really matter, does it?"
'I don't think it does. On this form, Leeds can take on anybody with absolute confidence. After the rout of Tottenham Hotspur, they should be a short price bet for the Boat Race, the Grand National and the British Grand Prix (on foot), let alone the Cup.'
The Observer's Hugh McIlvanney described their football as 'breathtaking in its scope and fluency, alive with dazzling improvisations ... The full intimidating depth of their quality was never more manifest than in those early minutes. There was scarcely a weakness to be seen and excellence was everywhere ... In all essences of the game, except courage, Tottenham were outclassed.'
John Arlott in The Guardian: 'The dilemma of Leeds United is not the less acute for the fact that the manager of every other club in the country must covet it. Their win over as good a side as Tottenham Hotspur in the sixth round of the FA Cup last Saturday was the flowering they and all who have followed them had been waiting for.
'In the past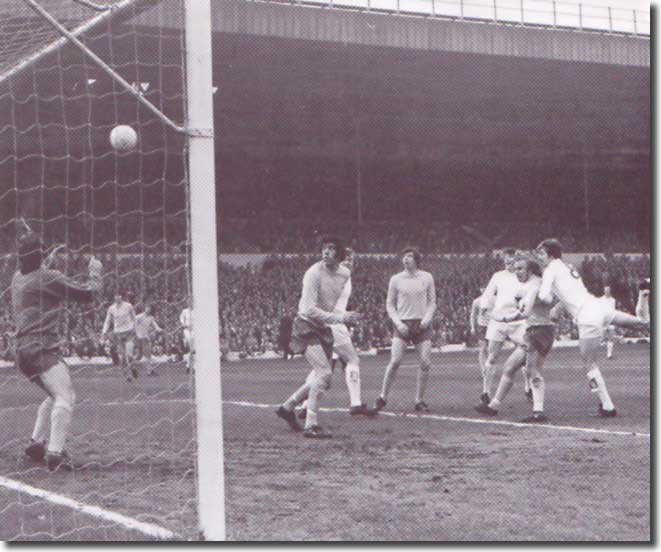 few weeks it was obviously imminent. Here they proffered unquestionable evidence of their splendid power while, at the same time, the narrowness of their win emphasised the uncertainty of even the finest team's success.
'They have been arguably the best side in England for the past eight years. In that period they have been champions of the First Division once and runners up four times; champions of the Second Division once; from five semi-finals, twice losing finalists in the FA Cup; twice winners and once runners up in the European Fairs Cup; and once winners of the Football League Cup. Only Manchester United have had a comparably sustained period of major success, yet in several instances Leeds fell short of their potential.
'Now the bookmakers - most objective of football followers - make them favourites to win the Cup at 5-4, by comparison with 9-4 Arsenal; meanwhile they still have enough matches and goal average in hand to provide the ultimate challenge to Manchester City for the league championship.
'Their eight years of success, however, have seen not only changes but the fading of some major assets. Arsenal, Manchester United and Tottenham in their periods of major success made constant changes of personnel and method. Jack Charlton, the best England centre-half since Cullis, and from set pieces the most effective goalscorer among modern defenders; that splendid passer, Giles; and Bremner - the driving force of the side - are now near or over 30 years old. It is generally known that Don Revie, in some ways a romantic but basically a pragmatist, has been seeking replacements for all of them. Moreover, Sprake, Jones and Clarke have all fallen slightly short of what was hoped of them. Sprake had made expensive mistakes; Jones and Clarke have not established quite the combination of strength and subtlety to score the goals their ability promised. Blend is always a major and unpredictable facet of team building.
'Judged on ability, Leeds would not be flattered if they performed the double of Cup and League this season. Certainly they are a more gifted side than Arsenal of two years ago; and by comparative standards in a rapidly changing football world, not inferior to the Tottenham Hotspur of 1961. Certainly they will not fail through over confidence.'