Part 1 - Exiles - Part 3 - Super Leeds - Results and table -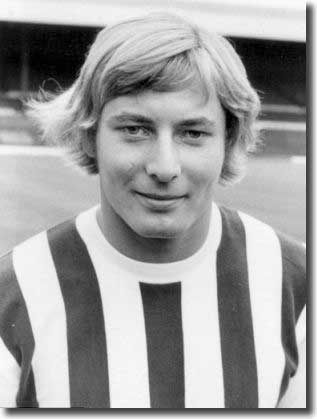 While Asa Hartford enjoyed a long and illustrious career as a top quality international midfielder who appeared in two World Cup final series, he will always be known as the hole in the heart footballer after a tragic episode in November 1971 following a move into the transfer market by Leeds United.
At the time the Whites were going through something of a crisis with player availability. They were badly handicapped by injuries: Eddie Gray, Mick Jones and Allan Clarke were missing for weeks, and there were other fitness issues in Don Revie's threadbare squad: in September, when they faced Barcelona in a Fairs Cup play-off, Paul Madeley, Terry Yorath, Terry Cooper and Mick Bates were also unavailable.
Additionally, Terry Hibbitt had moved to Newcastle at the start of the season and it was apparent that Rod Belfitt would be away as soon as he could find a suitable club. The striker, like Greenhoff, O'Grady and Johanneson before him, had tired of being a perpetual reserve.
Phil Brown wrote in the Evening Post at the beginning of October: 'The patched up sides of this season have struggled manfully … but the reserves have not performed any miracles, certainly not of the kind that John Charles used to produce at the same age in a much inferior side. So with all respect to the reserves, the sooner now that the international regulars they have replaced are back the better.'
Stories that Revie would dip his toe in the transfer market started surfacing on 25 October.
Don Warters in the Evening Post: 'Is Tony Green, Blackpool's Scottish international midfield star, the player to boost Leeds United's first team squad in readiness for an all out assault on the League championship and the FA Cup? That was the £160,000 poser which United manager Don Revie had on his mind today as he confessed only to having a slight interest in the Blackpool star.
'United regard reports today which suggest that Green is all set to sign on the dotted line for Leeds as premature at the very least. "We have watched the player, but have made no inquiries about him or bid for him," Revie told me today. But the Leeds boss will take his club's interest a stage further tomorrow, for he intends to run the rule over Green himself when Blackpool take on Aston Villa in a League Cup-tie at Bloomfield Road.
'United obviously regard Green highly, having taken the trouble to have him watched three times recently, although the club insist that this is all part of the normal routine of keeping a finger on soccer's pulse.'
Warters perpetuated the story the following day, reporting that Don Revie had 'contacted Elland Road early this morning to say he would be away for the day, but he did not elaborate further. As the mystery deepened, his absence gave rise to speculation that he may be on his way to Blackpool but this could not be confirmed either at Elland Road or at Bloomfield Road.
'Green, it is true, will be playing tonight … and Revie has hinted that he intends to run the rule over the player himself. The Leeds boss, however, has said it was not certain whether he would be at Blackpool for tonight's match.'
Green scored and pulled the strings in a 4-1 victory.
Revie attempted to quell the wave of rumours, telling the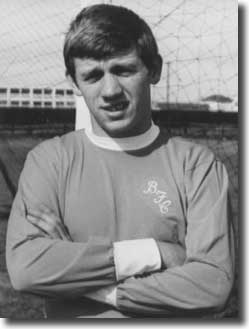 Evening Post on Thursday, 28 October, 'I don't want our fans, nor our players to get wrong ideas, so I will say that we have made no offer at any time for Tony Green of Blackpool, Steve Kindon of Burnley or Ian Moore of Nottingham Forest, and that we have not been especially interested in any of them … All three have been connected with us in the press, and we have in the ordinary way had scouts watching games in which their side played, but nothing more. Everybody seems to be linking Leeds United with forwards.'
The speculation about Green was put to bed that same day when the schemer signed for Newcastle.
United did have a transfer target in mind and had somehow managed to keep his identity firmly under wraps. The Evening Post revealed the truth on Wednesday, 3 November, reporting that Scottish midfielder Asa Hartford had been signed from West Bromwich Albion. They quoted a fee of £155,000, though it was later confirmed at £177,000.
Revie: 'We have long admired this player, and we think he will be of tremendous use to our first-eam squad. He is a very similar type of player to Billy Bremner, and we are looking forward to having him at Elland Road.'
The Times reported that the manager 'completed the transaction at a quiet meeting with the player in a café on the East Lancashire Road'.
21-year-old Hartford, born in Clydebank, joined Albion from school and was one of several young Scots brought south of the border by the Baggies. He went to the same school as another Albion midfield player, Bobby Hope, and it was Hope's father who recommended him to the club.
Hartford was not offered a deal after his initial period at the Hawthorns and returned to Scotland, but was invited back for a second trial. Bitter rivals Wolves also asked him to try out for them, but he chose Albion because of the connections he had already made with the club.
He signed for Albion as an amateur and was given a professional contract with the club on 3 November 1967, making his first team debut the following February against Sheffield United. After a successful tour of East Africa in the summer of 1968, Hartford won a regular place in 1968/69. The following season he won two Under-23 caps for Scotland and played in Albion's League Cup final defeat to Manchester City in 1970.
His unusual first name was after the singer, Al Jolson, whose real name was Asa Yolson. Hartford: 'My dad was a big fan of the singer who, I think, died the day before I was born.'
Now the deal was done, Don Revie was happy to elaborate on the details, saying, 'I like the cloak and dagger atmosphere that surrounds big signings but it is so important to keep things quiet. First of all, if it is known a big club is going after a player, others can get involved and the price can go up £40,000 to £50,000 just like that. Then you have your supporters to think about. They can feel let down if they think you are going for a player and do not get him.
'If you never buy you just drift away. We are fortunate at Elland Road in that we have been able to bring seven or eight players through from boys but you cannot bring 100% through. Nobody has done it yet … At some stage you have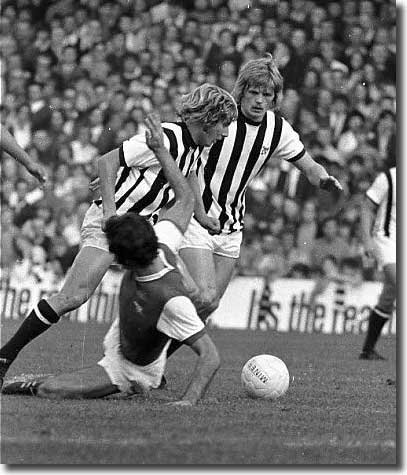 to go out and back your judgement.
'I was not really interested in others - the only player I fancied was this boy … When he learned of the proposed deal, he was prepared to sign even before discussing terms. That proved to me that Hartford had the right attitude towards the game, as well as the necessary skill, to make a big name for himself at Elland Road.
'As far as Tony Green is concerned, our interest in this player wasn't as intense as has been reported. We watched him in action on numerous occasions, but then we run the rule over countless footballers during the course of a season. Although Leeds are regarded as one of the best teams in Europe, the club is always on the look out for top footballers to strengthen the first team squad. Even if a particular player does not impress the first few times he is still kept under regular surveillance.
'A Leeds scout watched the League match between Blackpool and Queens Park Rangers a fortnight ago, and his comments about Green prompted me to have a look at him in Blackpool's League Cup-tie against Aston Villa three days later. By this time newspaper reporters were hot on the trail of what they thought was a positive bid by Leeds to sign Green. So I watched the tie from a 60p seat in the stands instead of the directors' box in an effort to escape their notice.
'Green had a good game that night, scoring one of the goals in Blackpool's victory, but I felt the £150,000 price was too high. Newcastle United didn't and it will be interesting to see whether I will be proved wrong.
'Green tends to be inconsistent, partly because he doesn't do a great deal of work off the ball. Certainly, in the clash against Aston Villa it was noticeable he rarely picked up an opponent upon losing possession or made any decoy runs so as to create space for his fellow forwards.
'It could well be that playing for a famous club like Newcastle in Division One will provide the stimulation his game needs, but I wasn't prepared to take this gamble at Blackpool's price.'
Revie had long been an admirer of Hartford, watching him regularly for two years. He first asked West Brom about his availability in 1969; at that time manager Alan Ashman had rejected all Revie's overtures, but promised to give Leeds first refusal if ever he was released. Revie had enquired again in May 1971, but was rebuffed a second time. Ashman was replaced by former Arsenal coach Don Howe shortly afterwards and the new man decided to sell in order to raise funds for the replenishment of a struggling team.
A West Bromwich representative rang Elland Road on Monday, 1 November, to confirm they were ready to talk business. Revie and chairman Percy Woodward travelled to Birmingham and agreed terms that day. On the Wednesday Revie met Hartford to finalise matters in the lounge of the Greyhound Motor Hotel on the East Lancashire Road.
The conversation took ten minutes, so keen was the Scot to join Leeds. He was due to play in a five a side competition on Wednesday but at 1.30pm was told of Leeds' interest. 'I just could not believe it at first but by 3.30pm I was at a hotel midway between Birmingham and Leeds and before 4pm I was a Leeds player.
'I did not know anything about the deal until I was asked to travel to meet Mr Revie at a motel halfway between West Bromwich and Leeds. Mr Revie talked to me for about 10 or 15 minutes. I signed immediately.
'I would have thought twice if it had been any other club, but not Leeds … The transfer came as a terrific shock, but I have no worries about joining this fantastic United squad. You get a chance like this only once in a lifetime. You grab it with both hands.
'It may take me some time to settle down, but it is a terrific feeling to know that I have been considered good enough for a club as successful as Leeds. I am going into great company. I believe this will make me a better player. I feel the move will help towards my ambition to get a full cap for Scotland. But at the moment it has to be Leeds United first for me.'
As the news of the Leeds deal broke, Scots' manager Tommy Docherty called Hartford into the full squad for the first time as a replacement for Derby County's Archie Gemmill.
The next point of interest concerned how Revie would use the new man; it was widely concluded that he had been bought as a long term replacement for 31-year-old Johnny Giles, but in the meantime it was unclear how the manager would work him into the team.
'I'm not saying where I will play him,' said Revie when asked, 'but I can say that he will be playing for us against Leicester City at Elland Road on Saturday.
'He is a very similar type of player to Billy Bremner, whom he knows well. We are happy to have him in our first-eam pool … I just hope our supporters give him time to settle in and don't expect miracles, remember he has to adjust to a new system, new team mates, new training regimes.'
Don Warters in the Evening Post: 'Most popular forecast today was that it will be a defender who will have to make way for Hartford, who could line up in midfield along with Billy Bremner and Johnny Giles - a long and trusted partnership working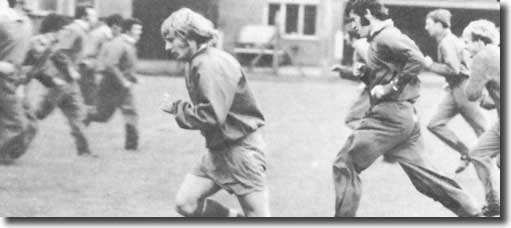 extremely well and productively this season. If this turns out to be the case then Paul Madeley is the obvious choice to move, say, to full-back to the possible exclusion of England international Paul Reaney.
'The precise role Asa Hartford, Leeds United's new 5ft 5in, 10 stone bundle of energy will fill for his new club in the home league match against Leicester City tomorrow remained a closely guarded secret today.
'But although United manager Don Revie refused to part with any information, I believe Hartford will be allowed reasonable licence to roam around midfield and will have the full backing to come through strongly for goal whenever the situation arises.
'I believe that Revie will not demand too much of his £177,000 recruit. "Go out and do your best. Enjoy your football," could well be the manager's last minute advice to the 21-year-old. Hartford is generally regarded as a midfield player, but he has played the role of striker and that of anchor man in front of the defence so he is well equipped for a freelance assignment.'
Barry Foster profiled the new man for the Yorkshire Post on the eve of his United debut against Leicester.
'Asa Hartford, Leeds United's dearest six-figure recruit, has a date with the hairdresser soon after his first training session at Elland Road today - a date he readily agreed to before he signed for his new club.
'He arrived at Leeds last night and immediately impressed as a level-headed young man who has a mind of his own. "I do not think hair has got anything to do with what makes a Leeds player. I think they all work for each other, they are ready to die for each other, there are no star players. It is a team."
'This morning he meets his new colleagues at Elland Road and prepares for his debut tomorrow, when he will be seen by Leeds supporters with hair much shorter than in his West Bromwich Albion days. "We do not like it too long nor too short here," said Mr Don Revie, the Leeds team manager. "We like our players to look like professional footballers so I asked Asa to have a trim." Hartford said: "It will have to be a little more than a trim, I think." But the prospect does not worry him, his main aim now is to do well for Leeds.
'Hartford, 5ft 5in tall, 10st 12lb, "and with eyes of blue", hopes that one day he will win a full cap for Scotland. At Elland Road he joins three players who have already passed that soccer milestone. He knows two of them well: Billy Bremner and Peter Lorimer. He has only played in the same side as one Leeds player so far however - Lorimer in the Scottish Under-23s.
'His interests have extended to golf recently, he likes tennis in the summer and prefers pop music. He is engaged to be married and plans to bring forward the big day now from next November to next summer because of his move to Leeds and the travelling he now faces. His fiancée, a West Bromwich girl, was upset at the thought of the move to Leeds. He remarked last night: 'I told her to dry her eyes on the cheque and it was all right.'
'He said he would try not to think about the fee Leeds have paid for him. "When I settle down I'll be okay," said Hartford, who must still be a little dazed by the sudden change in his life which came about quite unexpectedly.
'For a man who was 21 only a week ago, however, he has taken it all in his stride. On Monday he has another important date, back in Birmingham. He goes before a disciplinary commission because the two bookings he has received this season bring his total to three since last November. Albion officials will accompany him to the hearing.'
In a state of high excitement, Leeds followers flocked into Elland Road on Saturday, 6 November, to witness Hartford's debut against Leicester City. Then came some shocking news …
Three hours before kick off, United secretary Keith Archer announced, 'The transfer of Asa Hartford from WBA to Leeds United has been called off owing to a medical condition. Any further statements must come from WBA.'
Archer said the money for the transfer had not yet gone through because it was contingent on the outcome of a medical examination. He said there was a 14-day period in which the club could withdraw if the medical examination proved unsatisfactory.
Percy Woodward, the United chairman: 'This man was going to help us win the league championship, and that's why we signed him. We are all bitterly disappointed at the news.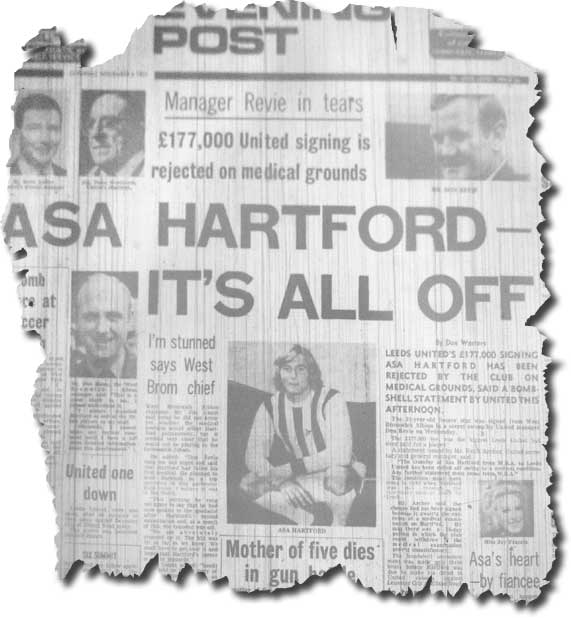 We shall have to start thinking again but nobody will know whom we are after until he has signed on the dotted line.'
Asked if there was a clause in the transfer which enabled Leeds to call the deal off on certain events, Woodward said: 'Well, what do you think? We paid, never mind what the papers say, £177,000 for Hartford and when you are parting with that kind of money you must have these safeguards.'
Hartford was clearly numb with shock at the disastrous news, and would not talk to the press at the time. Years later, he said this about the matter: 'A move to Leeds was like a dream, the best team in the country. I trained with Albion on the Friday morning and then had a medical and that's where the problem came up, they discovered I had a hole in my heart. So they had me back on the Saturday morning just to confirm it, though I didn't know at the time.
'We were in the Queens Hotel in Leeds and Revie told me I would have played that weekend, but everything was on hold. He asked me if I wanted a driver to get me back home but I drove myself. There were no mobiles then so I stopped on the M62 at the services to try and phone my girlfriend, but couldn't get through. I tried my mom and dad, couldn't get through.'
West Bromwich Albion chairman Jim Gaunt: 'Don Revie rang me last night and said that Hartford had failed his first medical. He planned to send Hartford to a top specialist in this particular field today. I believe it was in the North. This morning he rang me again to say that he had now spoke to the specialist after Hartford's second examination and, as a result of this, the transfer was off.
'Leeds have told us that a copy of the specialist's report is on the way to us. As far as I am concerned the boy's welfare is everything. I am only concerned about him. The transfer fee is of no importance.'
Don Howe, the West Bromwich Albion manager, said: 'This is a great shock to me. I cannot understand it. I always regarded Hartford as among the fittest players on my staff. Obviously I cannot make any further comment until I have a lot more detailed information about this development.'
West Bromwich secretary Mr Alan Everiss said Hartford had passed the club's customary medical examination at the start of the season.
'We shall now have to wait until he arrives back and check up ourselves,' he added. 'Hartford played for us last Saturday and he trained during the week. I am informed that Don Revie is very upset about this, as we are. I can imagine how Hartford must feel about all this, as he was looking forward to playing for Leeds. His world has turned completely over in 24 hours.'
Don Revie: 'After seeing Asa Hartford to his car, I stood between two cars outside Leeds City station and cried like a child. Hartford had begun his journey back to Birmingham and it was then that the agony of telling him his transfer to Leeds was off really hit me. It was the worst experience I have encountered, because I also had to tell this brilliant young footballer his career was threatened according to the specialists who had examined him.
'I like to think I have become hardened over the years, but it would be inhuman not to be moved by the kind of disaster that befell Hartford and Leeds last week.
'In view of that medical report on Hartford by three leading Northern specialists, there is clearly a considerably larger question mark looming over his future in football.
'Leeds were prepared to pay Albion £177,000 for Hartford - our biggest transfer fee - because we were convinced this 21-year-old Scot could play a big part in helping maintain the club's ascendancy of the last eight years. Further proof of the tremendous character of this boy came late on Saturday evening when Hartford, despite his anguish at the day's shattering events, telephoned to say: "Thank you for all you've done for me."
'What is our next step? To answer that question, I would first point out that Leeds are not looking specifically for a midfield player. The club is interested in any top class player who becomes available no matter what position he plays.
'Unfortunately there are few players in the game today who possess the ability to improve our first-team squad. Those who do are unlikely to be put up for sale by their clubs in the foreseeable future. Certainly, we have no particular player in mind at the moment.'
John Kirkham, Albion's consultant surgeon, was asked to comment on Hartford's condition. He said it would not necessarily mean the end of a footballer's career. It depended on the nature of the condition. Hartford, he said, had been playing hard for four years, had never complained, and certainly appeared to be perfectly fit.
Albion chairman Gaunt: 'We are arranging for him to see a leading heart specialist within the next day or so. We have now accepted that he has a heart condition but we shall know more about it when we get the Leeds report in the morning and see our own man's report.'
It was revealed later that Hartford did experience some problems with his heart as a youngster but that they had cleared up. West Bromwich Albion sent him for further medical checks when he returned to Birmingham, as the Scot later recalled: 'I saw a specialist on the Monday and he confirmed there was a hole in my heart but that it would be okay. I was in hospital the next day for the procedure, in and out, trained again on Thursday. It was devastating, but I didn't have much time to dwell on it because I was playing again the next Saturday at Forest. I missed one game.
'It was literally a pinhole, blood seeps through it, but I ended up playing 800 games so it wasn't that bad! Nowadays you're kind of relaxed about pretty well any kind of illness or disease or whatever because medical science is so advanced. But back then, if somebody said there was a heart problem, everybody thought you were going to drop dead. Somebody had been on to my parents saying they'd heard it was cancer, so that was pretty awful.
'To be honest, I just couldn't believe it because we used to train hard under Don Howe, we'd do a cross country run regularly on Sandwell golf course and I would never be any lower than third or fourth, so I was a fit lad. It didn't sink in really. Revie told me that according to their people, they thought I'd need an op, that I would be okay and live a normal life span, but the insurance wouldn't cover me. It just didn't make sense they were saying this about me with the way I could run around.'
Dr Paul Davison, a Midlands heart specialist, told him that he had a very small hole between two sections of his heart. But the specialist also told him that there was no chance that the hole could harm his soccer career or prevent the heart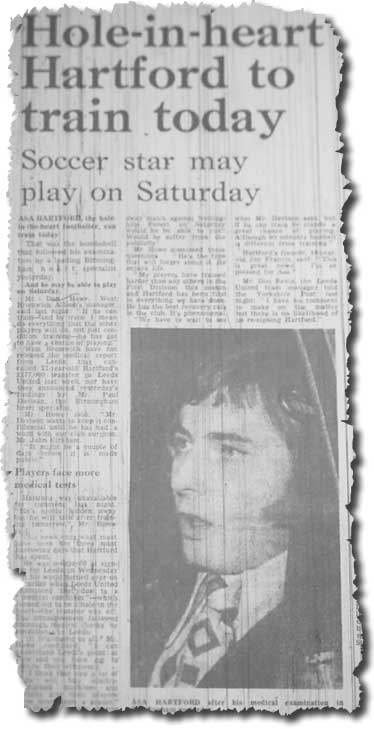 muscle from functioning properly.
Hartford was born with a slight heart murmur and when aged nine or 10 a Glasgow doctor told his mother that he shouldn't entertain the thought of becoming a soccer player because his heart wasn't strong enough. He ignored that advice, and had never previously had a problem.
The Yorkshire Post spoke to a heart expert at the time to get an authoritative view. He told them that the ability of a world class sportsman suffering from a hole in the heart condition would, in time, very likely be jeopardised. 'It would depend on the size of the defect,' he said. 'The hole in the heart could not suddenly appear. You are born with it … If a hole is sufficiently large to need closing by an operation an ordinary person can lead an active life after it has been repaired. But a world class sportsman, such as a professional footballer, is an exceptional case. There is no guarantee after such an operation that his exceptional ability would be fully maintained. We are talking here of someone with great physical fitness and ability.'
If a player carries on without treatment, he continued, it was likely he would become disabled in time. His general advice in such a case was that if a hole was sufficiently large to need closing, then this should be done. 'While there is no guarantee he would maintain the high standard there would be a good chance,' he added.
Astonishingly, within a week, Hartford was back in training with Albion.
Don Howe: 'Hartford has some slight abnormality, but it is something which has never affected his form and need never affect him in the future … We have seen him training this morning and seen how fit he is, as always.'
Hartford: 'I am on top of the world and just happy to be back in training again. It was really great to be out there with the lads this morning.'
Jim Gaunt: 'As a result of the publicity and the worry the lad was suffering, the heart specialist thought it best to make the news public as quickly as possible. He telephoned our club surgeon, Mr John Kirkham, who has passed the verbal report on to me. It is to the effect that Harford was given every possible test and as thorough an examination as he can give him and he can find nothing whatsoever wrong with him in any way.
'Stripped of any medical jargon, the position is that Hartford is perfectly fit. He was training today and he can play in the first team just as soon as he feels ready for it. It is wonderful news, not only for the club and for football but, more important for the lad himself, who has had to undergo such a great deal of strain.
'Of course, we all hoped that this might be the outcome. But we could not commit ourselves because we did not know enough about it. One can find that if you consult three doctors one can disagree with the other two.
'As far as we are concerned, the story has had a happy ending, and Asa can resume his career with West Bromwich Albion.'
There was speculation that Leeds United might seek to reactivate the transfer, but that was quickly quashed.
Don Revie refused to elaborate on United's statement that the deal had been called off on medical grounds. 'I have nothing to add. I cannot say anything further. I am a football club manager, not a medical man. All I can say is that we acted in accordance with what we were told by the medical people. There is no likelihood of our re-signing the player.'
Chairman Percy Woodward: 'My reaction is the same as Mr Revie's. So far as the board is concerned we have no intention of signing Hartford. The club has no further interest in the matter.'
Richard Ulyatt in the Yorkshire Post: 'It looks to me that the unfortunate Asa Hartford case, which has proved to be more than a nine day wonder, has confirmed that soccer chiefs are much more sensitive than is generally imagined. They are accused by critics like myself who are in fairly close contact with them of being devious and selfish, with little interest in the truth and no great regard for spectators or employees.
'Without withdrawing any of that criticism, it is possible to hold the view that both West Bromwich Albion and Leeds United have shown great concern for the player's future and interest in his immediate well being. They avoided what might have become an acrimonious wrangle, they protected Hartford as carefully as they could and most of their officials acted with great dignity.
'Knowing him, I imagine that Don Revie spent a sleepless night before he broke the news to Hartford on the Saturday morning that the transfer from West Bromwich to Leeds United had to be cancelled. Revie has always been what is called a player's manager and his mental anguish would be caused more because he could put himself in Hartford's place than by the knowledge that he had lost a player of great potential merit.
'He could not invest such a large sum of money as £177,000 in a player whose footballing future was uncertain, but he could also feel deep personal sympathy for the player because there was a time when he thought his own career would come to an untimely end.'
It took a while for Hartford to get over the mental anguish of those few days, but he was soon back playing regularly for Albion and went on to have a distinguished career. 'I was so glad to be playing again. I played at Forest and was awful which was probably understandable after the previous fortnight, but I just needed to get back out there and do what I did. There was a lot of fuss ... and I just wanted to get away from it and for things to be normal again. Then by the end of the season I was playing for Scotland. Tommy Docherty said he'd have picked me in the November if the Leeds thing hadn't happened, I think Kenny Dalglish made his debut in that game against Belgium at Pittodrie. But the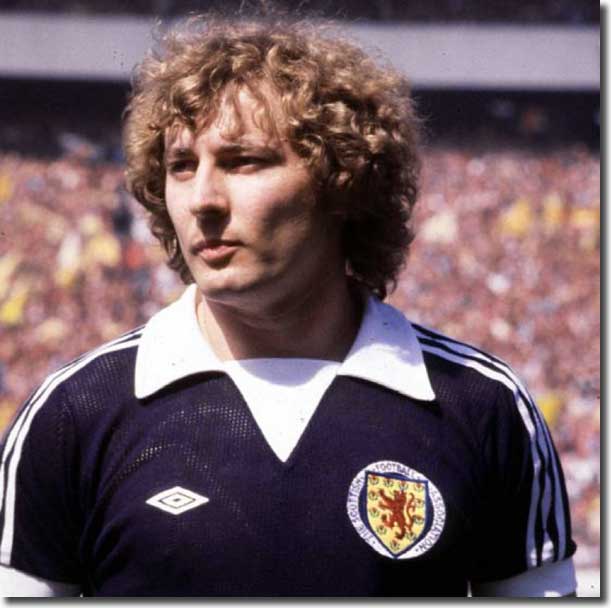 Doc's such a liar anyway! He was great to play for, he was ideally suited to being an international manager. He'd make you feel at ease, have a laugh and a joke, he was good.'
Hartford returned to action for West Bromwich on November 13, when they lost 4-1 at Nottingham Forest. Geoffrey Green in The Times: 'For the anxious media massed at the City Ground, Nottingham, on Saturday, here, mercifully, was a non event. Asa Hartford, in a West Bromwich Albion shirt again only a week after his future had looked to be in shreds, emerged from his mental and physical ordeal with no apparent untoward effects.
'This was Albion's heaviest defeat of the season and, to put the record straight, was none of Hartford's doing. After an anonymous opening half in which, understandably, he shrank like a violet from every gimlet eye, he grew stronger in his play as he busied himself in midfield, providing many a creative touch which fell on barren ground while others around him relapsed slowly into disorder.
'Hartford, in fact, was going better than any of his colleagues at the finish, suggesting that he was anything but a prospective invalid. As Mr Don Howe, his manager, said later: "The only thing that will stop Asa playing is old age." At that we may leave the centre of an eight-day wonder and allow him unharried to follow the thread of his future.'
Hartford remained with Albion until 1974, when he moved to Manchester City for £210,000. He later played for Nottingham Forest, Everton, City again and Norwich before winding down his career with Bolton, Stockport, Oldham and Shrewsbury.
He won 50 caps for his country, playing in the World Cup finals in 1978 and 1982 and made more than 700 first-team appearances in club football over a 24-year career. He also spent twenty years in various management and coaching roles.
Not bad going for a man for whom the future was a deep black hole in November 1971.
Hartford's later achievements in the game caused many with perfect hindsight to question Revie's caution. At the time, however, it was clear that if United did complete the deal they would be doing so with no insurance and strictly against the recommendations of their medical advisors.
For Don Revie, it was just too great a gamble. One could only speculate what United might have achieved with Hartford in their ranks. The same question applies to the abortive attempts to sign Alan Ball in 1965 and 1966 when his directors denied Revie the necessary funds to secure the England international's signature.
Oh, for what might have been ...
Part 1 - Exiles - Part 3 - Super Leeds - Results and table