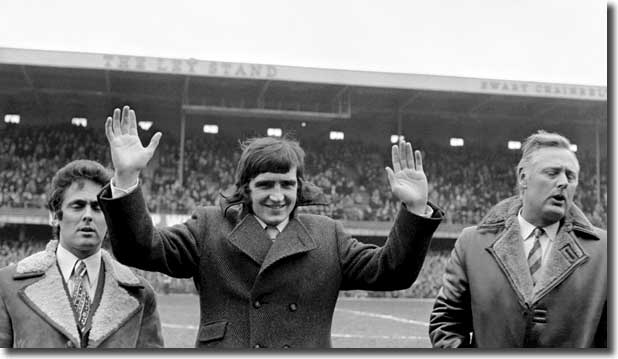 With Leeds United in hot pursuit of the league and Cup Double and Nottingham Forest rock bottom of the First Division at the time, the Elland Road clash between the two sides at the end of March 1972 was as near a one horse race as you could possibly get in the game.
Leeds were on a great run at home, having enjoyed eight straight wins with a goal record of 25-3. Indeed, their Elland Road statistics in the League at the time read: Played 14 Won 12 Drawn 2 Lost 0 Goals 35-6.
In sharp contrast, Forest were coming to the end of a nightmare campaign which would end in relegation. They had a single win and six points from their 17 games away from the City Ground and had conceded 42 goals in the process.
It was the latest embarrassment in a remarkable descent. In 1957, Forest returned to the First Division after 32 years spent in the lower divisions and two years later they won the FA Cup for the second time, beating Luton 2-1 at Wembley. Johnny Carey was appointed as manager in 1963 following the resignation of Andy Beattie and paid club record fees to secure the services of Terry Hennessey and Joe Baker in 1966; Carey took Forest to the FA Cup semi-finals and runners-up spot in the First Division a year later when they also signed the gifted Jim Baxter from Sunderland in another record deal.
Matt Gillies replaced Carey as manager in January 1969 with Forest looking among the favourites for the drop. He steered them to an 18th place finish, but had been unable to take them out of the lower reaches of the table since then. Star names like Baxter, Hennessey and Henry Newton had all been sold. At the start of the month England international winger Ian Storey-Moore had moved to Manchester United in a £200,000 deal after originally being paraded round the Baseball Ground as Derby County's new signing. Gillies thus had to rely extensively on callow youngsters in another relegation dogfight: of the eleven who played at Elland Road,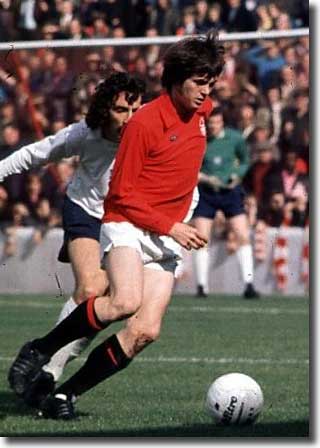 Alan Buckley, David Serella, John Cottam, John Robertson and Duncan McKenzie were all 21 or younger.
The East Midlanders travelled to West Yorkshire like lambs to the slaughter.
As if specifically designed to increase Forest's trepidation, United welcomed Eddie Gray back into the team. The dangerous winger had recovered from a stomach upset which had kept him out of the 3-0 win over Arsenal two days earlier, and the Scot played in place of Johnny Giles who was missing with a groin strain. Norman Hunter (hamstring), Mick Jones (groin) and Allan Clarke (broken toe) were all passed fit to play.
Forest had enjoyed a rare success at the weekend, beating Coventry City 4-0, and Don Revie refused to consider them pushovers, saying, 'It can be fatal to underestimate any side in the First Division, and that includes Forest. They won convincingly on Saturday and have an outside chance of avoiding relegation. It is a vital match for them as, of course, it is for us, and it won't be easy.'
The game was played on a wild and windy night at Elland Road, and, as anticipated, Forest were quickly on the back foot.
Within three minutes, Terry Cooper had struck at the heart of their defence and fired in a strong shot from his supposedly weaker right foot. Goalkeeper Jim Barron was untidy with his save but managed to keep the effort out.
Though they enjoyed almost constant pressure, that was a rare Leeds shot in the first quarter of an hour. Forest packed their defence and denied United the space to get in a decent effort. The home men seemed a little perplexed as to the best way to open up the opposition. They had to wait fourteen minutes for their next serious chance, created when Billy Bremner played a superb through ball down the left channel to Allan Clarke. The striker tested Barron but again the keeper came out on top.
Almost inevitably, however, Leeds did get the breakthrough and it was not much longer in coming, just sixty seconds, in fact. Eddie Gray and Mick Jones combined well round the edge of the Forest area to fashion space for Peter Lorimer and the Scot beat Barron cleanly with an angled drive from 12 yards.
The ease with which they scored the goal fed complacency in the Leeds ranks, and their self assurance and superiority prompted the cardinal sin of over-elaboration. Gray was in brilliant form, but frequently tried to take on one man too many, and United were not the same team when deprived of the clean lines and cutting blade of Giles' passing.
Nevertheless, they were in complete control and confined Forest to rare breakaways from their own half; it was 33 minutes before Nottingham's first shot, an effort from Peter Cormack after a lob was only partially cleared. That attempt inspired some confidence in the visitors' ranks and they secured a precarious foothold in the game; Gray was fortunate when his push on the edge of the area was judged to be outside the box by referee Wallace and then Jack Charlton and Sprake were forced into untidily conceding a corner following a free kick by Serella.
Forest equalised from the flag kick and it was a freakish affair. Alan Buckley drove it straight at Cormack; it struck the Scot on the shoulder, ricocheted onto Gary Sprake's chest and on into the goal. It was clear that United were convinced that the ball had been diverted by Cormack's arm. Sprake had to be physically restrained as he furiously sought to argue the point with the officials as the teams came off at the break.
The equaliser came against the run of play, and it gave Leeds pause for thought during the half time interval. Revie urged them to stick to their game plan, but there was more than a touch of good fortune about the train of events which led to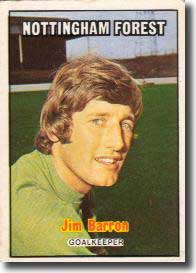 them reasserting control of the game.
After 52 minutes, Clarke was given a clear run on goal and Barron went full length at his feet to avert the danger. The goalkeeper suffered a split lip in the collision and had to go off to receive three stitches in the wound with his mouth pouring blood. He was only off the field for four minutes, but in that time Forest conceded twice and the course of the game was changed irrevocably.
While Barron was off the field, Peter Cormack donned the goalkeeper's jersey. Barron had scarcely departed the stage when Cormack spilled a scorching corner from Lorimer. Clarke followed up only to have his shot blocked by Cottam. While his colleagues appealed for hands, Gray pounced on the ball to fire United's second goal through a crowded area.
Three minutes more and United moved further ahead. Terry Cooper cut a searing swathe through Forest's defence before Clarke picked up the move and calmly danced between two Forest defenders. He fired in a fierce left-footed drive from the edge of the area to make it 3-1.
With that, Barron hastily returned to the fray, but the game as a contest was over with Forest's stomach for the fight gone.
Leeds took Mick Jones off with a thigh injury and replaced him with Terry Yorath. The change made little difference, though United went almost thirty minutes without another goal.
Five minutes from the end of the regulation ninety, Madeley stormed through the middle to feed Lorimer, who finished nicely from close range, shooting between Barron's legs.
United added two more in added time: Gray set up Clarke for the first and Madeley then did the same for Gray.
The 6-1 result greatly exaggerated United's superiority on the night and masked lengthy periods when they had not hit the fantastic heights of recent weeks. Nevertheless, the victory put another two points in the United bank as their championship challenge gathered pace.
After the game, Forest manager Matt Gilles emerged from the dressing rooms to praise the way his young side had performed and, indeed, had been the equals of Leeds for long stretches. He claimed, 'We did well in the circumstances, and for a spell in the second half we played some really good football. A scoreline of 6-1 was harsh on us. A fairer result would have been 2-2.'
That was maybe pushing the point too far, but Gillies' team had played with creditable zest and determination for an eleven with an average age of just 23.
The manager was only too aware of United's power in and around the goalmouth. 'You cannot allow Leeds any chances around the penalty area, so we planned to keep a close watch on them in those situations, but for the third goal we allowed Clarke too much room,' he commented.
United manager Don Revie paid tribute to the men from Nottingham. 'Forest are a useful side. They worked hard, although I was not worried when the goals did not come early on. It was a case of being patient and waiting for the chances.'
Eric Todd in The Guardian: 'We shall never know what would have happened if Barron had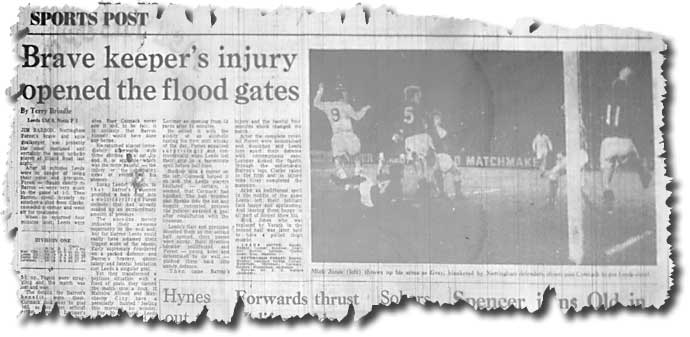 not retired to have a cut lip stitched early in the second half. He was off the field for only five minutes but in that time Leeds scored twice against the deputy goalkeeper, Cormack, and knocked the heart out of Forest, who rather surprisingly were then on level terms at 1-1. Leeds at least finished strongly for a change and their victory was as inevitable as finally it was deserved.
'A crowd of 40,866 turned up to see the slaughter of a Forest side which now has only a faint hope of escaping the drop to the Second Division. But the slaughter was a long time in coming. Bitterly cold, strong wind allied to heavy rain and a treacherous pitch subverted United's usual poise and skill - Leeds themselves are not immune against the forces of nature - and those people who had come to see the master men probably went home disappointed.
'Leeds, of course, were without their general Giles, who has a thigh injury and for a time they were rather like Dad's Army without Captain Mainwaring and for a time almost as funny, although not intentionally so.
'Leeds have earned their reputation as skilled ball players, capable of all sorts of magic, but as indicated, that magic had no hope of success in such conditions, and it was a tribute to their perseverance and determination that they scored six although, apart from Barron, Forest had not much to offer in defence. They produced some good looking moves in which the diminutive Buckley and McIntosh were prominent but Sprake, apart from a fine save from a back header by Charlton, had his easiest game of the season.
'Leeds played as well as they needed to and as well as the conditions allowed them to. And who could cavil at a score of 6-1?'