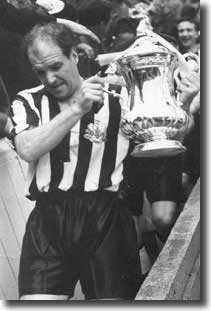 Despite their status as one of the finest club sides in Europe, when Leeds United were drawn against Cardiff City in the FA Cup fifth round draw in February 1972, they could have been excused just a sigh of apprehension; the two clubs had already met a number of times in the competition, with City earning a reputation as something of a bogey side for United.
The Times: 'Cardiff City, lying last but one in the Second Division, will receive Leeds United, second in the First Division, with the respect they deserve at Ninian Park in their FA Cup fifth round match on Saturday. The respect, however, could be mutual. Leeds remember too well how Cardiff beat them 2-1 each time in third round ties at Elland Road in three successive seasons between 1956 and 1958. The tendency of history to repeat itself sparks a hope in the Welsh capital that Cup magic will make a mockery of league positions.'
It was a remarkable set of coincidences, and a manager as superstitious as Don Revie was bound to feel some twinges of anxiety, even though a more recent meeting in 1964 at Ninian Park had brought United victory. The only goal that day came from Billy Bremner, though United finished with ten men, their centre-half, Fred Goodwin, sustaining a broken leg.
Cardiff City, winners of the Cup in 1927, and thus the only club to take the trophy out of the country, were an average Second Division outfit at the time, though their dominance of the Welsh Cup meant that they were regular participants in the European Cup Winners' Cup. The highlight for them came in March 1971 when they beat mighty Real Madrid 1-0 at Ninian Park in the first leg of the quarter finals before going out after a 2-0 defeat in the return in the Bernabeu Stadium.
City had been managed by the former Newcastle United half-back and Scottish international Jimmy Scoular since 1964. He took them to the verge of promotion in 1971, though their challenge was blunted by the sale of John Toshack to Liverpool in November 1970 for £110,000. Toshack's replacement was Sheffield Wednesday striker Alan Warboys, but he had limited success, and the Bluebirds ended the campaign third.
City had also signed Newcastle wide man Alan Foggon for £25,000; Foggon had helped the Geordies win the Fairs Cup in 1969 and was a former England youth cap, with pace and immense natural talent. He also had an unfortunate reputation as one of the scruffiest players in the game with his loosely flapping shirt, half mast socks and wild hair. Though he was still only 21, he was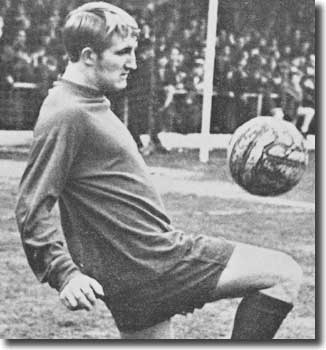 past his best when he signed for Cardiff, often being referred to as Fatty Foggon for his girth.
City's other big name player was Scottish midfielder Ian Gibson, a contemporary of Billy Bremner. He was signed for a club record £35,000 from Coventry in 1970, but most of his team mates were journeymen.
The Times: 'Local supporters believe that the goalless draw against Norwich City, the Second Division leaders, at Ninian Park last Saturday confirms Cardiff City's potential even if they have been erratic this season. They have blossomed in the FA Cup. They beat Sheffield United 3-1 in the third round at Bramall Lane. It was there that Sheffield last April boosted their own hopes of promotion from the Second Division and stifled Cardiff s ambition of going up by beating the Welsh club 5-1. In the fourth round Cardiff beat Sunderland 3-1 at Maine Road in the second replay after drawing the first two matches 1-1.
'Cardiff's manager Jimmy Scoular, a deep thinking Scot, has understandably maintained that League points are more important to him than Cup progress but he has been keeping a close watch on Leeds through his northern scout Jack Foxton, who watched Leeds against Liverpool in the fourth round replay and was asked to report again on Leeds' match against Manchester United. Mr Scoular said that though he already knew much about Leeds he wanted Foxton to check the strategy employed by Leeds at set pieces, corners and free kicks.
'Cardiff's stamina is indisputable. They made light of the heavy going against Norwich and showed no ill effects of their marathon tie with Sunderland.
'Mr Scoular has much faith in the skill of Murray, the captain and centre-half, Gibson, who has tormented many a defence, and the 18-year-old midfield player Kellock, who appeared in his first home League match against Norwich. They are all Scots.
'Murray, who has had stomach trouble and calf muscle injuries, has begun to regain form. He believes that Cardiff have a good chance against Leeds, "especially on our own pitch", which is a significant remark. Gibson and the Leeds captain, Bremner, played in the same forward line for Scotland schoolboys against England at Wembley in 1958.
'There has been speculation in Cardiff on whether Leeds will omit Gray because of the inevitable heavy conditions, and call on Madeley to curb Gibson. Kellock, a strong tackler, fine distributor and powerful finisher, was in the Cardiff side that finished runners up to Arsenal in the FA Youth Cup last year. Mr Scoular saw him at a Scottish schoolboys match a few years ago. He has admitted that he more or less forgot about him, but Kellock's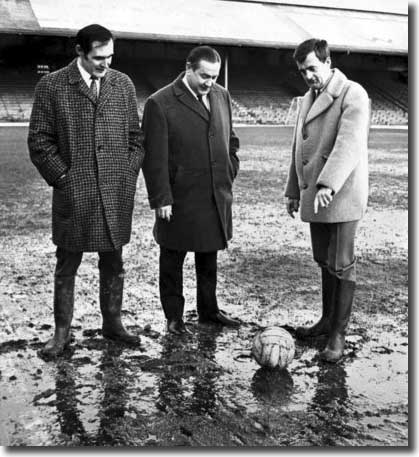 father, after his son had been released by Aston Villa two years ago, wrote to the Cardiff manager who immediately made him a member of the ground staff.
'Kellock made his first appearance in the League at Charlton on February 12. He scored Cardiff's third goal against Sunderland at Maine Road. The consistent Clark, one of a strong English contingent in Cardiff's team, has scored 21 league and Cup goals this season, following his 15 league goals in 33 matches last season. He has made nearly 200 appearances for Cardiff.
'Cardiff can also point to the experience of King, a forward with a powerful shot, and Carver, a full-back. King and Murray have each played more than 400 games for Cardiff and Carver has passed the 200 mark. Cardiff's cosmopolitan side - Irwin, the goalkeeper, is from Northern Ireland - have one Welshman regularly in their ranks, Leighton Phillips.'
Don Revie could comfort himself with the knowledge that he finally had a fully fit squad at his disposal after considerable injury problems earlier in the season. Revie opted for the same starting line up that had thrashed Manchester United 5-1 the week before, with Paul Reaney coming into the twelve as substitute after recovering from an ankle injury.
Jimmy Scoular turned to Alan Foggon to solve his troublesome left wing spot, and thus opted for the same eleven who beat Sunderland in the previous round.
Much was made in the days leading up to the game about the state of the playing surface at the Welsh club's stadium.
The Times: 'The pitch on Saturday may hold the key. Cardiff have noted the comments of the Leeds assistant manager, Maurice Lindley, that one of the Yorkshire club's greatest hazards will be the Ninian Park pitch, a muddy eyesore for much of the season. A waterlogged ground caused the postponement of Cardiff's first match with Sunderland. Mr Lindley says it will just not be possible for the fluent Leeds side to play as well on the Cardiff pitch as they did in beating Manchester United 5-1 last Saturday.'
United had recent experience of playing at Ninian Park; on 8 December they had met an All Star XI in a testimonial game for former Leeds great John Charles, who had also played for Cardiff City when he returned from Italy.
The All Stars included Rod Thomas, David Nish, Dave Mackay, Johnny Haynes, John Toshack, Ted MacDougall, Ian Gibson and Jimmy Greaves. Leeds fielded a full strength team though the match was taken less than seriously.
Toshack scored twice in the first 14 minutes, and MacDougall added a third nine minutes later. Clarke and Jones pulled two back within four minutes, and though Haynes hammered home a glorious drive from 25 yards, Lorimer scored again for United to make it 4-3 at the break.
Gil Reece came on as substitute for the All Stars in the second half and scored twice, but Leeds fought back again with Gary Sprake scoring from the penalty spot and Joe Jordan adding a fifth.
MacDougall (79 minutes) and Greaves (89) finished off a light hearted romp with further goals, resulting in a final score of 8-5. It was highly unlikely there would be a repetition of that score, but one could always hope!
The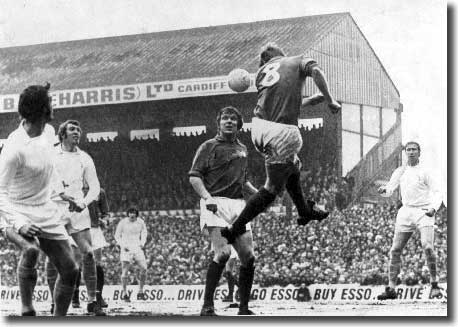 day before the Cup clash, the pitch had 'resembled a river' according to the Yorkshire Evening Post; it 'had made a remarkable recovery but it was still soft and looked likely to cut up badly'. Hundreds of tons of sand were laid on the turf to ensure the game could go ahead, and the central section of the pitch was boggy and holding. A morning inspection was required before referee Keith Walker of Maidstone was able to confirm that it was fit to play, much to the relief of a 50,000-strong capacity crowd.
United, playing in white shorts and shorts but with yellow stockings, set out to take control from the start, understandably intent on making the best of things before the surface was churned into a quagmire. Eddie Gray took advantage of right-back David Carver's poor pass to drive his way to goal but his tame shot was gathered by goalkeeper Billy Irwin near the foot of an upright. The keeper continued to be kept busy, having to come out at pace to take the ball at the feet of Mick Jones before diving to save Peter Lorimer's shot from 15 yards in the ninth minute.
As forecast, rain fell steadily throughout the first half but the pitch did not churn up as badly as feared (or hoped, in the Bluebirds' case). To Cardiff's credit, Leeds were denied the breakthrough they sought for more than half an hour.
City midfielders Ian Gibson and Peter King did their utmost to get the Welshmen into the game and after 12 minutes Norman Hunter needed all the resolution of his fierce tackling to bring a halt to a run by Foggon, who was starting to cause United some concerns. Shortly afterwards Foggon put King clean through only for offside to be given as his shot was saved by Gary Sprake.
Leeds, however, refused to give Cardiff the sniff of an opportunity and continually had them on the back foot; Carver had to make a goal line clearance after Jones' shot following a Lorimer cross beat the keeper.
Hunter blocked a shot from Brian Clark and then Jack Charlton got in the way of Foggon's effort, before United came close once more. Lorimer hammered in a powerful drive from the edge of the box and centre-half Don Murray again had to make a clearance off his own goal line.
While Gibson was living up to his star billing for Cardiff with some smart play in the middle of the park, he could not hold a candle to Johnny Giles, who had dropped into his customary rhythm.
Don Warters in the Yorkshire Evening Post: 'United's trump card was undoubtedly their Irish schemer, Johnny Giles ... for his brilliant midfield play which made United tick over almost as normal, despite the soft and sandy surface. In fact, United's overall display made one wonder just what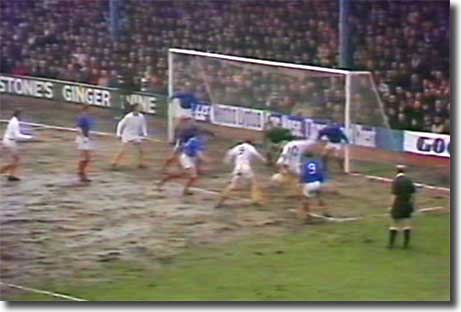 all the fuss over the pitch had been about. It was certainly a bad surface, but the nimble Giles set United a great example, and the fearsome pitch was conquered.'
It was fitting that the play maker was the man to open the scoring in the 35th minute, following United's sixth corner of the game. Lorimer lofted the flag kick high to the far post and Jones rose in a crowded area to head down powerfully. It came back off a defender and Giles struck the loose ball low into the net, despite a Cardiff player vainly attempting to clear off the line.
As the game moved towards the break, Terry Cooper was given a stern lecture from the referee for a crunching challenge on Gibson, who, as the key man for the Welsh club, had evidently been singled out for some special treatment.
Cardiff opened well on the resumption with Murray bringing the ball out of defence, but when he fed Bobby Kellock, the young midfielder misplaced a pass, finding only Giles. The schemer brought Lorimer smartly into action on the right and the Scot's powerful drive was only inches over the bar.
Gibson was troubling Leeds as much as anyone and he was laid low by another hard tackle from a United defender. This time it was Hunter who received a reprimand from the official for a stiff challenge.
The Bluebirds managed something of a rally as the game entered its final quarter. Clark's cross from the right was deflected for a corner with Sprake all at sea and then Hunter had to concede another corner to stop the driving Bobby Woodruff. Leeds brought everyone back for Gibson's flag kick and Jones headed away.
In the 75th minute, Cardiff brought substitute Alan Warboys on for Foggon, who was clearly not best pleased to be taken off. His replacement was immediately into the action, winning a free kick out of Hunter. It was Warboys who took charge at the dead ball situation, but he fired wide of Sprake's goal.
In the 84th minute, after a move involving seven passes, Leeds got the second goal they needed to wrap the game up: after United had broke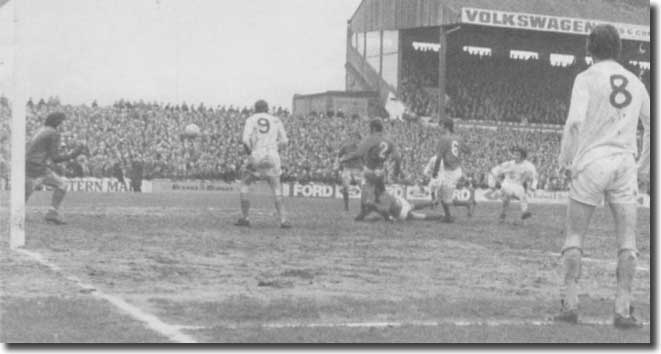 smoothly out of defence, Cooper, on one of his many runs down the left flank, passed to Giles in the middle. In turn he fed an unmarked Lorimer on the right. The Scot's lofted cross dropped towards Allan Clarke, who had the time to steady himself perfectly before heading down carefully to Giles ten yards from goal. The Irish schemer took the pass, slipped wide of a defender and coolly finished things off, flashing the ball past keeper Irwin into the roof of the net. There were some Cardiff claims for offside against Jones, but referee Walker waved them dismissively away.
Satisfied with their afternoon's work, United saw out the game with composed, almost arrogant, possession football.
The 2-0 scoreline was no more than they deserved, as Tom Freeman observed in The Times: 'There is such an air of infallibility about Leeds United these days that one can sympathise with Tottenham Hotspur, their next FA Cup opponents, and indeed any other team who are unfortunate enough to come across them in the next few weeks.
'Of course, everyone expected Leeds to win at Cardiff on Saturday ... Yet it was the manner of victory rather than the result that was most significant. Leeds played throughout as though they had been given three or four goals' start and it was only necessary to put on an exhibition to qualify for the next round. Bremner and Giles having quickly established midfield superiority, they were able to keep the tempo down and play the game at their own gentle pace, keeping possession and waiting for the goals to come.
'Leeds seemed in no hurry to settle the issue, while making sure that Cardiff were in no position to strike back. The outcome was a second half watched almost in silence by the 50,000 crowd, with no passionate Welsh voices raised in rallying cry.
'Leeds did reveal that they are human - once when Charlton shook an angry fist after Cooper and Sprake had been involved in a mix up, and again when they found it necessary to foul Gibson, Cardiff's best player, a couple of times. Generally, however, they proved that they are as near faultless as any team can be.
'Cardiff came into the game briefly, particularly in the first half, when Foggon got away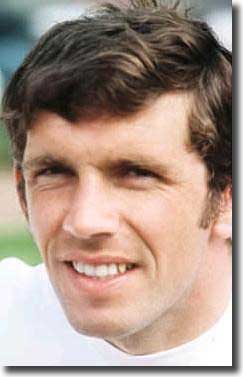 once or twice. Like his opposite number, Giles, Gibson revelled in the mud and was still trying to inspire the rest of the team when all hope had gone.'
Barry Foster in the Yorkshire Post: 'It would be too easy to write Leeds United's comfortable win at Cardiff off as a case of the favourites outclassing their Second Division opponents. Leeds did outclass Cardiff, of course, but there was more to their victory than the difference in skill. Perhaps an incident in the players' hotel a few minutes before they set off to the ground illustrates the point.
'I was talking to Jack Charlton about his forthcoming 600th Football League appearance while he was solving one of those little puzzles that need the steadiest of hands. The ball bearings were directed swiftly in position without a trace of nerves and there was no tension in the centre-half's manner - and this was just before appearing before a 50,000 crowd in a vital Cup-tie.
'It was typical of the whole team. Leeds are reflecting this kind of calm confidence in their play now and though they did not tuck away as many goals as they might have done against Cardiff, it was soon clear that the goals would come.
'All the assurance that comes with years of European experience shared by the same players was there from the start as they made light work of the heavy, beach-like Ninian Park pitch.
'When the goals did come it was fitting, too, that Johnny Giles, the game's best player, should score them. Few can have been surprised after seeing his performance to hear his manager, Don Revie, describe him as 'one of the greatest inside-forwards that has ever lived'.
'Cardiff had their moments, particularly a spell towards the interval and around the hour mark, when Ian Gibson, their clever midfield player, was approaching Giles' class. But Cardiff were never fast enough to match the top strength Leeds outfit and they managed only two reasonable scoring chances against Charlton - in top form again - and his colleagues.'
After the game, Jimmy Scoular acknowledged United's supremacy: 'Leeds showed what a great side they are and they showed, too, that they can play on any kind of pitch. I would back them against any side to win the Cup now.'