Part 2 - Treble heartbreak - Results and table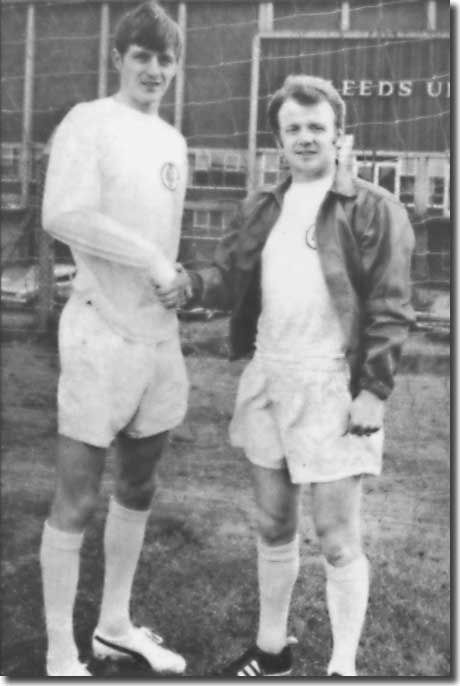 By the time Leeds United won the league title in 1969, Don Revie was already laying plans for the following campaign. Championship success owed everything to defensive fortitude, for the team lacked cutting edge. Revie was reconciled to the need for a proven goalscorer.
Rumours resurfaced of an interest in Hibernian's Peter Cormack, but when the news broke in June that relegated Leicester City had transfer-listed Allan Clarke, it quickly became clear he was the number one target.
Revie was the first to declare his hand, but faced competition from other leading clubs, for Clarke was hot property. The subject of a record £150,000 transfer in 1968 when leaving Fulham, he was man of the match in Leicester's FA Cup final defeat and strongly tipped for England's World Cup squad, having scored twice in the 4-0 defeat of a Mexican XI on the summer tour.
Revie was relentless in his pursuit, and on 24 June signed Clarke in a record £165,000 deal.
The new man was delighted, telling the Yorkshire Evening Post: 'I had been keeping my fingers crossed since near the end of last season ... that Leeds would come for me.'
There was some speculation that Clarke might be a disruptive influence, as acknowledged by Billy Bremner: 'I had played against him and knew what his ability was like, but he also had a reputation for being the sort of person who kept himself to himself and didn't have much to do with the rest of the squad.'
There was newspaper talk that Clarke's arrival would prompt the departure of Peter Lorimer, already unsettled at being in and out of the team. United announced that South African winger Albert Johanneson, long out of the picture, was available for transfer at 'a very modest fee', while there were even questions about the future of Paul Madeley. When asked, Revie said: 'These players are part of the set-up here. They have a vital part to play.'
The board's readiness to fund a record deal was evidence of their now unconditional support for Revie. A few years earlier, they refused to meet the asking price for Alan Ball, but this time there was no argument. And why should there be? Even after the Clarke deal, in a year when United also cleared a balance of £135,297 owing for work on the stadium and state of the art floodlights, the club's finances remained healthy under Revie's stewardship.
A loss of £45,682 was declared, breaking the run of profits returned solidly since 1964, but only after accounting for the expenditure on Clarke and the stadium. Employee costs had soared to £202,425, with the top earner (shown in the accounts as receiving between £12,500 and £15,000) widely thought to be Revie himself. Sidney Simon, chair of the club's Finance Committee, declared the directors 'very satisfied with the year's workings'.
Improvement of the much maligned playing surface at Elland Road was a priority for the summer months; it had been devastated by frost and the constant use of straw and braziers to keep it playable. Renovation was essential, but a short close season ruled out reseeding. The club decided instead to ferry in new turf from Leicestershire.
Chairman Percy Woodward revealed that work on the West Stand extension would start earlier than anticipated, in August, with the aim of completion by mid-February. The extension would provide 2,500 more seats and 300 more standing places.
Some months later it was revealed that there had been insufficient time to fit new drains. Director and grounds committee chairman Bob Roberts admitted that he had no plans of the existing drainage system and expressed doubts that the pitch had ever been properly drained. 'Even when we dug the foundations for the new West Stand after the fire (in 1956) I could find no main drain exit, although when we were excavating for the floodlight pylons often we found traces of old field drains. The field will have to be drained, of course, but it will be next season before it can be done. We can only hope for dry weather this winter.'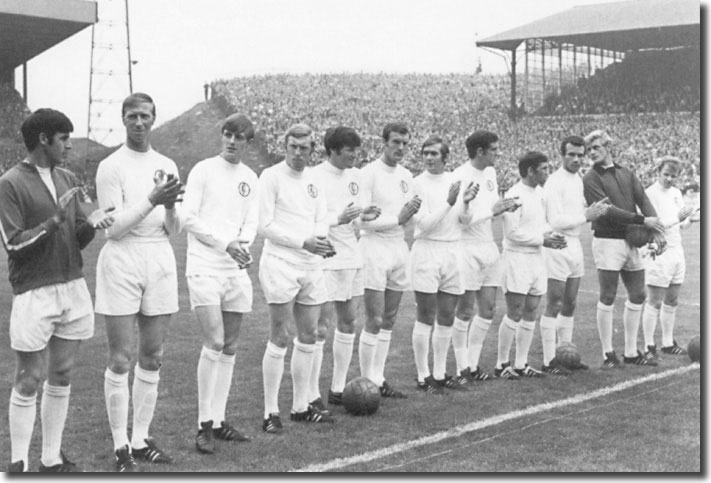 There was also some discussion about the possibility of under soil heating.
Revie was publicly guarded about the chances of silverware, but in the privacy of the dressing room, he was upbeat, setting his sights on the 'impossible' treble of league, Cup and European Cup. He later acknowledged the enormity of his ambition: 'The deliberate aim of a treble was nothing short of fantastic. We were going in search of a miracle.'
United's season commenced with the FA Charity Shield match against Manchester City at Elland Road on 2 August. Allan Clarke debuted up front alongside Mick Jones, and won critical acclaim for his contribution to a 2-1 victory that brought the fillip of early silverware.
Preparations continued with a closely fought friendly at Celtic the following Tuesday, in front of a 65,000 crowd. Substitute Mick Bates gave Leeds a 58th-minute lead, cancelled out six minutes later by Bobby Lennox. The side earned positive headlines for a decent display.
The opening league game, on 9 August, was at home to Tottenham. With Jones carrying a hip injury from the City game, England winger Mike O'Grady was recalled; Clarke at centre-forward was partnered by Lorimer. Madeley covered for the suspended Terry Cooper at left-back. Sprake, Reaney, Bremner, Charlton, Hunter, Giles and Gray continued from the selection that went largely unchanged through the championship campaign.
It was planned that Jack Charlton's 500th League appearance would be commemorated by a presentation before kick off, but there was a shock waiting for the big centre-half when he returned from Glasgow.
Terry Lofthouse in the Evening Post: 'The piece of inscribed silver will now be held in custody until the following Wednesday, when Arsenal visit Elland Road. United's records for the 1965/66 season are incorrect in that they credit Charlton with playing at Sunderland on 29 January, when, in fact, he was out with a ricked neck ... It's only now that the error has been discovered.'
United were quickly into their stride against Tottenham. Billy Bremner scored the first after 15 minutes when he got his head to a Norman Hunter shot to deflect it into the net.
Allan Clarke enjoyed some excellent moments and opened his United account in the 57th minute. Centre-half Mike England tried to nod a bouncing through ball back to keeper Pat Jennings, but misjudged it and his header lobbed up invitingly for the razor-sharp Clarke to race through and nod over the advancing Jennings.
Jimmy Greaves pulled one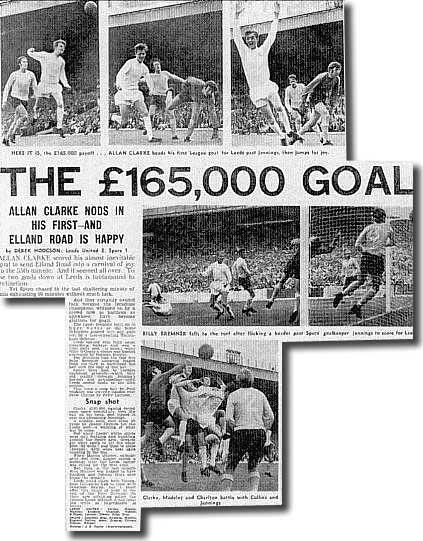 back for Spurs with five minutes remaining and the goal hinted at an unlikely comeback but Johnny Giles made the points safe from the penalty spot a couple of minutes later.
Charlton injured his ankle and would have to go on waiting for his landmark appearance. For the midweek match against Arsenal, Madeley switched to centre-half with Cooper back from suspension.
The game was goalless, extending United's unbeaten league run to 30 matches. That equalled a record set 48 years previously by Burnley. There was nothing else joyous about what The Times reported as 'a bruising, ill-tempered game which was extended by 12 minutes of injury-time'.
Leeds wound up the pressure, but, with Peter Storey provided a smothering blanket in front of his defence, the Gunners were stubbornly resistant. Clarke netted at the start of the second half but the effort was chalked off for offside against Giles.
Phil Brown was scathing in the Evening Post: 'If Leeds United had played in London like Arsenal did in Leeds, they would have been scarified by Fleet Street. They have been assailed for far less than the Gunners did last night. This was to offer a nine and ten man defence, to make no pretence of attacking, to give 13 corners to one, to make but one shot, to foul every man on United's side except Sprake.'
Clarke suffered a cut eye in the fourth minute and Cooper went off later in the half for attention to a facial injury, returning with two teeth partially dislodged. They had to be extracted after the game.
Mick Jones was fit to resume his partnership with Clarke for the weekend visit to Nottingham Forest, with O'Grady dropping to the bench. Jones' presence brought some improvement and United won 4-1. The two strikers' combination work and hold up play brought new dimensions to United's game; close marking of the duo left space for others, and Lorimer, Gray and Giles each crowned impressive displays with a goal.
Clarke was booked in the game's opening sixty seconds for fouling Ian Storey-Moore, but his team were never seriously troubled after an initial flurry of free kicks. However, Leeds took an age to get going: Clarke broke the deadlock after 68 minutes with his 100th League goal, a fine glancing header.
That victory broke the First Division record for games unbeaten and the run continued with a 1-1 draw at Arsenal, smashing the Football League record of 31, set by Liverpool in the Second Division in 1894.
United should have won easily, but fell behind in the eighth minute. Gary Sprake went to claim a 40-yard free kick that floated wide of the posts. Under pressure from Charlie George, he got his fingers to the ball but fumbled, allowing it to hit the upright and roll into the net. It was the 80th minute before Lorimer's fierce drive brought an equaliser.
Geoffrey Green in The Times: 'This was the hard, modern game between two sides with their eyes on some sort of prize before the end of the season ... Yet the output of their two meetings in one week, three hours of hard football, brought just two goals and five players booked by the referee ... There was little deep pleasure or wit.'
United were then held to another 1-1 draw, at home to Newcastle, after taking the lead with Mick Jones' first goal of the campaign. Jones scored again, in a third successive 1-1 draw, on 26 August at Burnley, the game in which Jack Charlton finally achieved his 500th appearance.
The succession of dropped points left Leeds trailing in the wake of pace setters Everton, who had dropped just one from their opening six matches. They looked outstanding, inspired by the midfield work of the Three Graces, Ball, Kendall and Harvey.
Phil Brown reviewed the opening month in his Saturday column for the Evening Post on 30 August, as United travelled to meet the Goodison Park club: 'Clarke has settled into the side very smoothly ... His sharp work in attack has reduced the far too heavy weight of marking that Jones was carrying in the middle of last season and Jones has benefited accordingly. But I would like to see United play more directly up the middle to these two. There is for me too much crossfield passing and running behind them. They are two of the best middle men in the game and if they can be joined up front occasionally by Bremner and Madeley, United's forwards should get some useful scores, or at least assist their colleagues to them, for in this United side anybody can take a chance.'
The Everton clash was a mouth-watering prospect, even so early in the season.
United set out to keep Alan Ball quiet, but their preoccupation with the England man left Jimmy Husband, Johnny Morrissey and Joe Royle free to wreak havoc.
Everton were quickly off the mark and scored after five minutes. Husband headed goalwards from the back post as a free kick came in. It came out again and he shot, but saw it charged down. Again he reacted first and his second shot was deflected into the net. Royle added a second after 20 minutes, nodding in the rebound after his first header had crashed against the bar. In the 49th minute, Royle made it 3-0, floating home a speculative lob from the corner of the area.
It looked an unassailable lead, but United fought on. Within three minutes they had pulled one back, Billy Bremner chesting home Giles' corner at the back post.
That goal revived the Whites and they pushed on with Clarke adding a second, profiting after Cooper and Lorimer had laid on a chance. He also tested Gordon West on two more occasions without quite getting an equaliser as Leeds went down by the odd goal in five.
Eric Todd in The Guardian: 'I imagine that the Leeds manager reserved his more forthright comments for the United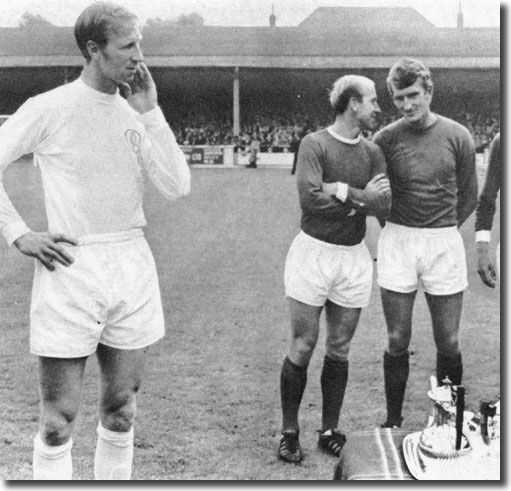 defenders. For Charlton was routed by Royle; Reaney, so to say, did not know what day it was; and Sprake again betrayed discomfort as well as displeasure because Leeds were being beaten. The sight of Charlton gesticulating to Reaney to get upfield, and that of Reaney giving an illustrated answer were foreign to the strict self discipline with which Leeds more recently have been associated.
'Leeds, as if conforming to some political manifesto, insisted on full employment for all, and obviously they had no intention of trying to score unless all their 11 men had a part in the act. So they spent too much time and effort, used too many men and passes in their approach. When they arrived eventually in the Everton penalty area, they'd forgotten what they'd come for.'
After the game Don Revie held discussions with Mike O'Grady, who had been agitating for a first team recall. The two men could not see eye to eye and the winger was transfer listed. United fans were furious, one complaining to the Evening Post, 'O'Grady's absence from the team is one of the main reasons why it has not been scoring the vital goals.' Within a fortnight Wolves had tabled an £80,000 bid. O'Grady could not agree personal terms with the Molineux club but remained on the transfer list.
Leeds won for the first time in five attempts when an under strength selection beat Third Division Fulham in the League Cup, but then had to rely on a late equaliser from Billy Bremner to earn a point in a 2-2 draw at home to Manchester United. The skipper's goal was outstanding: O'Grady, on as sub for Gray, sent a huge lobbed cross to the far post for Charlton to nod inside. Bremner, standing with his back to goal, launched himself into a spectacular bicycle kick that left Stepney grasping thin air.
Gary Sprake faced criticism for a poor display. There were rumours that the keeper would be dropped after a number of errors. Don Revie stoutly defended Sprake but admitted that the side wasn't playing well.
After six league games without a win, United secured a 2-1 victory at Sheffield Wednesday on 13 September. They enjoyed the bulk of possession but struggled to score. The winner came from a rare incisive move when Bremner's ball through a square defence allowed Eddie Gray to race into the space behind and fire home right-footed.
The growing doubts were eradicated a few days later when United made their European Cup debut. A new club record was set when they slaughtered the Norwegian amateurs Lyn Oslo 10-0 with O'Grady back in the side and opening the scoring within a minute. Mick Jones netted a hat trick on a memorable evening at Elland Road.
O'Grady owed his recall to Gray's injury against Wednesday; he deputised again as United beat Chelsea 2-0 on 20 September in an ugly, over physical encounter, but within three days the wing man had departed Elland Road. Wolves manager Bill McGarry had refused to accept O'Grady's original rejection and pursued him until he got a positive response.
Speculation began immediately that Leeds were in the market for a replacement. Don Revie was quick to quash rumours, declaring, 'I am sick and tired of all these reports that I am rushing to buy another winger to replace Mike. Yesterday it was Jimmy Conway of Fulham. Today it is Jimmy Johnstone of Celtic. Tomorrow it will be, as like as not, somebody else. Possibly Pele. I have no interest at all in any of these players ... I have no intention of buying anybody this season.'
The following day, Paul Madeley's 20-yard drive deep into injury-time snatched a draw in the League Cup against Chelsea. The game was thankfully less spiteful than the earlier league clash, but the result left Revie with a headache. The return match against Lyn Oslo was scheduled for the following Wednesday, a day after the Stamford Bridge replay. Revie declared that he would pick completely different sides for the two games. In the end, an accommodation was made with the Football League, and the Chelsea replay was delayed by a week.
England manager Sir Alf Ramsey was at Coventry on 27 September to watch United's World Cup hopefuls. Two weeks earlier, Ramsey had named seven Leeds players - Reaney, Madeley, Cooper, Charlton, Hunter, Clarke and Jones - in his preliminary squad of 40 for Mexico. All were on duty at Highfield Road except Charlton, out with a pulled hamstring.
Terry Lofthouse wrote in the Evening Post of the Whites' new approach: 'Leeds United may have sacrificed that iron door barrier designed to keep out the most potent attacks in the country in favour of a fast flowing all out frontal assault, but it is a change everyone has welcomed. Their 2-1 triumph at Coventry was a typical example of the way the Elland Road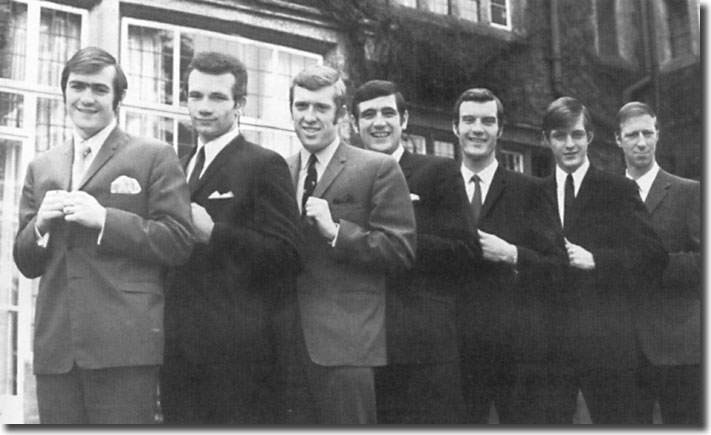 pattern has altered this season. Freedom to express is now the key note.
'United have achieved a brand of play similar to that of West Ham without fully reaping the benefits of a rip roaring front line. That is rapidly changing, too, for the Clarke-Jones duo is the most exciting combination to hit the soccer scene. It will go from strength to strength, from success to success. The essence of its power is in its simplicity. Jones confuses and jabs at the opposition, Clarke flits about and takes up positions which give the impression he is being unmarked. But that's how the system works. It worked to perfection at Coventry, where the home side, unbeaten at home since December, went down to the relentless pressure forced on them by the Leeds super machine.'
Clarke, Hunter and Giles all suffered injuries and were rested for the return match against Lyn Oslo, joining Charlton on the sidelines. Rod Belfitt, standing in for Clarke, opened the scoring in the sixth minute, turning home a Terry Hibbitt cross. Hibbitt (2), Jones, Lorimer and Belfitt (again) added further goals as Leeds romped to a 6-0 win, establishing a new aggregate high score for an English club in the competition. It seemed for a while that the all time record of 18 by Benfica would be caught. Don Revie admitted to being 'a little disappointed ... When we were six-up with almost 20 minutes to go I thought it was definitely on.'
It took two penalties from Giles, one in each half, to secure a 2-1 win on 4 October at Elland Road against a Stoke City side which was doing surprisingly well. Before the game the two clubs were level on points and City pushed United all the way, with former White Jimmy Greenhoff pulling one back with a fine drive from 15 yards.
Greenhoff said afterwards, 'You are always afraid Leeds will turn it on and cut you to pieces, make you look silly, but they didn't today. They were off song, weren't they?'
Sprake and Clarke picked up injuries and missed the following game. Terry Lofthouse in the Evening Post: 'Leeds United lost a League Cup third round replay 2-0 at Stamford Bridge, but exploded a London myth. What surely must be finally erased is the southern belief that the League champions are still a hard, uncompromising, unattractive side ... Though Chelsea took the honours, the memory was United's fluent, stylish play.'
Two 1-1 draws followed, at West Bromwich and Crystal Palace. United badly missed Clarke, who had not figured since the defeat of Stoke because of an ankle strain. Just as the striker was pronounced fit, Cooper (knee ligaments) and Giles (hamstring) went missing.
That meant an opportunity for Mick Bates and he did well against Derby at Elland Road on 25 October; so well, in fact, that the Evening Post's Phil Brown suggested he should retain his place ahead of Giles, 'the little Irishman having hit a moderate patch'.
It was the restored Clarke who took the honours, scoring both goals in the few minutes before the break as Leeds beat the Rams 2-0. County manager Brian Clough protested long and hard after the game that Clarke had been offside before scoring the second, rounding keeper Les Green and steadying himself before stroking the ball into an open goal.
United followed up by hammering Nottingham Forest 6-1 at Elland Road in midweek.
Lorimer opened the scoring in the ninth minute after a four-man move, firing home from the corner of the penalty area. United failed to build on their lead and in the 27th minute Henry Newton shot through a packed area to equalise. Leeds regained the lead four minutes before the break, Clarke allowing the ball to pass him by in the box for the onrushing Charlton to nudge home.
In the 65th minute, Clarke was carried off after hurting his shin in a clash with goalkeeper Hill. If there were fears that the loss of their main striker would blunt Leeds' cutting edge, the reality was somewhat different.
Five minutes after Clarke's departure, Bates picked up the ball on the edge of the area and fired home for 3-1. After 80 minutes Lorimer tapped in the fourth after the ball came back off the bar. Another two minutes and the Scot completed his hat trick after rounding the keeper. Substitute Hibbitt completed the rout when he collected a loose ball after a misunderstanding between Terry Hennessey and keeper Hill.
The Evening Post's Terry Lofthouse praised two men in form: 'Lorimer thrives on success ... His enthusiasm for the job abounds, he is constantly calling for the ball and tackling with extra verve. Two of his goals were comfortable, but the first went in like a bullet ... Bates again demonstrated maturity as a midfield operator alongside a cool and composed Bremner.'
United had to settle for a goalless draw at Sunderland, but then hammered struggling Ipswich 4-0 on 8 November, cementing second place in the table, six points behind Everton, defeated 2-0 at West Bromwich.
In the absence of Clarke and Belfitt (suspended for an astonishing six weeks for being dismissed in a Central League game), Don Revie used Johnny Giles in support of Mick Jones, allowing Bates to continue his impressive run. The combination paid off against Ipswich and was given another opportunity as Leeds returned to European Cup action against highly regarded Ferencvaros.
The first leg of the second round tie was at Elland Road on 12 November and conditions favoured United. The heavy rain left the pitch muddy and holding, much to the Hungarians' distaste. Ferencvaros coach Karoly Lakat was downbeat in his pre-match comments: 'If three key forwards are out of your side (Albert, Varga and Rakosi) it must give the opposition confidence. Leeds United have become much stronger since we last met, while Ferencvaros have gone the opposite way.'
Clarke and Cooper were still out injured, but otherwise United were at full strength with captain Bremner back after a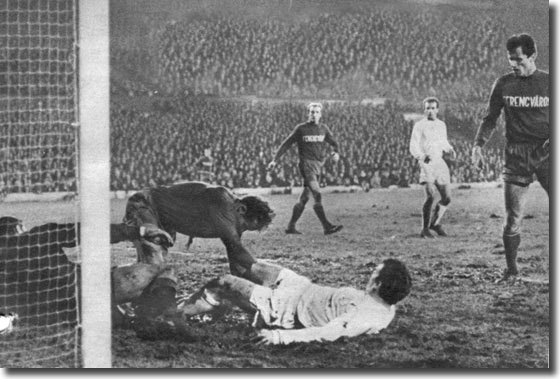 spell of flu.
Any Leeds nerves were quickly settled when Giles opened the scoring after 80 seconds. The Irishman fed Bremner on the edge of the area. The skipper, back to goal, moved the ball on with a neat flick of the heel for Giles to fire home from 12 yards.
After 22 minutes, Jones added a second, placing the rebound past keeper Geczi after he had blocked a Lorimer effort. Two minutes later the contest was over. Lorimer's 40 yard ball allowed Giles to slip his marker and feed Jones. The striker rounded Geczi and scored off a post.
Geoffrey Green in The Times: 'The score in the end might well have been close to double figures. At a rough count there were three shots variously from Giles, Jones and Lorimer taken off the Hungarian line; there were two strikes in the first five minutes of the second half, by Giles again and then Hunter, both disallowed for fractional offside; and a blatant penalty denied to Bremner after he'd been rudely sent sprawling by Pancsics. But on top of that came a fistful of misses, the most blatant by Jones, and then a clear header by the long legged Charlton, with the whole goal to aim at, after the interval. Had I not seen it I would not have believed that a Ferencvaros side so full of talented players could have been so ground down. Although the great Albert and Rakosi, both of World Cup standard, were missing, still on the field were five other men of the Hungarian national side, and three more in their World Cup party, who will go to Mexico should the Hungarians win their group play-off with Czechoslovakia.
'By half-time it was mud, mud, and for Leeds at least, glorious mud ... They played some devastating football, cutting the opposition to shreds as they moved their passes brilliantly at top speed. In all this their positional play, control, and skill, were vital factors ... The mud also became an enemy of Yorkshire throughout the second half. By then the surface was black, churned, tacky and turning towards the morass which choked the Leeds flow. Certainly they still pounded forward, masters of every situation. Here the irrepressible, impish Bremner was everywhere, at the heart of all the action. No one would have imagined that he had risen from a bed of influenza only 48 hours earlier.
'At his side too, equally dominating, another ringmaster, was little Giles; on the left flank Gray ploughed through the elements like a cruiser, with the tireless Jones a powerful battleship in the middle. At the back Hunter, Charlton and the rest kept the supply going. Yet those three goals of the opening stages simply could not be multiplied. It was no benevolent attitude on the part of Leeds. They still remained hungry. But perhaps they had been interrupted by over-usage of the ball and were themselves finally strung up by the mud.'
With United set fair for a place in the last eight, the club rewarded Don Revie by buying him a five-bedroomed house, Three Chimneys at Aldwoodley. Terry Lofthouse reported in the Evening Post: 'Don Revie today declared his loyalty to League champions Leeds United, despite the weekend row between himself and the directors. The storm clouds gathered over a story that he is to take over the £18,000 house owned by Mr Manny Cussins in the exclusive Sand Moor area ... Team manager Revie hit out angrily at "what has been brought out about the home and my private life". He says he is disgusted with the way the matter had been handled and adds: "What has been said about my salary is laughable - it is nowhere near £15,000. I only wish it was ... I have turned down bigger houses than the £18,000 one mentioned and bigger salaries than the quoted £15,000." He was referring to the fantastic offer he received a while ago from Italian club Torino, which he rejected because, as he put it at the time, he is settled in Leeds.'
Torino had offered United £70,000 in May 1969 to buy out Revie's contract; they had promised Revie a salary of £24,000 plus bonuses. Chairman Percy Woodward had adamantly refused to be courted, declaring the manager's contract to be beyond price.
The manager explained his reasons for rejecting Torino's offer in one of his Saturday columns in the Evening Post.
'I promised the Turin directors I would never divulge the financial terms, but you can take it from me that if I had accepted I would have made sufficient money to retire after four years! ... So why did I refuse?
'There were two reasons as far as I was concerned. Firstly, I expect 100 per cent loyalty from Leeds United's players and consider I have a moral duty to be loyal to them. Over the years a tremendous family spirit has developed within the club - a friendship between the players and their families and the staff. No amount of money can compensate for a situation like this.
'Secondly, I believed I would not have proved anywhere near as successful in Italy ... In fact, I still consider any leading British manager would be crazy to try his luck on the continent because there are so many problems involved. Problems, for example, like the language barrier, temperamental players, and fans. Then there is the strange system whereby presidents of Italian clubs negotiate all the players' contracts and transfers.'
United continued to struggle on their travels. A 1-1 draw at Southampton on 15 November was the fifth game without a win, and there was more criticism after playing another struggling side at Elland Road. Terry Lofthouse: 'Leeds United's performance in beating Sunderland 2-0 was as dull as the weather ... It was not until six minutes from the end that United put some respectability in the scoreline, Lorimer notching his eighth league goal of the season, after Jones had opened the account in the 21st minute. With too many players out of touch, they had to struggle for long periods despite never being hard pressed to hold their early lead. A sort of lethargy appeared to spread through the Leeds team.'
The next game was at home to third-placed Liverpool. The Reds started the season among the front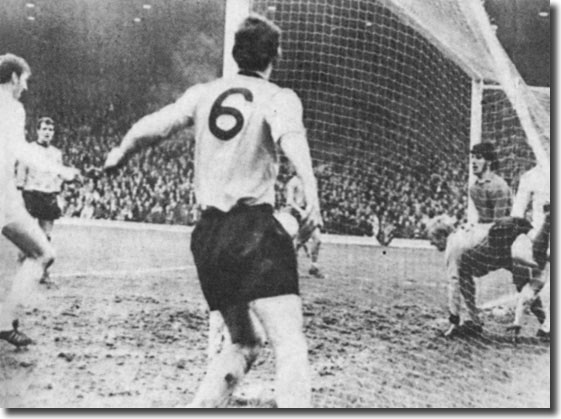 runners, but had come grinding to a halt, securing just 3 wins and 11 points from their previous 11 games. But they were certainly no easy touch.
The game was tight but United dominated initially, taking a 20th-minute lead through a Giles penalty. Instead of pressing home their advantage, Leeds withdrew into a defensive shell, pulling Madeley deeper and allowing Liverpool back into the game.
Tom German in The Times: 'The sharply-contrasting fortunes of the opposing goalkeepers resolved an always eventful tussle ... Liverpool, a goal down, were just starting to pick themselves up after an hour of scurrying defence when Yeats aimed in a header: it curved to Sprake's feet, with little power behind it, but as the goalkeeper bent casually to collect it the ball plopped into the mud, brushed beneath his fingers without hint of a bounce, trickled between his legs and over the line. His anguish was apparent, yet it was unquestionably of his own making. Lawrence's contrasting alertness in the last phase of the match can only have rubbed salt in Sprake's raw wound. Bremner was hauled down by the goalkeeper; first it was a penalty, then a free kick to Liverpool and, finally, the award went to Leeds. But Lawrence unmoved by the minutes of commotion, flung himself sideways to push Giles' kick aside at a vital moment in the match. It was to earn Liverpool a deserved point.'
Don Revie was typically supportive of Sprake after the game, saying, 'I have every faith in him. He has conceded fewer goals in the last six years than any other goalkeeper in Britain ... When he makes a mistake he always gets punished.'
It was disappointing, but there was no holding United in the European Cup. In their return against Ferencvaros on 26 November, Leeds gave a remarkable display to repeat the 3-0 win they achieved at Elland Road.
Albert Barham in The Guardian: 'The sparse crowd saw a fine exhibition of attacking football from Leeds. Ferencvaros were no better than they were in the first leg, outplayed, outmanoeuvred, out thought by the fluent football from every member of Leeds.
'European football certainly suits Jones this season. He brought his total to eight goals in four matches tonight. His first came in the 37th minute when he headed in a long tantalising high pass from Lorimer. Geczi, the goalkeeper, went up with him but Jones beat him to the ball to head into the net through the narrowest of angles. Then with 10 minutes to go Jones scored his second and what a beauty that was. He dispossessed Juhasz, beat Balint and shot into the corner of the net. Finally just before time Lorimer, with a searing drive from 25 yards, put the seal on this night of Leeds' triumph.'
That historic victory, the first by a British team at the Nep Stadium, was followed by another, 2-1 at Manchester City, United's first Maine Road win since 1938. Jones got the winner with three minutes remaining, heading home from a Lorimer corner.
United were closing fast on Everton, three points behind and unbeaten in fifteen League games. The key differential between the sides was the win to draw ratio. Everton had won 16 and drawn 3 games, against United's 11-10 return.
Leeds improved that record during December, winning three straight games, all at Elland Road, against Wolves (3-1), Sheffield Wednesday (2-0) and West Ham (4-1). Allan Clarke made his return against Wolves after 8 games out and scored, adding two against Wednesday and another against the Hammers.
The West Ham win left United top for the first time. In the same period Everton crashed 3-0 at home to Liverpool, and, despite their two games in hand, the steady pressure was squeezing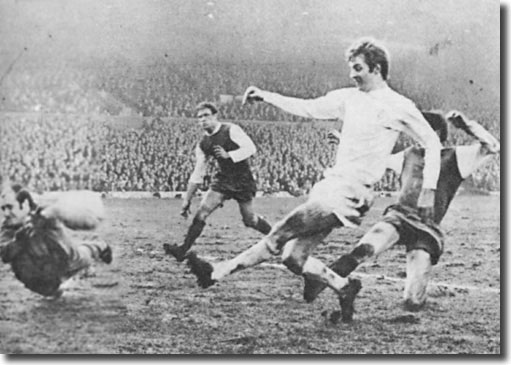 a team that had once looked uncatchable.
Everton had started at Tottenham on the same night as Leeds beat West Ham, but the game was abandoned after half an hour when the floodlights failed. The Merseysiders regained the leadership on 20 December after beating Derby 1-0 and went on to beat Manchester City by the same score three days later. On each occasion they missed a penalty and had to rely on a late goal to secure the points.
United's 20 December game at Manchester United was off due to a snowbound pitch; they had the chance to close the gap on Boxing Day, with Everton gameless, but would have to get something out of Newcastle at St James' Park to do so.
Leeds were guilty of over elaborating and Newcastle took a 2-0 lead. Wyn Davies had the better of Jack Charlton, scoring once and laying on a second for Bryan Robson. United launched a tremendous revival over the last half hour and Giles pulled one back from 25 yards. It was not enough and Newcastle inflicted United's first League defeat since August.
The Whites had no time to feel sorry for themselves; the following day they hosted Everton in a top of the table showdown.
Despite the lack of rest, United overpowered Everton, dominating the first half of an uncompromising contest and scoring after a quarter of an hour. From Bremner's 30 yard punt, Lorimer nodded down into the six yard box. Jones tangled with Gordon West and flicked the ball into the net as the keeper fumbled.
After 30 minutes it was 2-0 when Jones rose high to nod home Lorimer's cross from the right.
Everton fought hard after the break and pulled one back when Whittle ran in to slide a Royle header past Sprake.
Leeds United Book of Football No 2: 'It was the cue for Everton, who had been playing some fine football in this second half spell, to pile on the pressure and drive all out for an equaliser. But in the event, it was Leeds who returned to the attack, and more than once they almost increased their lead. Although they had a let off, themselves, with but three minutes to go, when a fine left wing move by Everton ended with Morrissey shooting on the run ... and seeing his shot hit an upright. Everton might have bemoaned their cruel luck over this; but had they snatched a point it would have been unfair on Leeds, who had been on top for so much of the game - and played a brand of attacking football which thoroughly earned them their victory.'
The win wasn't enough to put them back on top, but it crowned a tremendous year which ended with them within a whisker of their main title rivals.
1970 would see Leeds continue in hot pursuit of three major trophies.
Part 2 - Treble heartbreak - Results and table