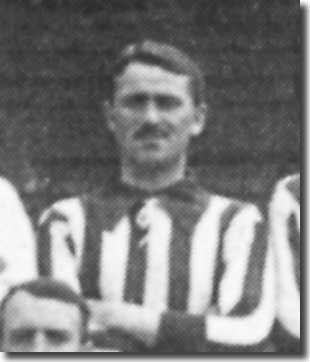 Born: Dublin, 8 February, year unknown
Joe Moran's early playing days were spent with Dublin club Shelbourne, one of the strongest Irish outfits of the 1900s. Formed in 1895, they joined the Irish Football League (then an all-Ireland competition) in 1904. They were defeated in the Irish Cup final by Distillery in 1905, but won the trophy the following year, beating Belfast Celtic 2-0. They were League runners up in 1907, Cup runners up in 1907 and 1908 and won the Cup again in 1911, making them easily the strongest Dublin side of the time, though they finished bottom of the eight-club League in 1910.
Moran was a regular with the Shels from 1906. He played in the 1907 Irish Cup final and when Cliftonville's John Wright fouled him after 55 minutes, it led to Wright's dismissal. Shelbourne could not capitalise on their numbers advantage and the game went to a replay, which the Shels lost 1-0. Moran was also in the team that played in the 1908 final, though he missed the replay.
Moran was selected to represent the Irish League when they were beaten 2-0 by the Scottish League in October 1909. He went on to captain Shelbourne in 1910/11 and scored a penalty when they beat Bohemians 2-1 in the replayed Irish Cup final on 15 April 1911.
A couple of months later, Moran was one of a number of players signed from Irish clubs by Leeds City. John Clarkin and Willie Briggs were also recruited from the Shels, while Belfast Celtic provided Edward McDaniel and Leslie Murphy. Frank Heaney (St James' Gate), Jack Leney (Irish Guards) and Jimmy Fortune (Distillery) were other Irish imports.
Two years earlier, Leeds City manager Frank Scott-Walford had brought Billy Halligan and Tom Mulholland back from a trip to Ireland and in 1910 had added Mick Foley, Joe Enright, George Cunningham (all Shelbourne), Billy Gillespie and Alec Creighton. A number of those players had been found wanting and moved on, but there was still a significant Irish contingent at Elland Road, many of them former team mates of Moran, and West Yorkshire was a home from home for him.
Moran was given his Leeds debut in the second game of the 1911/12 season, though it was November before some fine displays in the Midland League with the reserves led to him becoming a regular first team choice. He played mainly at left-half, though he also figured at right-half and left-back during the campaign.
The switch to full-back came after he was forced to cover in defence during the defeat of Nottingham Forest on 30 December after Alex Campbell sustained an injury. Wanderer in the Leeds Mercury: "If I single out Moran for particular mention, it is because he was filling a position during the greater part of the game which was foreign to him. And yet he played splendidly, his tackling and kicking rarely being at fault."
Together with City team mate Enright, Moran was called into to the Ireland team for the international with Scotland on 16 March 1912. They thus became the second and third City players to win full caps, after Dickie Morris of Wales in 1906.
According to Martin Jarred, the two men were called up "because the Irish FA was in dispute with several of its own clubs and failed to get Everton and Bradford City to release four players. Moran was a replacement for Val Harris, the experienced Everton player. Thus it was a patched up Irish side that took the field in front of 12,000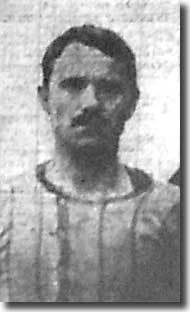 spectators at Windsor Park, while elsewhere in Belfast a further 10,000 watched a rival match organised by the Irish clubs who had boycotted the Ireland versus Scotland fixture." Before he joined Everton in 1908, Harris had been Moran's captain at Shelbourne. The two had played together in the Irish Cup finals of 1907 and 1908.
Few Irish players came out of the game with merit as the Scots cut gaping holes in their rearguard throughout "a poor, one-sided game" with the visitors cantering to a 4-1 victory. According to the Yorkshire Post, Moran "plodded along gamely".
The 1911/12 season was disastrous for Leeds City and they had to apply for re-election after finishing second bottom.
Herbert Chapman took over as manager and began to rebuild the team. He dispensed with most of the Irish players, but Moran was retained for the following campaign, though he featured only once, in a defeat at home to Grimsby on Christmas Day.
He faded out of the picture thereafter, having played 25 League and 2 Cup games for City and it is understood that he returned to play in his native Ireland.