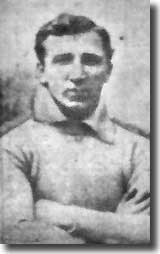 Born: Dunnamanagh, County Tyrone, Ireland
Leslie Murphy turned out regularly for Belfast Celtic in 1910/11, earning plaudits for a succession of fine displays. He represented the Irish league and was rated as one of the country's best custodians.
Murphy was signed by Leeds City in May 1911 along with a host of his countrymen, swelling the large Irish contingent already at Elland Road.
He was signed to replace the well-regarded veteran Harry Bromage, who had joined Doncaster, and made his debut in the opening game of the 1911/12 season, at Nottingham Forest on 2 September. He performed well, as reported by Wanderer in the Leeds Mercury: "Murphy displayed a knowledge of goalkeeping which fully justified the reputation that came before him. He was as agile as a cat, and the ovation he received - quite the finest I have ever known a visiting player get - at the conclusion of the game was well deserved."
Two days later, he saved a penalty at Burnley, though the Lancastrians ran out 4-2 winners. He received more praise for his part in the goalless draw with Chelsea which followed. Gauntlet described him as "that remarkable young goalkeeper" in the Mercury, continuing, "Murphy's work between the posts was so good that, without ill will to his colleagues, one would be gratified to see him more severely tried than he was on Saturday. He is extremely quick, cool and clever, and seems to possess that innate prescience of what the enemy has in his mind's eye, which marks the great goalkeeper. He gets the ball quickly, and gets rid of it with punctuality and despatch, and without any monkey tricks ... Murphy, the new goalkeeper, is a distinct find, who can be trusted to face anything. He is very young, but his worth is already apparent, and with a little more experience in good company he should prove equal to the very best of the Second Division keepers."
Murphy played in 14 of City's first 16 games, though he lost his place to Cecil Reinhardt after the 5-1 defeat at home to Burnley on 9 December.
He came back against Nottingham Forest on 30 December and played the following four games, but was then replaced again by Reinhardt, and, in fact, never returned to the side.
City had a dismal season, ending with the departure of manager Frank Scott-Walford and a requirement to apply for re-election. When Herbert Chapman took over he began rebuilding the squad and Murphy was one of the first to leave, along with many of his compatriots, and he returned to Ireland to sign for Glentoran.
He enjoyed a splendid time with the Irish club. He did enough to be selected twice to represent the Irish League, in a goalless draw with the Football League in Belfast in October 1912 and then a fortnight later as they lost 3-1 to the Scottish League.
Glentoran won the Irish League in 1913, going on to win the invitation Vienna Cup by beating an Austrian select XI in the final. They won the Irish Cup the following season.
Murphy left Glentoran for a spell with Linfield before joining Wrexham in August 1920. He had a fine 1920/21 season for the Welsh club and was fully expected to continue following their election to the Third Division North. An end was put to those hopes when he contracted rheumatic fever on a trip back to Ireland. A hospital stay saw him lose his first team spot and he left to join Bristol Rovers in August 1922. A year later, he signed for Reading where he ended his playing days.