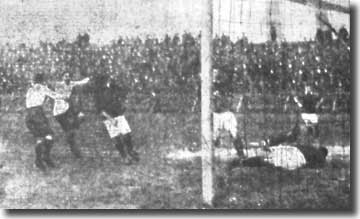 Born: Lewisham, London, 2 March 1888
Cecil Reinhardt, reportedly the tallest player to appear at a senior level for Leeds City, at 6ft 1in, was at Leeds University studying for a Doctor of Chemistry degree when he signed for the club in September 1910 as an amateur. He was an understudy to keeper Harry Bromage and a regular for City's Midland League side.
Irishman Leslie Murphy was signed in 1911 as a replacement for Bromage, but when the new man conceded twelve goals in three games, including two five-goal hammerings, Reinhardt was brought in for his debut, away to Wolves on 16 December. Unfortunately, he too conceded five goals.
Reinhardt retained his place for the next three games before losing his place in January. He returned to the side at the end of February for a further nine games on the bounce and did well on the whole, though when Fulham beat City 7-2 at Craven Cottage on 23 March, it set a new record for the number of goals conceded by the Peacocks in a single match, an unwanted distinction for the keeper. The Yorkshire Post found a sliver lining in the cloud: "Notwithstanding that Reinhardt was beaten seven times, he played a magnificent game, especially in the last quarter of an hour or so when his backs weakened."
He appeared once after that debacle, at home to Deby County a week later, when Joe Moran put an own goal past him to settle the contest.
Reinhardt was released in 1912 by new manager Herbert Chapman.
After qualifying as a doctor, he changed his surname to Goodwin (his middle name) because of ill feeling against Germany after the onset of war.