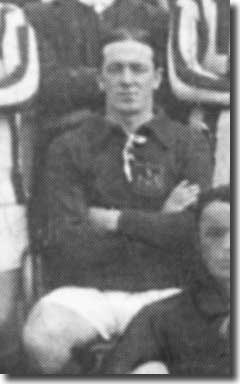 Born: Belfast, 13 April 1888
Tom 'Steve' Mulholland was one of the more successful of the Irish players that Frank Scott-Walford signed for Leeds City between 1909 and 1911. He came to Elland Road as a proven young talent who had already received international recognition.
His playing days began with Belfast Celtic and in 1906 he became one of the few players to receive a full international cap before he turned eighteen. He earned critical acclaim for his display against England at the Solitude Ground, Belfast, on 17 February, despite finishing on the end of a 5-0 defeat. Within a month, he added a second cap, playing in a 1-0 reverse in Dublin against Scotland. He was never given the opportunity to increase his collection of caps.
Mulholland was in the Belfast Celtic side that lost 2-0 to Shelbourne in the Irish Cup final at the end of the 1905/06 season. They won the City Cup that year, and a year later retained that trophy, with Mulholland scoring a decisive goal in their 4-0 defeat of Distillery.
In 1908, the Irishman crossed the city to sign for Distillery. 1908/09 was not a successful season for the club, though Mulholland's brace was decisive when they beat eventual champions Linfield 2-0.
At the end of the campaign, Mulholland crossed the Irish Sea to sign for Leeds City of the English Second Division, along with team mate Billy Halligan. The two men both made their City debuts in the opening game of the 1909/10 season, a 5-0 defeat of Lincoln City. Unfortunately, that was about as good as it got for Mulholland. He made 22 appearances, scoring just once all season, in a 5-3 reverse against Oldham on 26 February.
In 1910/11, he enjoyed better fortune, returning 9 goals in 21 League games; he was a permanent fixture in the side for the closing 17 matches after finally being given a run in the side.
The following campaign was Mulholland's best for City, and he missed just three games, scoring eleven times.
Strangely, after finally appearing
to have cemented his first team spot, Mulholland departed Elland Road during the summer of 1912. New manager Herbert Chapman began to reshape his playing pool and the Irishman was one of the early casualties. Mulholland returned to Ireland and played briefly for Belfast Blues before joining Distillery for the 1912/13 campaign.
He was back in England in 1913 to play for Scunthorpe & Lindsey United, later turning out for West Stanley and Halifax Town. After a spell in Ireland with Belfast Celtic in 1919/20, he was back on English soil again, signing for Hartlepools United in 1920. Mulholland scored thirteen goals in 23 appearances for United in the North Eastern League, and the following season scored the club's first goal in the Football League after they were elected to the Third Division (North). The strike came in a 2-0 victory on the opening day at Wrexham. He played his final game for United on 26 November 1921.