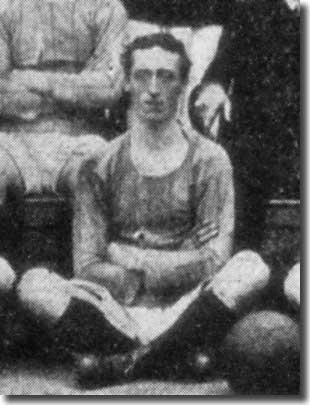 Born: Athlone, 18 February 1886
While Billy Halligan enjoyed only a brief stay with Leeds City, he was certainly one of the more successful of the players recruited from Ireland by Frank Scott-Walford during his time as manager at Elland Road. He had a succession of big money moves after he left Leeds and was still playing senior football when he was 39.
Halligan's first club was Old St Mary's in Dublin and he also played for Cliftonville, Belfast Celtic and then Distillery, for whom he signed in 1908. He came to prominence playing for a Leinster province junior selection against Ulster juniors in 1906.
During the one season he spent with Distillery, he was selected to play for the Irish League against the Scottish League and it was this game that alerted Scott-Walford to his potential. In May 1909, the City manager successfully persuaded Halligan to sign for Leeds, along with his club colleague Tom Mulholland.
Halligan was given his Leeds City debut at centre-forward on the opening day of the 1909/10 season. He was partnered by Mulholland at inside-right at home to Lincoln City. It was a fairytale start, Halligan scoring twice in a 5-0 victory.
He added goals in each of the following two games, though he had now switched to inside-forward to allow Billy McLeod to return in the centre. Things seemed set fair for a successful stay at Elland Road, and indeed Halligan missed only one game of City's first 26, scoring eleven times, including another brace at Birmingham on 2 October.
He earned a call up to the Irish squad for the international against England on 12 February 1910 after O'Hagan of Airdrie dropped out. Halligan turned down the opportunity, however, as he was needed by City for their game with Birmingham. It was to be his farewell appearance in Leeds colours.
When Derby County made an offer of £400 for Halligan, it was too good a deal to turn down for a club that suffered chronic financial difficulties and the move was rapidly finalised. For the Irishman it represented an opportunity to join a team pushing hard for promotion to the First Division. He managed three goals in 14 appearances for the Rams, but it was insufficient to take them any higher than fourth at the end of the campaign.
He was not at the Baseball Ground very long; he moved to Wolves in June 1911 for £450 at the end of a season when he scored five times in eight appearances as County won the Second Division title. On 28 January he won his first Irish cap, scoring in the 2-1 defeat of Wales in Belfast.
With the Molineux club, Halligan scored 19 goals in 35 matches in 1911/12, including three hat tricks. His goals drove the club to a fifth place finish in Division Two. He was given his second cap on 10 February, though the Irish had a nightmare, losing 6-1 to England. In his second campaign with Wolves, Halligan managed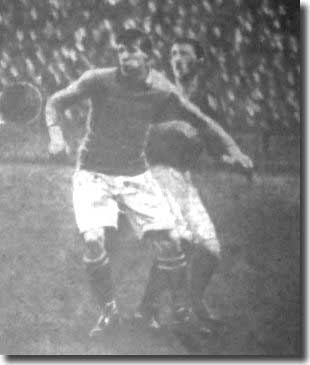 15 goals in 32 appearances.
In May 1913, he moved on again, to Hull City in a £600 transfer. In his two pre-war seasons with the Tigers, Halligan scored 28 goals in 65 matches.
During the war years, the Irishman guested for Manchester United, Chesterfield, Stockport and Rochdale. He appeared in two post-war victory internationals for the Irish, scoring in the 2-1 defeat against Scotland on 22 March 1919.
When official competition resumed in 1919, Halligan signed for First Division Preston North End. He had a thin time with the Deepdale club and moved to Oldham, also of Division One, in January 1920. His time with the Latics was ended prematurely when he broke an ankle playing against Bradford on Christmas Day, 1920.
In August 1921, he was sold to Nelson, newly elected to Division Three (North), in a £75 deal. He scored their first goal of the season and ended the campaign with six goals from 17 appearances. He drifted into non-League football, signing for Boston in June 1922 and moving on to Wisbech Town in 1924. He retired in 1925 when he was 39.
Halligan died in 1950.