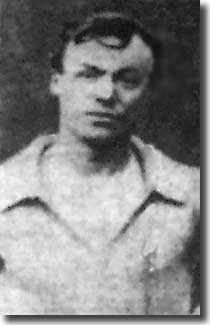 Born: Greenock, Glasgow, 7 July 1885
Alec Creighton began his career in Ireland with Distillery of Belfast.
He was one of a number of players recruited from Ireland by Leeds City manager Frank Scott-Walford during the summer of 1910. He was considerably more successful than most of his contemporaries and established himself as City's regular left-back for the next couple of years.
He made his debut in the opening game, against Blackpool on 3 September, prompting this praise in the Yorkshire Post: 'One reputation, however, was undoubtedly established, for Creighton, the new left-back from Belfast Distillery, was a distinct success.' Flaneur wrote thus in the Mercury: 'Creighton is a little, sturdy fellow, with both pluck and resource, and there was decided promise in his play.'
The sound defensive partnership he formed with George Affleck was almost omnipresent. Creighton did not miss a game in his first season and he was as ubiquitous in 1911/12 until he lost his place a couple of games after a 7-2 defeat to Fulham in March 1912.
Throughout his stay at Elland Road, the Scot was given rave reviews and he was a fans' favourite for his enthusiastic displays.
He was one of the casualties when Herbert Chapman took over as City manager in 1912. With George Law and Jock Ferguson being brought in, Creighton was surprisingly judged surplus to requirements and returned to Ireland with Glenavon in the summer.