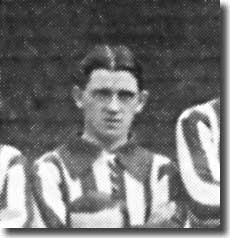 Born in Belfast, George Cunningham began his career with Shelbourne and moved to Leeds City in May 1910 with team mates Joe Enright and Mick Foley. He came with a major reputation, having played in 1909/10 for Ireland against the English and Scottish Leagues. The Irish Sporting Illustrated forecast that he was 'destined to attain greater fame ... He is ideally set up for a winger. A good turn of speed, a fine command of the ball, a gentlemanly player as well, he proves adept in outwitting an opponent. But it is his deadly accuracy in placing the ball in the centre that has brought him so prominently as one of our best.'
Unfortunately, while Enright and Foley went on to better things, Cunningham was a sad disappointment at Elland Road.
He made his debut on the opening day, in a home defeat to Blackpool. He did little, but retained his place for the following game against Glossop, another defeat; it was reported that 'Foley and Cunningham were a very weak pair ... Cunningham, though well served for the most part, did nothing whatever to justify his reputation.' He was dropped for the next game and only played once more for City, in January against Glossop, another defeat.
He remained at Elland Road for another two seasons without figuring in the first-team and moved on to Crewe Alexandra in 1913.