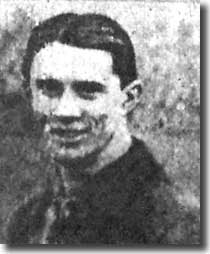 Born: Athlone, 1890
Joe Enright was a teenage soccer sensation, and one of the finest of Leeds City's Irish imports. He represented the Irish League against both the Football League and the Scottish League in October 1909, though both games were lost. 'Another international footballer from Athlone has come to light in the person of young Enright, who during the past season played so brilliantly for Shelbourne,' reported the Westmeath Independent, adding, 'Great things are expected.'
He began his career with Shelbourne of Dublin and had already seen a great deal of action by the time he joined the Irish invasion of Elland Road in May 1910. Leeds City manager Frank Scott-Walford made a habit of picking players up on the cheap from the Emerald Isle and Enright was enlisted alongside his Shels team mates Mick Foley and George Cunningham. Billy Gillespie and the Scot, Alec Creighton, were other imports from Irish clubs that summer.
All five were given debuts in the first game of the season on 3 September against Blackpool; Enright got City's goal in a 2-1 defeat and won acclaim for his general performance. Flaneur reported in the Leeds Mercury: 'Only Enright of the new men really did the Ould Counthry any real credit, and he and Croot were easily the best of the line.'
He missed just one game all campaign, scoring ten goals, with only Billy McLeod (14) scoring more. Wanderer's report in the Mercury of the 3-2 defeat at Huddersfield on 24 September was typical of the reviews the Irishman received all season long: 'Little Enright, as one so frequently hears him called, was perhaps as good as any of the forwards. Plucky, energetic and tricky, he was always a source of danger.'
Enright played in all but four games in 1911/12 and was even more impressive this time around, with 12 goals to his credit. So good, in fact, was his form that he earned a call up for the full Ireland side, alongside team mate Joe Moran. The two men were the second and third City players to win full caps, following Dickie Morris of Wales in 1906. Unfortunately, an under strength Irish team was thrashed 4-1 by Scotland on 16 March. It was a huge personal anti climax for the slightly built inside-forward. According to the Yorkshire Post, Enright was 'the greatest failure on the Irish side'; he was immediately discarded by the selectors.
After Herbert Chapman took over as Leeds City manager in 1912, opportunities for Enright were more infrequent and he played only six times in 1912/13. He left the club in October 1913, moving to Newport County for £150.
In 1914 he signed for Coventry City, reuniting him with Scott-Walford who had been appointed manager. Enright scored four times in City's 10-1 drubbing of Newport in November of that year.
During World War I Enright served with the Royal Army Ordnance Corps, remaining with them until 1919 when he returned to Ireland. Thereafter he appeared on a regular basis for his home town team, Athlone.