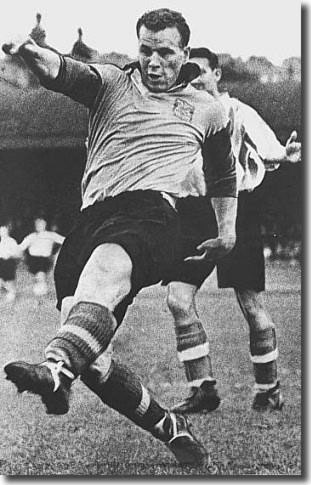 An appreciation - Part 1 Welsh gold - Part 3 Red Dragon - Part 4 The Italian Job - Part 5 End of an Era
The Leeds manager of the early 1950's, Major Frank Buckley, was always a keen advocate of players being flexible and often tried switching their positions in the hope of unearthing their true potential.
John Charles had played all his football at left-half when he arrived at Elland Road, but Buckley insisted on him playing right-back in his trial match, before converting him into one of the great British centre-halves of the time. However, he was convinced that Charles had it in him to be a tremendous forward and had tried him out several times up front without a great deal of success.
Charles started 1952/53 as the 21-year-old pillar at the heart of the United defence. He already had almost 100 league games behind him and Buckley was delighted with the awesome presence that the young Welshman brought to his rearguard. However, he was convinced with all his fibre that this mighty youth was cut out for a role up front and couldn't resist one last gamble.
In the early part of October Leeds were due to meet Halifax Town in a West Riding Senior Cup tie and the Major decided he would use the match to have another look. He moved Irish wing half Jim McCabe to centre-half and threw Charles in as the spearhead of his attack. Charles finally began to look the part and scored both goals in the 2-1 victory. Buckley had seen enough and was convinced that he had been right all along. Charles was a fixture in the Number 9 shirt for the rest of that season.
Dick Ulyatt of the Yorkshire Post had long been convinced of Charles' talent and brimmed over with praise in his report of Leeds' 3-2 victory against Brentford on 29 November:
'For four years Major Frank Buckley has been extolling the merits of John Charles. He said, long before Charles turned out for Leeds United in his first Yorkshire League game and far in advance of the time the Welsh Soccer selectors made him, then 18 years old, their international centre-half-back: "Here we have the most brilliant Association footballer in the game today and one of the outstanding in my 50 years in football." Major Buckley brought that up to date last night when he said to me: "Charles is the best in the world. I'm very proud of him."
'Playing centre-forward for United against Brentford on Saturday, Charles justified all this praise to the hilt. He did more: he proved to be a match winner. He scored a hat trick - his second in November, for on the first day of the month he scored three times against Hull City - he made his total of goals into 11 in league football and 13 in all matches since taking over the position in a West Riding Cup final against Halifax Town on 8 October.
'In addition he broke a club record in Football League matches, for he has now scored the club's last ten goals, thus passing Keetley's figure of seven in sequence in season 1929/30.
'It must now be arguable that he is a better centre forward than a centre half. There are people who say that he is too big, too clumsy, and does not fight enough for the ball. There were arguments last season about Derek Dooley, who went on scoring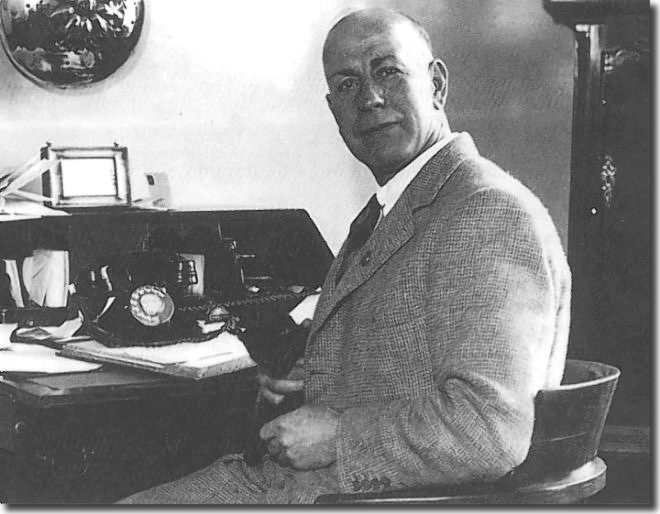 goals and got 46 in 30 games for Sheffield Wednesday.
'Here, in parentheses, it may be noted that Major Buckley was among many managers who said: "I wish I had Dooley." Perhaps all the time he had a better Dooley - Charles, who is a more accomplished footballer.
'His three goals were spectacular and therefore the purists may say that neither he nor anyone else will again score similar ones. For the second he had to turn on icy ground, go back a yard, halt, control the ball and shoot while flurried defenders were dashing up. To score the third he had to round a bustling centre-half, beat another man, take the ball from nearly half way to the goal posts, tantalise a goalkeeper into coming out and then slip the ball into the goal.
'He may not score similar goals but what convinced me above all else that his place is in the forward line was the way he dribbled on one occasion with mincing little steps in a wide arc and swerved past two men before passing the ball, which was then deflected for a corner. That was real art, the work of an accomplished footballer with the ball under control all the time, who is at his best in the open and who has been hitherto confined by the restrictions imposed on centre half backs.
'All this was on an icy surface, on which studs would not grip.
'I hesitate to use the phrase a "one-man win" but this was the nearest I have seen to it for a long time, even allowing for the terrier like tackling of Nightingale, Kerfoot and Burden and three thrilling shots Burden made and the two goals Scott stopped, one by diving and the other by leaping and catching a ball which seemed to be going away from him.
'Without Charles I doubt if United would have won for Brentford, once they had recovered from the shock of having a goal disallowed and the lead wrested from them after Dare had opened the scoring, played with determination above the ordinary and were not above using all their weight whenever possible.'
The Brentford centre-forward that day was the celebrated England international Tommy Lawton, who described Charles as 'a great centre-forward'.
Charles still remembers the game well and the third goal in particular: 'I got the ball in my own half and set off for goal. Three times I was tackled and three times I managed to slip away. Then I had only the goalkeeper to beat, but I managed to swerve past him. Unfortunately I was going at top speed and the foothold was treacherous, so there was still a chance that I would fluff an open goal - especially as I saw one of the Brentford defenders coming across the goal line to block my view of the net. However, all went well, the ball went into the net and we won 3-2.'
Charles netted a third hat trick, on 17 January in a 4-0 win against Rotherham, and in all bagged 26 in the league, plus another in the FA Cup. As he had only played 29 games up front that was an astonishing return, but he got little support and Leeds struggled into a disappointing 10th place finish, prompting Frank Buckley to call it a day and quit the club.
Clearly, the loss of his mentor could have led to a halt in the development of the young Welshman, but if anything Buckley's successor was even more supportive. Raich Carter had been a classy England inside-forward before the war and when he arrived at Elland Road it was a move intended by the directors to improve the Yorkshire club's chances of promotion to the top flight.
Carter already knew how good Charles was and went out of his way to take him under his wing. He made a habit of taking him along to play in charity matches alongside such national celebrities as Tom Finney and Stanley Matthews and coached him in what to do, how to read the game and where to run to cause the most disruption to the opposition.
Charles, however, wasn't too over the moon with the new manager as a person: 'Carter was very opinionated. He had the view "I do it this way, so you do it this way, whichever way I say." He wouldn't let you argue. He was a nice man, but he loved himself ... he would take the credit for what you'd done.'
Carter had no confusion in his mind when he started about where Charles' best position was and he had an instant bonus when his star hammered home four goals in the first game of the season against Notts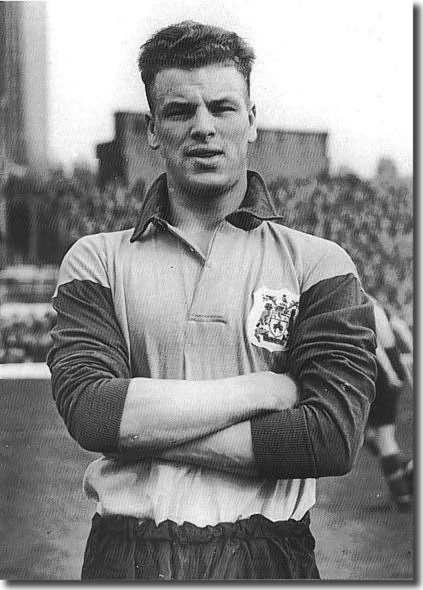 County and quickly followed up three days later with a hat trick at home to Rotherham.
Dick Ulyatt reported the Notts County triumph thus: 'Apart from the rain, Elland Road was just as John Charles and United like it - slightly holding with the ball kept down by the wet and the going on the slow side. Of course they used it and in Charles they had the man fully to exploit any situation in which he found the opposing defence slightly slow to meet him and hesitant to cover up.
'It was not by any means a one-man win. The two wing half backs played grand supporting football. Williams, considering his long lay off, had a most satisfactory game, scored once and deserved two goals. Burbanks on the other wing, helped in several of the goals, did all that was expected of him and, above all, was nine times out of ten in position - always a potential source of danger to the opposition.
'But when due credit is given to the support of the Leeds players, and allowance is made for the untidy Notts defence and their reluctance to drive home promising attacks in which footcraft was the equal, often the superior of United's, this was Charles' match.
'No average centre-forward would have scored the first goal when he threw himself past Leuty to head Burden's speculative centre from the wing past a startled goalkeeper; few players would be able to control the ball so well as he and, nine inches from the dead ball line, screw it past County's goalkeeper, who grasped it but was unable to stop it entering the net for the second goal.
'His third was neatly headed from Burbanks' centre, his fourth (United's fifth) was perhaps the only one a centre-forward of average ability would have scored. Burbanks' corner kick grazed Charles' head before Williams shot the fourth goal. Nightingale rounded off the scoring, starting and finishing a movement in which his final pass ought to have gone to Charles instead of Williams. In addition these ebullient United forwards had the ball in the net nine times.'
That was just the start of a phenomenal season for the Golden Boy, who obliterated the club's individual goalscoring record for a season with 44 all told, 42 of them in the league. However, once more he got scant support up front and his tally was more than half the club's total goals, as they laboured into a disappointing final tenth position.
The position was doubly disappointing for the club as the lack of success combined with Charles' own dominance made it all the more likely that he would be tempted away by an offer from a bigger club. The loss of the Welshmen would have been a body blow which would have set them back several years.
Even in those days, the newspapers were constantly full of stories about possible transfers and, as one of the biggest stars in the British game, despite never having played in the top division, Charles was one of the Press' favourite subject matters. Leeds chairman Sam Bolton was forever denying a new bid or emphasising that Leeds were not willing to part at any price. They were hard times financially for the Yorkshire club, but they stuck resolutely to their guns, even turning down Cardiff City's tempting £40,000 bid in 1953.
Richard Coomber recalled the times thus in his book King John: 'With only one victory in their first six matches of the 1954/55 season, and finding himself switched back to centre-half, John decided to bring things to a head and put in a transfer request. The directors were worried and called a meeting on the evening of 29 September to discuss the letter.
'In the Yorkshire Post that morning, Eric Stanger described the decision they had to make as "the most difficult in the 35 years of the club's history". In a long article he gave a clear picture of the situation professional footballers in England faced at that time: "According to Football League law, John Charles cannot substantially earn any more money with Arsenal, Cardiff City or (if they will forgive me for using them as an illustration) Halifax Town than with Leeds United. He can be paid no more than the legal maximum of £15 a week during the playing season, plus a bonus of £2 for a win and £1 for a draw. A player of his standing can command the customary maximum Football League benefit of £750 every five years, no matter where he plays. Why then does Charles seek a move? As he would be the first to admit, he has been as well treated at Elland Road as anywhere. He wants to play in First Division football. Can one blame him for that? His abilities are extraordinary and one can scarcely quarrel with any artist for wishing to exploit his talents in the best medium. In Charles' case, he feels it lies in top class football with a better team than Leeds United."
'Stanger admitted he was glad he didn't have to make the decision but came down in favour of taking the cash and using it to strengthen the team in several positions.
'That night Leeds played a friendly, attended by Cardiff City manager Cyril Spiers who was willing to increase his previous offer to £50,000 given the slightest encouragement. Arsenal were also watching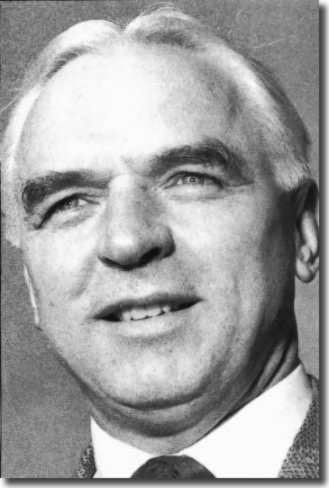 and at Chelsea, manager Ted Drake was ready with a bid.
'The next morning, the Yorkshire Post carried the news that Leeds had turned down the request. Charles was quoted: "I'm still anxious to play First Division football but what can I do? I was called into the meeting and told that the club would not let me go. I was not really surprised."
'When you consider the tantrums and pet lips from some of today's footballers when the club decided they will not have their way, Charles' dignified response and, more impressively, his continued contribution on the field, spoke volumes for his character. Playing at centre-half, he drove the team on and with an undefeated run of eight games at the end of the campaign, they lifted themselves to fourth, one point behind the three clubs above them.'
It was odd that Carter, a renowned inside forward in his playing days, had decided to forego Charles' masterly contribution up front. Buckley, as a former centre-half himself, recognised the importance of defence and having skilful players there, but Carter's interest lay in attack. However, the appalling opening run of 15 goals conceded in five games left him little choice and he succumbed to the lure of withdrawing the Welshman, to extremely good effect.
Leeds were the form team of the spring, clambering up the table to mount a serious promotion challenge, although they left themselves far too much to do, missing out by a single point, despite a closing run of six wins from the last eight games. Charles had taken over as captain following the departure of long time skipper Tommy Burden after one particularly disastrous game at the beginning of September when they lost 5-3 at Bury. He took to the job like a duck to water, rising to new heights.
The fans of a club which had little but Charles to cheer since relegation in 1947, looked forward with enthusiasm to the 1955/56 season. The closing run had shown that Leeds United could live with the best in the division and they were about to go even better.
Richard Coomber: 'The season started with a 2-1 defeat at Barnsley followed by a couple of wins against Bury and Middlesbrough. But it was very much one step forward, one back. Raich Carter began with Charles at centre-half and after eight games switched him to right-half where he could have a bit more influence on the build up of attacks. Young Jack Charlton came in at number five. But Leeds were still badly missing Charles' goals - he only had one to his name so far - and finally Carter decided they were more important than his presence in defence.
'He must have had doubts after the first match when Leeds crashed 4-1 at Bristol Rovers but a Charles goal clinched the points in the following game against Stoke and he scored in each of the next five matches.
'Not all those were victories but Leeds managed to keep in touch with a leadership where only Sheffield Wednesday were consistently good.
'Carter again reshuffled his pack in mid February for the visit of Wednesday, switching Charles to inside-right, a midfield role where he could be more involved, help with the build-up as well as still getting forward to link up with the centre forward. It paid off immediately. On a snow covered pitch, he had what Dick Ulyatt described as "in many ways the best game Charles has ever played for Leeds United". Comparing his inside-forward play with that of manager Carter in his pomp - heady praise indeed - Ulyatt described Charles that day as "the complete footballer in defence and attack". He put Leeds in front when he snapped up a rebound after Bob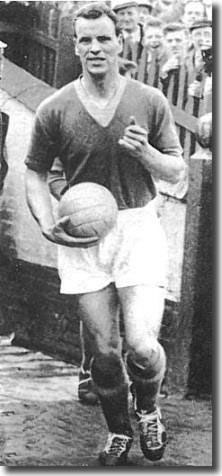 Forrest's shot was parried, and 5ft 10in Forrest climbed above the defence to head the winner.
'At that stage there were still seven clubs in the hunt for promotion. Sheffield Wednesday remained hot favourites and it was a question of which of the chasing pack would put together the most consistent run. It was Leeds United.
'A win over Plymouth was followed by an impressive Good Friday victory at Fulham. The following day, lacklustre Leeds went down 2-0 at Nottingham Forest, but that was all forgotten when a Charles hat trick sparked a 6-1 Easter Monday crushing of Fulham, Johnny Haynes, Ron Greenwood, Jimmy Hill et al.
'From then on there was no looking back and Carter proudly took them to his former club Hull on the final day of the season, knowing victory would mean promotion. Over 15,000 Leeds fans - 3,000 more than had watched the home win over Plymouth a month before - travelled to Boothferry Park and saw Charles head their side into the lead only for Hull to hit back quickly. Nerves were clearly playing a part and the game was in the last half hour before Leeds were awarded a penalty. Up stepped Charles: "It was no easy task taking such an important kick, so I was doubly grateful when I saw the ball nestling in the back of the net."
'Two late goals from veteran Harold Brook, signed for £600 from Sheffield United, finished off a run of six straight wins in which Charles had scored nine goals, taking his tally for the season to 29. At last he could display his talents on the big stage.'
Without Charles, it is unlikely that Leeds would have made it. But although manifestly the finest footballer in the Leeds team, the Second Division and probably the country, he was the last man to brag about his contribution. 'The four people in the middle, the wing-halves and inside-forwards did all the work; they were the bees,' Charles says. 'Raich Carter didn't change the system - most teams played the same way. We were all on the same money; nobody was any better than anyone else. We gelled ... there was a good team spirit; we played a lot of games together. The spectators were behind us to a man. It convinced us we could win promotion.'
It was like a dream come true at last for Charles. He had been discovered as a 17-year-old by Leeds after their relegation to Division Two and he had played all his club football in that division, seemingly fated never to parade his talents at the very highest level. His previous transfer requests had been born more out of frustration at being unable to match himself against the very best rather than to improve his financial lot. John Charles was a hungry, ambitious player who thrived on a challenge and revelled in proving himself.
The talk the length and breadth of the footballing country in the summer of 1956 was of whether the phenomenal standards he had set himself over the previous seven years could be maintained as he prepared to face Division One for the first time. The same question also hung around the entire club - Leeds United had always struggled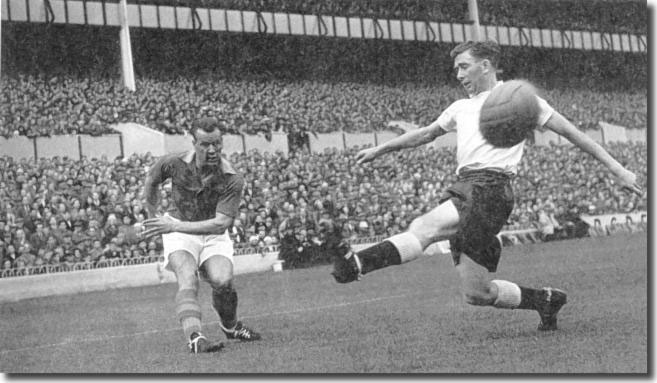 to sustain a First Division place - would this time be any different?
Certainly many newspaper writers from London and the South remembered how Charles had struggled when he first wore the Welsh jersey and expected him to find it a struggle against First Division defenders.
Surprisingly, both player and club found little trouble in adjusting - Charles was overshadowed in the first game, at home to Everton, when 34 year old Harold Brook scored a hat trick to Charles' single effort, but the side played superbly as a unit in engineering an astonishing 5-1 win.
Charles hit two more the following Thursday to secure both points at Charlton and by the time Leeds faced Aston Villa on 22 September, they were sat at a lofty second place in the division, just a point behind the awesome Busby Babes of Manchester United. However, the Elland Road that Villa visited was licking its wounds because in the early hours of the previous Tuesday the main stand was consumed by a fire which had a lasting impact on the history of the Yorkshire club. Lack of insurance cover led to more financial difficulties, eventually hastening the departure of Charles to pastures new.
'The atmosphere was very odd,' says Charles. 'Running out was funny - you went into the car park then into nothing. We all had new boots and had to soak and wear them in the days before, kicking the ball like hell to get them ready in time.'
For the moment, however, the club were revelling in their new environment and John Charles was thrilling crowds everywhere. The Times reported the day thus: 'Everything had gone up in smoke: offices, dressing rooms, equipment, the generators for the floodlighting system. Now the teams changed at a local sports ground down the road, arrived by coach, and used the same vehicle for half time repairs and tactical reassessment. Leeds, of course, looked as fresh as paint in their latest attire. All that was wrong was their new boots. They were scarcely shooting boots.
'However, there was Charles. On a field cut by the shadows of that brooding skeleton he alone seemed an incendiarist. He was the one man capable of
setting the match alight in sudden gusts. What a figure he is and what a player! There have been some outstanding all rounders in the history of world football. 'Nudger' Needham, of Sheffield United, in the long ago, who gained England caps in many positions; more recently, Carey, of Manchester United and Ireland. Among contemporaries there are Ocwirk and Hanappi, the Austrians. Yet none of these, it would seem, could outmatch Charles for power.
'Hewn, as it were, from the granite of some Welsh mountainside, Charles has the stature to influence a match vastly. Whether he has the consummate artistry of a Matthews to take a game and delicately shape it to his own will is an argument that could develop until the dawn creeps in. Yet now, as so often before, Charles once more proved himself a match winner in his own right. The previous Saturday his two goals overcame Wolverhampton Wanderers in the Midlands. Now his goal at the nineteenth minute of a drowsy afternoon beat Aston Villa. More than that. At the turn of a card he might have scored three or four times. Only inches one way or the other and some great saves by the agile Sims kept Aston Villa in the hunt as Charles caught sudden whiffs of inspiration.
'Leeds are not necessarily all Charles, but they are built around him and they play to him cleverly. What is more they have a stratagem. It concerns Brook, Forrest and Charles himself, their inside-forward trio. They revolve, each one at any moment suddenly becoming the centre-forward, rather like crop rotation. It clearly carries the element of surprise and but for some determined defensive packing by the Villa, the cover tackling of Baxter, the alertness of Sims under his crossbar, and some untidy and unlucky finishing it could have been all over by the end of the first hour.
'But it was Charles really who, every now and then, lifted the match out of a rut, particularly before half time. In that period he breasted down a cross by Forrest from the right to slash home the decisive goal, having started the move in midfield himself; thrice also he brushed all defence aside by a judicious mixture of pace and weight to bring Sims full length and generally kept the Villa defence in a state of acute indigestion.
'Later on he pretended to lie doggo, a tactical ruse to lull the enemy into false security. Suddenly he would crash into the picture again, a battleship with the manoeuvrability of a destroyer. A 25-yard rocket that stretched Sims to his fingertips and a shot onto the posts almost found the mark again.'
The stirring performances continued. Richard Coomber: 'By the end of the campaign Charles was the leading scorer in the league with 38 goals. Leeds finished eighth and he had scored against all the sides above them apart from Preston North End. He destroyed Sheffield Wednesday with three goals in both the home and away matches - a feat he had achieved against Rotherham in 1953/54 - taking his hat trick tally for the club to 11.
'In a season of great goals, perhaps the most memorable came at Elland Road on Boxing Day when Leeds beat championship hopefuls Blackpool 5-0. The Yorkshire Post reported: "A sensational opening set the home side on their victory march, the ball travelling in 13 seconds started off from the kick off, from Brook, Forrest and Overfield to Charles, who took the left winger's forward centre in his stride to crash the ball past Farm from the acutest of angles."
'If those descriptions of Leeds' promotion campaign and their first season back in the First Division make you think of them as a one man team, you wouldn't be the first to think that. In some quarters they became known as "John Charles United" - a tag Charles hated.
'With typical sportsmanship he wrote in King Of Soccer: "As far as the critics are concerned Leeds United did not seem to exist. They wrote about John Charles - they wrote about him so much that I had to stop keeping a scrapbook! But when they wrote about me they did not intend to give any publicity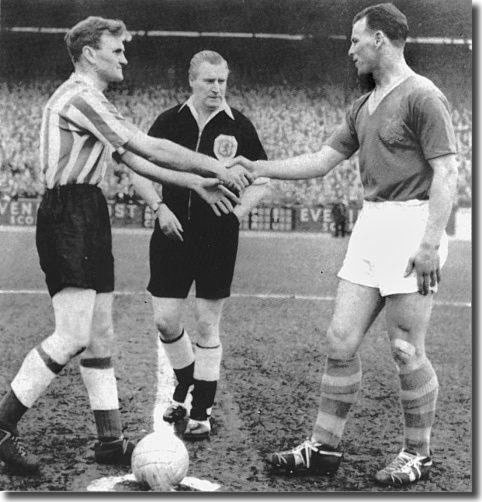 to the club or to my colleagues.
'"But at Elland Road we twisted their praise. We refused to be led astray into the wilderness of individual praise. We were only concerned in winning praise for the team, and gaining publicity for the club. So when a heap of superlatives was showered upon me, we at Elland Road accepted the praise as collective praise for the whole team.
'"It was absolutely scandalous to suggest that I did all of the work for the Leeds United team. I had many fine colleagues and teammates, and but for their unstinting loyalty and assistance I would never have gained my present position in football and neither would the club."'
However, the last game of a wonderful season, in which Leeds saw off Sunderland, was also the final match (for the time being) that the Welshman was to play for the club which had been his home from home for nearly nine years. The money men were finally to have their way and Charles was to start the next season in Italy.
He was determined, however, to finish off on a high note and Richard Ulyatt recorded Charles' last act at Elland Road thus: 'From a footballing point of view, John Charles could not have made a more fitting end to his career at Elland Road. He scored the second and third goals United registered, making his total in the Football League this season 38 and he had to fight for every advantage he gained.
'Sunderland badly needed the points. They could not allow Charles to have a spectacular match solely for sentiment's sake. Yet Charles did have a spectacular match. I shall never forget the way in which he overtook Daniel, the upstanding Sunderland centre half, as they both raced towards the Sunderland goal and, as Daniel tried to keep the ball close to him, Charles calmly stole it and without a check in his stride, without deviation.
'It seemed as though one player merged into the other; red shirt was leading with the ball, suddenly a blue shirt was in front and there was no faltering. That was a new move in the Charles repertoire; I thought I had seen them all. Both his goals were the reward of opportunism, both were scored only because an artist placed the ball. In each case he had to outpace the opposition.
'For most of the match Charles suffered the unobtrusive marking of Daniel, who has played so often behind him for Wales that he must know his every move, of Anderson, Sunderland's inside-right, and occasionally of Elliott who did nothing else of note. Yet Charles scored two goals.
'He was set an example by the spectacular shot from 30 yards' range with which Harold Brook enlivened a match, often drab, to score the first goal after 55 minutes. The way Brook shoots from the middle of the field makes me wonder why United ever play him anywhere else than at centre forward. It ended a neat passing bout.
'So the most remarkable season in United's history ended - a season which started with a newly promoted side almost reaching the top of the table, which was marked by a disastrous fire, by the wags christening it Charles United and by a transfer which involves £80,000. Next season there will be no Charles to write about for the first time for nearly a decade. How odd it will seem. On recent form it is hard to say who will fill the gap.'
An appreciation - Part 1 Welsh gold - Part 3 Red Dragon - Part 4 The Italian Job - Part 5 End of an Era