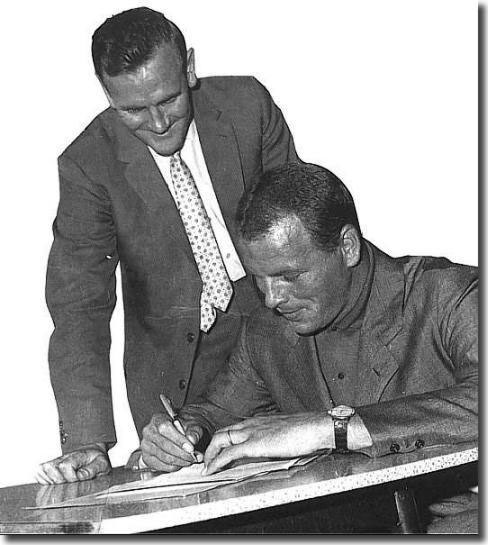 An appreciation - Part 1 Welsh gold - Part 2 King Charles - Part 3 Red Dragon - Part 4 The Italian Job
In the summer of 1962, John Charles was 31. He had proven himself an outstanding footballer at the very highest level, inspiring one of the most successful periods in Juventus' history and spearheading Wales' exciting and totally unexpected assault on World Cup glory in 1958.
He had been in Italy for five years after a world record move from Leeds, but had decided that the time was right to move his young family back to England.
Charles still had a soft spot in his heart for his adopted home in West Yorkshire and when he heard that Leeds United were interested in re-signing him, the Welshman had little doubt. Leeds were now back in the Second Division, and other offers were surfacing from First Division sides, but a new broom was sweeping through the Yorkshire club and Charles was excited by what he had seen at his old stomping ground.
Former England inside-forward Don Revie had left Sunderland to join Leeds as a player in November 1958 and had accepted the club's offer to become manager in 1961. He had started building a young side to be reckoned with and had signed former Scotland midfielder, Bobby Collins, to captain his new Leeds United. A youngster called Billy Bremner and Charles' old teammate, Jack Charlton, were now key members of the side and, with a touch of flamboyance which was not typical of the man, Revie splashed out a club record £53,000 to secure the return to Yorkshire of John Charles.
The club chairman Harry Reynolds, a shrewd businessman, took the opportunity to raise ticket prices with the news, in the hope of capitalising on the investment. For a Yorkshire public thirsting for success, the transfer was breathtaking and the talk of the town.
Richard Coomber from King John: 'The Yorkshire Evening Post gave supporters the chance to write a welcome home message in 25 words and were inundated with thousands of them, many in verse. The winner of the two guineas for the best went to Mrs A Sunderland of Leeds, who found inspiration from the Bard for her entry:
'"Come four divisions of the league in arms, We shall shock them, naught shall make us rue, If Leeds United to King John be true!"
'Others were rooted more down to earth. With a Yorkshireman's eye on t'brass, Mr B Armer of Hull wrote:
'"Tha'rt costing us varry dear, Aye, US - WE'RE carrying t'load, But if tha shoves us up next year Tha'rt more na welcome at Elland Road."
'The expectations of a miracle were high. One person wrote that he had "never seen a game at Elland Road since you left, but now the magnet is back ... so am I" and the headline of the John Charles Special edition, priced threepence, screamed: "He's back again. 1956 ... division one, 1957 ... Italy, 1962-63 ...?"'
The swelling of optimism and pride as the new season approached was astonishing, but five years had changed John Charles and he was a very different player from the one who had left in 1957. He had become used to the more sedate style of the Italian game and found the hustle and bustle and kick and rush of English football a shock.
Training had been very different. Fitness was viewed to be of paramount importance in Britain, but ball skills were valued more highly in Italy. The theory in Britain was that if you starved a player of a ball during the week, he would be chomping at the bit come Saturday afternoon. Charles sided with the Italian way. 'I have often found the British system makes a player, even if he is hungry for the ball, completely incapable of using it when he gets it.' He decried the English game with its focus on the long ball and 'hurrying and scurrying as if stamina was the main requirement for a footballer'. Charles admitted that he had become 'Italian by association'. He added: 'My football was Italian football. No longer could I settle in Britain.'
The Leeds United of Revie's early years was a hard working, hustling set of terriers, designed to collect points rather than play football. Revie's trainer Les Cocker worked the squad hard and Charles, who had missed pre season training, found the going tough and not to his liking. He was carrying excess weight and was definitely not at his physical best.
In The Gentle Giant he admitted: 'I turned out for Leeds when I wasn't match fit, and every move I made was in the glare of publicity from television,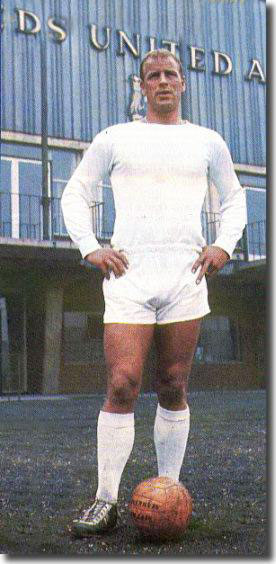 radio and newspapers. Publicity is fine when you are doing well, but I knew in my heart of hearts that I wasn't playing well.'
Charles wasn't happy with the game he was expected to play as Leeds tried to scrap their way to the top flight. He believed football 'is played with players moving into spaces, moving close to the man with the ball. And it is not played at a breakneck speed all the time. For the first time in my life I worried about my football at Leeds. I realised that I just could not get used to it. And the more I worried, the worse I played. I was very happy to come back, but things never went right. It wasn't the training - I got on with Syd Owen and Les Cocker alright. I had a bit of personal trouble at the time and that worried me. It was just myself - I couldn't settle back into it. Some people had said never to go back to a club that you'd been to before - people expect too much of you. At the end, I thought it was no good staying on. I was very sorry actually - I would have loved to play in the Revie side.'
Charles' best performance had been against Southampton on 29 September, when he was switched to centre half after an injury to Jack Charlton forced Revie to rejig the team. But by then, another Italian club, Roma, was making overtures about signing him. After 11 games and three goals - a shadow of his former strike rate - Charles returned to Italy. 'Don Revie said, "We don't want you to go really," but I took the chance, though I didn't really like it. I didn't care for Rome,' Charles said.
He stayed just 91 days before he was sold to Roma for £70,000. He handled the situation with typical politeness, saying: 'I'm sorry it has turned out like this because I had looked forward to coming back to Leeds. It proved a mistake.'
Rick Broadbent from Looking For Eric: 'After just 11 games and three goals, with season ticket prices hiked to exploit the return of the prodigal son, the second coming was over. At the time Charles was only 31. Leeds were still in the Second Division, but two years later they would be promoted and the Revie era would begin in earnest. Who knows what might have happened had Charles stuck around and played a part in that halcyon age?
'As it was, he opted to go back to the warmer climes of Italy, but the Juve bridge had been burnt and replaced by a bridge of sighs. Although Juventus had offered him an incredible £14,000 signing on fee at the end of his previous contract in an attempt to convince him to stay, they washed their hands of him once he walked out of the door.
'"When you leave Juventus you leave Juventus for good," he says with palpable regret. "I remember an old Juventus fan breaking down and crying like a baby on hearing the news, but I'd made up my mind." When he quickly realised he had made "a ghastly mistake", there was no point in crawling back to Juventus and Umberto Agnelli. "There was no chance of going back. If Juventus sold you they might buy you back, but if it was you who asked to move then that was that. The Italians don't take kindly to players asking to leave. It's almost an insult."
'After just 91 days in his unhappy second spell at Leeds and with his marriage crumbling, Charles moved to Roma for £70,000 - netting the Elland Road club a tidy £17,000 profit in the space of a few months. However, Rome was another bad experience for Charles. In the 1962-63 season he played only ten games and scored four goals. "Rome is a great city, but I just didn't get on, either playing wise or socially," he says. "The people in the North are different from the people in the South. It's the same in England, the same in Wales and definitely the same in Italy."'
Initially, the move was a success and Charles scored within fifteen minutes of his first game for Roma, in a match against Bologna. His next match was a farewell appearance for Leeds in a friendly at Elland Road against Juventus, a game which was arranged as part of the package agreed when Charles left Turin.
The early promise was never fulfilled, however, and Charles was on the move again a year later. His stock had plummeted in a disastrous stay in Rome and the price was just £20,000 when Charles returned home to Wales and a stay at Cardiff City.
It wasn't a particularly good time for Charles, despite his excellent relationship with manager George Swindin but he stayed with the Ninian Park club for three years, until 1966. In his first year there, Charles faced his old club Leeds in a brusing FA Cup third round tie at Ninian Park. Under Revie, Leeds had settled down as an effective football team and were on the way to the Second Division title and the big time, although their no frills approach was winning them few friends.
Leeds centre-half Freddie Goodwin broke his right leg in the match in a clash with Charles, leaving the way for a young Paul Madeley to come through while Jack Charlton was also out injured.
In 1966, Charles decided to try his hand at management and accepted a role as player manager at Southern League Hereford United. He saw it as a first step on the obvious road to a second career in the game, but it didn't work out that way, even though he enjoyed his time at Edgar Street and laid much of the groundwork for Hereford's eventual election to the Football League after a high profile Cup giant killing run in 1972.
The crowds grew with Charles' arrival and he did well, building a useful side by the judicious mix of experienced professionals and raw young recruits. He says of the time: 'Things went very well and most of the team that went into the League and had their famous FA Cup run were my players. But eventually the chairman wanted to run things and I decided it was time to get out. At one stage I had thought I would learn the manager's trade at Hereford before moving on to a bigger club but I decided management wasn't for me. I enjoyed the coaching - we were part time so we used to train on Tuesdays and Thursdays - but I wasn't keen on the office work and didn't particularly like having to tell players they were left out of the team.'
He wenty on to Merthyr Tydfil for a short period and was still playing for the club when he was 41: 'I loved it there. We were in the Southern League and I remember Ken Brown, who used to play at West Ham, came down and joined me. It was wonderful to think we were doing something for the town. The crowds went up from five hundred to over two thousand, so we must have been doing something right.'
Eventually, though, Charles did hang up his boots and turn his back on management and returned to live in Leeds. He had a joint testimonial match with Bobby Collins in 1988. He remains a regular supporter on match days and a staunch fan of David O'Leary's exciting young side: "I was a big admirer of the team that Don Revie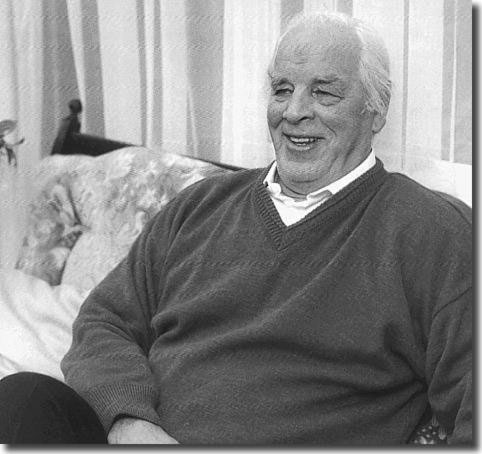 produced in the Sixties and Seventies and wonder if I'd stayed longer when I came back from Juventus if I would have played a part in that. I would have liked that."
A series of business failures and rampant inflation meant Charles' lifestyle has often been comparatively modest, especially when seen beside that of the majority of modern players, who will never come anywhere near matching his ability. But he expresses no bitterness and is renowned for his generosity in fund raising for charity.
He scarcely has a memento left, having answered endless requests for 'something for the auction'. He can't even find his championship medals from Juventus and guesses that at some stage he gave them away. Perhaps one of his friends expressed it best when he claimed: 'John lacked the one gift needed to get by in a world of wolves - cynicism.'
But it's not a matter of regret for the modest Welshman. He just smiles and says: 'I've got my memories and I've got my friends. That's what's really important. I don't need medals and caps to remind me of what I've done.'
There have been campaigns in recent years in Yorkshire to get Charles a knighthood, but he received at least some recognition of his startling career in June 2001, when he was awarded the CBE in the Queen's Birthday Honours.
'It's wonderful, but it came as a complete shock,' said Charles. 'I mean, I've been finished a long time now. It's unbelievable. I've no idea why I've got it now.'
Charles' recognition came after a traumatic two years during which he battled against cancer. 'I'm all right now,' he said. 'I don't have to go to the hospital any more.'
And the Gentle Giant has something that few modern footballers in their mansions and fast cars will ever have: the name of John Charles will be mentioned among the great players for as long as football is discussed. He has the right to be spoken of in the same sentence as Pele, Cruyff and di Stefano. He is truly King John.
An appreciation - Part 1 Welsh gold - Part 2 King Charles - Part 3 Red Dragon - Part 4 The Italian Job