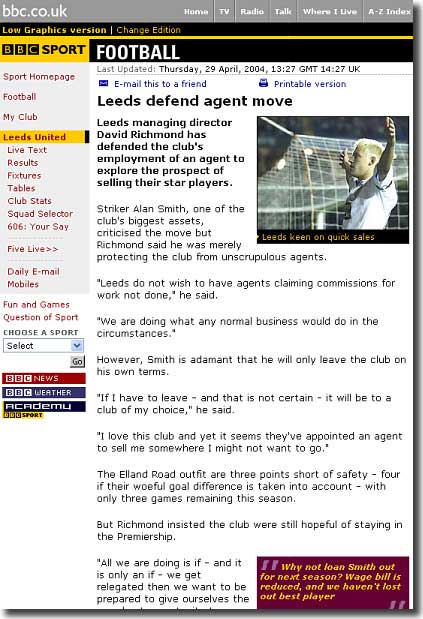 Part 2 - Cometh the hour, cometh the man - Part 3 - Dawning of a new era - Results and table
After fourteen straight seasons of top-flight English football, relegation from the Premiership came as a terrible shaker for Leeds United in May 2004. It was a hugely symbolic confirmation of the woeful demise of a club that had been one of the powers of the game, reaching the last four of UEFA's money-spinning Champions League just three years previously. The writing had been on the wall for some time, and United had been fortunate to escape relegation in 2003.
Onfield misfortunes were as nothing, though, to the club's sensational financial collapse.
It took the last minute intervention of the Gerald Krasner-led Adulant Force consortium to rescue the club from the brink of administration early in 2004, but it was clear that their takeover had not yet put United on a stable financial footing - the drop came as a catalyst for a major clear out of the club's playing staff. Sky high salaries, rashly negotiated when United were at the peak of their fortunes, were now a millstone round the club's neck. It was evident that they could not be sustained under the more mundane financial realities of the First Division, now relaunched as the Coca Cola Championship.
Parachute payments of £7m for each of the coming two years would ease the transition, but Leeds had to find a way out of their difficulties, and quickly, simply to remain in business. It was recognised that any club losing its Premiership status could kiss goodbye to £20m a year in lost revenue.
United's diehard fans were resigned to the inevitable retrenchment, but few were prepared for the extent of the comings and goings that took place.
United managing director David Richmond, son of the recently departed and hugely unlamented Geoffrey, confirmed that the priority was to reduce a wage bill that remained one of the highest in the country at over £40m, with the average in the Championship around £9m. The excessive contracts in place would make it a real challenge to move some of the players on, even at bargain basement fees.
Richmond: 'Nobody wants our players because of their wages, some of which are beyond belief. But I will get rid of those players we need to as quickly as possible.'
Richmond wasn't around long enough to deliver the new dawn he promised, choosing to follow his father out of the club on 12 July 'for personal reasons'. As fate would have it, or maybe in preparation for Richmond's departure, Shaun Harvey had started work as Chief Operations Officer six days earlier after leaving Bradford City where he had been managing director.
That had been a strenuous enough role as Harvey presided over two periods of administration at Valley Parade, equipping him well for the challenges that lay in store at Elland Road. He was clear, though, that the fans had heard enough of the financial difficulties to last them a lifetime, saying, 'The be all and end all of football clubs is football, football clubs are the 11 men who make up the starting line-up on a Saturday afternoon. Fans are not interested in finance and administration, or how much the board of directors achieve. They care about what happens on the pitch - and that is their club as they see it. For that reason, the start of the season cannot come quickly enough for us.'
Harvey joined a club that already had a new football manager. On 26 May, it was announced that head coach Kevin Blackwell would be the man to take the place of the deposed Eddie Gray. The appointment had been widely anticipated for some time, but there was an embarrassing delay while United considered their options and discussed potential new investment with local businessman Steve Parkin, who was known to favour Crystal Palace manager Iain Dowie.
The delay boded ill, but Blackwell was given a personal apology from director Simon Morris, who had vetoed the initial agreement.
Blackwell: 'I was happy to sign, but only after asking to speak to people who had put doubt in my mind. That doubt has now been eased. I've had assurances from all board members, including Simon Morris. It was important I spoke to him. I didn't want to be offered the job on the back of one director agreeing and another not. I had to have a guarantee from everybody I was the right man in their eyes because it is a big job and a very difficult rebuilding job. Along the way there might have been some problems, so I needed to know I had their backing.'
There was more to the affair than met the eye, and there were machinations behind the scenes at the club, as recorded by Phil Rostron in Leeds United: Trials and Tribulations: 'Within six weeks of their takeover, the new men in charge became embroiled in a bitter boardroom power struggle. In a surprising U-turn, the club's directors rejected a takeover bid from a consortium headed up by lifelong fan Steve Parkin just 24 hours after agreeing in principle to the deal. Chairman Gerald Krasner and managing director David Richmond were willing to sell their stake in the club, but the remainder of the board were against the proposal. Richmond was said to be considering his future and on the verge of resigning. Parkin's written offer was worth in excess of £20m and included provision for working capital, but the board felt the offer fell short of the club's market value and said there were concerns over proof of funds. The board were also unhappy that the consortium refused to sign a confidentiality agreement.
'Parkin's consortium, however, comprised a number of well-respected local businessmen and adequate funds were believed to be in place should the board reconsider. Richmond was bitterly disappointed by the board's decision not to accept the offer and suggestions of internal power struggles were rife. So the boardroom musical chairs at Elland Road threatened to continue apace at a time, three weeks before the end of the season, when nobody knew whether Leeds United would start the 2004/05 season in the Premiership or what was then known as Nationwide Division One.
'Parkin had assembled a group of like-minded individuals to put together an offer that would see them take a controlling interest in Leeds and it looked very much as though it would succeed at the first time of asking. While it may have seemed strange that Krasner's group took over the club only to listen to offers so soon afterwards, the board members then in place had stated from the start that they saw themselves as "custodians" of the club and would actively seek investment from the very start. Krasner said on his arrival that if other serious investors showed an interest in the club, the board would consider its options and do what it felt was best for Leeds United. Of course, there would be a financial reward for any sale, giving the cynics a field day, but the conundrum was how their profit equated with the nine weeks of stress, pressure and turmoil that accompanied the original takeover. Those two months leading up to the completion of the deal were turbulent, to say the least, and various members of the consortium were put under differing pressures that could have seen it collapse at any time. They were the victims of an ongoing smear campaign and faced all manner of accusations from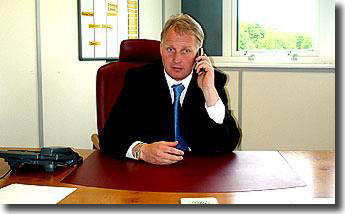 snipers all too keen to wreck the club's last real hope of survival. Personal lives were torn apart during those tough weeks and the pressures within showed no signs of easing.'
Having accepted the job of manager, Kevin Blackwell had to wait to start replenishing his squad until it was clear which of the existing men were going and who would be staying.
Former manager Peter Reid had enlisted a host of loan players to supplement his squad in 2003 and they were now all off. Most of them had been foreign: Didier Domi, Lamine Sakho, Cyril Chapuis, Salomon Olembe, Zoumana Camara and Roque Junior. Kevin Blackwell agreed that Reid's strategy had been flawed, even if he had few other options: 'Bringing in the six foreign boys was just too many at one time. There is always an element that one in four don't come off, but we were in a position where all of them had to come off. Peter had wanted to make other signings but things dragged on and we didn't have the finances, so he was left with few options and we chased the foreign loan market. A few of them arrived at the end of the transfer window (last day in August) so they never got a good pre-season under their belt which really they all needed. Many of them were thrown into the deep end, Roque Junior was only in the country for about eight hours and started a game against Leicester he was never meant to play in, but due to an injury to Dominic Matteo, he had to. He struggled for the rest of the time after that. There's a basic language necessity, and when we needed to build team spirit I don't think it helped.'
The two British loanees, Jermaine Pennant and Stephen Caldwell, enjoyed more successful spells, but both of them were off the books as soon as the club could manage it.
It had earlier been announced that the contracts of a number of players, including Jason Wilcox, Michael Bridges and the much-loved David Batty, would not be renewed when they lapsed in the close season.
Locally born Batty, 35, had joined United straight from school and made his debut under the management of his hero Billy Bremner in 1987. He went on to help the club win the Second Division title and the League championship in the early 1990s before joining Blackburn Rovers for £2.75m in October 1993 and later playing for Newcastle. He returned to Elland Road in December 1998 in a £4.4m deal, but struggled badly with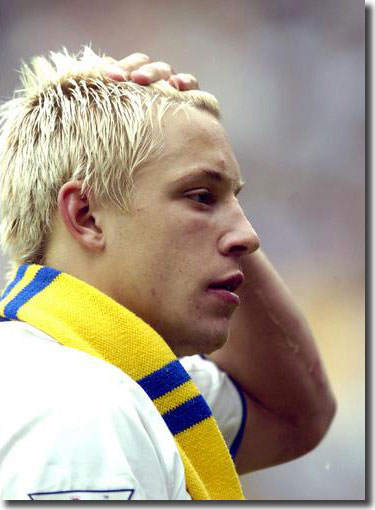 injury and became a peripheral figure under the management of Terry Venables, Peter Reid and Eddie Gray.
The player clearout had commenced even before the final game of the season, as goalkeeper Paul Robinson's long expected £2m sale to Tottenham was confirmed. The cut price deal made it clear that the priority for Leeds was to get the high earners off their books rather than holding out for big fees.
Some of the other departures were more tricky, and it was difficult to move a number of the high earners on as they resisted all pleas to accept lower salaries elsewhere.
The adored Alan Smith blotted his copybook with the fans by defecting to the detested Manchester United for £7m.
Smith emerged at Elland Road as an exciting teenage prospect in the wake of David O'Leary's appointment as manager in 1998, announcing his potential by scoring on his debut, a memorable win at Liverpool. He had come to symbolise the new Leeds for many and was deeply saddened by their relegation, though pragmatic enough to consider his personal needs:
'I've always said I wanted to stay here until it was no longer possible and I think that's the situation we're approaching now. Everyone appreciates that from the financial side, the club side and from my own point of view it is time to move on. It was always going to take something out of the ordinary for me to have to leave and this is probably it. A few people have said that I don't have to leave, but they don't understand football. I'm at a stage in my career now where I am ambitious and I want to achieve what I know I have the potential to achieve. Any Leeds fan who knows and cares realises that we have to sell players for this club to survive. It's as simple as that. It would be no good for us not to sell, not to come back up and maybe even go into liquidation. That would be no good for anybody. If people are going to be realistic, they've got to appreciate that players have to move on.'
James Milner's £5.25m sale to Newcastle was also a bitter blow, but fans wept few tears over the other departures:
Mark Viduka to Middlesbrough (at £4.5m the only one attracting a fee), Stephen McPhail to Barnsley, Nick Barmby to Hull City, Dominic Matteo to Blackburn, Ian Harte to Levante of Spain and Danny Mills to Manchester City.
In many cases, the deals negotiated involved the club continuing to contribute to the massive salaries in order to get the players off the books.
A year later, a Football League report on agents fees revealed some of the steps that were necessary to negotiate the departures:
'The Football League have published the annual figures paid by its member clubs to Licensed Agents for the period 01 July 2004 to 30 June 2005. The 6 month report to the 31 December 2004 saw Leeds United reported as having committed to pay Licensed Agents £1,553,688, which was comfortably the highest amount paid by any club and in the main applied to payments made at the time of the cancellation of high profile players' contracts.'
But for injury, Seth Johnson and Eirik Bakke, might have joined the exodus, while Michael Duberry refused to take a wage cut and remained at Elland Road. Kevin Blackwell: 'It made no footballing or economical sense to let Michael go to Wolves under the terms being discussed. What we would have been saving on wages was negligible and it would have cost just as much to replace him. Michael expressed a desire to stay at Leeds and I know he can do a very good job for us in the First Division.'
The veteran Lucas Radebe, a fans' favourite, signed a one-year extension on his contract and Gary Kelly opted to stay, leaving Kevin Blackwell five players with significant first team experience and just three of them available for selection.
He did have a clutch of promising youngsters, Scott Carson, Frazer Richardson, Simon Johnson, Matthew Kilgallon, Aaron Lennon and
Jamie McMaster, but his squad was distinctly threadbare.
Many critics predicted grimly that Leeds would repeat the experience of Yorkshire neighbours Sheffield Wednesday, Barnsley and Bradford City in plummeting straight through to the lower divisions. Clearly, Blackwell's first priority was to build a squad strong enough to survive while it consolidated in new surroundings.
He indicated that any new signings would have to be 'psychologically' right for Leeds United or the club could struggle again:
'I think everyone in football knew there was a problem here, but I think there was a time where if things were right we would not be where we are. Changes happen because there are problems and they must be addressed.
'The replacements will have to show the right kind of desire to do well, and be able to settle in at the club quickly - which is something that can't be guaranteed no matter how good they are.
'It means bringing in between ten and 14 players and to bring that amount in causes problems with integration, understanding and everything else. Whoever comes to Leeds United has to learn they are playing for a massive club, so psychologically you have to look at the players and hope their profile and fitness fits the Leeds United bill. It's going to be a tall order getting the right people in and it has to start quickly.'
The overpaid and underperforming players, who had let the club down and offered only embarrassing lack of bottle in return for their big pay packets, were gone. In a perverse way, many of United's ill used supporters secretly quite looked forward to a new beginning, happy to leave behind them the cares and concerns of the last couple of years. All connected with Leeds United could breathe a sigh of relief, as the threat of bankruptcy eased and the club could rebuild.
Time was short when Kevin Blackwell finally got round to bringing in reinforcements, and in many cases he had to make do with what he could get, opting for some who were experienced in the division and others who were simply surplus to requirements elsewhere. The new financial reality being faced by Leeds and football in general was rubbed in by the fact that none of the initial deals cost the club a penny. This was in the sharpest of contrasts to the days of Peter Ridsdale and the imperative now was to implement an affordable wage structure.
21-year-old Danny Pugh, who could play left-back or in midfield, came as part of the deal that took Alan Smith to Manchester United, and it was rumoured that Middlesbrough insisted Leeds took former England forward Michael Ricketts when Mark Viduka went to Teesside. Scottish international keeper Neil Sullivan was a key recruit from Chelsea and centre-back Paul Butler, who had won promotion previously with Sunderland and Wolves, was confirmed as club captain when he arrived. Clarke Carlisle (QPR), Julian Joachim (Coventry), Jermaine Wright (Ipswich), Matthew Spring (Luton) and Danny Cadamarteri (Bradford City) all seemed to be eminently sensible signings, but there was some surprise over the return of former striker Brian Deane, now 36, following his release by West Ham.
Leeds-born Deane first made his name with Sheffield United after starting his career with Doncaster Rovers and 106 goals in 239 games for the Blades persuaded Howard Wilkinson to fork out £2.9m to sign him for the Whites in 1993. He stayed at Elland Road for four years before returning to Bramall Lane and doing the rounds with Benfica, Middlesbrough, Leicester City and the Hammers. His late goal at the end of the 2003-04 season for West Ham at Wigan earned the London club a place in the end-of-season play-offs.
Other old stagers, former England winger Steve Guppy and Craig Hignett, along with the African Serge Branco, were offered trials, but didn't earn contracts. 16-year-old centre-back Simon Walton was elevated into the first team squad, emphasising how short United were for players, though he did well in a midfield berth before being sent off in a pre-season friendly against Spanish giants Valencia.
The new manager had been able to fling together a new squad in double quick time for a negligible outlay, but only time would tell whether he could mould a collection of disparate individuals into something resembling a team. There was every reason to believe that it might be weeks before they could get to know each other's play. It wasn't clear that they had the luxury of any sort of honeymoon period.
Consequently, Leeds fielded seven debutants in their opening game in the Championship, at Elland Road against Derby County - Sullivan, Butler, Wright, Walton, Pugh, Joachim and Ricketts, with Gary Kelly, Michael Duberry and Matthew Kilgallon featuring in defence and Frazer Richardson being drafted in on the right flank. The midfield quartet of Richardson, Wright, Walton and Pugh was one of the club's youngest ever, with three of them more at home in a back four. Clearly, these were not ideal circumstances.
The Leeds supporters showed great loyalty in the new environment and a crowd of 30,459 flocked to Elland Road to see what the new season would bring, uncertain whether their heroes would be candidates for promotion or threatened by relegation. There was no way of knowing how the new United would perform, though many fans were seriously concerned about the centre-back pairing of Butler and Duberry and there were rumours that Michael Ricketts was about as likely to score as Kevin Blackwell! He had never really settled at Middlesbrough after a £3.5m move from Bolton, where he won his only England cap, and had managed just three goals in 12 months.
If anything, Ricketts was even less sharp than feared and spent most of the game struggling to make an impression. His strike partner, Julian Joachim, had a couple of decent moments and went close after 19 minutes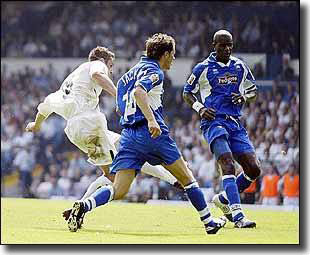 when he broke clear of the County defence, but failed to beat keeper Lee Camp in a one-on-one situation. The Leeds attackers rarely showed again, and midfielder Danny Pugh looked the main goal threat, surprising many of the home supporters with the quality of his play, and having a header and a free kick saved in a decent first half performance.
United had settled surprisingly well as a unit, but as the minutes ticked by it looked like their lack of firepower would let them down. To the relief of all, however, a breakthrough came after 72 minutes. Lucas Radebe, on as a midfield substitute for Simon Walton, broke up a Derby move, allowing Ricketts to feed Frazer Richardson, who had done well in his unaccustomed midfield role and made some decent runs out wide. He cut in from the right flank onto his left foot and curled a beautiful drive from the edge of the area in at the far post to send the home crowd into raptures.
The Whites looked comfortable enough in protecting their lead but it required a wonderful point blank save from Neil Sullivan in injury time to deny Derby's Brazilian striker Junior and secure the points.
The game prompted some hopes that this could be a very happy season for Leeds, but just three days later the lack of realism in those aspirations was starkly exposed. The team faced a trip to Gillingham, one of the pre-season favourites for relegation, who had kicked off their season with a 2-1 defeat at Ipswich. The limited capabilities of the humble team from Kent were more than enough to bring United down to earth - Leeds were simply never in the game after Darren Byfield gave the Gills the lead after four minutes with a wickedly deflected shot from 25 yards. They fell further behind on the stroke of half time when Iwan Roberts added a second goal from inside the penalty area.
The same eleven players who beat Derby were on duty again but looked like they had never played together before and Gillingham had much the better of the game. Substitute Steve Guppy laid on a cross for Danny Pugh to touch home ten minutes from time, but even then they never seriously threatened to get back on terms. Kevin Blackwell didn't see it quite that way, saying, 'Despite the defeat, I think we have the ability to cope with life in this division. That was only our second game together, so I'm not concerned. If we had been battered then I would have been. We had plenty of possession, 63 per cent, which away from home is a good sign, yet what I have learned is that we have to be more clinical with that possession.
'I'm as impatient for success as anybody else, but I have to be clinically realistic because that's only our second full game together as a team and that takes some doing. I've already stated I need more players and they will be the right players because it is about a season, not a weekend or a couple of games. It's nine months and I'm determined to have good value for a season, not for just a month and repent for the other eight. I want good players and if I have to wait and be patient then I will do because I am building a club not just for the next couple of weeks, but the next two to three years.'
The defeat set the tone for the next month as Leeds could only manage disappointing draws with Wolves and Nottingham Forest before losing poorly, 2-0 at near neighbours Sheffield United. The result left the team in 16th spot, looking edgily over their shoulders at relegation. They would also have to face the next few months without the injured Lucas Radebe who suffered a career threatening rupture of his Achilles tendon at Wolves and Michael Duberry, departed on a loan deal to Stoke City on 15 October - many of the supporters hoped to see Duberry's departure become permanent. Duberry had been sent off against Wolves after conceding a spot kick, which Neil Sullivan saved, and was a figure of fun for the majority of the Elland Road faithful.
There used to be a particularly malicious joke doing the rounds about the defender: 'What goes One … One … One? Michael Duberry doing his keep-it-up practice at half-time!'
Duberry had burst into the limelight during the Nineties as a product of Chelsea's youth scheme, and looked to have a wonderful career ahead of him. Unfortunately, he slipped down the pecking order following the club's decision to recruit expensive foreign players and David O'Leary signed him for United in July 1999 for £4.5m.
He lost his place through injury and his prospects at Elland Road were called into question when he gave evidence against Jonathan Woodgate in the infamous court case. His confidence suffered badly and he never managed to pin down a regular place in the first team, although Eddie Gray gave him a decent run during United's relegation season.
Steve Guppy and Craig Hignett had also moved on after failing to secure permanent contracts, while Serge Branco departed without playing a game and Danny Cadamarteri joined Sheffield United following a disagreement with Kevin Blackwell. On the plus side, Leeds showed that they still had some cash at their disposal by paying £1m to West Brom for midfielder Sean Gregan and £200,000 for Southampton's Scottish international left-back Stephen Crainey as Blackwell sought to strengthen his squad. Unfortunately, Crainey was to make just nine appearances before suffering a groin injury in October that demanded an operation, effectively ending his season.
The new centre-back pairing of Clarke Carlisle and Paul Butler brought some much needed resilience as Leeds beat Coventry 3-0 and then won at Plymouth thanks to an own goal. It took a wonderful left-footed strike from distance by Danny Pugh in the 89th minute to secure a 2-2 draw at Crewe, but United seemed finally to be coming to terms with life in the lower division, despite lucklessly losing by the only goal at Elland Road to Sunderland on 24 September after Brian Deane had a headed goal disallowed. They managed to put together a run of four games with just one goal conceded, but the next match saw both Paul Butler and Matthew Kilgallon dismissed as Leeds lost by the only goal at struggling Brighton. The team had become difficult to break down but it was clear that they had severe problems at the other end of the park.
Their strikers just could not get going - Joachim had managed a single goal (in the win against Coventry), Ricketts' one successful strike came in a Carling Cup victory over Swindon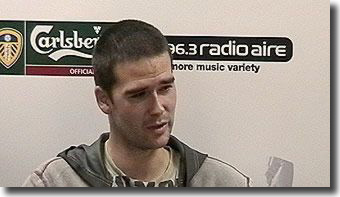 and veteran Brian Deane had to wait until 26 October to break his duck, as Leeds tumbled out of the Carling Cup, losing 2-1 at Portsmouth.
Recognising the paucity of his attacking options, Kevin Blackwell recruited Southampton striker Brett Ormerod on loan. His stay was cut short when he was recalled following an injury crisis at Southampton, having failed to trouble the scorers in his six games and missing a penalty in his debut against Sunderland. Kevin Blackwell was disappointed to see Ormerod go, but he eventually managed to secure his long-term target, Preston's Northern Irish international David Healy. The move, completed on 29 October after weeks of negotiations, involved a £650,000 fee and saw Healy agreeing a four-year contract. Also arriving on loan was Sunderland's Welsh international wide man John Oster, allowing the manager to experiment with a 4-3-3 formation, using Oster and Healey to either side of Brian Deane, now the favoured target man despite his lack of goals.
The arrival of the new men marked a significant improvement in the club's form. After losing badly at home in successive games against high flying Wigan Athletic and Burnley, Leeds hammered Preston North End 4-2 at Deepdale, lost narrowly at promotion chasing Ipswich and then destroyed QPR by 6 goals to one at Elland Road with Brian Deane inspiring cries of "Deano for England" after an astonishing four goal return.
It was a stunning burst of form, built around a fluent running game up front and solidity across the middle of the park. Oster brought an intelligent mobility to the right flank, and his weaving runs were much more productive and incisive than some of the more predictable straight dashing of the youngsters around him. He knew when to switch direction and brought a freshness to the formation, coaxing improved form out of Jermaine Wright, who had been a disappointment since arriving from Ipswich - now he was proving what an influential player he could be. Healy, playing down the other channel, was a constant threat, and scored twice on his first return to Deepdale after the move from Preston. Even the cumbersome Deane was becoming a threat, benefiting from some decent service from the right wing to destroy a shell-shocked Queens Park Rangers on 20 November.
As ever, though, United struggled to maintain consistency and fell to a late goal at struggling Rotherham after Clarke Carlisle hit the woodwork on three occasions before going off with an injured ankle. They followed up with a dismal 2-0 defeat at home to Leicester City.
The team's shocking inconsistency was a constant frustration for long suffering fans, but there was no excuse when louts abused Sean Gregan's 14-month-old son and heavily pregnant wife after the defeat against Leicester. Gregan came near to quitting the game completely after the attack, but was heartened by the support of Kevin Blackwell and more level headed Leeds fans.
In the wake of that incident, United emerged with a hard-earned 1-1 draw from a televised match at West Ham
after David Healy controversially won and then converted a penalty in the closing minutes. Healy's Northern Ireland international colleague Steve Lomas was furious, claiming that he had never touched the striker, who tumbled like a sack of potatoes after the most minimal of contacts.
A passionate Upton Park crowd spat out venomous abuse, but conveniently forgot that only seconds previously, more blatant penalty claims were ignored after a clear handball by Darren Powell.
Following a home draw against Millwall, when former United schemer Jody Morris slotted home a late equaliser from the penalty spot, Leeds pulled off back-to-back wins against Sunderland and Plymouth Argyle to edge their way clear of the relegation zone. They now had a nine-point cushion, although the continuing threat of administration carried with it the horror of a ten-point deduction, and a consequent plunge back into trouble.
They also had to come to terms with the news that they would be without Brian Deane for six weeks after the big striker hurt his shoulder against Plymouth, while John Oster's loan deal was terminated early following incidents during the club's Christmas party. He had earlier been arrested after a brawl outside a nightclub. Young Jamie McMaster was also involved in the incident at the party, which was thought to involve a female member of staff, and was suspended, but Oster bore the brunt of the manager's ire.
Kevin Blackwell: 'He was clearly in breach of club rules. Enough is enough, whilst I am in charge I will not have players besmirching the club's reputation. The player has stepped out of line and I want us to be seen to do something about it. This club is bigger than any player. When people write about my players on the back pages I want it to be for what they're doing right on the pitch and not for anything else. Leeds United will not put up with shenanigans from any players.'
Kevin Blackwell acted quickly, recruiting 32-year-old Welsh international Nathan Blake on loan from Leicester City, and opting to give teenager Aaron Lennon his head. Lennon, who had become the Premiership's youngest debutant in August 2003, after coming off the bench for the visitors at Spurs, aged just 16 years and 129 days, made his first League start and scored his first goal for the club in the victory at Sunderland. He went on to repay Blackwell with some wonderful displays on the right wing.
An embarrassing 2-0 defeat at home to Crewe was followed by a decent 2-1 win at Coventry. Blake got the first goal with a decent strike, but suffered a ruptured hamstring against Birmingham in the FA Cup third round and saw a promising stay cut short. The game also spelled the end of Michael Duberry's Leeds United career.
The defender had done well in his loan spell at Stoke City, but was recalled to cover a selection crisis.
The Yorkshire Post: 'The big defender lasted just 22 minutes on his first United outing for more than four months before being hauled off complaining of a hamstring injury. Duberry was only back in the side due to the suspension of Paul Butler and Clarke Carlisle, a three-month loan spell at Stoke City being cut short a week early by Blackwell. And the return turned into a nightmare after just 20 minutes when he unwisely tried to dribble round two opponents in the centre circle, allowing Darren Anderton to claim possession. Seconds later, and with Duberry out of position, the ball was worked to Darren Carter via Clinton Morrison and the Blues midfielder coolly beat Neil Sullivan from 15 yards to put the home side 2-0 ahead.
'Blackwell, who declined to comment on Duberry's mistake when questioned after the game, immediately replaced the defender with Danny Pugh and moved Sean Gregan into the back four, United looking much more solid as a result.
'Duberry undoubtedly has talent - anyone who saw the manner in which he snuffed out the threat of AC Milan's Andriy Shevchencko at Elland Road in September 2000 during United's Champions League run can testify to that. Stoke manager Tony Pulis was also impressed with Duberry during his recent three-month loan spell at the Britannia Stadium.
'But the moment the former Chelsea defender is back in a Leeds shirt all the old frailties return and his future seems destined to lie away from Elland Road.
'Duberry told the Yorkshire Post: "I don't know about the future. I did well at Stoke but don't know if they will come back in for me. I have been at Leeds for six years and had great times - every time I speak to an ex-player, we sit and reminisce about the good old days. I don't want to end it on a sour note. But if I am honest, I knew that after today I would not have been in the team. He would have brought Paul Butler and Clarke Carlisle back. At the beginning of the season, I was all smiles and wanted to play football. But it has been polluted by politics and off-the-field antics. It is not about football any more."
'Leeds could only agree the loan deal with Stoke by offering to pay a large portion of Duberry's £23,000 per week wage and the defender admits: "It is no secret that my wages are scaring clubs off, not a lot of people want to take that sort of thing on. I am in a strange situation because if I am to go anywhere there will be a lot of things to sort out. I will have a scan on my hamstring early this week. It popped in the first five minutes, I tried to carry on because it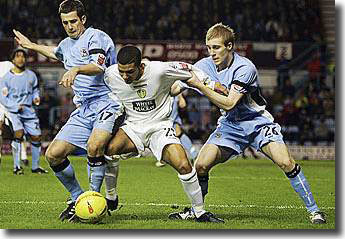 didn't seem that bad but I could not sprint."'
Duberry eventually moved, permanently this time, to Stoke City on 2 March, bringing to an end a particularly inglorious stay at Elland Road, which blighted a once promising career.
After the Birmingham debacle, Leeds stumbled to a draw with Cardiff, but were suddenly in the news once more for their financial affairs.
By defaulting on a £1.2m tax bill in December, the club had moved onto the brink of financial disaster. They were forced to sell promising young keeper Scott Carson to Liverpool during the transfer window in January just to pay the wages, but things had come to breaking point.
Sale and leaseback deals were agreed for the disposal of the Thorp Arch training ground and Elland Road itself to keep Leeds in business, but they were not enough … United had nothing left to sell and the taxman was threatening liquidation.
Less than a year after the Adulant Force takeover, the club were once more at death's door financially.
Part 2 - Cometh the hour, cometh the man - Part 3 - Dawning of a new era - Results and table