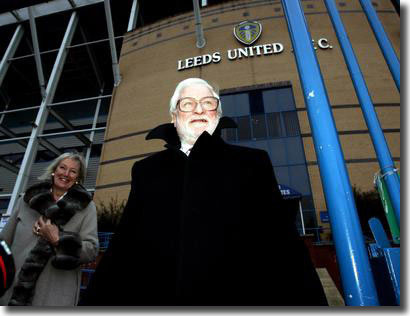 Part 1 - A nasty dose of reality - Part 2 - Cometh the hour, cometh the man - Results and table
At 2.27am on Friday, 21 January 2005, the black clouds of financial disaster finally started to clear around Elland Road, home of Leeds United Football Club.
A £10m takeover by 73-year-old former Chelsea chairman Ken Bates ended the very real threat of administration that had haunted the club for the best part of three years. There was at last some reason to believe that United would be written about for football reasons rather than as a case study in managerial ineptitude and financial mismanagement.
14 different groups had talked to former chairman Gerald Krasner about a possible financial deal but it was Bates who had come through in the final reckoning, putting his money where his considerable mouth was.
Following his takeover, the new chairman chose to replace the board, bringing in his long-term aides, Yvonne Todd and Mark Taylor. The only director who remained in situ was former player Peter Lorimer, signalling Bates' attempt to prove he had the long-term interest of the club at heart.
Todd, appointed finance director, served in that same role under Bates at Chelsea for 17 years. She had always worked well with him although it was clear who was in control. She assisted with a series of moves in the early 1990s to transfer the club's assets into a new holding company, saving Chelsea from the threat of insolvency.
Taylor was Bates' lawyer and the legal brains behind many of the complex deals that took place at Stamford Bridge, including the takeover by Roman Abramovich.
The Sunday Times of 23 January carried a major feature on Bates' comeback:
'Rescue Leeds on a £10m outlay? It sounds as credible as buying a derelict Chelsea for £1 and selling your stake 21 years later to a Russian oil billionaire for £17m.
'Reworking the Leeds insolvency - reclaiming the land, the stadium, the training ground and the lost status of a perilously overspent northern club? As impossible as dragging Chelsea through the prospect of extinction to the cusp of European domination.
'What Bates has done this weekend is, first and foremost, to buy himself a life. He has enough Roman Abramovich roubles to sit out the remainder of his days in his Monaco apartment overlooking the harbour - but life in the tax haven is surreal boredom. Ken Bates would rather be looking creditors, bankers, tax collectors, players, fans, hangers-on and cut-throat opponents in the eye. And preparing his chairman's notes in the club programme.
'The son of an Ealing lorry driver and a would-be Arsenal apprentice centre-half who underwent an operation as a child to cure a club foot, Bates soon became self-driven in pursuit of three things: football, money and putting one over the next man, lord or pauper.
'It was Harry Massey, a retired builder and long-term Oldham director, who coined the saying, "Mr Bates believes in a committee of two - with one absent."
'Yet Bates could be the saviour for Leeds.
'He understands football fanatics, and Elland Road is filled even in adversity with many thousands of them. From the King's Road to the Yorkshire pits, a common thread is the idiocy of grown men chasing a leather ball, and the community wishing above all else to be top dog at that passion.
'Bates, with his gruffness and his sometimes calculatingly offensive put-downs, is as Yorkshire blunt as ever he was a Londoner. He's prepared to pay for a new allegiance because the Abramovich cartel not only bought him out, but spat him out with little more charm than his own denunciation of the Mears family who preceded him at Stamford Bridge. He declared them less welcome than lepers.
'A rugged toughness, hiding a sometimes soft-centred vulnerability, a desire to be admired and liked, brings Bates back into football chairmanship. The facts and figures of all his dealings - like many such affairs in football - may forever be clouded.
'Whoever else is involved in the Geneva company Forward Sports Fund that made the £10m offer, and how much of that is Bates' capital, will remain, to use a familiar Bates saying, for him to know and others to try to find out.
'But his background in football is better established than rival bidders, from Sainsbury to fans' trusts to supposed Middle Eastern benefactors.
'Bates, at least, has been there and very nearly done a Leeds of his own. Many people point out that Bates took Chelsea to the brink of the same consequence through ludicrous overstretching - chasing the dream - as Peter Ridsdale, that ruinous fan in the boardroom.
'One big difference is that Ridsdale backed the purchasing demands of his manager David O'Leary and sold Leeds into near terminal decline. Bates backed an awful lot of spending, but summarily sacked managers who wanted too much too soon.
'And when disaster stared him in the bank balance, Bates had the luck, the guile, or the know-how to find a man more wealthy (for now) than any other buyer into the football dream industry. That, Bates will tell you, looking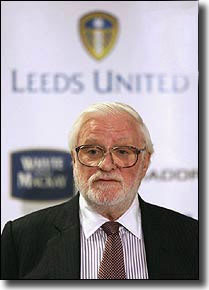 over his tinted spectacles, is what life at the sharp end is all about.
'In the year that 'his' Chelsea are ready to finally buy the championship that eluded him, Bates is reaching down to try to pick up by the bootlaces a fallen giant that has been there and done that in the recent past. The wisest thing he is doing right now is looking into everything before he speaks about what he will do or how long it will take.
'Buying back Elland Road from the property developers and restoring a team "in good time" are all on the chairman's agenda. When he entered Stamford Bridge, he fought property companies and local authorities to prevent housing on the pitch there - and though his detractors now point out that the stadium is enveloped by a hotel, restaurants and other real estate commissioned by Bates, the football field remains at the centre of everything.
'Elland Road was sold last year in desperation to reduce the crippling debt pile, and Bates talked on Friday of exercising the buy-back option on that deal 'in due course'. Until then, the club has to lease its own ground from the property company that owns it.
'Bates might prove as patient, as obdurate or as accommodating as it takes to win that negotiation. But first, he addresses the prospect, marginal though it appears, of coping with promotion back to the Premiership. "I certainly wouldn't like to get promoted this year,' he says. 'If you go up too soon, you more than likely come down again."
'His talks to manager Kevin Blackwell will be intriguing - take us up, but not just yet?'
Bates on Blackwell: 'I told him he has my full support. We swapped - as lovers do - home and mobile telephone numbers. The footballing decisions are his. No good player will leave without Kevin Blackwell's say-so.'
The new chairman was quick to set the wheels in motion after assuming control at Elland Road. He was careful to be opaque around the exact nature of the financial arrangements, as was his wont, but went out of his way to be clear about his plans for the club and sought to get the supporters on board, although his opening salvoes were typically combative. He attended a fans' forum at Elland Road on the Thursday evening following his takeover, and was remarkably frank about certain things, but guarded on a number of fronts.
Insisting that he had never been part of Sebastian Sainsbury's consortium at any time, he stressed that the business of the club would be conducted in private rather than in the press, commenting, 'This is a financially sensitive situation but an announcement will be made in due course. This is a private club and some things will stay in-house; we intend to give no commercial information to our competitors.'
Cautioning photographers to stop snapping - 'Get out, I don't want you flashing in my face, I'm the only one allowed to flash in here,' he joked, pulling his jacket open - and responding to the ring of a senior TV man's mobile phone with the words 'It's probably your editor sacking you,' he was in his element. 'If you carry on, I'll walk out,' he said to one questioner, who had the temerity to query the logic behind his investment in Leeds. 'It's simple really, I just won't deal with you,' he told the gathered press, explaining what would happen to any detractors considering coverage of him or Leeds that he deemed unfairly negative.
Bates said: 'Whereas a couple of weeks ago Leeds had their head above water gasping for breath, now they are on the surface swimming against the tide. The next job is to get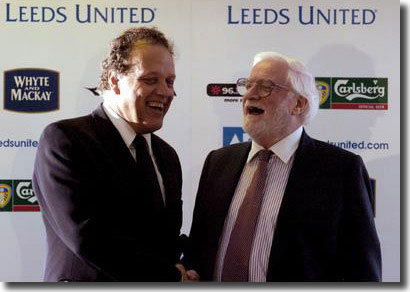 them swimming with the tide.' The club had budgeted to lose £6m this financial year, but cost savings had already been identified and Bates said he had already completed his first commercial contract which would save the club £100,000 a year. 'It is my mission, and the mission of my staff, to make sure every aspect of the commercial side of the club is improved.'
He assured fans that he would buy back both Elland Road and Thorp Arch, but was not as yet in a position to say when. He confirmed plans to give the pitch to the supporters: 'We intend to work out a solution whereby the pitch will eventually revert to the ownership of the fans as will the name Leeds United.' He had established a similar scheme at Stamford Bridge.
'The fans' organisation will grant the club a 199-year lease at £1 a year and give us a 199-year licence to use the name Leeds United Football Club. That should ensure that any greedy, predatory, property developers won't waste time knocking on the door.'
Bates was asked why he wanted to get back into football, and why Leeds United. 'When I left Chelsea,' he began, 'I left addicted to football and I missed it so much after just three weeks.
'I knew I wanted another challenge and it was just a matter of where. I did try to get into Sheffield Wednesday, but did not find what I found here; a board that were solely concerned about the future of the club.
'The aim for the season is firstly do not get relegated, which is almost guaranteed now, then to finish in the top half of the Championship table. I would be satisfied with a top half finish and ecstatic with a top third finish. The long term aim of the club would be to challenge the likes of Arsenal, Manchester United and Chelsea again.'
He closed the discussion with the promise: 'We're gonna have a lorra lorra laughs.'
If nothing else, Bates' arrival put an end to the tiresome speculation that had dogged the club for years, although the press still had at least one nasty ace up their sleeves.
At the end of February, the Sunday Mirror carried an extraordinary story of a plot to rid Leeds United of two of its highest paid players, Michael Duberry and Gary Kelly, the first by framing him for taking drugs and the second by breaking his legs.
The alleged plans came as part of a move to slash the club's exorbitant wage bill. Former club executive Chris Middleton claimed that the plot was hatched between him and major shareholder Simon Morris.
Middleton claimed that they planned to sprinkle powdered drugs disguised as
Parmesan cheese on Duberry's pasta dish. He said that they also considered dissolving banned steroids in a sports protein drink aimed at the former Chelsea defender.
Middleton said: 'Morris made out there were four major liabilities - Eirik Bakke, Michael Duberry, Gary Kelly and Seth Johnson. He wanted to cut costs by getting players off the wage bill. He made it clear that their wages were in excess of £10million a year. Johnson and Bakke were untouchable because they were injured. The basis was Gary Kelly to start with. The boss knew Kelly went to the Bingley Arms every night. He said, 'Can we breath test him'. Morris then moved on to Duberry. There was talk about drugging his meal at a restaurant in Leeds called Bibi's during a team meal, putting something in his drink, all sorts of stuff. Me and Morris planned to do it.'
Middleton claimed he was only going along with the plan to please Morris, but still checked out which drugs stayed in the bloodstream long enough to fail a dope test. 'Morris would get annoyed and asked what was happening. I was always making excuses. The plan changed to trying to lace sports drinks with steroids because he came to the conclusion that it wasn't safe to do it at a restaurant. A call went into the Leeds manager Kevin Blackwell suggesting they look at giving the players protein drinks to improve their conditioning.'
Middleton researched how to source 50mg capsules of banned steroids to put in Duberry's and Kelly's protein drinks after training. He said: 'But then Blackwell opposed the idea of getting protein drinks and that and it went out of the window.'
Sports investment broker Paul Garland, who was being paid £2,000 a week to help re-finance the club, said Morris revealed his plans to dope Duberry to him at meeting on 18 September: 'I explained one of the concerns of the investors Nova was about some of the higher paid players. Their wages were substantially greater than most of the Leeds players - they made up 45 per cent of the total LUFC wage bill. Morris said that there were "ways of dealing with this". He said he had friends who "might tip the wink that he had taken something" and the club would get him tested the next day and terminate his contract. Morris said if that didn't work "we will spike the drinks he has after training." I protested that this was disgraceful and that young players' careers ought not to be sabotaged in this way. Morris just laughed and said they were costing the club too much and "they are f***ing crap!"'
Middleton also told of a plan to get Kelly off the payroll by breaking his legs and cashing in his lucrative insurance policy: 'Then Morris said, "What if we get him beaten up, I mean seriously beaten up." I had no answer. I conveniently forgot about it. I wanted no part in it. The boss was desperate. No-one wanted to buy the club's main assets.'
In a separate meeting Paul Garland says the Leeds boss revealed his plans to put a contract on Kelly. Garland said: 'He said, "He is the easiest of the lot - we'll just have him done over in the car park of the pub. It would be the easiest thing in the world for a couple of Man Utd fans to beat him up, and smash his legs so that he'd never play again."'
Morris was unequivocal in protesting his innocence: 'None of these things ever happened. I have no knowledge of the serious allegations. I deny plotting the Gary Kelly allegations. It doesn't make economic sense. If he's in hospital for four weeks it's going to cost you a hundred grand. He's on 24-grand a week. It's nonsense. I am sorry I ever got involved with Paul Garland or Middleton. If you lay down with dogs you get fleas. All these guys piss in the same pot and have the same goal of causing disruption to Leeds United.'
It was a disgraceful tale, and it was a relief for the club to get back at last to the business of football rather than dealing with intrigue and the gutter press.
The new investment had put any fears of administration behind the club, and it was just as well, for they were sitting in fourteenth place, just eight points clear of the relegation zone. If a club goes into administration, they are docked ten points, so Leeds had been in some danger of falling even further.
The chances of that were reduced by a scrappy 1-0 victory at Stoke City on 22 January. Neither side were particularly inspiring and the only goal of the contest was symbolic of the entire game - a low cross from David Healy struck the standing leg of Stoke full-back Wayne Thomas and sliced past Steve Simonsen in the City net. After months of misfortune, however, Kevin Blackwell was delighted with the points:
'I am glad today is out of the way. There've been so many things going on in people's heads this week. There was talk among the players about the situation and I pulled them before the game and said we get on with it. This is a brand new era, we can start to look forward as a football club and I want to take all of you with me. And if we can do that, brilliant.
'We are going to be scrutinised in everything we do and everything we say, and none more so than the last few days when we've been in every paper. But for the first time it's the right image, that the club is moving forward and please God this is the point where people can look and say that was the day it all changed.
'But the lads who have been here since the start of the season, they've battled to be where they are. They've been given nothing. People talk about our agents' fees being ridiculous, but all those fees were to get rid of players. I would have loved to have paid out £1.5m to get players in, but that hasn't been the case. But those lads there did me proud on Saturday.'
With only one defeat in eight Championship games, United were now up to 11th and had a chance to break through into the play-off zone. With most of the division enjoying a week off, Leeds faced two games, away to Derby and at home to Brighton. Two wins would see them in an unanticipated sixth position.
Unfortunately, they caught the Rams on top form and only a wonderful display by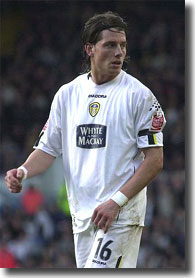 Neil Sullivan, watched by Scotland manager Walter Smith, kept Leeds in contention following Tommy Smith's goal in the 63rd minute, slipped home neatly after taking an age in possession and wrongfooting several defenders. Substitute Adam Bolder wrapped up the game with a second, deflected goal, deep into injury time.
There was further disappointment at the weekend against Brighton, when United could not hang on to a lead given them by a fierce Clarke Carlisle drive three minutes before the break. Guy Butters found space in the area to head home ten minutes from time to earn the Seagulls a point, despite having Charlie Oatway dismissed with two minutes remaining for striking out at Simon Walton.
Promotion hopes were revived the following weekend, when Icelander Gylfi Einarsson opened his goalscoring account for the club with a powerful running header that won the points at Burnley. It wasn't all plain sailing, however, and United had to thank Neil Sullivan for the win. He saved a penalty from Ian Moore five minutes from the end after some inept defending by Clarke Carlisle had gifted the home side a spot kick. Again, Leeds' opponents finished with ten men when Frank Sinclair was dismissed for a second bookable offence after kicking out at Einarsson.
Experienced former England left-back Michael Gray, recruited on loan from Blackburn, became the 22nd player that season to make his Leeds debut in that game and a week later there was yet another, when Rob Hulse appeared for the first time, at Elland Road against Reading.
West Bromwich Albion striker Hulse, 25-years-old and languishing in the reserves after dropping out of manager Bryan Robson's plans at the Hawthorns, had been pursued by Wigan, Ipswich, Stoke and Sunderland. He chose instead to join up with Leeds on loan to get some first team action after just seven substitute appearances all season.
Hulse: 'I was off to a reserve game on Wednesday night, when I got a call from my agent, saying to come up to Leeds and have a look round. I'd been told that quite a few clubs had come in for me and wanted to take me out on loan, but as soon as I knew that Leeds were interested - well, it's a massive club!
'I see this as the ideal opportunity to get me playing football again. I'm under no illusions, I need to be playing football and I see Leeds United as the best place to be. I know that my match fitness is down, but I've looked after myself and I've worked extremely hard in the gym and after training. I know I'm fit, it's just a case now of getting match fitness under my belt and hopefully that won't take too long.'
Hulse was pitched straight into action in what looked a difficult home game against a Reading side that was chasing promotion hard. In the end, it turned out to be one of United's outstanding performances of the season and a remarkable debut for the new man, as noted in the Sunday Times:
'Wins are no longer celebrated with champagne in the Elland Road boardroom, after Ken Bates wisely decided that the money might be better used by the groundsman, but no doubt a pint or two of something less effete was raised to Rob Hulse last night. Two cracking second-half strikes on his debut by the young striker, signed on loan from West Brom, gave Leeds a win that suggested the chances of the club's new chairman overseeing a return to the Premiership are better than even he might have anticipated.'
David Healy was revitalised by being asked to partner Hulse up front after weeks playing wide left in a 4-3-3 formation and opened the scoring after ten minutes, forcing his way between two Reading defenders and clipping his shot immaculately past keeper Marcus Hahnemann.
Hulse, though, took all the plaudits for a memorable second half display, seemingly inspired by the opportunity to appear again on the big stage.
After 65 minutes, Hulse chased a long ball from Sean Gregan onto the left wing, controlled it and fed Healy. Aaron Lennon took the Irishman's pass in the area and laid it back for Hulse. In the manner of Mark Viduka at his opportunistic best, Hulse opened the move out to his right, dancing across the field to make space and curl home a fine drive.
The striker earned a booking for his exuberant, bare-chested celebrations, but wasn't finished yet.
Seven minutes later, Hulse broke clear of the Reading backline and from 20 yards hit another shot beyond the goalkeeper. He was in unstoppable form and thoroughly deserved the standing ovation when he was substituted a few minutes later.
Reading got a late consolation goal from a flick by Lloyd Owusu but it couldn't dampen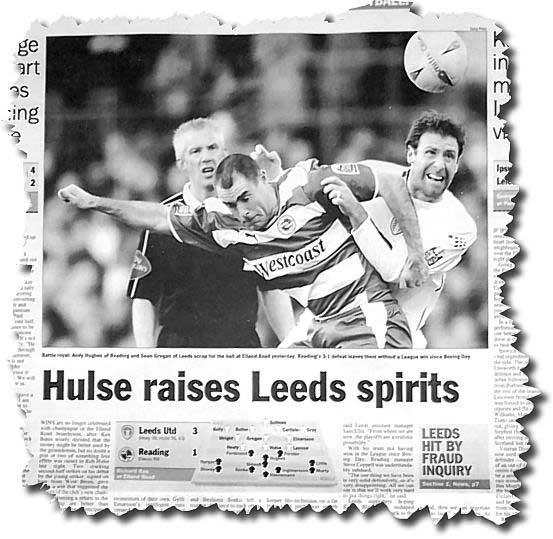 the Elland Road spirits … there had been plenty of reasons to be cheerful. Leeds were up to tenth spot, just four points shy of the play off positions.
Leeds had another debutant the following week, midfielder Shaun Derry signed for an undisclosed fee from Crystal Palace, after being pursued for a couple of months by Kevin Blackwell. Derry had a less enjoyable debut than Hulse, seeing United crash 3-0 at promotion-chasing Wigan Athletic, with Sean Gregan and Gary Kelly having a set to in the second half. He was much happier the following week, 26 February, when he snatched a late winner against West Ham at Elland Road to keep unlikely hopes of promotion alive.
That win took Leeds back up to tenth spot, just four points out of the play off positions, and they edged a point closer on 6 March. They fought back from a goal down after 17 minutes to earn a point at promotion rivals Millwall when Rob Hulse equalised with 12 minutes left, scoring for the fourth time in four appearances.
The striker was on target again the following week, equalising at home to Gillingham, but Leeds could only manage another draw. Michael Gray was dismissed after an unseemly fight with Darius Henderson that provoked an ugly massed brawl between all the players and management teams. Both clubs faced FA charges for the altercation and United were fined £3,000.
The dropped points were crucial, leaving Leeds five points away from the play-offs, with just eight games left - it was a tall order, which became even more difficult when United could only manage a goalless draw at struggling Nottingham Forest, thankful when Neil Sullivan's fourth successful penalty save of the season secured the point.
Before the game, Kevin Blackwell spoke of his mixed feelings with promotion still a remote possibility: 'What I wanted to do ideally was build a team, make sure we were safe from relegation and then experiment for next season. But we found ourselves so much further forward that we've had to keep hanging in there on the verge of the play-offs. I can't give it up, because it's still there, but that doesn't allow you to experiment with the team as much as I'd like to have done. We are in a position to keep winning games and you have to do that.
'I can't keep looking short-term, I need to keep looking a bit longer-term. We now know what this division is about and we know we can compete at the top end. I've got to try to come up with something to make sure that we are right at the top end. And that really is what the rest of the season will be about.'
Boosted by the signing of Ian Moore from Burnley, Blackwell released Brian Deane to Sunderland, and could also now call on the services of fit-again England midfielder Seth Johnson and striker Marlon King, arrived on loan from Nottingham Forest. All three were in the team that drew at home to Wolves on 2 April.
The series of draws had virtually ended any hopes that Leeds still harboured of a first time promotion and their morale was badly sapped during the week when Neil Warnock's Sheffield United came to Elland Road and inflicted a disastrous 4-0 thrashing, with former United forward Andy Gray helping himself to two of the goals.
It was the Whites' worst home defeat in three years and ended with skipper Paul Butler in hospital after swallowing his tongue following a collision with Neil Sullivan. Happily there was no lasting damage and Leeds managed to win their first game in six four days later when they won 2-1 at Watford.
All chances of promotion were finally ended the following week by a 1-1 draw at QPR with Shaun Derry dismissed after a second half misunderstanding. Seth Johnson had given United a first half lead, but the sending off disrupted their rhythm and Kevin Gallen snatched a last minute equaliser.
Kevin Blackwell was disappointed by events, and in particular Derry's dismissal: 'We made a sporting gesture and put the ball out then the QPR players came over and abused Shaun Derry. He's told the player to clear off and raises his hand and the referee has sent him off, so we might as well have played on. That decision changed the whole of the game and we were comfortable before then. I don't think Sully had a thing to do. Decisions do change games and that certainly did.
'And then their goal came from a free kick which was supposed to be taken right in the corner but he takes it nearer the 18-yard box. If he takes it back to where the offence happened they can't get it.
'That shows how far we have come as a club, we are disappointed not to win games and we are a hard side to beat. We have travelled to a place with a cracking atmosphere and it's very intimidating when it's like that but we coped. I think they've shown great bottle and I am proud of the lads.'
Leeds, already having to manage without David Healy who missed the final four games of the season with damaged ankle ligaments, sprung a shock when they confirmed that Seth Johnson, despite making a decent enough return to action with six appearances, would not be playing again. The appearance at QPR was Johnson's 59th for the club, and a 60th game would trigger an additional payment of £250,000 to his former club, Derby County. The official club statement said: 'Leeds United will not be selecting Seth Johnson for any further fixtures this season as the club will be liable to make an additional payment of £250,000 to Derby County when he next plays. The club want to be satisfied that Seth Johnson has a significant contribution to make for the club in the future after his injuries before committing to this payment to Derby County and subsequent payments based on appearances.'
Kevin Blackwell supported the financially-driven decision: 'It is nearly four years that Seth has been here and he's only made 59 appearances in that time through no fault of his own because he's been plagued by injuries. To spend £250,000 on a player for the next three games who will not affect our season one way or another, and then should Seth break down when we know he has had major injury problems, would not be prudent.
'I feel for him and it does not make my job any easier, but we have to accept that we will not put the club into financial difficulty. This is a prudent measure, we have thrown a lot of money away over the last three years at the football club and God forbid we decided to play him and he did break down in the last few games when there's nothing at stake in them.
'If he can get through pre-season which will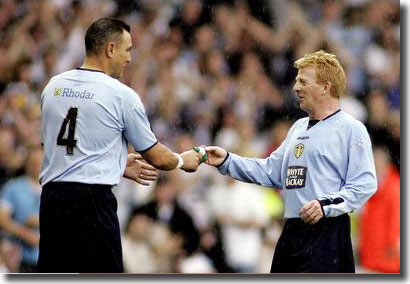 be a real physical test for Seth, then we will have ourselves a player again. In the two years I have been here he hasn't done a pre-season and it has affected how he's played.'
With nothing left to play for, the final three games of the season were meaningless affairs, although the closing day draw with relegated Rotherham saw 36-year-old Lucas Radebe celebrate the end of his career by coming on with five minutes to go to make his 200th league appearance for the Whites. Six days earlier, the Elland Road crowd paid a lasting tribute to the Chief during his star studded testimonial match before a crowd of 37,896, the largest of the season, raising £300,000 for charity.
It was a remarkable occasion, with a select Leeds XI sharing ten goals against a World XI, who won 7-3, with Radebe playing 45 minutes for each side. The Leeds team featured such old favourites as Vinnie Jones, Gordon Strachan, Gary Speed, David Batty, Phil Masinga, Gary McAllister, Jimmy Floyd Hasselbaink, Tony Yeboah, Nigel Martyn and David Wetherall. The World XI included Bruce Grobelaar, John Carew, Mario Melchiot, Ally McCoist, Gunnar Halle, Jay-Jay Okocha, Nolberto Solano and Olivier Dacourt.
The crowd gave Radebe a marvellous send off after 11 years of faithful service to the club and it was a wonderful day for everyone, including the South African, who said, 'Thank you to everyone who was here here today and has supported all the good causes. It was absolutely fantastic to get a standing ovation and to see the respect the crowd has for me.
'When we first started planning the game I didn't think we would get anywhere near as many people in, but they have shown their commitment to me and I am very honoured.
'This club gave me my big opportunity and from the fans, players to staff, there are so many people I have to thank and I will never be able to thank them all or enough.
'There has always been something special about this club but I swear I didn't know the impact I have had at this club until today, and I now know my input has been respected. It was a great afternoon for me and my family and every minute was very special for me. It was very emotional and I had to hold back a little bit because I didn't want to be a big softy!
'I now join you all as a fan and I am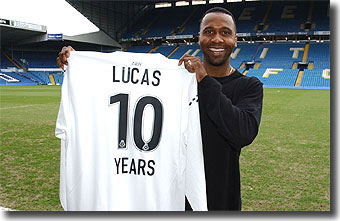 looking forward to seeing Leeds United back in the Premiership.'
It was an emotional afternoon, giving both players and fans the chance to celebrate their allegiance and to rise above the sorrows that had beset the club over the last couple of years, almost symbolically bringing down the curtain on a terrible period for Leeds United, and signalling the end of a remarkable season.
The club ended the campaign fourteenth, their lowest finish since 1986 - Kevin Blackwell had given 26 players their debuts and 37 in all were used, while the club had sold both Elland Road and the Thorp Arch training facilities, starkly reminiscent of the dark times during the 1980's when United had suffered similar turmoil and sold the stadium to Leeds City Council for £2.5m. For a second successive year the club had almost gone out of business, but the intervention of Ken Bates had ended the flirtation with financial disaster, hopefully for good. The initial hostility shown to the new chairman mellowed after a while and it seemed that finally Leeds United Football Club could look forward to some sort of future.
The dire forecasts of relegation had in the end proved too pessimistic, despite the team struggling for much of the season. The form of Player of the Year Kevin Sullivan, the goal threat of David Healy and Rob Hulse and the loyal support of some of the best fans in the country had all given cause for optimism. There was finally some hope of a bright new future in West Yorkshire. As Kevin Blackwell noted: 'I am glad that this chapter in the club's history is over because there were just too many imponderables and unknowns and I think we have cleared a lot of those up. We now know that we have got a half-way/top ten side and we have to add four or five players to give us that tilt towards the top half.'
He and Ken Bates were already planning a summer of improvement - before the end of May, Rob Hulse's move had been made permanent, with an initial payment of £800,000 scheduled to rise to £1.1m depending on future success. It was the first step in a very active close season, all in the hope that Leeds United could get back where they belonged.
Part 1 - A nasty dose of reality - Part 2 - Cometh the hour, cometh the man - Results and table