Part 1 - A nasty dose of reality - Part 3 - Dawning of a new era - Results and table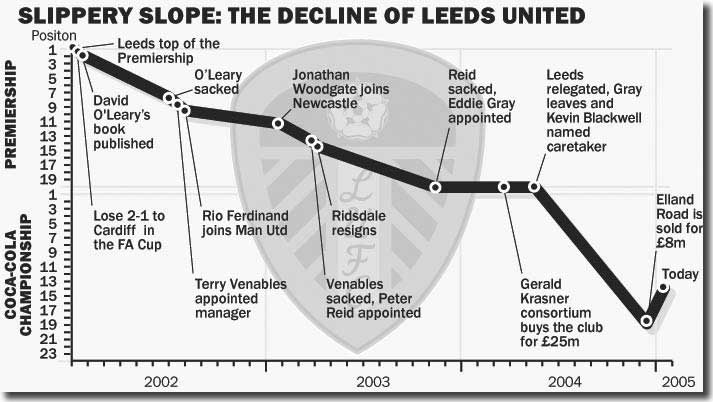 After months of speculation it was confirmed on 19 March 2004, that insolvency practitioner Gerald Krasner had negotiated a deal with the creditors of Leeds United that allowed Adulant Force, the consortium he fronted, to take control of the club and save it from the administration that had seemed inevitable.
However, for anyone who assumed that the deal would lay United's financial difficulties fully to rest, there was a nasty shock waiting in store. It quickly became apparent that the buyout had done no more than earn the club extra time to remedy their deep-rooted financial ills, and that further support would be required to put Leeds United back on an even keel.
As reported in the Telegraph, 'the consortium … gambled on three things. Firstly, they hoped the team could remain in the Premiership. They didn't and were relegated with the massive financial consequences that involves. Secondly, they hoped to raise millions through a debenture scheme by selling thousands of 20-year season tickets. With the club in the bottom three of the Premiership and facing relegation, they sold around 100. And thirdly, they were advised by former Bradford City chairman Geoffrey Richmond. An experienced football man, Richmond had left Bradford with huge debts and, only weeks after his involvement with Leeds was revealed, he was declared bankrupt.'
The Krasner deal had been a decent one, slashing the club's massive debt from astonishing an £103m down to a much more sustainable £40m:
Loan from Jack Petchey, secured against Elland Road - £15m
Directors loans - £4.75m
Income tax and VAT - £9m
Former managers, players and agents - £8m
Other creditors - £3.5m
A club balance sheet in September 2004 listed the following among the creditors:
Robbie Fowler £2,106,000
Danny Mills £1,841,000
Nick Barmby £1,055,000
Robbie Keane £400,000
David O'Leary £356,000
Peter Reid £355,000
Stephen McPhail £311,000
Dominic Matteo £181,000
Danny Milosevic £156,000
Brian Kidd £87,000
Clearly, the desperate fire sales to rid the squad of some of the highest earners in the country had come at a significant cost and there was bitterness at the need to pay off players who had let the club down so badly. The moves had demanded extensive use of agents and a Football League report later revealed the extent of the damage. Leeds United had paid out £1.6m in agents fees in the six months to 31 December 2004, comfortably the highest amount paid by any club.
It was certain that Leeds would still have the highest wage bill in the Football League in the new season, despite selling a host of stars. The club had already slashed their annual salary costs from £57m to £41m in the past year, but now planned further reductions.
Gerald Krasner: 'We will have to trim the squad slightly. That is largely because we are still having to subsidise the wages of some players we have got rid of. A player may have been on £40,000 a week here but only receive £20,000 or £25,000 elsewhere, and we have to make up that shortfall on his contract. Unfortunately in most cases there is no other way of reducing our wage bill, some supporters do not seem to realise that. The simple fact remains that if we do not start to live within our means there will be no future for Leeds United. There were 18 players earning over £1m a year when we came in and the total wage bill was over £40m. It is down to an £18m maximum this season but, in order to ensure a viable future, we still have to get the financial model right.'
To get that into some sort of context, £18m was still twice the First Division average and six times the £3m paid out by Sheffield United. Krasner recalled, 'We were paying one of our players more than Sheffield United were paying their whole squad.'
Kevin Blackwell: 'Going into August, I had two contracted players available, Gary Kelly and Michael Duberry. There were two others on the books, Seth Johnson and Eirik Bakke, but they were both injured. The place was like the Marie Celeste. I got 64 trialists in, from all over the world, panning for gold. They were hard times.
'The Inland Revenue started calling in debts, and all our money was disappearing into a black hole again, so we sold James Milner. On the Monday he was "The New Face of Leeds United", by Friday he was a Newcastle player. That's how it was then - like walking on quicksand.'
There were also bitter complaints that much of the money for the Adulant Force deal had come from mortgages against the club's few remaining assets, such as Elland Road itself, on which a £15m loan from Jack Petchey had been raised. Documents filed at Companies House indicated that the board had taken out eight new mortgages on property and land owned by Leeds to fund their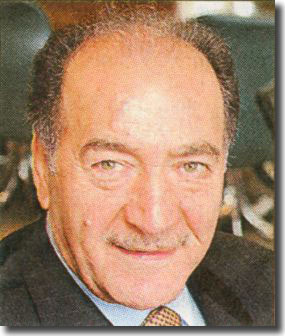 takeover and keep the club afloat in seven months after saving it from bankruptcy.
The immediate need for cash was down to the Petchey loan. The deal had included significant penalties should any of the repayments be delayed and Leeds desperately needed to improve their cash flow position.
They were making some good inroads into improving their trading position by reducing the exorbitant salary bill, but that would only be of any use if they could get their liabilities down to manageable proportions with an inflow of cash.
Gerald Krasner negotiated a sale and leaseback arrangement for the club's Thorp Arch training ground and announced they would try and do the same with the Elland Road stadium. He also distanced the club from rumours of a takeover by British-based Iraqi billionaire Nadhmi Auchi.
According to the Sunday Times: 'A former Ba'ath party member whose brothers were killed by Saddam Hussein's regime, Auchi left Iraq in the late 1970s to settle in London. He is one of Britain's wealthiest and best-connected citizens, yet maintains a low profile. Lord Lamont, a former Tory chancellor, sits on the board of Auchi's holding company and the billionaire hosts regular dinners attended by royals, Middle Eastern leaders and MPs. He has also bought tables at Labour fundraising dinners. He has quietly built a business empire comprising 120 firms across the world in property, construction and hotels.
'However, his business dealings have often proved controversial. Last year, in France, he was convicted of paying kickbacks to the oil firm Elf. Auchi, who was born in Baghdad in 1937, received a 15-month suspended jail sentence and a £1.39m fine. He says the prosecution was politically motivated and is appealing against it. In Britain, a pharmaceutical firm he owns is co-operating in a criminal investigation by the Serious Fraud Office into an alleged price-fixing cartel involving supplies for the National Health Service.'
Auchi's rumoured interest went no further, although it was clear that Leeds United were actively pursuing other options.
Gerald Krasner: 'From day one we made it clear that we were looking at two options; remortgage the ground or do a sale and lease back with a minimum 25 year lease and a buy back clause. That position has not changed one iota. Leeds fans are entitled to be angry if they think we will not be playing football at Elland Road but we have always said that whatever happens, football stays at Elland Road. It is not in the club's interests to accept a shorter lease than 25 years, that is the minimum. In the talks we're having there is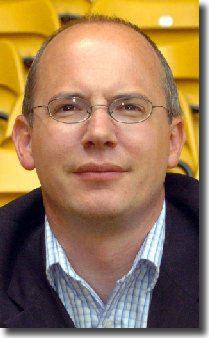 also a clause to buy back the ground. That's at any point during the lease, not necessarily at the end of it.'
The deal for the Thorp Arch training complex, on valuable land near Wetherby, saw it sold to Jacob Adler, a Manchester-based property developer, and leased back over 25 years, with United retaining first option to buy back the land if the financial situation were to improve. Krasner claimed that once mortgages on the land around Thorp Arch were paid off, Leeds would be left with 'in excess of £4m' to go towards reducing debts.
Shaun Harvey, the club's chief operations officer, said: 'In an ideal world it's not an option we would have taken, but our number one priority is to reduce this club's debt so it can operate again under normal circumstances. This arrangement will go a long way to helping us do that. Instead of paying the mortgage on Thorp Arch, we will be renting it instead, with the players continuing to utilise the excellent training facilities available there.'
John Boocock, chairman of the Leeds United Supporters' Trust: 'This is a sign of desperation and proves that, as owners, they bought the club on loans and have no money to invest. Nothing is sacrosanct at the club - if they can sell it, they will. I have no doubt the board would love to sell Elland Road. Twenty-five years is not a long time in football, especially to those of us who have been coming to Elland Road for 40 years. What happens to Thorp Arch when the 25 years are up? I can see Leeds United having to train in a public park in the future. The only way forward for a football club in this situation is to develop a strong youth policy. Everything points to doing that and yet what we are doing is selling off the very bedrock of a strong youth policy.'
On 18 October, The Times reported that the club had agreed another fundraising scheme: 'Leeds' attempts to restore financial stability were boosted as they sold off disused land adjacent to their Elland Road ground. The deal, which will allow Stanley Casinos Limited to build a casino complex with a hotel, restaurant, bars, leisure facilities and designer shops on the newly acquired site, is subject to the reform of the United Kingdom's gambling laws. Such plans will not have any impact on Elland Road remaining the club's home, although a sale-and-lease-back arrangement of the ground has not been ruled out.'
All the time, however, the search was on for more substantial investment and on 24 October finance director Melvyn Helme hinted that a deal was close. He would not comment on reports of a potential takeover but said the board were making progress in attempts to find new money.
'Talks with a number of parties have reached an advanced stage,' he told the Mail on Sunday. 'It would be wrong to comment on any one person. I'm not sure which party will come forward in the end. We have had a policy ever since we took over at Leeds that in view of all the various speculation there has been, we have never commented on individual situations.
'We have just done a deal for the casino land at Elland Road and we were talking to four or five casino operators. We have successfully concluded a deal which is to the benefit of Leeds United and we did not comment on any part of it before an announcement was made. It would be quite wrong for us to comment on individual parties at this stage because at the end of the day I am not sure which party will come forward and do a deal with us.
'We are at an advanced stage of negotiations with various people and we have to have a look at all the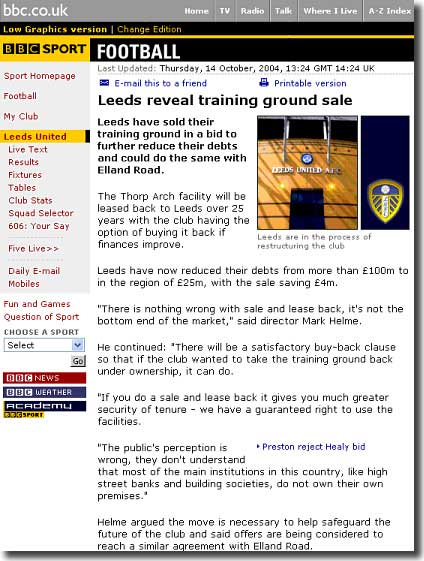 options on the table and choose the best one for Leeds United.'
Towards the end of October, details started to emerge of two potential suitors, despite the board's attempts to keep matters under wraps.
The first was a consortium led by Sebastian Sainsbury, 41, banker and restaurateur and the great grandson of the founder of Sainsbury's supermarkets. He had enlisted the financial backing of an American group, Nova Financial Partners, run by the Miami businessman, Burl Sheppard, described as a 'hi-tech fundraiser'.
The second interested party was a group of local businessmen and Leeds United supporters, headed by property tycoon Norman Stubbs.
It was soon apparent that there was a degree of antagonism between United's directors and Sainsbury and that the board were more favourably disposed to the Stubbs connection.
The Sainsbury proposals were based on an injection of £25m in new funding, negating the need to sell the Elland Road stadium, but the Stubbs deal depended on a sale and leaseback arrangement. The board insisted on seeing physical proof that Sainsbury had the necessary finance at his disposal and negotiations ended in acrimony with Gerald Krasner claiming that no satisfactory proof had been forthcoming.
Things came to a head during a show on Radio Aire on Saturday, 6 November 2004 with a heated on-air argument between Sainsbury and Melvyn Helme.
Sainsbury insisted that he had provided proof of funds and claimed a deal had been completed. A contract would be signed on Monday and the deal completed by the transfer of funds on Thursday when he would become club chairman.
Leeds had performed remarkably well in winning 4-2 that afternoon at Deepdale, home of Preston North End, and Melvyn Helme joined the commentators for a post match discussion. He was insistent that the club had not received proof of funds. He explained that the proposals by the Nova group were acceptable and that a contract would be signed once the required proof of funds had been obtained. He also complained about the consortium continually seeking to do their negotiations very publicly. He demanded that Sainsbury either put up, or shut up.
At this point, Sainsbury joined the conversation by telephone. He said proof of funds had been provided, though Helme claimed that the club had only received a letter from a Canadian solicitor, unassociated with the consortium, which stated he had been asked by them to write the letter. Sainsbury said that asking for this level of proof was not a normal way to conduct business. He couldn't understand why the club was delaying and challenged Helme to confirm the discussion earlier in the Preston boardroom. Sainsbury was asked why he couldn't simply provide the name of the bank or an account number, which he declined to do, saying this was not the way to conduct business. The two men repeatedly spoke over and ignored each other.
The United board was bitterly divided, as reported in the Guardian that same day: 'Stubbs is understood to have raised £10m and the proposed sale and leaseback of the Elland Road stadium is expected to bring in a further £15m. However, his backers insist all monies must be directed towards the continued survival of the ailing club rather than rewarding those directors under whose stewardship debts have been reduced from £104m to slightly more than £30m.
'The current Leeds chairman Gerald Krasner is understood to be content with Stubbs' offer but his view is not shared by two of his fellow directors, who are pushing exclusively for Sebastian Sainsbury's Anglo-American consortium. Sainsbury initially offered two board seats to the incumbents and a £2m sweetener to the current directors, a proposal which is the subject of further negotiation.
'However, in taking out £4.75m in directors' loans which helped facilitate the initial Adulant Force buy-out of the club, the board used their homes and businesses as security. Should both current takeover bids fail, directors stand to lose their estates if the club goes under.'
The club's fractious impatience with Sainsbury and continual demands to 'show us the money' were perhaps excusable - things were getting fraught at Elland Road.
The club still owed £9.2m on the loan from Petchey and the next instalment of £2.5m was due on November 14, with a £2m penalty if the payment was missed. The United board set Sainsbury a deadline of 1pm on Friday, November 12 to complete the deal, which was always far too tight in the circumstances. Sainsbury chose to back out and the club was left with little option but to sell Elland Road. They arranged a 25-year leaseback deal with Manchester-based businessman Jacob Adler, who had also bought Thorp Arch. The arrangement allowed the debt to Petchey to be cleared in full and put around £8m in the bank.
35-year-old Adler later sought to assure the fans that 'Your ground is safe with me' and that he had 'no intention whatsoever' of building on the site. In an interview with the Yorkshire Evening Post he also rubbished claims that he had secret ties to the men who were on United's board when the sale went through: 'I had never met Mr Krasner before, I had never dealt with him before. Categorically, I had no connection with anyone at Leeds United. [The transactions] came about through a property agent who knew that Leeds were looking to sell and I might be interested in buying. I have been described in the press as a property developer. I have never developed anything in my life. I invest in property, and this was commercially a great chance for me.'
While the sale might have made sound business sense it had enormous symbolic significance to the supporters of the club, who despaired, convinced that the directors' only strategy was to liquidate all their assets in a slow and inevitable grind towards financial oblivion.
The Stubbs consortium was still interested and there were continuing hints of a successful conclusion to discussions, but weeks went by with no concrete news.
As December opened, there came another crisis as the club announced a payment of £1.2m to the Inland Revenue was due on the 15th of the month with an £800,000 VAT bill to be settled shortly afterwards. The club defaulted on the payments and staggered on uncertainly until 17 January when they announced that they had only 10 days left to avoid administration.
Kevin Blackwell: 'One Friday in January, out of the blue the stock exchange pulled the plug. It was a terrible day, with staff crying all around me. We weren't going into administration - that had already been done and all the assets had been sold - it was straight to liquidation. The doors were going to be closed on the Monday. We'd all had e-mails, saying we wouldn't be paid. The wages had only been paid in December because I sold Scott Carson to Liverpool.'
Then in the nick of time there was some astonishing news, as former Chelsea owner Ken Bates came into the equation. The irascible and controversial 73-year-old had stepped down as chairman at Stamford Bridge after the arrival of Russian billionaire Roman Abramovich. Under the terms of that deal, which saved Chelsea from financial meltdown and netted Bates a personal windfall of £17m, he was due to remain as the chairman until the end of the season, when he would have become a life president. The appointment of Peter Kenyon as Chelsea's chief executive led to conflict, and Bates cited 'a clash of Eastern and Western cultures' as he made an earlier exit than planned. Over recent months Bates had attempted to take control at Sheffield Wednesday but his overtures had been unsuccessful.
The first hint of Bates' possible involvement with United came in a report in the Independent on 10 January:
'In a move that is likely to stun Leeds supporters and arouse curiosity much further afield, Bates, 73, is understood to have offered the money to become part of a takeover at Elland Road being attempted by Sebastian Sainsbury. Although a deal is still some way from completion, talks between Sainsbury and the Leeds chairman, Gerald Krasner, are ongoing about a £25m buy-out. The next round of talks is scheduled for tomorrow.
'Bates and Sainsbury, accompanied by brokers and agents, were seen lunching together at the Dorchester Hotel in central London last week. According to one source, Bates told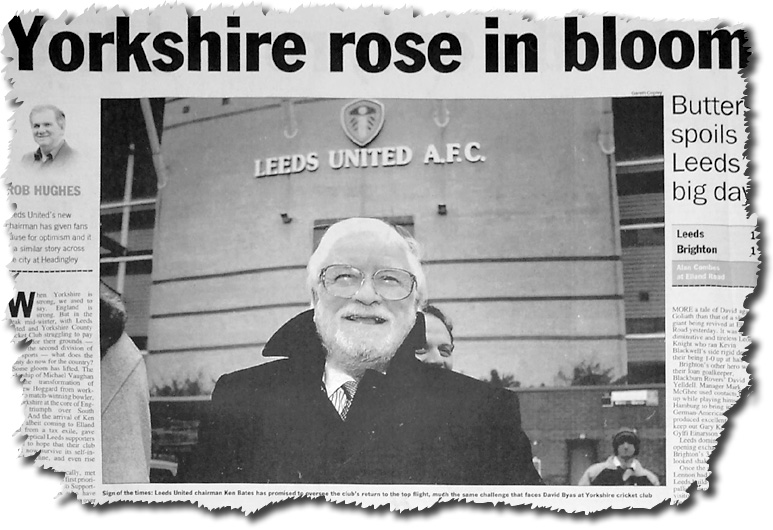 Sainsbury he would invest £10m in Sainsbury's consortium in exchange for 51 per cent of Leeds and the role of chairman.'
Sainsbury's deal collapsed shortly afterwards and it seemed that the Stubbs consortium was the only show in town as bankruptcy beckoned. But the interest of Ken Bates had been piqued and a shock takeover was completed at 2.27am on Friday 21 January 2005.
Under the auspices of the Geneva-based Sports Forward Fund, Bates invested around £10m in Leeds United, securing a 50% controlling stake. He would have gone for a larger holding, but the finer details of Adulant Force's settlement with the bondholders in 2004 meant that the sale of any greater share would have incurred significant financial penalties. The restriction lasted until March 2007, when it was expected that Bates would buy up the remaining half of Leeds United.
The Bates money cleared £2.8m owing in VAT and tax, a £620,000 loan from former director David Richmond, an annual payment to bondholders of £1.4m and a number of other liabilities, bringing the total debt down to around £17m. A repayment schedule was agreed with the Inland Revenue and Customs and Excise for the remaining £4.2m and it was agreed that £4.1m of other directors' loans would remain invested in the club for a further four years, leaving Bates to crow that only £9m was 'outstanding'.
The figures quoted did not include a schedule of 'League Performance Amounts' that were agreed with the bondholders as part of the Adulant Force takeover. An annual sum of £1.4m was owed annually until 2008, rising to £2.5m in the Premiership, with an additional one-off payment of £5m payable on promotion. The deal could also see the club paying £500,000 per year until 2025.
The investment by Bates rescued the club as it seemed all hope was gone, but the new chairman was a controversial figure in football circles, and some United supporters reacted angrily to his involvement.
John Boocock: 'This is the man who wanted to put up electric fences at Chelsea and his business track record leaves a lot to be desired. At no point has he shown any interest in Leeds as a club or a city. He just wants to have a toy to play with. If he is doing this without due diligence, he is not aware that the club needs far more.
'My mother has just rung me and asked should we laugh or cry and I told her to cry. We wouldn't want him to come to Leeds as a visiting director, let alone become our new chairman. He's an old man who should stay at home and look after his garden. If he wants a bit of excitement he can go to bingo or take his wife to WI meetings. Bates is just a carpet-bagger who will buy any club that will have him in the hope that he can get back his seat on the FA. This just shows how little chairman Gerald Krasner and his colleagues know when it comes to Leeds United and the fans. They are just in this for whatever they can get themselves.'
Simon Jose, of the Leeds United Independent Fans' Association: 'I would rather we started afresh in the Conference than have him in charge. It's like the four horsemen of the apocalypse selling to Lucifer. We need a clean sweep and a fresh start. This is like putting King Herod in charge of babysitting.'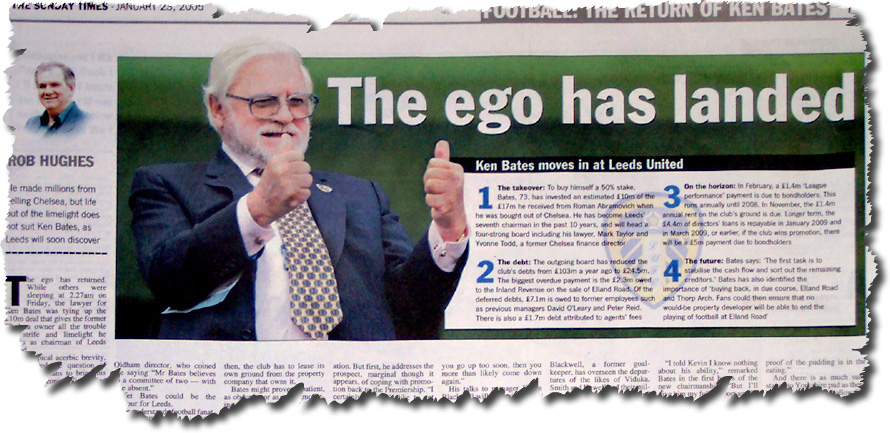 There were some welcoming words, however, from others. Peter Lorimer, whom Bates asked to remain a director: 'The board did a great job knocking £80m off the debts but now the club has to go forward and I'm sure Ken is the right man. I'm sure he knows what is needed and what to do about the finances. The team has been rebuilt and we are moving ahead.'
Norman Hunter: 'I'm delighted. First and foremost, the situation is resolved at the moment. It was a trying situation and I don't think it's enough in the long run but I think Ken Bates will sort something out. If he does anything like the job he did at Chelsea, the Leeds public will be absolutely delighted.'
Outgoing United chairman Gerald Krasner: 'We met Ken Bates on Monday in London and discussed at length the outline of the deal that was necessary for Leeds United. We shook hands on it and the board backed it unanimously on Tuesday. We got him into Leeds on Wednesday without anybody knowing and this morning it was concluded. I have to pay tribute to Ken because he has not moved one iota from the handshake we had on Monday. He's sat down with us man-to-man, not done due diligence and I like the way he does business. He's kept his word and you can't ask for any more.
'What this takeover will enable Leeds United to do is consolidate its position much quicker than the old board was able to do. The debts were £103m and are now under £25m. We have done 80% of the work; Ken will do the rest and take Leeds United back to the Premiership where they belong.
'Ken has long term plans here, he's had a year's sabbatical and he's come back to show everyone he can do it all again. I think that when the Leeds fans hear his plans they will be pleased.'
Former chief executive Trevor Birch, who knew Bates from their time together at Chelsea: 'Ken's involvement is good news for Leeds. The club has suffered a lot in recent years and one thing about Ken is he is a very determined man. He will not have bought Leeds to preside over its demise. He will have very definite plans, you only have to look at the success he has achieved in the past to realise he will not want the club to stand still, which can only be good news for the fans.'
Bates had always provoked extreme views among the football public, with people either loving him or hating him. His long and chequered past had guaranteed that controversy would dog him wherever he went.
Ken Bates was born on 4 December 1931 and spent his childhood on a council estate in Ealing, West London. He showed an aptitude for business from an early age and made his money from ready mixed cement, dairy farming, sugar cane and land development.
Despite his commercial interests, Bates was always a football fanatic and took over at Oldham Athletic in 1965. He shook up a sleepy little club, swapping bright orange shirts for the traditional blue and white colours, and he brought in a number of new players for his first game. He later took control of Wigan Athletic for a brief period in 1981 before buying up a debt-laded Chelsea a year later for £1 as they teetered on the verge of relegation to the old Third Division.
For five years from 1986, he served on the Football League management committee before resigning after Chelsea were fined £105,000 for alleged illegal payments to players.
In the early 1990s, Bates formed Chelsea Village Limited with the ambitious intention of transforming the Stamford Bridge ground with a hotel complex and other leisure pursuits. On the footballing side he gambled on Glenn Hoddle as manager before losing him to the England job, and went on to hire and fire Ruud Gullit and Gianluca Vialli in the pursuit of further success, with both managing to bring silverware to the club during short and controversial stays.
He managed to transform an outdated and dilapidated Stamford Bridge into a modern, state of the art stadium and did likewise with the football team, although Chelsea's debt rivalled United's in the year preceding their rouble-fuelled revolution. The Stamford Bridge deal had injected new wealth into the surrounding neighborhoods, resulting in new jobs and many homes for sale. Would the same thing happen at Elland Road?
In 2003, Bates sold his controlling interest in the club, apparently to retire to a Monaco tax haven. He couldn't stay away from football forever, though, and came close to investing in Sheffield Wednesday before declaring his interest in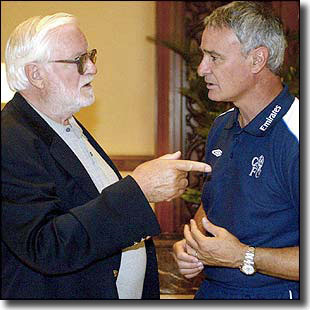 Leeds United.
Bates was best known for his acerbic nature and his controversial comments on the game and people within it:
On the Football Association's disciplinary procedures: 'At first they were a shambles. Now they have descended via farce to make them a laughing stock. It has come to a pretty pass when FIFA criticise our performance.'
'I got calls from Italy last summer and one agent offered me Batistuta. He told me "Batistuta wants to come to Chelsea." I said "I'm sure he does, but we've stopped signing pensioners."'
On being ousted from the board of Wembley National Stadium Limited: 'Even Jesus Christ only had one Pontius Pilate - I had a whole team of them.'
'Take Ruud Gullit. I didn't like his arrogance. In fact, I never liked him. But while he was delivering the goods, there was no problem. When he lost the plot he had to go.'
'It takes one to know one. I'm surprised Martin O'Neill actually knows a word as big as cretin.'
'I'm delighted for Claudio Ranieri that we beat Fulham in the FA Cup semi-final, as if we'd lost yesterday, it would have been a pity to sack him just after he'd signed a new contract!'
'All those toilet rolls coming on from Besiktas fans was orchestrated. They wanted to get the kick-off delayed so they would know what the other result was before our game finished. I said to Roman Abramovich, "if you fancy making another billion, go and open another toilet roll factory in Turkey."'
It was clear that, with the colourful Bates around, life for Leeds United would never be dull, and there would be plenty of controversy along the way. Opinion was sharply divided and there seemed to be as many people saying that Bates would destroy the club as those who saw him as a refreshing new broom, bringing with him heavy doses of reality and business acumen.
Shortly after the takeover, the Yorkshire Post carried a story of a bid to derail Bates' plans. Simon Morris, the club's leading shareholder before the deal, was offered an incentive of £250,000 by a rival consortium to stall negotiations. Morris was offered the money just hours before Bates formally took charge of United.
'The approach came from charity fundraiser Stuart Levin, who asked Morris to "put a stop" on the Bates deal and offered to pay the money, claiming a rival consortium's funds were just 24 hours away from being available. The offer was dismissed, however, and Bates duly completed his takeover in the early hours of January 21.
'Three consortiums were bidding for the club at the time - one led by Bates, another by United season ticket holder Norman Stubbs and a third mystery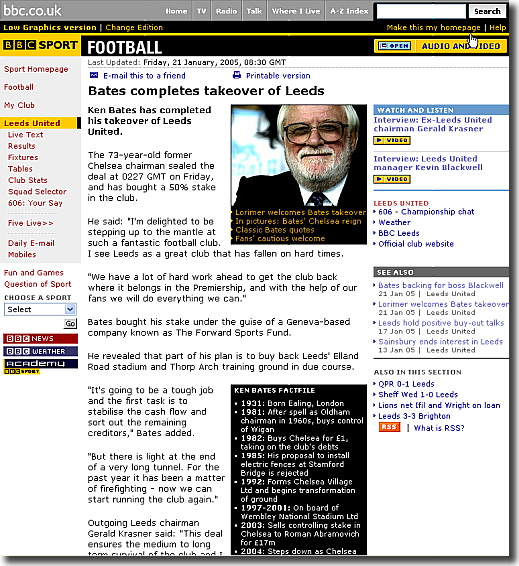 group on whose behalf Levin made the approach. The drama unfolded on Thursday, January 20 when go-between Levin, in the offices of chartered accountants Haines Watts, made the offer to United director Morris, who was in the offices of the club's solicitors, Walker Morris.
'Levin asked: "What do you want to put a stop on it in the next 24-48 hours?" Later in the conversation, he offered to pay £250,000 using an American account, and then promised "we'll give it you in writing now."
'Morris, who yesterday said he treated the offer light-heartedly, responded by asking: "Can they make a cheque payable to my granddad?"
'Levin said yesterday: "It is true that I did, on behalf of the consortium I represented, which consisted of die-hard Leeds United supporters and businessmen, offer Simon Morris an incentive to hold back on any other deal as I knew our funds were 24 hours away. He said he was very interested and asked how the incentive would be paid. I said that upon completion of our deal that he should provide a bona-fide invoice so everything would be above board. I never heard from him again about this matter. Speaking as a Leeds United supporter of 48 years standing, I think Ken Bates is doing an excellent job and I wish him all the best."'
Morris said: 'I was being offered money to stop the deal with Ken Bates going through. The only way I could treat it was light-heartedly and with contempt. I was surprised by the nature of this when we were so close to securing the future of the club.'
Melvyn Levi, a fellow director of Morris at Elland Road until Bates' takeover, said there was no chance of the former Chelsea chairman's takeover being halted. He told the Yorkshire Post: 'The offer was made in an open meeting and the lawyers heard it. But we had met Ken Bates the previous Monday and we were set to complete on the Friday - as far as I am concerned, you cannot do any better than that. He had his lawyers working through the night to get the deal done, that was a clear sign of his intent, and there was no doubt he was the one who was going to save Leeds United. We had stabilised the club and wanted someone to take it forward. There was no way we would rely on someone saying "the money will be here in 24 hours" - we had heard it all before. We had had too many false dawns in the past, but it was clear Ken Bates was not a false dawn. All these rich people in Leeds had had 10 months to sort a deal - we had always said from the start that we would talk to anyone who came along with a sensible offer to take over the club. Ken did that and took the chairman's statement that all the figures were correct.'
It was a controversial story, but only in keeping with all the speculation and innuendo that Elland Road had seen so much of over the previous couple of years. Whatever the reality, one thing was clear: Bates had saved Leeds United Football Club from oblivion and they could finally dare to hope for a bright new future.
Part 1 - A nasty dose of reality - Part 3 - Dawning of a new era - Results and table